The city of Madrid has a rich historical and cultural significance, exhibiting brilliant architectures, and shopping options along with a splendid nightlife. Madrid has a host of interesting towns surrounding it, that can make for a fantastic day trip option. Let us explore a few of these exciting places.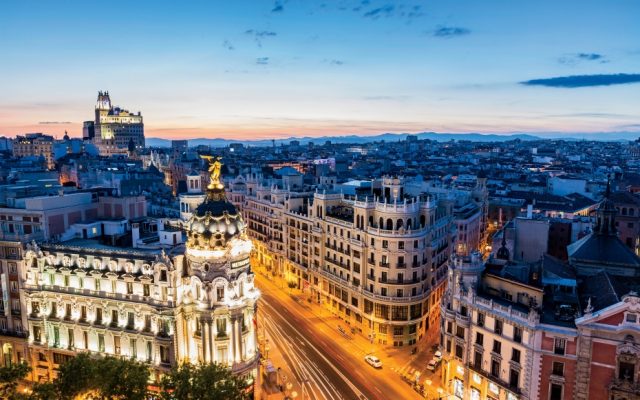 Amazing Segovia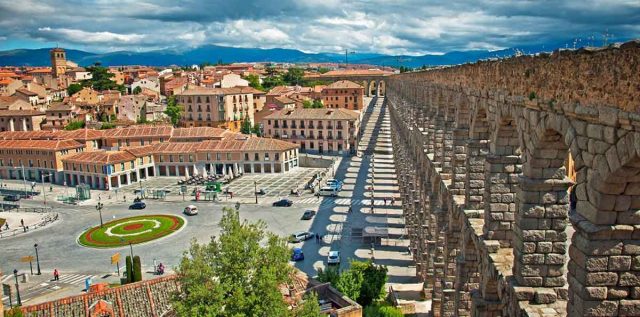 Segovia is filled with UNESCO listed world heritage sites of landscapes and ancient structures situated in the plains of the Old Castile near Valladolid. You should include this place while planning a day tour from Madrid.    
What to see – Roman Aqueduct that dates back to 1st or 2nd century, the Jewish Quarter, Segovia Cathedral and Alcazar castle which is believed to be the inspiration for Disney's Sleeping Beauty castle.
Best time to Visit – March to September
How to get there – 1 hour by bus or car, 30 minutes by AVE train from Madrid Atocha station.
Mesmerizing Toledo
Toledo, located in the heart of central Spain is an abode of several UNESCO listed world heritage sites. Also known as "city of three cultures," it displays the cultural blend of the Christians, Jews, and Muslims in an impressive architectural form of churches, mosques, synagogues, palaces and fortresses.
What to see – Check out the picturesque monumental architectures such as El Greco Museum, Alcazar fortress, the Tornerias, Cathedral of Saint Mary, Synagogues of El Transito, the Roman Alcantara Bridge and the wineries.
Best time to Visit – May to September (summer), March to April (spring)
How to get there – 33 minutes by AVE train from Madrid's Atocha station, 1 hour by bus.

Enchanting El Escorial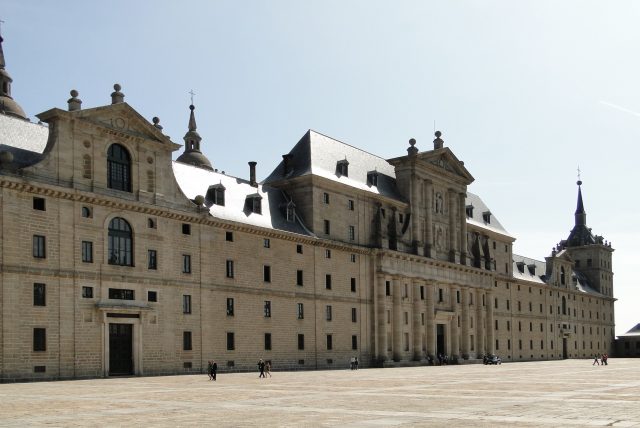 El Escorial, the King of Spain's royal residence, functioning as a palace, monastery, basilica, museum, pantheon and hospital is a popular destination for a day tour from Madrid that you can't afford to miss.
What to see – The main attraction is the UNESCO enlisted world heritage site 'Escurial Monastery', built by the mystic king, Philip II, showcasing beautiful artworks and a collection of royal tombs. Nearby is the 'Valley Of Fallen' that has a big memorial Cross visible from miles away.
Best time to Visit – Spring and autumn
How to get there – 1 hour on an average by local train network from Chamartin or Atocha station, 1 hour by bus from Moncloa station Madrid.

Mystic Cuenca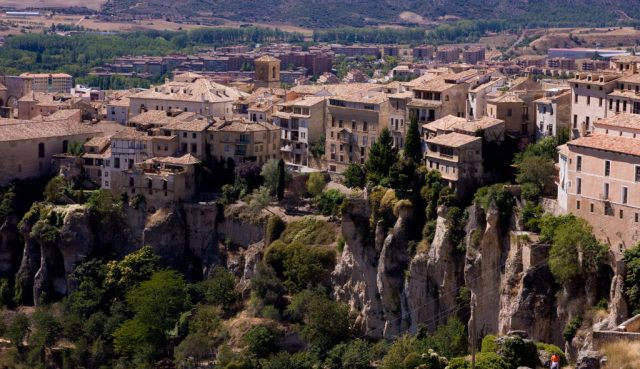 Cuenca is a medieval city offering dazzling sights to the tourists.
What to see – Houses hanging from the cliffs are a breathtaking sight to witness. Cuenca Cathedral ( dating back to the 12th century), and El Castillo ( Arab fortress) are among the places worth visiting.
Best time to visit –  April and June or September and October.
How to get there – 55 minutes by train from Madrid to Cuenca Fernando Zobel.

Fantabulous Walls of Avila

Avila is surely a visitor's delight as this UNESCO listed old town, also St.Teresa's ( founder of the Carmelite religious order) birthplace, holds the highest number of Gothic and Romanesque churches within.
What to see – The 12th-century thick wall with 88 semicircular towers are a pleasure to see. Other interesting sites include Avila Cathedral, San Vicente, The Four Posts and Barrio Judio (Jewish Quarter).
Best time to visit – Spring or early fall
How to get there – 1.2 hour by train, from Madrid's Chamartin Station

Royal Aranjuez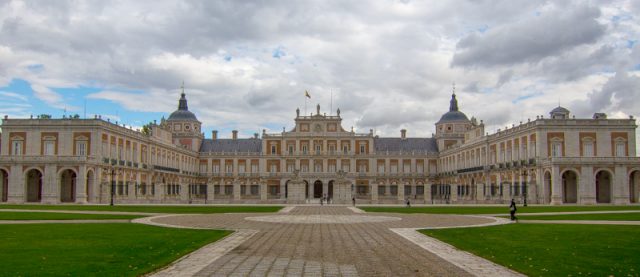 Aranjuez, known for its royal palace along with a galore of parks and gardens is another sought after place to visit during a Madrid day trip.
What to see –  Declared as a world heritage site in 2001, it houses some famous sightseeing places like Mariblanca (the royal church), Plaza de Toros ( a bull ring), elite buildings, as well as strawberry, asparagus and melon plantations.
Best time to visit– Throughout the year
How to get there – 45 minutes by train from Madrid's Atocha station.
You can board the strawberry train made of refurbished wooden bogies from early 20th century.

Lovely Chinchón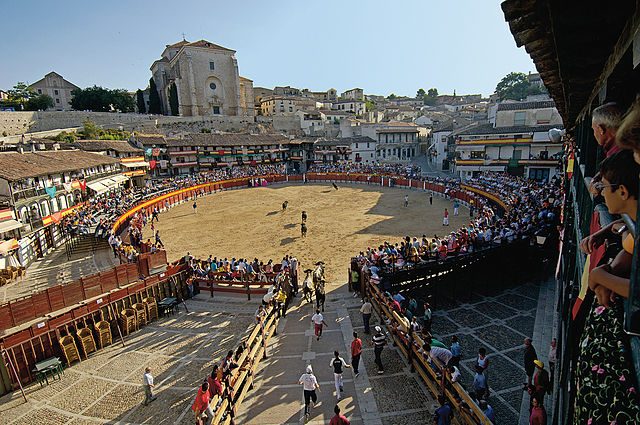 Chinchon, a small and charming town, is one of the best day trips destination from Madrid.
What to see – The Plaza Mayo, known for its asymmetrical shape due to its medieval balconied homes is worth visiting. Other must-sees include the Nuestra Señora de la Asuncion, Clock Tower, and Parador.
Best time to visit – During the anisette liquor ( March) and garlic (festival).
How to get there – 45 minutes by a local bus 337 from the metro stop Conde de Casal.

Cultural Cordoba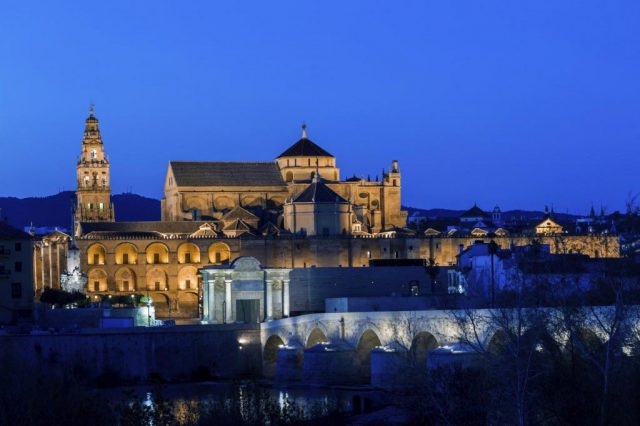 Cordoba, an ancient Andalusian city, having a legacy of thousands of years is another fantastic site to check out on a Madrid day tour.
What to see – Walk in the old city to explore the whitish courtyards surrounding Mezquita, the former mosque turned cathedral along with its massive bell tower. Other visual delights include the Roman Bridge, Museum of Al-Andalus life, Jewish quarter, as well as the Patio (March) and Cross festivals (May).
Best time to visit– May to June (spring and autumn) with month long festivities.
How to get there – 1 hour 45 minutes by AVE train from Madrid Atocha Station. You can also opt for a two-day guided tour to Cordoba.

Superb Salamanca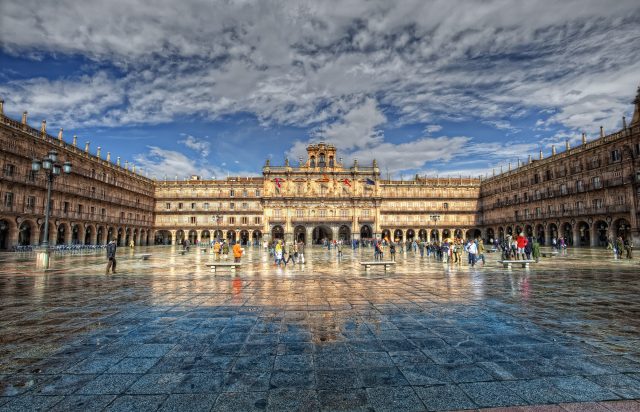 Salamanca with its rich history is believed to be one of the most magnificent Renaissance cities in Europe, and a home to the oldest university in Spain founded in 1218.
What to see – The Plaza Mayor ( in the heart of the city), Campo de San Francisco ( the city's first public garden), cathedrals and several religious buildings, universities, palatial establishments like Casa Lis, and several museums like the Cathedral Museum. Exploring this spectacular city on foot would be a perfect romantic trip for couples.
Best time to visit – Spring (March to April) and autumn (October to November)
How to get there – 2 hours 30 minutes train ride from Chamartin train station Madrid or a bus from Mendez Alvaro bus station (same time).

Beautiful Barcelona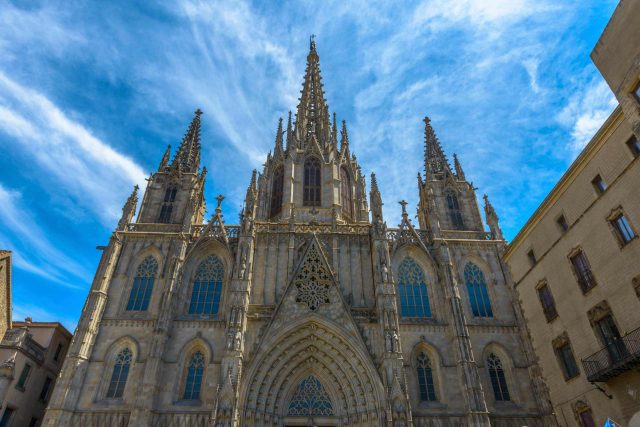 Barcelona one of the most popular destinations in Spain, having a lot to offer to the visitors is a highly recommended place to visit while on a day trip from Madrid.
What to see – The Barcelona Cathedral is a dazzling beauty of Gothic-Catalan art, comprising a secluded Cloister having thirteen white geese. Other architectural jewels include Sagrada Familia, Park Guell, and Casa Batllo. Do check out at least a few of the seven beaches like Sant Sebastia, and Somorrostro, or cherish a hiking experience atop Tibidabo Mountain to view the entire city.  A one day trip will be ideal to explore the city thoroughly.
Best time to visit – The shoulder season lasts from April to June and September to October
How to get there – 3 hours by AVE train from Madrid Atocha to Barcelona Sants station

Windy Consuegra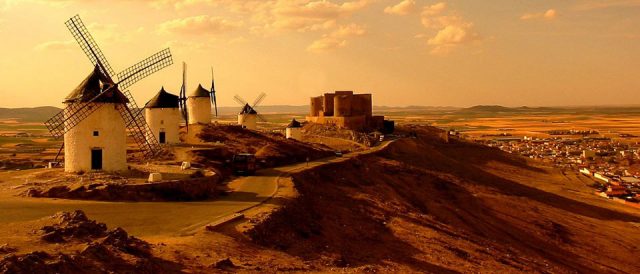 Consuegra is an ancient small town with a rich history dating back to the 5th BC, once ruled by the Romans and then Muslims, displays a unique medieval architecture.
What to see – The twelve windmills preserved for centuries resembling the ones depicted in the famous book about Don Quixote by Miguel de Cervantes. The Consuegra Castle along with several enticing craft items are the other attractions. A climb uphill will offer you a bird's eye view of the entire city.
Best time to visit – Throughout the year except for summer
How to get there – A bus ride will take around 2 hours to reach.

Vivid Valencia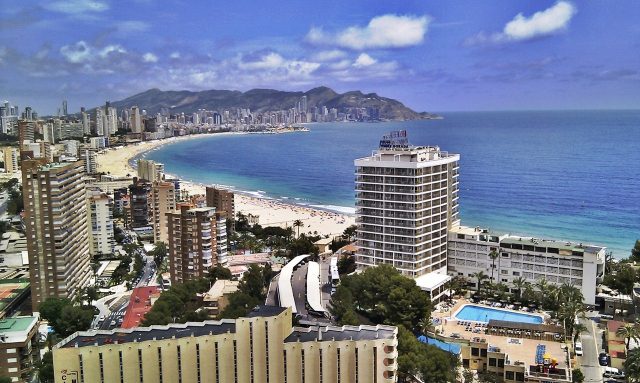 Valencia, Spain's third-largest city, is a harmonious blend of modern and ancient culture dating back to 138 BC.
What to see – The Valencia Cathedral, medieval towers like Torres de Quart and Torres de Serans, the Museum of Fine Arts, Llotja de la Seda (Gothic-styled civil building), magnificent beaches, dunes, mountainous terrain and so on.  The remarkable festival of Falles held between 15th to 19th March every year is a must-watch.
Best time to visit – Spring
How to get there – 3 hours 45 minutes by train from Madrid Chamartin train station to Valencia's Estacio Nord train station.

Grand Granada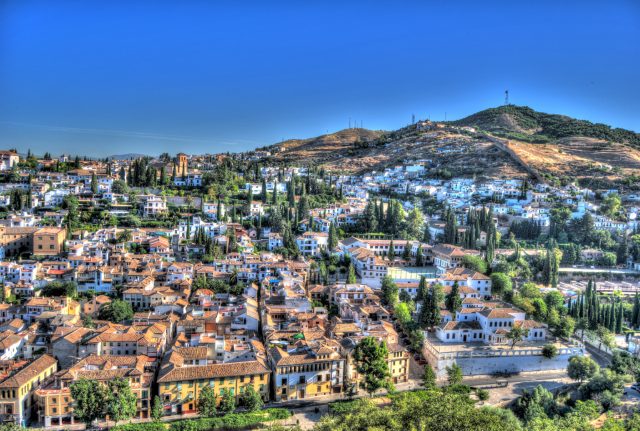 Granada is another magnificent heritage site listed by UNESCO with a rich multicultural history and arguably a worthy place to be visited in Spain.
What to see – Alhambra also regarded as one of the top ten wonders of the world is an exciting attraction. This century old massive castle has gardens, fortifications, and opulent palaces. On it opposite is the Arabic quarter of The Albaicin, symbolized by cobblestoned streets and whitewashed houses. Other attractions include the Royal Chapel of Granada and Sierra Nevada.
Best time to visit – Spring and fall
How to get there – 5 hours by Talgo train from Madrid.

Majestic Manzanares el Real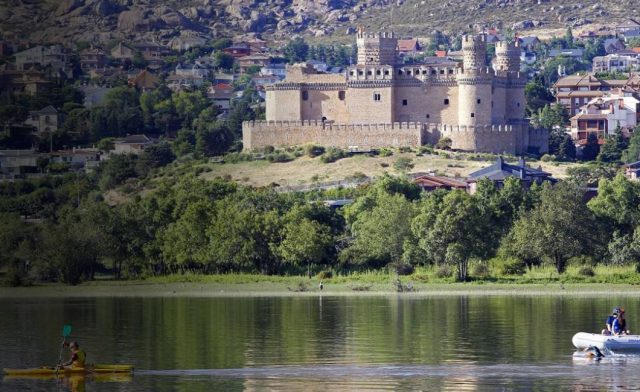 For the romantic love birds who want to explore something exciting without traveling much distance, Manzanares el Real is the ideal choice.
What to see – Located just 55 km north of Madrid, it has the stunning castle of Mendoza and La Pedriza hills. The 16th-century architecture along with captivating lake scenery and a mountainous view is mesmerizing.
Best time to Visit – June to September and October to May
How to get there – 50 minutes by bus from Plaza de Castilla Station Madrid

Yearning Ribera del Duero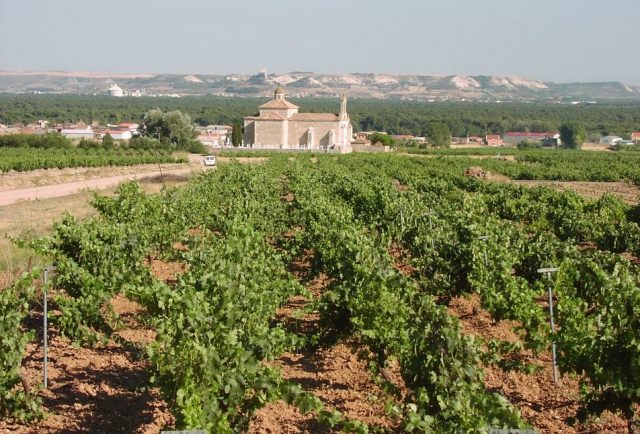 Ribera del Duero, one of the most renowned wine-making regions in the world with a history of 2000 years, is a perfect trip option for wine lovers.
What to see – Located in the heart of Duero Valley, it comprises of beautiful vineyards and antique wineries giving you a chance to witness the wine-making process besides having a taste of it. The villages and castles surrounding the place transcend you to the Medieval ages.
Best time to visit – Spring and autumn
How to get there – 2 hours by bus from Madrid to Aranda de Duero.

So whether you are traveling alone, with your better half or buddies, these are some of the magnificent sites that you can explore around Madrid on short day trips. It will be surely an ecstatic experience and a cherished memory for the people having wanderlust.