Let's take a peaceful retreat from the hustle and bustle of daily life and go vacationing in the beautiful Iceland, blessed with a number of hot springs here and there. Read on to know some of the famous spots to enjoy nature's own Jacuzzi.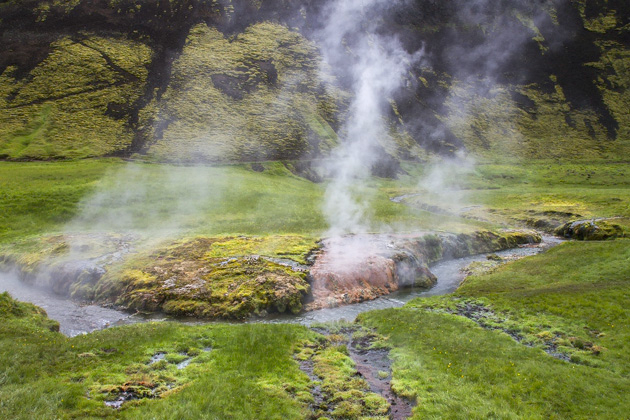 1. Grjótagjá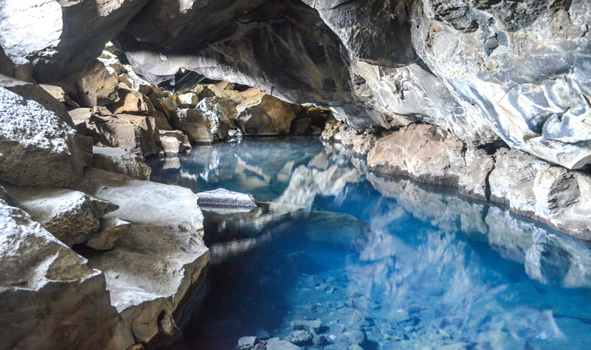 Grjotagja cave is made of volcanic rock, secretly nurturing a hot spring inside. Located near the Mývatn Lake, you can make a trip to this amazing site of North Iceland anytime. In the last leg of 1970, it had started heating up rapidly, making it impossible to bathe in it, but later on, it started to cool down and presently the temperature is around 122° F. Since the temperature fluctuates a lot, taking a bath in this hot spring is not advisable.
However, you can always travel around and witness the striking beauty of this site. It draws tourists' attention ever since the cave has been used for filming some episodes of the famous American TV series "Game of Thrones."
How to Get Here
2. Seljavallalaug
Let's move to the southern region of the country now and have an insight to the man-made pool known as Seljavallalaug. Being built in 1923 under the supervision of Mr.Bjorn Andrésson Berjaneskoti, this pool sizes 10 meters in length and 25 meters in width.
The water gets cleaned yearly, and there are some rooms where tourists can change their clothes and keep their stuff. Once you experience the place, you will cherish the divine beauty of the adjacent mountains and green valley forever.
How to Get Here
3. Blue Lagoon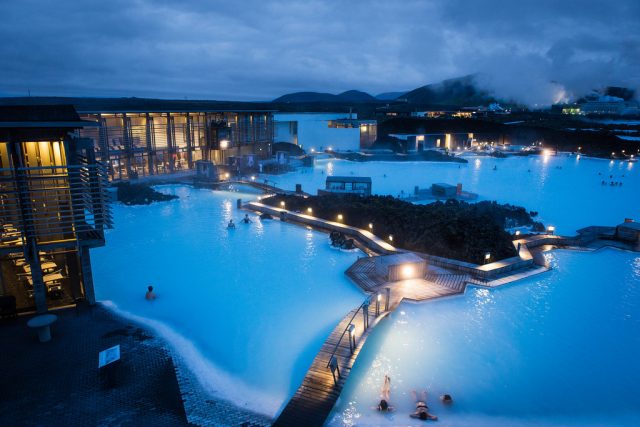 A piece of heaven! That's how the famous place should be depicted on your travelogue. Situated in Grindavík, this is literally a 'hot-spot' for travelers who come to enjoy the mineral enriched water. It is believed to have healing properties for various skin ailments like psoriasis. The usual temperature range remains within 99° F to 102° F. The lagoon is entirely man-made with the water being channelized from a nearby lava flow. Enjoy a steamy bath during the day and cherish the northern lights or Aurora Borealis at night from here.
How to Get Here
4. Hrunalaug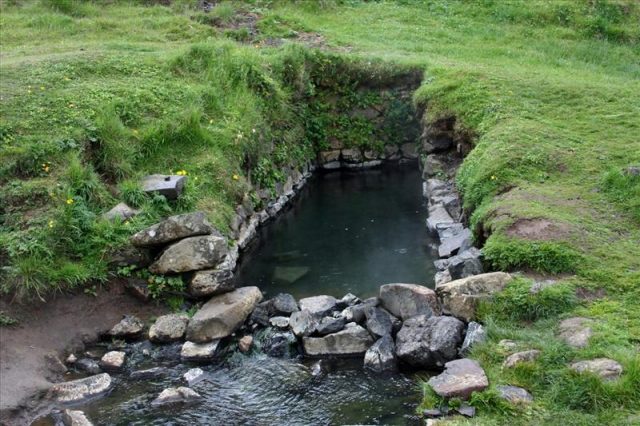 Another breathtaking spot in West Fjords, this is a popular hot spring destination for tourists. The scenic beauty of the place keeps up a tranquil ambiance all over. This is a perfect synchronization of the rocky field and lush greenery. The temperature remains nearly 100° F, making it convenient for you to enjoy your cozy time amidst nature.
How to Get Here
5. Gvendarlaug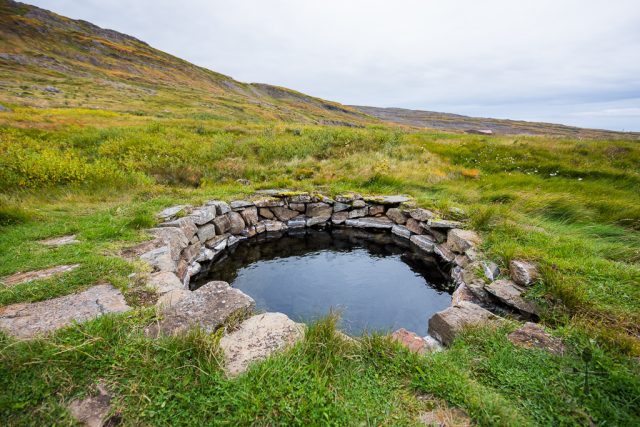 Another favorite from the West Fjords, this thermal pool, like its other namesakes, is believed to be blessed by the bishop of Holar. The beautiful location draws public attention with its spectacular beauty and alluring charm. Not only the hot spring, you can also enjoy The Museum of Icelandic Sorcery and Witchcraft located nearby.
How to Get Here
6. Heydalur Geothermal Pool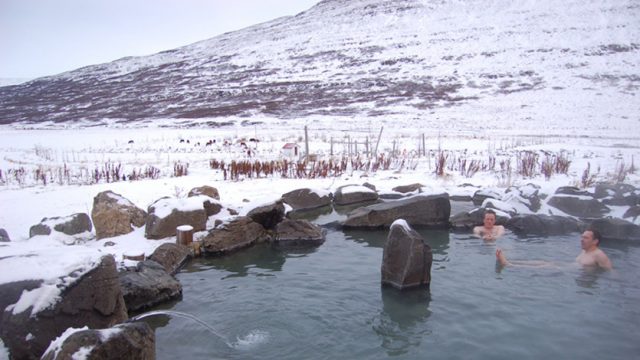 Heydalur geothermal pool is located outside the hotel Heydalur. When you are looking for rejuvenating yourself, this is the place to go. Feel fresh and relaxed in the geothermal pool with your friends and set yourself free.
How to Get Here
7. Grettislaug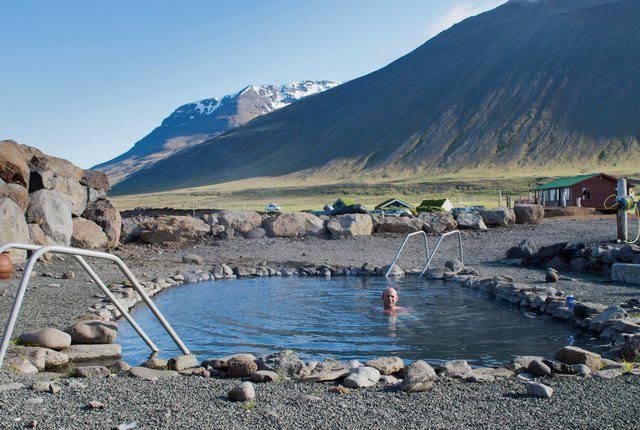 Grettislaug is another hot spring located in North West Iceland. The temperature stays in between 107°F to 109°F all the time. So a dive into this pool is a good idea. This is believed to be built mostly by Mr. Jón Eiriksson. It is actually an oval pool with a capacity of accommodating around 20 people at a time.
How to Get Here
8. Natural Hot Springs in Landmannalaugar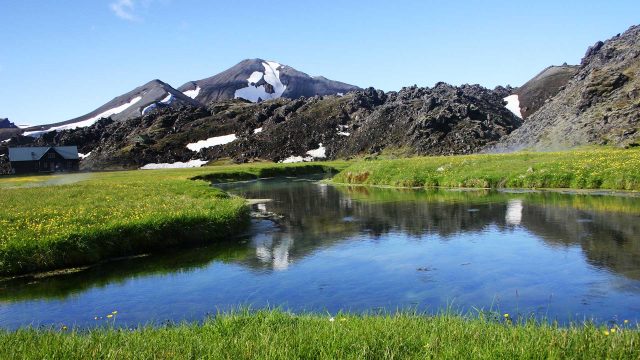 Experience the divine side of nature in the lap of Landmannalaugar, by visiting the natural hot spring during summer. The rocky and hilly area surrounded by mountains is an excellent choice for hiking. And you can relax in the pools and enjoy the scenic beauty afterwards.
How to Get Here
9. Laugafell Geothermal Pool
Located in the lap of Laugafell Mountain, the Laugafell geothermal pool is a famous attraction for tourists. The soothing warm water (around 96.8° F) will reduce all your stress like magic. This is so large that 50-70 people can bathe here together. There is a small pool nearby as well. You may also try out camping here as the corresponding authority provides this facility.
How to Get Here
10. Reykjadalur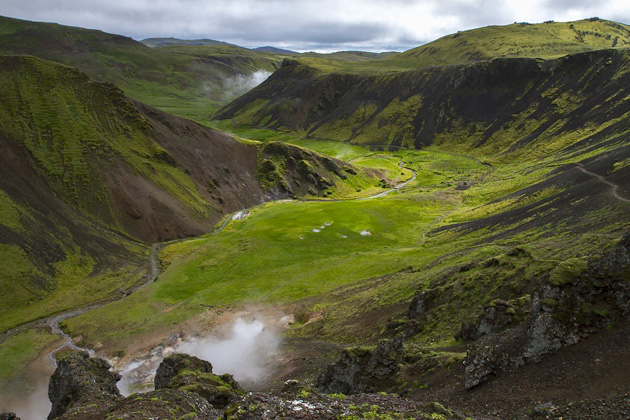 The hot spring river streaming down the valley of Reykjavik is the nature's masterpiece. The name of this area implies steamed valley. Many hikers hike the detour from Hveragerði town and reach to this point. Although there are no such facilities available for tourists like changing clothes after the bath, it does not stop anyone from coming here.
How to Get Here
11. Deildartunguhver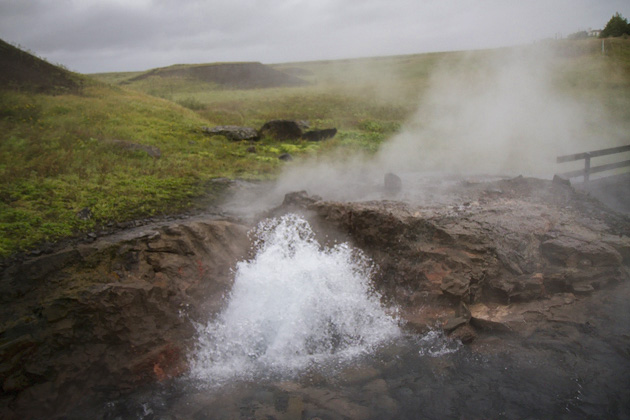 This hot spring is considered to be the best in the entire Europe regarding the force of the water. It is always hot with the temperature being around 212°F, making the water useful for the towns of Akranes and Borgarnes. Due to its temperature, it is not possible to take a bath here, but still, as a tourist attraction, this tops the list.
How to Get Here
12. Gunnuhver Hot Springs (Near Grindavik Iceland)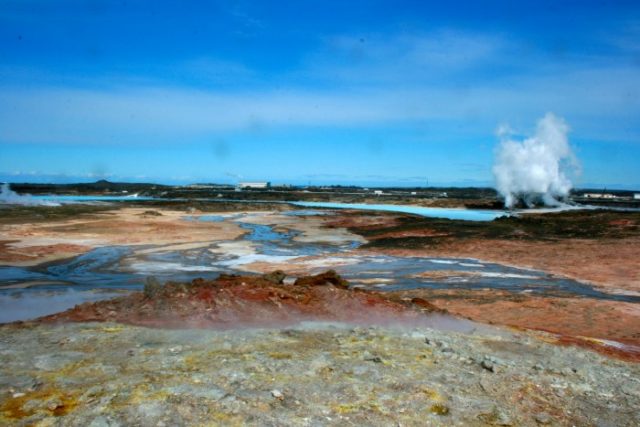 Looking for hot springs in Reykjanes? Then check out the Gunnuhver which is all about hot springs and mud pool. This also happens to be Iceland's biggest mud pool. The place offers a wide variety of natural beauties like geothermal spots and volcanic craters. To relish the beauty, you may also go to the Kísilhól hill. According to local people, the spring was once used by a priest who captivated a ghost inside the spring.
How to Get Here
13. Geothermal Park, Hveragerdi, South Iceland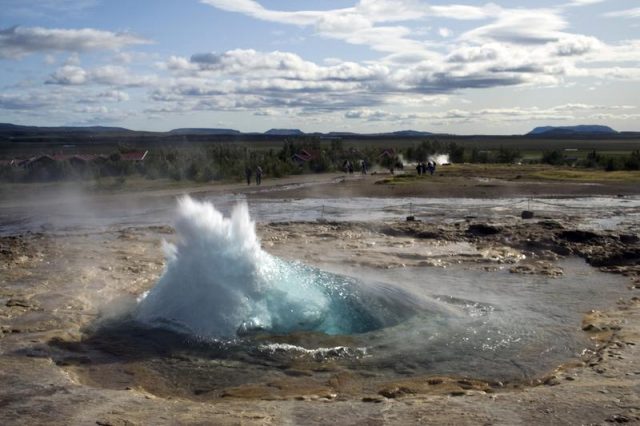 Located in the heart of Hveragerdi, the geothermal park is a major tourist attraction. Pamper yourself with the traditional mud bath and enjoy nature's company like never before. You can also take the guided tour to know the place more. So, what are you waiting for? Go on and explore!
How to Get Here
14. Strokkur (Golden Circle Tour)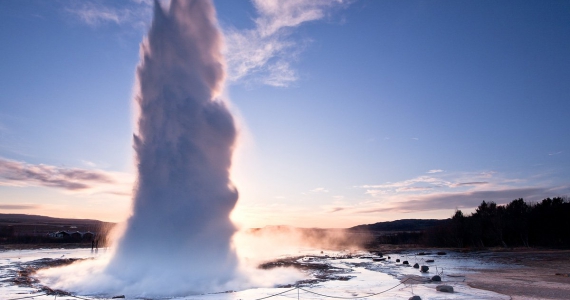 This is a natural geyser that often erupts and reaches 15 to 20 meters, attracting tourists to a great extent. Therefore, it would be a miss if you don't go for it. The vast area is a treat for your eyes, making you appreciate the beautiful creation.
How to Get Here
If you are living out of a suitcase, then Iceland with its hot springs is waiting for you. Make a trip and let the alluring nature welcome you. We assure you won't be returning empty-handed.