Goan Food defines a great fusion of typical Hindu cuisine with Portuguese flavors. The traditional Goan cuisine, majorly influenced with Portuguese and African recipes, include rice, vegetables, coconut, meat, pork, and different types of seafood.Similar to Konkani cuisine, here we have a list of mouth-watering specialities of Goa.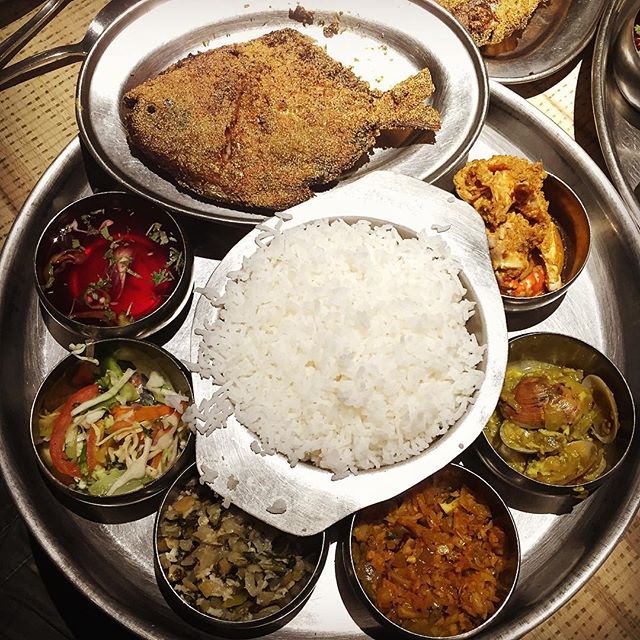 1. Balchao: A Popular Goan Dish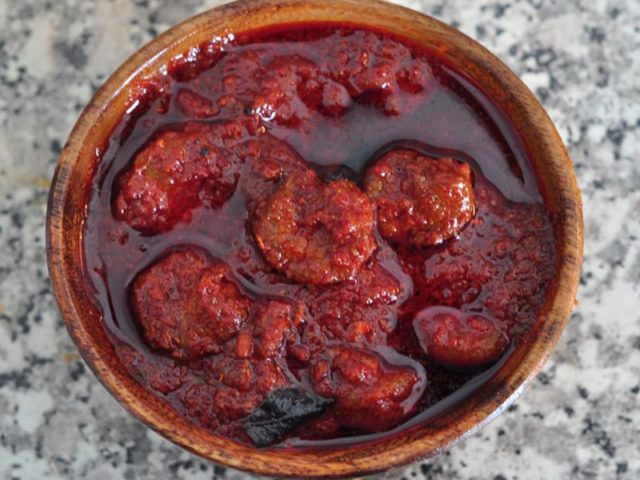 What is it: A dark red side dish made of prawn, fish, or pork, marinated in cider or malt vinegar, stored just like a pickle. When cooked in a traditional style it is prepared from dried shrimp (galmbo).
What does it taste like: Has a lip-smacking spicy taste, with coconut vinegar giving it a sharp flavor while cane vinegar makes it mild.
2. Chicken Cafreal: An Authentic Chicken Dish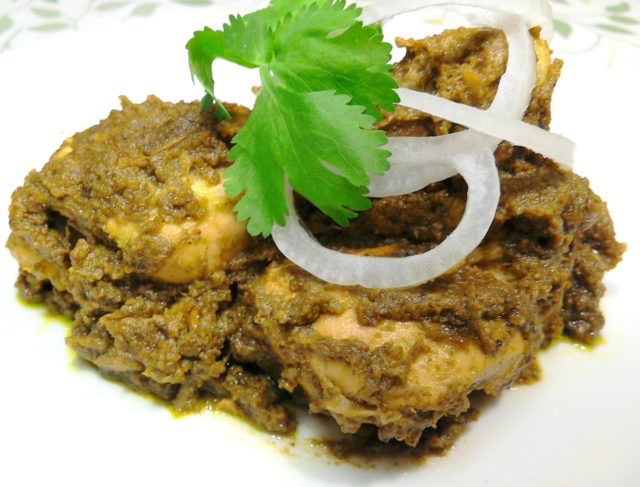 What is it: A dry chicken starter made mostly of chicken legs and breast pieces, marinated with a paste prepared from cinnamon, pepper, green chili, mace, and clove powder.
What does it taste like: This hot and spicy dish introduced by the Portuguese settlers is an ultimate delight when teamed with potato wedges.
3. Shark Ambot Tik: A Simple Goan Cuisine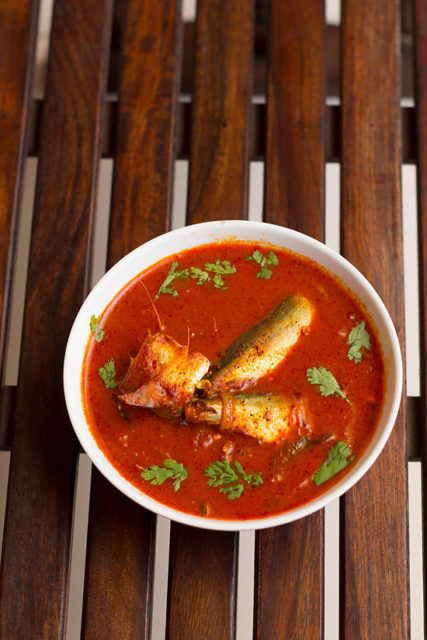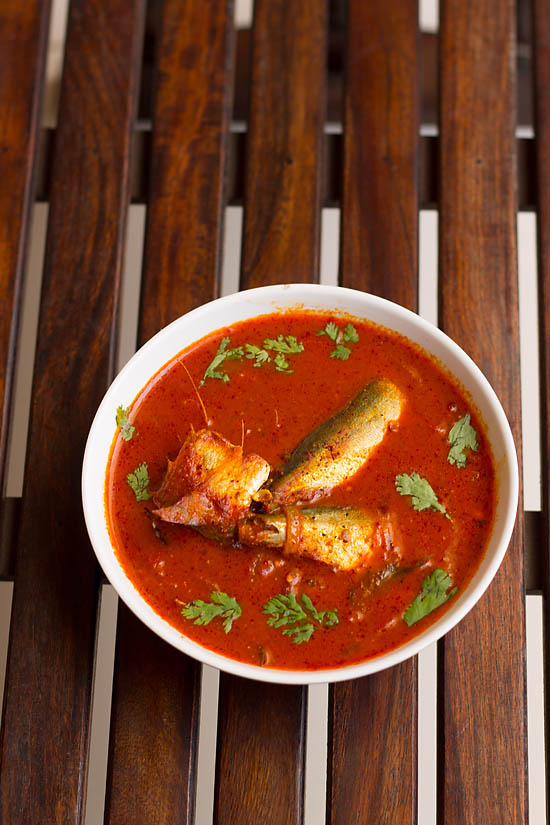 What is it: A fish curry prepared from shark or catfish.
What does it taste like: Spicy and sour as the name "ambot tik" means in Konkani language, defines a crisp taste with light texture. You would relish a sumptuous lunch while eating it with rice.
4. Kulkul (Sweet Curls): A Goan Sweet Dish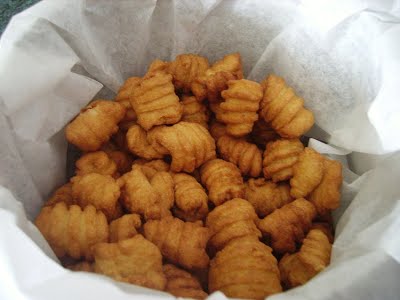 What is it: A popular golden brown sweet made of plain flour, flavored with coconut cream, and cardamom. Mostly prepared during Christmas, its worm-like appearance has earned it the name "kidiyo" in Konkani.
What does it taste like: Crispy and sugary, each bite offers the richness of cashew nuts and raisins.
5. Pork Vindaloo: A Famous Goanese Food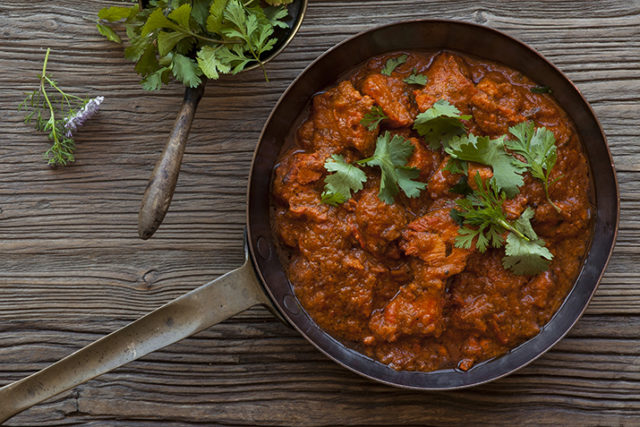 What is it: A pork dish marinated in vinegar or wine and ginger paste, also flavored with a host of aromatic spices.
What does is taste like: Savory and fiery, the tender meat pieces are a treat to gorge.
6. Bebinca: A Sugary Goan Dessert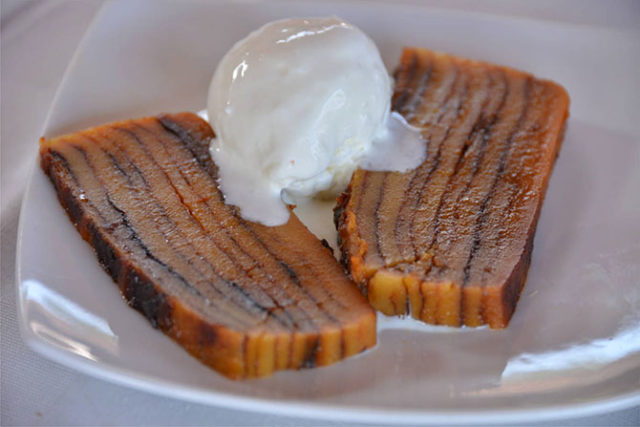 What is it: A seven layered pudding made of coconut milk, eggs, butter, and jaggery. A preferred dessert for Christmas, it can be preserved for a longer span.
What does it taste like: Sweet with a soft texture, every single bite offers the richness of the tasty confection. An ice cream topping would be a perfect delight for all the sweet lovers.
7. Fish Recheado: A Goan Seafood Recipe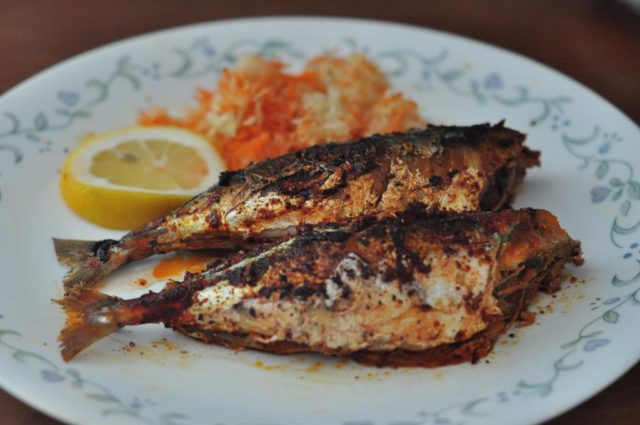 What is it: A deep fried fish (mostly pomfret and mackerel) stuffed with a red paste (racheado) made of red chilies, spices, ginger, garlic, and vinegar.
What does it taste like: Crispy and sizzling, fitting perfectly into a lunch platter comprising of steaming rice and a vegetable side dish.
8. Xacuti: A Festival Cuisine of Goa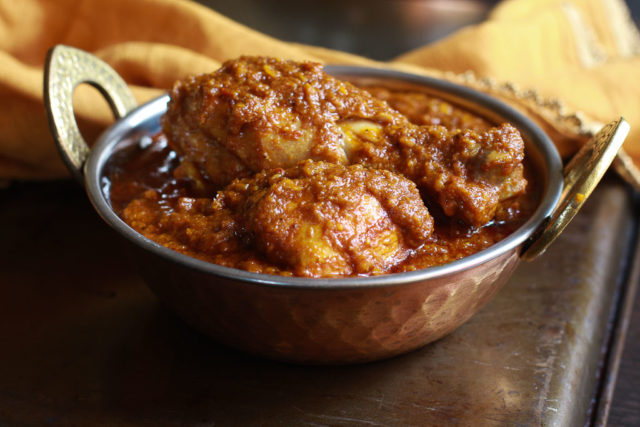 What is it: A chicken or lamb curry spiced with poppy seeds, red chilies, and grated coconut.
What does it taste like: Sharp-tangy flavor with a mild coconut essence, going well with steaming hot rice and fries.
9. Sorpotel: A Goan Easter Food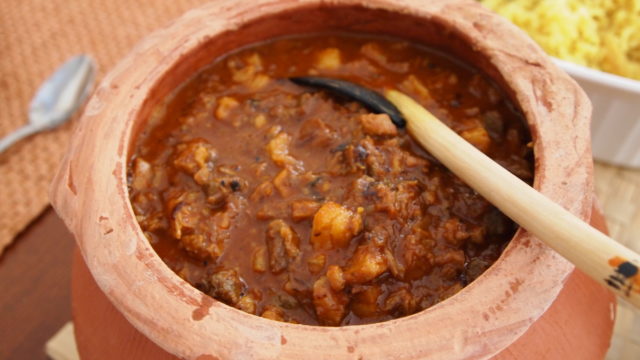 What is it: A popular Catholic cuisine mainly prepared from pork.  Before being cooked in a hot vinegar sauce the meat goes through boiling, dicing and sautéing.
What does it taste like: This spicy curry would be an instant hit with a bowl of rice or bread.
10. Vatanyachi Bhaji: A Favorite Breakfast Food of Goa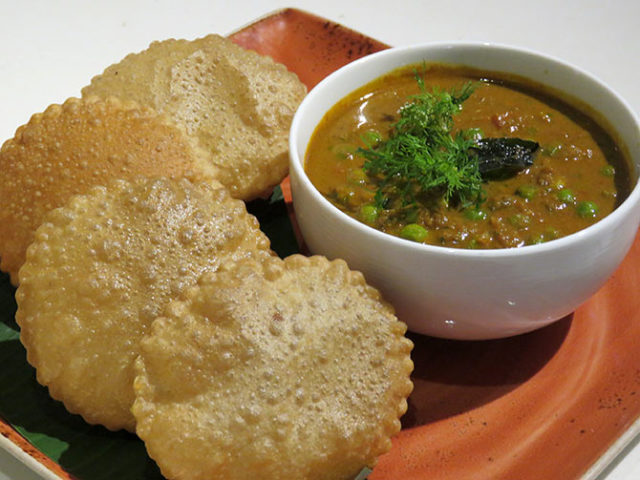 What is it: A gravy side dish made of green peas and banana flowers along with coconut milk.
What does it taste like: A tasty delight, commonly found in canteens and eateries near temples.
11. Ros Omelette: A Delicious Street Food of Goa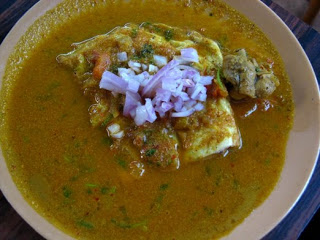 What is it: An omelet masked with chicken or chickpea gravy consisting of curry leaves, mustard seeds, crushed coconut and different spices.
What does it taste like: Simply yummy, served best with bread buns or pao, topped with chopped onions.
12. Croquettes: A Goan 'Wedding' Snack Recipe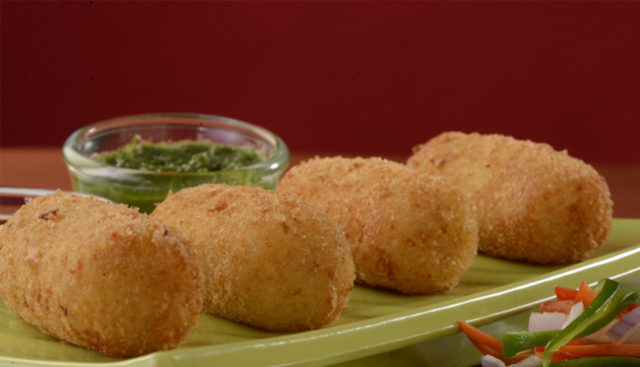 What is it: A roll prepared from minced meat (mostly beef), fish, and vegetables, fried in breadcrumbs.
What does it taste like: Light spiced serves best with poi paste (a type of plant stem) and butter. This wedding snack complements best with beverages.
13. Khatkhatem: A Hindu Vegetarian Food Recipe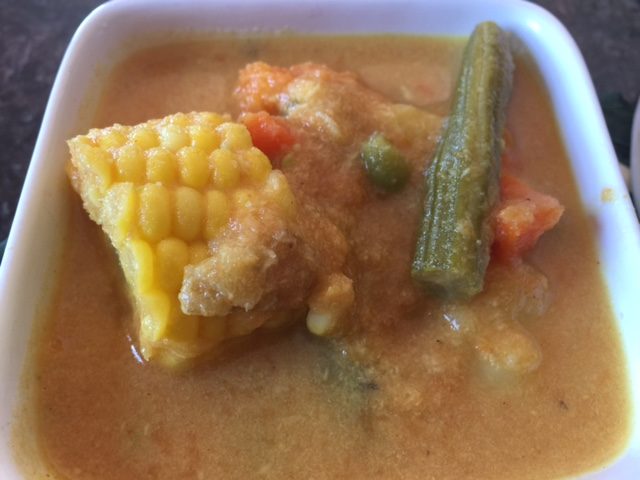 What is it: A curry dish prepared from seasonal vegetables, yellow pigeon pea, and triphala ( fruit), along with coconut gravy.
What does it taste like: Spicy and sour, with aromatic pleasure, serves best with steamed rice or white bread.
14. Alle Belle: A Lip-Smacking Goan Appetizer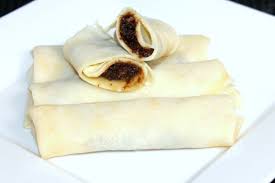 What is it: One of the best Goan sweet dishes made of flour, eggs, cashew nuts and loads of butter, garnished with chocolate sauce and grated coconut. You can also add food colors to the batter for an attractive appearance.
What does it taste like: A soft and spongy pancake, cherished with a cup of milk tea.
15. Milk Cream: A Goan Christmas Speciality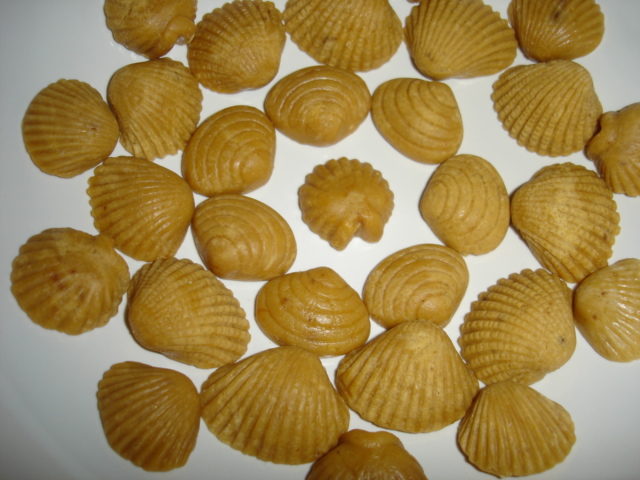 What is it: A soft milk cream dessert prepared by gentle stirring on a low flame for a couple of hours to get the desired yellowish color. You can shape it according to your choice.
What does it taste like: Sugary, melting in your mouth instantly. It is the best Christmas gift you can give your kids.
16. Ukadem Xitt: Traditional Goan Red Rice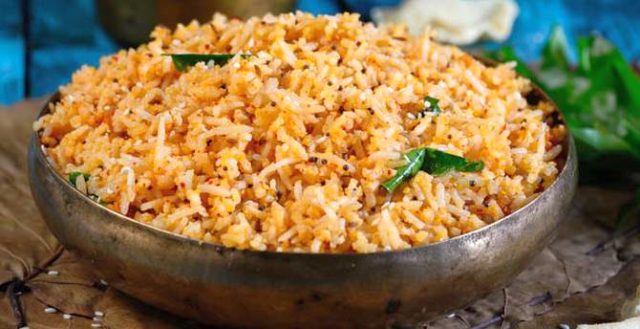 What is it: A partly boiled steamed rice, also known as Goan red rice with reddish brown texture.
What does it taste like: A little chewier than other steamed rice, enjoyed well with fish or prawn curry.
Hope you enjoyed reading about some of the favorite Goan foods, and also try not to miss the exotic beverages while exploring the zesty flavors of Goa. Goan food is not only confined to Konkan regions and Malabar coasts but also known abroad, especially in other South-East-Asian countries.