Alabama is aptly named "land of a thousand waterfalls" ‑  in its wilderness, as well as its state parks, you would be greeted with baffling underground behemoths, or have your tangled senses numbed by the spectacular scenic beauty of waterfalls falling hundreds of feet. So, if your heart yearns to lose itself amidst the thunderous choir of these natural delights, skim through this article to be best aquatinted with them.
1. DeSoto Falls, DeKalb County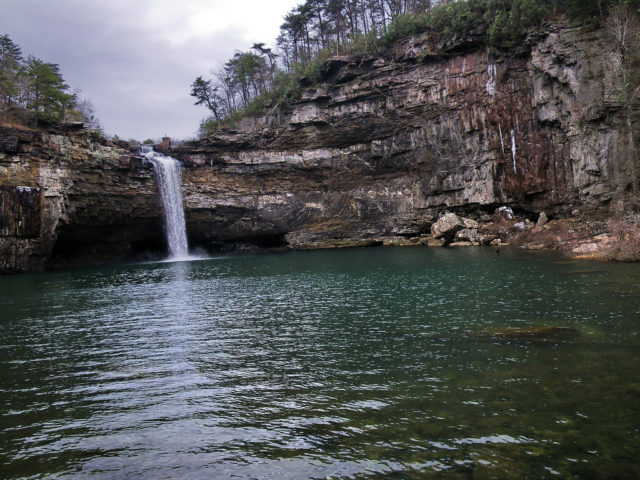 One of the highest falls in Alabama, DeSoto Falls is a hundred foot spout that lies within DeSoto State Park in the town of Mentone. The attractions provided are numerous – you may meander along its 25 miles of hiking trails, relax in any of its varying campsites or relish views of the other falls like Lodge Falls and Lost Falls.
How to Get Here
2. Noccalula Falls, Etowah County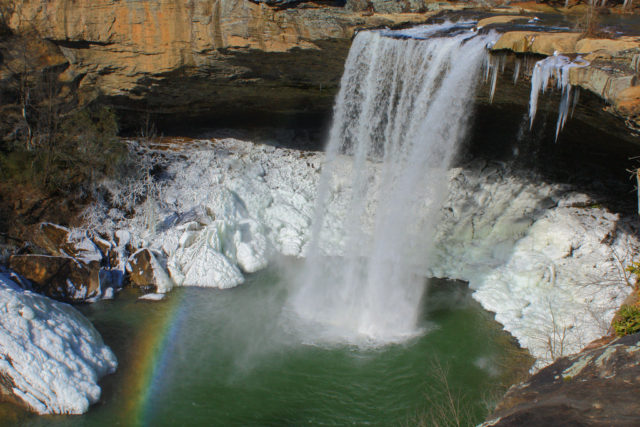 This 90-foot waterfall is the chief attraction of Noccalula Falls Park, located near Gadsden in North Alabama. A bronze statue of a young Cherokee woman, found at the park's entrance, is in the dedication of a Native American maiden, who, resenting her father's wishes to marry a man of his choice, plunged into the falls and died.
How to Get Here
3. Thompson Falls, Marshall County
These, on Mink Creek in Arab, comprise of three separate waterfalls that crash into a profound gorge. You need to be physically active to cherish memorable views of all three for the trip involves rocky terrains.
How to Get Here
4. Chewacla Falls, Lee County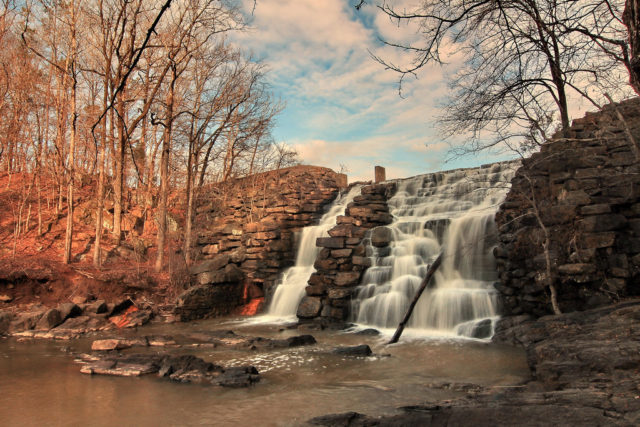 Formed from the Chewacla Dam, this one, situated at Chewada State Park, in Auburn in Eastern Alabama, goes up to a height of 30 ft. Avail any of the eight trails for hiking or biking or engage in recreations like swimming, boating, fishing in the 26-Acre Lake, also bearing the name, Chewacla.
How to Get Here
5. Cheaha Falls, Northern Clay, and Southwestern Cleburne Counties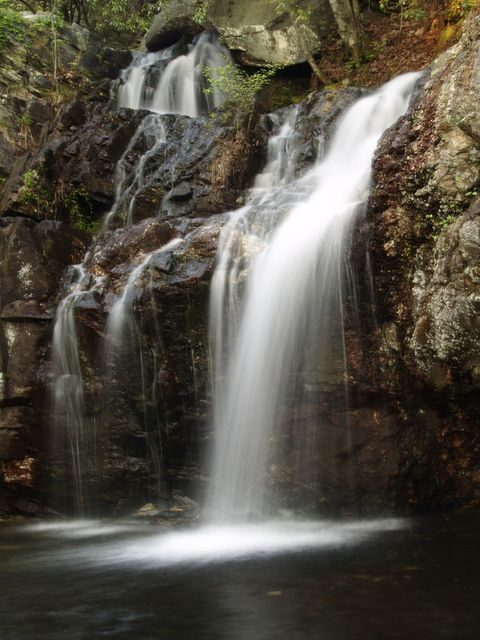 If you drive for 1 hour, 20 minutes from Birmingham, you will reach the highest mountain in Alabama, Mt. Cheaha, where the breathtaking Cheaha Falls is located. Possessing a height of 30 feet, it can be accessed by hiking along Chinnabee Silent Trail. If time permits, make the most of your sojourn by visiting the Devil's Den and High Falls.
How to Get Here
6. Welti Falls, Cullman County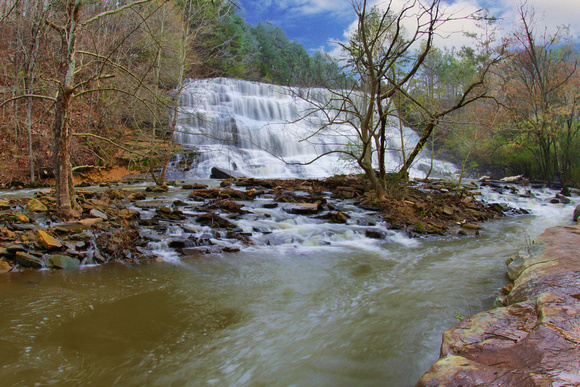 This one in Central Alabama, surrounded by wondrous foliage and pleasant landscape, hails as the most sought after place of Cullman. Only, look out for the waste deposits that might make your trip unavoidably unpleasant.
How to Get Here
7. High Falls, Geneva County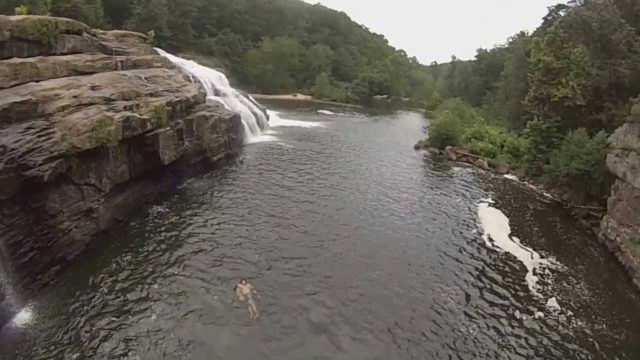 If you nourish a strong desire of jumping over high cliffs or swimming in crystal clear water, head to North Eastern Alabama, where this fall is situated near Guntersville.
How to Get Here
8. Yellow Creek Falls, Cherokee County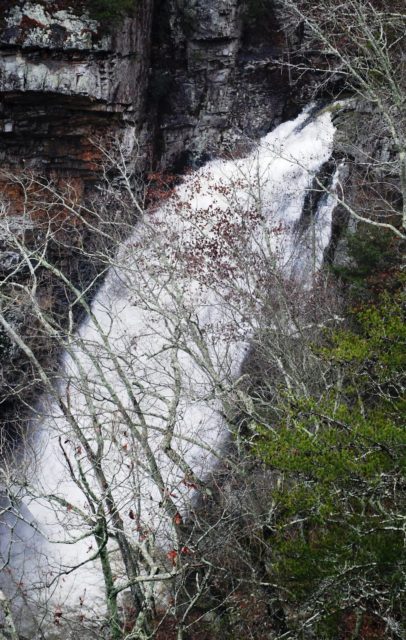 For a luxuriating boating experience, visit this picturesque falls in Leesburg that flow over natural rocks into the Weiss Lake. You may also opt for kayaking if you have an adventurous spirit.
How to Get Here
9. Kinlock Falls, Lawrence County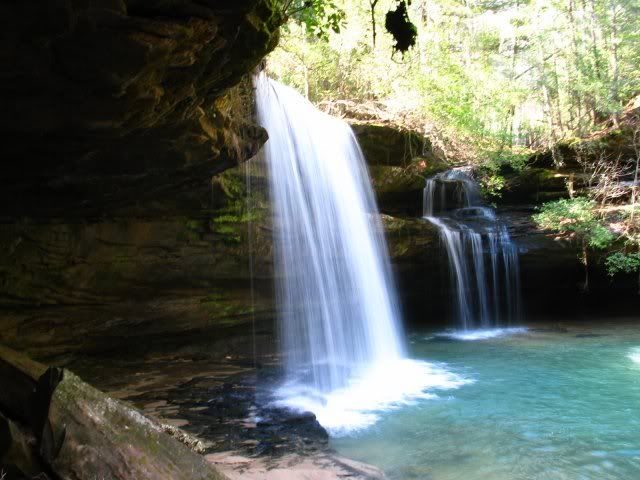 Getting to this fall at the west side of Sipsey Wilderness would require you to take a small road trip, but the exhilarating experience of dipping your feet into the pool at the base would undoubtedly make you forget all troubles undertaken. Plan an early trip to this falls, situated at the south of Moulton.
How to Get Here
10. Falling Rock Falls, Shelby County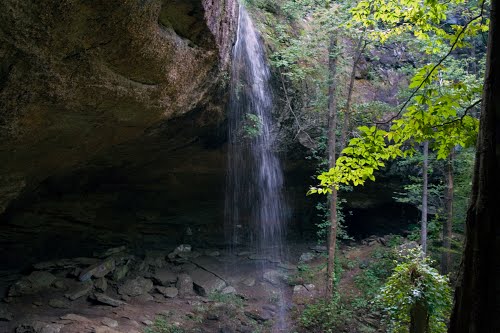 One interesting feature of this falls near Montevallo that can make your trip akin to an adventure is the presence of a secluded cavern behind it. Explore it and soak in the beauty of falling water, but be careful of slippery rocks.
How to Get Here
11. Martha's Falls, Cherokee County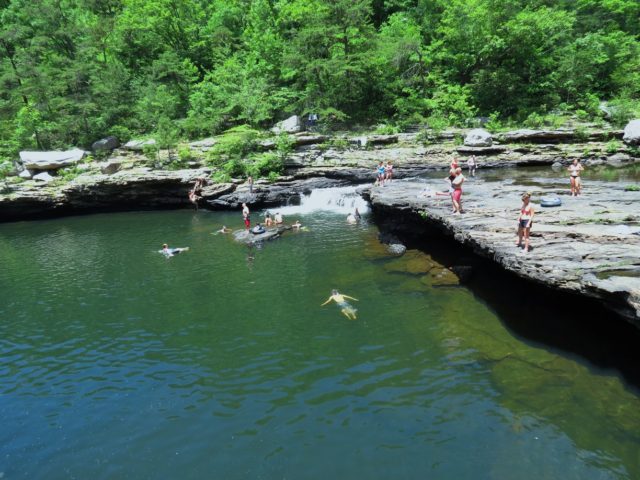 At Little River Canyon National Preserve, is a beautiful swimming area formed by the cascading water of Martha's Falls. Also known as Little Falls, this one in Fort Payne, is a great place to spend an entire day.
How to Get Here
12. Kings Shower Waterfall, Jackson County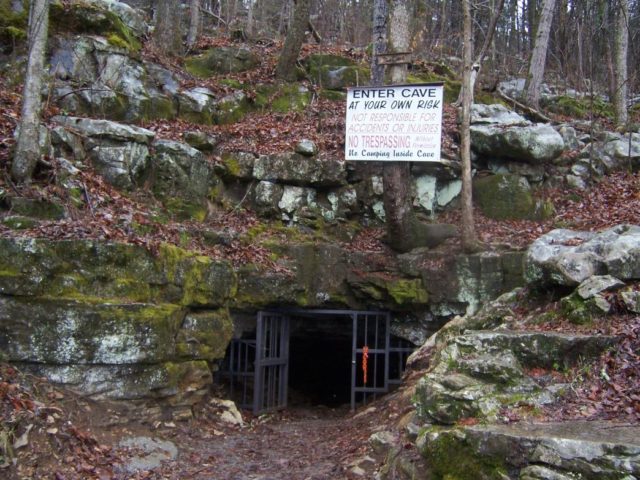 To behold this beautiful behemoth falls near Troy, you need to have adequate caving skills for it is located deep within Tumbling Rock Cave. Stretching for 396 ft, it flows best post torrential rains.
How to Get Here
13. Wilson Dam Waterfall, Colbert County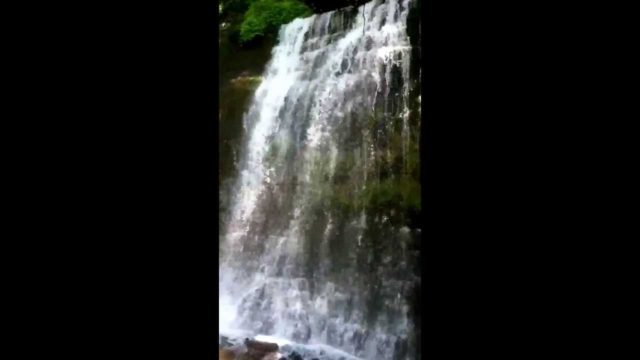 On the Tennessee River, connecting Muscle Shoals and Florence in Alabama, is Wilson Dam and on a high rock adjacent to it, is this year-round waterfall. Visit fast to create some unforgettable moments.
How to Get Here
14. Mardis Mill Falls, Blount County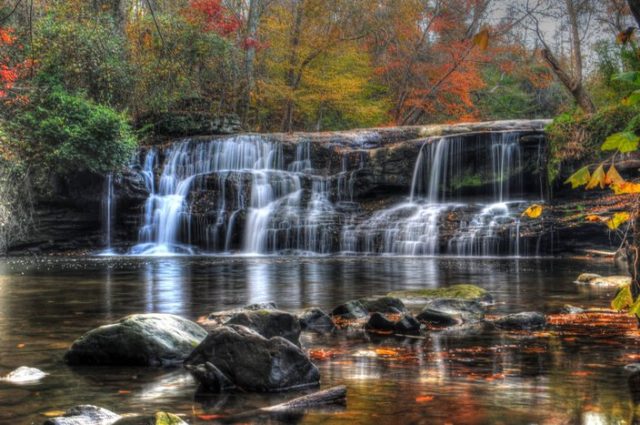 Bearing a width of 35 feet and dropping 16 feet, these falls, also called Grave's Creek Falls near Oneonta, are perfect for an ideal all day trip, far from the maddening crowd. Pack a sumptuous lunch and get set go!
How to Get Here
Besides these there are other waterfalls too in Alabama that you may like to visit, like the Salt Creek Falls in Oxford, Catoma Creek Falls at the west of Montgomery, Wetumpka Falls in Elmore County, Seven Falls in Morgan County and Caney Creek Falls in Winston County.
Natural beauty is something we invariably crave for. But a survival crammed between narrow brick walls hardly allows for such luxury. Hence, the sole alternative left is to head to such enchanting locales as the ones mentioned above, to get in tune with pristine nature amidst exclusive serenity.