For camp lovers, Main offers countless campgrounds, out of which 12 are within state parks. Can rightly be called a camper's paradise, Maine leaves the camp loving people spoilt or choices when it comes to choosing for the best place. More the options, more the confusion! However, leaving all the doubts, one thing that can be said is that to enjoy the rocky coastline, and the variable geographic splendor of the state, camping is a pleasant activity.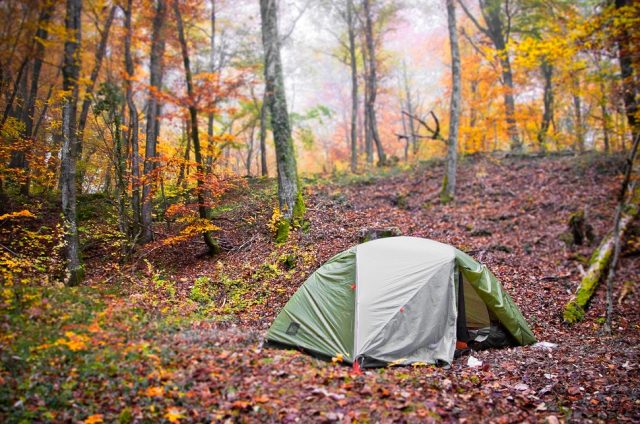 Camping Place in the Western Maine
1. Mount Blue State Park, Weld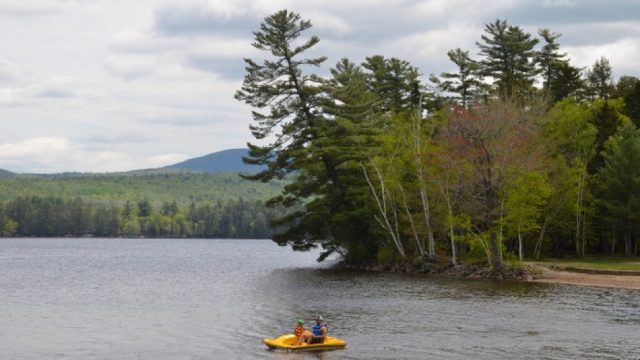 Located beside the Webb lake, the largest park of the state (8000 acres) houses around 136 campgrounds. The beautiful location gives you a sneak peek at the nearby shore and ocean from your campsite, and it is a walking distance so campers can take a walk to the beach anytime. Besides, camping, you may also have a picnic with your fellow campers.
Suitable For: Tent, RV, and trailer camping.
Amenities: Hot shower, flush toilet, dump station, and drinking water, campsite table, grit, and fire ring, BBQ grills, firewood, electric hookups and so on.
Pet-friendly: Yes
Additional Activities: Biking, swimming, hiking, and Ice-skating, Mountain Biking, horseback riding, canoeing, boating, cross-country skiing, and sliding
Operational Season: Mid-May to October and some specific time in Winter
Camping Spots in Southern Maine
1. Wolfe's Neck Oceanfront Camping, Freeport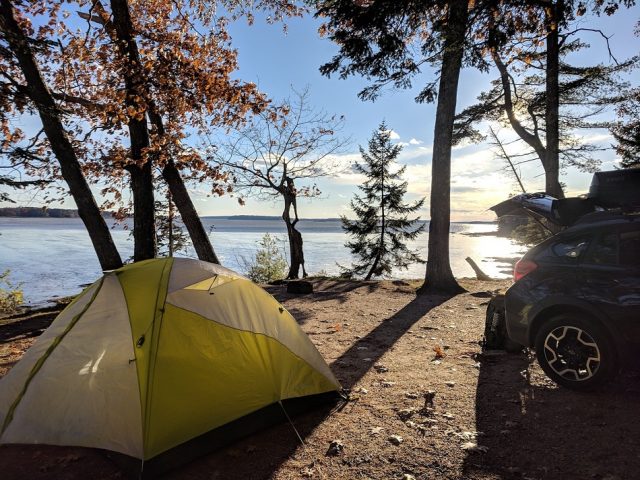 Utilizing the location, where there is a chance to catch a glimpse of the ocean, lush green, forests full of tall trees, the campground has multiple sites that are different from each other. While East Bay is all about camping in a lovely meadow with RVs, farm stores, and cabins for the convenience of the campers, the Middle Bay area is reserved only for tent camps with a proximity to water bodies. The West Bay is located on a vast uninterrupted ground which is ideal for families. There is one unique spot named Quiet Cove where you can spot a lot of birds as the place is just beside an estuary.
Suitable For: RV, tent, and cabins.
Amenities: Bathrooms, showers, electric hookups, and wifi connection, and rental tent and cabins, and operational farm stores.
Pet Friendly: Yes
Additional Activities: Kayaking, canoeing, and cycling; the place hosts many educational activity-driven programs, school field trips and summer camping things.
Operational Season: Throughout the season the camping site is open, but June to August is the most popular season.
2. Sebago Lake State Park, Casco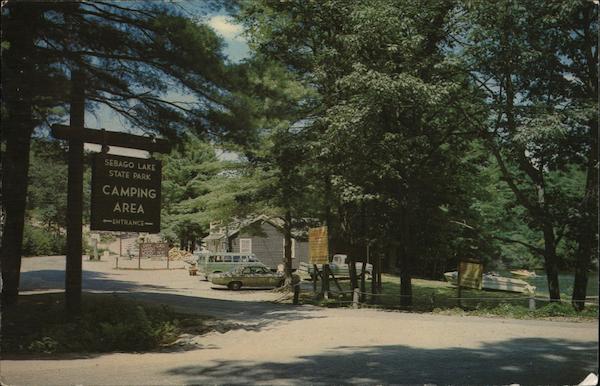 The largest state park of the southern region of Maine, there are around 250 campgrounds inside the park. The 1,400 acres of the area is guarded with peaceful forest so camping inside the forest would be a quaint experience for sure. The Sebago Lake, being the second biggest lake in the state, is picturesque and it enhances the camping experience.
Suitable for: Tent camping only; group camping
Amenities: Drinking water, fire pits, picnic tables, flush toilets, and hot showers
Pet-friendly: No
Additional Activities: Hiking, Boating, finishing, canoeing, cross-country crossing, fishing, swimming, and snowshoeing
Operational Season: Throughout the year
3. Wild Duck Adult Campground, Scarborough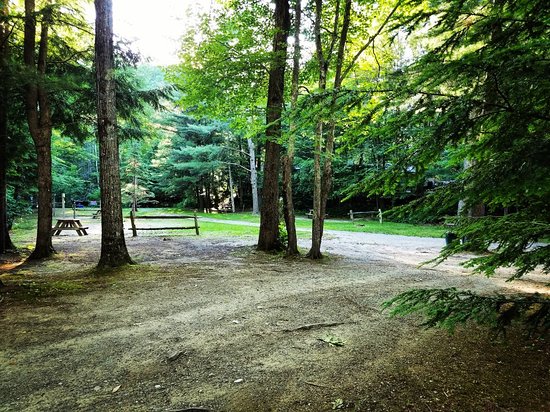 As the name suggests the campground, the campground is only for adults or people who are 21 years and above. Set up with the modern features, the campground is close to the ocean. Like any other sites, you will have to make reservations, mentioning the type of campsite you wish to book from their 70 sites. The entire area is close to the state's biggest salt water marsh, Maine Audubon's Scarborough Marsh. You can also see a wide range of wildlife, like egrets, raptors, herons, deer, otters, mink, and muskrat.
Suitable for: RV and tent
Amenities: Full hook-up sites, pull-through sites, restrooms, wifi and computer services, phones, laundry services, dump stations, firewoods, and grocery supplies.
Pet-friendly: Dogs are allowed but they must be leashed.
Additional Activities: Kayaking, and canoeing
Operational Season: March-October (it might vary)
Camping Spots in Northern Maine
1. Allagash Gateway Campground & Cabins, Greenville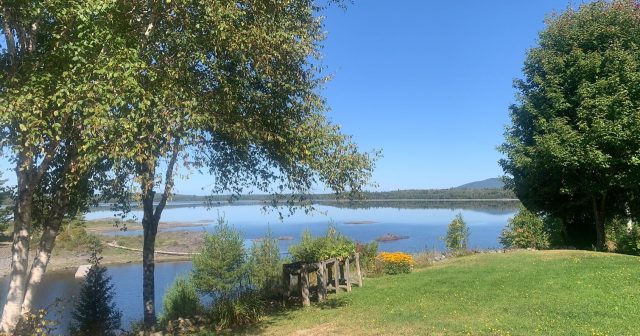 Offering both modern and primitive camping experiences, this site is a perfect blend of the two worlds. The popular campground is located just beside the scenic Ripogenus Lake. The services and the availability of the sites are seasonal and time-bound, so it is better to pre-book. Apart from camping, you can spot trout, salmon, cusk, and so on.
Suitable for: RV, tent, and cabins
Amenities: Water system, electricity, and spacious parking lots for cars and boats, fire rings, and dump stations
Pet-friendly: Yes
Additional Activities: Kayaking, canoeing, fishing, and boating,
Operational Season: May-November
2. Aroostook State Park, Presque Isle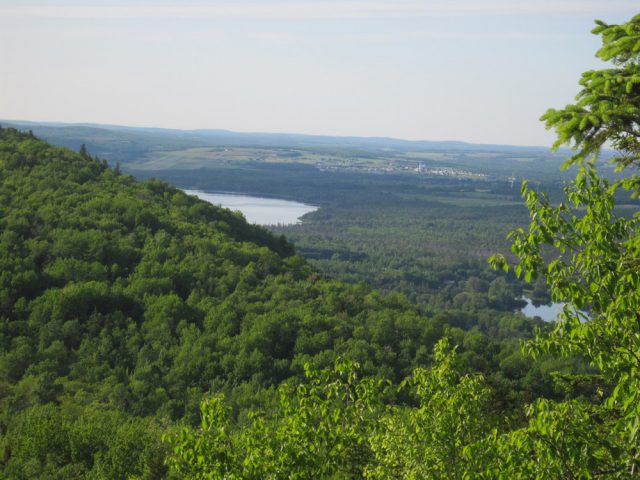 Being the oldest one in the state, the park is good for camping with its 30 sites. You can see a lot of wild animals passing your streets, but they are not harmful. The nearby beach is also refreshing to say the least. The forest of the campsite is laden with fir, spruce, and so many tall trees. The charges for the campsites are different for residential and non-residential individuals of Maine.You can spot the trail that heads the South Peak of the Quaggy Jo Mountain.
Suitable for: RV and tents
Amenities: Kitchen shelter, shower, and picnic tables
Pet-friendly: Yes
Additional Activities: Biking, hiking, kayaking, swimming, fishing, boating, snowshoeing, and cross-country ski trailing
Operational Season: Throughout the year
A Few Names of Free Campgrounds of Maine
However, if camping is an impulsive decision and you do not have time to book the site, you can rely on the following sites as they are free but the wonder of nature is as good as possible.
Scoodic Beach, Sullivan
Peabody mountain- Bethel
Machais River Corridor- Machais
Jewett Cove- Greenville
These are popular for their free services so you may end up seeing the place crowded. In many of these places you will have to come faster to secure your camping.