Besides the glitz and glamour in Nevada's Las Vegas, the city is no less behind when it comes to fun-filled outdoor adventures. The hiking trails are fun and challenging, spread over a varied desert landscape. You would be rewarded with towering mountains, hot springs, forests, and waterfalls at the end of each trail. The colorful rock formations also characterize the state's topography, often encountered while hiking the Fire Wave Trail or White Domes Trail. However, do remember that summers can be scorching, with the temperature exceeding 100°F. So it is advisable to start early in the morning and carry enough water.
Some of the Best Places to Hike in Las Vegas
1. Fire Wave Trail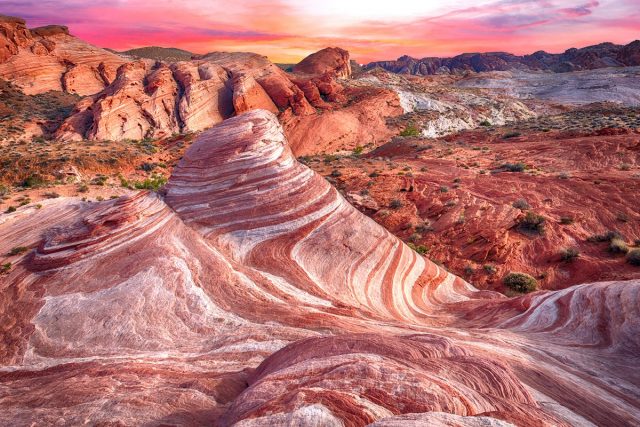 For one of the short and family-friendly hikes, you can't miss Fire Wave Trail in Valley of Fire State Park. It is picturesque with unique rock formations all along. The swirling patterns on them in white, orange, and pink, reminiscent of the ocean waves, give it the name. The trail starts as a sandy path but soon switches to sandstone, leading to a beautiful towering formation. It's best to hike it in the colder months as the temperature exceeds over 100°F, and the path along this hike lacks shaded spots.
Length: 1.5 miles (out and back)
Difficulty: Easy
Best time to visit: Winter
2. White Domes Trail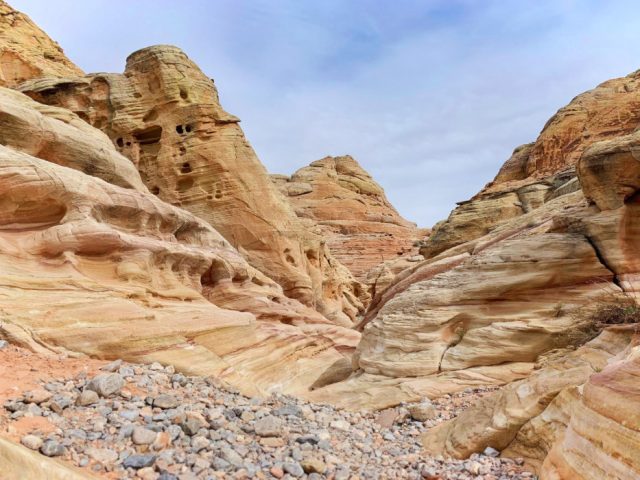 White Domes Trail boasts diverse and stunning landscapes all the way. It traverses through a slot canyon with views of surrounding colorful rock formations, providing excellent photo opportunities. Going up to the canyon's backside would give one the pleasure of witnessing a fabulous desert landscape offering stunning views of rocky and mountainous terrain. It is short and well-marked, with ample shady sections to save you from the scorching sun. But, do carry enough water if hiking in summer. Also, wearing sturdy shoes would be helpful as there are some sandy and slippery sections. You can explore the side tracks as well to get extended views of stone hills.
Length: About 1 mile (loop)
Difficulty: Easy
Best time to visit: All year round
3. Calico Tanks Trail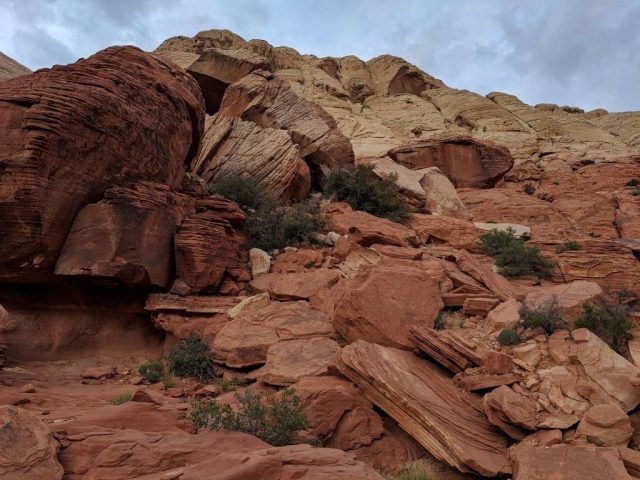 This trail takes you up the Red Rock Canyon to a natural depression, Calico Tank. The track is sandy, consisting of several sets of stone stairs and rocks to scramble. But, any average-level hiker can access it. The splendid geological and historical features make it fun to explore. Though the sandstone-encompassed tank remains dry most of the year, the vibrant Las Vegas views from the trail's end are breathtaking. It is also an ideal spot for resting and having lunch. You can complete the hike in less than two hours.
Length: About 2.2 miles (round trip)
Difficulty: Moderate
Best time to visit: October to April
4. Ice Box Canyon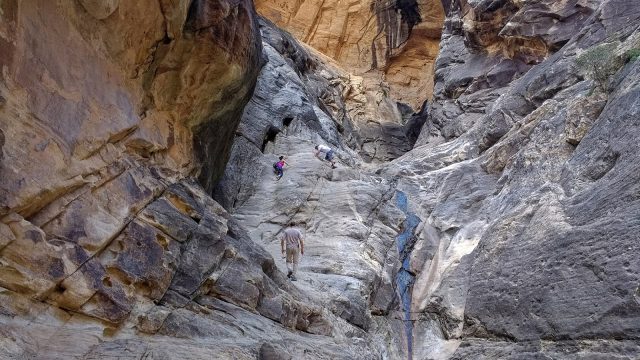 Amidst the Red Rock Canyon Nation Conservation Area, this trail takes you through a box canyon. Though it's not too steep, covering the rocky paths and scrambling over huge boulders make it challenging. But, as you near the canyon, you'll find many shaded spots for a temporary respite. If coming after rainfall, you can catch sight of a waterfall inside. The trail ends at the canyon walls, and it is better not to go past it. Some have attempted climbing the steep and slippery rocks and ended up injuring themselves.
Length: 2.3 miles (out and back)
Difficulty: Moderate
Best time to visit: September to May
5. Lake Mead Railway Trail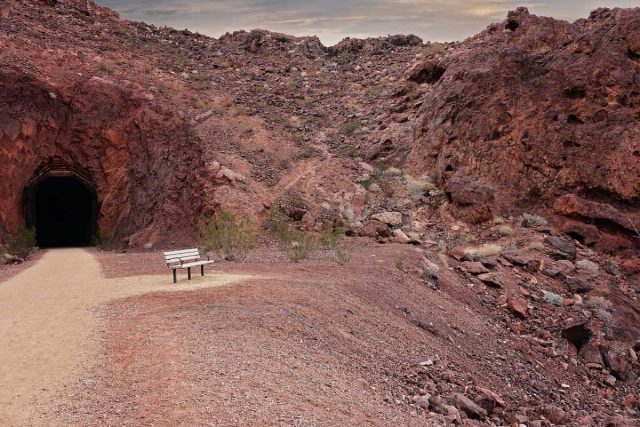 This historic railway trail runs through five tunnels. The rail tracks at present have been replaced with flat pathways, ideal for a leisurely walk. The interesting information and ruins of the Hoover Dam's construction will keep you indulged. You can start from the trailhead off Highway 93, near Alan Bible Visitor Center. It is family and dog-friendly providing beautiful panoramic views of Lake Mead. The trail has improved in recent times, and people in a wheelchair can access it too.
Length: About 8 miles (round trip)
Difficulty: Easy
Best time to visit: All year round
6. Calico Hills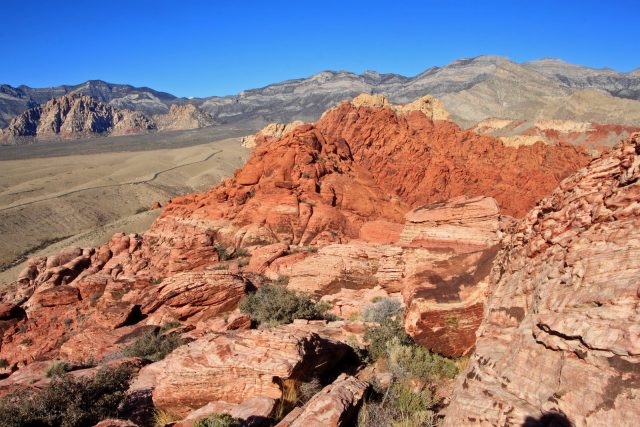 Exploring the Calico Hills, a group of striking red sandstone formations makes this strenuous trail worth hiking. It is an uphill climb along the rugged terrain. Towards the starting and ending, in particular, the sections are steep and quite challenging. There are many sidetracks, easy to confuse hikers. However, once you're at the main trail's end, the sweeping views are sure to take away all your weariness. It'll take you about 4 hours to complete the hike.
Length: About 6.5 miles (out and back)
Difficulty: Hard
Best time to visit: All year round
7. Petroglyph Canyon Trail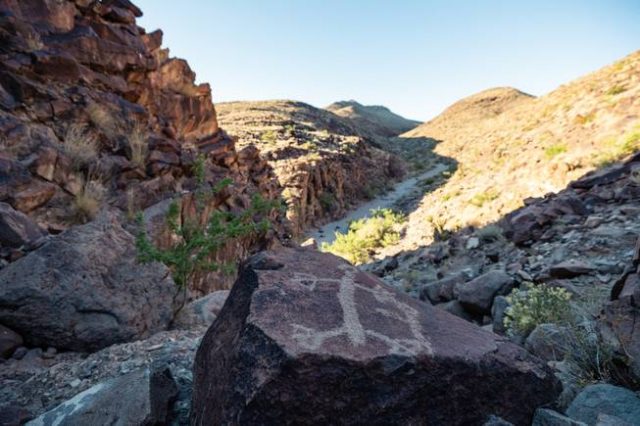 History buffs and rock climbers can consider taking this trail in Sloan National Conservation Area. The fascinating ancient petroglyphs etched on boulders and cliff walls are the main attraction here, giving an insight into the history of the Archaic inhabitants and the 19th-century settlers. You will have to start clockwise, hiking up the Petroglyph Trail (Trail 100) and getting down the Cowboy Trail (Trail 200). However, if you're not into rock climbing, you can tread along only the Cowboy Trail. If coming in springtime, blooming wildflowers will greet you on the way.
Length: About 4 miles (loop)
Difficulty: Moderate
Best time to visit: March to October
8. Mount Charleston Hiking Trails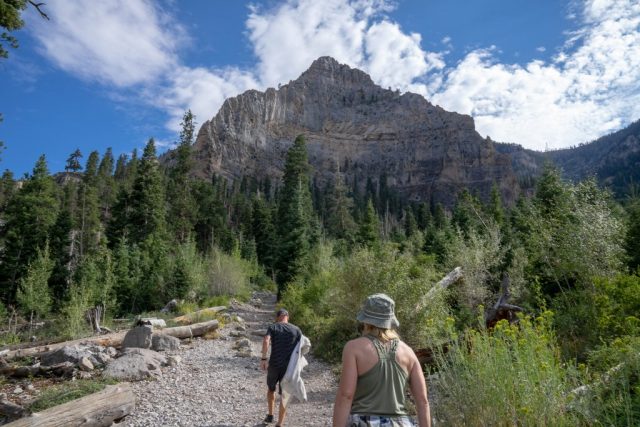 The Mount Charleston Wilderness features numerous hiking trails. Among these, Big Falls Trail is shady and well-traversed. It is a fun hike with some rock scrambles. You might witness a gorgeous waterfall at the end, flowing only in the rainy season. But even if it dries up, the forest views along the entire trail are pretty impressive and worth hiking.
For a longer and challenging hike, you can traverse the Charleston Peak South Trail. It is steep, taking you to the mountain summit. The views throughout the way and on the top are spectacular. You can also rest for some time at the dugout fort at the trail's end. It is better to start early in the morning as the hike takes about 8-10 hours.
Length: Big Falls Trail (About 4.5 miles, out and back) Charleston Peak South Trail (About 16.5 miles, out and back)
Difficulty: Big Falls Trail (Moderate), Charleston Peak South Trail (Hard)
Best time to visit: May to October
9. Golden Canyon, Gower Gulch, & Badlands Loop Hikes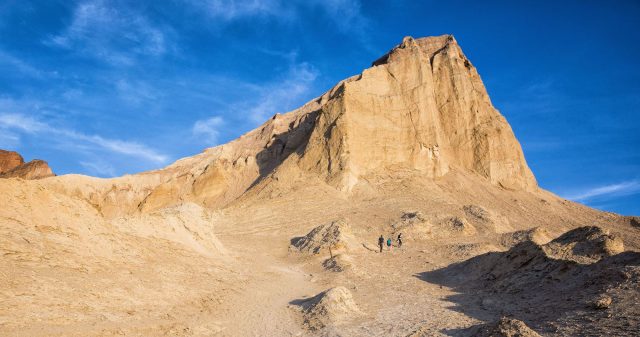 Starting from Zabriskie Point in Death Valley, this trail weaves through Golden Canyon, Gower Gulch, and Badlands. The varied terrains and beautiful landscape of the canyon, valley, and mountains at a distance make it an ideal day-hike. Do not miss taking a detour to Red Cathedral to explore the colorful rock formations. Many hikers also prefer going clockwise, starting from Golden Canyon. This will allow you to cover the challenging sections first, reserving the views for the later part.
Length: 5.8 miles (loop)
Difficulty: Moderate
Best time to visit: November to April
10. Clark County Wetlands Park Nature Preserve Trails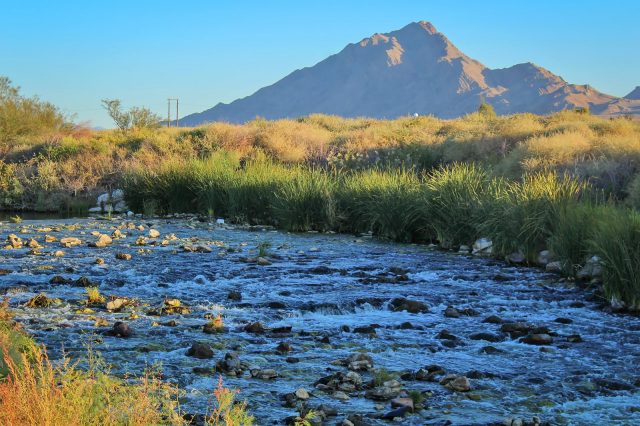 Those who wish to experience a scenic setting different from the typical Las Vegas landscape can visit Wetlands Park Nature Preserve. It is an oasis amidst the desert surroundings. You can tread along Wetlands Loop Trail and Duck Creek Trail. Both are on a flat and paved surface, offering incredible wildlife and bird viewing opportunities. They're kid-friendly, but you cannot bring dogs on Wetlands Loop Trail.
Length: Wetlands Loop Trail (About 2 miles), Duck Creek Trail (About 1.3 miles, loop)
Difficulty: Easy
Best time to visit: All year round
11. Arizona Hot Springs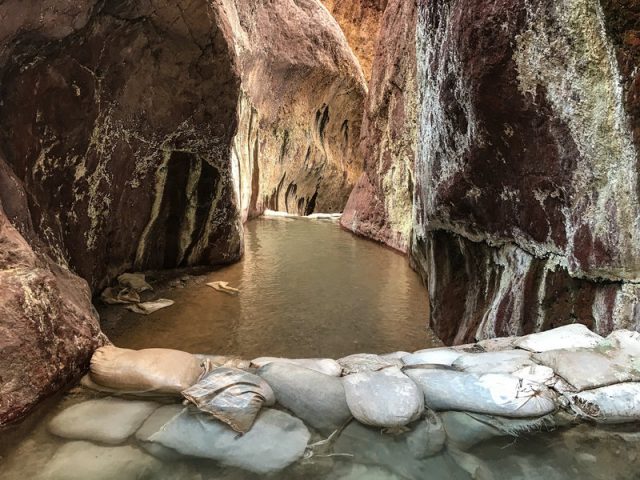 For a refreshing dip in the clear hot springs near Las Vegas, you can hike to Arizona Hot Springs. The trail itself is beautiful, winding through Lake Mead wilderness and secluded canyons. Mountain peaks and wildlife views are impressive here. Do wear waterproof shoes as there are some sections where you will have to cross the springs. At the trail's end, the hot springs await you. As the temperature of the waters ranges from warm to hot, be sure to check the temperature before diving in.
Length: About 6 miles
Difficulty: Moderate
Best time to visit: All year long
12. Mary Jane Falls Trail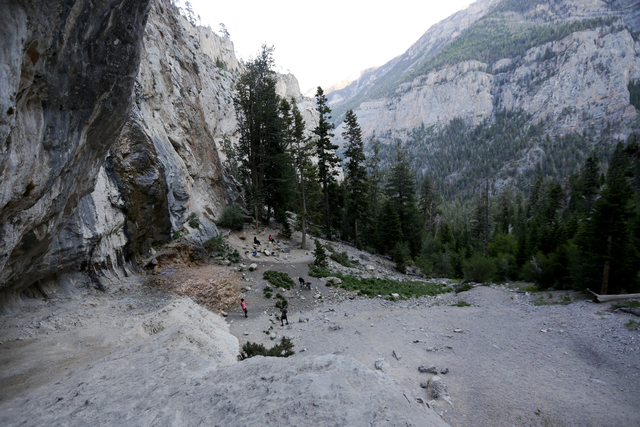 Hiking along this trail will reward you with plenty of scenic sights, from ponderosa pines to canyon and mountain views. It gets a bit rough mid-way with a few sets of switchbacks. There are some washouts between them where you will have to be more careful. Wearing sturdy hiking shoes would be helpful to get a grip over loose rocks. On reaching the trail's end, you can witness a trickling waterfall.
Length: About 4 miles (out and back)
Difficulty: Moderate
Best time to visit: April to December
13. Bristlecone Loop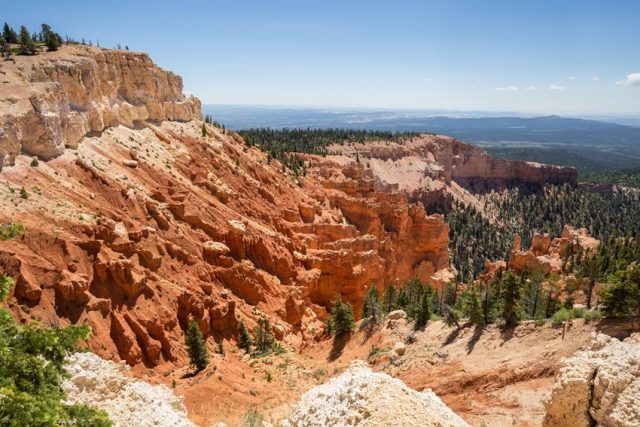 This trail is beautiful, leading you to the top of the Spring Mountains. It provides a retreat from the Nevada deserts and sweet scents of bristlecone pines. You can start from the relatively easy lower trail and end at the upper trailhead or vice-versa. While the lower trail is broad and less steep, the upper one is shaded with pine trees lined along the way. The elevation gain makes the trail moderate in difficulty, but hikers of any skill level can hike it. You might even encounter some wild horses on the way.
Length: About 5.7 miles
Difficulty: Moderate
Best time to visit: March to November
14. Gold Strike Hot Springs Trail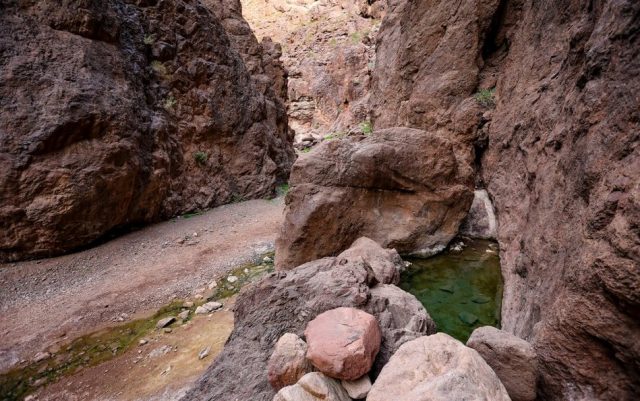 If you're up for a challenging and adventurous hike, this trail is perfect. It requires boulder climbing and ascending and descending steep sections using ropes. It ends at the Colorado River with incredible surrounding views. You'll also spot hot springs on the way with warm waters. Do keep in mind that the trail remains open only from October till May. Wearing waterproof hiking shoes and gloves is highly recommended.
Length: 6 miles (out and back)
Difficulty: Hard
Best time to visit: October to May
Best Hot Spring Hikes: Gold Strike Hot Springs Trail, Arizona Hot Springs
Best Mountain Hikes: Calico Hills, Mount Charleston Hiking Trails
Best Night Hikes: Gold Strike Hot Springs Trail, Ice Box Canyon, Calico Tanks Trail