With summer rapidly approaching, it is time to start planning your beach getaway. An often overlooked destination, Michigan deserves to be on your short list. The peninsular state boasts more shoreline than any other in the contiguous 48. You may not think of sand and sun when you think of the Midwest, but Michigan has plenty of both. Here is a rundown of five Michigan beach spots you should consider this summer.
1. Sleeping Bear Dunes National Lakeshore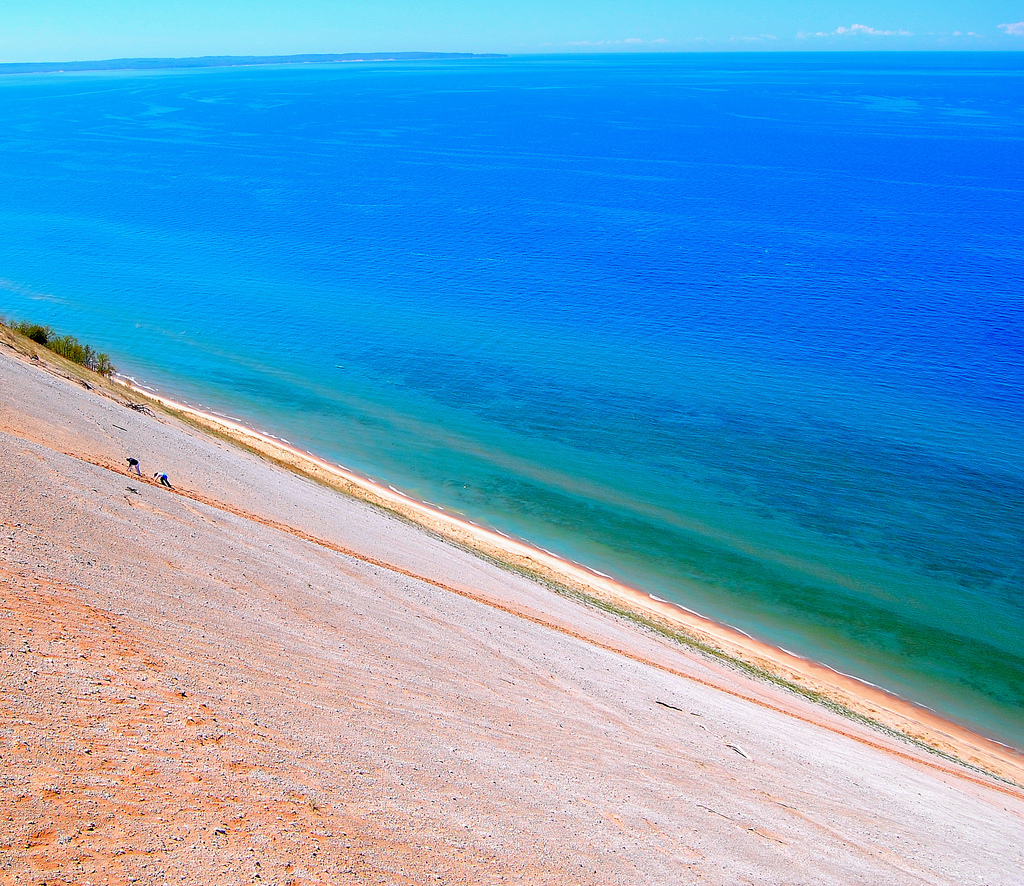 photo credit: flickr, mic stolz
This sandy stretch of Lake Michigan coast was named the "Most Beautiful Place in America" in 2011 by Good Morning America, and for good reason. The area features huge, rolling sand dunes that make for amazing hikes. If you decide to do the popular Dune Climb, be sure to go in the early morning or late afternoon and bring lots of water – it can get hot.
The dunes are vast and not many people make it all the way from the parking lot to the beach on the other side, but if you are able it is a must-do. The cool, refreshing water and breathtaking views of the lake bluffs are more than worth the trek.
The Sleeping Bear Dunes area is also home to the charming beach town of Glen Arbor and is an historic farming district featuring the largest collection of nationally preserved 19th century farmsteads.
Affordable hotels are available but fill up quickly. Try camping in one of Sleeping Bear Dunes' two campgrounds.
2. Traverse City

photo credit:traversecity.com
Known for its Cherry Festival and booming wine industry, Traverse City is a great couples' destination. The city is located on the Leelanau Peninsula, about 40 minutes from Sleeping Bear Dunes. Spend a day strolling through the downtown shopping district and pick up some old-fashioned Michigan fudge – a beach town staple.
Another day should be dedicated to driving up the Old Mission Peninsula. Many of the historic farms on this scenic strip have been re-purposed as vineyards in the last several decades. A trip up Old Mission Peninsula – with occasional stops for wine tastings and tours – reminds one of Napa Valley. At the end of the peninsula is a windswept, 1870s lighthouse that makes for a great date spot. If you bring a blanket, some locally-made snacks you picked up along the way, and your wine buzz, the park's views will do the rest of the work. Hotels within all budgets can be found in the area.
3. Mackinac Island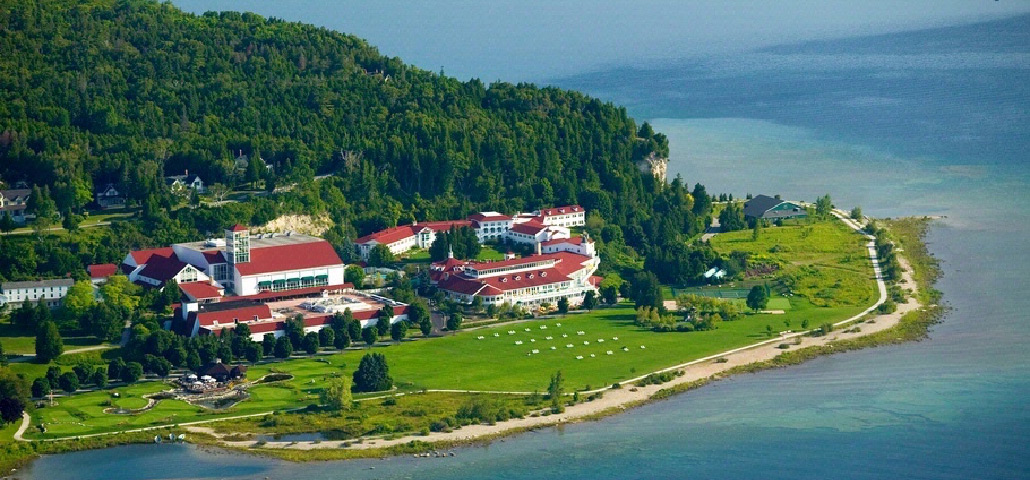 photo credit: weekinweird.com
Before jetliners made European vacations so easy, Mackinac Island (pronounced "Mack-uh-naw") was a summer playground for America's upper classes. Today it is enjoyed by families of all kind.
Stepping off the ferry and onto Mackinac Island is like stepping back in time. Cars are not allowed on the island so plan on renting a bike from one of the many vendors. Mackinac is especially popular with children for its fudge, toy shops, horse-drawn carriage rides and kite flying. For a kid-friendly educational experience, watch an artillery demonstration at the historic Fort Mackinac.
The island's historic Grand Hotel boasts one of the most beautiful sights in Michigan – a panoramic view of the Straits of Mackinac and the Mackinac Bridge. Rooms at the Grand Hotel are expensive but non-guests can buy a ticket to explore the historic building and its iconic front porch. Accommodations on Mackinac Island are in high demand during summer, so reserve well in advance.
4. Pictured Rocks National Lakeshore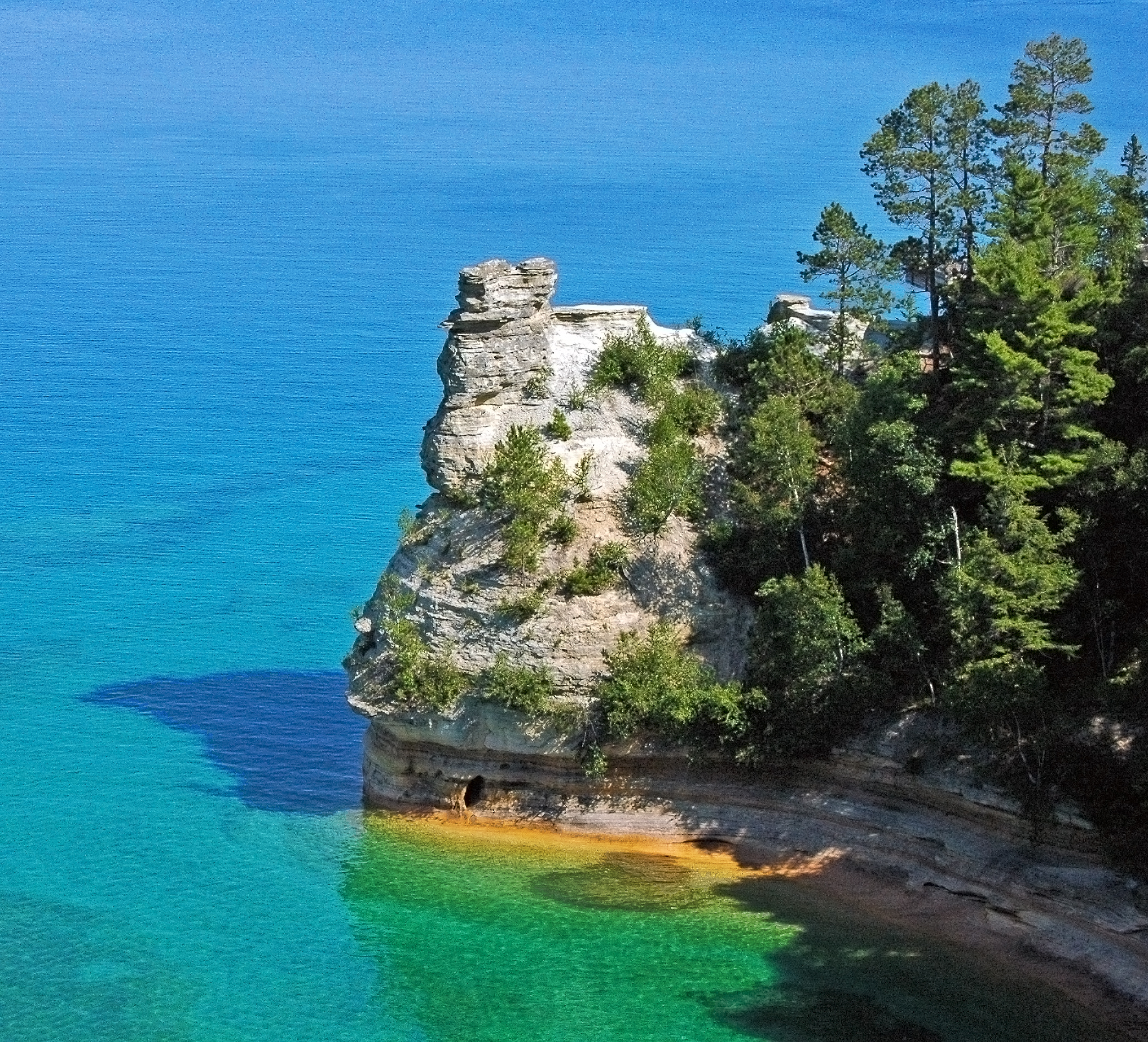 photo credit: wikimedia.org
Michigan's Upper Peninsula (U.P.) is home to perhaps its greatest natural wonder. The Pictured Rocks are a 40-mile stretch of striking sandstone cliffs along Lake Superior. The cliffs have eroded into striking formations such as Miners Castle, Chapel Rock and Chapel Falls. All of the most famous sites are accessible via short, paved walkways. Visitors should also try to get off the beaten path and enjoy some of the more hidden spots – and with 115 square miles of park, there are a lot of them. Even a short two- or three-mile hike can get you away from the hustle and bustle of the main attractions.
Looking up at the towering Pictured Rocks from the deck of a sight-seeing boat is awe inspiring. These vessels will get you close to rock formations you cannot appreciate from land, like archways and sea caves. In the city of Munising, you can also find glass-bottomed boats for viewing some of Lake Superior's famous shipwrecks. While in town be sure to try a pasty, a traditional U.P. meat pie. Pictured Rocks National Lakeshore is a preeminent camping and backpacking destination. There are plenty of campgrounds in the area but they are first-come, first-serve only. Be prepared to drive to more than one if your first choice is full.
5. Saugatuck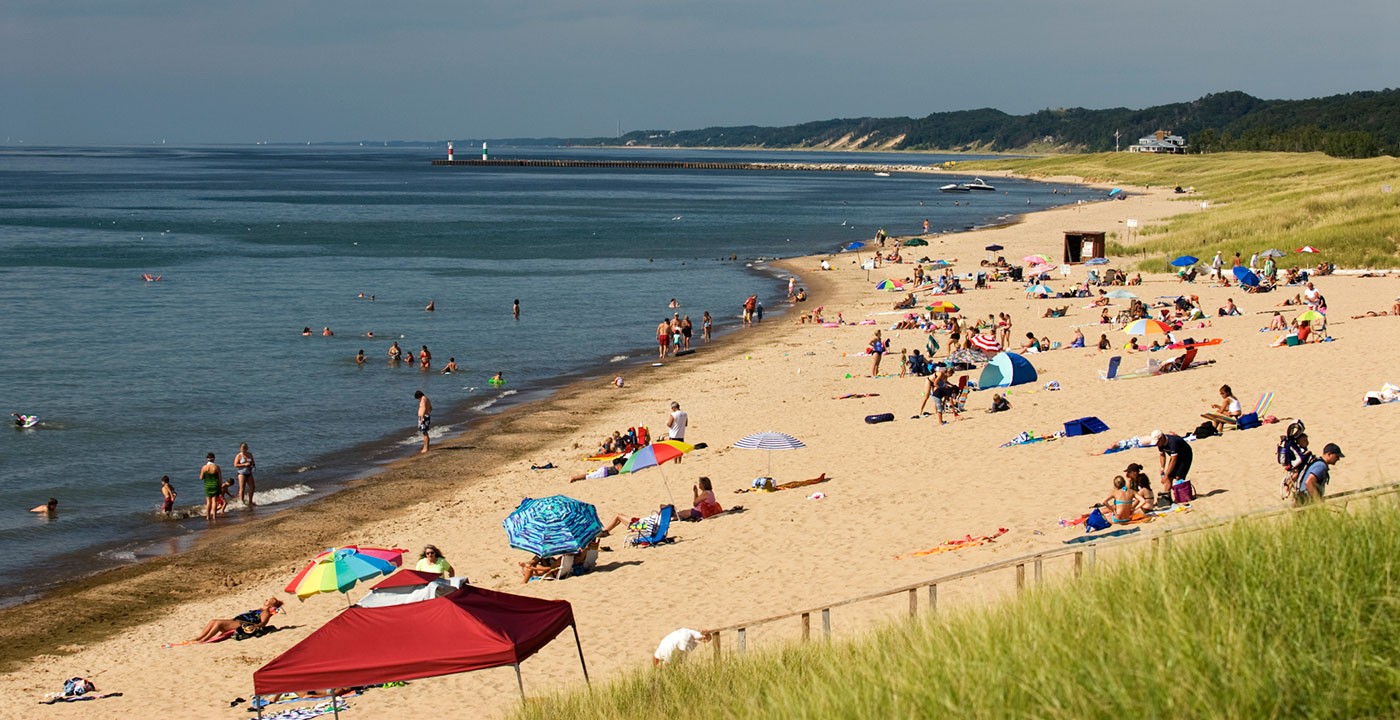 Saugatuck, conveniently located near the cities of Holland and Grand Rapids, is a quintessential beach town on Michigan's southwest shore. It became famous in the late 1800s as a community for artists, and its creative heritage lives on to this day. The city has countless charming art galleries and shops, making it ideal for leisurely strolls and window shopping. For beautiful views of the city and harbor, climb Mount Baldhead (it is really more of a hill than a mountain). The best way to enjoy the full Saugatuck experience is by staying in one of its many bed and breakfasts. You can find both stately and quaint inns, for all budgets.
Bonus Beach: Isle Royale National Park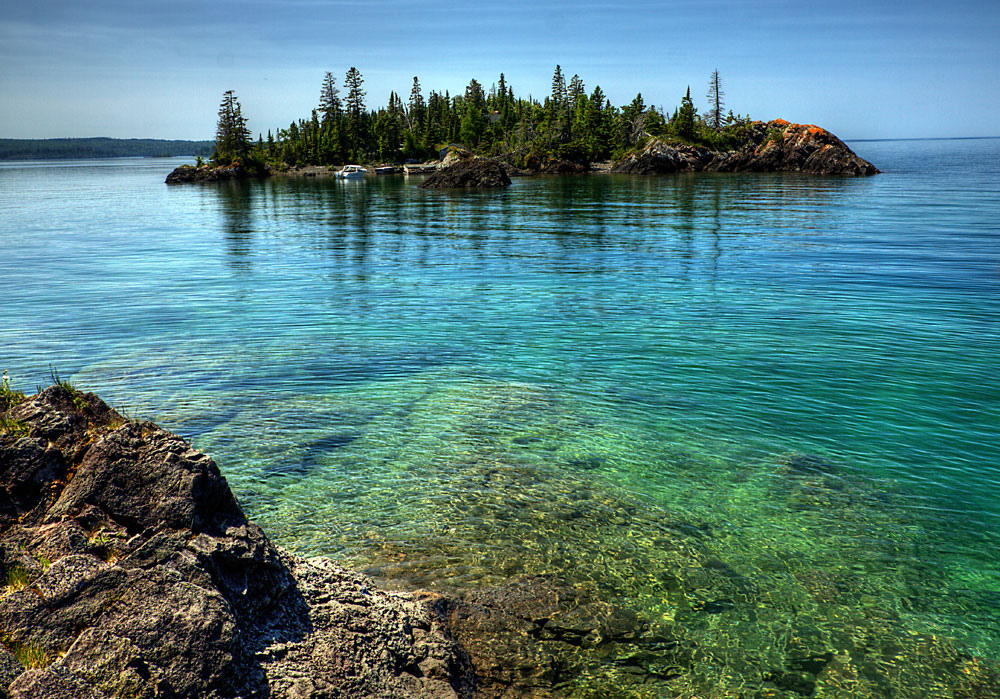 This Michigan destination is not for the faint of heart. Getting there requires driving to one of the most remote places in Michigan's U.P., boarding a ferry, and embarking on a five-hour ride across the choppy Lake Superior. At the end of your voyage, you will find yourself in an outdoorsman's paradise. It is an ideal destination for canoers, kayakers, backpackers, and hikers who covet seclusion. Biologists and animal-lovers are also drawn to the island in hopes of observing the unique relationship between the moose and wolf populations. Isle Royale allows for free backwoods camping, but there are a few traditional lodgings available as well. Reserve them well in advance.