The leading Costa Rican beaches mesmerize the tourists with their tranquility. The beautiful waves and exquisite white sands of these beaches dotted with enchanting palm trees make this Central American nation a perfect getaway for the tourist.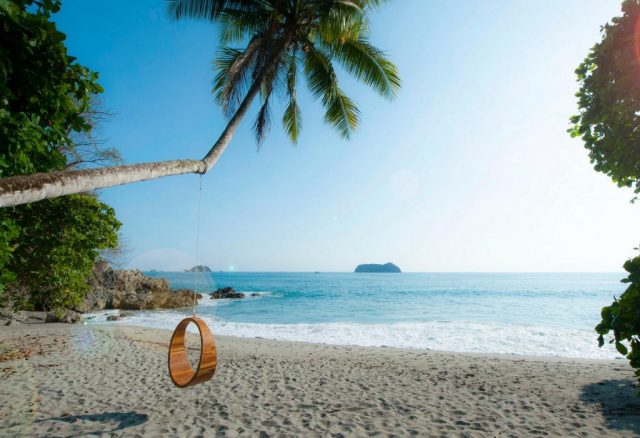 1. Playa Manuel Antonio, Puntarenas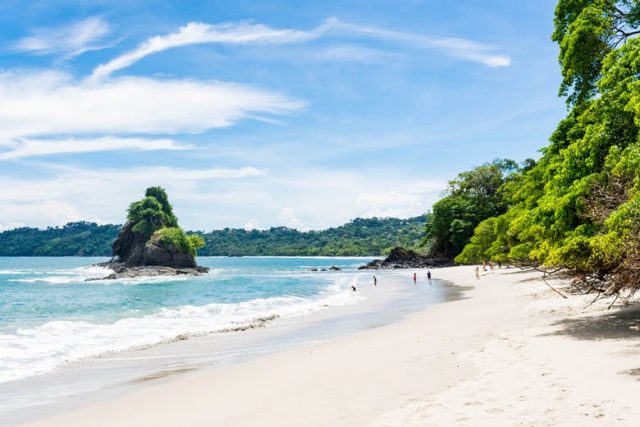 This impressive seashore of soft white sands beside the emerald blue Pacific Ocean attracts holidaymakers around the world. One of the top beaches of the country, the coastline is surrounded by a national park teeming with endangered wildlife and enthusiasts can spot howler monkeys, white-faced monkeys, squirrel monkeys, green iguanas, and sloths. The entire seafront is a perfect spot for families with kids. It is a 30 minutes walk from the park's entrance to the sea.
Activities: Snorkeling, swimming, diving, white water surfing, parasailing and ocean kayaking.
Best Time To Visit: Between mid-December and March, which is the dry season.
2. Playa Arcos, Puntarenas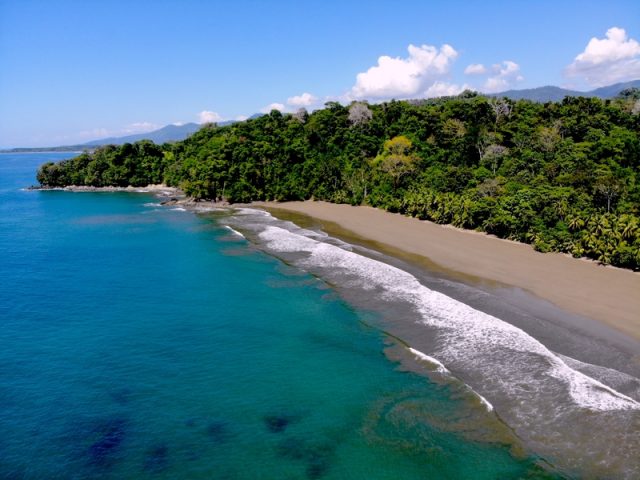 The shoreline of Arcos, shaped like an arch, has crystal greenish blue water and lies in Uvita de Osa, a small village in southern Costa Rica. The country's only marine conservation park is just beside the coast. The spectacular attractions are the sea-facing waterfalls flanking the cliffs, which are hundreds of meters high. Due to restrictions, it can only be approached by walking from the adjacent beaches of Uvita and Ballena. Explorers can visit the nearby caves and also catch a glimpse of howler monkeys among the lush greenery near the shorefront. Additionally, they can visit the neighbouring turtle conservation project.
Activities: Scuba diving, ocean kayaking, snorkeling and swimming.
Best Time To Visit: Between April and October
3. Playa Chiquita, Colón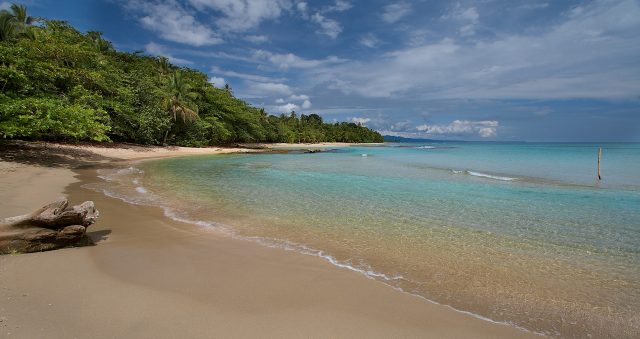 This secluded seashore of almost 800 meters, featuring numerous small bays, is one of the calmest Caribbean beaches in Costa Rica. It lies to the east of Cocles Beach with nearly 6 kms of driving from the town of Puerto Viejo de Talamanca. The beach greets the tourist with totally pristine white sands, sparkling clean water, and only few sheds and stalls.
Activities: Snorkeling, scuba diving, surfing and swimming.
Best Time To Visit: February and March
4. Playa Conchal, Guanacaste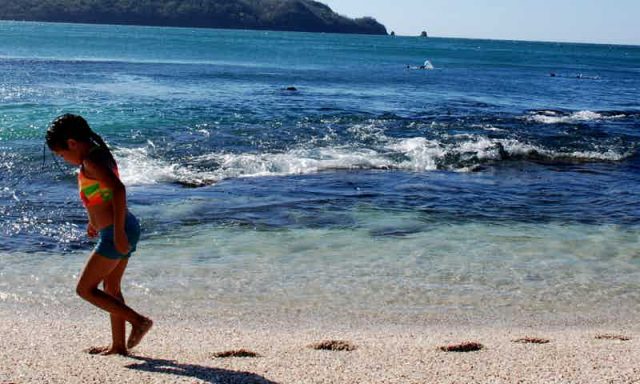 This pristine seacoast gets its unique name from the sand which consists of millions of mini crushed shells or conchs. Along with the other shore of Playa Brasilito, this is separated by a rocky formation named the Punta Conchal. Tourers get the perfect weather of more than 10 hours of sunshine in a day from December till April. The elegant hotel of Westin Playa Conchal Resort is just beside the coast.  It has sparkling white sands along with gorgeous greenish-blue waters and the place is full of palm trees for anyone seeking a shady spot.
Activities: Snorkeling, scuba diving, deep-sea fishing and jet skiing.
Best Time To Visit: Between December and March, when weather is calm.
5. Playa Flamingo, Guanacaste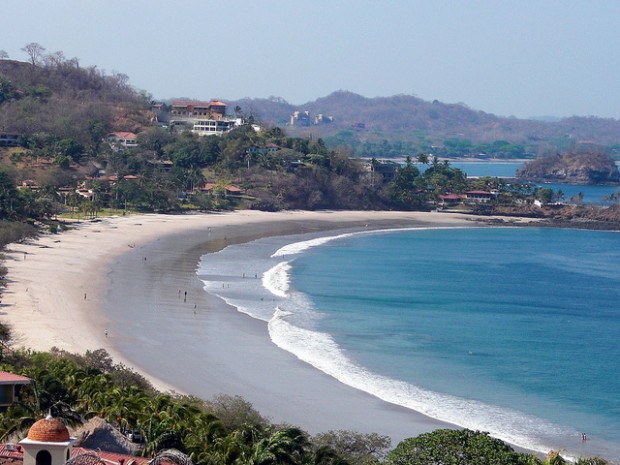 The beach with pinkish white sands lies to the northern part of Playa Conchal beach. Travelers get to watch perfect sunsets on the western front. There are numerous extravagant condos as well as restaurants over the hills on both sides of the beach. The beach boasts of a perfect weather condition round the year except for the rainy seasons of 3 months. Travelers can also shop for some souvenirs from the beachside stalls.
Activities: Scuba diving, sailing, and sportfishing.
Best Time To Visit: November end to April
6. Jaco Beach, Puntarenas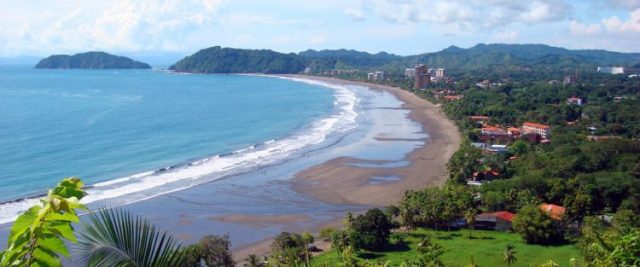 It is located to the north of Manuel Antonio beach on the country's central coast. It is one of the prettiest beachs in Costa Rica and treated as a surfers paradise. This is not the perfect place for swimming, as there are massive waves and strong tidal offshore currents. As, it is close to San Jose, it can easily be approached by visitors. There are also a host of exquisite hotels coupled with bars, restaurants, nightclubs, casinos, and discos.
Activities: White water surfing, wave riding, horse riding, ocean kayaking, snorkeling, and paragliding.
Best Time to Visit: December to mid of April
7. Playas del Coco, Guanacaste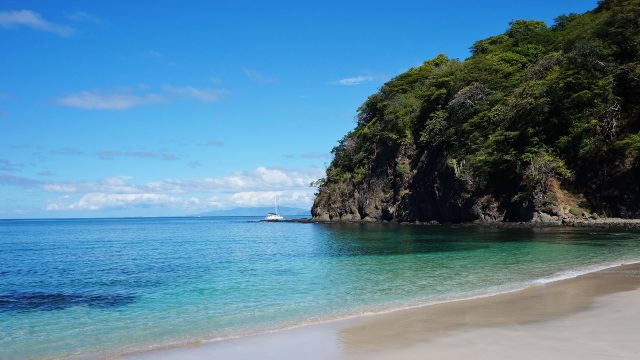 It is also known as the Coca Beach or El Coco consisting of several small beaches, alluring the sightseer by its quiet waters and majestic surrounding hills. The seafront includes water fountains, sport arena, and shops selling souvenirs. It is not suitable for kids and more likely to be an adult hangout with a thriving nightlife, including bars with mocktails, discos, and casinos.
Activities: Sportfishing, scuba diving, surfing (in Witches Rock), snorkeling, horseriding, sailing, jet-skiing, ocean kayaking, and canopy tour zip lines.
Best Time to Visit: December to April
8. Playa Tamarindo, Guanacaste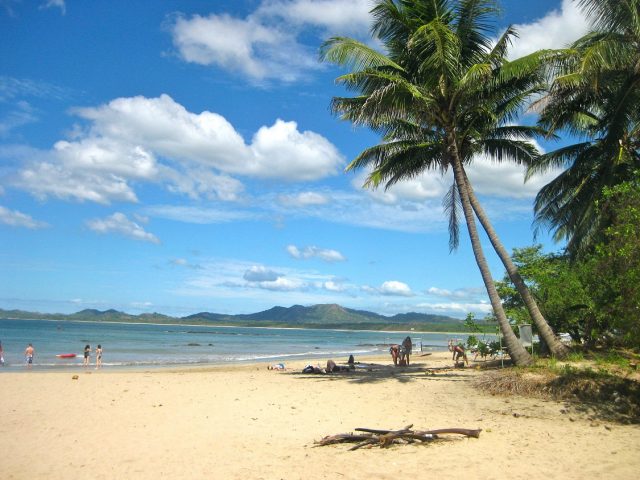 Visitors can enjoy the mile-long vast stretch of white sands alongside the stunning waves of turquoise blue water. There are restaurants, local bars and discos, with an array awesome seafoods and drinks. For avid surf lovers, there are designated areas on the beach that come with irregular wave breaks to provide more excitement. Furthermore, there are spas adjoining the coastline to offer a soothing treatment for exhausted vacationers. Additionally, the tourists can also visit the nearby turtle nesting ground for an unique experience.
Activities: Snorkeling, scuba diving, body surfing, zip-lining, sport fishing, horse riding, sunset sailing, ocean kayaking, white water rafting, ATV bike riding, and swimming,
Best Time to Visit: Mid-November till August; September till March (to watch Leatherback turtles); June till October (especially for surfing, as waves are larger).
9. Playa Hermosa, Guanacaste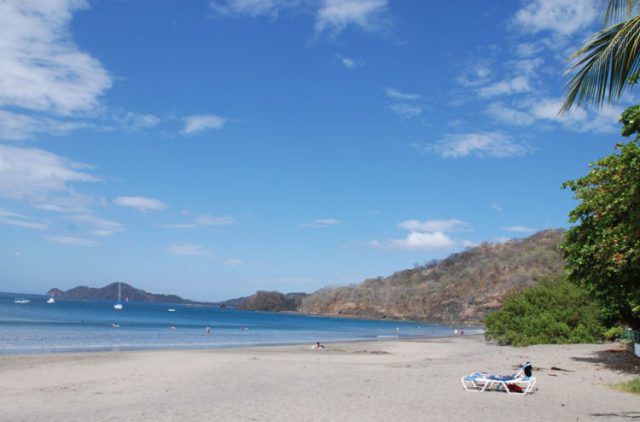 This is the prettiest black sand beaches in Costa Rica with charming sand colours ranging from dark brown to black. It is one of the best-maintained beaches with clear blue waters. Due to its excellent safety measures and environment-friendly surroundings, it has become the winner of prestigious awards like the Blue Flag. It lies within seven kilometers of the Coco beach. The strong tidal currents have marked this beach as slightly dangerous for swimming, although the surfers find it very sporty due to the large waves. Nowadays, luxury hotels and accommodations have been built where people can relax between activities.
Activities: Windsurfing, canoeing, sea kayaking, jet skiing, sailing, scuba diving, sports fishing, snorkeling, diving safari, and surfing.
Best Time to Visit: November till April
10. Playa Samara, Guanacaste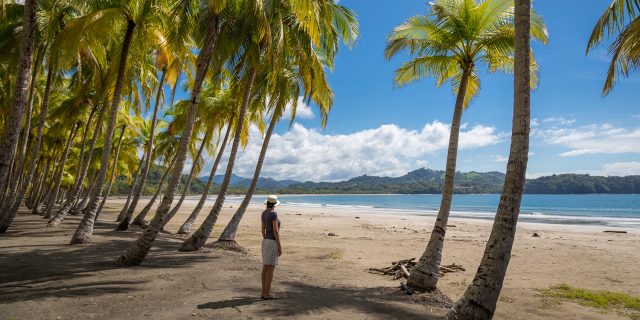 This horseshoe-shaped sea coast is one of the calmest beaches in Costa Rica and best for families with kids. Holidayers can take a short boat ride to the remote island of Chora. There are an assortment of luxury hotels among others providing accommodation with fabulous international cuisines.
Activities: Surfing, sea kayaking, sport fishing, stand up paddleboarding, horseback riding, canopy tours, and swimming,
Best Time to Visit: November till April
11. Playa Dominical, Puntarenas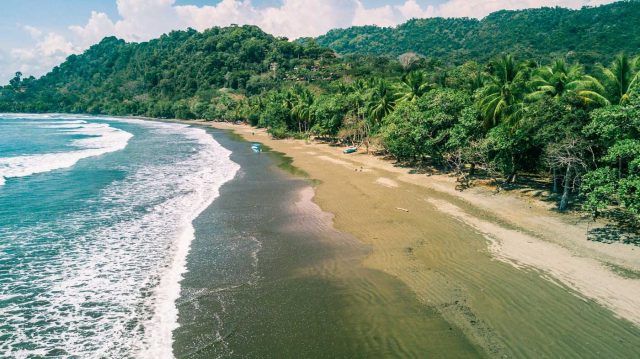 The world-renowned stone-and-sand beach attracts professional surfers across the world. The adrenaline factor comes as the waves get upto 10 ft in height above the beach brakes, featuring an ultimate thrill for the hardcore surfers. Swimming should not be done here, as current and rip tides are dominant. Further, tourists can take yoga classes by the beachside to relax and rejuvenate. Variety of seafoods with East Indian curries as well as drinks like sugarcane fused liquors are avilable here.
Moreover, one can take a family trip on horseback to the nearby double-cascade watercourse in Nauyaca. Addtionally, there is a smaller waterfall like Pazo Azul, where kids enjoy the plunge pool. Furthermore, guided tours are available for dolphin viewing, bird viewing, rainforest, and mangrove tours.
Activities: Surfing, scuba diving, snorkeling, and sport fishing.
Best Time to Visit: October end to the first week of April.
12. Playa Carmen, Santa Teresa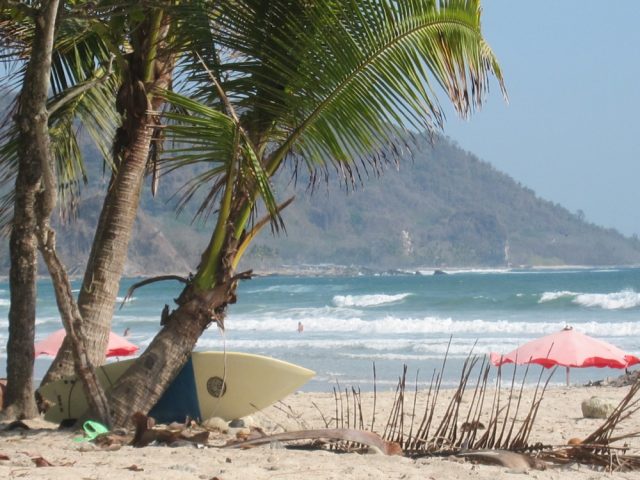 Primarily a surfing beach, it is tugged in between Santa Teresa and Malpais area. As the tidal currents and waves are dominant here, swimming is not advisable, but at the same time it provides a thrilling experience for professinal surfers. The waves get stronger when surfer heads towards Santa Teresa. There are many small food shops and kiosks where one gets something for their taste buds, as well as to buy some souvenirs.
Activities: Surfing, Yoga and Pilates.
Best Time to Visit: December beginning till end April
13. Playa Matapalo, Guanacaste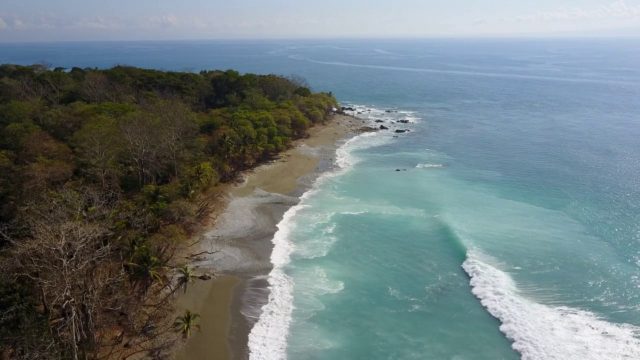 This seafront is near the Manuel Antonio National Park. It is also just a 15 minutes driveway from the exciting surfing village at Dominical and 30 minutes by car from Marino Ballena National Park in Uvita. As this is one of hidden sandy shores of the country, one can easily stroll miles after miles on their own. The ocean water is warm all-year round with a glimpse of enticing sunsets. Moreover, one can watch both the Olive Ridley and Leatherback turtles offspring taking their frist step from their nesting grounds to the ocean.
Activities: Surfing, horseriding, hiking, waterfall rappling, and swimming.
Best Time to Visit: Between December and March
14. Playa Manzanillo, Puntarenas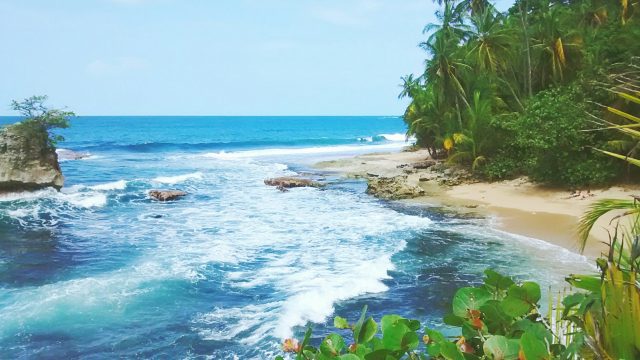 This breathtaking shoreline is only 15 minutes drive by car and located to the north of Santa Teresa. It is also one of the calmest beaches in Costa Rica visited by families with kids. There is a small fisherman's village just near the coast, where visitors can take a stroll. Travelers can also taste excellent cuisines, including seafood.
Activities: Swimming, snorkeling, scuba diving, and hiking.
Best Time to Visit: Between end November till end April
15. Playa Potrero, Guanacaste
This is a white sandy oceanfront with enticing turquoise blue waters lying near a small and peaceful fishing village. It is among the elite sailfish fishing spots in the entire world, flocked by sport fishing enthusiasts. In addition to this, the tripper can visit the nearby national parks of Baulas National Marine Park, and the Santa Rosa National Park to take a glimpse of the wildlife variety.
Activities: Scuba diving, snorkeling, sport fishing, horseback riding, ATV bike riding, and paddleboarding,
Best Time to Visit: Between end November till end April
16. Playa Langosta, Guanacaste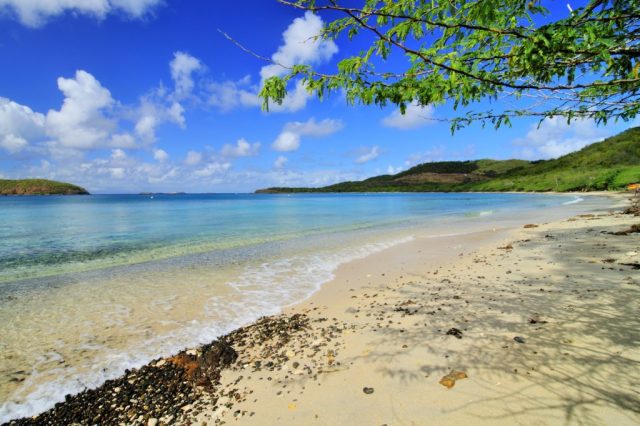 This is a tranquil half-moon shaped surfing seacoast in Costa Rica located near the Tamarindo area. It is famous among professional surfers for its excellent surfing breaks. Additionally, people can pay a visit to the more massive surfing beach of Playa Tamarindo. One can even go to watch the giant Leatherback Turtles laying their eggs at the Las Baulas, a nearby national park located north of Playa Langosta at Playa Grande. Bird watching at the closeby Palo Verde national park and mangrove tours to adjacent wetlands are some of the major tourist activities.
Activities: Surfing, ocean kayaking, horseback riding, snorkeling and estuary boat riding.
Best Time to visit: Between December and March
Thus, Costa Rica situated strategically between the shores of the Caribbean Sea, and the Pacific Ocean is famous worldwide for many sensational and serene beaches. Wayfarers from across the world love to visit these white, dark brown, and black sand beaches dotted with fresh palm trees throughout the year. Besides, sunsets are particularly dramatic to view from these stunning golden beaches of the Pacific. Lastly, intrepid travelers also get into some action-packed adrenaline rushed water sports and activities across to experience the real fun.