reland is famous and versatile when it comes to its choice of drinks, with whiskey and Irish cream being the primary component in most of them. The country is all set to celebrate every occasion with a delightful toast with particular emphasis laid upon St. Patrick's Day. A country whose average beer consumption amounts to 131.1 liters, would surpass many others when it comes to providing for refreshing alcoholic and nonalcoholic beverages. Let us check the list that follows.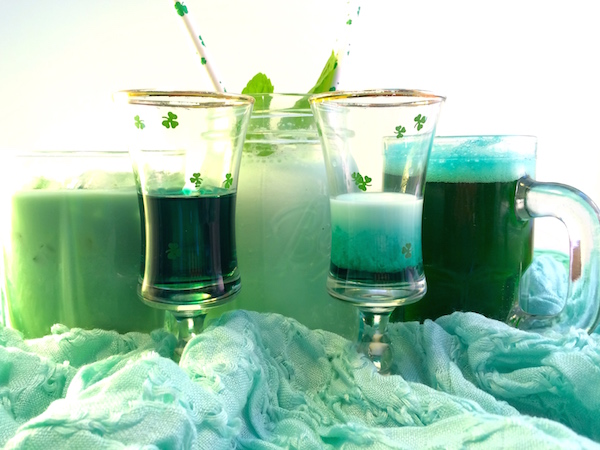 1. Irish Car Bomb – Popular Drink of Ireland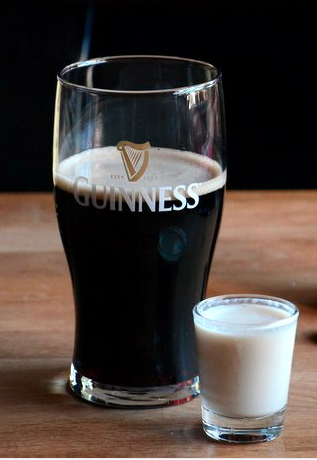 What is it: It is named Irish Car bomb because its preparation creates an explosive effect. The ingredients that go into its making include Irish whiskey (Jameson), Irish cream liqueur, and Guinness (Irish stout or dark beer). The Irish cream liqueur is poured into a shot glass and topped with whiskey, while the Guinness is served separately, mostly in a tall-sized pint glass. The real charm lies in dropping the shot glass into the pint glass in a fraction of a second. The liqueur has to be consumed instantly as the cream tends to curdle within a short period. Ireland has had a bad history of car bombs in the past, and most pubs in the country find this name a little objectionable. Hence alternative terms like Irish Slammer and Irish Bomb shot are used while referring to it.
What's the flavor:The flavor depends upon the proportion of the ingredients used while making it. The sweetness of the Jameson whiskey, milky flavor of Guinness, as well as the creamy and nutty texture of Irish cream liqueur, gives it a unique taste.
2. Bailey's Irish Cream –Ireland's Famous Cream Drink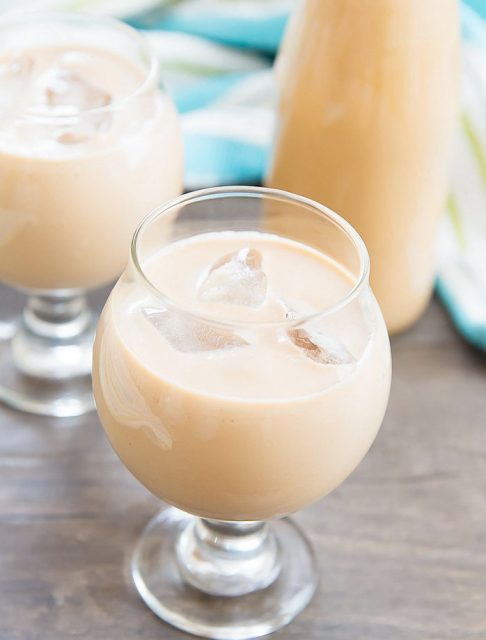 What is it:This is a cream-based liqueur prepared by Diageo (British company manufacturing alcoholic beverages) made in Ireland's Dublin city. Besides, Irish whiskey, its other ingredients include milk, cream, chocolate, and vanilla. This beverage has a long shelf life of about two years and would even remain fresh until that time.
What's the flavor: It has a creamy, velvety, smooth, and rich taste. It may also be a part of many other beverages for a unique fusion.
3. Irish Trash Can – St. Patrick's Day Drink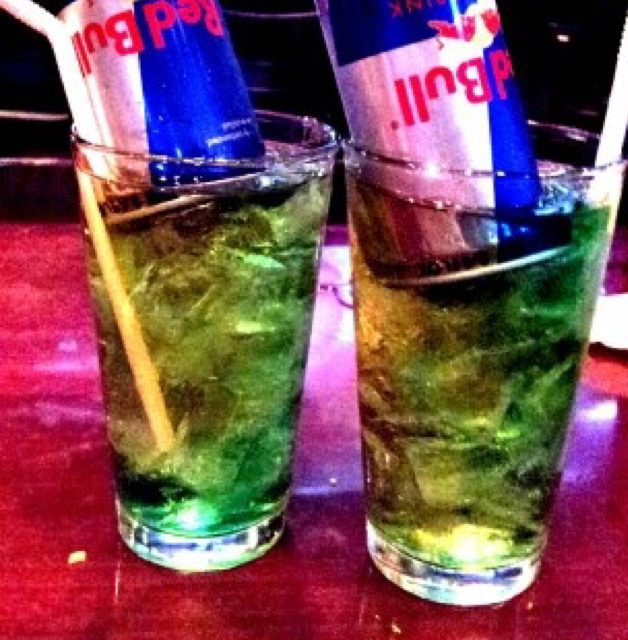 What is it:A refreshing cocktail, made from gin, vodka, triple sec (orange-flavored liqueur), blue curacao (citrus fruit drink), peach schnapps and an energy drink (preferably red bull).
What's the flavor: As sweet as candy because of all the ingredients which go into its making.
4. Jameson and Ginger – An Irish Whiskey Drink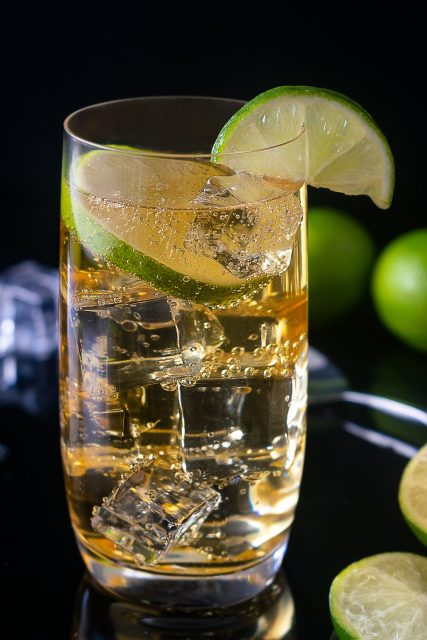 What is it: A popular highball made by adding a shot of Jameson (Ireland's blended whiskey) and topping it with a dash of ginger ale as well as a big lime wedge (for garnishing).
What's the flavor: Refreshing with a tangy and a little sour taste because of ginger ale and lemon.
5. Misty Mint – An Irish Drinking Toast for St. Patrick's Day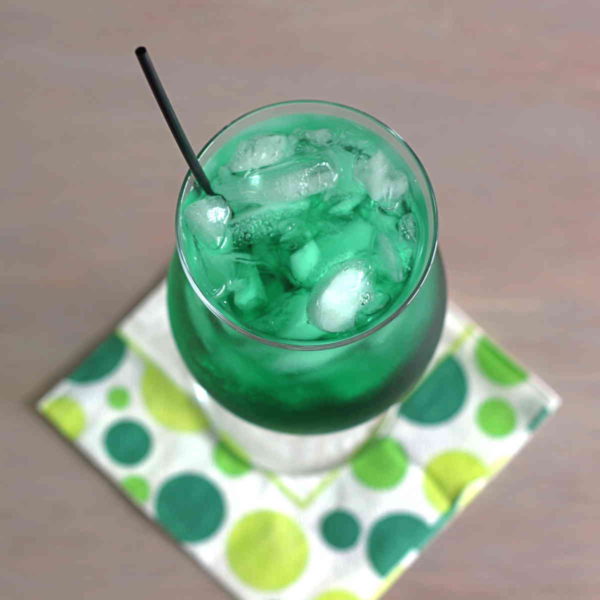 What's the flavor: A unique beverage, having green crème de menthe (mint-flavored, sweet alcoholic drink) and white rum as its primary ingredient. Vodka may come in the place of rum for a weakened mint flavor. To cherish this drink in the summer months, add cubes of ice to the mixture.
What does it taste like: Minty and sweet, often served with chicken or lamb dishes. When serving it to guests, you could garnish it with mint sticks covered with chocolate or a green and red striped candy cane.
6. Jamaican Irish Moss – A Traditional Irish Drink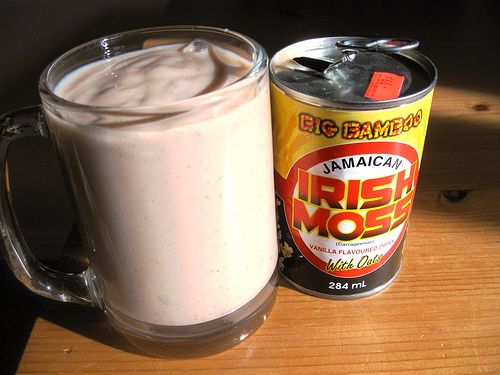 What is it: A healthy drink primarily made with an Irish moss (a red algae species, also known by the name of carrageen) alongside coconut milk, ice cubes, linseed, nutmeg, vanilla extract, sugar and Jamaican white rum.
What's the flavor: Nutty and sweet, with a texture similar to a protein drink or milkshake. However, after having a few sips, it seems to leave a chalky taste in your mouth and may also be a little heavy on the stomach.
7. Irish Wake Cocktail – A Funeral Drink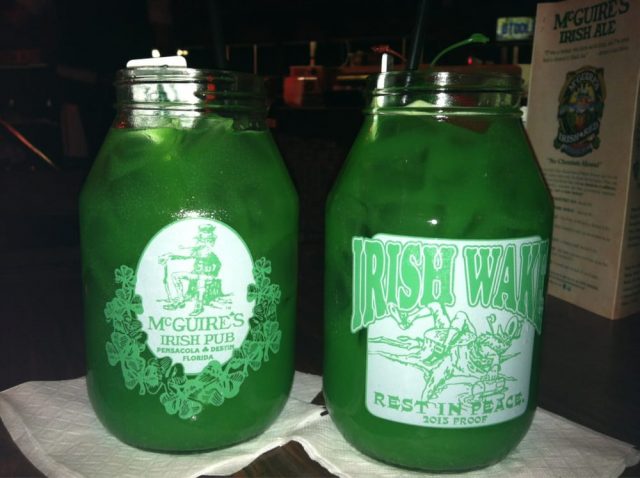 What is it: A popular beverage mostly drunk during the famous "wake" tradition where people pay respect to the deceased amidst rituals and also merrymaking. Various drinks go into the making of "Irish Wake", but the standard combinations include gold rum, white rum, blue curacao, bacaradi 151, orange juice, and ice as its ingredients.
What's the flavor: It is a sweet fusion, while the addition of curacao adds a tinge of bitterness to it.
8. Irish Coffee – A Refreshing Cocktail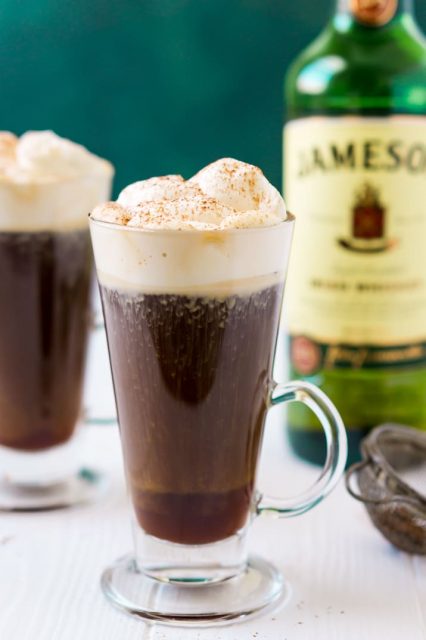 What is it: A perfect cocktail made with Irish whiskey, hot coffee, sugar, and a topping of cream. Though the addition of coffee remains constant, the method of preparation has varied over the years. The cream may either be sprayed from a can or shaken gently to attain a smooth layer. In Spain, this beverage is served a little differently as the bottom layer has whiskey, the middle layer has coffee, while the cream is on the top.
What's the flavor: Sweet, creamy, frothy and smooth, that may be served hot or even chilled.
9. Irish Breakfast Shot – A Perfect Whiskey Cocktail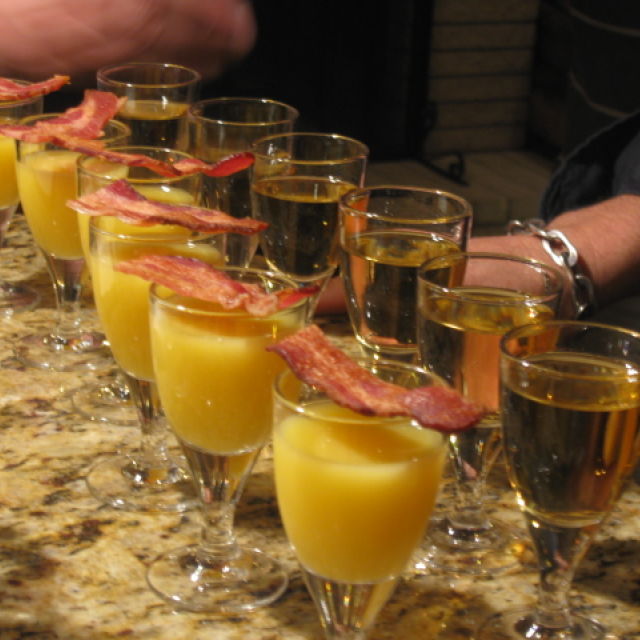 What is it: Irish whiskey, butterscotch schnapps, orange juice, alongside a garnish of bacon sitting right on top of the glass, is all that makes up the Irish breakfast shot.
What's the flavor: The strong taste of whiskey, teamed with the sweetness of orange juice and the caramel-like zest of butterscotch schnapps makes it a fantastic drink.
10. The Irish Mule – A Beer-Whiskey Combo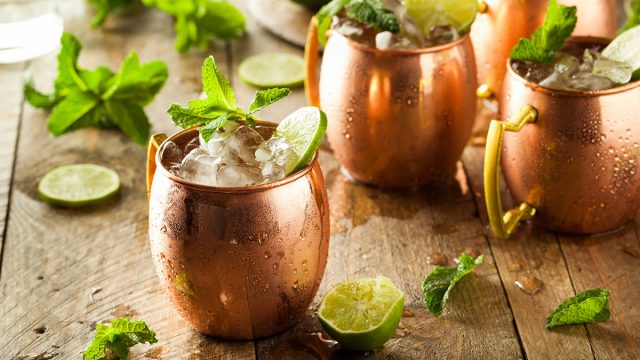 What is it:Another exotic St. Patrick Day drink, this refreshing cocktail is made using ginger beer, whiskey, and lime juice. The Irish Mule is just another version of the Moscow mule, the only difference being that the latter uses vodka instead of whiskey.
What's the flavor: Warm and cozy, the addition of ginger beer gives the Irish Mule a special punch. Sometimes the ginger beer is often replaced with Guinness or green beer.
11. Irish Redhead – A Red Whiskey Drink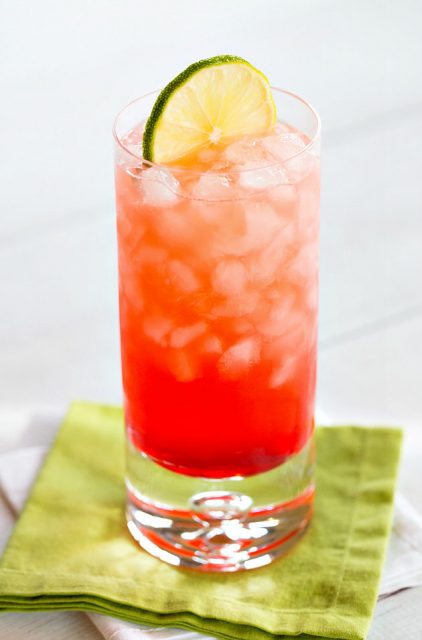 What is it: A beverage with a versatile flavor, having Irish whiskey, grenadine, lemon, and lime juice as well as sprite as its primary ingredients. Grenadine, a sweet, tart pomegranate syrup, contributes to its red color.
What's the flavor: A combination of sweet, tart, lemony, and frizzy! Garnish with lime wheels and cherry to make it look decorative.
12. Wild Irish Rose – A Delectable Fusion with Whiskey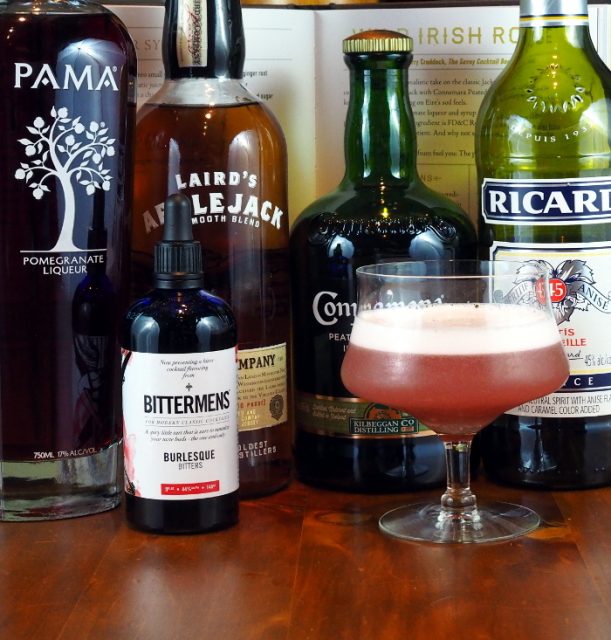 What is it: Another refreshing beverage made using Irish whiskey as well as grenadine, lemon juice, sugar syrup, and soda. A lemon twist and cherry would serve as garnishes.
What's the flavor: Sugary, sweet and tangy…this is what the taste of Wild Irish Rose is actually like.
13. Irish Flag Drink – A Colorful Beverage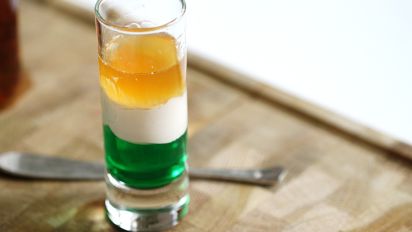 What is it: A layered cocktail having colors of orange, white, and green, mimicking the flag of Ireland. The crème de menthe, Irish cream, and Grand Mariner (arranged in order of being mentioned) forms the main ingredients.
What's the flavor: Sweet, minty, caramel-like and a lot lighter, just like a candy drink.
14. Irish Kiss – A Whiskey Cocktail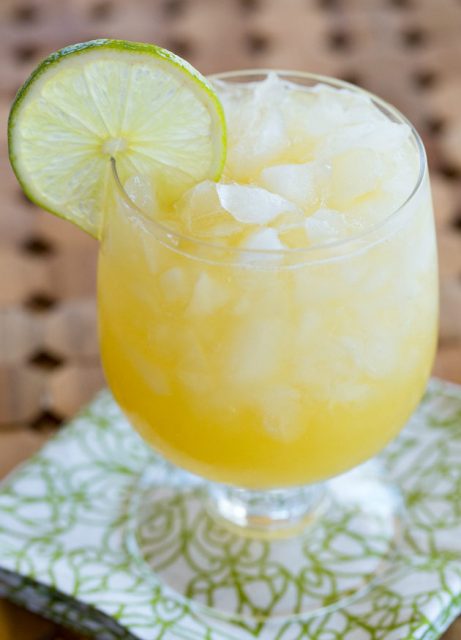 What is it: Irish kiss is another refreshing drink made using any brand of whiskey, peach schnapps, ginger ale, and orange juice. Topping it with ice cubes and garnishing it with lemons would make for a fabulous relaxing beverage.
What's the flavor: Sweet and tart, a perfect drink for a summer evening.
15. Irish Maid Cocktail – Whiskey Mixed Drink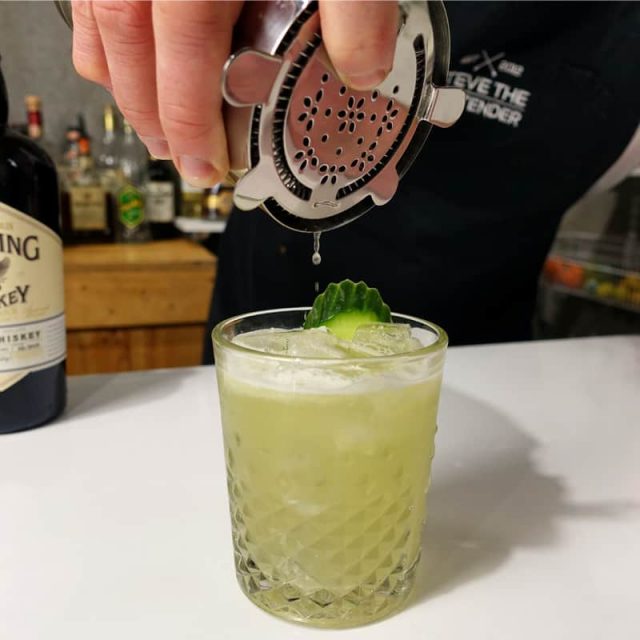 What is it: Another delightful cocktail, made using Irish whiskey, St. Germain (elderflower liqueur), cucumber slices, sugar syrup, and fresh lemon juice.
What's the flavor: The freshness and juicy flavor of cucumber, teamed with the tartness of lemon juice, and the herby taste of elderflower gives it a unique taste altogether.
16. Irish Mist – Famous Whiskey Drink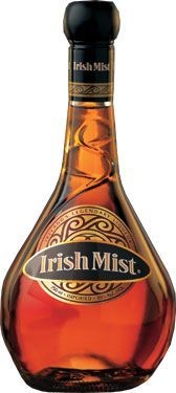 What is it: A brown whiskey liqueur originating in Ireland's Dublin. Aged Irish whiskey, clover honey, heather, aromatic herbs as well as other spirits, goes in its making. The Irish mist forms an essential ingredient while making several cocktails like penicillin and whiskey orange.
What's the flavor: Warm and smooth with the addition of honey and herbs, making it sweet and aromatic.
17. Poitin – A Distilled Irish Beverage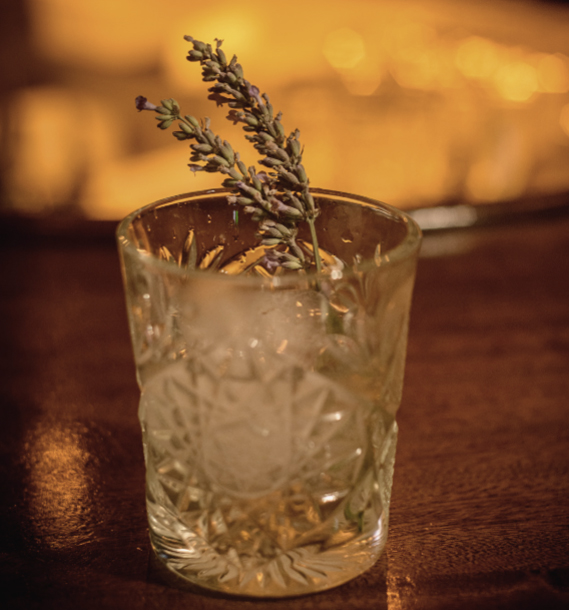 What is it: A distilled beverage, traditionally prepared with potatoes and milk whey, though at present cereals, sugar beet, grains, and fruit (apple), may be included. Pota in Irish means pots and this drink gets its name because of the containers used for its preparation. Since it was mostly homemade, it gradually became illegal in 1661 when the government put restrictions on preparing distilled drinks at home. Since then it was primarily produced in rural regions away from the interference of law. It got legalized in 1997 and 2008; the EU Council granted it Geographical Indicative Status. Presently, it has made its way to the pubs and also sold in supermarkets.
What's the flavor:At the onset, it has a strong, grainy flavor. It gradually progresses to sweet because of the fruits which go in its making.
18. Shamrock Shake – A NonAlcoholic Festival Drink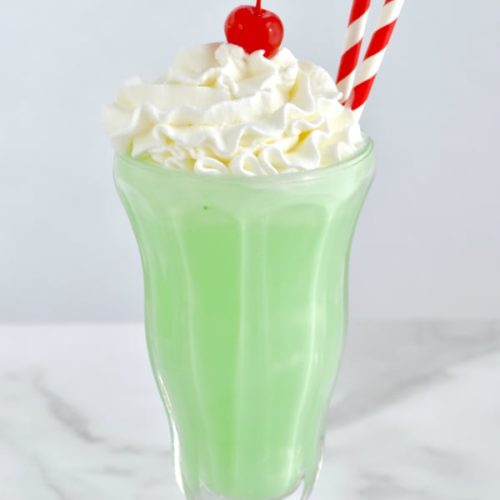 What is it: A mint-flavored green milkshake popularly sold at Mc Donald's during March for St. Patrick's Day. This drink, introduced in 1970, was initially prepared from lemon and flavored using lemon or lime and vanilla ice cream.
What's the flavor: The rich vanilla flavor teamed with the essence of mint makes it a sheer bliss.
19. Old Irish Cure – An Irish Drink of the Past Times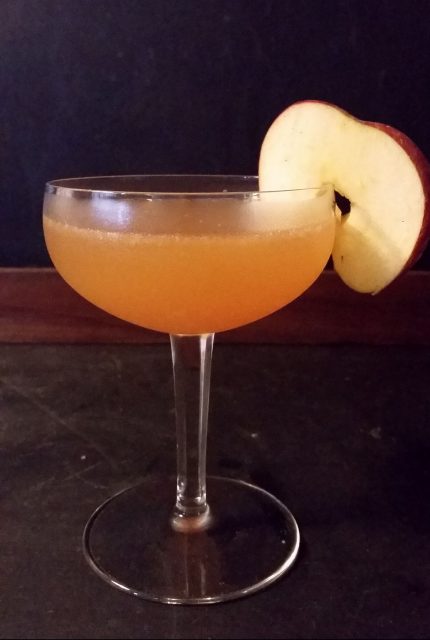 What is It: Irish people are often known to have whiskey along with honey, ginger, and lemon as a remedy of getting rid of cold. This is what Irish Cure is about where Jameson whiskey, along with dark rum, calvados (pear or apple brandy), lemon juice, and ginger, is used for this medicinal decoction.
What's the flavor: Sweet, sour and a little spicy (because of ginger).
20. Guinness – Authentic Irish Drink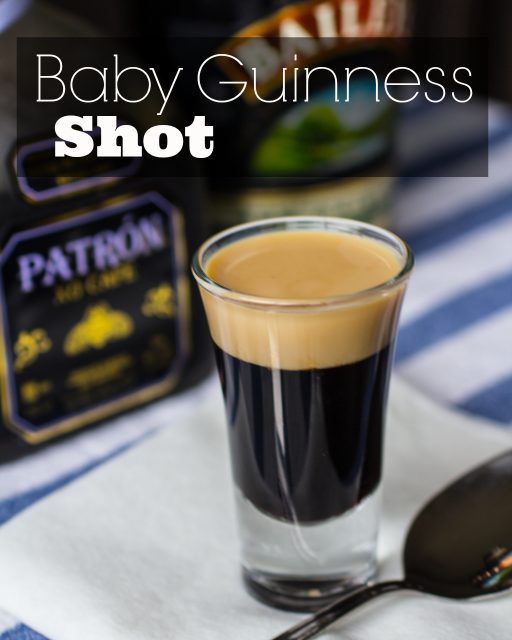 What is it: An Irish beer originating in Arthur Guinness' brewery in Ireland's Dublin in the year 1759. This drink goes into making a host of cocktails like the Guinness Dark and Stormy (ginger beer, rum, blueberry syrup); Guinness Bloody Mary, Guinness Black Velvet Cocktail and much more.
What's the flavor: Milky and wet while the addition of barley could give it a burnt taste.
21. Irish Apple Cocktail – One of the Best Irish Drinks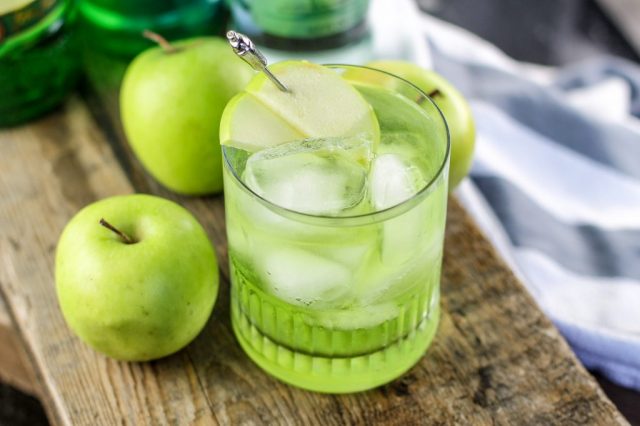 What is it: The primary ingredients that go into the making of this drink include Jameson Irish Whiskey, apple schnapps, cranberry juice and apple slice (as a garnish).
What's the flavor: Sweet and tart—a perfect drink to celebrate St. Patrick's Day.
22. Irish Bulldog – A Famous Cocktail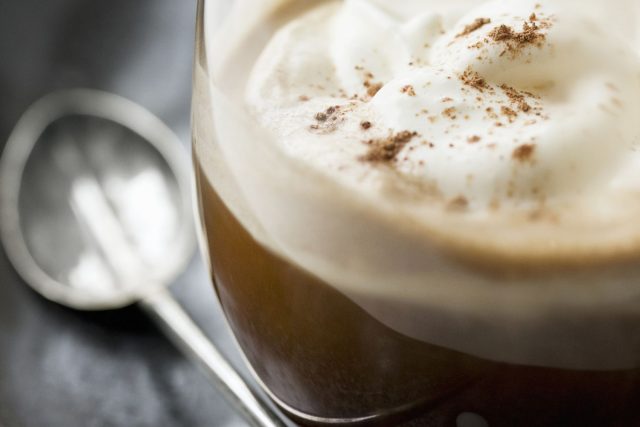 What is it: A famous dog-themed drink perhaps after the presently extinct Irish Bulldog. Vodka, Irish cream, cream, and coke are used to prepare this exciting cocktail.
What's the flavor: A creamy and frothy delight, with the subtle taste of vodka making it all the more delectable.
23. Gin and Sin – Irish Gin Drink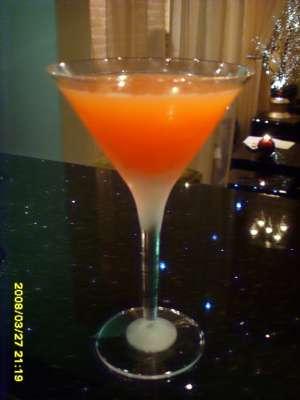 What is it: Gin, orange, and lemon juice, as well as grenadine syrup, is all that the drink has.
What's the flavor: Sweet, tart, and sour all because of the ingredients that go in its making.
24. The Irish Grasshopper – A Wonderful Cocktail for St. Patrick's Day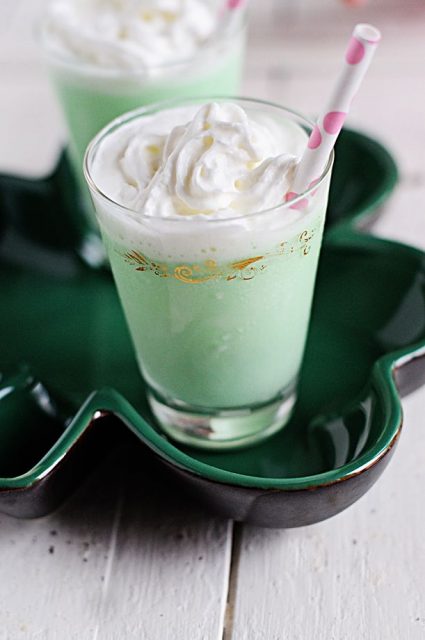 What is it: A brilliant cocktail with Irish whiskey, crème de menthe, half and half or cream and chocolate shavings as a garnish.
What's the flavor: Sweet and minty, a perfect after-dinner drink for the festive season.
25. Irish Lemonade –A Good Summer Drink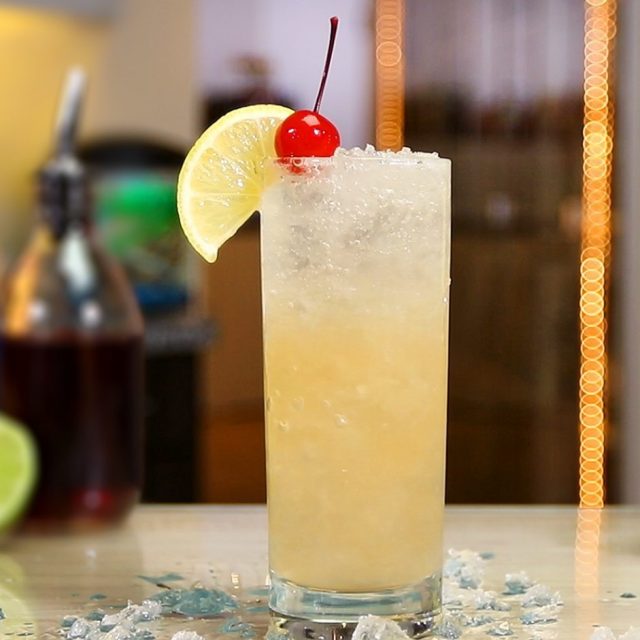 What is it: A great drink to replenish your energy in the summers, made using Jameson whiskey, lemonade, ginger beer, bitters, and a garnish of fresh mint or lemon.
What's the flavor: Lemony, minty, and also a little bitter-sweet because of the bitters added to it.
26. Irish Cola Drink- A Good Soda Drink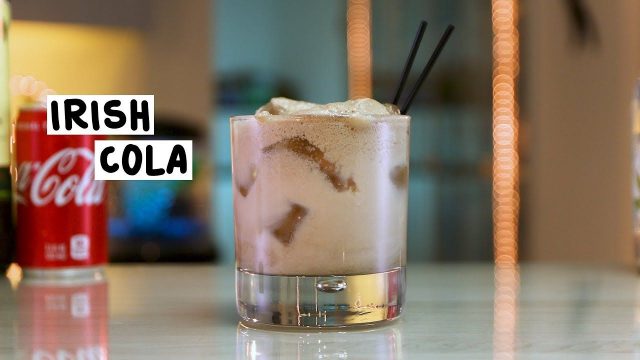 What is it: A chilled soda drink made by blending Baileys Irish cream and Irish whiskey with cola.
What's the flavor: The flavor depends on the kind of whiskey used. Jameson would make it smoky, Teeling Small Batch gives it a light texture, while Bushmill's Original makes it spicy with flavors of vanilla and oak.
27. Irish Handshake – An Interesting Whiskey Cocktail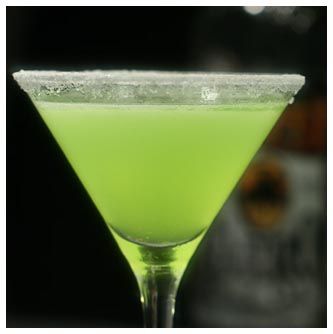 What is it: A drink made of Irish whiskey, Tia Maria, crème de menthe and cream ( as a topping).
What's the flavor: Sweet and creamy with a taste of coffee because of the inclusion of Tia Maria.
28. Irish Shandy – A Lemony Beer Drink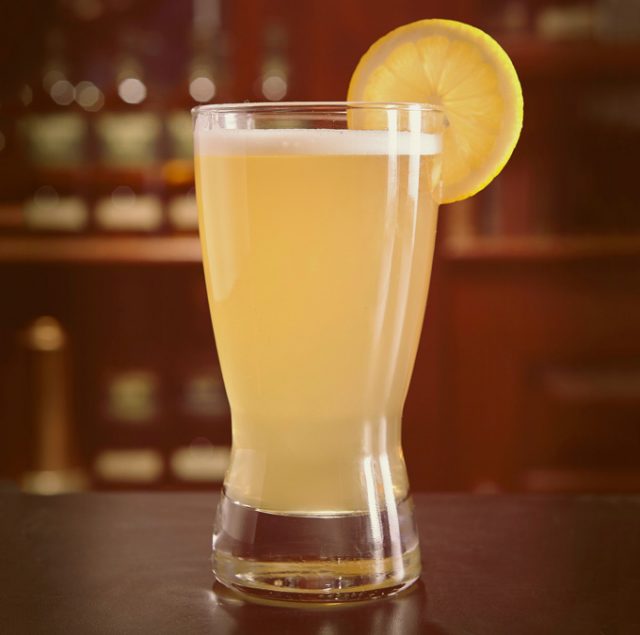 What is it: A mixture of beer and carbonated lime or lemon. The version of shandy varies from one place to the other, with the nonalcoholic ones referred to as rock shandy. In Ireland, the one sans the alcohol is popular that is prepared mixing lemon and orange soda in equal halves.
What's the flavor: This refreshing drink has a sweet and lemony flavor, being apt for people who are on the lookout for a low alcoholic or nonalcoholic beverage.
29. Irish Sunset/Sunrise – A Fusion Cocktail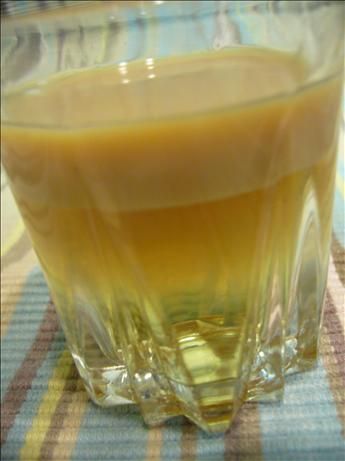 What is it: The drink is as unique as its name made from banana liqueur, amaretto, and Irish cream.
What's the flavor: The taste of ban anas and almonds dominate along with a tinge of sweetness.
30. Cidona – An Irish Soft Drink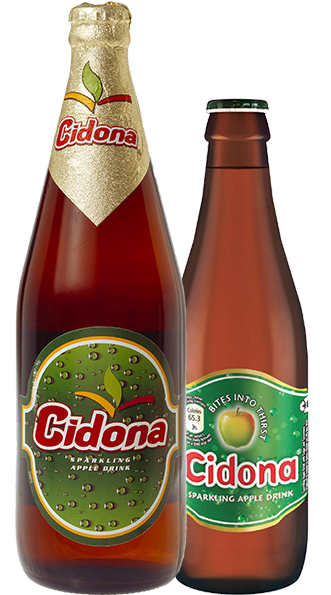 What is it: An apple-flavored soft drink famous in Ireland since 1955.
What's the flavor: Sweet and frizzy with the taste of apples surpassing everything else.
31. Irish Sour – A Perfect Holiday Cocktail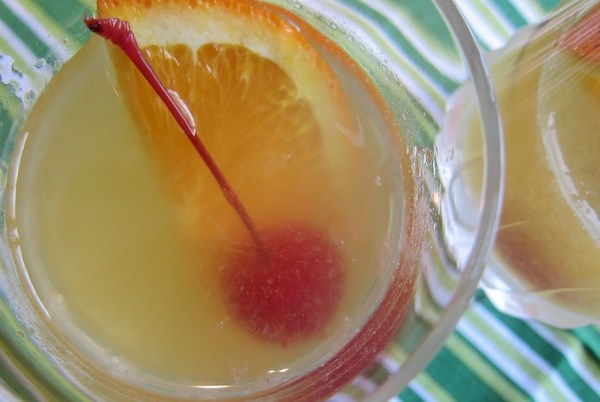 What is it: Another mind-blowing cocktail made using Irish whiskey, simple syrup, lemon juice, alongside orange wheel and cherries as garnish.
What's the flavor: It has a great taste, combining the sweet and the sour, and every sip of it taking you to a different level altogether.
Apart from the list above, some other exciting names of Iris drinks include Irish Lullaby, and the Lady and the Gentleman. On your next trip to the country, do not miss out on trying a few of these unique cocktails to quench the thirst in you.