Alabama is known for its splendid beauty and amazing natural sites, studded with woods and the greens of the longleaf pines, a large number of indigenous animal species, and a little bit of sea beach. If you enjoy spending time in the lap of Mother Nature, then this list is for you – a descriptive guide to the best hiking spots scattered throughout Alabama.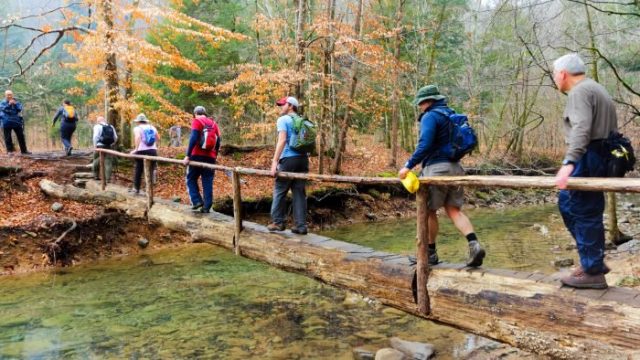 1. Oak Mountain Park Red Trail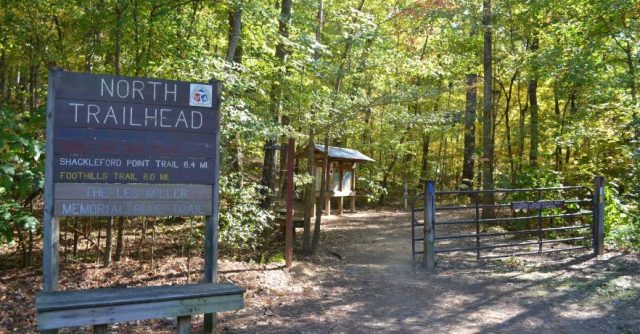 This trail is amazing in the sense that it has all types of varieties including lush greens, rocky terrains, and water bodies. The site is located in the Oak Mountain State Park in Pelham and has several sub-trails scattered throughout, with the Red Trail being the longest. This trail is not just good for both beginners and experienced mountain bikers, but also pet- and kid-friendly.
Length: 17 miles (the longest trail)
Type: Easy to moderate
How to Get Here
2. Walls of Jericho Trail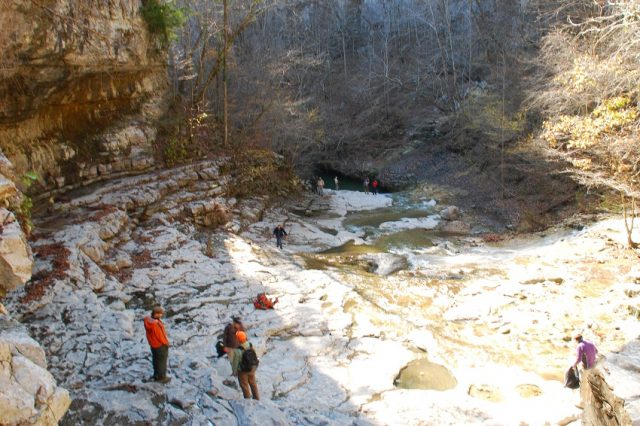 Located in Estillfork, this trail is not too long, ut has a deep plunge that goes down to about 900 feet by the 'walls' to overlook on the bizarre rock formations and enchanting waterfalls. There is an interesting legend about this trail, which says that, the "King of the Wild Frontier" Davy Crockett, America's folk hero, politician, frontiersman, and soldier, explored the Jericho Trail, while he lived with his family in a nearby land that he owned.
Length: 3.5 miles
Type: Moderate
How to Get Here
3. Monte Sano State Park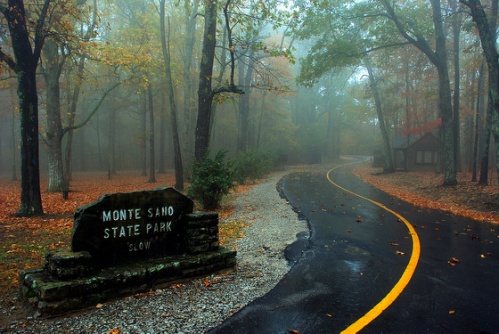 The Monte Sano State Park's Mountain Mist Trail in North Alabama is densely wooded and located immediately below the South Plateau of Monte Sano in Huntsville. Though a relatively shorter trail, this area might not be too safe for everyone since there are a lot of rocky points. So, one needs extra caution while exploring through. However, this trail is open to hike lovers round the year.
Length: 5 miles
Type: Somewhat difficult
How to Get Here
4. DeSoto Scout Trail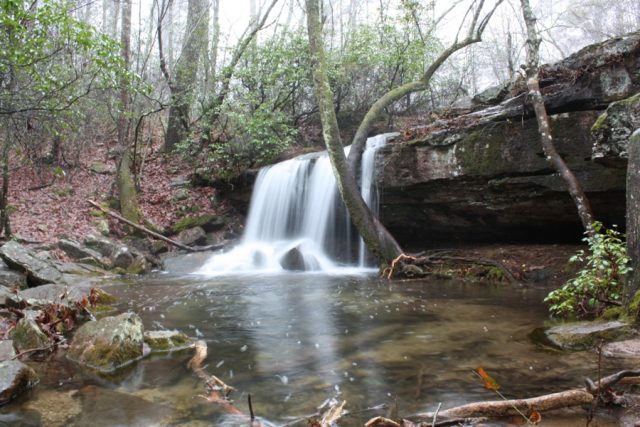 It starts from the Comer Scout Reservation, passes through the DeSoto State Park, and ends at the Little River in the Canyon National Preserve in the West Fork area. Though this trail is known for its immense scenic beauty, it is studded with rocky points, and it is advisable that hikers explore the area in new hiking boots.
Length: 16 miles
Type: Difficult
How to Get Here
5. Cheaha State Park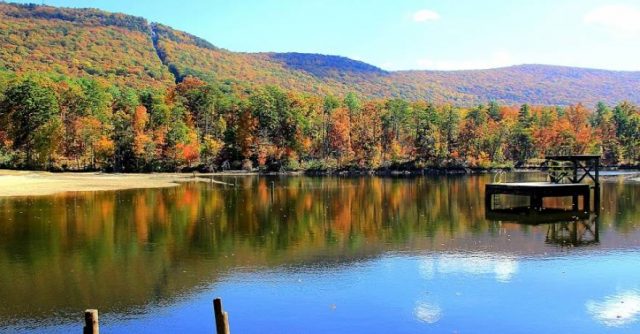 The moderately long Odum Scout Trail is also a top hiking spot, located in the Cheaha State Park in Lineville, named after the Cheaha Mountain, on top of which the site is located. The mountain is Alabama's highest point at an elevation of 2,407 feet above sea level, while the trail entwines itself around the mountain and extends towards the south to a place known as the 'High Falls'. The trail is known for its stunning views including orchids and wildflowers, as well as wildlife like wild pigs, deer, and foxes.
Length: 9.8 miles
Type: Difficult
How to Get Here
6. Sipsey River Trail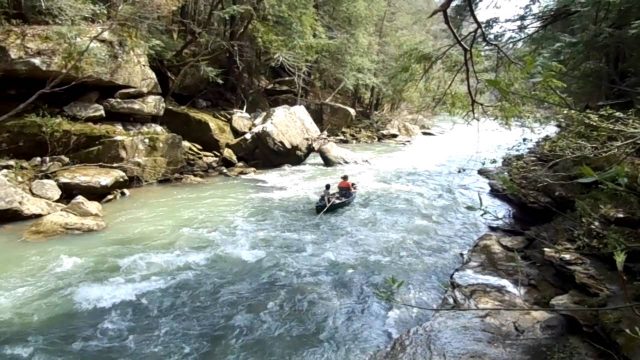 Located near Alabama's Double Springs, the Sipsey River Trail is easily accessible and is open round the year. This is especially because of its popularity for the magnificent waterfall you will find here, as also the variety of wild flowers. The site is dog-friendly, making it a good destination for both dog owners, and dog lovers.
Length: 12.8  miles
Type: Easy
How to Get Here
7. Talladega Pinhoti Trail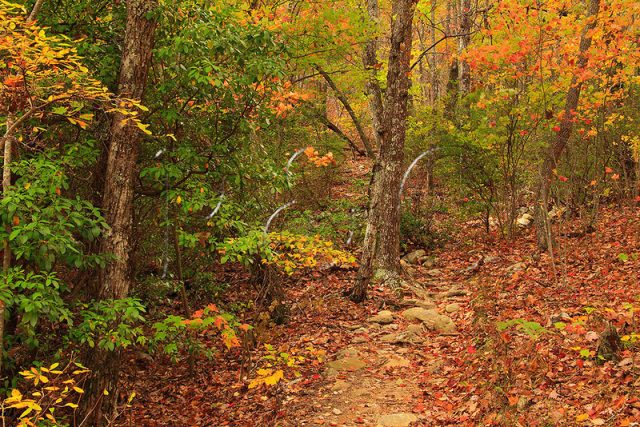 This is an extremely long trail and is probably one of the longest in the region. Interestingly, Pinhoti, in Native American language, means 'home of turkeys', and you might find wild turkeys along your way. It is located in the Talladega National Forest that connects Alabama with Georgia. Resultantly, the trail falls in both the states, dividing itself by almost half, with 171.2 miles falling in Alabama and 167.8 miles in the other. The scenic views around the entire trail are bound to stun you, as it runs through valleys, waterfalls, and streams of varying sizes, ending in the Talladega National Forest, which, again, is famous for its enchanting mountain views.
Length: 339 miles
Type: Moderate
How to Get Here
8. Cherokee Ridge Alpine Trail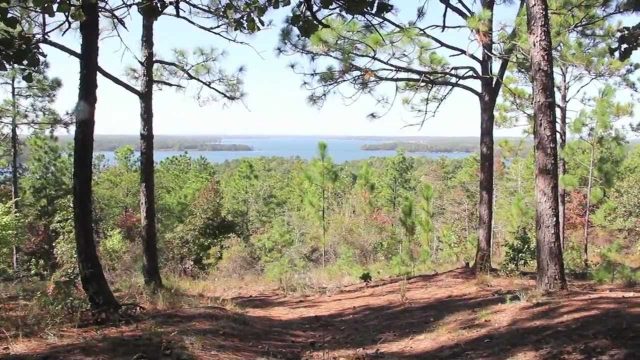 This trail in Dadeville stretches along the shore of the huge Lake Martin, and hence, it renders a grand panorama of scenes of the entire lake, as well as a wide variety of wild flora and fauna in the forest. The Cherokee Ridge Alpine Trail is claimed to be the most spectacular and pleasant among all the trails in Alabama.
Length: 4 miles
Type: Moderate
How to Get Here
9. Noccalula Falls Historic Gorge Trail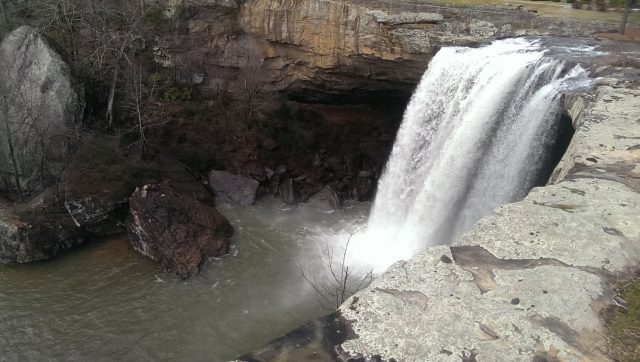 This loop trail is one of the toughest to explore and has been categorized as highly difficult by experienced hikers. It is located in Gadsden, while the hiking path displays spectacular views of bizarre manmade and natural scenes like carvings from the American civil war, a cascading creek, gigantic boulders, caves, and a secluded dam. The most adventurous part is probably the 90 ft. Noccalula Falls under which the hikers have access.
Length: 1.4 miles
Type: Very difficult
How to Get Here
10. Phil Campbell Dismals Canyon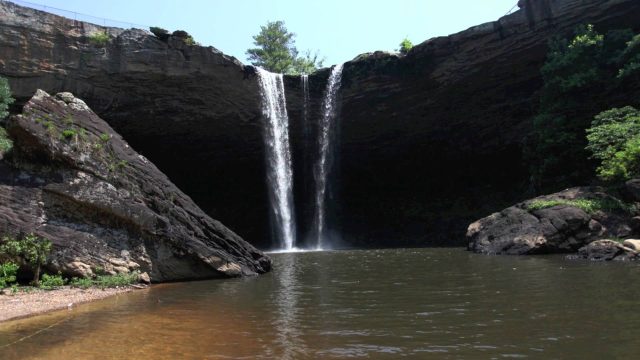 The Dismals Canyon is a trail in the small town of Phil Campbell in Alabama's Franklin County. This is a very interesting hiking trail in the sense that, it is an ideal family site. While you pass through the enchanting wilderness, you get acquainted with unknown ferns, colossal trees, boulders, springs and amazing waterfalls.
Length: 1.5 miles
Type: Easy
How to Get Here
While we tried our best to provide you with all the details, along with guide maps and pictures, we are sure that you too have started planning, what are the things you should pack in your knapsack before you plan a trip to explore through the wilderness of the hiking trails of Alabama.