The state of California is known to be an abode of some magnificent natural mineral hot springs, distributed throughout the northern and southern parts. Besides providing the scope of soaking in the warm waters, one could even enjoy their stay in the resorts built around the vicinity equipped with a host of facilities. Some are free, accessible to the public while a few are private, entry allowed only on permission. The surrounding locations of many hot springs give absolute pleasure to hike, walk, ski, and camp, apart from enjoying a stint in the waters.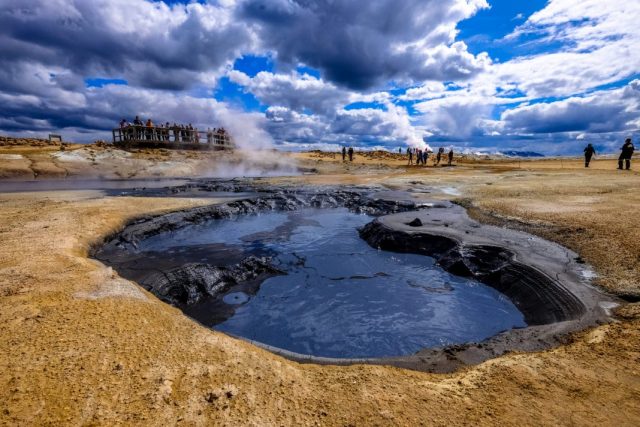 7 Hot Springs of Southern California
1. The Inn in Benton, Mono County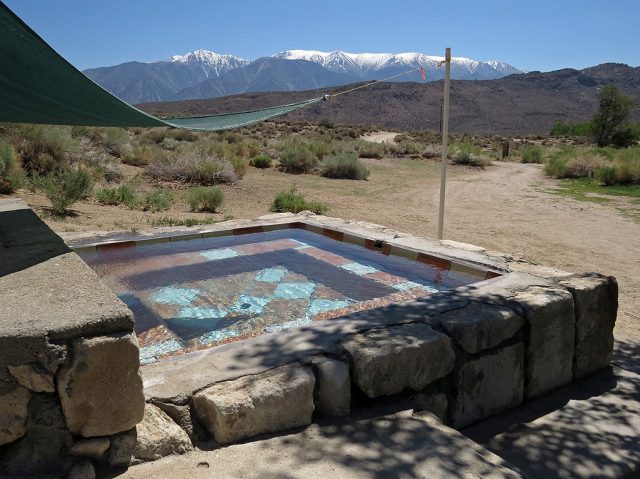 Located to the eastern parts of the Mammoth Lakes, Benton hot springs are pure, and natural providing one relaxation and tranquility to the fullest. A famous mining town at one point in time, the USP of this place lies in its serene rustic atmosphere because of the shady trees surrounding it. One could even catch sight of the White Mountains and Sierra peaks at a distant. Reservation in advance, particularly during the holiday seasons, is recommended.
Facilities: Nine outdoor tubs (some of fiberglass and redwood and one of stone) with hot and cold water taps for controlling temperature; bed and breakfast rooms at the inn adjacent to the hot springs
Clothing-optional provision: Yes
2. Travertine Hot Springs, Mono County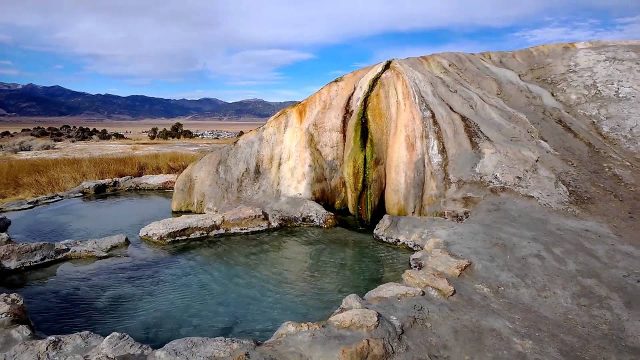 This comprises of geothermal springs situated adjacent to the southeastern part of California's Bridgeport town. The water comes out from the geothermal fissures at a temperature of 180°F, cooling eventually between 115°F and 156°F as it flows through the travertine rocks. The jagged mountains nearby, alongside the green landscape is enough to take one's breath away. Weekends always remain crowded, and one should bring along drinking water as well as their towels. Camping facilities are not available within the vicinity of the pool, but one can surely camp on one of the roads leading to the spring.
Facilities: Man-made pool close to the parking space, and a small-sized restroom
Clothing-optional provision: Yes
3. Deep Creek Hot Springs, San Bernardino County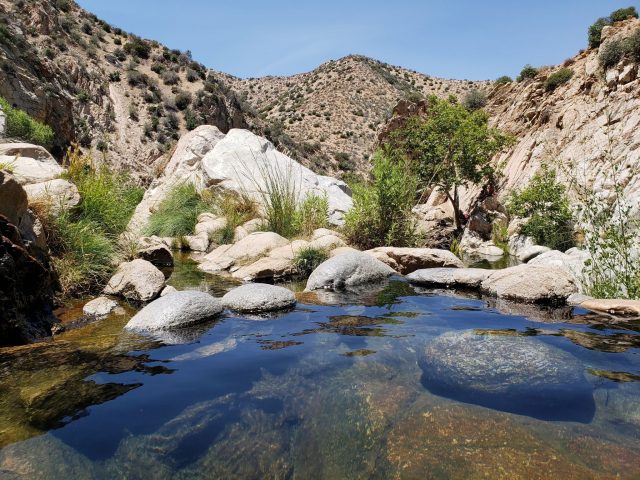 These natural hot springs occur in Mojave River's Deep Creek fork along Saint Bernardino mountain's desert foothills. Managed and maintained by the San Bernardino National Forest and Deep Creek Volunteers group, respectively, it's soothing landscape would relieve one of their monotony. The site has about 6-7 pools out of which 5 of them has a temperature range between 212-221°F. The three hiking routes leading its way up to the spring include the Pacific Crest Trail, Bradford Ridge Path, and the Bowen Ranch. It remains closed to public from sunset to sunrise and no campfire or stoves are permitted in the drainage basin of Deep Creek.
Facilities: Provisions for hot and cold water, recreation opportunities
Clothing-optional provision: Yes (public nudity forbidden within 1/4th mile of T-6 crossing situated ten miles upstream of these hot springs)
4. Murrieta Hot Springs, Riverside County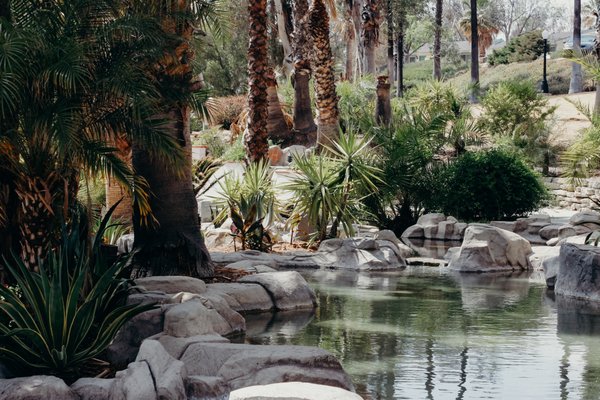 Another unique landscape, located in the Murrieta town of the Riverside County, it is famed for its serene ambience and refreshing aura, entertaining the guests to the fullest. Initially a resort with health spa facility, at present it has transformed into a Christian retreat center and guests visiting it for this purpose would only be able to access the hot springs. There are four hot pools available at the vicinity namely the Hot Springs Roman Spa, the Hot Springs Pool, the Hot Springs Bathing area and the Hot Springs Lake (manmade). The average temperature of the pools is around 212°F each providing a different facility to all those who come for retreat.
Facilities: Four pools with varied facilities, four lodges (Harmony, Lakeside, Stone, and Fellowship) with meeting and recreation rooms, coffee shops, volleyball, basketball, and tennis courts.
Clothing-optional provision: No
5. Avila Hot Springs, San Luis Obispo County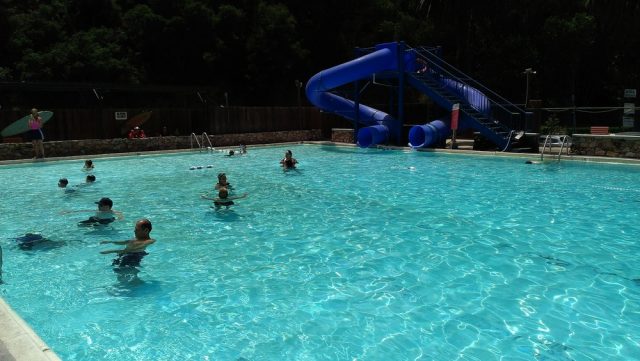 The hot springs are situated by the Avila beach, renowned for its amazing locations, and scenic beauty. The hot pool known for its therapeutic properties has a depth of 2 feet drawing up water from the artesian well located below the hot springs. The hot spring gets its water from a geothermal spring located underground, having a temperature between 266°F and 275°F.
Facilities: Tents and rv camping, cabins, bike rentals, and massage facilities
Clothing-optional provision: Yes
6. Sespe Hot Springs, Ventura County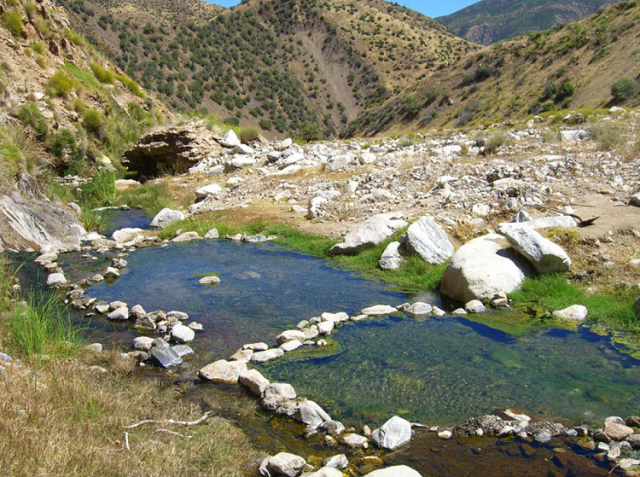 The road to the forest is amidst wilderness of the Los Padres Forest, making the trail absolutely apt for hiking. The place has a lot many natural springs as well as swimming pools for one to take a plunge in. The best time to visit the area is during springs as it is immensely hot in summer and highly cold in winter.
Facilities: There are no facilities as such apart from the hiking and camping provisions around the area.
Clothing-optional provision: Not Known
7. Desert Hot Springs, Riverside County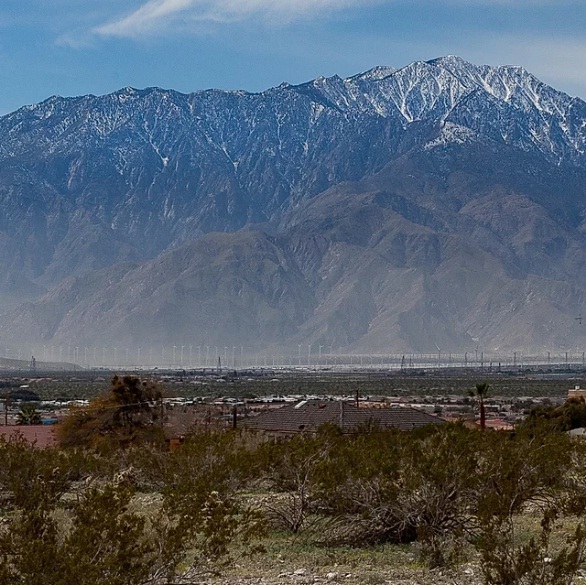 Also known as the DHS, the area is situated by the Coachella Valley named because of the several natural hot as well as cold springs existing here. Being in existence for a long time, it was home to many hot water spas and a host of boutique hotels have come up, which has been subjected to constant renovation. The Desert Hot Springs Spa Hotel is one such significant establishment providing visitors utmost pleasure. Apart from dipping into the waters, one can even visit the Palm Springs Air Museum , Pablo Museum, and Agua Caliente Cultural Museum, as well as hike and shop in the adjacent places.
Facilities: Sunbathing, spas, massage
Clothing-optional provision: Not Known
6 Hot Springs of Northern California
1. Harbin Hot Springs, Lake County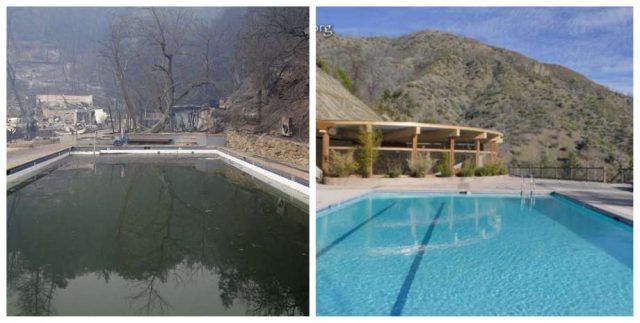 They are one of California's oldest hot springs, getting its name after one Matthew Harbin, credited with exploring and settling in the Lake County region. Settlers went to on to build the baths for commercial use during the 1860s. As wildfires occurred in the area, many of the lodges surrounding the baths had been burnt and then rebuild over the following years. The hot springs here have been under the ownership of Heart Consciousness Church since 1975 that operates the place as a retreat center. The meadows, hills, creeks and canyons surrounding this area are a treat to the eyes. The picturesque scenario, and the calm ambience within provides one spiritual and mental solace to the fullest.
Facilities: Pools and decks for sunbathing, coffee shops, yoga classes, massage treatments (like watsu or water shiatsu)
Clothing-optional provision: Yes
2. Wilbur Hot Springs, Colusa County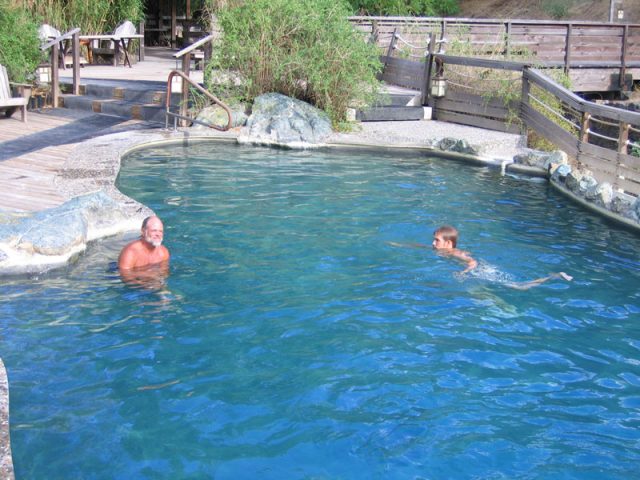 Besides being a natural hot spring, it is also a personal retreat and a health sanctuary. The place has an eventful history and Dr. Richard Miller is credited of giving it a new life after reopening it in 1974. The refreshing hot waters, splendid hills nearby ideal for walking and hiking as well as the chirps of the numerous birds that throng the place always is for sure to give one a relaxing and soothing effect to the fullest. The three water pools in the vicinity with temperatures of 208.4°F, 221°F, and 228°F provides therapeutic relief to guests, helping them recover from ailments like arthritis and asthma.
Facilities: Pools for sunbathing, massage, yoga
Clothing-optional provision: Yes
3. Gilroy Yamato Hot Springs, Santa Clara County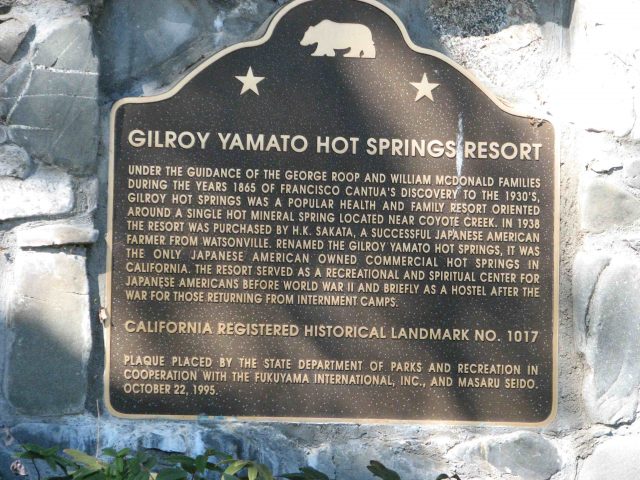 Marked as a California Historical Landmark, it is located near California's Gilroy city renowned for the mineral hot springs. The Japanese immigrants as well as early settlers were instrumental in the development of this area. Having a long and eventful history, social activity at the Gilroy hot springs was at its peak during the 1920s, which dwindled sharply post the Great Depression with the community mostly closing by 1938. Things restored by the end of the Second World War, and after experiencing a lot of ups and downs at present it stands closed to public as weather, time and vandalism have destroyed many of its structures.
Facilities: Nothing available at present
4. Crabtree Hot Springs, Lake County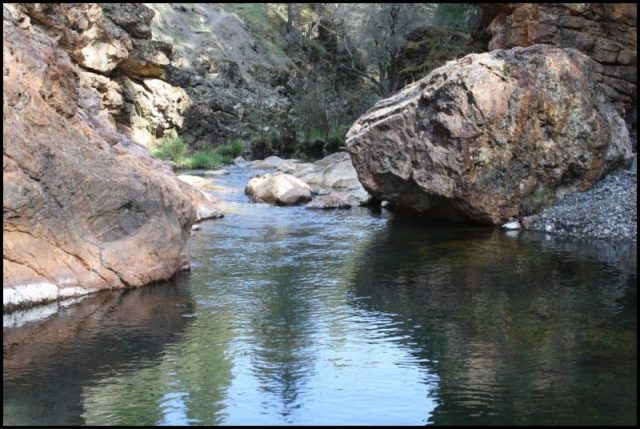 This is a private property, located at about 2,2,57 feet not opened to public at present. Out of the four hot springs present at this location, three of them remain in a particular area at a swimming hole large in size, whereas the fourth one situated upriver at approximately 60 feet elevation. This has attained its name after John Fletcher Crabtree who had settled in the adjacent area along with his family.
Facilities: The hot springs and even the roads leading to them are closed as of late so no one would be allowed without permission.
5. Sierra Hot Springs, Sierra County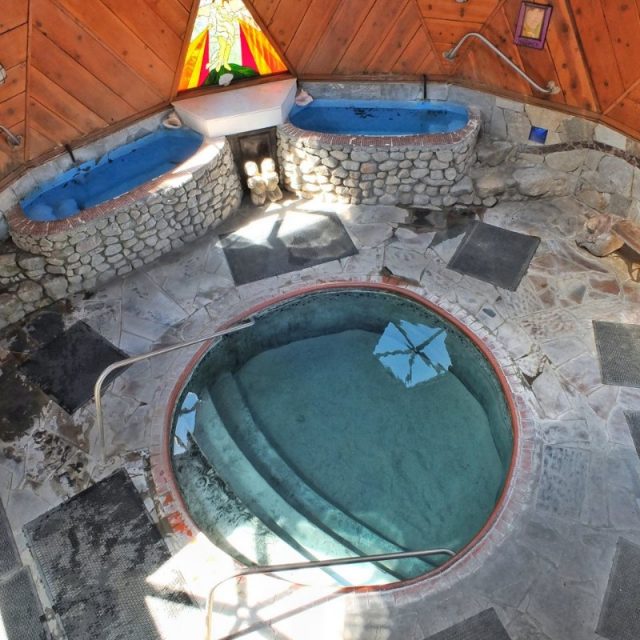 There are four refreshing hot springs in this nonprofit establishment providing visitors the much needed solace. The hottest pool of the lot remains within a huge geodesic dome equipped with stained glass as well as skylights. The meditation pool, situated outdoors enveloped with rock tiles and a sandy bottom stands ideal for stargazing and relishing the natural beauty. The Phoenix Baths, being seasonal pools are present inside the private rooms. Since it is surrounded by the National Forest, hiking , biking, and cross-country skiing (particularly during winters) are the other attractions. This as well as the Harbin hot springs are sister concerns and one would honor the memberships of the other.
Facilities: Sunbathing, stargazing, massage facilities, yoga, spa
Clothing-optional provision: Yes
6. Vichy Hot Springs, Mendocino County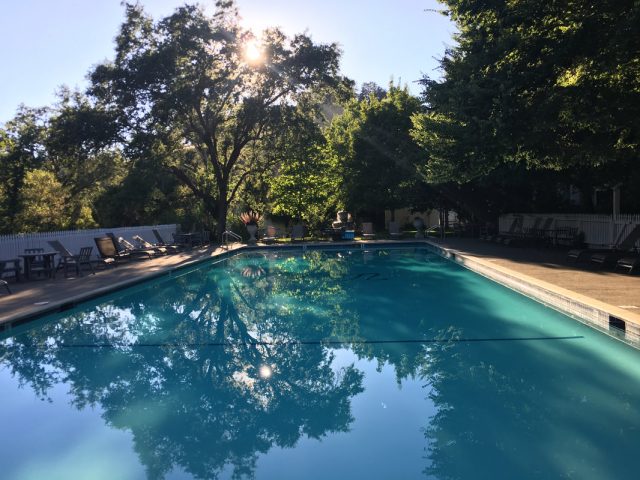 The naturally warm, carbonated hot springs present here provides one a soothing, relaxing bath alongside a host of other amenities. It has fourteen mineral baths of which four are situated outside and ten inside. The Vichy Springs Resort provides cottage and rooms to stay overnight, while the property surrounding it is ideal for hiking . Opened in the year 1854, it is known to be thronged by eminent personalities like Teddy Roosevelt and Mark Twain.
Facilities: Spa, yoga, massage, beauty treatment
Clothing-optional provision: Not Known
1 Hot Spring of Central California
1. Mercey Hot Springs, Fresno County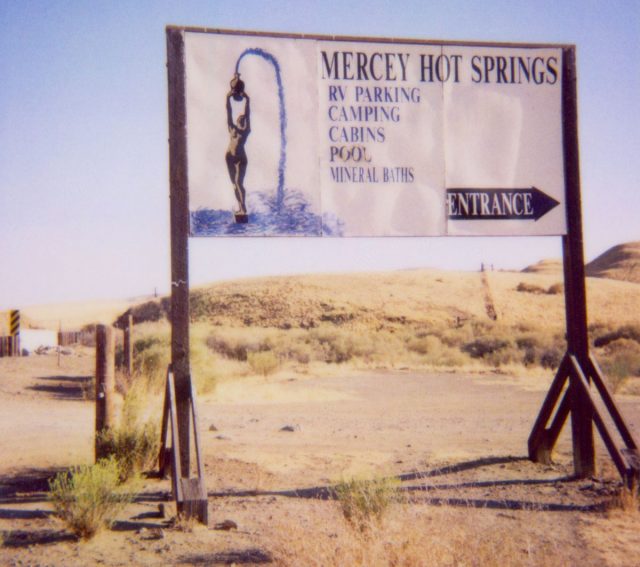 An unincorporated community of Fresno Country's Little Panoche Valley, the facility is popular for housing natural hot springs as well as campgrounds. Discovered in 1848, the hot springs acquired their name after stockman J.N Mercy. If looking to have a whale of a time while camping as well as enjoying a refreshing shower, with sufficient privacy, then this place is an ideal pick for you. The bathing hours are from 10 am to 7 pm, and the entire facility is a no-smoking zone, with fines implemented if the rules are broken. One should get their water, as the tap water sold in bottles does not taste good enough. One could also enjoy a nice walk or hike along the adjacent areas surrounding the Mercey hot spring. The place also facilitates bird watching and is thronged by a whole lot of species like orioles, finches, and owls.
Facilities: Therapeutic outdoor hot tubs (of temperature between 102 and 106 °F), dry sauna, swimming pool, massage facility, yoga, disc golf, and mountain biking
Clothing-optional provision: Yes (in one of the two therapeutic outdoor hot tubs)
When planning for a dip alongside a good amount of entertainment, you could choose any of the hot springs mentioned above. In the majority of them, pets are not allowed, and one should also refrain from using soap and shampoo when in the pool. So what are you waiting for! put on your travel shoes and gear up for a fulfilling experience.