The southcentral US state of Texas boasts an array of lakes that are famous not just for their clear, blue waters but also for the host of activities, including swimming, fishing, kayaking, paddleboarding, boating, and waterskiing that they offer. Summertime in Texas can be sizzling hot, and if you are in coastal cities like Corpus Christi, Houston, or Galveston, then you can cool off by swimming in the Gulf of Mexico. However, if the shoreline is far from your reach, then taking a dip in the refreshing waters of one of these picturesque lakes will help you stay cool.
Man-made Lakes in Texas
Texas is home to many human-made lakes, which are reservoirs formed by damming rivers. These lakes are necessary for not just controlling floods but also providing drinking water to the urban centers of Texas.
East Texas Lakes
1. Lake Conroe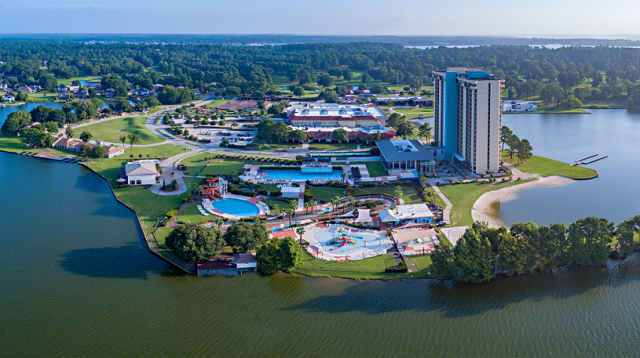 This 85 km2 lake is located 54 miles north of Houston accessible via the East Texas Pineywoods. Lake Conroe, surrounded by picturesque hills, trees, and luxurious houses, offers you many fun activities. Home to some of the most beautiful golf courses in the state, the lake also boasts fabulous bars and restaurants. The lake, known for its good water quality, has an average depth of 6.2 m, while its maximum depth is 23 m. Some former sports personalities like Aaron Gray, Rudy Tomjanovich, Colin Edwards, and Roger Clemens, reside in the Lake Conroe area.
Fishing: This lake is one of the most popular spots for fishing in Texas, with largemouth bass being the most sought-after sportfish; channel catfish, crappies, hybrids, and white bass are the most abundant sportfish in the lake.
Other Activities: Lake Conroe Park has dedicated swimming areas; if swimming is not your cup of tea, you may take part in jet-skiing, water skiing, or wakeboarding and can hire the equipment from the authorities.
2. Toledo Bend Reservoir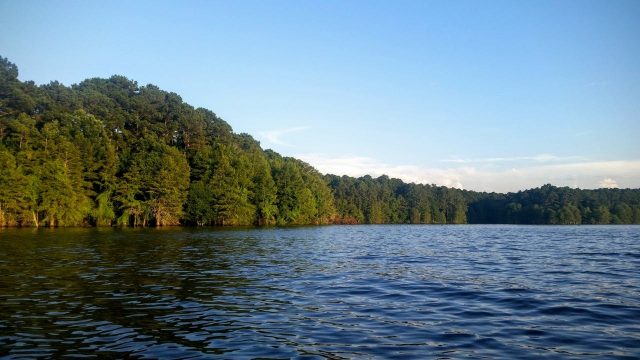 The Toledo Bend Reservoir, located on the Sabine River at the border of Louisiana and Texas, has an area of 749 km2 and an average depth of 7 m. It is the largest human-made water body in Texas and the fifth-largest in the US. The Toledo Bend Dam, constructed in 1969, generates 92 megawatts of hydroelectric power. Its 1,200 miles of shoreline provides unlimited opportunity for public recreation.
Fishing: An excellent fishing location, offering a wide range of game fish, including largemouth bass; the game fish are typically found along the edges of the reservoir.
Other Activities: You will also enjoy indulging in other recreational activities like swimming, boating, wakeboarding, water skiing, camping, hunting, and picnicking.
3. Lake O' the Pines
Located on the Big Cypress Creek in Marion County, the 76 km2 Lake O' the Pines is encompassed by picturesque pine trees, making it one of the most beautiful water bodies in the state. The lake's shoreline has recreational parks offering visitors excellent camping and picnic facilities. There is the spectacular Lakeside Park at the southern end of the lake where you can spend the day relaxing on the beach. You can also take a boat on rent from one of the several marinas that exist around the lake.
Fishing: A popular fishing destination among anglers, with white bass, largemouth bass, spotted bass, chain pickerel, and catfish being the fish species that are frequently caught
Other Activities: You may go for a refreshing swim at any of the beaches of the Johnson Creek Park and Lakeside Park; boating, wildlife viewing, and water sports are the favorite pastimes at the camping ground; you may hunt waterfowl, white-tailed deer, and small game on the adjacent public lands
4. Sam Rayburn Reservoir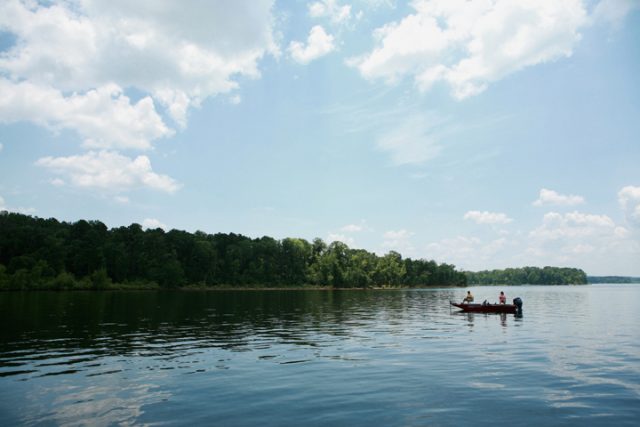 It is a 463 km2 reservoir located in the sub-region of Deep East Texas, 72 miles north of Beaumont. It is the biggest lake that is wholly located within Texas and can be accessed through the Texas State Highway 147. The visually appealing backdrop created by lush green vegetation on the rolling hills is a treat for nature lovers. Its shoreline also features numerous marinas and campsites, as well as the Country Resort, where you can play a game of golf. Then there is the Sabine National Forest through which you can go for a hiking trip.
Fishing: An excellent fishery exists, with largemouth bass, white bass, crappies, and catfish being the most commonly caught fish species.
Other Activities: Swimming, sightseeing, hiking, and water skiing are some of the popular things you can do while at the lake.
North Texas Lakes
1. Lake Texoma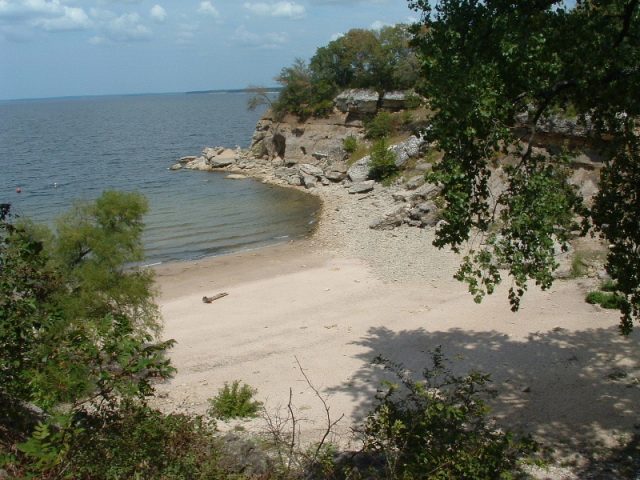 Spanning over 360 km2, Lake Texoma is the twelfth largest USACE lake in the country. It was formed by the construction of Denison Dam in 1944 and is situated at the confluence of the Red and Washita Rivers, with a major portion of the lake lying within Oklahoma. It is one of the most beautiful human-made lakes in the Tulsa District of USACE, attracting over 6 million visitors each year. If you are a watersport enthusiast, then this lake is a haven for you. With more than 20 marinas at the shoreline, surfing, kayaking, and boating are a breeze.
Fishing: Around 70 different fish species are found, the most common being crappies, catfish, and bass
Other Activities: There are some lovely swimming areas in Eisenhower State Park, Island View Park, and Lake Texoma State Park; visitors also enjoy water skiing, jet skiing, sailing, windsurfing, camping, and golfing
2. Eagle Mountain Lake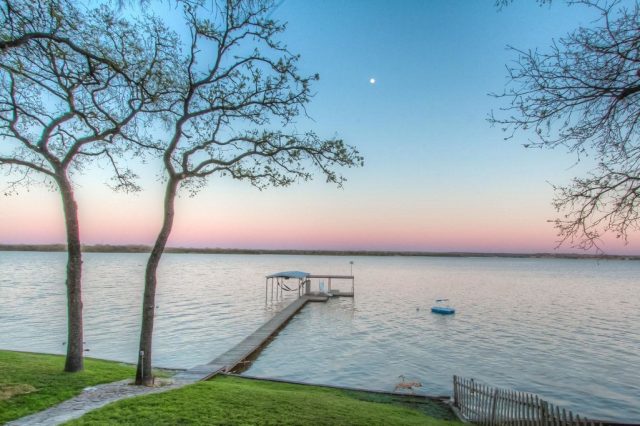 Formed by building a dam on the Trinity River, the 35 km2 lake is located 15 miles north of the city of Fort Worth and has a surface elevation of 198 m above sea level. It is regarded as one of the most beautiful boating lakes in the state. The lake is also home to the historic Fort Worth Boat Club, which organizes both national and international regattas every year. It is surrounded by numerous parks with picturesque hiking trails, campgrounds, restaurants, and picnic areas.
Fishing: If fishing is your favorite pastime, then you will not be disappointed since the lake is home to channel catfish, white crappies, and largemouth bass; you may either use the ramps or hire a boat.
Other Activities: The Shady Grove Park has a public beach for swimming; you may also enjoy other recreational activities like kayaking, water skiing, and wakeboarding.
3. Possum Kingdom Lake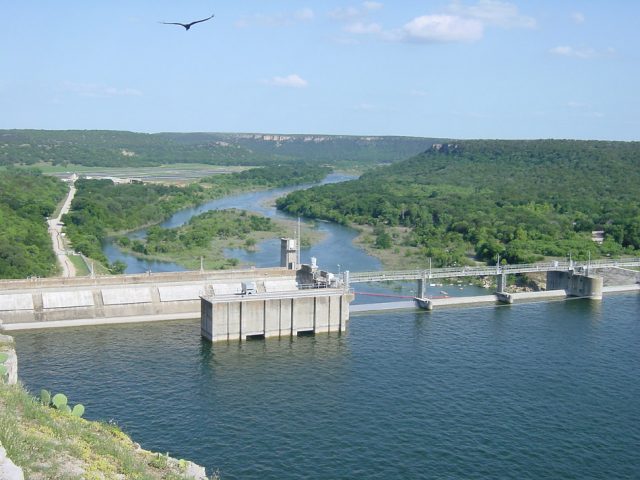 Commonly called 'PK' by the locals, the Possum Kingdom Lake is an 80 km2 reservoir located in Palo Pinto County and is a favorite destination for people who like to party. Partygoers flock during the summer months at the Hell's Gate, which are the two towering cliffs situated at the entry of the cove on the southern part of the lake. These cliffs are also used for diving competitions. So, if you want to relax, have jello shots, and take a plunge into the refreshing water, then this is the place for you.
Fishing: Species like striped bass, spotted bass, largemouth bass, bream, crappie, flathead catfish, white bass, and channel catfish are abundant.
Other Activities: The lake offers everything from swimming, boating, scuba diving, water skiing, to snorkeling.
West Texas Lakes
1. Lake Amistad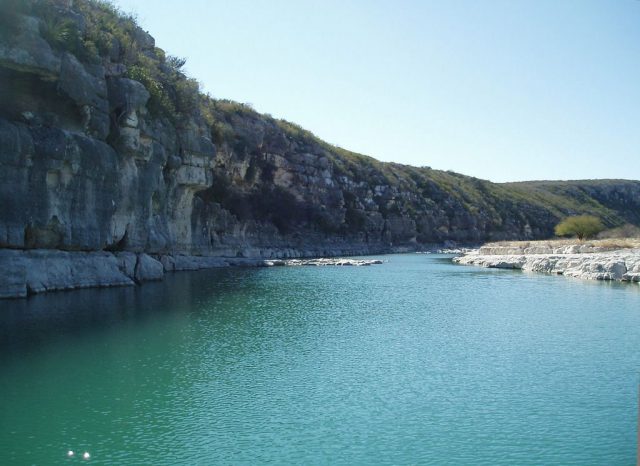 It is a 262 km2 reservoir located at the confluence of the Rio Grande and the Devils River about 12 miles northwest of the city of Del Rio. While the lake is known for recreational activities like fishing, cave paintings are another reason why thousands of visitors flock to this place. The Amistad Reservoir was once inhabited by the Native Americans, and their cave art still exists in this area. You can visit the two major sites, including the Parida Cave and Panther Cave.
Fishing: Several fish species, including bass, carp, bluegills, crappies, and sunfish exist; a yearly fishing tournament is also organized
Other Activities: Swimming, viewing rock art, camping, hiking, scuba diving, and picnicking are some of the other things you can do.
Central Texas Lakes
1. Lake Travis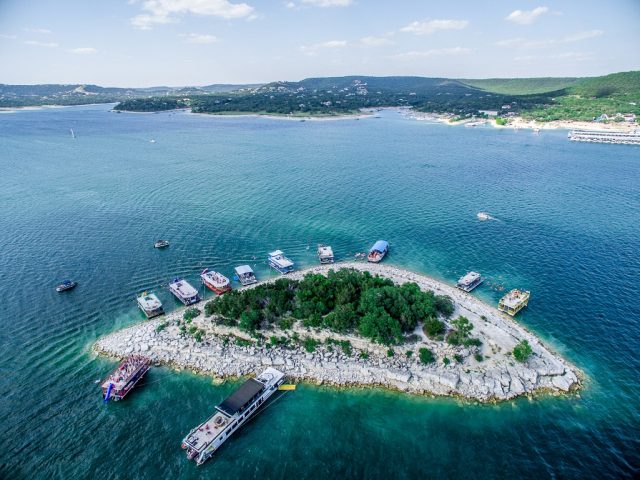 The lake, located on the Colorado River, was formed when the Lower Colorado River Authority constructed the Mansfield Dam in 1942. Stretching for 105 km and having a surface area of 76 km2, Lake Travis is the largest among the Texas Highlands Lakes. It has more than 250 miles of shoreline, offering some of the best beaches like the clothing-optional Hippie Hollow Park and the Montina Beach. If you want to spend some days relaxing at the lake, there are plenty of accommodation options available, ranging from the camps to the luxury chalets.
Fishing: It offers excellent angling opportunities, as largemouth bass and white bass are abundant
Other Activities: Swimming, sunbathing, scuba diving, and boating are some of the other activities enjoyed by visitors.
2. Lady Bird Lake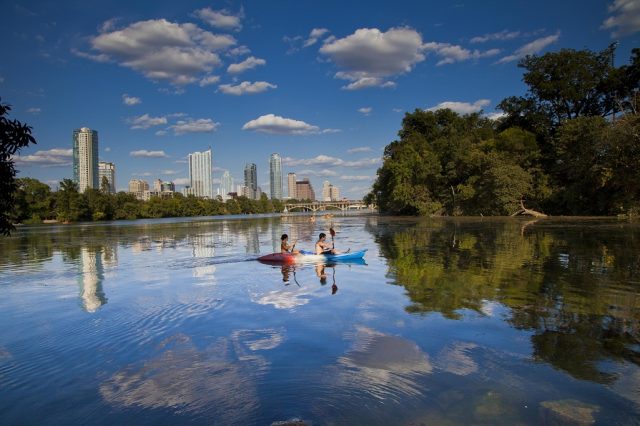 Named after the former First Lady, Claudia Alta "Lady Bird" Johnson, this 189-ha lake is located in downtown Austin. Surrounded by magnificent restaurants, hotels, and parks with beautiful trails, the lake has a calm and soothing environment. It is also a paradise for animal lovers, as you will get to see some rare bird species from March to November.
Fishing: It is a well-known fishery for largemouth bass and carps.
Other Activities: Swimming is not allowed due to the presence of blue-green algae; although motorized watercraft are not allowed, it is a popular spot for canoeing, kayaking, and paddle-boarding.
3. Inks Lake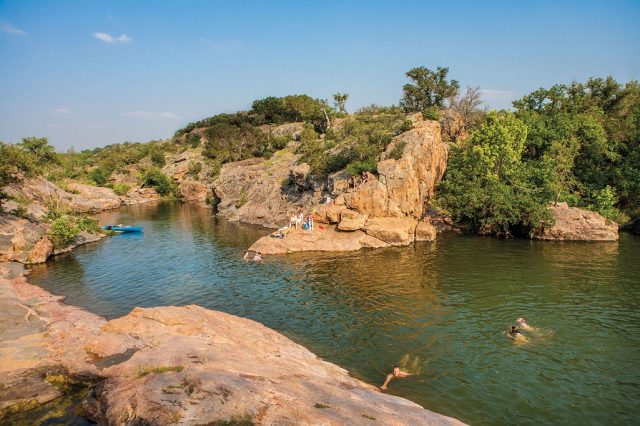 This 3 km2 reservoir, located close to Burnet, was formed when the Lower Colorado River Authority constructed the Inks Dam in 1938. If you want to avoid the city's noise and commotion for a few days, then the lake is a perfect destination. Its shoreline is home to the Inks Lake State Park, which comprises 200 different campsites, and many of them have playgrounds. It has a nine-mile-long hiking trail that takes you through rocky hills and shaded forests.
Fishing: Recreational fishing is a popular activity, and fish species like bass, crappie, sunfish, and catfish are commonly caught.
Other Activities: The Inks Lake State Park has facilities for swimming, boating, backpacking, camping, and cliff jumping.
4. Lake Austin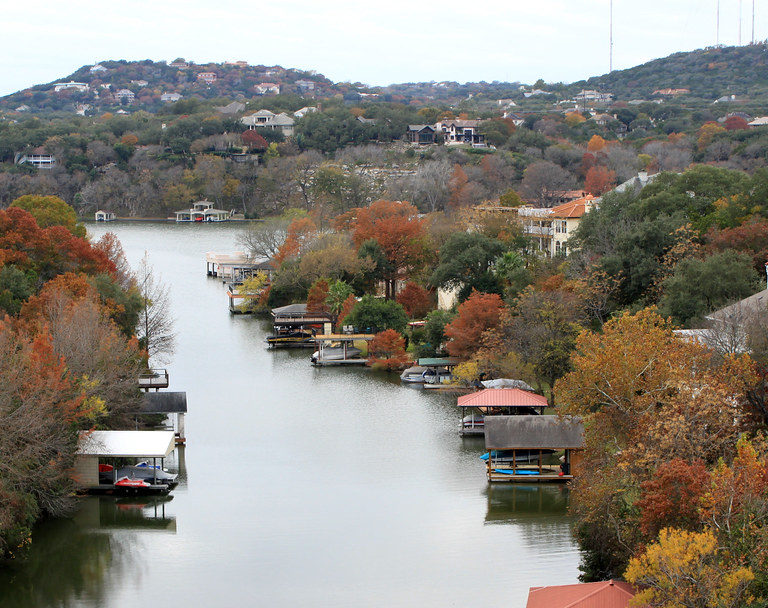 As part of the Highland Lakes Chain, the reservoir was formed after the Lower Colorado River Authority built the Tom Miller Dam in 1939. Lake Austin, formerly known as Lake McDonald, boasts of a surface area of 6 km2 and is a top-notch destination for fishing and boating. On its shoreline, you can visit the Emma Long Park where the facilities for renting a boat are available.
Fishing: It has an abundance of bass, mostly weighing over 10 lbs.
Other Activities: Swimming is allowed within 50 feet of the shoreline; water skiing, canoeing, and wakeboarding are some of the popular things to do
South Texas Lakes
1. Canyon Lake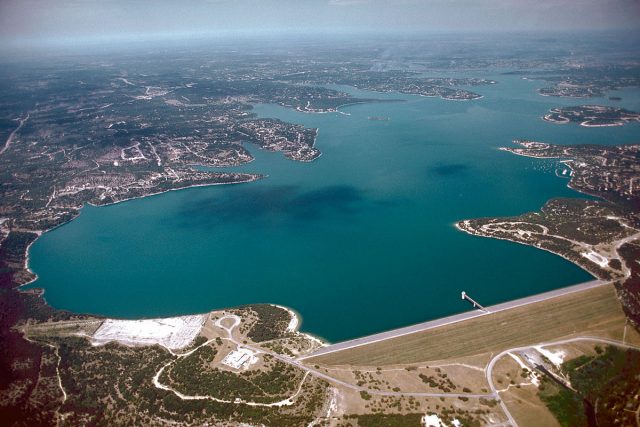 Located on the Guadalupe River, the Canyon Lake is a 33 km2 reservoir in the Texas Hill Country. A beautiful place to relax and the lake is called "The Jewel" by the locals. Along with water recreation, the lake offers splendid outdoor recreation facilities. There are eight parks for camping, bank fishing, and picnicking. If you are an avid golfer, then there is an excellent golf course with well-maintained hills and fairways.
Fishing: Bank fishing available in all the parks; fishing dock exists in Cranes Mill Park
Other Activities: Eight park areas surrounding the lake offer facilities for swimming as well as boating; biking, hiking, and equestrian trails are also available
Natural Lakes in Texas
Even though some natural lakes exist in Texas, most of them are not as large as the human-made reservoirs. Here we describe a few natural lakes that you may consider including in your bucket list.
Caddo Lake: Sitting on the border between Texas and Louisiana, the Caddo Lake was originally a natural lake formed due to a log jam created by toppled cottonwood trees on the Red River. In 1914, the USACE replaced the natural dam with a concrete structure, altering its surface area and capacity.
Green Lake: With an area of 40 km2, Green Lake is one of the largest natural lakes in Texas. It is situated 12 miles west of the city of Port Lavaca in Calhoun County.
Top Picks
Best Lakes for Fishing: Sam Rayburn Reservoir, Toledo Bend Reservoir, Lake Texoma
Best Lakes for Swimming: Lake Travis, Inks Lake, Possum Kingdom Lake
Cleanest Lakes in Texas: Lake Amistad, Canyon Lake, Lake Travis
Lesser-known or 'Hidden' Lakes: Richland Chambers Reservoir, Lake Raven, Quarry Lake
Best Lakes to Live on: Lake Texoma, Eagle Mountain Lake, Lake Austin