Recalling the stock saying, "A thing of beauty is a joy forever", imagine a beach with stretches of golden sands slowly meeting crystal blue waters or how about a silvery one bordered by dense foliage? You need to just surrender yourself to the unmatched beauty of the place to cast away all your worries. So, take a glimpse of these 10 most beautiful beaches of the world and stressed or not, go for such an agreeable sojourn without delay.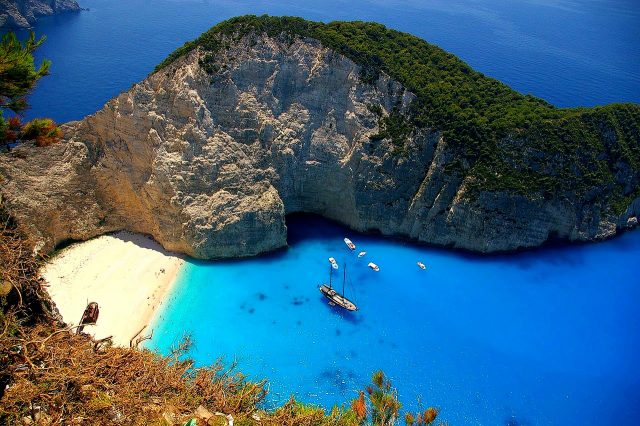 1. Palm Beach, Aruba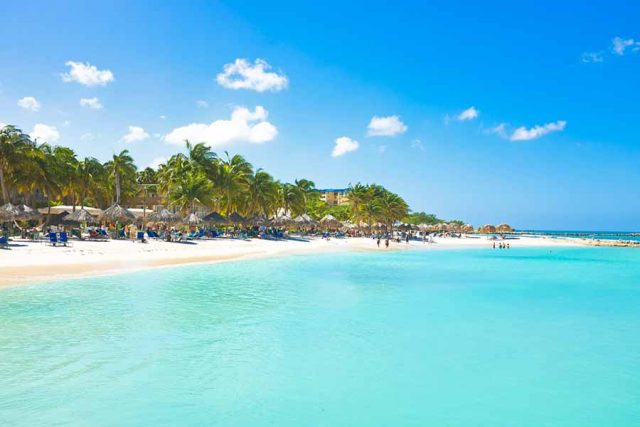 Dotted with palm trees that cast a gentle shade on the many cabanas and lounge chairs, this wide beach on the northern Aruba coast is almost like a picture to the many visitors that turn up. Most generally engage in a host of activities like parasailing, snorkeling, swimming in the serene waters before heading to the nearby bars and restaurants for enjoying a tasty meal while marveling the unparalleled beauty of the scene.
You may also venture for Eagle Beach, another mesmerizing zone just south of Palm Beach if you fancy seclusion.
How to Get Here
2. El Nido, Palawan, Philippines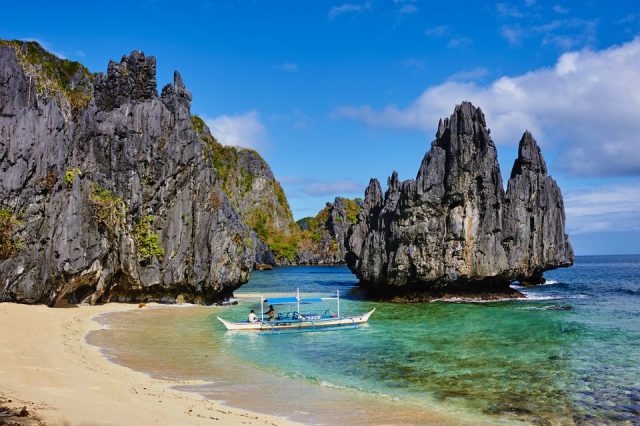 You would find it hard to decide the most beautiful beach amidst the 50 at El Nido – with pristine white sands and dramatic limestone formations, they offer the perfect holiday escape every traveler dreams to have. The amazingly blue waters are a further charm to the setting that is strikingly unspoiled. Check out for the breathtaking sunsets.
How to Get Here
3. Sunset Beach, Oahu, Hawaii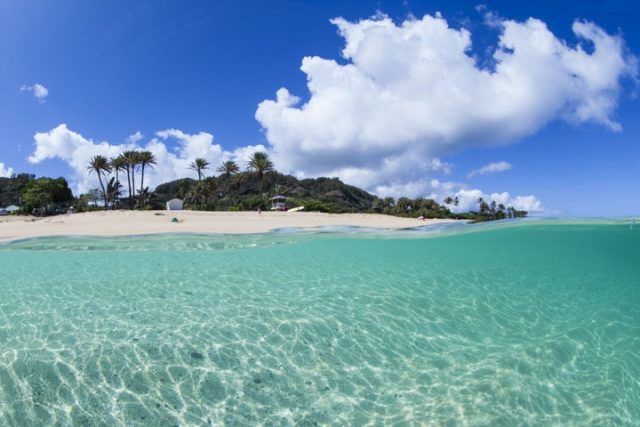 This beach, on the North Shore of Oahu, is popular for two factors –  you may go for big wave surfing in winter and in summer, try its superb spots for snorkeling. Nonetheless, you must not miss the foremost reason the beach is so named, its long stunning sunsets.
How to Get Here
4. Honopu Beach, Kauai, Hawaii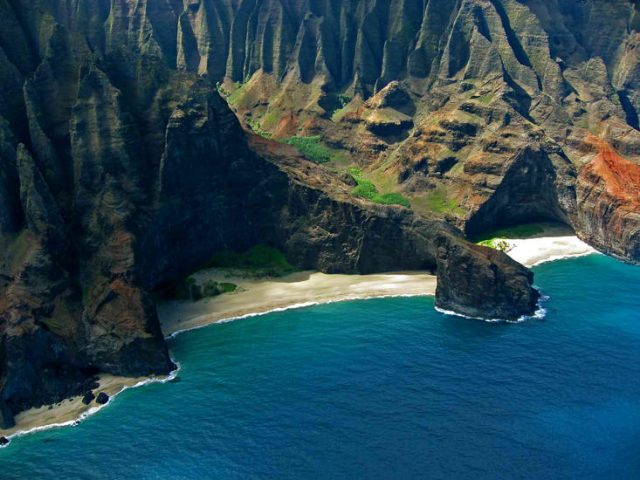 Ever longed to get lost in a completely deserted beach as does Harrison Ford and Anne Heche in the movie "Six Days Seven Nights?" Well, head to Honopu Beach along the Na Pali Coast that most times remains unoccupied mainly owing to its inaccessibility; you can get there only by swimming from its neighboring Kalalau Beach or from an offshore boat. Nonetheless, the trouble undertaken is generously rewarded by the endearing sight of cumin-colored sand flanked by towering cliffs that are covered with lush vegetation. Also called as Cathedral Beach, it has also been the site of several other movies like "King Kong", and "Raiders of the Lost Ark".
How to Get Here
5. Honokalani Beach, Wai'anapanapa State Park, Maui, Hawaii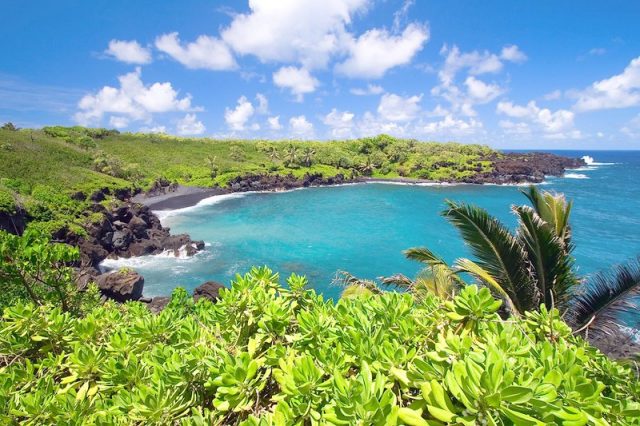 Another Hawaii beach that garners a lot of interest from enthusiastic photographers out for scenic sights is that of Honokalani, stationed 3miles north of the town, Hana. In its black sand, clear turquoise waters and thick foliage, you may unveil a wild, unspoiled Hawaii. Lie on the small lava pebbles that make up the sand or seek any of the sea caves along the shore for a bit of adventure.
How to Get Here
6. Matira Beach, Bora Bora, French Polynesia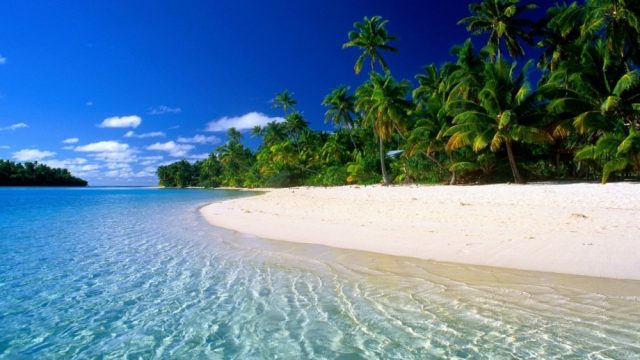 The attractive features of this mile long beach are many, there's white sand sloping gently into a pleasant lagoon with a lush palm vegetation as its backdrop. No doubt, it boasts of being one of the most famous beaches in Tahiti. Moreover, it is also the only one that can be accessed by the public. Start early to secure a convenient spot.
How to Get Here
7. Makena, Maui, Hawaii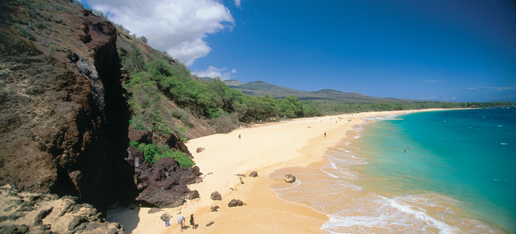 With its 1.5 miles of golden sands extending as much as 100 feet wide in places, this one, also called Big or Oneloa Beach accounts for being one of the largest on Maui. Make it a point to breeze in here during sunsets, when the salmon orange sands give rise to a dazzling spectacle as the red hues of the waning sun fall on the blue waters.
How to Get Here
8. Praia da Marinha, Lagoa, Portugal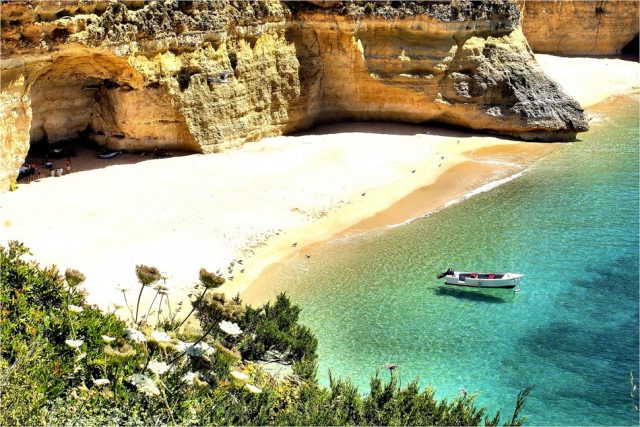 Situated on the Atlantic Coast in Caramujeira, this one tops the list of the most ravishing beaches of Portugal.  Its calm aquamarine waters hitting rocky outcrops and limestone cliffs make the perfect scenery generally seen in postcards.  Indulge in swimming, snorkeling etc. and when en you get drained out, consider taking a short boat ride to explore the nearby grottos and caves.
How to Get Here
9. White Beach, Boracay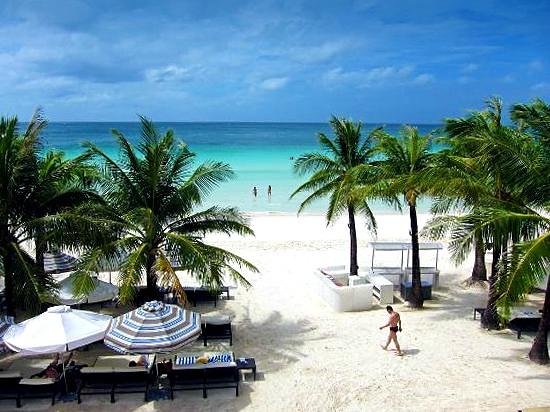 This beach of white sand stretches for nearly 5 kilometers thereby providing ample area for a considerably large group of people to revel in by simply soaking in its ethereal charms or embracing a whole lot of activities. To facilitate easy navigation to beachgoers, the beach is divided into 3 sections, Boat Station 1, 2, and 3. However, there exist no physical barriers; hotels are used as markers by the locals.
How to Get Here
10. Flamenco Beach, Culebra, Puerto Rico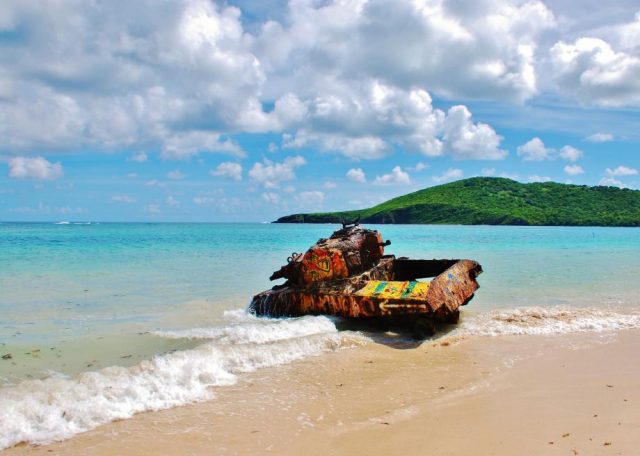 The shallow waters of this beach gleam with various shades of turquoise blues and make an unforgettable image as they splash against the white sands. Take delight in camping on its mile-long beach bordered by gently rolling hills and tropical plants or surrender yourself to the many pleasures of the sea.
How to Get Here
Though you need to be a good swimmer to reach some of these beaches, the try is well compensated by the heavenly experience you undergo once you set foot on them. So, grab your hats and gear up to visit any of these. After all, life is meant to be enjoyed to the fullest.