Phoenix is one of the most beautiful cities in the United States of America and is the most populous among the state capitals of the country. The flora and fauna of the country are varied, mostly influenced by the Sonoran Desert. So, to keep yourself fresh throughout the year, you might need an airy escapade to enjoy those beautiful scenes around and breathe in some cool air. This list enlightens you of a few of the best hiking trails from the city, with all the maps and details.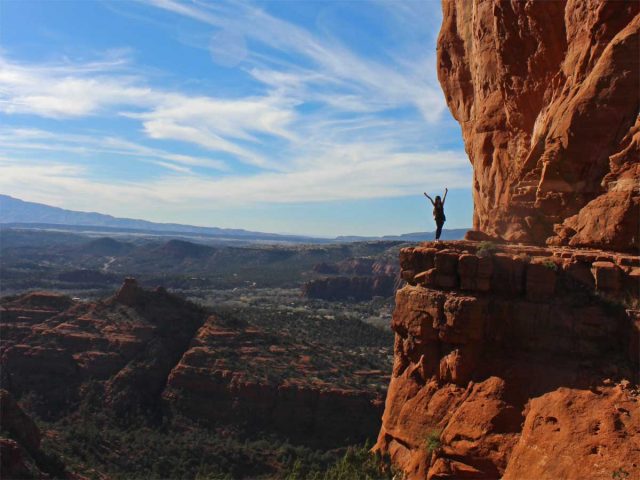 1. Echo Canyon Walking Trail, Camelback Mountain, AZ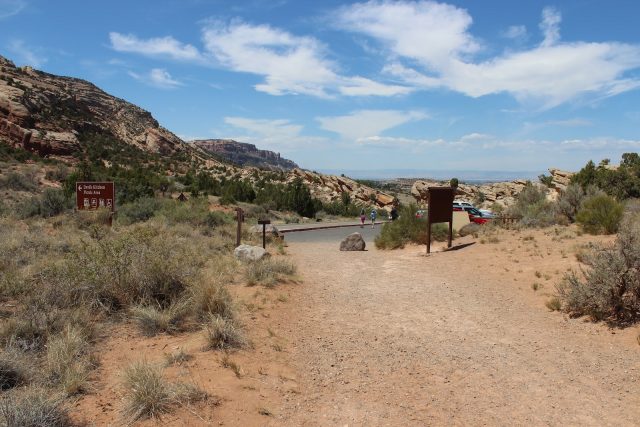 A pride of Arizona, the elevation of this famous trail begins from the north side ending to a height of 2,704 feet. To reach here, you can take the Camelback Road that starts in Scottsdale. This trail will keep unfurling its scenic beauty to you, as you keep heading upwards. However, the road is extremely rocky, and you should have a good health history. Make sure, you are equipped with 30-32 oz of water. Keep enough time in your hand so that you can sit back, relax and enjoy the 360-degree beauty as you reach the top.
Length: 2.4 miles
Type: Difficult
How to Get Here
2. The Hiking Trails in Phoenix's South Mountain Park & Preserve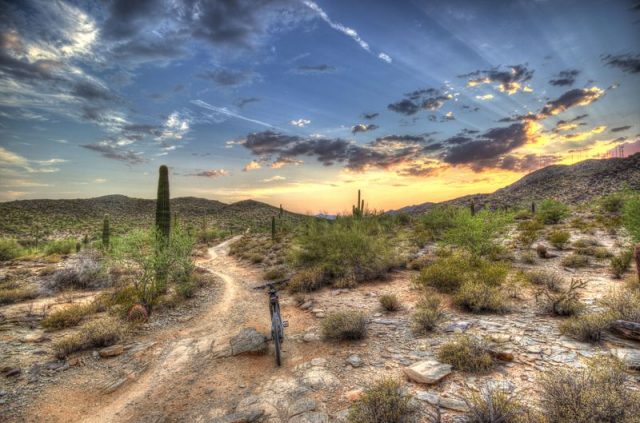 It is the largest municipal park in the United States. Hiking through this trail is easy for beginners, and it is also dog- and kid-friendly. By popularity, this trail, close to Tucson, stands second to the Camelback, and consists of many trails, covering scores of miles for you to hike through, including the 1-mile long Judith Tunnell Accessible Trail (easy), and the 3.6-mile National Trail from Buena Vista Lookout to the Fat Man's Pass (moderate).
Length: 5 miles
Type: Easy
How to Get Here
3. Pinnacle Peak Trail, Scottsdale, North Phoenix
The walkway is quite easy for footing while gradually proceeding, enjoying the beauty of nature around, talking to fellow hikers, and spotting wildlife. This trail is quite popular with an inclination of 2,750 feet. The entire track is groomed and well-maintained. However, the smooth granites towards the top will not let you reach the highest point, but yes; you can still cherish the wild panoramic bird-eye views of the desert just below it.
Length: 3.5 miles
Type: Easy to moderate
How to Get Here
4. Phoenix Lake Hiking Trail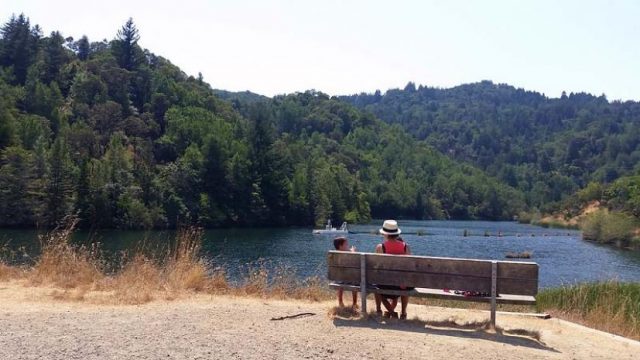 Phoenix Lake is basically a place for friends and family recreation at the base of Mt. Tamalpais, where you can sit and enjoy all day in the park, go for a bike ride, move around places through the paved paths, and of course, walk along the trails to hike through the semi-wilderness with your kids and dog. You can witness a lot of wildflowers and greenery as well as fauna including turtles and river otters around the lake, innumerable birds, and various other local wild lives.
Length: About 3 miles
Type: Very Easy
How to Get Here
5. Hole-in-the-Rock Trail, near to the Airport Papago Park, Central Phoenix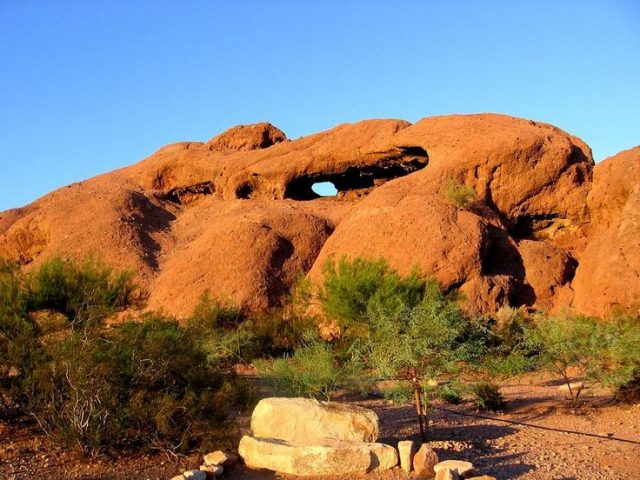 Close to the Phoenix airport's urban area, and the Desert Botanical Garden, this trail is very short and can be good for beginners. The entire area offers a lovely view of the sceneries around, as also the Phoenix Zoo. It is especially ideal for casual strollers (who have not planned for a hiking), or those just visiting Phoenix for a short while and do not intend to enter the downtown metro, yet looking for something nice to do before leaving. The entire trailing area is studded with bizarre rock formations, wild vegetation, and walkways, and is bound to give you a quick experience you would cherish all your life. Additionally, the site is dog-friendly too.
Length: 0.3 miles
Type: Very Easy
How to Get Here
6. Vulture Peak Hiking Trail, Northwest Phoenix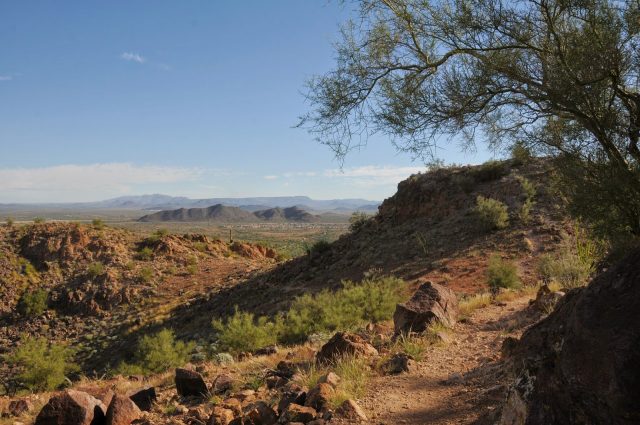 The trail is less than an hour towards the northwest of Phoenix. The dense shrubs and wild vegetation of the region renders an ancient look to the trail. The walkway ascends to a narrow break from between the jagged cliffs, giving an amazing view of the desert down below.
Length: 2 miles
Type: Moderate
How to Get Here
7. Ballantine Hiking Trail, East Phoenix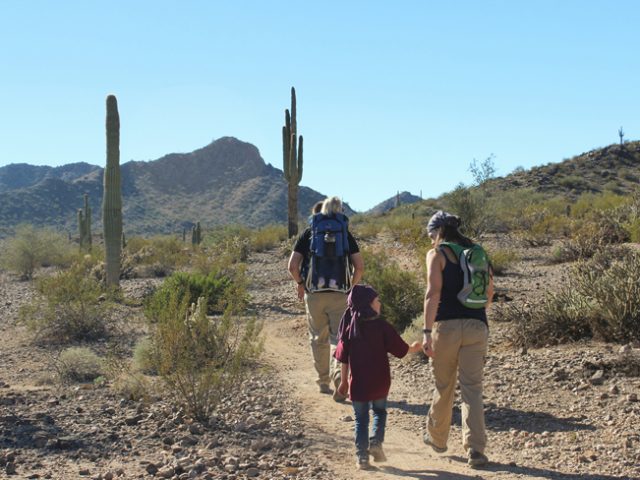 Situated in the north of the Fountain Hills, the Ballantine Trail is known for its amazing and extraordinary rock formations and the tranquil environment. The trailing path curves through the mountains, and eventually leads you to the highest point from where you can get a panoramic view of the entire region.
Length: 3.4 miles
Type: Moderate
How to Get Here
8. Piestewa (Squaw Peak) Summit Hiking Trail, Phoenix, AZ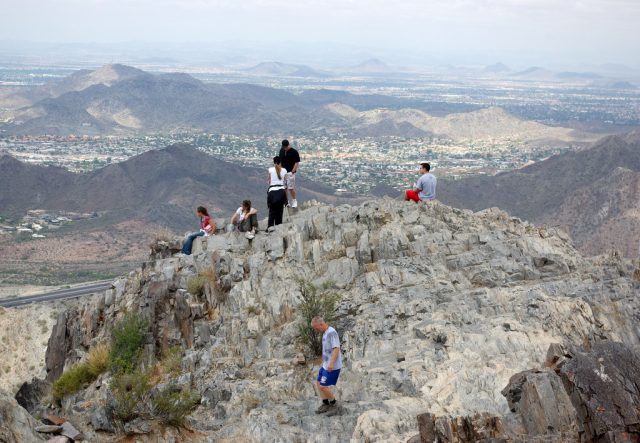 This trail is popular among challenging hikers, and to reach its summit is somewhat an adventurous task since if you are not a somewhat experienced hiker, you might experience a breathless ascent from 1,400 to 2,608 feet. The views throughout the way are pleasant, with cactuses, ocotillos, wildflowers blooming especially during springtime. Interestingly, the schist rock at the peak has a stair-like look.
Length: 2.4 miles
Type: Difficult
How to Get Here
9. Waterfall Trail in White Tank Mountain Regional Park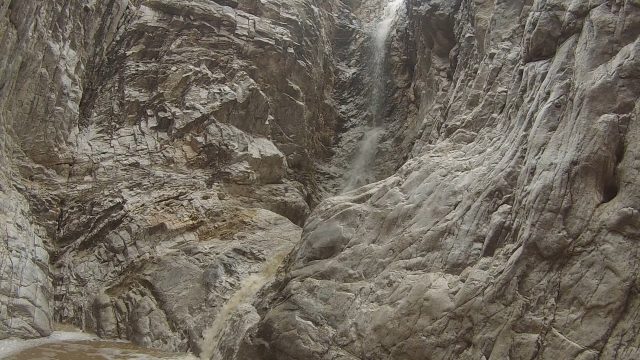 This is quite an easy trail that has unfurled the beauty of the Sonoran desert. It is studded with prehistoric petroglyph carvings, the stony outcroppings saguaros cactuses, and broad paths to travel through. The elevation is not much steep, nor is there much scope of tricky footing, and hence you can easily take your children and pet dogs. There is also a sighting of an amazing waterfall at the end of the trail, though you need to be lucky to get a glance of it. For that, visit the park after a rain. The fee to enter the park is $6.
Length: 1.8 miles
Type: Easy
How to Get Here
10. Thunderbird Conservation Park Hiking Trails in Phoenix's Glendale
In this park, you can choose between different trails, as it offers multiple elevation changes and difficulty levels, all of which are ideal for a group of friends or young people. You can enjoy both challenging, as also leisurely hikes. You would spot some wildlife occasionally, mostly different species of lizards, and if you are lucky, maybe snakes too! The trails are somewhat rocky in nature, however, not tough to walk through.
Length: Variable
Type: Easy to Moderate
How to Get Here
Move out today with your friends or family and kids, the moment you find a trail from the list, suitable for the purpose. We are sure, this exhaustive list, with all useful information, will help you spot the best trailing areas of the city of Phoenix.