Brazilian desserts are famed for their versatility, drawing influences from European, Amerindian, and African cuisines. One of the highlights of the sweet dishes of Brazil lies in the whole range of fruits that go in its preparation like papaya, acai, guava, strawberries, and passion fruits. Let us check out the list of lip-smacking desserts that Brazil has to offer.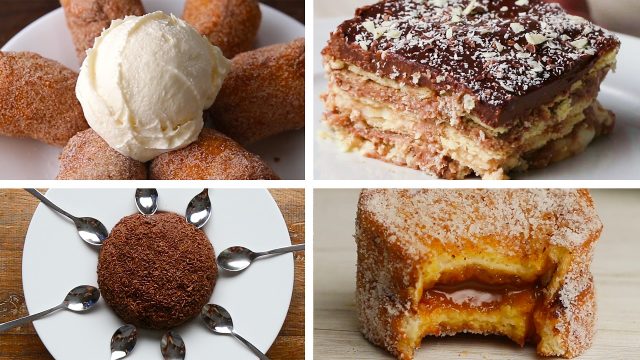 1. Brigadeiro – A Traditional Chocolate Ball Dessert of Brazil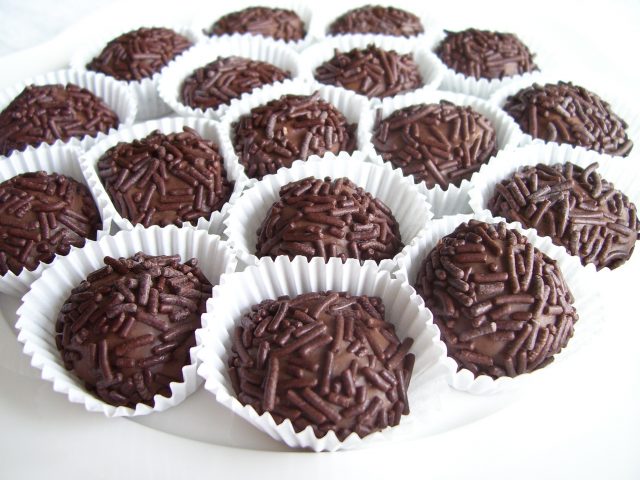 What is it: A mouth-watering Brazilian confectionery, shaped into small balls, prepared from condensed milk, butter, and cocoa powder with chocolate sprinkles on the outer layer. This famous candy dates back to the period of the Second World War in 1945 during the election of the new president, created for campaigning. As there was a shortage of sugar and fresh milk after the war, condensed milk came as a replacement, mixed with chocolate and butter. It is often served in a cupcake mold, eaten straight from a pot using a spoon. Hence, it is alternately called brigadeiro de colher or spoon brigade.
What does it taste like: The taste of chocolate with every bite you take, alongside the smoothness of butter, would leave you in awe.
2. Sagu – A Popular Brazilian Tapioca Dessert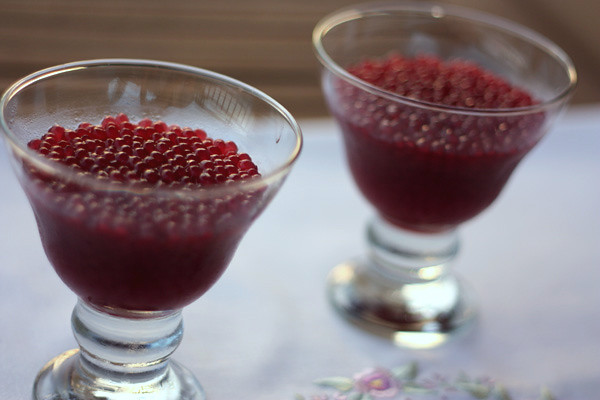 What is it: A dessert well-known in southern Brazil prepared from sago or tapioca pearls, besides red wine and sugar. Mostly eaten warm, it teams well with a topping of crème anglaise (dessert cream). Cloves and cinnamon, when used, enhance flavor and aroma.
What does it taste like: The dish comprising of small, purplish balls has a thick consistency and is not too sweet being more preferred by adults than kids.
3. Bejinho – A Condensed Milk Coconut Dessert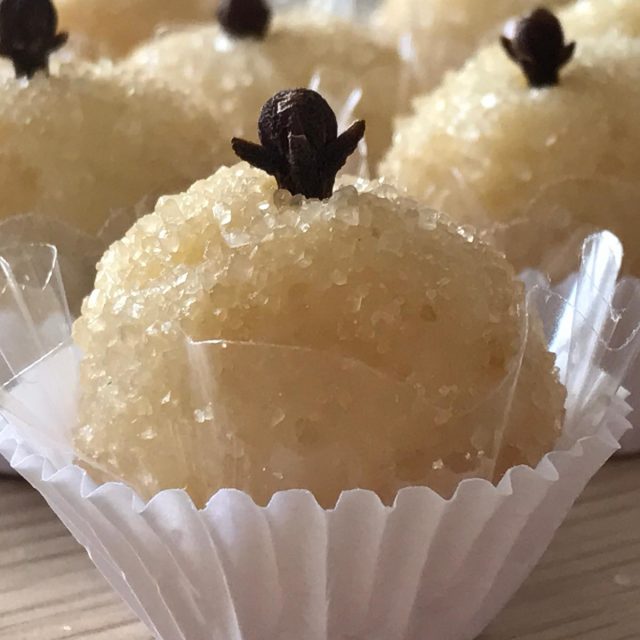 What is it: Alternately called the branquinho or the little white one because of its appearance, it is made using grated coconut, condensed milk, and butter. A topping of a single clove sits right above the cake. Initially, the ingredients that would go into its making included sugar, almonds, and water.
What does it taste like: The sweetened taste of condensed milk and the hard crispy texture of coconut, alongside the aromatic flavor of clove, makes it increasingly tasty.
4. Bolo De Rolo – Brazilian Cake Dessert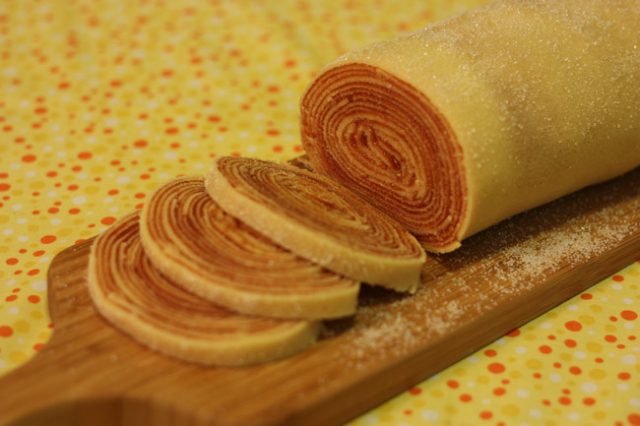 What is it: A typical Brazilian sweet dish of the state of Pernambuco prepared from a batter of eggs, flour, sugar, and butter, with the dough wrapped in a covering of melted guava. Though resembling a Swiss roll or jelly roll, the preparation process is much complex. Several thin layers go in the making of this spiral-shaped cake served in slices with an unsweetened whipped cream topping.
What does it taste like: Sweet, smooth, and buttery is all that you would get with every bite you take.
5. Pudim de Leite – A Brazilian Caramel Dessert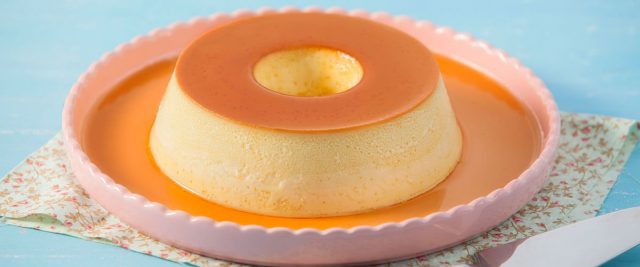 What is it: A crème caramel consisting of condensed milk, sugar, eggs, and whole milk as its main ingredients.
What does it taste like: Sweet and toasty, with a slightly grainy texture, make this caramel dessert highly sought-after.
6. Manjar Branco – A White Coconut Pudding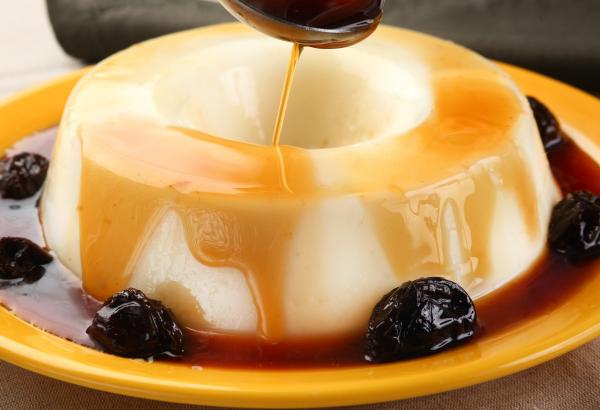 What is it: A pudding made with coconut and condensed milk, topped with dried plums as well as caramel. Traditionally, it was often served with prune sauce, though variations like a chocolate and berry sauce are popular in the present. In Portugal, this particular dish has been made differently from sugar, chicken breast, milk, orange zest, salt, and rice flour.
What does it taste like: The mildness of coconut teamed with the sweet, sticky, and tart flavor of prune makes it increasingly tasty.
7. Mousse de Maracuja – Passion Fruit Dessert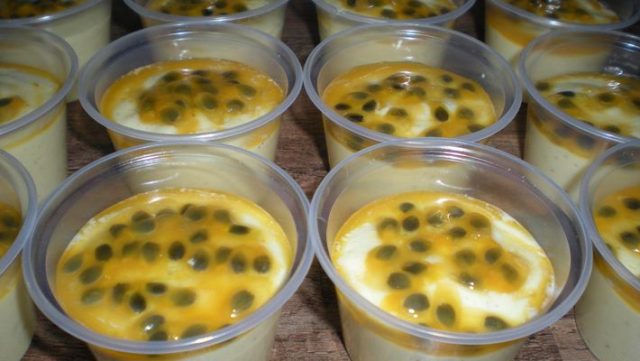 What is it: A unique fusion of passion, fruit, sweetened condensed milk, and fresh cream is all that this fantastic dish comprises. Since it has a tart flavor, a dessert crème made with milk, sugar, yolk, and cloves serves as a topping.
What does it taste like: It is indeed a celebration of a host of flavors since this mousse tastes fresh, tangy, and sweet to the fullest.
8. Curau De Milho – Brazilian Custard Dessert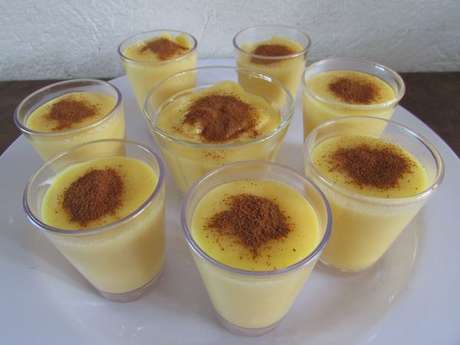 What is it: A custard-like sweet dish prepared from raw maize' pressed juice alongside milk as well as sugar.
What does it taste like: Thick, sweet, creamy, and exceedingly delicious, with the taste of corn dominating. Cinnamon dust used as a topping makes it all the more aromatic. You may eat it hot or cold as a porridge or pudding.
9. Creme de Papaya- Famous Brazilian Dessert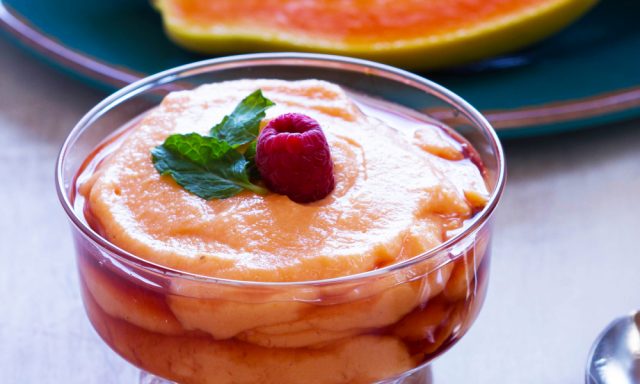 What is it: A dessert made of papaya and vanilla ice-cream, was immensely sought after in Brazil during the second half of the 90s, though its popularity has reduced in the present times. Crème de cassis would often be added to it, giving it an alcoholic touch, though black currant syrup is a non-alcoholic substitute.
What does it taste like: Smooth, soft, and sweet, while crème de casis could give it a tangy flavor. On the other hand, black currant syrup if used as a replacement, would make it immensely sweet.
10. Creme de Abacate – A Brazilian Avocado Dessert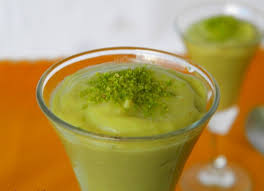 What is it: A delicious dessert made from avocados, sugar, milk, and lime juice.
What does it taste like: The rich, buttery flavor of avocado combined with the tartness of lemon makes it delicious indeed.
11. Canjica – Brazilian Milk Dessert for Festivals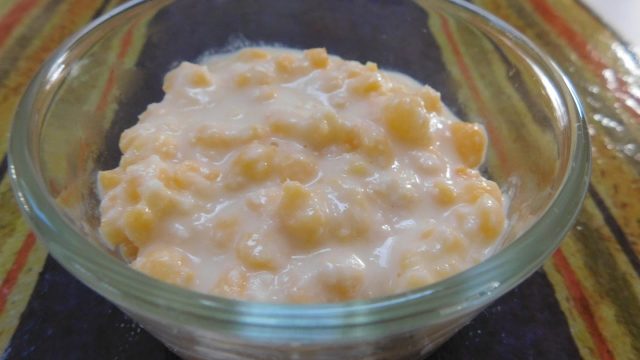 What is it: A porridge made from maize kernels, sugar, cinnamon, and milk. The preparation, however, varies from one region to the other with ingredients such as coconut milk, coconut, cloves, sweetened condensed milk, and cinnamon also used in some places. In the central and southern parts of Brazil, people refer to it as canjica. While in the northern states, it acquires the name mugunza. It was for the first time created in the colonial era by the black slaves. It is one of the favorite dishes of Brazilians mostly eaten during the winter festival, which is celebrated in Brazil in June at the end of the harvest season.
What does it taste like: Soft, smooth, thick, and immensely tasty. Cloves and cinnamon, when added, would give it a unique fragrance.
12. Pizza de Brigadeiro – Brazilian Chocolate Pizza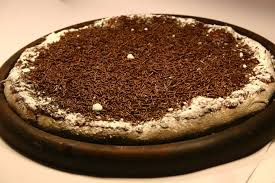 What is it: A delicious pizza whose main ingredients comprise of cocoa powder, condensed milk, strawberries, cream cheese, and chocolate sprinkles.
What does it taste like: Cheesy, chocolaty, smooth and immensely lip-smacking which one can have hot or even cold.
13. Flos De Ovos – Brazilian Dessert with Eggs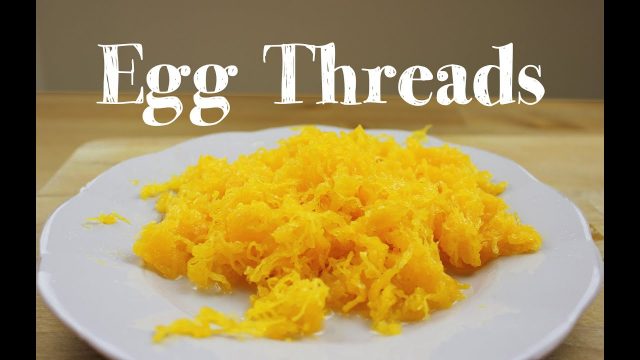 What is it: A traditional dessert of Portugal where it is called angel hair, it is popular in Brazil too. Eggs (mainly the yolk) form the chief ingredients of this recipe apart from sugar syrup and vanilla extract. They have a noodle-like appearance often used for garnishing a whole lot of desserts or as a topping for cakes. It is even serves as an accompaniment for meat dishes, several savories as well as sweets.
What does it taste like: Soft, sweet, creamy, while the smoky flavor of the vanilla extract appears in every bite.
14. Quindim – A Baked Custard Brazilian Dessert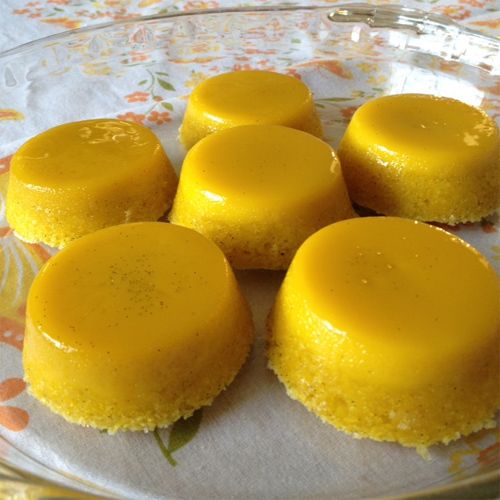 What is it: A baked custard having egg yolks, ground coconut, and sugar as its primary ingredients. It is yellow, resembling an upturned cup.
What does it taste like: It has a fresh, exotic flavor, being creamy, glossy, and sugary, with the taste of coconut dominating throughout.
15. Cajuzinho – A Popular Nutty Dessert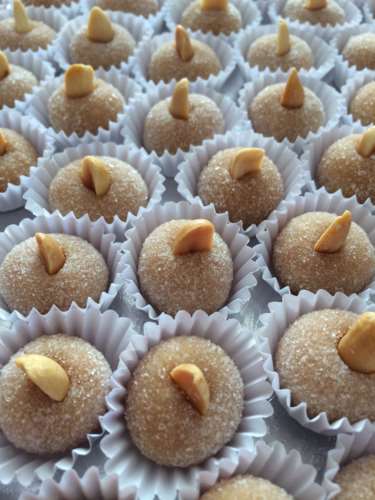 What is it: It gets its name for the cashew nuts which are the primary ingredients that go in its making. Condensed milk, unsalted peanuts, unsalted butter, granulated sugar, and chocolate powder form the list of its main components. Cajuzinho has been a popular dessert mostly in birthday parties alongside other festivities.
What does it taste like: Sweet and nutty, with the taste of peanuts being immensely prominent.
16. Sweet Rice – A Pudding Dessert of Brazil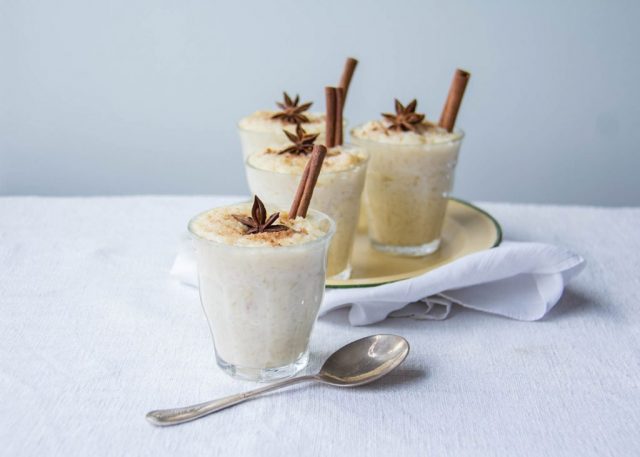 What is it: A fabulous pudding prepared from rice, blended with milk or water. Other ingredients include raisins, sweeteners like sugar as well as cinnamon sticks which serve as a garnish. Besides Brazil, such kind of preparation is widespread throughout America and even in other continents like Asia where rice forms the staple diet.
What does it taste like: It is thick, creamy, smooth, amazingly sweet, though overcooking could give it a chewy texture.
17. Brazilian Romeo and Juliet – A Unique Dessert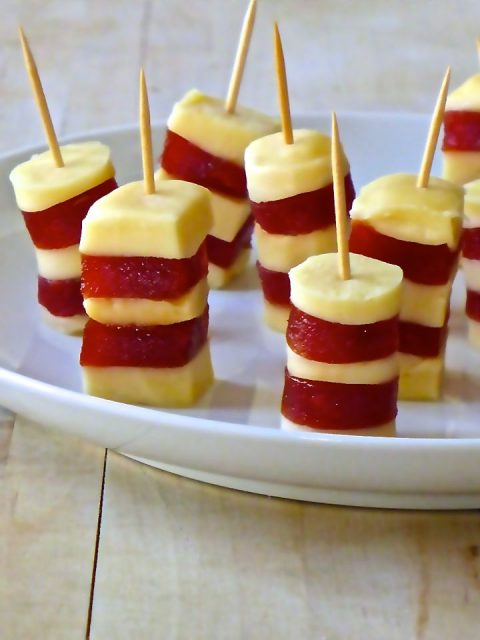 What is it: A mixture of cheese and guava paste, with the slices stacked one on top of the other held together with toothpicks.
What does it taste like: A combination of sweet and salty, it has a perfect jelly-like texture that would melt in your mouth.
Besides the lip-smacking sweet dishes mentioned above, there is more to the list including pacoca (a groundnut candy), bijajica (a yummy cookie), and cocada (coconut confectionary) and much more. On your next visit to Brazil, do check out some of these yummylicious desserts on the list.