The country of Barbados not just excel in its scenic beauty but is also regarded as the culinary capital of the Caribbean islands because of the versatile platter it has to offer, influenced by a host of other cultures.  A wholesome meal comprises of meat or fish, a spicy side dish as well as salads. Let us take a look at the fantastic cuisine of Barbados.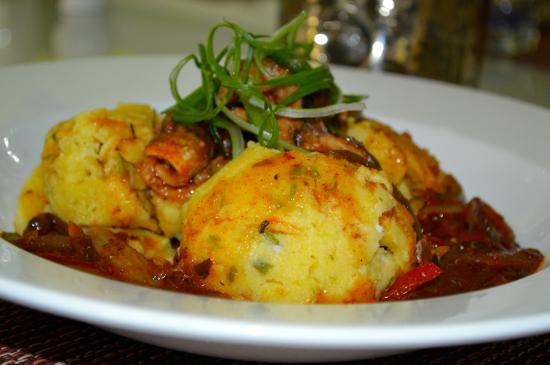 1. Cou Cou – The National Food of Barbados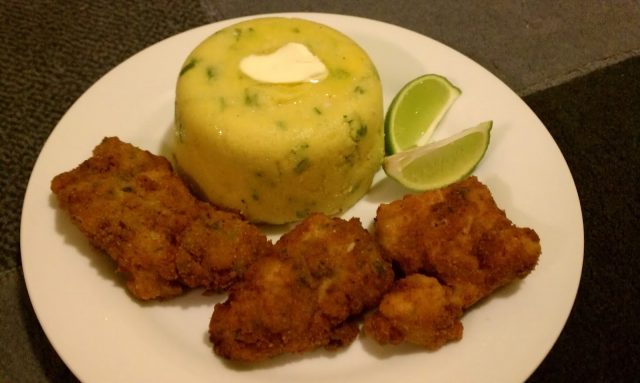 What is it: A cornmeal and okra dish, seasoned with salt, pepper, and the famous hot pepper sauce. It is not just the national food of Barbados but also of other countries like the British Virgin Islands, U.S. Virgin Islands, as well as Antigua and Barbuda.  It owed its origin to the African settlers of the island. It was traditionally eaten by the slaves, transported to Barbados from Africa.  A wooden stick, also named as cou-cou or fungi, which is long and flat in shape, was often used in stirring this preparation.  Fried or steamed flying fish or corned beef serve as accompaniments.

What does it taste like: The sweetness of cornmeal, slimy texture of okra, and the sizzling flavors of the peppery sauce gives this dish a unique taste altogether.
2. Fried Flying Fish – Barbados' Traditional Sea Food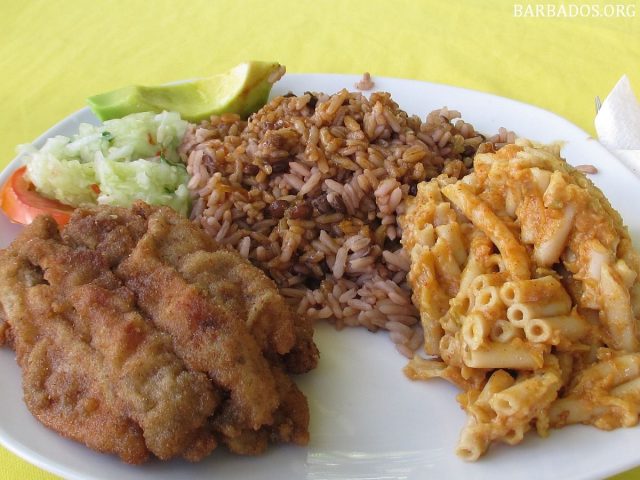 What is it: Flying fish, fried in a batter of bread crumbs, beaten eggs and flour, seasoned with lemon wedges and hot sauce, served with chips and salad. Barbados is regarded as the land of flying fish since this species is found in abundance and is also Barbados' national dish along with cou cou.
What does it taste like:  Crispy and oily, while the breadcrumbs would give it a soft texture. A tangy dip adds to its spicy flavor.
3. Rice and Peas – Popular Dish of Barbados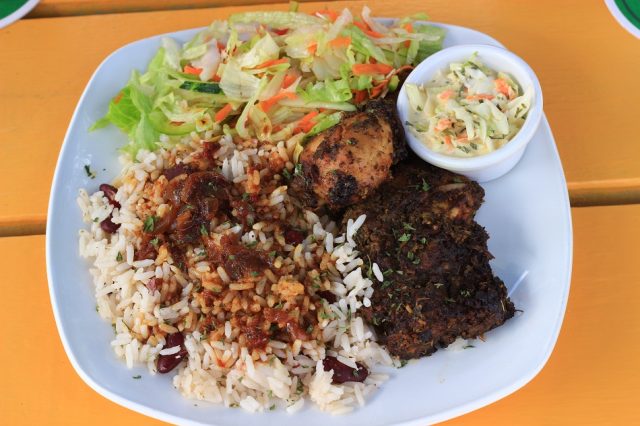 What is it: A traditional African food, comprising of a mixture of rice and any variety of legumes like pigeon peas, cowpeas, and kidney beans. Mostly eaten for lunch, particularly on a Sunday, sides of a meat stew or seafood platter, often accompany this dish.
What does it taste like:  Fluffy and soft, while the accompaniments you eat it with intensifies its richness.
4. Pudding and Souse – A Famous Bajan Cuisine
What is it: A famous platter eaten in most homes on Saturdays, the dish has two halves. The souse comprises of pork pickled in lime juice onion and cucumber, while the pudding's main ingredient include steamed sweet potato.  The preparation of an authentic souse consists of the pig's snout, feet, tongue, and ears instead of the shoulder.  Traditionally the pudding was made black by using pig's blood, but the process of browning has replaced this at present.
What does it taste like: While the pickled pork tastes spicy, the pudding has a savory flavor making this dish a mouthwatering one. It is best when eaten cold.
5. Jug Jug – A Perfect Christmas Cuisine of Barbados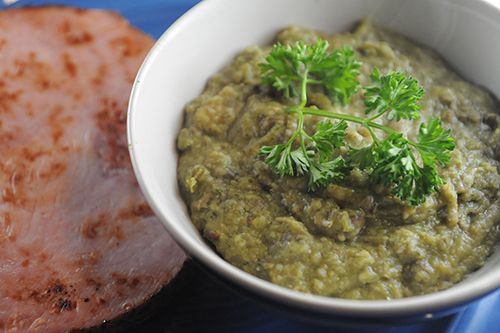 What is it:A famous Christmas cuisine, with pigeon peas as its main ingredients alongside corn flour, pork, herbs, and a dollop of butter (as a topping). Traditionally it was served as an accompaniment with boiled ham during Christmas.  It derives influence from the Scottish dish Haggis, which had the liver and heart of sheep as its main contents.
What does it taste like:  The pigeon peas give it a nutty and crispy taste while the addition of herbs and meat enhances its aroma.
6. Bajan Black Cake – A Delicious Christmas Dessert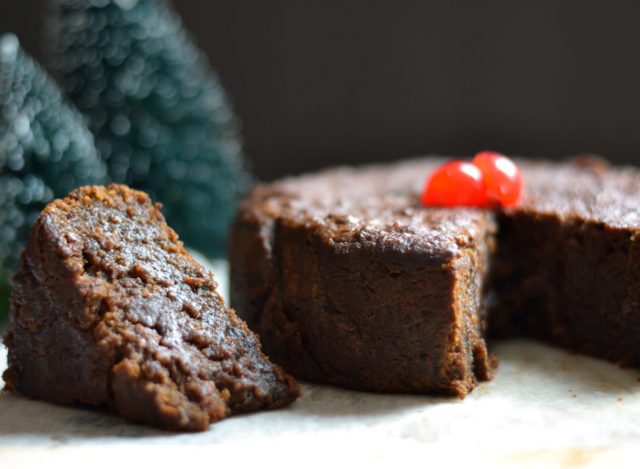 What is it: A tasty cake made from dried fruits, nuts, and citrus fruits. Its dark color is because of the process of browning, which the ingredients go through. Often eaten during weddings as well as Christmas, toppings of cherries, almond paste, and sugary silver beads adds to its richness.
What does it taste like:  The fusion of a whole lot of dried fruits gives it a nutty taste.
7. Fish Cakes – A Sough-After Barbadian Street Food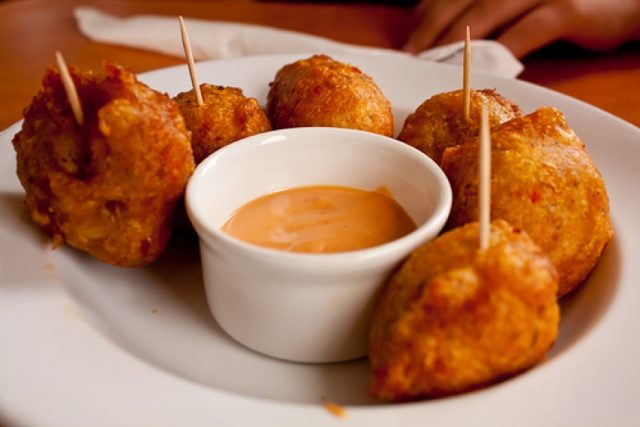 What is it: Small fried fish balls made from a batter of cod or white fish, all-purpose flour, thyme, and baking powder.  Hot pepper sauce or mayonnaise come as accompaniments. Fish Cakes is indeed a famous street food in the country found in most rum shops.
What does it taste like: Crispy and smooth, while the addition of thyme makes it minty. Eating it with hot sauces would give it a spicy taste while a mayonnaise dip makes it thick, tangy, and creamy.
8. Conkies – A Sweet Specialty of Barbados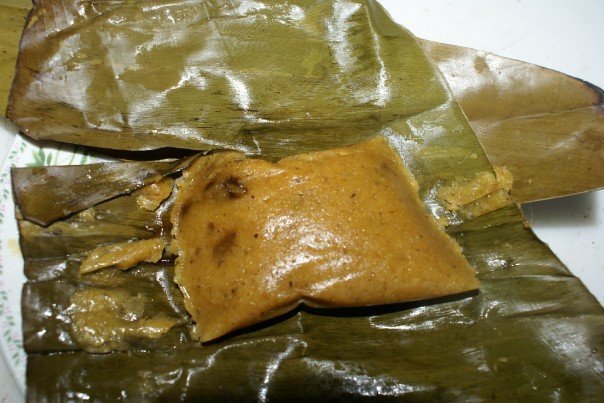 What is it: Also known as pasteles in some places, this platter has cornmeal as its main ingredient, the others being sweet potato, pumpkin, and coconut. The uniqueness of this dish lies in its presentation as the components are mixed, wrapped in banana leaves, steamed, and then served.  Initially, during British settlement, it was mostly eaten on the 5th of November on the occasion of Guy Fawkes Day. However, in recent times, people mostly have it to celebrate Independence Day on the 30th of November.
What does it taste like:  It is a sweet sensation indeed, with banana leaves giving the dish its subtle taste.
9. Sweet Bread – a Popular Barbadian Breakfast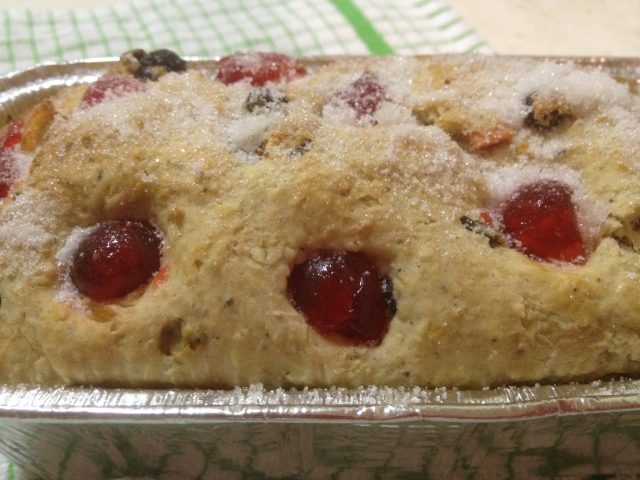 What is it: A deliciously sweet bread prepared with grated coconut, alongside all-purpose flour, vanilla, and nutmeg. Toppings of raisins and cherries intensify its flavor to the fullest.
What does it taste like: Aromatic and sweet, you can eat it at any time of the day, with a cup of steaming tea or coffee.
10. Macaroni Pie –A Tasty Bajan Side dish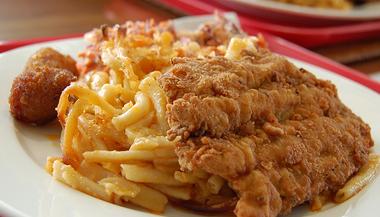 What is it: A baked casserole kind of a dish having macaroni noodles, milk, cheese, and flour as its main ingredients, mostly served as a side dish with fried fish.
What does it taste like: Cheesy, creamy, and smooth, though in Barbados, it is often made spicy by adding hot sauces, curry powder, and black pepper.
The list mentioned above is not the end of Barbadian cuisines. Pies (sweet potato), sides (grilled or fried breadfruit, steamed vegetables, and chowmein), and amazing salads are other foods on the list.