Colombia a Latin American country is unique and versatile when it comes to a list of mouthwatering cuisines, both veg, and non-veg. The dishes vary from one region to the other and is influenced by cuisines from all over the world particularly Africa, Spain as well as by the indigenous Colombians. Cereals like maize and rice, tubers such as potatoes and cassava, legumes,  meat products like pork, beef and chicken and also a whole lot of tropical fruits like guava, soursop and blackberry form an integral part of their diet. Let us take a look into the list of favorite foods of Colombia.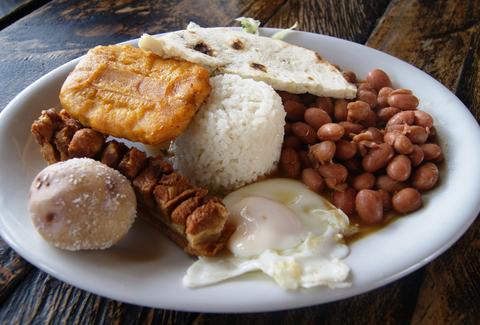 1. Bandeja Paisa – Traditional Colombian food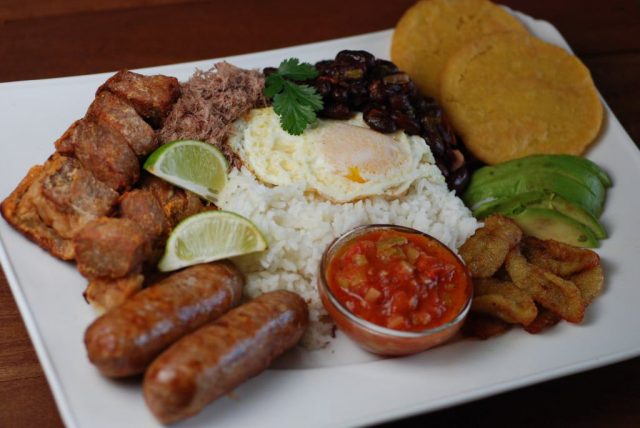 What is it: This is one of the most popular meals of Colombia, comprising of white rice, red beans, cooked pork, fried egg, carne molida or ground meat, plantain, arepa, chorizo, black pudding, hogao, avocado as well as lemon wedges. This dish had been influenced by diverse cultures which inhabited Colombia over the centuries. While Bandeja is the Spanish word for the platter, Paisa refers to the inhabitants of the Paisa region (of northwestern Colombia). It has also been referred to as the "peasant food" since this was initially a dish of the farmers. Traditionally it was served in a big-sized, oval tray as a lot of food is involved in this platter.
What does it taste like: Because of a whole lot of dishes added, the flavor is indeed varied and unique. The presence of pork and ground meat adds richness, the fried eggs give it a crispy taste, the inclusion of arepa enhances its sweetness, hogao or the traditional seasoning sauce of Colombia enhances its spiciness, whereas the sliced avocado gives the dish a nutty and buttery feel. Bandeja Paisa would make for a sumptuous meal, and one should have it empty stomach lest it may be too much to handle!
2. Arepa – A Typical Colombian Food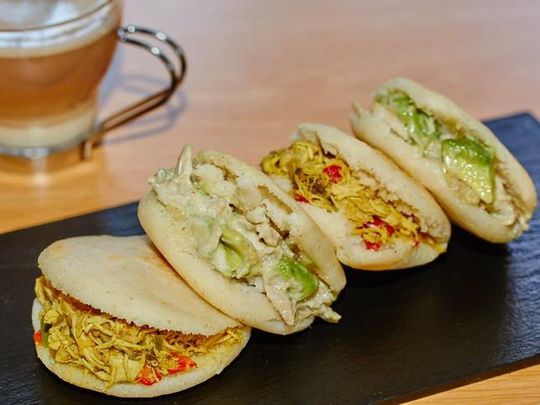 What is it: One of the signature foods of Colombia as well as Venezuela, it is smooth, round-shaped unleavened dough, prepared from kernels of maize, stuffed with fillings that differ from one country to the other. In Colombia, the arepa has a thin texture, having a layer of cheese or an egg topping. In Venezuela it is thick, stuffed with meat and veggies, consumed as a sandwich. Of the different kinds of arepa, some of them include arepa reina pepiada (made of chicken salad and avocado), arepa domino (stuffed with black beans and white cheese) and arepa de queso (stuffed with white cheese). Each year the Arepa festival is celebrated in Colombia, in five of the major cities, namely, Cali, Bogota, Medellin, Bucaramanga, and Barranquilla. Arepas sold as street foods are thick and highly flavorful.
What does it taste like: It is slightly sweet, though the flavor would vary according to the fillings. A cup of tea or coffee would make it a complete breakfast food.
3. Ajiaco – A Sought-After Colombian Soup for Christmas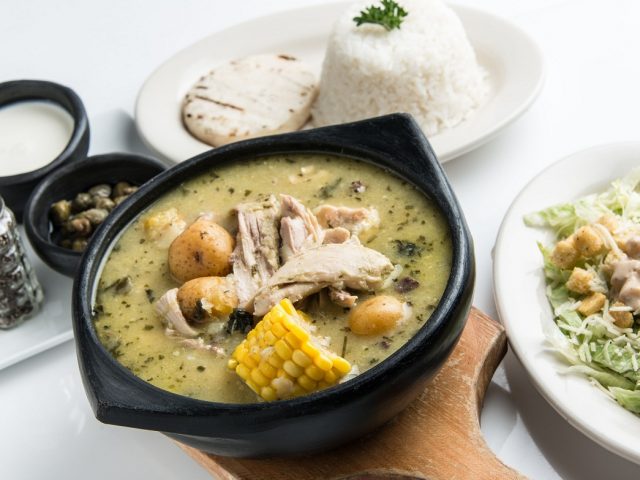 What is it: A delicious soup, famous not just in Colombia but also in Peru and Cuba, with its origination being a subject of debate among scholars. Of all the places, it is immensely popular in Bogota, Colombia's capital city, prepared using chicken, three varieties of potatoes, as well as an aromatic herb. Avocado, corn, capers as well as sour cream goes into its making,
What does it taste like: A holiday food, mainly eaten during Christmas, ajiaco has a distinct flavor, and the amalgamation of different ingredients make it feel merely unique. The creamy taste of avocado, crunchiness of corn, pungent flavor of the capers, and the buttery delight brought in by the papa criolla, or the small golden yellow potatoes is all that the soup has to offer.
4. Torta de Plátano Maduro – A Popular Plantain Vegan Cake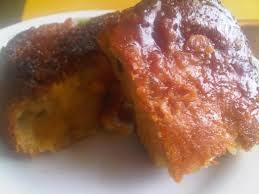 What is it: A delicious vegan cake, prepared from ripe plantains, guava paste, ground cinnamon, mozzarella cheese, and eggs. The plantains for making this dish needs to be mature and spotted heavily.
What does it taste like:  Served as a side dish, the sweetness of the plantains and guava paste turns this into a lip-smacking dessert.
5. Empanada –A Famous Colombian Finger Foods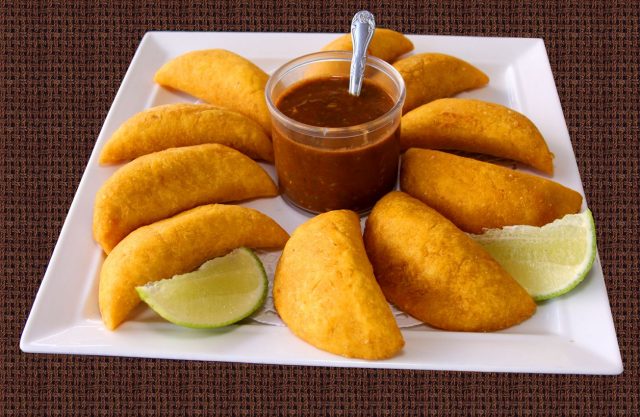 What is it: A fried or baked pastry prepared by folding the dough and stuffing it with a host of ingredients like cheese, meat, and corn.
What does it taste like:  The exterior is crispy while the inside of it is soft and creamy.
6. Tamales – A Colombian Breakfast Food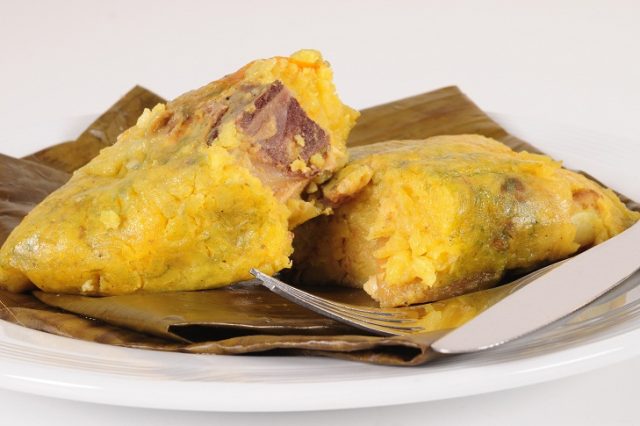 What is it: One of the traditional breakfast foods of Colombia, tamales are made from masa (dough of rice or corn) with fillings of cheese, meat, vegetables, fruits, and chilies. After stuffing the dough with the ingredients, they are wrapped in a plantain leaf and then steamed for many hours in a big pot. In Bogota, they are either round (like a bulb) or rectangular.
What does it taste like:  Fresh, sweet, and crispy, though the taste may vary with the fillings.
7. Arroz Con Pollo – Popular Chicken and Rice Dish of Colombia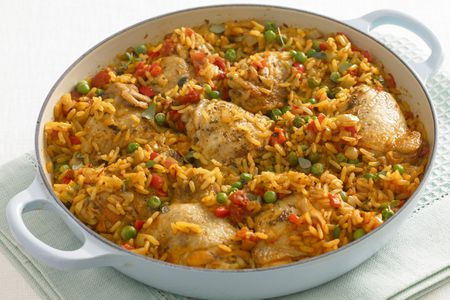 What is it: A cuisine of Spain as well as several Latin American countries including Colombia, it is a preparation of rice and chicken, alongside a whole lot of veggies, and spices. You can eat it as a main course meal, served with sides like fried plantains, salad, pickled onions, slices of avocado, or even a hot sauce.
What does it taste like: It has a rich and fulfilling taste, while the addition of spices and sauces enhances its tanginess.
8. Lechona Tolimnese – Authentic Colombian-Styled Stuffed Pork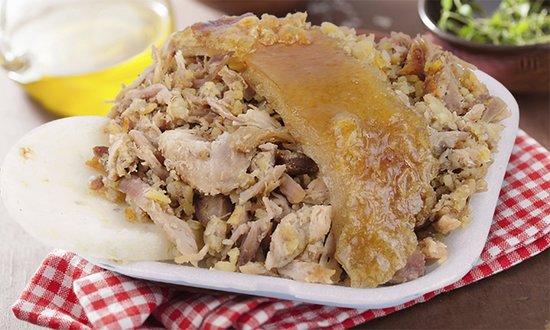 What is it: A product of Central Colombia's Tolima Department, it is a rich dish of whole pork with stuffings of rice, spices, and peas. Traditionally it was cooked outdoors on a brick oven for approximately 10 hours.  It is often teamed with arepas and salads.
What does it taste like:  Chewy and juicy, with the addition of spices intensifying its taste even further.
9. Patacones – Authentic Street Food of Colombia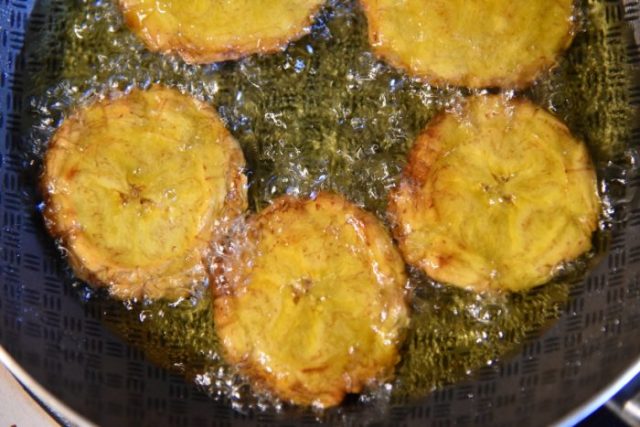 What is it: Alternately known as tostones, it is a crispy savory made by shaping green plantains into a flat patty and deep-frying them. Sold in most street stalls at a low price, they often have a topping of avocado or are served with a spicy hogao made with onion and tomato.
What does it taste like: Warm, chewy and crispy, while the addition of a tangy sauce could make it spicy.
10. Pandebono –Tasty Colombian Cheese Bread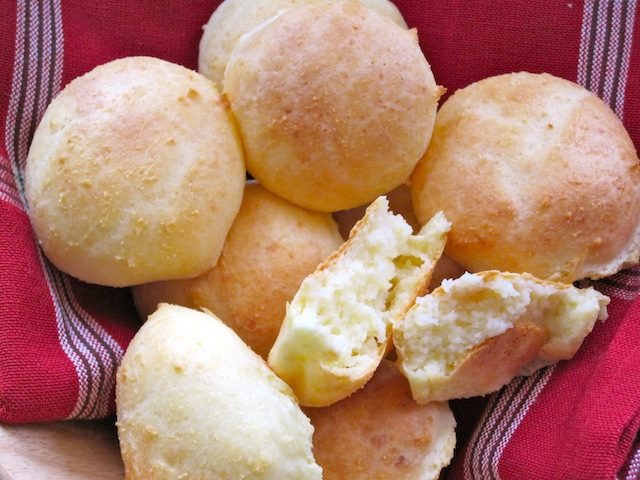 What is it: A variety of Colombian bread prepared from corn flour, cheese, cassava starch, eggs, and also a dollop guava jam.
What does it taste like: Smooth, soft and cheesy, it would taste the best when served warm for breakfast or dinner.
11. Papas Rellenas – Colombian-Styled Stuffed Potatoes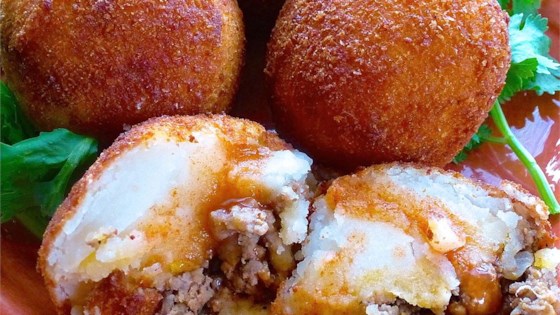 What is it: Stuffed potatoes having a filling of meat or veggies, while some even prefer adding rice and cooked eggs to it.
What does it taste like:  Soft and smooth while the flavor differs according to the ingredients which go in its making.
The list provided above is just a small number of the delicious foods of Colombia. It boasts of other dishes like cuchuco (a thick soup), and fritanga (a mixed dish of meat, fried plantains, and yellow potatoes) in the main course; suero and arroz con coco (coconut rice) as appetizers; and pan de queso (bread roll) as well as roscon (sweet bagel) in the list of pastries and bakery items, and also  biche and guandiolo in the list of beverages both of which are Afro-Colombian drinks . It also boasts of a whole lot of desserts, the details of which you would get here.