Cuba was an important center of trade, thronged by people from different parts of the world. Hence its cuisine is influenced by Spain, Africa, the Caribbean Islands, and many other countries.  Chinese influence is also profound in Cuban food, with black beans, yucca, and plantains featuring in most of their dishes. Moreover, fish and other seafood are often cooked and steamed in Chinese fashion. Sandwiches and burgers hold a special place in the Cuban platter, while pork and beef form the primary ingredients in most dishes. Check out the list below to know about some of the top foods of Cuba.
1. Ropa Vieja – Cuba's Best National Food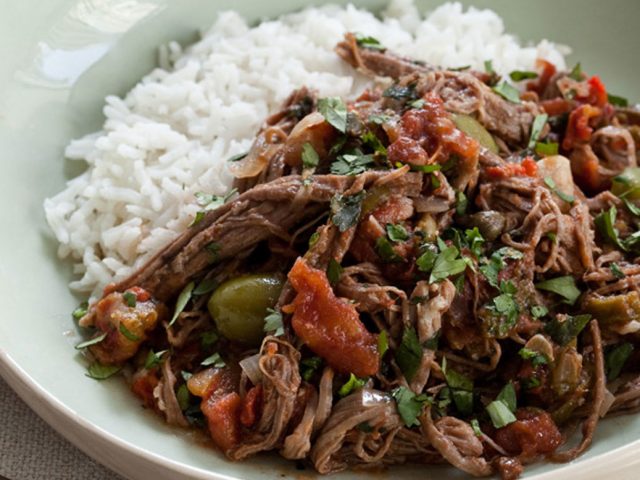 What is it:It is one of Cuba's popular national dishes prepared from slow-cooked beef (shredded or pulled) along with a variety of vegetables. Ropa vieja in Spanish translates to old clothes, and the recipe has been named so since leftover garbanzo beans broth went into its preparation traditionally. However, in most Cuban households, it is presently made by cooking the beef in a slow cooker and seasoning it with a whole lot of spices. Besides Cuba, the dish has also gained popularity in the Philippines, Spain, Puerto Rico, and Panama. The manner of serving this dish varies from one region to the other, and fried eggs and fried potatoes mostly serve as a topping — this filling dish teams well with rice.
What does it taste like: Rich and delicious, sometimes attaining a sweet taste with the addition of ripe red bell peppers.
2. Cubano Sandwich – Popular Food of Cuba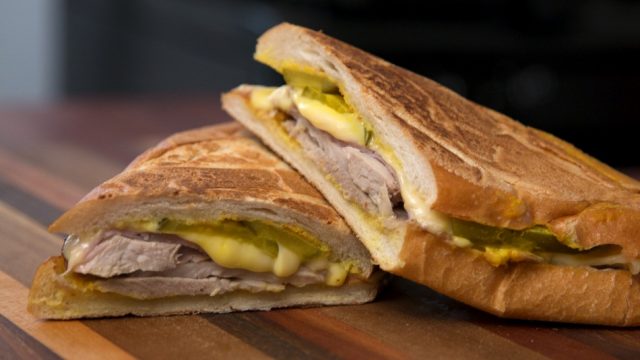 What is it: An exciting variation of the cheese and ham version, where Cuban bread (long, white loaves) is stuffed with roasted pork, ham, mustard, pickles, and Swiss cheese.
What does it taste like: Incredibly delicious, with a smoky, crusty, juicy flavor. The addition of oregano, garlic clove, and pepper gives it a spicy feel. Serve it with a black bean or eggplant soup or even a plate of tasty green salad.
3. Tostones – Famous Cuban Appetizers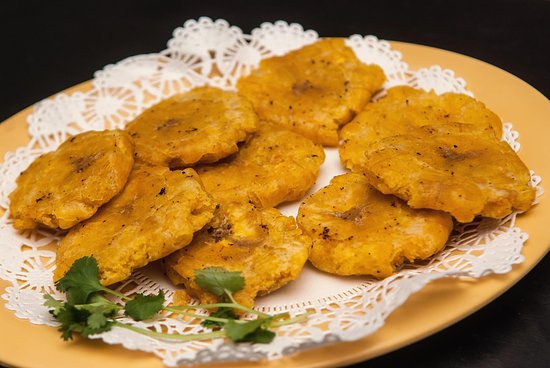 What is it: A perfect delicious dish of fried plantain which has been double fried. This side dish is famous in several countries apart from Cuba, like Puerto Rico, Jamaica, Guatemala, Honduras, Nicaragua, and Venezuela. Also known as chatinos or tachinos in Cuba, these golden brown, crispy chips, are mostly eaten with dips just like the potato chips or French fries, though different countries have various ways of preparing it. In Colombia, people eat it with hogao (made from tomatoes and green onions) sauce. In Costa Rica, it is teamed with a dip made from black beans, while in certain countries, toppings of shredded cheese, beef, avocado salad, or pulled chicken go with it. However, in Cuba, alongside other Latin American countries, it is served as an appetizer or a side dish with rice, beans, or pork or just eaten with pickled hot pepper.
What does it taste like: The tostones fried twice are immensely crispy, just like a cracker.  The taste may vary from sweet to savory, depending on your choice of dip. To make good tostones with a delicate flavor, go for green varieties of plantains, and ensure that the oil used is hot and clean.
4. Moros y Cristianos – Typical Cuban Vegetarian Food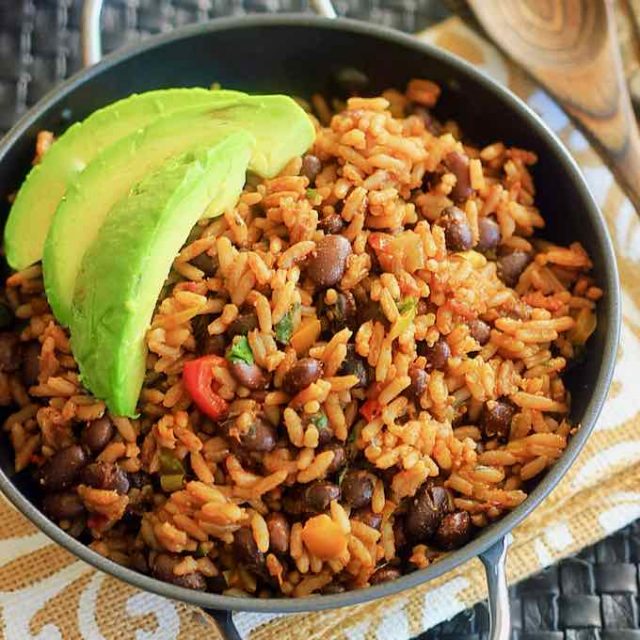 What is it: A typical Cuban dish comprising of white rice and black beans, seasoned with a sauce of bell pepper, garlic and onions, alongside other ingredients. The dish gets its name from moor and Christian. The former meaning black beans represent the dark-skinned Moors. The latter, translating to rice, symbolizes the white-complexioned Christians. This particular cuisine had come into being when the Moors invaded Spain, later popularized in Cuba as well as other countries like Brazil and also the southern states of the U.S.
What does it taste like: The blend of rice and beans, along with the inclusion of the tasty sauce gives it a pleasant and aromatic taste. Served in almost all Cuban restaurants, a dish of meat or seafood mostly accompanies it.
5. Medianoche – Famous Cuban Finger Food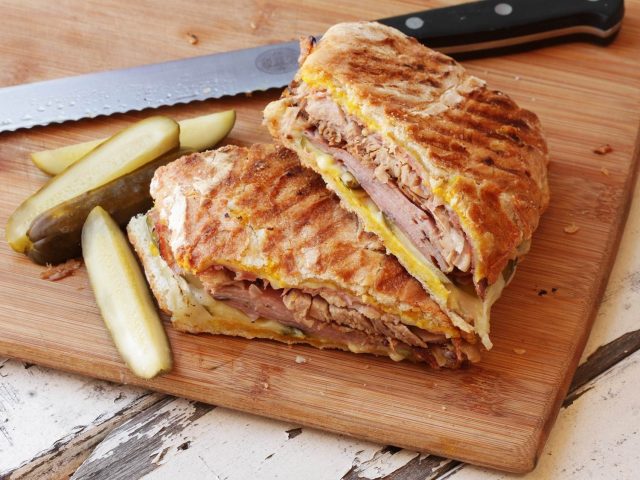 What is it: Another favorite sandwich of Cuba, prepared by stuffing the bread with a filling of ham, roasted pork, Swiss cheese, sweet pickles, and mustard. Since the pan suave bread is not readily available, people often use challah rolls. The term medianoche translates to midnight since most night clubs of Havana serve it as a late-night snack.
What does it taste like:Sweet, while the bread gives it a soft texture.
6. Arroz Con Pollo –Traditional Rice and Chicken Cuban Food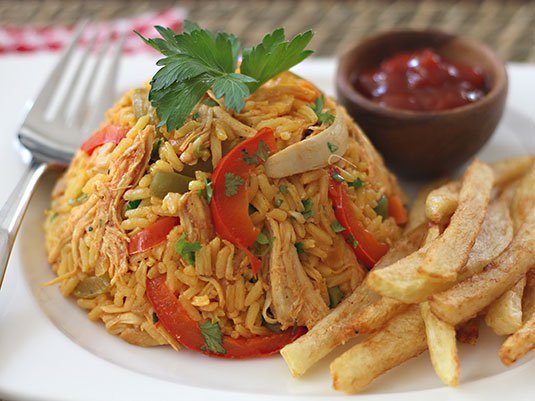 What is it: A sumptuous blend of rice and chicken, this is not just the traditional cuisine of Spain but also several Latin American countries. Pork and even beef may often replace the chicken. Diced red and green bell pepper, yellow onion, as well as a whole lot of spices like dried cumin, garlic powder, saffron, cayenne pepper, and black pepper serve as seasonings.
What does it taste like: Rich, soft, and delicious, with the addition of saffron a well as other spices, enhancing its aroma.
7. Pernil – A Traditional Cuban Christmas Food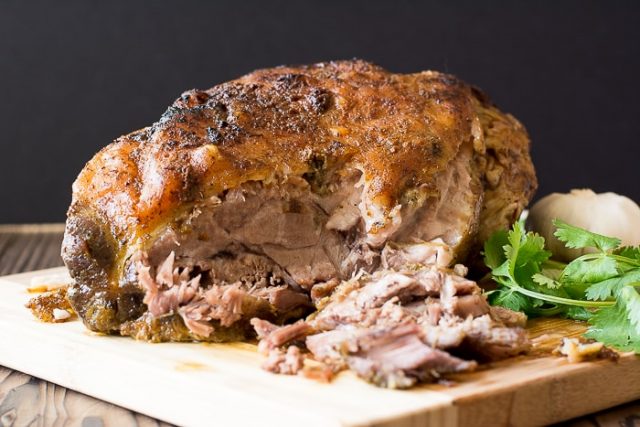 What is it: One of the most sought-after foods eaten during Christmas, it is a roasted pork dish prepared by using the shoulder or leg of the pig. Marination mostly happens a day before roasting it, with pepper, salt, garlic, sofrito, and aromatic herbs. Leftover pork from this dish often goes into preparing the Cuban sandwich.
What does it taste like: Soft, smooth, juicy, and aromatic, while the lime wedges could provide a tinge of sourness.
8. Hamburguesa de cerdo (Pork Burger) – Cuba's Sought-After Street Food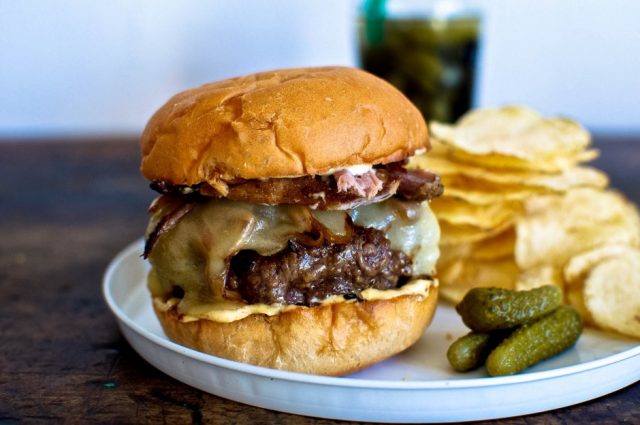 What is it: Tasty pork burgers of moderate size, topped with pineapple rings, strawberry marmalade, or cream cheese. This noted Cuban street food is cheap as well as filling since per piece is sold for just $1.50.
What does it taste like: A cheesy, spicy delight, these homemade pork burgers team well with a plate of cucumber and tomato salad.

9. Frita – An Authentic Cuban Burger Dish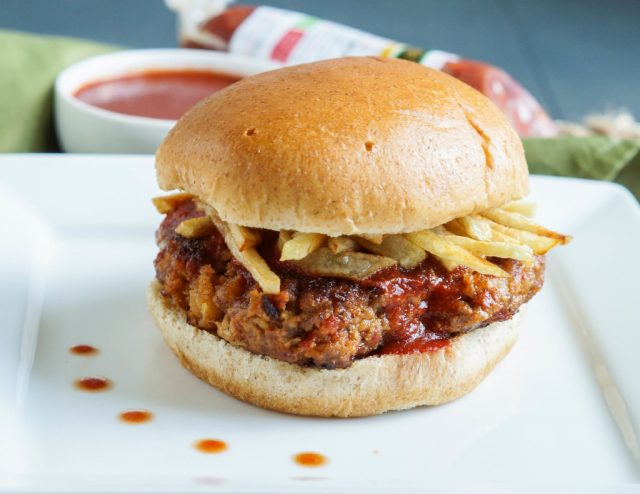 What is it: Another famous burger dish which initially originated in the Cuban streets and later came to Miami during the 1960s.  A fried patty made of seasoned ground beef forms its main ingredient, though pork or chorizo may also replace it as a filling for the burger. The patty has toppings of sliced onions, shoestring French fries, lettuce, and a spicy tomato sauce.  Credit goes to Luis Obregon for creating this dish and making it prominent as street food.
What does it taste like:  Soft, cheesy, juicy, spicy, and crispy — the addition of a host of ingredients give it all these flavors in combination.
10. Elena Ruz – Cuban Teatime Cuisine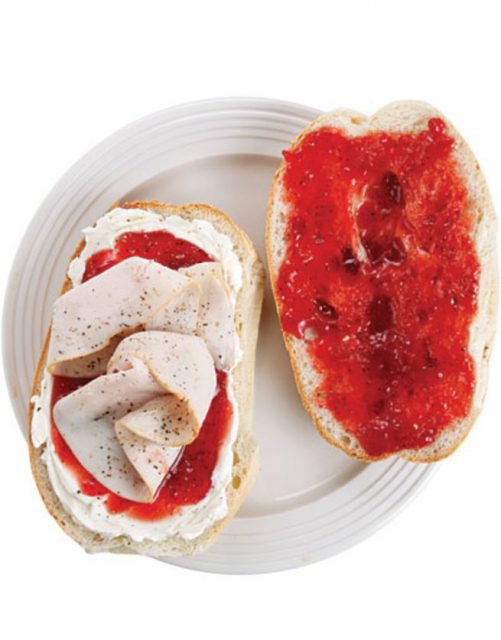 What is it: A famous afternoon sandwich snack of Cuba, made by smearing toasted white bread with cheese and jam on both sides and filling it with slices of turkey.
What does it taste like:  The richness of turkey along with the sweetness of jam, and saltiness of cheese makes it taste delectable.
11. Platanos Maduros – Fried Sweet Plantain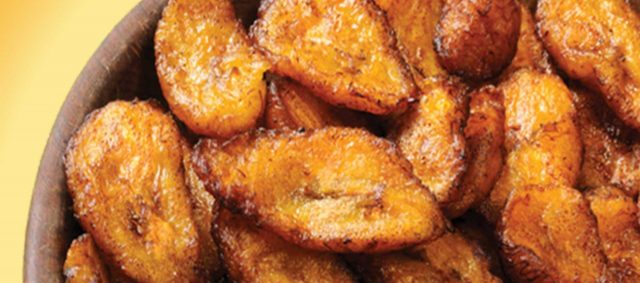 What is it: Slices of ripe fried plantains, which act as a tasty side dish, served with roasted pork as well as rice and beans.
What does it taste like: Sweet and creamy flavor in the middle, while the edges attains a caramelized texture when fried.
12. Bunuelo – A Fried Cuban Snack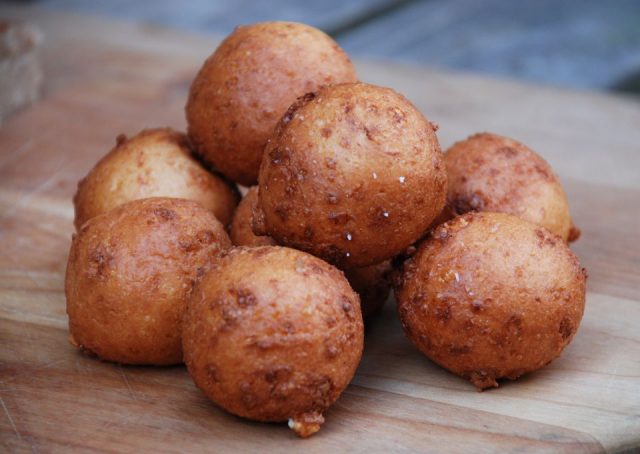 What is it: A fried dough comprising of flour, cheese, sugar, milk, and baking powder. This snack is famous in several countries besides Cuba, like Columbia, Argentina, Greece, Bolivia, Venezuela, Turkey, and Spain. In Cuba, while traditionally preparing the dough, it is twisted into a figure 8 form and coated with anise caramel. Malanga and cassava also form a part of the fillings.
What does it taste like:  Sweet or even savory depending on the ingredients. The addition of caramel gives the Cuban version a nutty flavor.
13. Huevos Habaneros – Cuban Breakfast Food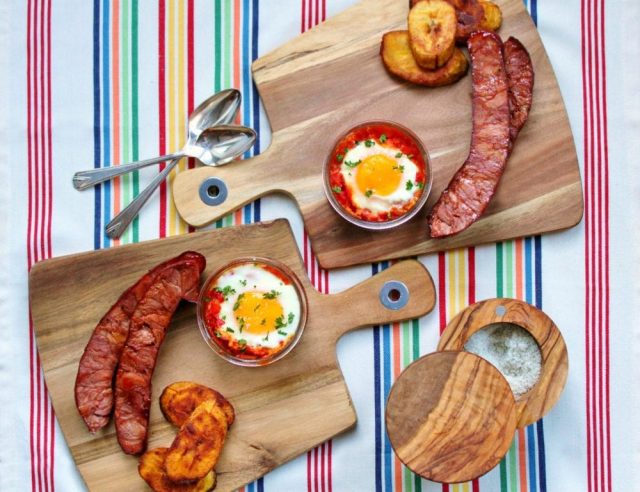 What is it: A lip-smacking Cuban breakfast, comprising of a Havana-styled cooked egg, sautéed with spicy sauces, garlic, pepper, onion, and pimento. For a wholesome meal, fried plantain and slices of fresh chorizo can complement this dish.
What does it taste like: The fusion of all the ingredients would make this eggy delight taste like a mixture of everything from spicy to savory to sweet.
The list given here is just a number as there are a whole lot of sweets, savories, and beverages that Cuba vouches. Some examples include Butifarra (a sausage dish), Picadillo ( a ground beef platter), Empanada (fried or baked pasty, and a lot more).