The Netherlands is famous for its culture and cuisine, and there is hardly anyone who wouldn't like to indulge his/her taste buds with these amazing dishes. This list of the top Dutch foods gives you a thorough idea about a few of the most famous foods of the European country.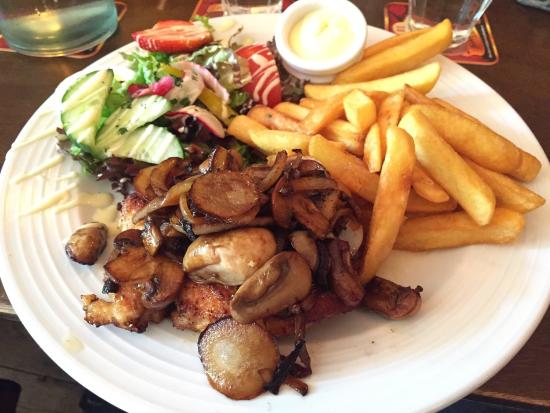 1. Dutch Meat Soup – Authentic Dutch Dinner Food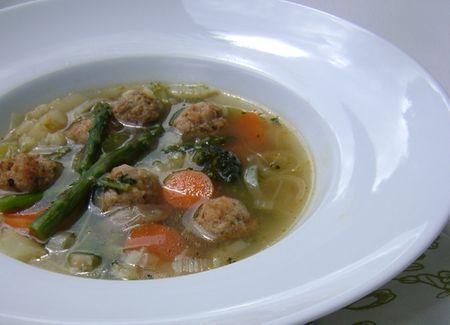 What is it: This is a meatball soup dish with Jewish influence, being quite healthy as well as simple with only nominal ingredients. Hence, it is also popular in many households. Apart from meat, the primary ingredients are assorted vegetables and certain spices.
What does it taste like: The taste of this dish is superb, especially the aroma of the meatballs mixed with so many vegetables, along with fresh herbs renders a divine combination.
2. Bitterballen – Traditional Meatball Fry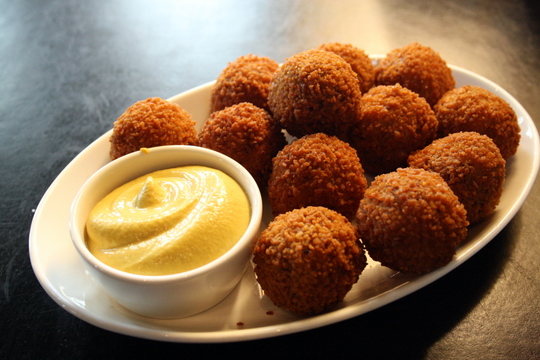 What is it: These are crisp-fried orbs battered in a crunchy coating, stuffed with a sticky mixture of meat (traditionally beef, but also pork, lamb, or chicken), meat broth, herbs flour, butter, and several spices. These fries are typically served with a mustard dip.
What does it taste like: This appetizer has an excellent taste, especially the chopped, tender meat contrasts very well with the crunchy coating.
3. Hollandse Nieuwe Haring – The 'Most Famous Dutch Food'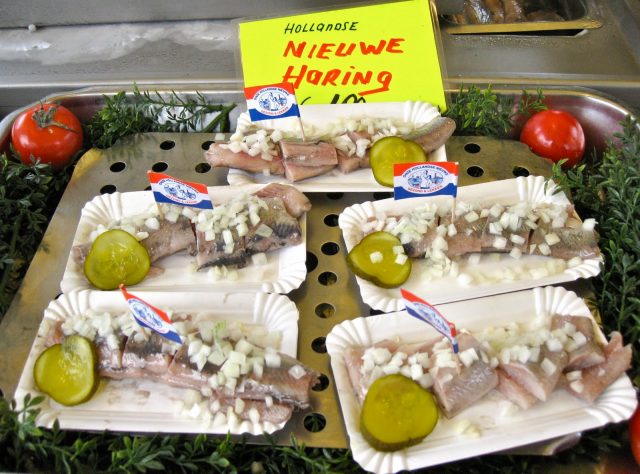 What is it: This specialty dish is debatably the 'most famous food' of The Netherlands, and, being a part of the Dutch food traditions, it is extensively consumed throughout the country. This classic food is nothing, but raw herring fish served with chopped raw onions and pickled gherkins. Also, the way of consuming it is a tradition. The fish is lifted by the tail and taken an upward bite. However, they are also eaten in small pieces or in sandwiches called 'broodje haring'.
What does it taste like: It a very distinct and unique taste, especially, the flavor of raw onion and the sour pickle rule the entire bite.
4. Kapsalon – A Modern-Day Dutch Item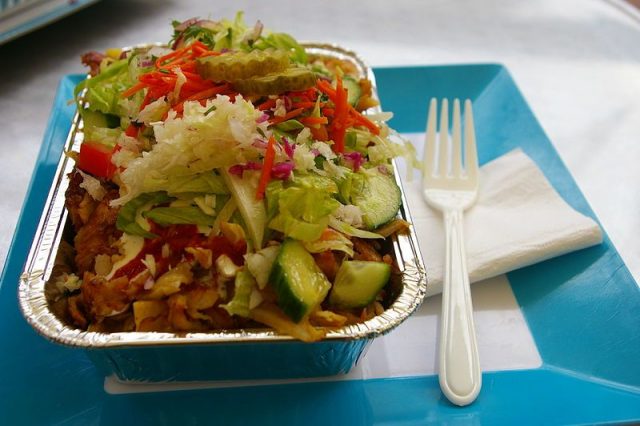 What is it: This fast food dish is relatively new, being first prepared in 2003 in Rotterdam. It consists of a layer of fries placed on a metal tray, and then topped with shawarma meat, and finally covered with Gouda cheese slices. This is then baked in the oven as long as the cheese doesn't melt.
What does it taste like: The taste of melted cheese goes amazingly well with the shawarma meat and the other raw salad ingredients.
5. Borecole-Dutch Mashed Potatoes – Popular Sausage Dish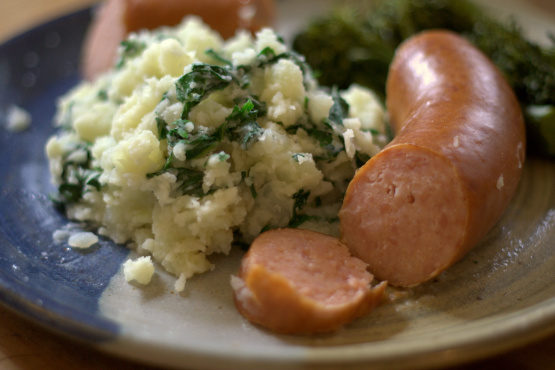 What is it: This junk dish is also a popular delicacy, the main ingredient of which is mashed potatoes and sausage served with the fresh smell of kale. It is equally good for breakfast or for a larger meal.
What does it taste like: The fragrance of kale works great with the hot sausage and the mashed potatoes. In fact, this is the ruling flavor in the entire dish.
6. Banketstaaf – Typical Dutch Christmas Food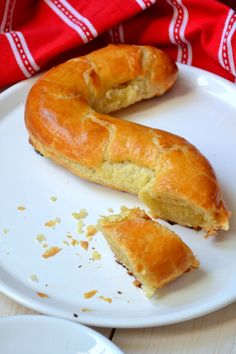 What is it: Also called 'banketletters', this quintessential sweet dish is a typical finger food for Kerstfeest (Dutch Xmas). It is also served during the Easter, New Year's Eve, or the entire Yuletide season. This famous culture food is made up of pastry logs or letters. These are then filled with sweet almond paste and orange zest, and then rolled and baked until they get a crispy perfection. It takes only around 10 minutes to assemble and hence, is a good option for ordering when you have less time.
What does it taste like: The flavors of orange and almond probably never combined so perfectly. As you take the first bite, your mouth will be filled with the sweet, crispy flakes, mixed with the yummy fillings.
7. Dutch Croquette – Authentic Fry Dish for a Light Snack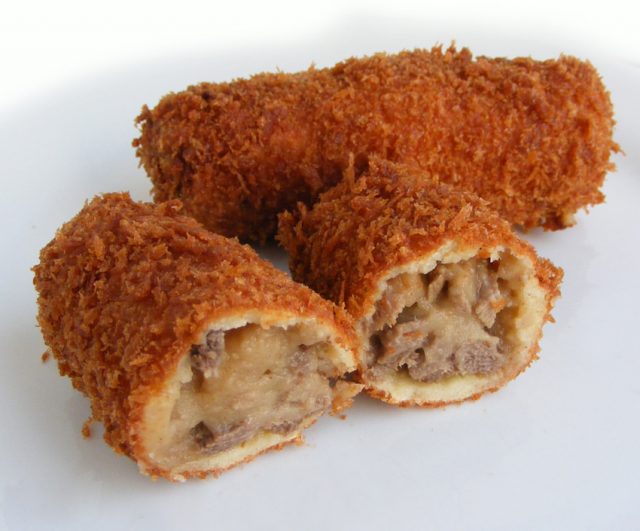 What is it: Kroket, in The Netherlands, is a breadcrumbed fried roll that is usually stuffed with ground meat, but the vegetarian version can contain cheese, mashed potatoes or various vegetables, along with specific spices and herbs. This is a popular choice for get-togethers, birthday parties, and other gatherings.
What does it taste like: The crispiness in this snack dish is amazing, particularly when the aroma of the stuffed meat and/or vegetables hits your flavor buds.
8. Kibbeling – Dutch Fish Batter Fry
What is it: This dish is nothing but battered and deep-fried morsels of any white fish, generally cod. It is usually served with slices of lemon and a mayonnaise herb sauce.
What does it taste like: These crispy delights are as delicious as they look, especially if you take a bite right after they are fried.
9. Rijstaffel – Dutch-Indonesian Assorted Dishes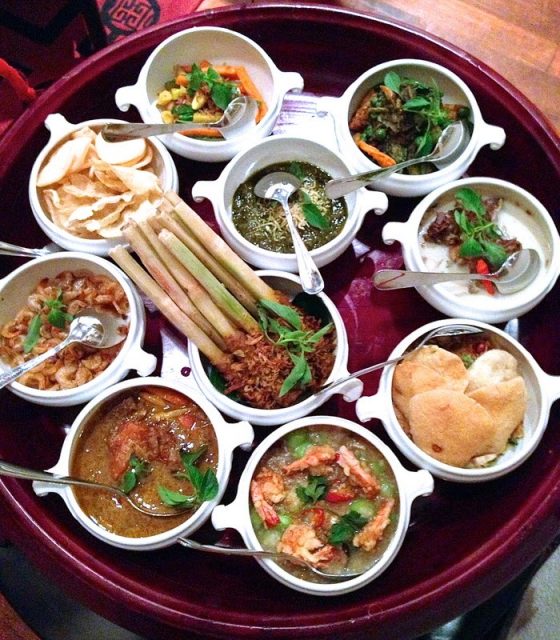 What is it: This is not one single dish, but a collection of several dishes to be eaten with rice. Indonesian foods had a strong impact on Dutch culture, and this wonderful dish Rijstaffel (literally meaning 'rice table') is one such example that developed in the Dutch colonial times.
What does it taste like: Taste each dish one by one, and you will be amazed to get the exclusive and interesting flavors of each one.
10. Stamppot – The National Dish of The Netherlands
What is it: This comfort food is an old style Dutch dish made of mashed potatoes combined with one or more vegetables, as well as a variety of meats. The vegetables that usually pair include kale, carrots, endive, and sauerkraut. The dish is commonly served during the winter, especially the Dutch New Year.
What does it taste like: Stamppot has a very subtle taste, especially for the presence of the amazing combination of vegetables. However, the flavor greatly varies with the addition of other ingredients like meat, and sausages.
So now that you have a pretty good idea about the Dutch cuisine, and the names of the top dishes of the country, why not plan for a trip to get the authentic taste of the savory dishes from Holland! We are sure, you will return home with the urge of visiting again.