Egyptian cuisine is unique in its way, with the majority of it comprising vegetarian dishes alongside fruits and legumes. In fact, since ancient times, Egyptians were inclined towards a variety of vegetables like leeks, garlic, onions, cabbages, radish, and lettuce. Fruits like plums, melons, and figs occupied a prominent place in their desserts. Nonvegetarian dishes (duck, pigeon, rabbit, chicken) were prevalent among the rich, but a luxury for the poor. Present-day Egyptian food is an amalgamation of all such ingredients that make it versatile and much sought after. Check out the list of some lip-smacking Egyptian dishes that would trigger your taste buds to the core.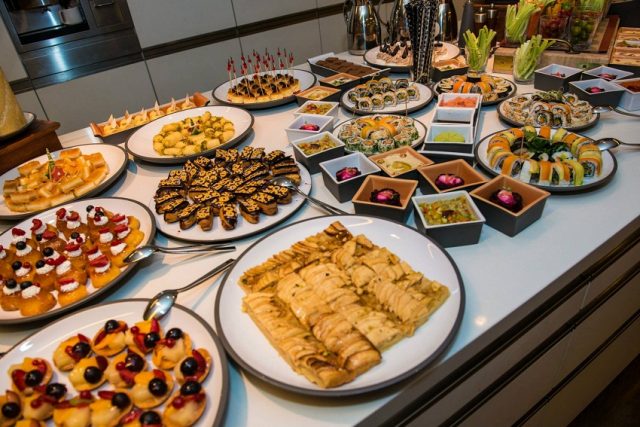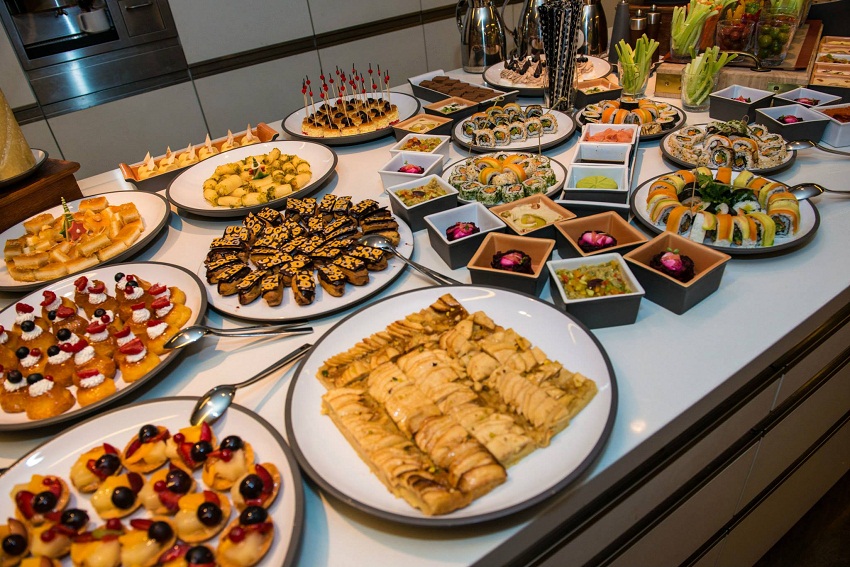 1. Koshary/ Kushari – Authentic Egyptian Street Food
What is it: An authentic Egyptian street delicacy, prepared from a mixture of rice, lentils, and macaroni, having chickpeas and onions as a garnish. You can even season it with spicy tomato sauce for a sensational taste.
What does it taste like: Its ingredients make it a healthy vegan recipe, while the addition of hot sauces and other spices gives it a sizzling taste. This famous street food was sold in carts initially, though it has gained a prominent place in restaurants at present.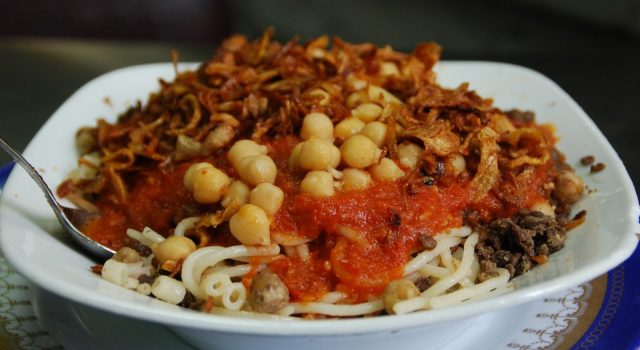 2. Ful or Foul Medames – Egyptian National Food
What is it: Also referred to as ful, this staple breakfast food primarily comprises of fava beans. There are diverse ways of eating it, as some may prefer it plain just by adding salt. Many, team it with parsley, lemon juice, onion, garlic, and a variety of vegetables or nonvegetarian stuff like boiled or fried eggs and chicken.
What does it taste like: Delicious and healthy, the sweet, grassy flavor of fava beans would instantly melt in your mouth.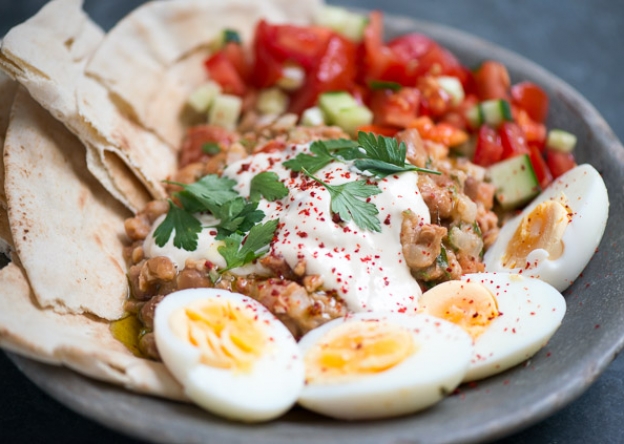 3. Fattah – Typical Egyptian Food
What is it: A delicious delicacy, made with rice, bread crumbs and meat, seasoned with a spicy sauce of garlic and vinegar. Mostly served in a bowl, it is mainly eaten on auspicious occasions like Ramadan, or even to rejoice the first pregnancy of a woman or a baby's birth.
What does it taste like:Spicy and tangy, with the meat, rice, and bread, making it all the more delicious.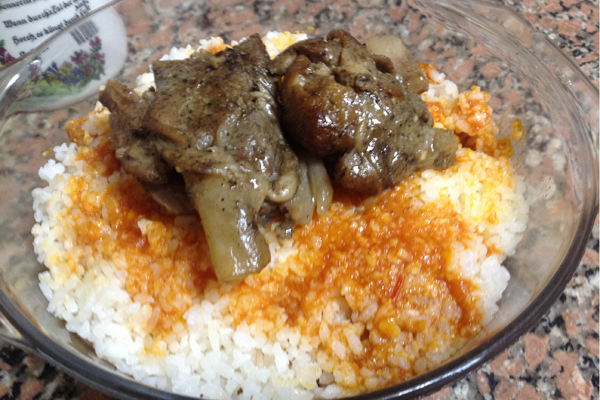 4. Falafel or Taamia – A Popular Egyptian Appetizer
What is it: Deep-fried balls, having chickpeas and fava beans as its ingredients, garnished with pickled vegetables, salads, or hot sauces.
What does it taste like:  A spicy fiesta, making for a perfect appetizer when served with a glass of chilled wine.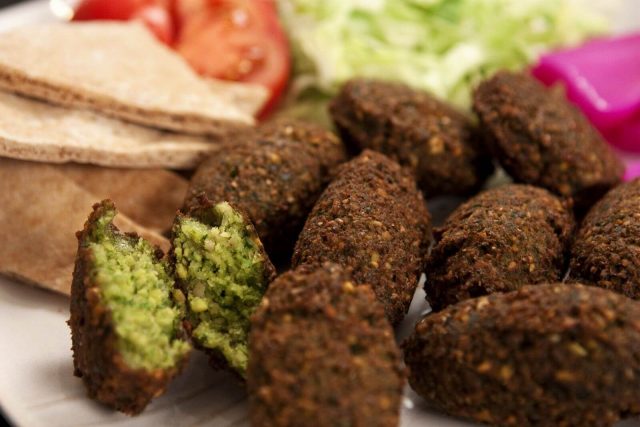 5. Hummus – Tasty Egyptian Food
What is it: An Egyptian dip, prepared from chickpeas, with olive oil, tahini, salt, garlic, and lemon juice adding to its taste. For a unique presentation, coriander, cucumber, mushroom, chopped tomato, caramelized onions, olives, nuts, and many other ingredients may serve as a garnish.
What does it taste like: Soft and spicy, making for a perfect assortment when eaten with pita or any other flatbread or even snacks like falafel and grilled chicken.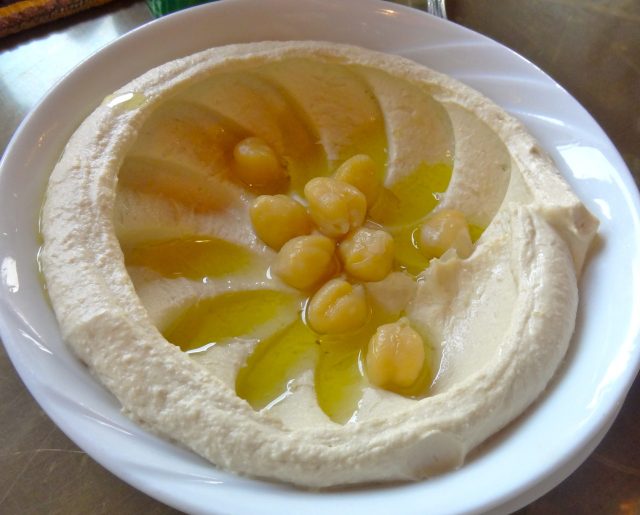 6. Hawawshi – Traditional Egyptian Sandwich
What is it: Pita bread stuffed with minced meat, seasoned with a variety of ingredients like parsley, pepper, and onion. Hot chilies or peppers may be added to make it immensely spicy. This famous cuisine is prepared uniquely in the Egyptian city of Alexandria by placing the contents within two layers of dough and eventually baking them. However, other places in Egypt, stuff the bread with the meat and then go on to bake it.
What does it taste like:  Hot and spicy, often teamed with a creamy dip of hummus or even salads and chips.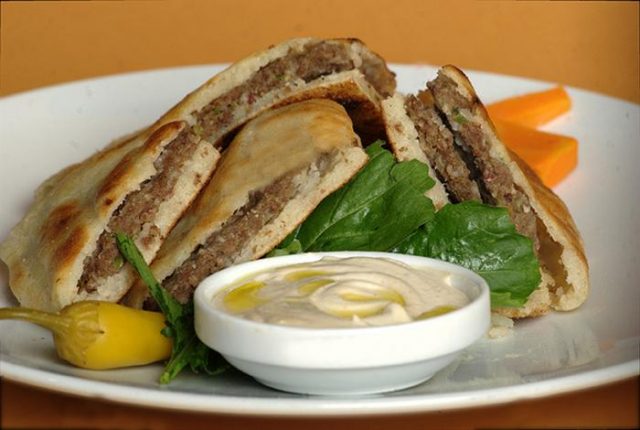 7. Salatit Zabadi – Egyptian Food for Kids
What is it: A classic, healthy after-school snack for kids made from a thick yogurt paste, cucumber slices, and garlic, tossed with olive oil and garnished with mint leaves.
What does it taste like: Sour and tangy because of the yogurt, while the addition of mint makes it refreshing. Serve with hot pita bread and a plate of vegetable salad for a complete meal.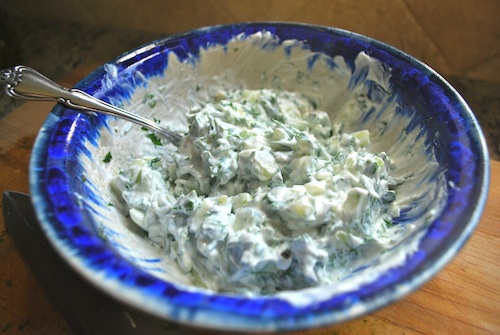 8. Egyptian Feta Cheese Omelet Roll – A Delicious Ramadan Dish
What is it:  A tasty fusion of cheese, eggs, and milk, seasoned with chilies and black paper, making for a favorite pre-dawn dish eaten during the auspicious occasion of Ramadan.
What does it taste like: The addition of cheese and milk makes every bite of it a juicy delight.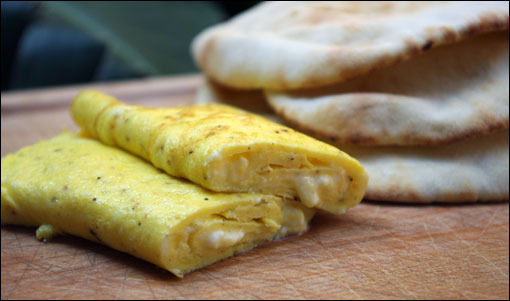 9. Fata – Egyptian Lamb and Bread Soup for Christmas
What is it: A traditional cuisine, eaten during Christmas, with lamb as its prime ingredient alongside bread, garlic, vinegar, pepper, and rice. A garnish of parsley would give it an added flavor.
What does it taste like: The earthy flavor of lamb combined with bread and an array of spices would tempt you to crave for more.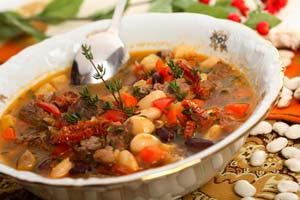 10. Chicken Pane – A Mouthwatering Snack
What is it:  A classic fusion prepared by mixing, marinating, and frying chicken and breadcrumbs (pane in French). Seasoning with a whole lot of spices like paprika, oregano, pepper, onion salt, and garlic powder would make it even more flavorful.
What does it taste like: Soft chicken pieces teamed with the crunchy breadcrumbs, results in a crispy evening snack.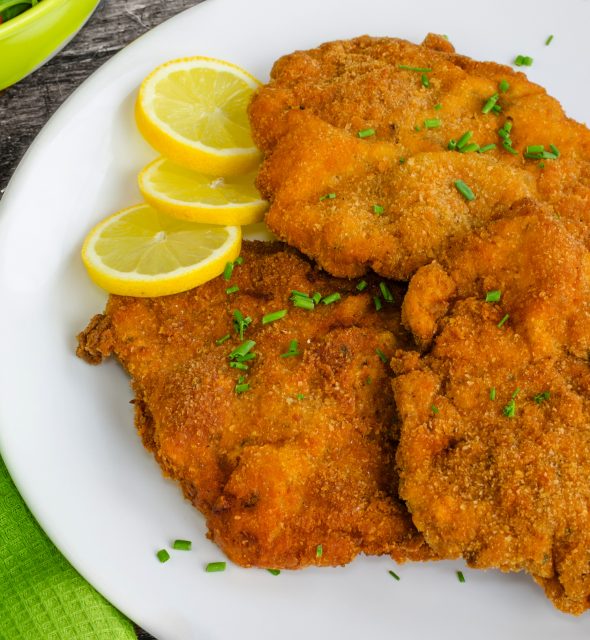 11. Bamya – Egyptian Okra Stew for Dinner
What is it: A refreshing stew of okra along with lamb/beef. For a purely vegetarian dish, you can replace the beef or lamb with a variety of vegetables.   Simmering okra with tomato paste helps it get off its slimy texture, making it soft. Teamed with pita or any other flatbread as well as a spread of salad, it would make for a perfect dinner side dish.
What does it taste like: The mild flavor of okra blends with the aroma of meat, and it tastes the best when eaten warm.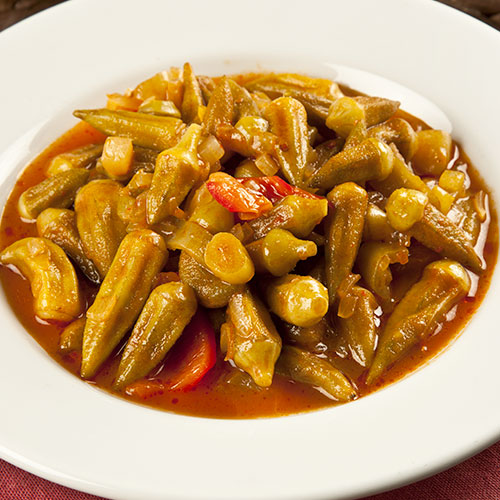 12. Tabbouleh – A Salad Recipe
What is it: A salad made with bulgur wheat, parsley, tomatoes, mint, lettuce, and onion, seasoned with lemon juice, salt, and olive oil for an added flavor. You may ginger and clove for a sizzling taste. It is often eaten as a part of a mezze (accompaniments or starters).
What does it taste like: The rich, nutty taste of bulgur, blended with other ingredients, would transcend you to a different world altogether.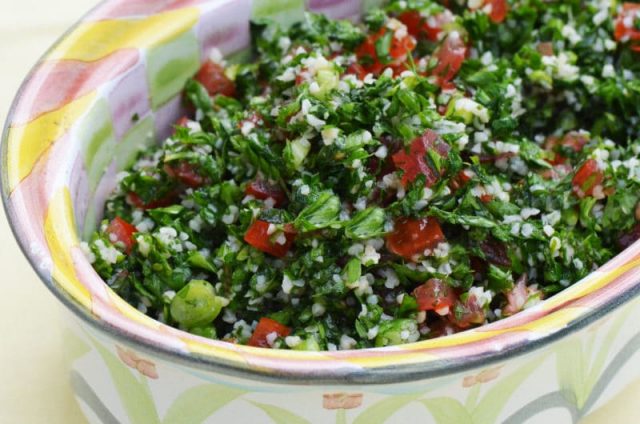 13. Macaroni Béchamel – Modern Egyptian Food
What is it: A delicious pasta dish, eaten during Ramadan, comprising of ground meat sitting between two thick layers of macaroni, richly coated with creamy béchamel sauce. For a purely vegetarian version, you can substitute the beef with a whole lot of veggies. You can use any variety of pasta to prepare this dish like angel hair, rigatoni, or ziti.
What does it taste like: Tasty and cheesy, attaining a rich, creamy flavor because of the bechamel sauce.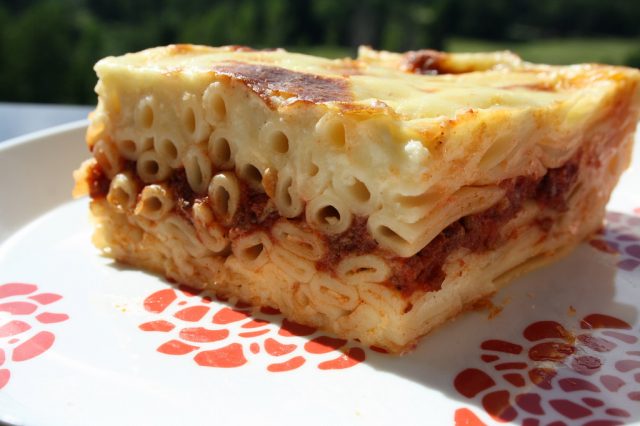 14. Ghoraiba – Egyptian Butter Cookies
What is it:  Small, bite-size cookies, having clarified butter, flour, vanilla extract sugar and almond as its main ingredients.
What does it taste like: These buttery cookies would melt into your mouth in no time, serving as an excellent snack for Ramadan or Christmas.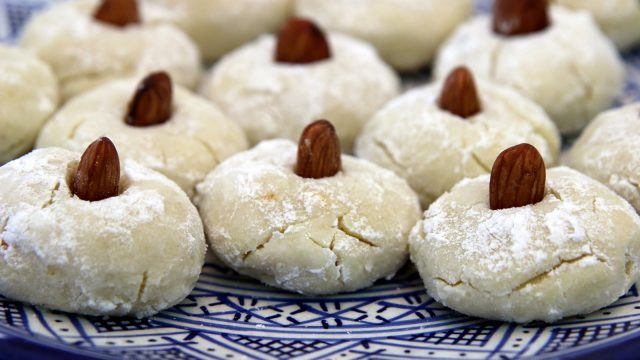 15. Hamam Mahshi – Royal Egyptian Stuffed Pigeon Cuisine
What is it: Hamam (pigeon) Mahshi (grill) is a dish of roasted or grilled pigeon, stuffed with wheat, rice as well as aromatic herbs. Another variation of this platter is Farrouj Mahshi, having chicken stuffings. Salads or tahini sauce would serve as an appropriate accompaniment with this elaborate preparation.
What does it taste like:  The rich, tender taste of pigeon in unison with the nutty flavor of wheat as well as the fragrance of herbs would give you complete pleasure.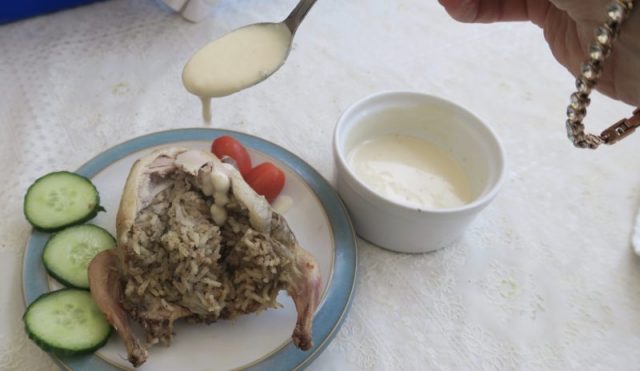 16. Phyllo Meat Pie – Egyptian Goulash for Snacks
What is it: A savory pastry, where Phyllo dough and ground beef dominates the ingredient list.
What does it taste like: Crispy and crunchy, accounting for a marvelous teatime snack.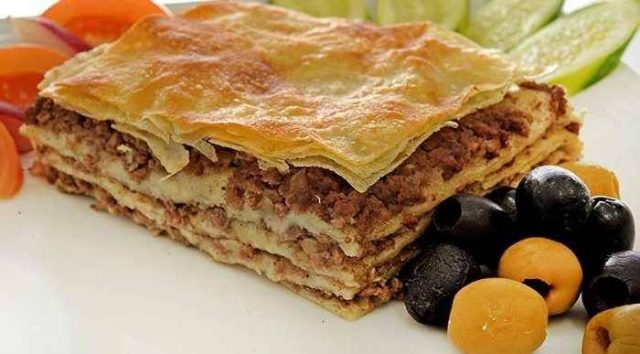 17. Kofta – A Popular Egyptian Delicacy
What is it: A mouth-watering meatball that can be eaten as an appetizer for lunch or dinner or even served as an evening snack.
What does it taste like: Soft and spicy, savory tastes exceptional when eaten with tahini or yogurt dip.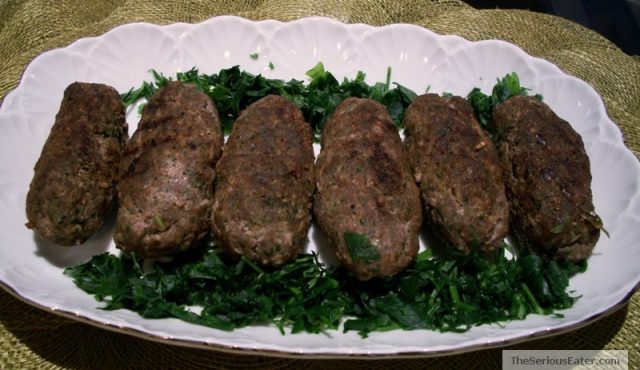 18. Masaa'a – Egyptian Eggplant Lunch Platter
What is it: A tasty veggie fusion of eggplant, potatoes, green bell pepper, and chickpeas, with a bunch of spices added for its seasonings like garlic, tomato sauce, coriander, pepper, and mustard.
What does it taste like: Spicy and saucy, with the taste varying by the veggies included.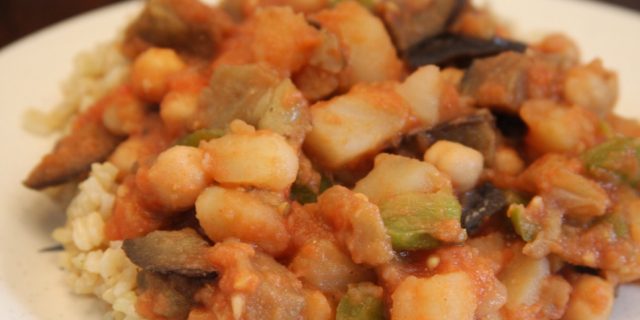 19. Gebna Makleyah – Egyptian Oven-Fried Cheese
What is it: Fried cheese balls, eaten with bread at a traditional Egyptian meal.
What does it taste like: Soft, with every bite of cheese melting in your mouth at the very instant.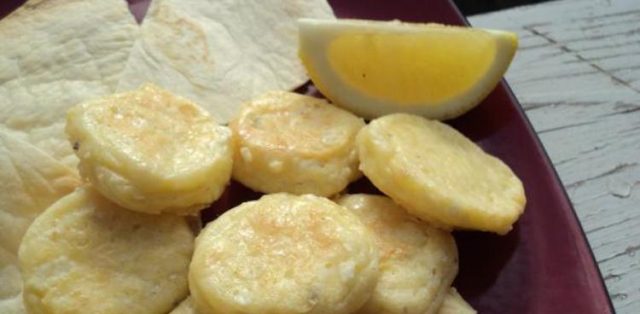 20. Molokhia Soup– Ancient Egyptian Food
What is it: A healthy soup made by frying molokhia leaves along with other ingredients like coriander, garlic, chili peppers, and capsicum and then boiling it with vegetables or nonvegetarian dishes. The choice of non-veg differs from one place to the other; for instance, lamb is a preferred choice in Cairo, shrimp in Alexandria, and fish in Port Said. Alongside koshary and ful medames, this is also said to be the national food of Egypt.
What does it taste like: Molokhia attains a slimy flavor like okra when prepared as a soup. The addition of meat and other spices would make it even more delectable.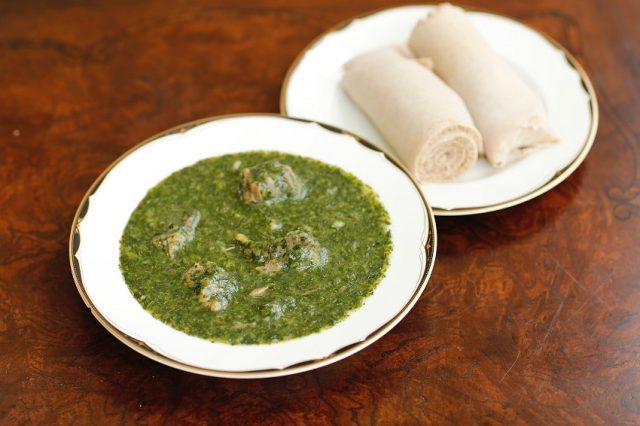 21. Shakshuka – Egyptian Breakfast Recipe
What is it: Poached eggs, coupled with tomatoes, sauce, as well as spices like cumin, garlic, paprika powder, and bell peppers, garnished with parsley and coriander.
What does it taste like: Eggs and the spicy fusion of bell peppers, paprika garlic, and cumin would make your breakfast a filling and satisfying one. Serve with hot bread and a cup of steaming tea.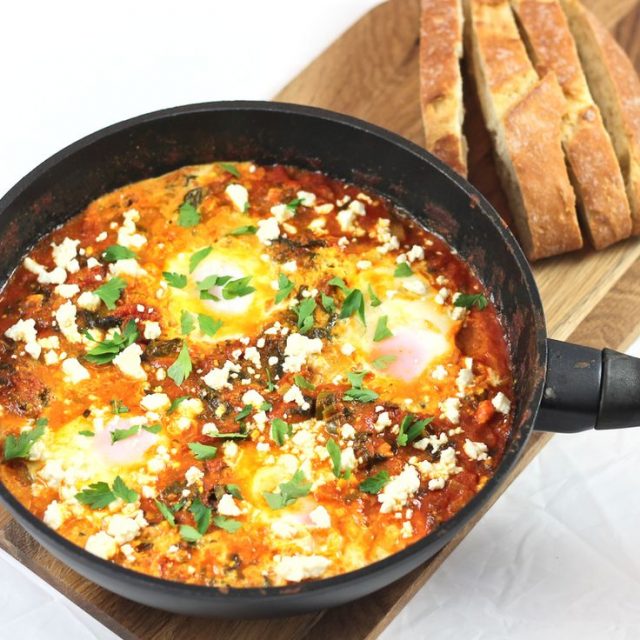 22. Aish Baladi – Egyptian Flatbread Recipe
What is it: An Egyptian flatbread, made from whole wheat flour. A famous street food, it was baked traditionally in very hot ovens.
What does it taste like: This delicious bread is so soft and crispy that it can be eaten even without dips or side dishes.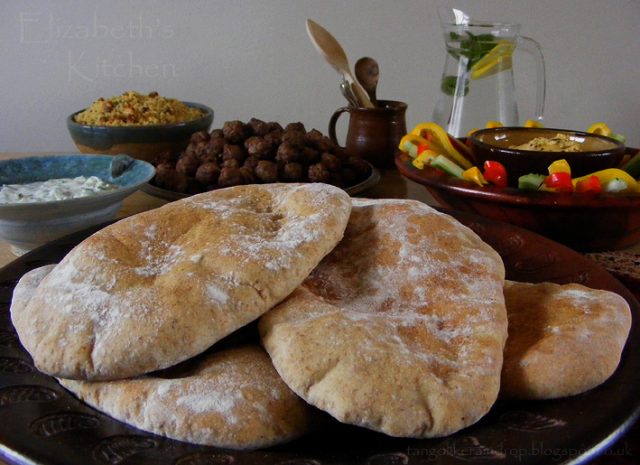 23. Alexandrian-Style Liver Curry – Egyptian Street Food
What is it: A lip-smacking liver dish, made even more delicious with a whole lot of spices, served with hot bread and salads.
What does it taste like: Spicy and sizzling, with every bite giving you utter delight.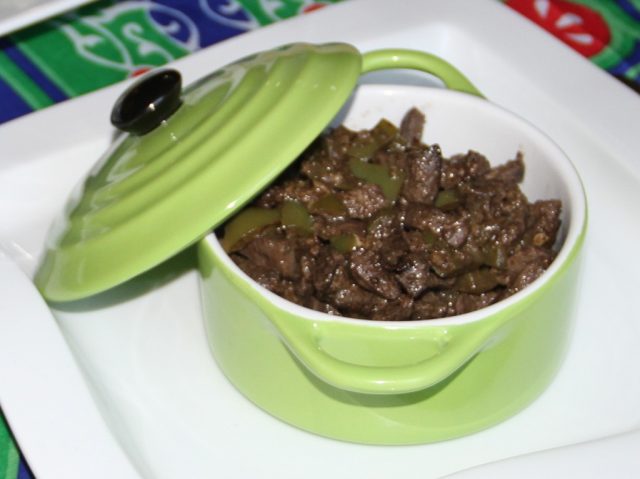 24. Sayadeya – A Traditional Sea Food Platter
What is it: A seafood platter made from white fish (bass, mullet, bluefish) cooked with rice, further seasoned in tomato or onion sauce.
What does it taste like: This spicy platter would compel you to lick to the last bit.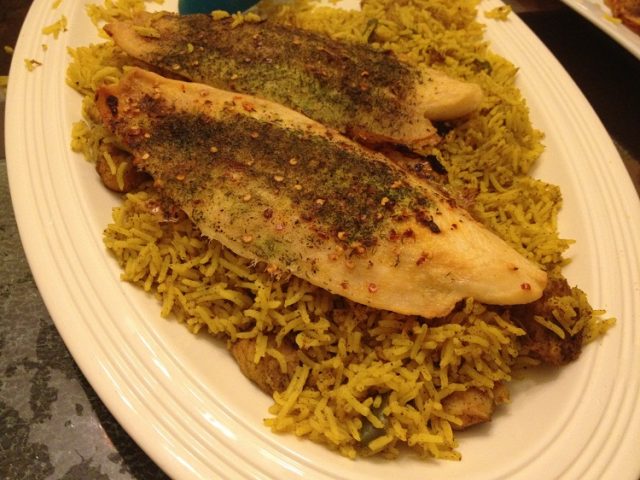 25. Red Lentil Soup – Egyptian Vegetarian Food
What is it: A nutritious soup, where red lentils are the main ingredient, seasoned with onion, cumin, garlic cloves, and coriander. You can garnish it with lemon wedges and spinach leaves.
What does it taste like: Mild, soothing taste, with the spices adding to its richness. Flatbread and salad are all that you need to have a wholesome lunch recipe.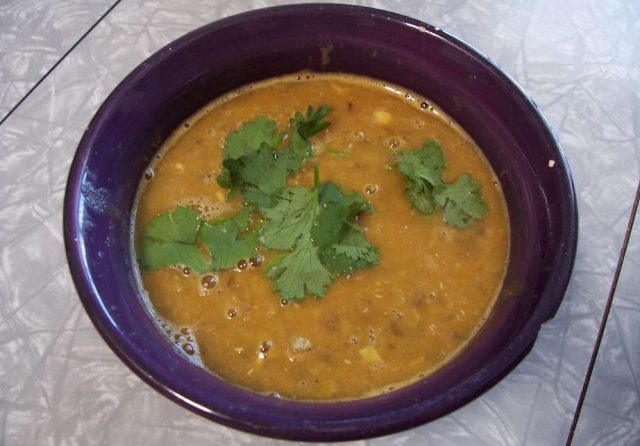 Egyptian cuisines indeed stand for versatility and diversity, having a whole range of veggies and non-veg variations to satisfy your taste buds.