The desserts of the Philippines occupy a special place in Filipino cuisines with rice being the prime ingredient in most of these sweet delights. Read on to know the list of top desserts that Philippines has to offer.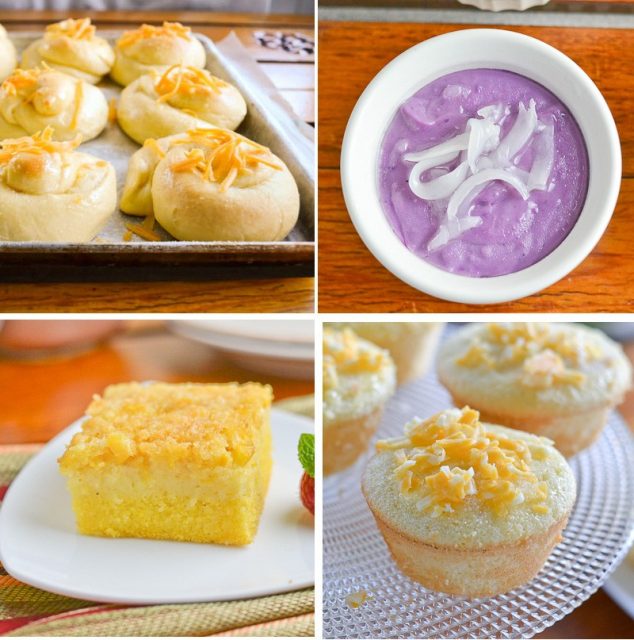 1.  Halo-Halo – A Popular Filipino Ice Cream Dessert
What is it: A cold and tasty Filipino dessert, having evaporated milk, crushed ice, sweetened beans, pinipig rice (glutinous rice), gulaman (agar), and fruit slices as its main ingredients. A dollop of ice cream added as a garnish enriches its taste further. It was invented during the 1920s or 30s and has attained popularity in America as well as other parts of the world.
What does it taste like: Just like its presentation, which is a fusion of everything, its taste is also a mixed one, milky, creamy, toasty and nutty. The addition ice cream enhances its flavor to the fullest.
2. Biko – A Sticky Rice Dessert of Filipino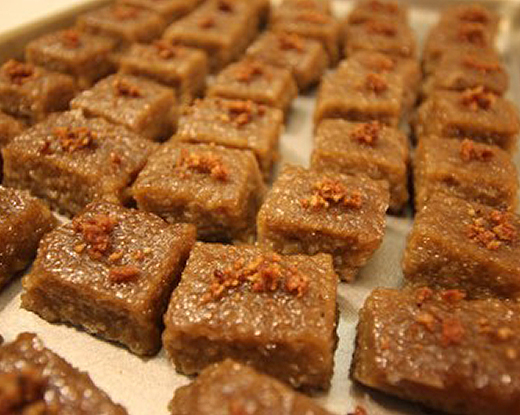 What is it: A mouthwatering rice cake, eaten mostly in festivals or special occasions, prepared from sticky rice or malagkit, brown sugar as well as coconut milk. It is often referred to as kakanin with kanin in Tagalog meaning rice. Often topped with coconut shavings or grounded nuts, biko is often sold outside churches in Philippines post the midnight mass. Traditionally, bamboo trays with banana leaves dipped in coconut oil were used for serving biko.
What does it taste like: Sweet, sticky, aromatic and nutty, it tastes the best when served hot.
3. Ube Halaya – A Tasty Purple Dessert of Philippines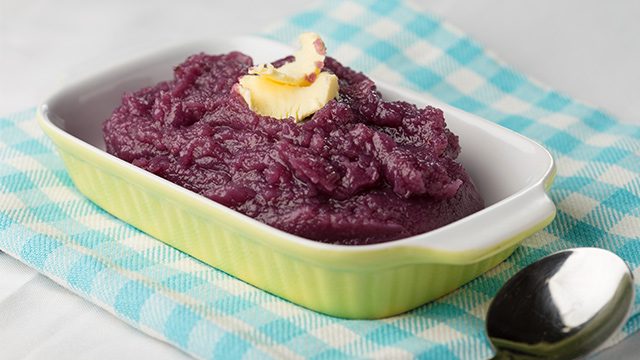 What is it: Ube meaning yam and halaya, the Spanish word for jam, it is a jam-like dessert, having purple yam as its main ingredient, boiled, grated, and mashed, mixed with coconut or condensed milk and refrigerated. Toppings of grated coconut, cheese or dollops of butter are often added. Besides being eaten as an individual dessert ube halaya is used as a garnish in pastries as well as other desserts.
What does it taste like: This sweet sensation comes with a creamy texture, with the addition of yam making it all the more crunchy.
4. Turón – Filipino Banana Dessert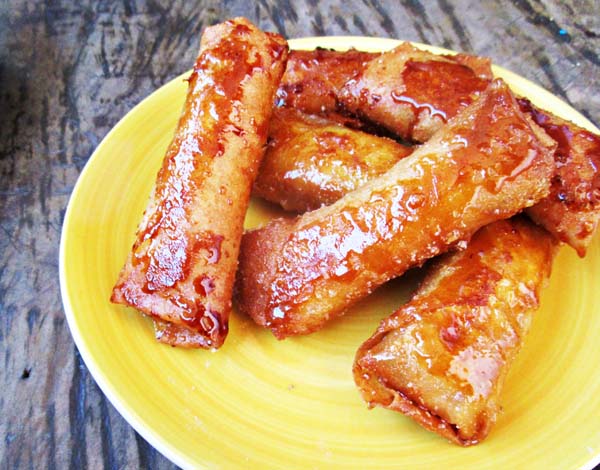 What is it: Sweet fried rolls stuffed with slices of banana and jackfruit, coated with brown sugar. Fillings of mango, sweet potato, coconut, and cheddar cheese may also be included. They are common street food in Filipino, often sold alongside camot cue (sweet potato fries sold on sticks) and banana cue (banana fries coated with caramelized sugar served on bamboo sticks). Though traditionally saba banana was mostly used in preparing this dish, the standard varieties may also be opted for if the latter is unavailable.
What does it taste like: Soft and crunchy, while the flavor could even be a little cheesy if you use overripe saba. Seasoning it with chocolate sauce or a scoop of ice cream would enhance its richness further.
5. Maja Blanca – A Coconut Milk Dessert for Christmas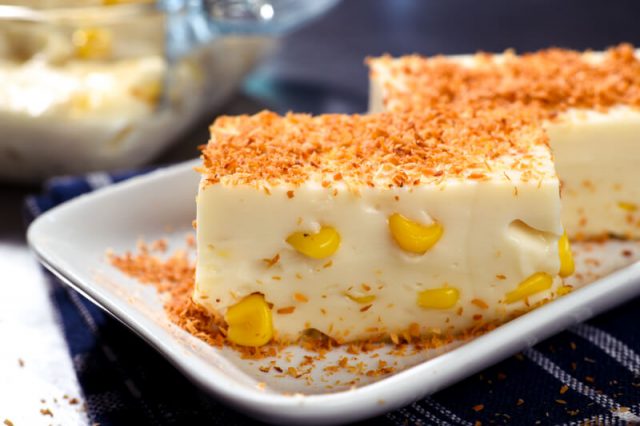 What is it: A delicious coconut pudding, mostly served during holidays and festivals, particularly Christmas. Besides coconut milk, that forms its primary ingredient, cornstarch and condensed milk is also included. Though corn kernels are not a part of the traditional Maja Blanca, they are often added at present, transforming the name of the dish to Maja blanca maíz or Maja maíz.
What does it taste like: Having a rich texture, it is creamy though not too sweet. The corn kernels give it a soft, juicy flavor, while the toppings of latik if at all added (coconut cream) makes it crunchy.
6. Mamon- A Delicious Sponge Cake of Philippines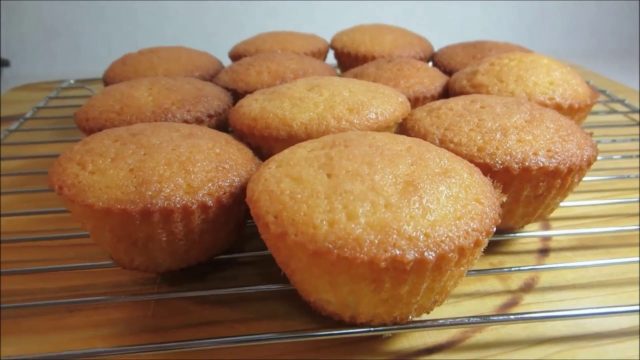 What is it: A sought-after afternoon snack, mamon is a mini chiffon sponge cake having all-purpose flour, baking powder, and vanilla as its main components. Grated cheeese and a spoonful of butter serve as garnishes.
What does it taste like: Fluffy, tender, and buttery, often teamed with a cup of coffee.
7. Bibingka – A Traditional Filipino Rice Cake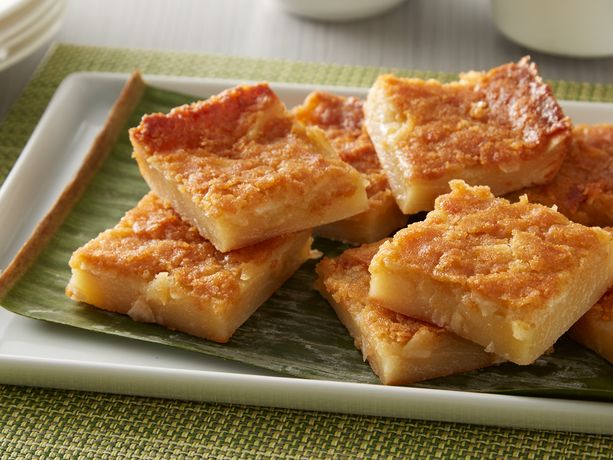 What is it: A rice cake, eaten for breakfast in most households during the Christmas season, having rice flour and coconut milk as its main ingredients. It was traditionally served in a terra cotta pot lined with banana leaves. Some have tried to establish a connection between Bibingka and the Goan dessert Bebinca, mentioning that the Portuguese might have introduced this delicacy in the South East. However, they are two different desserts, the only similarity being that coconut milk is used in the making of both.
What does it taste like: Soft and spongy just as rice pudding, mostly eaten warm or hot.
8. Sapin-Sapin –A Rice -Coconut Dessert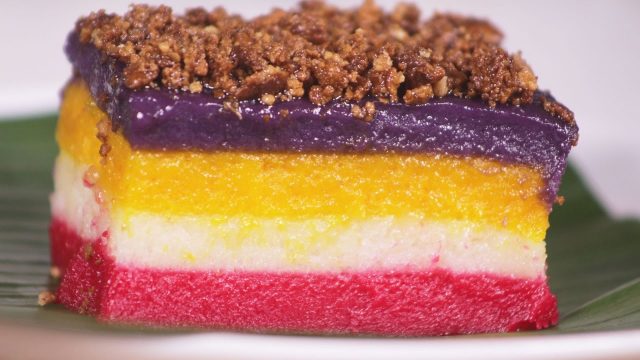 What is it: A layered dessert made with rice and coconut while each layer having a separate ingredient as its flavoring. For instance, the purple layer is made up of ube or sweet potato; the orange or yellow layer has jackfruit while the white layer is devoid of any flavoring. Toppings of latik or toasted coconut shavings are added as garnishes.
What does it taste like: This multi-colored cake has a diverse taste, sweet, crunchy, smooth, soft and nutty, all because of the various ingredients that go into its making.
9. Puto – A Mouth Watering Steamed Cake
What is it: A steamed rice cake often coupled with savory dishes, it is said to be influenced by the Indian sweet dish putu.
What does it taste like: Soft and moist, just like freshly cooked rice.
10. Pitsi-Pitsî (Pichi Pichi) –A Gelatinous Steamed Dessert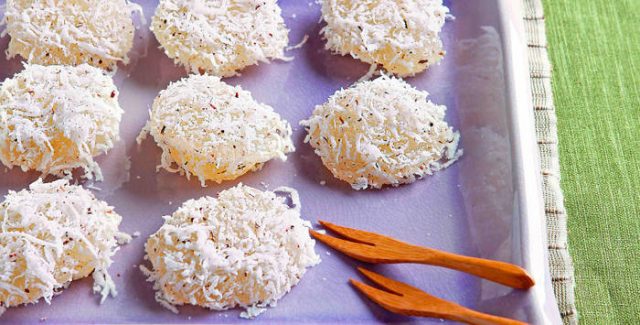 What is it: Often consumed as a mid-afternoon snack, it is a jelly-like dessert made with grated cassava as well as sugar. When the mixture is steamed, a coating of grated coconut is added to enhance its taste.
What does it taste like: Sticky and mildly sweet, tasting the best when eaten on the same day of its preparation.
11. Buko –Traditional Fruit Salad of Philippines
What is it: A delicious sweet salad having shredded coconut (buko) as its prime ingredient alongside a host of fruits like pineapple and strawberry chunks.
What does it taste like: Often served for birthdays and special occasions it would be a chewy and sweet fusion, making your mouth water to the fullest.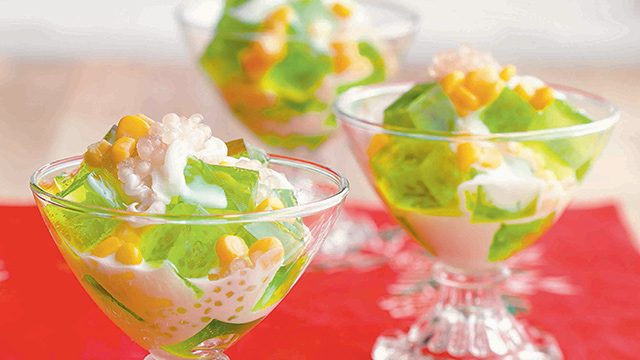 These yummy delicacies of Philippines would compel you to develop a fondness towards desserts even if you do not have a sweet tooth.