Gujarati Food is said to be the oldest culinary treasure of India, with a platter of healthy and tasty dishes. Besides Hinduism, Jainism is also widely practiced in Gujarat resulting in a strict vegetarian diet in most parts. However, some communities consume meat and different seafood. A typical Gujarati meal mostly comprises of lentils, curd curry, vegetable side dishes, flat bread and rice, along with spicy sauces and fried snacks. Here, we list some healthy and tasty Gujarati food recipes with a short briefing.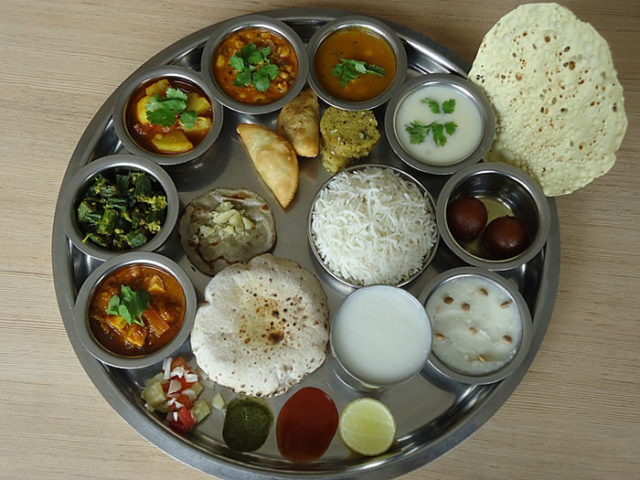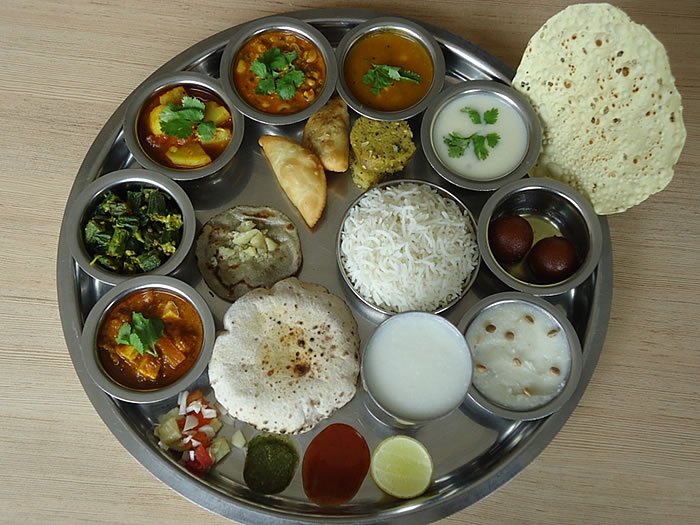 1. Dhokla: A Traditional Gujarati Food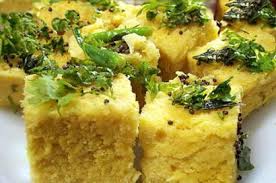 What is it: A soft steamed food made with a fermented batter of gram flour (besan) or rice, and tempered with mustard seeds, Indian lilac (curry patta), and fried green chilies.
What does it taste like: Tender and mild, with the mint, coriander or tamarind dip providing a soothing flavor, enriching your taste buds.
2. Thepla: Typical Gujarati Breakfast Recipe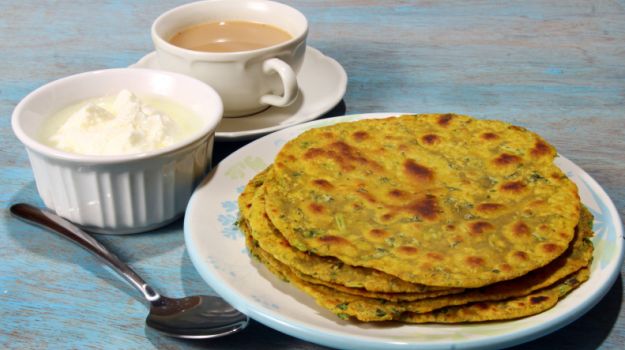 What it is: Fried flour flat bread prepared with fenugreek leaves and a host of other spices.
What does it taste like: Slightly spicy, with the aromatic flavor of fenugreek melting in your mouth. A perfect breakfast recipe served with crushed or sliced mango pickle or even a hot cup of ginger tea.
3. Handvo: A Savory Gujarati Pan-Cake

What is it: A must-have salty snack (farsan) in traditional Gujarati families, made of gram flour, mustard and sesame seeds along with homemade spices.
What does it taste like: A little spicier than dhokla and other savories, it comes with a crispy outer layer and a soft inner part.
4. Gujarati Kadhi: Flavorsome Gujarati Curry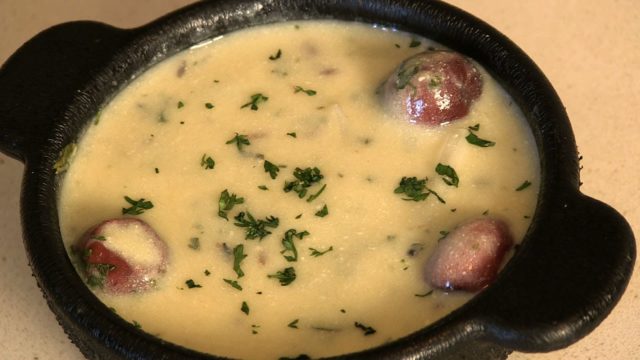 What is it: A light colored curry made of gram or maize flour along with buttermilk, clove, asafetida, and dry fenugreek.
What does it taste like: Sweet and spicy, thickened with curd, served mostly with rice. The leftovers are often reused with different kinds of fritters (pakoras and koftas).
5. Undhiyu: A Gujarati Festival Dish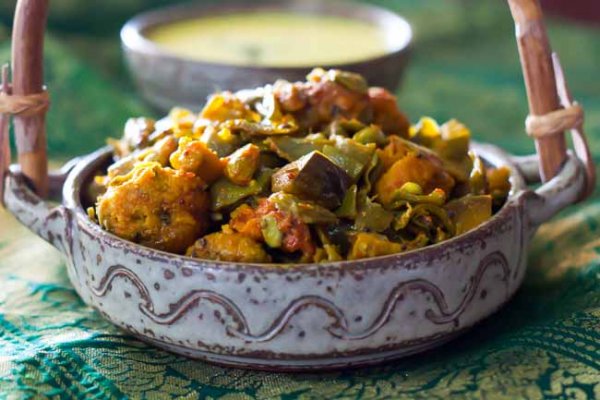 What is it: A side dish made from a variety of vegetables like eggplant, potato, unripe banana, and yam, seasoned with several spices and dry fruits. Served mostly during the 'Uttarayan" ceremony or kite festival, it earns its name from the Gujarati terms "matlu" (pot) and "undhu" (upside down) since it was previously prepared underground in upturned earthen pots.
What does it taste like: Every bite offers a flavorsome taste with the homemade spices, fenugreek, and healthy vegetables adding to its richness.
6. Khandvi: A Famous Gujarati Snack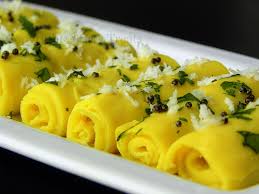 What is it: A soft roll made of gram flour and curd, tempered with mustard seeds, coconut, and coriander leaves, eating as a snack or appetizer.
What does it taste like: Soft and yummy enjoyed with lip smacking dips prepared from green chilies or dates.
7. Shrikhand: Sugary Gujarati Dessert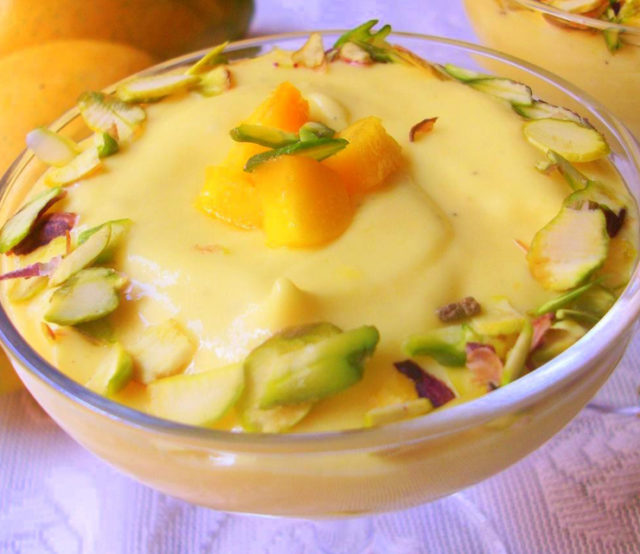 What is it: A dessert made of yogurt, nuts, and spices, also popular in Maharashtra.
What does it taste like: It is sweet with a well-mixed texture, served after or along with a full-course meal especially during festivals, and weddings.
8. Basundi: A Delightful Gujarati Cuisine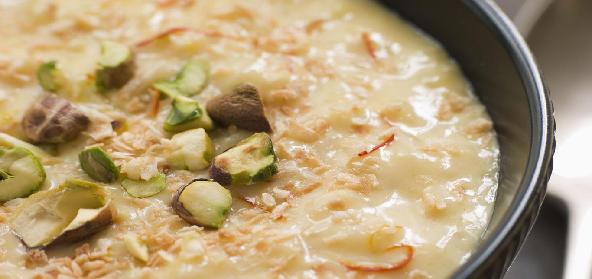 What is it: A condensed milk dessert served chilled with fruits like custard apple, and grapes or Indian cottage cheese, often garnished with almonds and pistachios.
What does it taste like: Sweet and creamy with a soothing aroma of cardamom, and saffron giving you ultimate delight.
9. Lilva Kachori: A Winter Food of Gujarat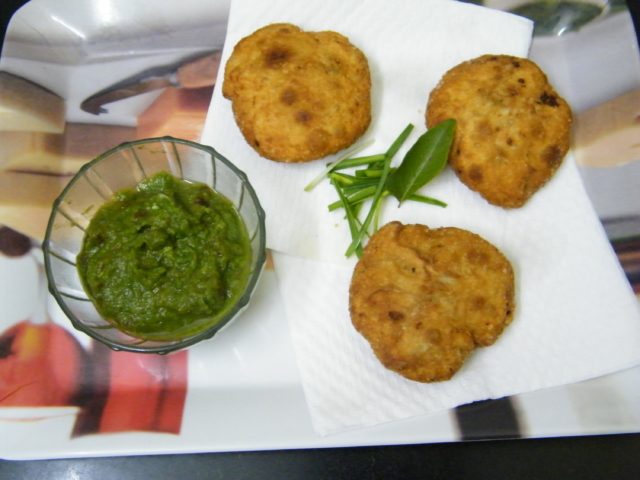 What is it: A spicy snack stuffed with pigeon pea (tuver dal) mostly available in winter, alongside other spices.
What does it taste like:  Crispy and nice, teams well with chili or yogurt-based dips, making for a perfect evening snack in the chilling winters.
10. Khatti-Meethi Dal: A Special Food of Gujarat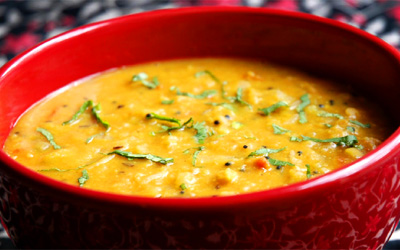 What is it: A side dish made of lentils, jaggery (contributes to the sweetness) and kokum (for sourness) with a light amount of spices.
What does it taste like: Sweet and sour, serves as a healthy side dish for lunch when teamed with rice or chapatti.
11. Bhakri: An Authentic Gujarati Dish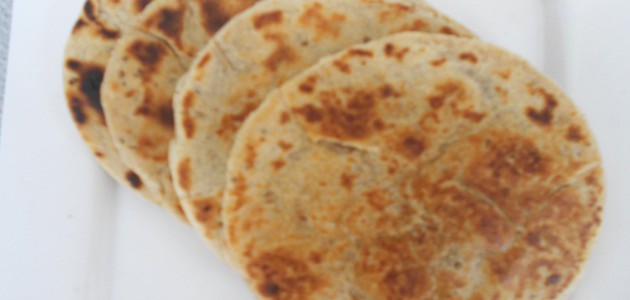 What is it: Flatbread, made of different kinds of flour like wheat, jowar, finger millet (nachni) or bajra, coupled with green chili, peanut sauce, and vegetable side dishes.
What does it taste like: Crispy along with a thick and hard or even soft texture, it traditionally formed a staple diet for farmers.
12. Vaghareli Khichdi: A Staple Diet of Gujarat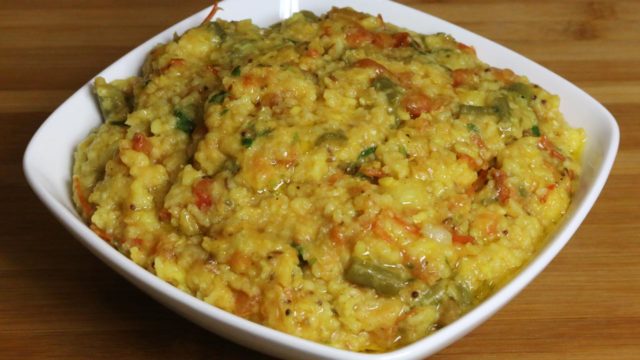 What is it: A simple rice and lentil recipe, cooked with a variety of boiled vegetables.
What does it taste like: The myriad flavors of garlic, mustard seeds, cumin seeds, and curry leaves makes it a tasty fusion.
13. Sev Usal: A Street Food of Gujarat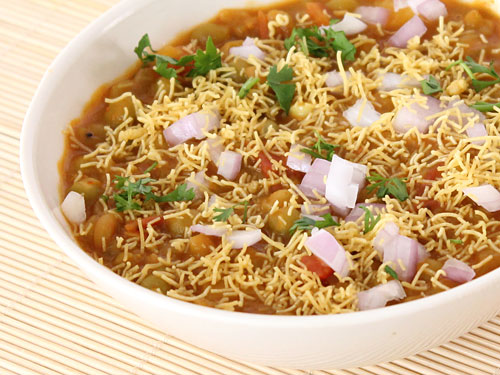 What is it: A Gujarati fast food made of usal or ragada (cooked green pea and potato gravy), and sev (crunchy noodle made of chickpea flour paste).
What does it taste like: It offers a tangy and spicy essence, generating a sizzling flavor when topped with lots of sev and chopped onions.
14. Dahi Sabudana: A Popular Gujarati Fasting Food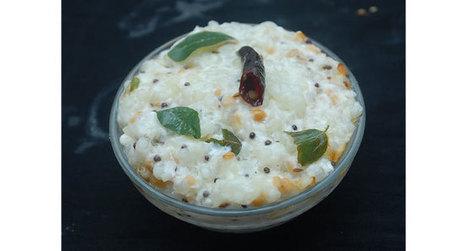 What is it: A thick porridge made of sabudana (sago), yogurt, crushed peanuts, and green chilies (optional ), consumed as a fasting food during 'Navaratri' ( a famous festival of Gujarat).
What does it taste like: Every bite offers a tangy and juicy taste along with some extra crunch.
Gujarati Food may have its origin in the western parts of India but now stands as a global cuisine. The list mentioned above is a crucial but small part of Gujarati cuisine, so, start exploring now to know more about the wide platter it has to offer.