Besides its rich cultural tradition and heritage, what makes India immensely famous worldwide are the diverse cuisines it offers. When it comes to desserts, no one can beat the many varieties of sweets India boasts of made from a whole lot of ingredients. Most of the desserts are prepared using milk/ condensed milk, alongside cardamom, nuts, pistachio, cashew nut, walnut, and many other additives for flavor. The northern (laddu, kaju Katli), southern (Mysore Pak, double ka meetha), eastern (rasgulla, sandesh), and western parts (basundi, modak) of India each have their specialties.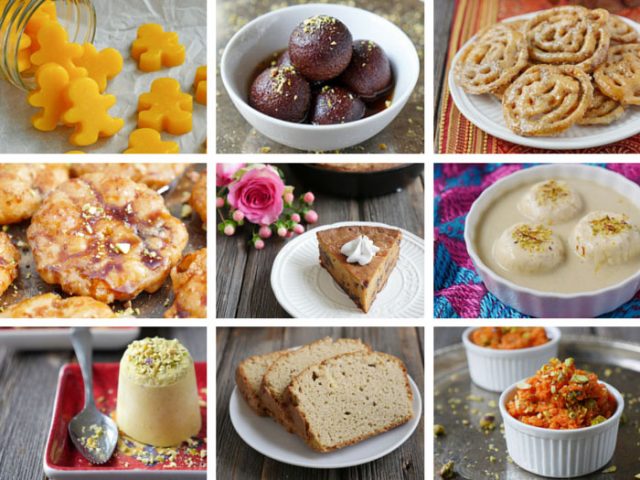 1. Gajar Ka Halwa – A Simple Indian Dessert with Carrots
What is it: A tasty pudding prepared by mixing grated carrot with milk and sugar, often garnished with pistachios, almonds, cashew nuts, and raisins.
What does it taste like: Being an immensely sought after dish in most Indian festivals and occasions, the unique fusion of carrot and milk would melt in your mouth.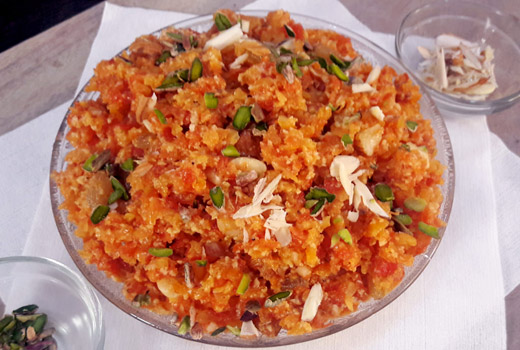 2. Mysore Pak – A Popular Festival Dessert of South India
What is it: A fudge-like sweet, having ghee, gram flour, sugar, and cardamom as its primary ingredients, often served during auspicious occasions like wedding or baby shower.
What does it taste like:  Soft and delicious, with the flavor of ghee and spices adding to its sweetness.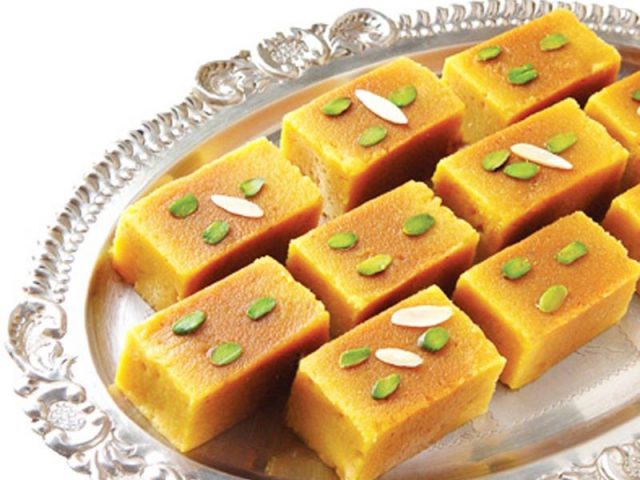 3. Gulab Jamun – Delicious Indian Milk Balls
What is it: Often known as the Indian donut, it is a ball-shaped sweet, prepared using milk solids (traditionally called khoya). Gulab jaumn is dipped in sugary syrup and often flavored with saffron, rose water and cardamom for an intense aroma. Besides India, its popularity has spread to other Asian countries like Bangladesh, Pakistan, Myanmar, and Nepal.
What does it taste like: The sugary balls with its smooth and creamy texture, has a sensational taste, while the additional flavors make it even more delicious. A famous dessert in most parties and celebrations, it is often served hot,  as an after-dinner dish, and topped with vanilla or strawberry ice cream.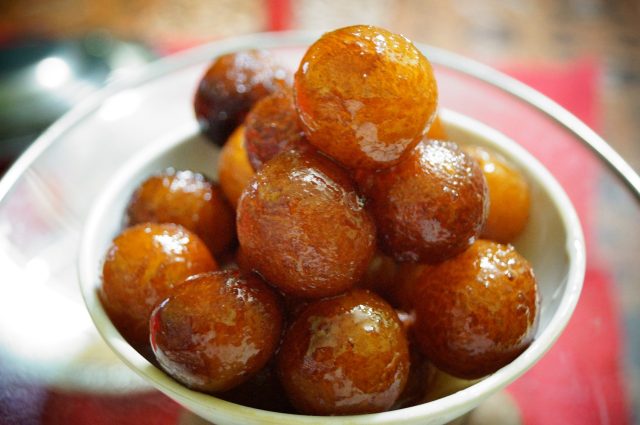 4. Rasmalai – A Traditional Indian Dessert
What is it: A juicy creamy dessert, as its name suggests (ras meaning juice and malai stands for cream), it is often described as a cheesecake sans the crust. Cheese curd goes into the preparation of these yellow or white balls. Cooked in thickened milk and sugar syrup, saffron, pistachios, kheer, and cardamom serve as garnishes.
What does it taste like: Soft, spongy and creamy, with the flavors of saffron and pistachio making it lip-smacking, compelling you to crave for more.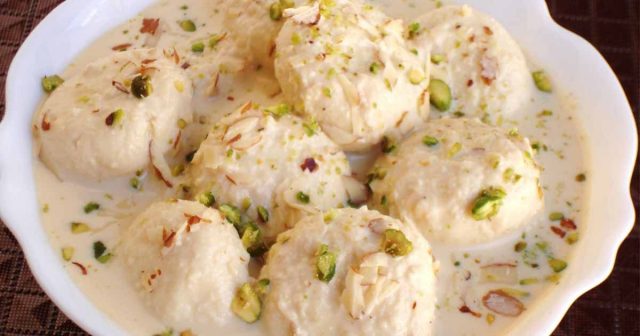 5. Indian Shrikhand: Sweet Greek Yogurt
What is it: A creamy dish prepared from strained yogurt, having cardamom, nuts, and saffron as a garnish. Often eaten chilled as an accompaniment with bread, it is a significant dish of Gujarat and Maharashtra.
What does it taste like: A sweetish-sour taste, which would soothe your taste buds on a hot summer afternoon.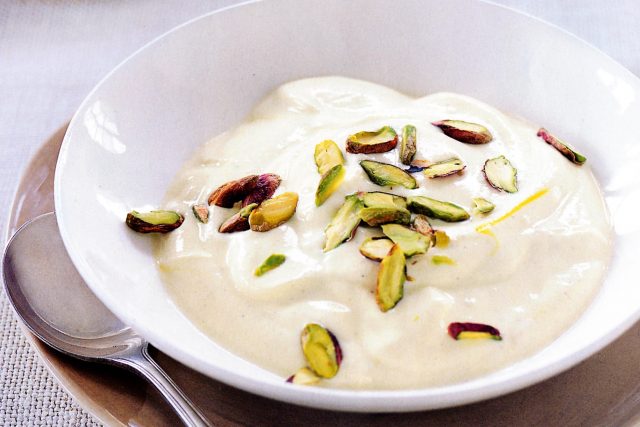 6. Kheer or Payasam: An Indian Rice Dessert
What is it: A sweet pudding, prepared instantly and effortlessly. Its ingredients include rice and milk, with toppings of cashew, raisins, pistachio, almond, saffron, and cardamom. While you can make it just by adding sugar, some regions use jaggery for preparing kheer. Known by different names like payesh, phirni and payasa, this dish is popular in birthdays and festivals. Many temples also serve it as an offering to deities. In South India, moong dal or moong bean (in place of rice) alongside coconut milk as well as jaggery results in the preparation of pappu payasam. This delicacy often made with "Nolen Gur" (date palm jaggery) in West Bengal during winters, results in "notun gurer payesh."
What does it taste like: Sweet, soft, and chewy, giving you perfect delight after a sumptuous meal. The addition of jaggery gives it a distinct aroma, making it even more delicious to taste.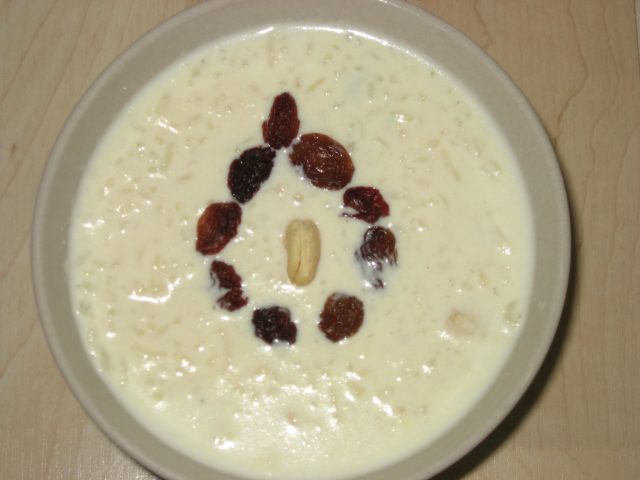 7. Mango Halwa – A Delicious Pulpy Dessert
What is it: A tasty sweet with a pudding-like texture, mango pulp being its prime ingredient alongside sugar and ghee. A topping of cashew, walnut or pistachio would add to its taste and decoration.
What does it taste like: Soft and spongy, with the sweet pulpy taste of mango urging you to seek for more.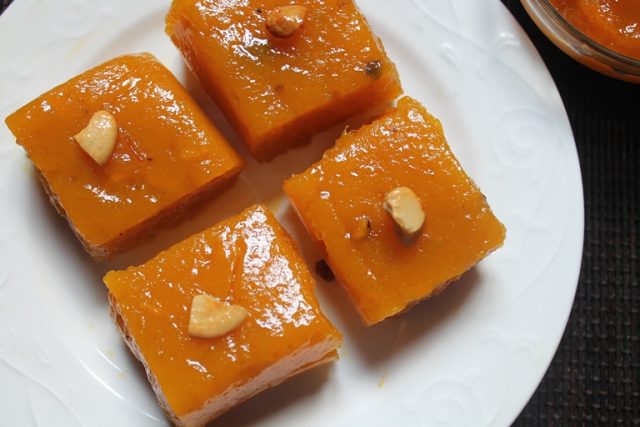 8. Boondi ka Laddo –  One of the Best Indian Festival Desserts
What is it: Round, yellow-colored ball-shaped sweets, eaten on special days like Diwali or Raksha Bandhan, made from chickpea flour, flavored with cashews, saffron, raisins and a dash of cardamom. Some other variations of this sweet include Besan (gram flour) laddoo, coconut laddoo, and Semolina laddoo.
What does it taste like: The nutty taste of chickpeas in combination with the aroma of saffron, raisins, and cardamom would merely bring out the gourmet in you.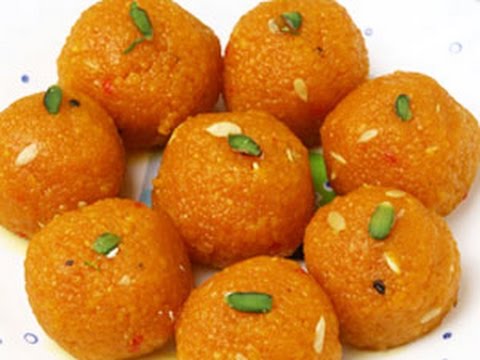 9. Toasted Coconut Laddo – Indian Vegan Dessert
What is it: Fudgy balls made with shredded coconut, as well as other ingredients like semolina cardamom powder and milk. Garnish them by adding a cherry as a topping. If you are a vegan, then you can use coconut milk in place of the dairy product.
What does it taste like: Crispy and chewy, it is a perfect food item to take to a potluck or any other occasions.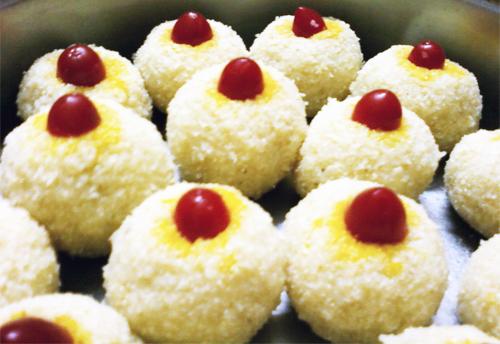 10. Seviyaan – Vermicelli Milk Pudding
What is it: A milk pudding made from roasted vermicelli, and milk, while some even add ghee for an additional aroma. Pistachios, raisins, cashew, pistachio, and almond, when added as a garnish, enrich its flavor further. Mostly eaten during the auspicious occasion of Ramadan and Eid, it can be had chilled or steamed.
What does it taste like: Soft and sweet, a bowl of vermicelli pudding after a full-course meal would give you great pleasure.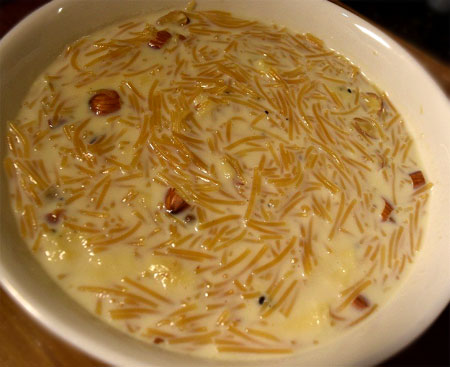 11. Puran Poli –  A Typical Dessert of Western India
What is it: A stuffed flatbread prepared with fillings of flour, split yellow gram (chana dal), sugar, cardamom or nutmeg powder, and ghee. Puran Poli is a popular dish of Maharashtra, eaten in most households during festivals or other special occasions.
What does it taste like: A blend of sweet and savory, Puran Poli when eaten with amti, a spicy, tangy lentil dish, makes for a wholesome meal.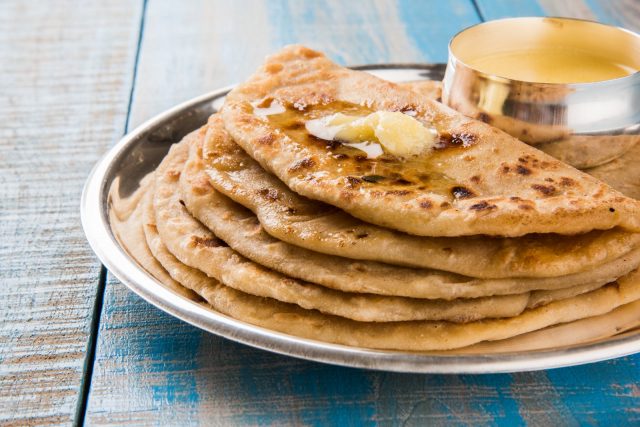 12. Jalebi – A Spiral Lip-Smacking Dessert
What is it:  A circular or spiral-shaped dessert prepared from an all-purpose flour batter, fried and finally dipped in syrup for a sugary effect. Popular in India as well as other Asian and African countries, it has a host of other names like jilapi (Bengali), jilabi (Marathi), Z'labia (Tunisia) and Jeri (Nepal).
What does it taste like: Eaten hot or cold, it has a chewy texture, with the taste varying by the accompaniments you use with it. Jalebi dipped in curd would produce a sweet and sour fusion, while a spread of rose water or saffron syrup (kesar) would intensify its sweetness.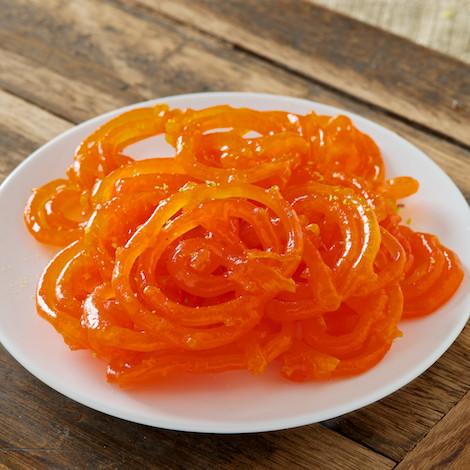 13. Phirni – A North Indian Pudding
What is it: A sweet pudding, immensely popular in North India, eaten during Diwali and other festivals. It differs from the payasam or rice kheer since it is prepared using ground rice and is eaten chilled while the latter has fine-grained whole rice as its ingredient, eaten warm or cold. Garnishes like cashew, raisins, strands of saffron and rose petals give it a distinct appearance and aroma.
What does it taste like: Sweet and mouthwatering, fulfilling your appetite after a complete meal.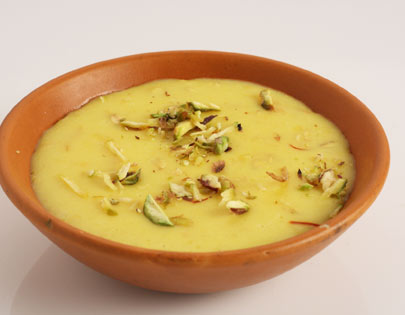 14. Bebinca –  Indian-Styled Christmas Dessert
What is it:  A traditional Goan pudding served mainly during Christmas, consisting of plain flour, coconut milk, sugar, ghee, and egg yolk. Its specialty lies in its seven-layered arrangement, though a traditional Bebinca has sixteen layers in total.  However, cooking it needs patience as one cannot include an additional layer before preparing the previous one well. You can have it fresh or even refrigerate it since it has a long preservation time.
What does it taste like: Soft and sweet, while a scoop of ice cream would intensify its taste further.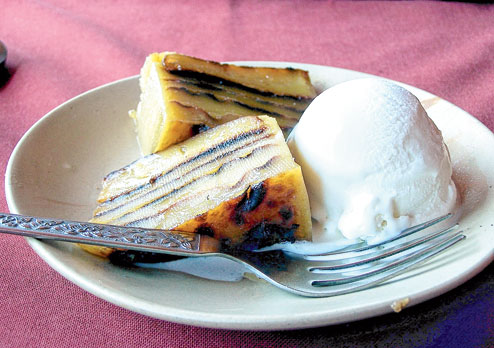 15. Peda –  An Ancient Indian Dessert
What is it:  A semi-soft sweet made using khoa (dairy product)  and sugar as well as flavorings like saffron, pistachio nuts, and cardamom seeds. Variations of this sweet dish include milk and malai (cream) peda. Varying in color from white to a yellowish-brown tinge, it originated in the Mathura region of Uttar Pradesh in the 1850s and later spread worldwide.
What does it taste like: Smooth and creamy, with every bite transcending you to a different world altogether.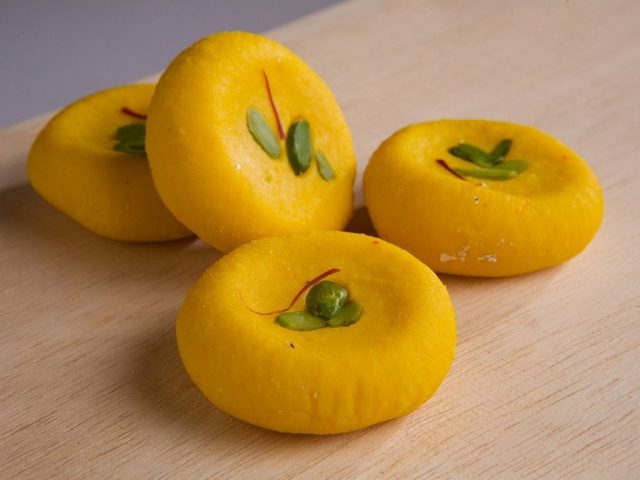 16. Rasgulla –  A Tasty East Indian Dessert
What is it:  A syrupy ball-shaped, spongy dumpling made using Indian cottage cheese (chhena), being one of the most famous dishes in Eastern India. There was a discrepancy regarding its ownership since the Indian states of Orissa and Bengal expressed their claims over it. However, this has now been sorted, with West Bengal being given the GI status for rasgulla.
What does it taste like: Soft and creamy and sometimes rubbery too, eaten as a dessert, especially in Bengali wedding and other special occasions.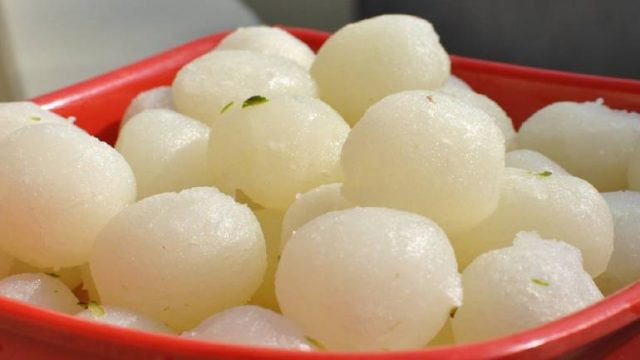 17. Shahi Tukra – A Mouthwatering Bread Pudding
What is it: A royal dessert dish of Awadh made from bread soaked in milk or rabri topping, garnished with almonds, cashews, pistachios, saffron, and a tinge of cardamom. It is almost the same as the famous Hyderabadi dish "Double ka meetha," however, in the latter, you have to bake the bread after adding rabri.
What does it taste like: The blend of milk and bread gives a soft, crispy taste, while the additives bring in a fantastic smell. A great dessert often served at potluck parties or picnics, can be eaten warm or even served chilled.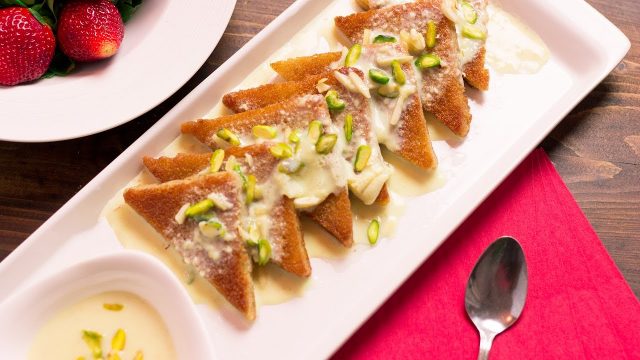 18. Kulfi- An Authentic Indian Frozen Dessert
What is it: Meaning a covered cup in Persian, all because of its presentation, kulfi is a frozen dessert. It is prepared by evaporating milk till it attains a creamy and caramelized texture. During the Mughal era, pistachios and saffron served as flavorings for kulfi, which remain packed in cones and kept in ice. At present, it is typical street food, either served shredded or frozen. Originally it came in limited flavors like mango, saffron, pistachio, and cardamom. Of late, it is available in many varieties like apple, avocado, pistachio, orange, peanut, strawberry.
What does it taste like: If you are an ice-cream lover, kulfi would undoubtedly fascinate you, though it is creamier and denser. The taste would vary by the flavor you choose.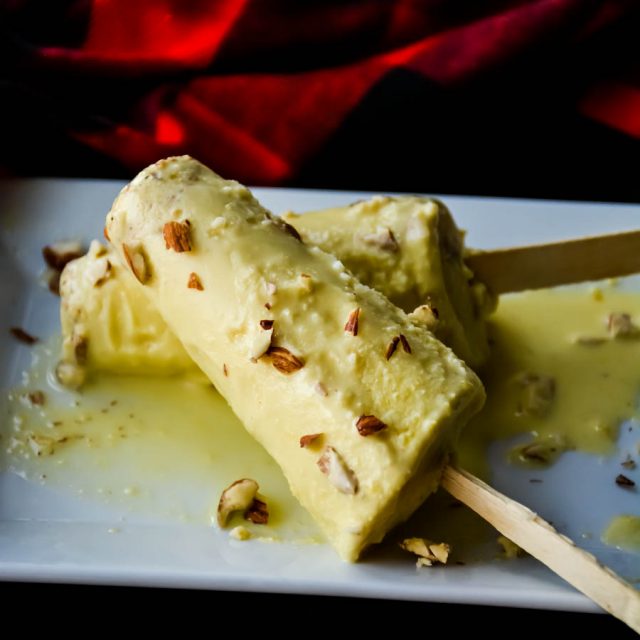 19. Suji Ka Halwa – Sweet Semolina Pudding
What is it: A pudding-like dessert made with semolina, cardamom, as well as nuts and raisins for toppings. The addition of milk makes the dish tastier and softer. For a salty version, omit the milk and add salt along with a whole lot of veggies. It is even used as a diet to treat someone ailing, though in such cases, the preparation should not include nuts.
What does it taste like: The coarse texture of semolina blended with milk or water creates a great sensation. Suji Ka Halwa is one of the quick and easy evening snacks you can make for your kid.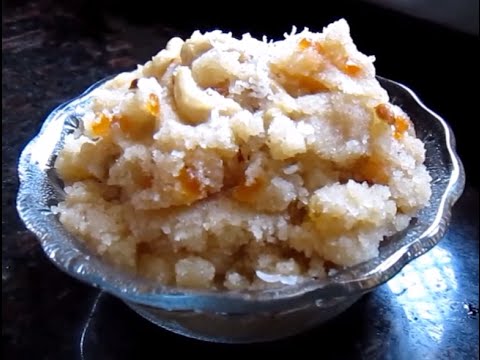 20. Ragi Oats Laddo – Sugar-Free Indian Dessert
What is it: Healthy balls having ragi flour (finger millet flour) as its main constituent as well as oats, ghee, milk, cardamom powder, coconut powder, cashew, and artificial sweetener.
What does it taste like: Coarse and grainy because of ragi. This dessert is indeed one of the healthy options to eat if you have diabetes but do not want to do away with sweets.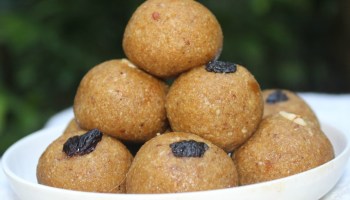 21. Kalakand- A Simple Indian Milk Cake
What is it: A milk cake made from sweetened milk and cottage or ricotta cheese. Though it takes longer to make kalakand following the traditional method, there are quick and easy recipes, too, in which the preparation time does not exceed 15 minutes.
What does it taste like: Creamy and milk, an excellent dessert choice indeed for a house party.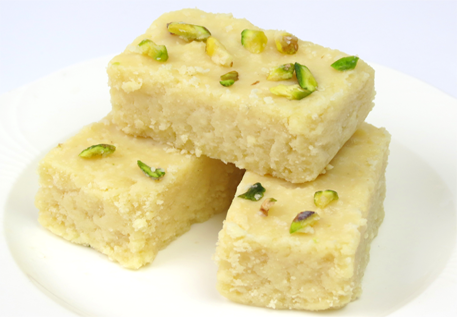 22. Rabri –Motichur Laddo Fusion –  An Indian Dessert In Shot Glasses
What is it: A modern fusion dessert made by combining rabri and laddo, two of the most popular dishes, topped with cream and other assortments.
What does it taste like: Laddo, rabri, and cream all in one platter is indeed a delight to eat.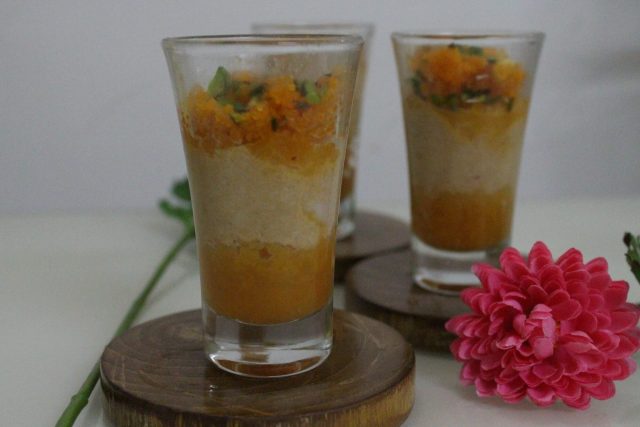 23. Kaju Barfi –  A Typical Indian Silver-Foiled Confectionary
What is it: A diamond-shaped milk-based dessert prepared from cashew nuts, having an edible silver foil as its decoration. Other available flavors include kesar or saffron, chocolate, carrot, pista, coconut, and peanut.
What does it taste like: Smooth and delicious, with giving you utter delight.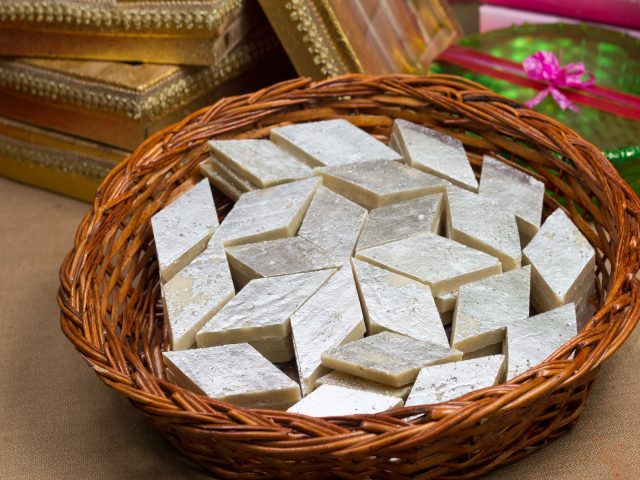 So with this complete list at hand, the next time you plan your trip to India, keep in mind to satisfy your taste buds with all of these above desserts.