Irish cuisine is famous for its versatility, with the array of dishes it has to offer from sweet to savory. Britain's conquest has had a profound influence on the foods of this country. In the 18th century, potatoes formed an integral part of their diet, dominating most of his cuisines, like coddle, boxty, and colcannon. The list of sought-after Irish foods follow: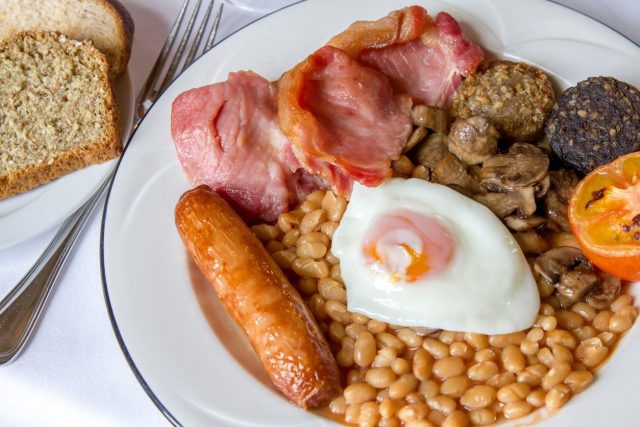 1. A Tasty Stew – Traditional Irish Food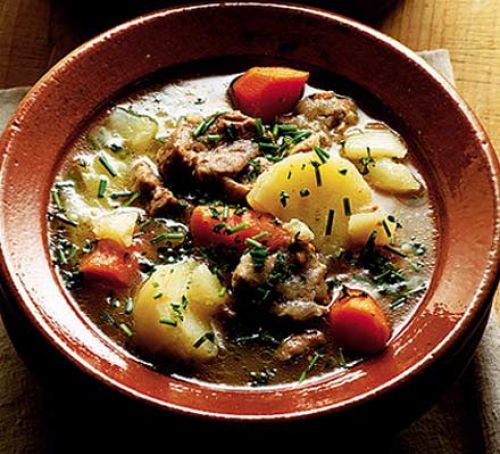 What is it: A famed dish of Ireland, it is a root vegetable-mutton stews, having mutton or lamb alongside onion, potato, and parsley as its main ingredients. Carrots and other veggies may also go into its, though their inclusion is controversial and may mar the authenticity of the dish.
What does it taste like: Being one of the national dishes of Ireland, this delicious dish has a rich flavor, while the addition of herbs enhances the aroma to the fullest.
2. Dublin Coddle – A Traditional Vegetarian St. Patrick's Day Dish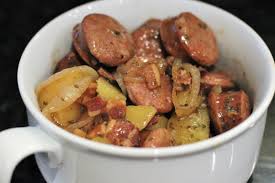 What is it: This dish receives its name because of its association with the city. Its main ingredients include sausages, rashers, potatoes, onion, herbs, pepper, salt, and barley as its main ingredients. Seasonings of parsley, salt, and pepper make it flavorful. Leftovers often go into making this dish. Mostly eaten in winter months, traditionally, people consumed it on Thursday since Catholics were forbidden to eat meat on Fridays.
What does it taste like: While the meat gives it a salty, spicy taste, the seasonings make it aromatic.
3. Boxty – Typical Irish Food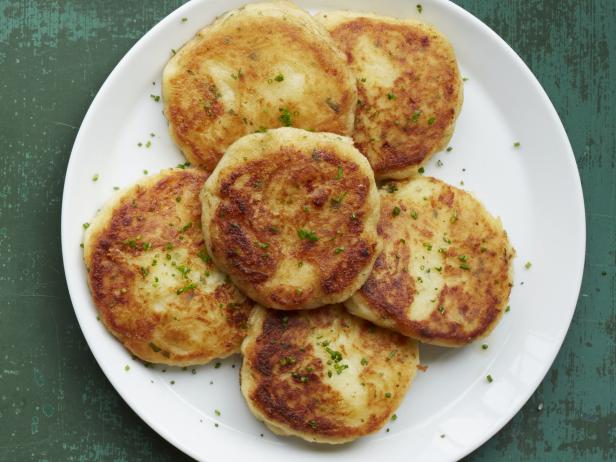 What is it: A traditional pancake, prepared by grating raw potatoes and frying them. Buttermilk, flour, baking soda, and at times eggs are the other ingredients that go into the making of this cuisine.  Traditionally, raw potatoes were either boiled like a dumpling or baked as a loaf. Supermarkets and stores in Ireland often sell boxty as a dumpling or in its cooked form like a pancake. This preparation is mostly served on St. Brigid's Day alongside bannocks and oat bread.
What does it taste like:  Besides the crispiness, it has a fine-grained and smooth consistency.
4. Colcannon – A Popular Irish Food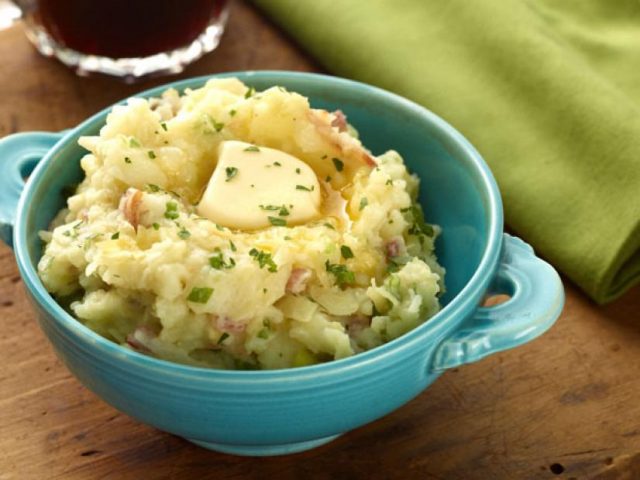 What is it: Another traditional dish of Ireland, it is made of kale or cabbage, mashed potatoes, and buttermilk. Ingredients like leeks, onions, chives, scallions, and laverbread intensifies the flavor. Traditionally eaten during Halloween in Ireland, one may find a thimble or ring within.
What does it taste like: Soft, smooth, and immensely tasty, with the addition of buttermilk enhancing its tanginess.
5. Soda Bread – An Authentic Irish National Food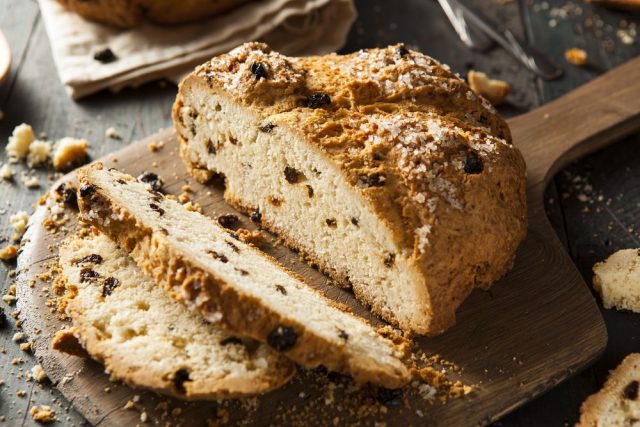 What is it: Flour, salt, buttermilk, and baking soda are the prime ingredients of this quick bread. Raisins, butter, nuts, and eggs are also added to intensify its taste.
What does it taste like: Mild and crispy just similar to biscuits, mostly served with meat, butter, and jam.
6. Spiced Beef – Irish Christmas Food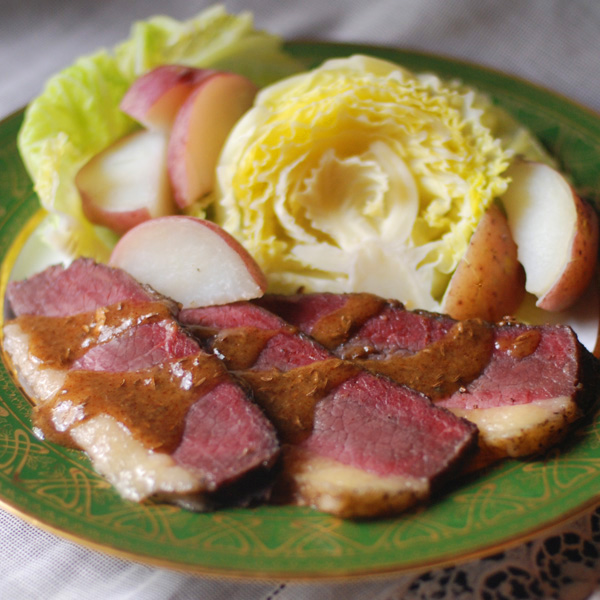 What is it:  A beef cuisine where the meat is cured using salt as well as a variety of spices and boiled or steamed in water. Spices like ground cloves, cinnamon, pimento, black pepper, and ginger add to the aroma.  Spiced beef is Ireland's traditional dish for Christmas and New Year, specifically in the County Cork region.
What does it taste like: Rich, soft, subtle, and spicy as the name suggests, with the spices making it even more flavorful.
7. Champ – Irish Cuisine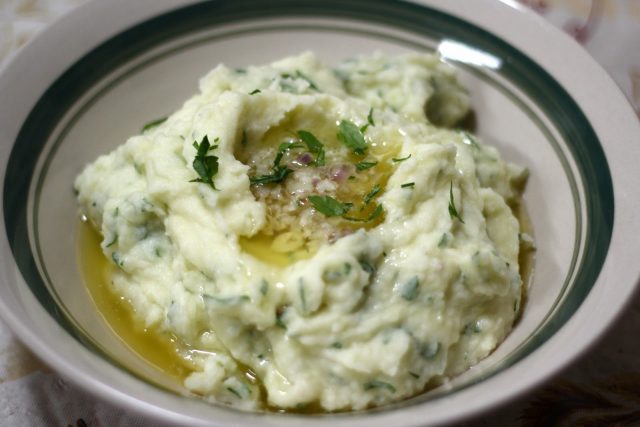 What is it: A combination of mashed potatoes as well as chopped scallions alongside milk, butter, and also pepper and salt as seasonings. Popular in Northern Ireland, this dish has a similarity with colcannon, the difference being the latter uses kale instead of scallions.
What does it taste like: Smooth, soft, and buttery, it feels best when served hot with a dollop of butter. This tasty delicacy would make for a perfect side when teamed with a sausage platter.
8. Pastie – One of the Best Irish Street Foods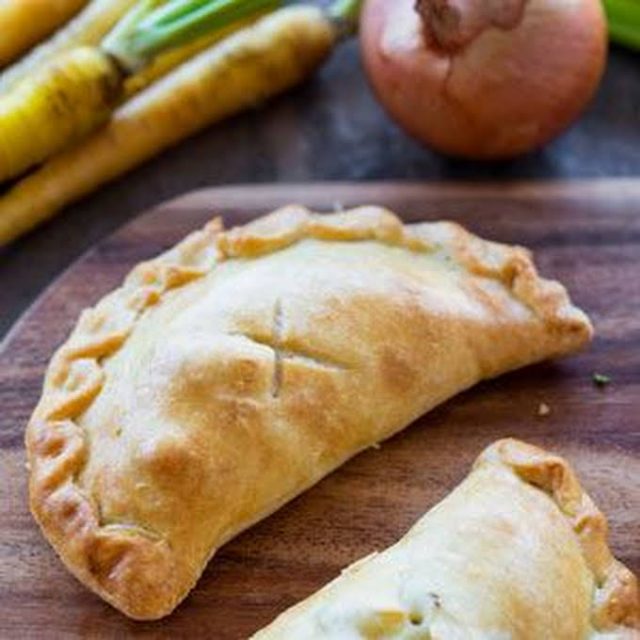 What is it: A burger-type deep-fried savory prepared from pork as well as onions, potato, and seasonings. Often served with chips, most fish and chips shops sell this snack. Initially, the fillings were smeared with colorings to give it a pink hue so that it appeared more enticing, though this has stopped now as people often developed allergies.
What does it taste like: Crispy and flaky, every bite of it would melt into your mouth.
9. Bacon and Cabbage – Famous Irish Food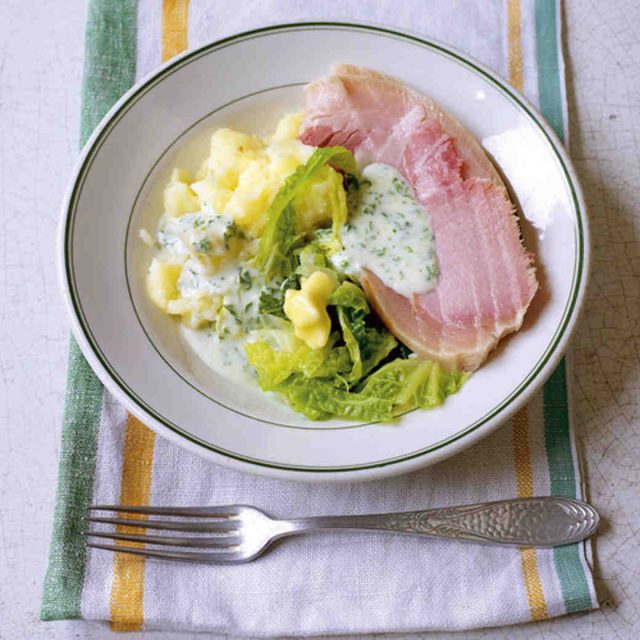 What is it: A dish of sliced bacon, cabbage, and potatoes cooked with butter, milk, and flour, seasoned with white sauce as well as parsley occasionally. This platter is typical in most Irish homes because of the easy availability of most ingredients.
What does it taste like: The crispiness of bacon and the smoky flavor of cabbage makes this dish a lip-smacking one indeed.
10. Full Irish – Popular Breakfast Dish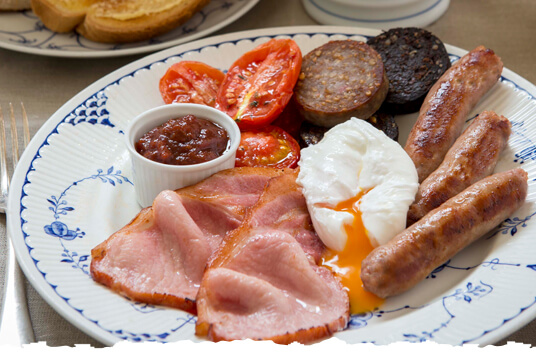 What is it: A wholesome breakfast meal comprising of toast, sausages, bacon, black pudding, eggs, mushrooms, baked beans, and tomatoes, teamed with tea or coffee.
What does it taste like: A sumptuous meal, indeed, being a fusion of spicy, sweet, salty, and savory.
11. Irish Potato Bites – Famous Finger Food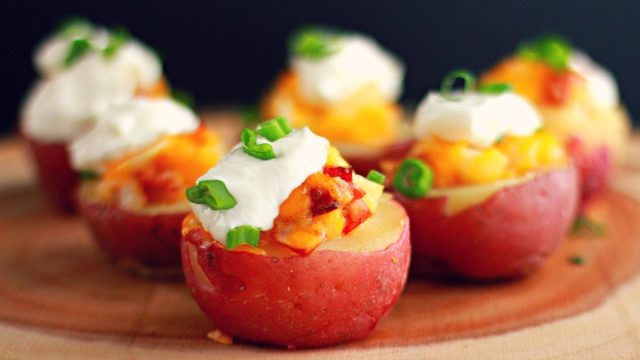 What is it: Tasty bites made from potatoes and corned beef, smeared with sour cream, this serves as a perfect appetizer.
What does it taste like: Crispy, smooth, and buttery, every bite melting into your mouth at an instant.
12. Blaa – A Typical Irish White Bread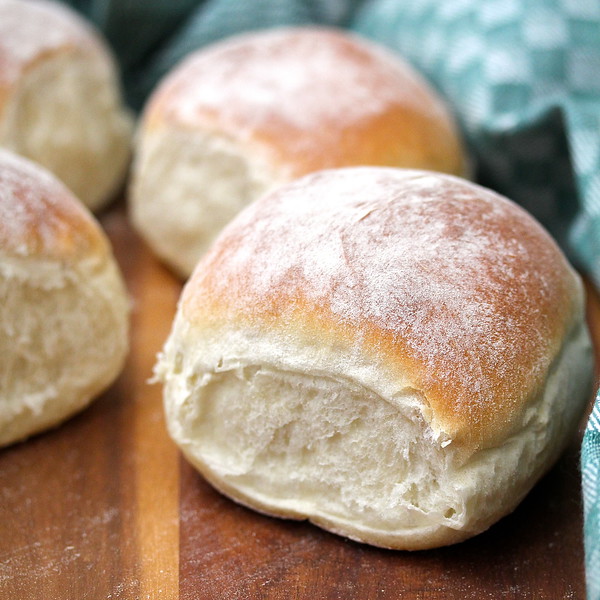 What is it: Also known as Waterford Blaa because of its association with the place, it is a doughy white bun that may be soft or crusty. A prominent breakfast food, mostly eaten with butter, and occasionally fillings of meat.
What does it taste like: The soft blaas are mildly sweet and malty, with a firm texture, melting in your mouth at an instant. The crusty variations are chewy, subtle, crusty, and crunchy.  
13. Goody – Irish Dessert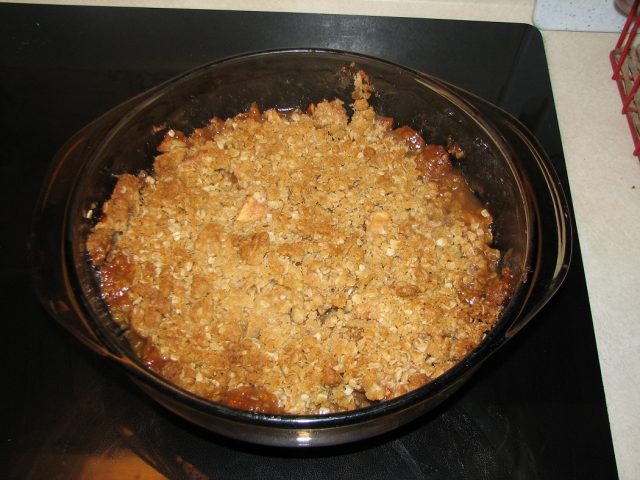 What is it: A sought-after dessert of Ireland, bread forms the prime ingredient of this dish, boiled in milk and sugar, seasoned with a whole lot of spices. Mostly consumed on the occasion of St. John's Eve, kids often have it to soothe their upset stomach. Presently, chocolate powder and cocoa are added as a sweetener and also to give it a modern look.
What does it taste like: A sweet fusion, with the addition of cocoa or chocolate powder, makes it tastier.
14. Haggis – A Popular Irish Savory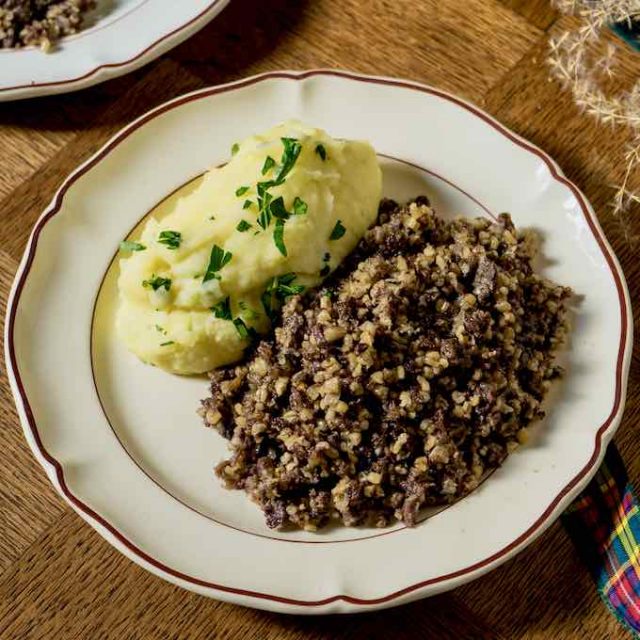 What is it: A savory pudding made of sheep's pluck minced with spices, onion, suet, oatmeal, and salt, often served with mashed potatoes and turnip. Traditionally haggis was cooked for hours in a pot, though the method has changed of late, and people prefer baking it as a casserole. Though a meat dish, vegetarian haggis is also available with nuts, vegetables, and pulses substituting the meat.
What does it taste like: A savory, peppery flavor with a crumbly, crunchy texture.
15. Potato Bread – A Delicious Starter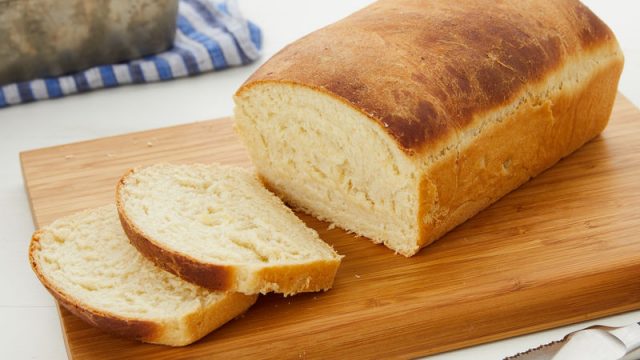 What is it: savory bread, made from potato flour or mashed potato, mostly eaten with butter or cheese.
What does it taste like: Light and crusty, with a firm texture, making for a perfect breakfast, or even a starter recipe when eaten with soups or meat dishes.
The names of the foods mentioned above are just a small portion of their vast cuisine list. Other lip-smacking dishes include barmbrack (leavened bread with raisins), breakfast roll (fried delicacy), farl (tasty flatbread), and drisheen (black pudding).