The traditions, culture, and cuisine of Mexico need no introduction. It is not just a land of diversity, but also a beautiful place worth remembering. This list guides all food lovers, especially those who have an extra sweet tooth, with the choicest Mexican desserts, along with their local names, meanings, relevant links, and pictures.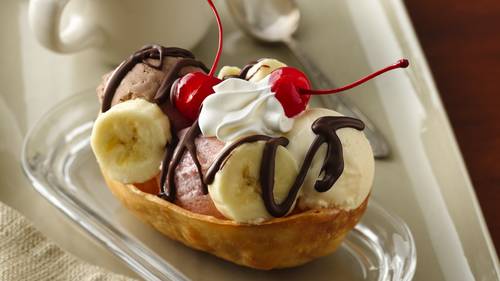 1. Sopapilla – Popular Vegan Flat Bread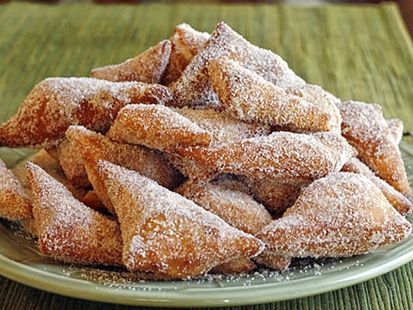 What is it: This is basically a dairy-free fried flatbread, preferably served with a dip like honey butter or guacamole (a bean dip) that can also be consumed as a snack or appetizer. This dessert is commonly made during top Mexican fests like Cinco de Mayo, as also during other holidays like Christmas. The dough can be kneaded in various other ways too, like crescent rolls.
What does it taste like: The crispy texture of the dish along with the flavors of the assorted dips is bound to fill up your mind after a wonderful dinner, or just with tea.
2. Jericalla – Flan Custard with Fruits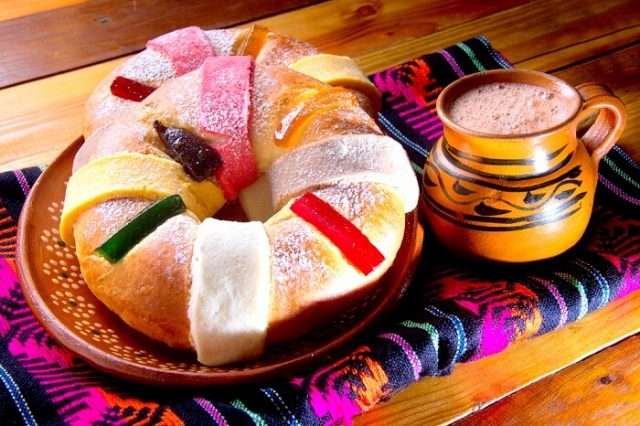 What is it: This is a traditional healthy custard dish that, in addition to being delicious, is easy to digest. Moreover, apart from raspberries, several other assorted chopped fruits including banana, strawberry, guava, and raisins can also be added. This egg dish is often served at the Easter dinners.
What does it taste like: The refreshing flavor of mint, along with the classic aroma of eggs and vanilla adds a special flavor to this sweet dish. The combined flavors of fresh fruits is the best part of it, especially if you have the art to customize your dish with your favorite fruits while you place your order.
3. Churros – Crispy Sweet Fritters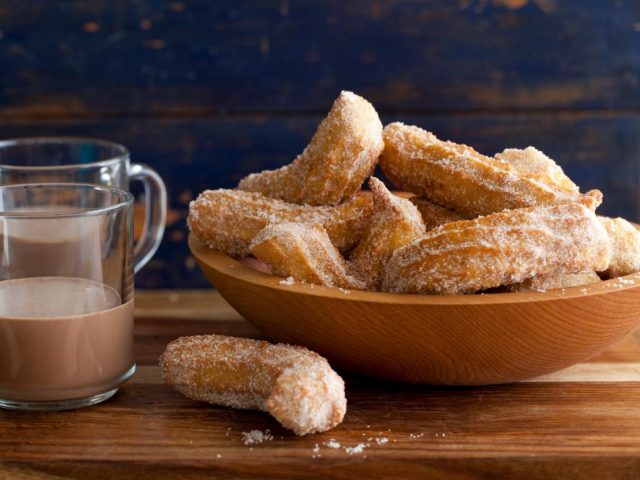 What is it: Churros are, again, an amazing, crispy dish that you can eat not only as a dessert but also as an accompaniment with tea or coffee. Basically made of egg and all-purpose flour, this dish is served traditionally with a chocolate sauce or dip.
What does it taste like: Try it hot at the end of a dinner or lunch, and the amazing taste of cinnamon, chocolate, cream, and the hint of kosher salt with the aroma of butter will make you feel literally gratified.
4. Xango – Deep Fried Ice Cream Dessert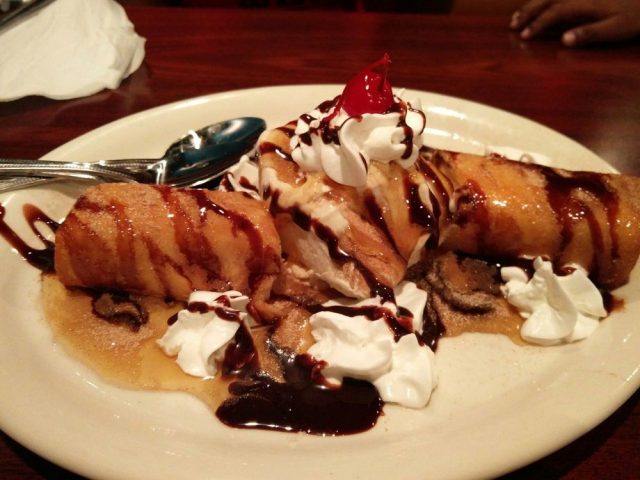 What is it: Xango is a popular ice cream dish in Mexico famous as a party or even street dessert. It is a light creamy banana cheesecake enveloped in a pastry tortilla and then dusted with cinnamon and powdered sugar. It is frequently served along with a variety of assortments like warm caramel, brownies and cakes, chocolate ribbons, rice puddings, and French vanilla ice cream. This dish is often deep fried as a variation.
What does it taste like: The contrast effect of hot and cold is amazing. Especially, the flavors of different ingredients like cinnamon, and banana, along with French vanilla ice cream will certainly make you feel complete even after a simple meal.
5. Nachos – Authentic Cinnamon & Chocolate Dessert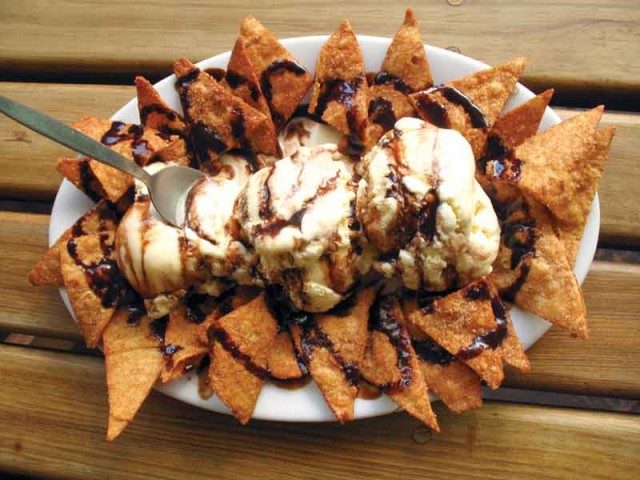 What is it: In this dish, crispy and cold tortilla or nachos are served with lots of fruits like strawberry, mango, and black grapes, along with chocolate, and other ingredients of your preference in a customized way.
What does it taste like: It does not merely taste good, but also looks great with the base of yellow chips, mixed with the red, black, white chunks of fruits topped with ice cream or choco sauce.
6. Ambrosia – Cold Fruit Dessert for Christmas Meals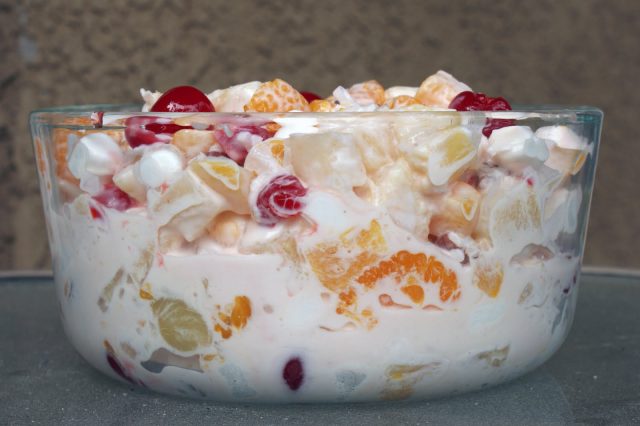 What is it: This is a simple-to-look and simple-to-eat healthy dessert with a wide variety of fruits like apple, coconut flakes, pineapples, oranges, along with sweet corn and any other fruits of your choice, chopped together, mixed with sour cream and other ingredients to be served cold. The dish is common during Christmas or Lent suppers and is also a favorite for wedding and other parties.
What does it taste like: The light sour taste of the cream and the sweetness of the fruits added will satisfy your taste buds at the end of a spicy meal.
7. Empanadas – Cold Bakery Cookies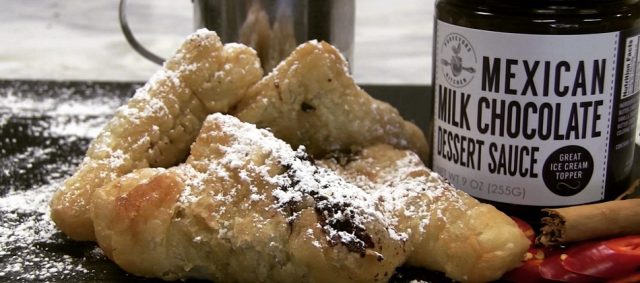 What is it: Empanada is a kind of cookie the Mexicans always cherished. This is not merely a street food but also frequently made at home and served as a dessert, or just a snack since it is easy to make, needs very little ingredients and can be prepared quickly at any time. There are savory varieties of empanadas as well, but the sweet variants are equally famous.
What does it taste like: The typical aroma of cinnamon in Mexican desserts unfurls itself in a new form as it mixes with butter, cheese, and flour. Take a bite of the cold dessert snack, and experience how it crackles in your mouth.
8. Cajeta – Mexican Goat Milk Caramel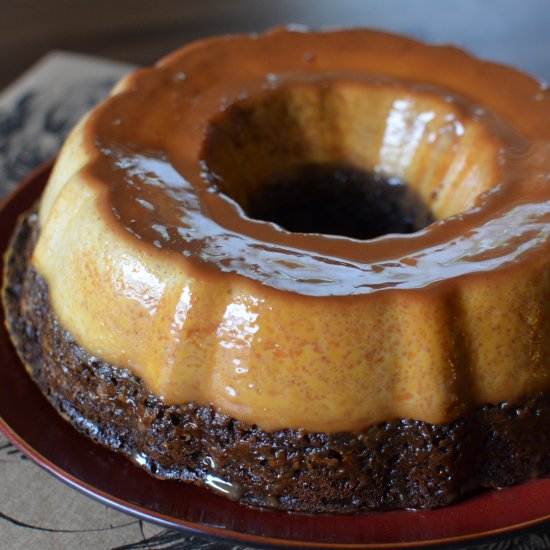 What is it: Cajeta is traditionally made by simmering goat's milk. This interesting sweet is particularly a confection of thickened syrup and contains sweet and caramelized milk only.
What does it taste like: The spices mixed with thickened goat milk is sure to give you a whole new definition as to how different and diverse desserts can be.
9. Tres Leches – Typical Cake for Cinco De Mayo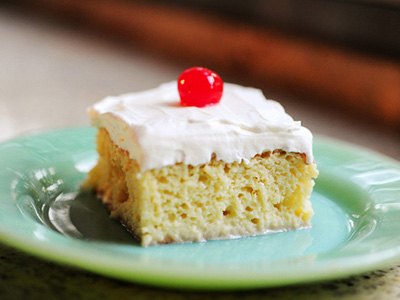 What is it: Tres leches cake is a popular cake not only in Mexico, but entire Latin America. The grand celebrations of Cinco de Mayo wouldn't really be complete without this bakery dish. In Mexico, the name literally translates to 'three milk' cake.
What does it taste like: As the name suggests, the sponge cake prepared with three kinds of milk – evaporated milk, condensed milk, and heavy cream – will release an amazing combined aroma, along with the other special and associated ingredients.
10. Sombrero Pinata – Santa's Hat Themed Dessert for Christmas Kids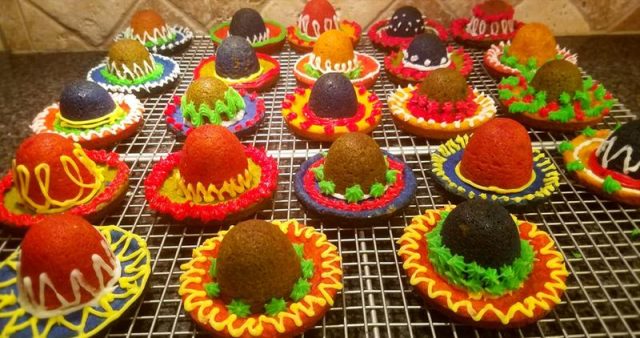 What is it: This is also a cookie dish, but very colorful, and is especially loved by kids. Each cookie is in the shape of a hat and is filled with a variety of confectionery items like candy, toffees, and chocolates. You need to take a bite to discover the surprise hidden inside each one. Needless to mention how dearly children will fall for this sweet goodness!
What does it taste like: Like a cookie, the outside is crispy and will crack with a specific flavor inside your mouth just with a light bite.
Mexican food, especially the dessert dishes, are popular all over the world, with thousands of restaurants in different countries. However, to get the authentic taste of Mexico and Mexican desserts, you must visit this amazing nation and get the real flavors of the sweet dishes of Mexico.