New Zealand's cuisine is all about versatility and variety because of the several dishes it has to offer. Since it is an agricultural country, its edibles have a whole lot of fruits and vegetables, as well as an adequate amount of seafood. A typical Kiwi breakfast would comprise of cereals, toast, and beverages, much like the Continental platter. Their dinner is a more wholesome one where all the members of the family would sit together and have it collectively. Just like their neighbor Australia, countries like Britain, as well as a host of Mediterranean nations, has had a marked influence on their cuisine. Let us check out the list of famous dishes New Zealand has to offer.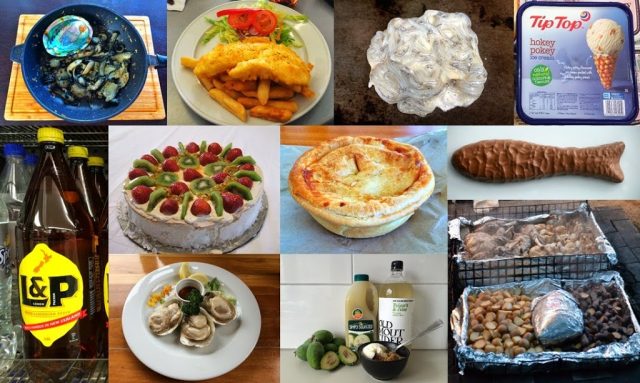 1. Hangi –Traditional Maori Food of New Zealand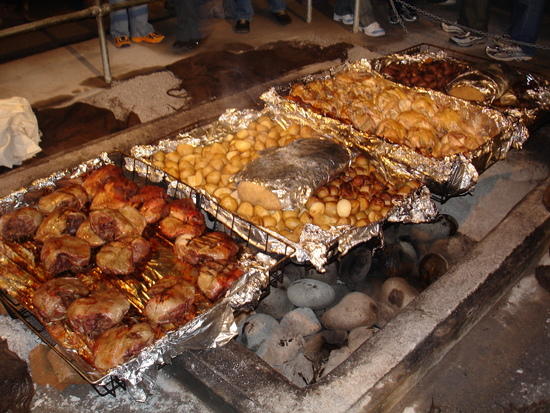 What is it: It is not a dish in the real sense but a traditional method of cooking implemented by the Maori tribe, consuming a lot of time. Traditionally, the meat and vegetables were put in a basket and then placed on rocks, heated in a pit.  Though this method is not too common at present, people set a hangi during festivals or auspicious occasions. People, however, use a slow cooker instead of the rocks.
What does it taste like: The food prepared in hangi would have a juicy, burnt, smoky and moist taste. Besides fish and chicken, root vegetables like sweet potato were used in the hangi method. Of late, this dish includes meats like mutton, pork, and lamb, and vegetables such as cabbage, potato, and pumpkin.
2. Hokey Pokey Ice Cream – New Zealand's Popular Food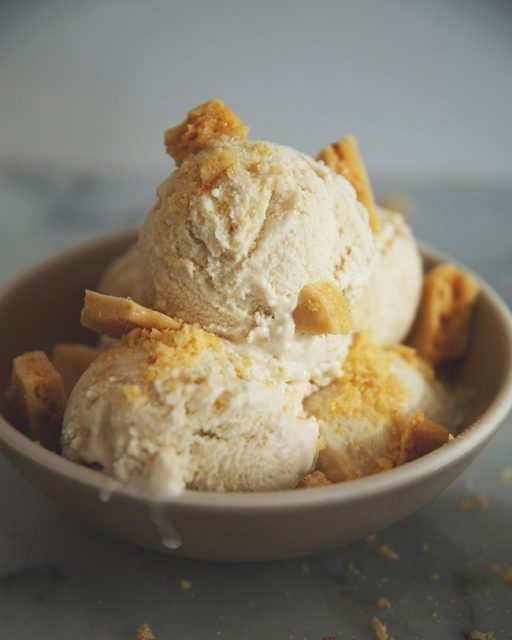 What is it: A famous dessert of New Zealand, hokey pokey is a vanilla-flavored ice-cream garnished with pieces of honeycomb toffee. The term hokey-pokey is a slang used to denote ice cream, and the vendors selling them were called hokey pokey men.                                                                                                            
What does it taste like: A sweet indulgence indeed, where the aromatic taste of vanilla and the spongy flavor of honeycomb toffee, makes it even more irresistible.
3. Lolly Cake – A Famous Confectionary of New Zealand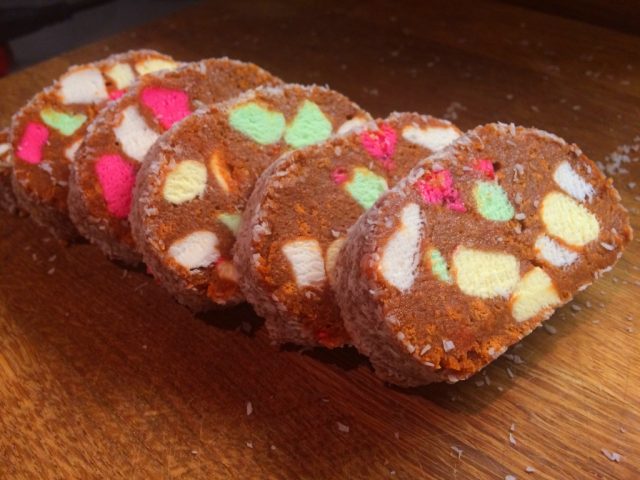 What is it: One of the most sought-after confectionaries of the country found in most bakeries, groceries, dairies, and even petrol stations, it is a cake in the shape of the log. The common ingredients that go in its preparation include fruit puffs, crushed Malt, milk, and coconut.
What does it taste like: Soft, chewy, and amazingly delicious, a perfect treat anyone with a sweet tooth could ask for. The addition of Malt biscuits gives it an even more distinctive taste, balancing its exceedingly sweet flavor.
4. Pavlova – New Zealand's Traditional Dessert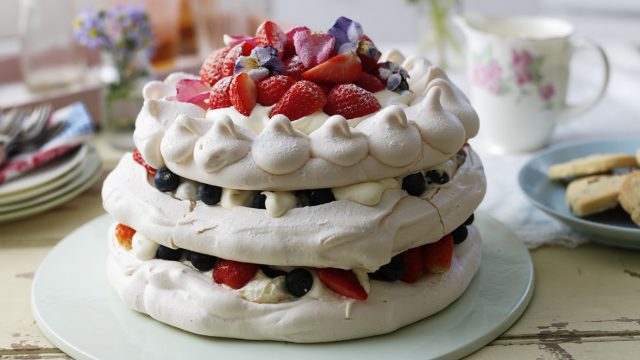 What is it: A meringue kind dessert, it has egg whites, caster sugar, vinegar, vanilla essence, and cornflour as its main ingredients. Its USP lies in the toppings, which comprise of whipped cream and a host of fruits like strawberries, kiwi fruit, and passion fruit. Named after Anna Pavlova, the famous ballerina, it is a favorite summer dish in Australia and New Zealand, mostly eaten during Christmas.
What does it taste like: The taste is unique and versatile, crunchy and crispy on the exterior, and soft and moist within.
5. Anzac Biscuits – A Unique Platter of New Zealand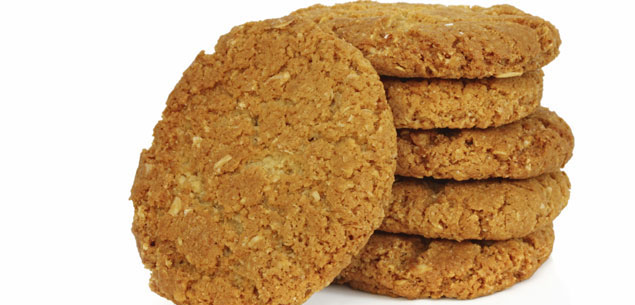 What is it: An oats biscuit with a sweet flavor, which has its association with the First World War, when women sent these biscuits to their men out on the field in distant lands. The best part of it was its shelf life as it stayed fresh for an extended period; the main reason being that eggs were not used to make it since they were scarce during wartime.
What does it taste like:  Soft, chewy, and crunchy, making for a delightful evening snack with a cup of tea.
6. Fish and Chips – A Typical Breakfast Cuisine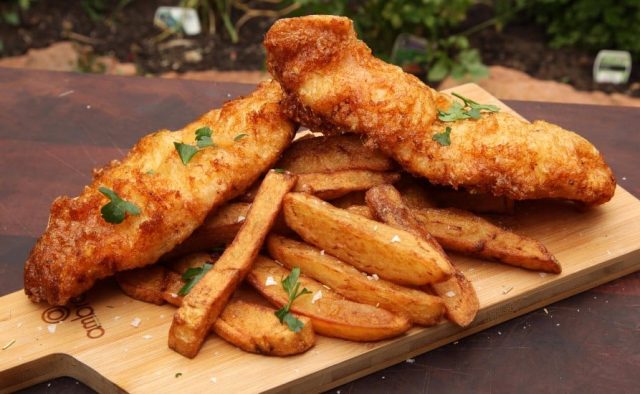 What is it: A savory dish comprising of battered and fried fish teamed with crispy, potato chips. Sold in every shop in the towns or suburbs as takeaway food, the first fish and chips outlets were known to be initiated by the Brit settlers post World War I.
What does it taste like: Fluffy and crispy, this mouthwatering many prefer having it with a chilled beer or other accompaniments like cheese dips or a sauce.
7. Kiwi Burger – New Zealand Special Burger Dish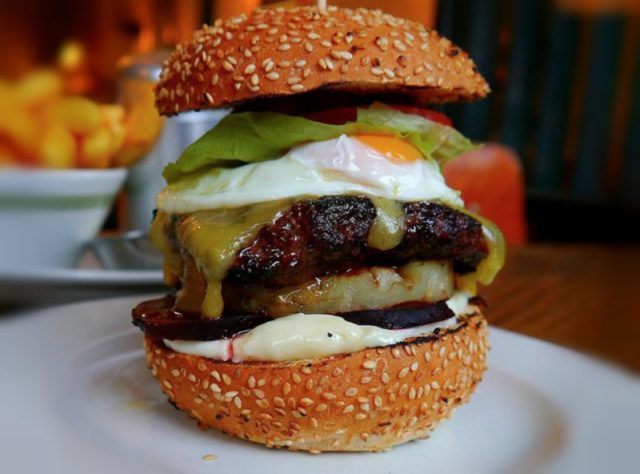 What is it: A jumbo-sized burger, the USP of which lie in the stuffing within the toasted buns, comprising of beef patty, beetroot, lettuce, fried eggs, cheese, and spicy sauces. Added to Kiwi's national menu in the year 1991, Bryan Old, a franchise, was the brainchild of this burger before the introduction of Mc Donald in the country.
What does it taste like: Cheesy and juicy, melting into your mouth instantly.
8. Whitebait Fritters – Kiwi's Traditional Sea Food Dish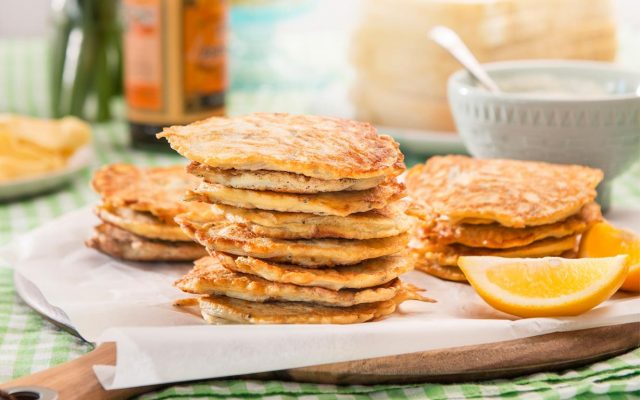 What is it: A delightful combination of a batter of whitebait (fish variety) and eggs fried deep and seasoned with a whole lot of salt as well as pepper. People often team this finger food with lemon wedges or a dip.
What does it taste like: That of eggs mostly dominates the flavor since white baits have not much of taste.
9. Afghan Biscuits –Famous Snack of New Zealand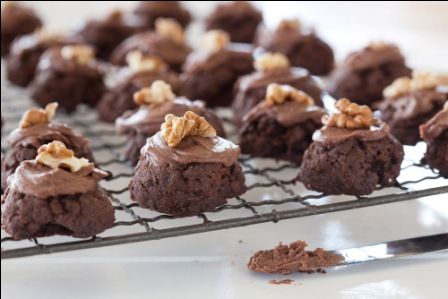 What is it: A traditional choco biscuit prepared using butter, cornflakes, flour, sugar, and cocoa powder. Toppings of half a walnut and an icing of chocolate sit on it as garnishes. There are several speculations regarding the evolution, name, and story behind its origination. One tale goes that a Kiwi lady may have invented these biscuits to send to her better half who was in Afghanistan for a war. There are many such stories though lacking authenticity.
What does it taste like: Smooth and buttery. The chocolate icing is significant in balancing the bitter taste of cocoa, enhancing its sweetness to the fullest.
10. Colonial Goose – Special Kiwi Food
What is it: A roasted preparation of mutton or lamb, often eaten in June during Christmas. Stuffings of onion, parsley, breadcrumbs, honey, and dried apricots, gives it a rich taste altogether.
What does it taste like: Rich soft and juicy, teamed with the crispiness and sweetness of breadcrumbs and honey.
The list given above is just a handful of the various Kiwi dishes that could leave you delighted. So the next time you plan a visit to this island of ecstatic beauty, make sure you keep these foods in your to-eat bucket list.