Both Polish food and culture have a rich history, with the cuisine being counted among the most popular continental foods in the world. This is again a fresh list for all you food lovers out there, to get introduced to a few of the most authentic dishes from Poland.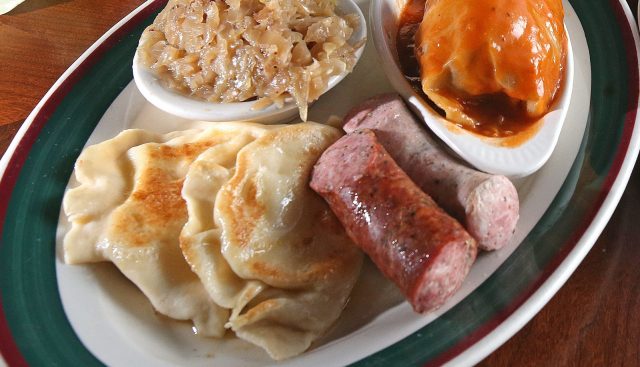 1. Pierogi – A Vegetarian or Non-Veg National Dish of Poland
What is it: Pierogi or Perogi is a famous Polish dish made by stuffing a wrapping of unleavened dough with a sweet or spicy filling, made of various ingredients like sauerkraut, ground meat, cheese, potato, or fruits. It is then cooked in boiling water and served with a topping of melted butter, sour cream, and fried onions. It is also called 'varenyky'.
What does it taste like: The taste varies, depending upon the stuffing used. However, sweet or savory, veg or non-veg, the combined effect of all the ingredients, along with the toppings, is bound to steal your heart, especially when eaten steamy hot.
2. Haluski – Pan-Fried Noodles with Cabbage for Easter & Lent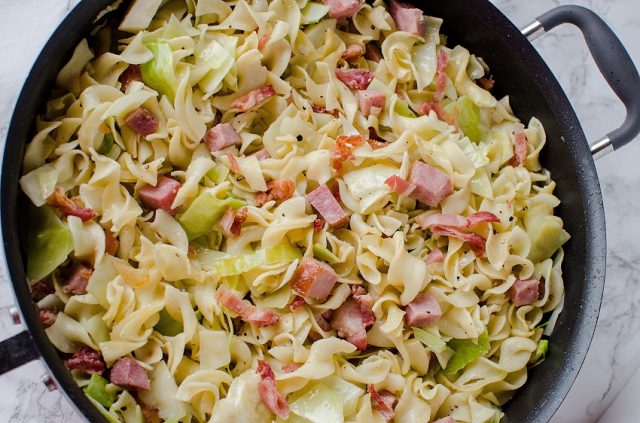 What is it: Halušky or Haluski is traditional comfort food. Basically an egg dish, it is often prepared for holidays like Lent and Easter dinners, and even Polish Thanksgiving. A thick but tender noodle, it can be prepared in both vegan, and non-vegetarian styles. Caggabe is the primary vegetable ingredient used for it.
What does it taste like: This buttery dish combines the flavors of egg noodles and fried cabbage, along with the typical aroma of garlic to satisfy your stomach for breakfast, lunch, or dinner.
3. Golumpki (Golabki) – Typical Polish Cabbage Rolls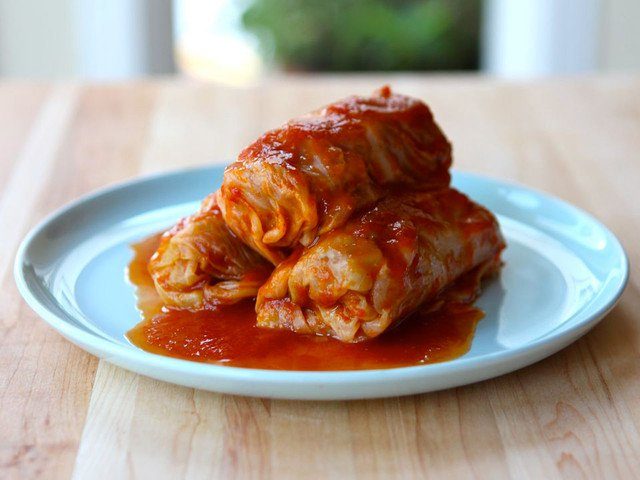 What is it: Gołąbki or Golumpki is a simple cabbage roll stuffed with a filling of ground or minced meat like pork, chevon, beef, etc., along with rice or barley, and onions, before being served with a gravy.

What does it taste like: The secret of the scrumptious dish lies in the combination of the flavored rice, meat, and cabbage. It is often quite spicy.
4. Pączki – Polish Food for Fat Tuesday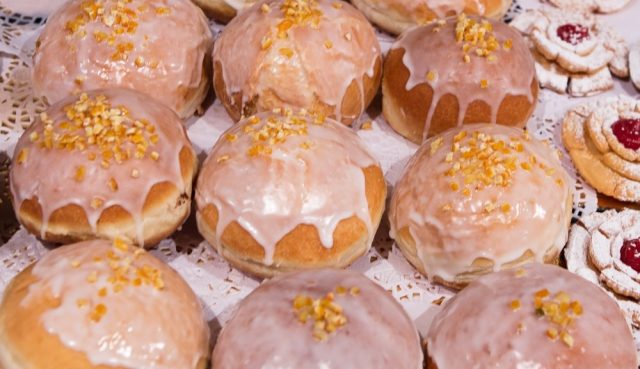 What is it: These stuffed doughnuts are sweet in taste and is a favorite recipe for Mardi Gras or Fat Tuesday, though it is now a typical staple snack in the country. The filling is sweet, while the outside is usually covered with bits of dried orange zest, icing, glaze, or powdered sugar.
What does it taste like: It depends upon the fillings and the toppings used. This can easily be customized according to your preference, sweet or savory, whichever appeals to your taste buds.
5. Kluski – Common Polish Appetizer Dessert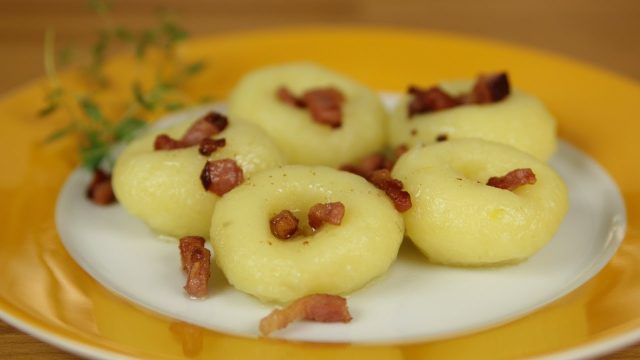 What is it: This is a generic name for a variety of soft and mushy Polish dumpling items that are made without any filling. It is made from an unleavened dough and is mostly served hot.
What does it taste like: The potatoes and eggs render a generic cake-like taste to it; however, it might vary depending upon the way of cooking and the ingredients used.
6. Bigos – Popular Homemade Stewed Meat Dish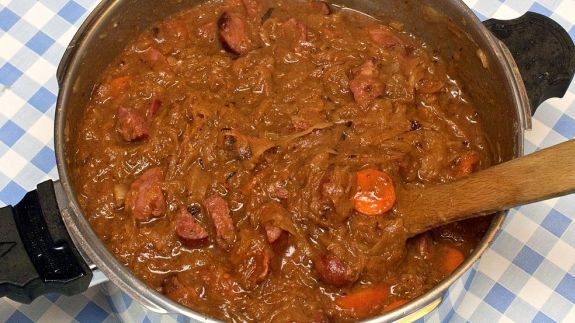 What is it: Bigos is a very common dish of the country, literally meaning 'hunter's stew' in English. This tasty dish is prepared from finely minced meat (pork, beef, mutton, chicken) and is then stewed with shredded cabbage and sauerkraut.
What does it taste like: The flavor of various spices and meat, along with the gratifying taste of fresh cabbage, would make you understand why this is also a national dish of Poland.
7. Kielbasa – Famous Sausage Dish for Polish Weddings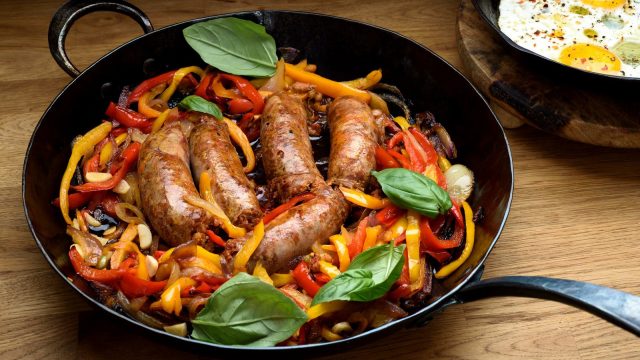 What is it: The recipe of this homemade rustic dish originated in Poland (along with Ukraine) itself. It can either be fresh or smoked, and is made with different kinds of meat, including pork, turkey, lamb, chicken, beef, or veal. The dish is an ideal choice for almost all traditional wedding parties.

What does it taste like: It varies with the type of meat and spices used, as also the process of preparation followed. However, all these variations taste equally awesome and would make you crave for more (you can check a few in the link above).
8. Kapusta Kiszona Duszona – Christmas & New Year's Good-Luck Food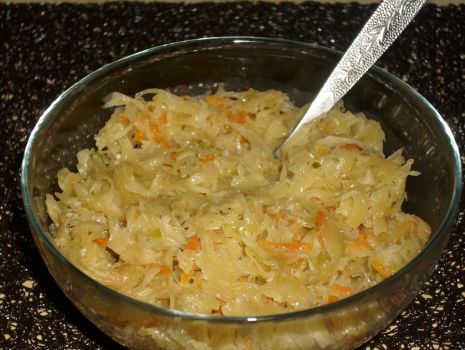 What is it: Often termed simply as 'Kapusta', this again is a traditional cabbage dish, where the vegetable is initially braised or stewed along with mushrooms, bacon, and garlic or onion, and finally seasoned with salt and pepper. At times, apples, bay leaf, sugar, caraway seeds, and paprika are also added.
What does it taste like: When the dish is served hot along with boiled potatoes, especially as a traditional accompaniment of pork cutlets, pork chops, and various pork and other meat dishes, you would get the real taste of the awesome Polish combo.
So these were the Polish foods you need to try (and then, die for), even if you have to plan a trip to Poland to get the authentic taste of the country's culture. However, if you do not have any plans to visit the country in the near future, this list will surely make you consider it.