Siberia is famous for its cuisine and culture, and you must have heard people visiting the country just for the sake of getting a taste of the famous authentic Serbian dishes. So, here we go, with a fresh new list of a few of the best dishes straight from the kitchens of Siberia.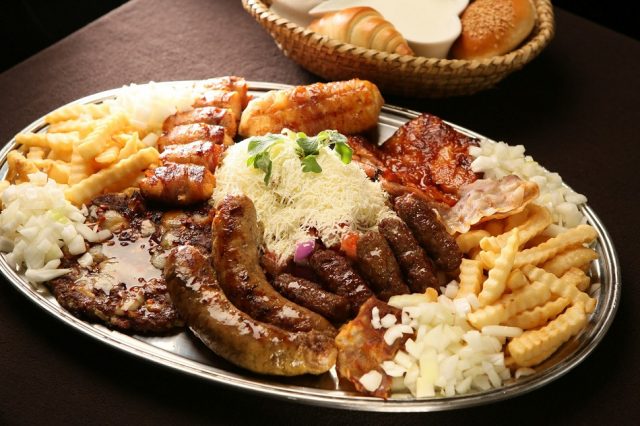 1. Sarma – A National Dish of Serbia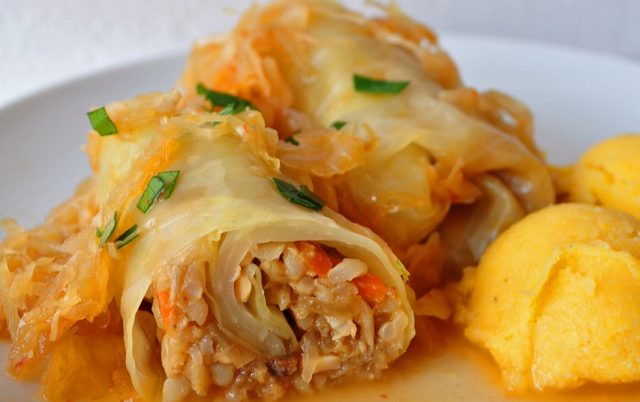 What is it: Sarma is basically meat-stuffed cabbage rolls. It is one of the most famous and oldest Serbian foods, prepared by rolling different kind of minced meats (pork, beef, lamb, chicken, etc.) in cabbage leaves, along with assorted grains like bulgur and rice, and finally baked. The addition of a number of vegetables and herbs makes it rather healthy. Sometimes, vine, monk's rhubarb, or chard may be used instead of cabbage leaves.
What does it taste like: The aroma of minced bacon, beef, combined with the herbs and other spices gives this local dish an amazing flavor, as well as taste.
2. Česnica – Typical Ceremonial Bread for Christmas
What is it: Česnica has a history of its own, also associated with an interesting Serbian Xmas ritual. During the process of preparing, a coin is put inside the bread and rotated in a special way so that the bread itself is broken into several pieces. Soon after, each of the family members picks up a piece. The one who gets the coin is considered lucky, with the coming up being blessed for them. The egg is made traditionally using milk, eggs, poppy seeds, and yeast.
What does it taste like: This simple Christmas menu is made with simple ingredients, but strikingly, has a really wonderful flavor. The texture is tender and the bread will surely melt in your mouth.
3. Koljivo – Vegetarian Ritual Food for Slava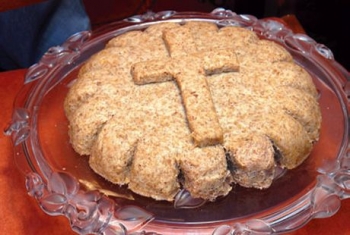 What is it: This is a boiled wheat dish prepared mostly on the 'Slava', as well as several occasions related to the commemorations of the dead, like Mnemosyno, and Lent.  However, the dish has become so common  that it is consumed on nonreligious occasions too. It is also known by several other names like kollyva, kollyba, and colivă.
What does it taste like: The combined essence and flavors of several fresh fruits, spices, confectioneries, dry fruits render a special flavor to this age-old dish.
4. Karadjordje's Schnitzel – A Historic Junk Food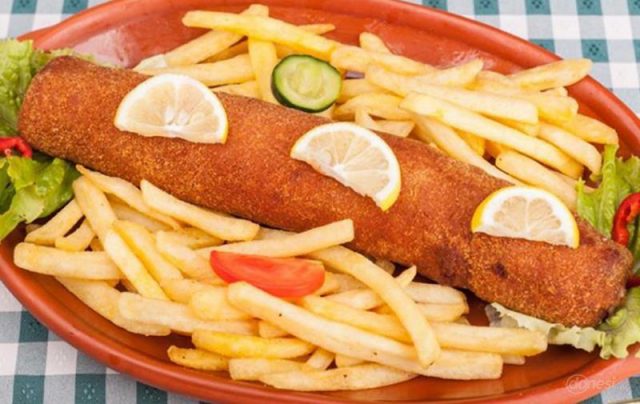 What is it: Known in the local language as Karađorđeva šnicla, this is a Serbian bread cutlet menu that had been named after Karađorđe, a Serbian ruler. This dish is basically a roll of veal or pork steak with a stuffing of kajmak (a milk-based cheesy side dish), and finally deep-fried. This common street food is available in almost all restaurants and is traditionally accompanied by tartar sauce and some roasted potatoes.
What does it taste like: The dish has a very subtle flavor with the addition of so many contrasting ingredients like smoked ham, pork/veal, mozzarella cheese, pickles, dry white wine, and green salad.
5. Börek (Burek) – Famous Baked Breakfast Dish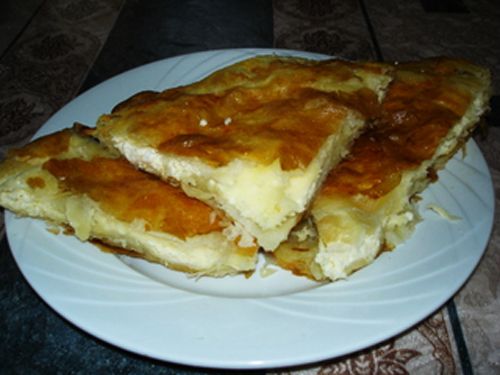 What is it: Börek can be prepared in many different ways. It is actually a stuffed bread baked with varying ingredients, including meat and/or vegetables, traditionally topped with sesame seeds, and is consumed in almost all households in Serbia.
What does it taste like: Be it cooked in a vegetarian or a non-veggie style, burek is bound to steal your heart with its delicious taste and unique texture, especially when served hot.
6. Kobasice – Common Serbian Sausage Snacks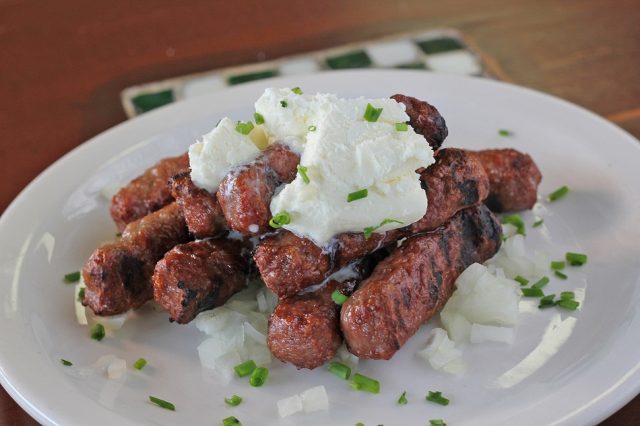 What is it: There are also different variations of this sausage dish including krvavice (blood sausage), sremska domaca kobasica (srem sausage), and svargla (head cheese). While some may require frying, the others can simply be consumed cold as appetizers.
What does it taste like: These traditional junk food dishes vary in taste according to the sausage and other ingredients used. But whichever you choose, you will certainly get to know the unique flavors of the typical Serbian item.
7. Ajvar – Roasted Spicy Red Pepper Dip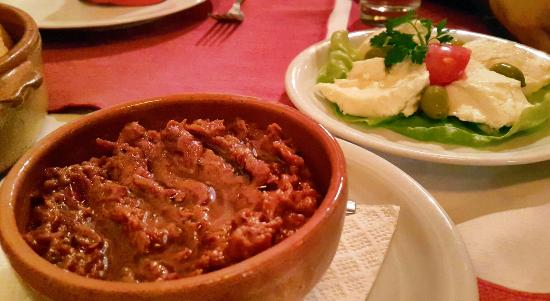 What is it: This is also a traditional Serbian sauce served aside a number of meat and non-meat dishes.
What does it taste like: It has a rather tangy flavor, and interestingly, the combination of unique ingredients like red bell peppers and eggplant are sure to surprise your tongue.
8. Moussaka (Musaka) – Layered Potato-Meat Dish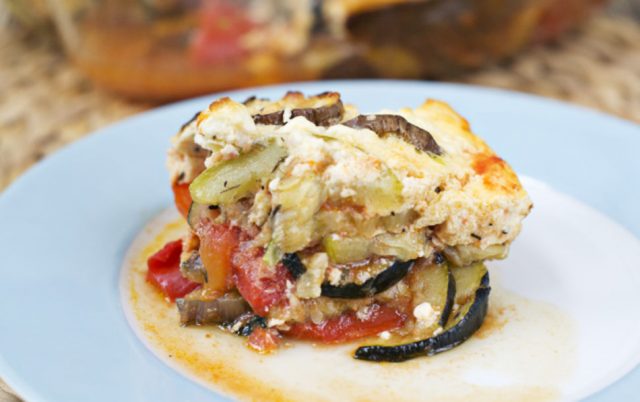 What is it: This dish is prepared by the Serbs in layers of potato and minced meat, accompanied by assorted spices, and has several regional variations. Eggplants may be used in some variations.
What does it taste like: The warm flavor of cheese, mixed with meat, potatoes, garlic, onions, and pepper will make your mouth water right from the very first bite.
9. Knedle – Dumplings filled with Ripe Plums
What is it: This dumpling dish has been on Serbian menus for years, and is commonly served as a dessert, or just to welcome guests and friends. The dough is made from potatoes,along with a few other ingredient), further filled with a prune plum mixed with a variety of spices.
What does it taste like: The dish has a sweet but rich flavor, especially due to the unique combination of potatos in the outer crust and plums in the inner.
10. Krofne – Serbian Style Doughnuts with Jam Filling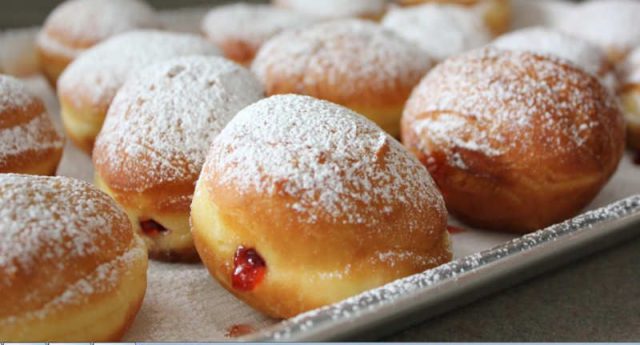 What is it: This sweet dish is interesting in the sense that it is filled with fruit jam, and is loved by all and sundry, eight to eighty. It is served in almost all kinds of parties and gatherings.
What does it taste like: The amazing flavor of the doughnuts are enhanced with the addition of different spices, and of course the jam that squeezes out with every bite.
The list acquaints you with the most famous Siberian dishes, including starters, snacks, fast foods, main courses, and dessers. So, if you are a genuine foodie, delay not in planning your next trip to this amazing country.