Thai desserts have a style of their own. Fruits like coconut, pumpkin, banana, mango, jackfruit, and pineapple play an important part in making different dishes including sorbet, pudding, jelly, and ice cream. Here is a list of the most popular desserts from the exquisite quisine.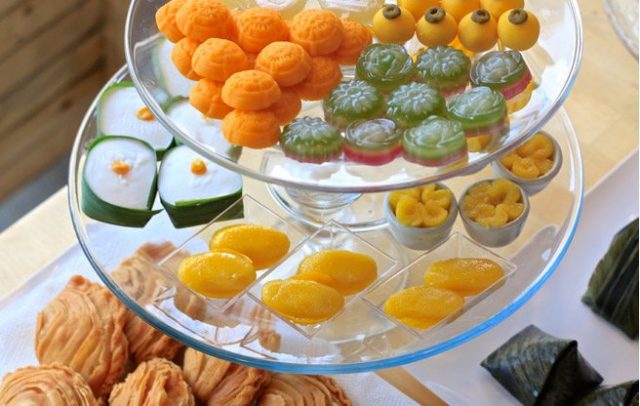 1. Khao Neeo Mamuang – Traditional Thai Sticky Rice Dessert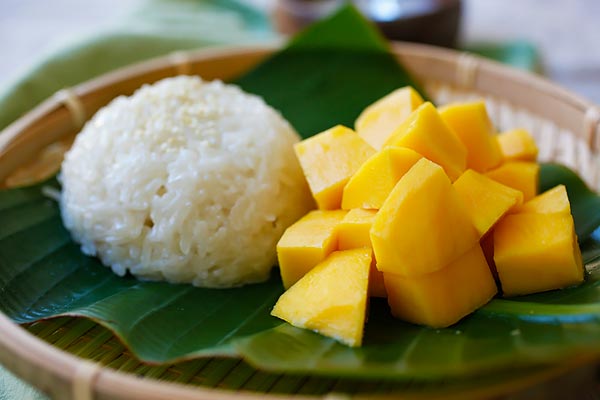 What is it: Translated as 'mango sticky rice' (alternately, Khao Niew Kanun for sticky rice jackfruit dessert and Khao Niao Gluay for the Thai banana dessert with rice), this highly popular and authentic dessert from Thailand is prepared using sticky white or black rice, fresh coconut milk and chopped mangoes. It can be served traditionally on a banana leaf after a lunch or a dinner party. It is popular for parties like weddings, New Year or religious gatherings.
What does it taste like: Because of the compulsory use of mangoes, this healthy and vegan kitchen dessert can only be enjoyed as a summer dish. The aroma of scented rice, combined with that of fruits like coconut and mango renders a very delicious taste and a classic flavor to this dish.
2. Look Choop – Popular Colorful Candy Dessert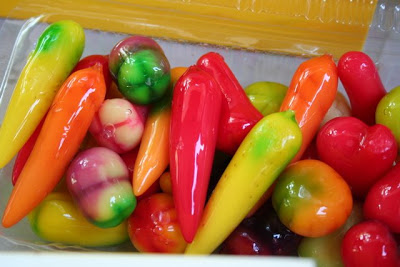 What is it: Also spelt as Luk Chup, these popular sweets originated in Portugal. The fusion candy dessert is made of a paste derived from mung beans and coconut milk, and is then shaped like fruits, and vegetables, before being colored accordingly. Presently, variations using chocolate powder are also made.
What does it taste like: These candies are quite sweet in taste along with the typical flavor of mung beans.
3. Khanom Chan – Auspicious Layered Cakes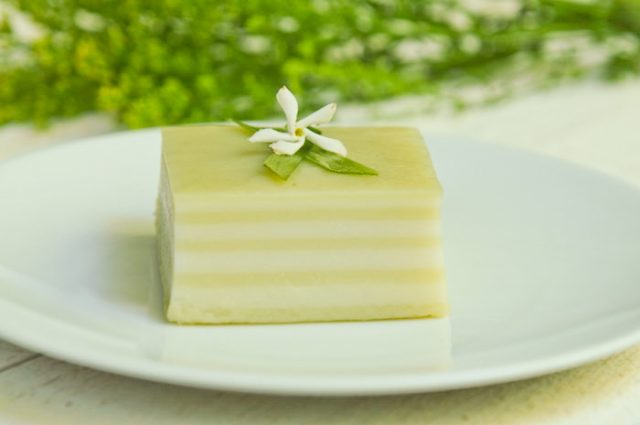 What is it: This one is a very ancient item commonly prepared during religious ceremonies. While 'Khanom', in Thai, means dessert, 'Chan' is layer. Thus, this Steamed coconut cake is often served with lemongrass, and has simultaneous nine layers made of different ingredients.
What does it taste like: The cake melts in the mouth with all the tastes of tapioca (alternatively, sweet potato), jasmine-scented white tea, coconut, and the other aromatic substances used.
4. Tub Tim Grob – 'Red Ruby' Dumplings in Coconut Milk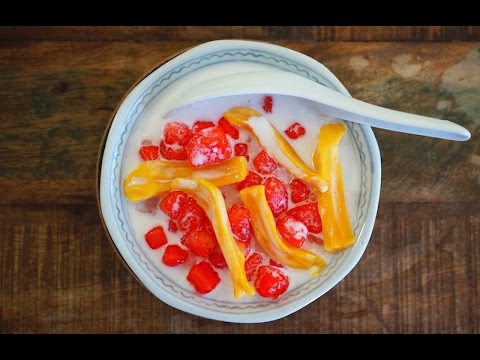 What is it: This famous bright red dessert food is made of dumpling balls cooked in coconut milk and other sweeteners and flavorings.
What does it taste like: This can be served cold or warm. Either way, the mixed aroma of all the spices will make this dish ideal after a traditional and spicy Thai curry dinner.
5. Crispy Thai Roti Dessert – A Sweet Pancake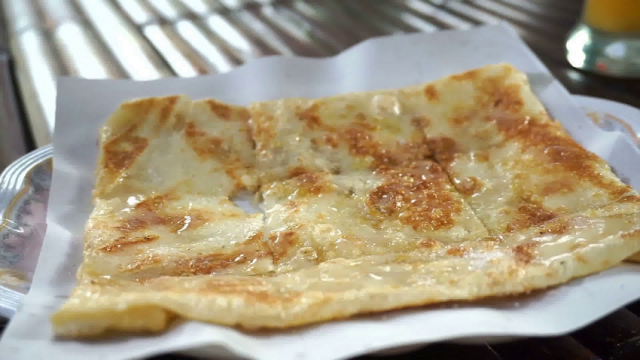 What is it: A quick kitchen and street food, crispy rotis is a hot dessert, and is probably favorite to almost everyone in Thailand, especially from the Northern part. It is also one of the base staple dishes that can be made in different ways and ingredients (including ginger, or herbs like lemongrass), and can be consumed with a variety of other dessert dishes like sweet fried bananas, Thai sago dessert with coconut milk, Bua Loi, and Kanom Krok.
What does it taste like: The roti is sweet with a tender texture, and the taste further enhances with (and depends upon) the choice of dessert consumed along with.
6. Thai Tako – Layered Coconut Pudding Dessert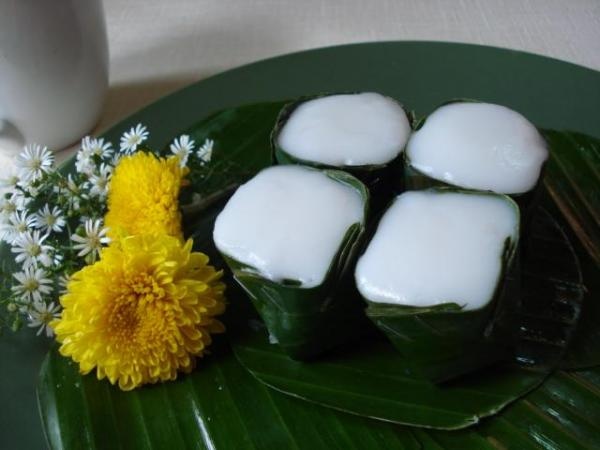 What is it: This is a layered dish, something in between pudding and custard, made mainly from mung bean flour and water chestnuts along with coconut milk.
What does it taste like: Though the flavor of coconut milk is common in Thai foods, the usage of it here goes perfect with the unique aromas of both mung bean and water chestnut.
7. Sankaya – Coconut Custard Stuffed in Pumpkin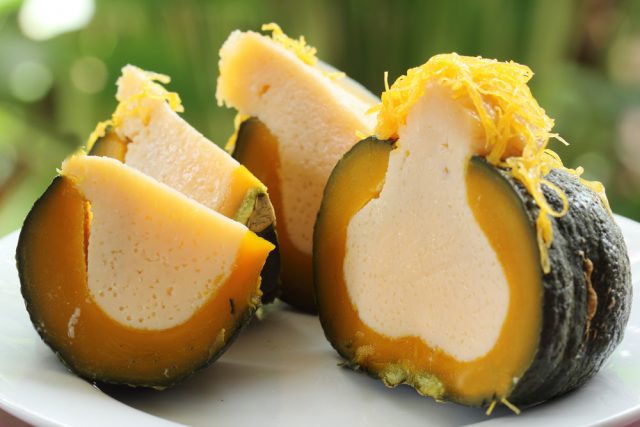 What is it: This custard dish is made from pumpkin, eggs and coconut milk. However, the eggless veggie version is also available. Interestingly, the custard is cooked inside a whole pumpkin and can be served either hot or iced.
What does it taste like: This dish is queer in the sense that the coconut custard is served along with a slice of pumpkin, and is eaten together with it. The tender pumpkin with the fillings releases a typical scent of vanilla, mixed with palm sugar and coconut milk.
While it is interesting to know the history and everything about these dishes, it is also important for you to consider a visit to this beautiful Asian country not just for these yummy Thai desserts to try, but also to witness the beautiful culture and scenic beauty of the place.