Turkish desserts are well-known around the world in their own right. Apart from the main course delicacies from the country, the desserts from Turkey includes some of the most eye-catching as well as heart-melting items. Here is a list of a few of the best sweet dishes from Turkey, along with their regional names and interesting details. So, here you go: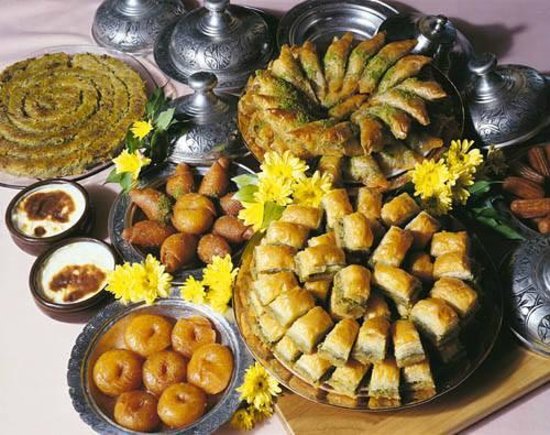 1. Kunefe – Ancient Arabian Pastry Dessert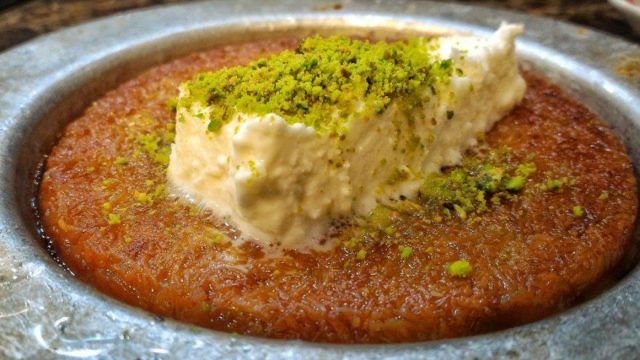 What is it: Known by various names, including kunafeh, kunafah, knafeh, and künefe, this is a traditional 10th-century dessert invented in the then Palestine, and is prepared from cheese pastry coated with a sugar-based syrup. A common choice for Ramadan parties, presently the dessert is popular around the Arab world, Egypt and the Eastern Mediterranean regions.
What does it taste like: It is somewhat spongy with a subtle sweetness, and releases the aromas of essences, dry fruits, and other condiments used, like rose water, pistachio, milk, and cheese, especially when served hot. The addition of very fine vermicelli adds to its classic taste.
2. Ayva Tatlisi – Authentic Turkish Quince Dessert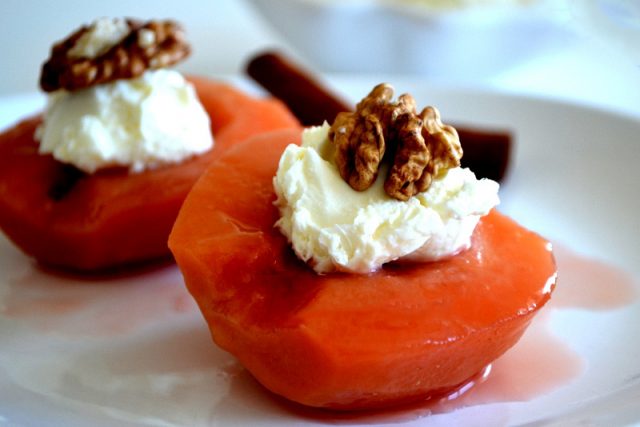 What is it: Ayva Tatlisi is a healthy vegan Turkish dessert, the primary ingredient of which is the quince fruit (known as 'ayva' in Turkish). The quince is initially tendered by boiling in water, or in the oven, along with cloves and sweet syrup, a process that gives it the typical custard-like sluggish appearance. It is then served in halves with fillings and a fruity topping. The dish is typically served warm during the winter, as also in the festival and holiday gatherings like Ramadan, and Christmas.
What does it taste like: The use of spices and syrup gives this dish a typical aroma. The different kinds of fruits and nuts have also rendered a fresh flavor to this dish.
3. Burma Baklava – Sweet Confectionery Stuffed with Pistachios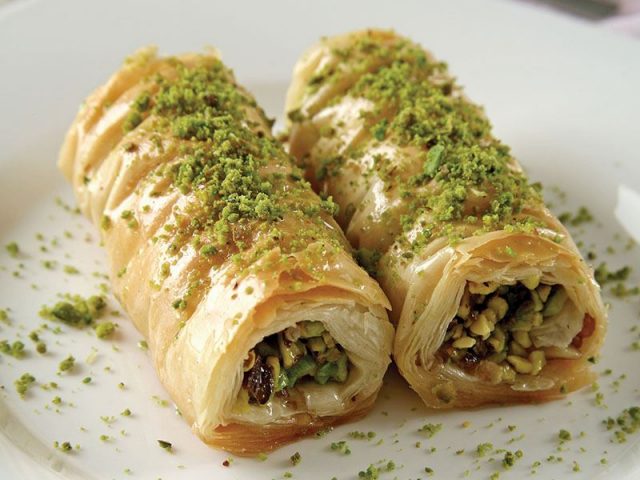 Haiderhuseini2011.wordpress.com
What is it: This layered dish is rather crispy and crunchy, unlike most other sweets and desserts. Burma Baklava is basically made of shredded wheat dough that has been filled with pistachio and then fried in some oil and/or butter. Before serving, the dish is drizzled with caramelized sugar.
What does it taste like: The typical buttery flavor is the main characteristic of this crispy dish. Additionally, it has a mild sweet taste and a wonderful flavor and scent of fresh pistachios.
4. Tahini Halva – Healthy Turkish Sweet Meat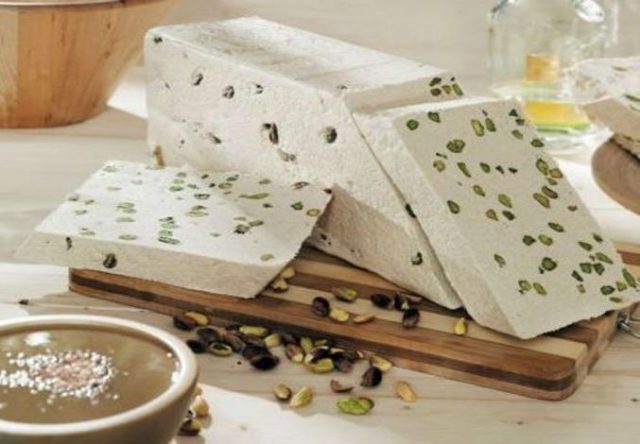 What is it: Tahini is a condiment prepared from roasted and hulled sesame seeds, especially popular for making desserts in the mid-eastern countries. Halvah (AKA halwa, halavah, halva, and helva), on the other hand, is made from various dense, sweet confections, that originated in the mid-east, but is now enjoyed all across the world. Tahini halva is often flavored with coffee, vanilla, chocolate, rosewater, orange oil, etc.
What does it taste like: The dish is smooth and tender, and when you give a bite, it will melt in your mouth. The combined flavors of nuts and sesame are the best thing that has happened to this dish. It is often enjoyed with sweet bread, a common side dish in the country. This bread, in turn, can be made of a wide variety of ingredients and can be filled with different stuffings.
5. Lokma – Turkish Sweet Balls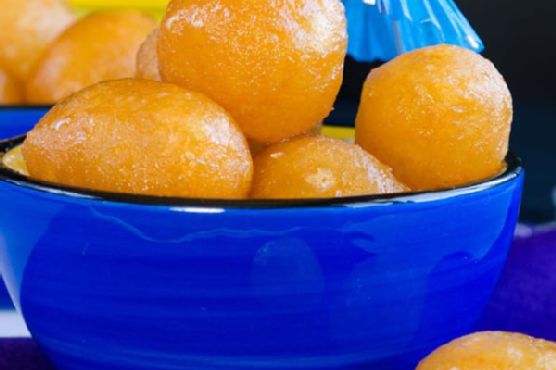 What is it: Lokmas are bite-size pastries. In other words – a fried, sweet dough, coated in simple sugar syrup, and served as a dessert. This Turkish-Cypriot dessert is popular as an accompaniment to coffee. Alternately, you can add other toppings including honey, cinnamon, chocolate sauce, sesame, or grated walnuts to enhance the taste.
What does it taste like: These small and crispy balls are usually served hot and when you take a bite, your mouth will be filled with the individual flavors of all the ingredients. Interestingly, it has a mild sour taste due to the addition of lemon juice.
6. Sweet Borek – A Popular Dessert Snack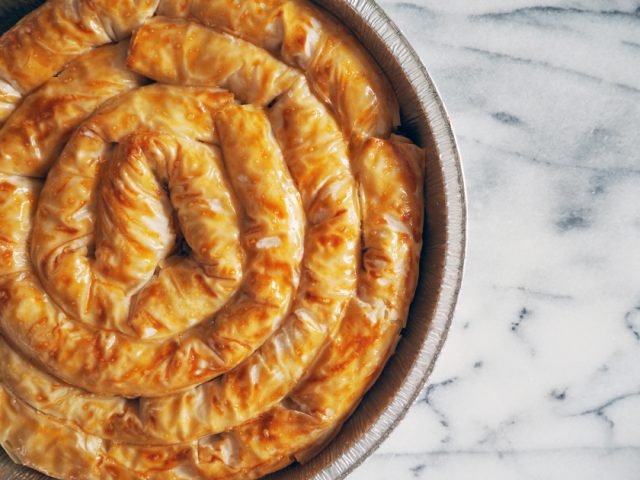 What is it: While a borek can have any stuffing, starting from meat, cheese, vegetables (nettles, pumpkin, sweet potato etc.) to pistachios, apricots or fruits, along with sugar, the sweet varieties are mainly served as a dessert.
What does it taste like: The smell and flavors of dry fruits and apricots, mixed with honey will make your mouth water right from the time of baking.
7. Turkish Delight (Lokum) – Renowned Jelly Sweets from Turkey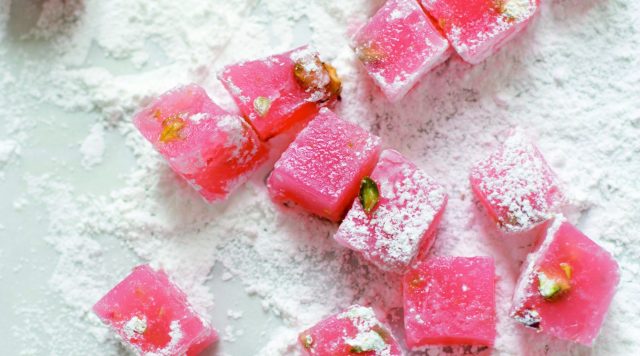 What is it: Turkish Delight, also called Rahat Lokum, or simply, Lokum, are a group of chewy sweets of Turkish origin, and is based on a starch and sugar gel. The dish can have multiple variations each with a flavor of its own and garnished with dry fruits including almonds, hazelnuts, and pistachios.
What does it taste like: The variety of flavors including rosewater, Bergamot orange, lemon or mastic, mixed with the essences and toppings, as well as the appealing and colorful getup can bring out the child in you.
8. Keşkül – Turkish Almond Milk Custard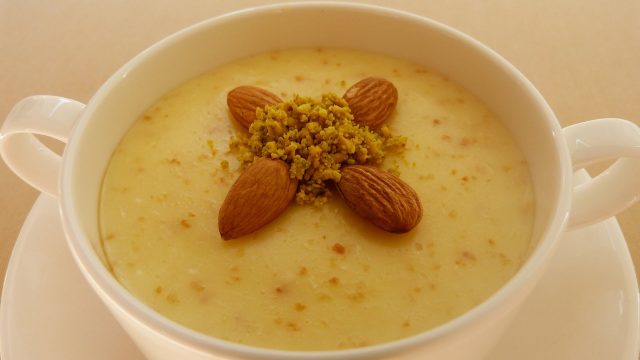 What is it: Keşkül is a Turkish style variant of custard, and is prepared from a type of almond-based milk. The off-white dessert is often served cold in a bowl, along with a typical spoon, garnished with toppings of shaved coconuts, pistachios, and whole almonds.
What does it taste like: The delightful taste of almonds and garnished pistachios (and/or coconut) combines effectively with the classic aromas of egg and vanilla to give you the perfect flavor of a classic Turk dessert.
9. Kataifi – Crispy Baked Turkish Dessert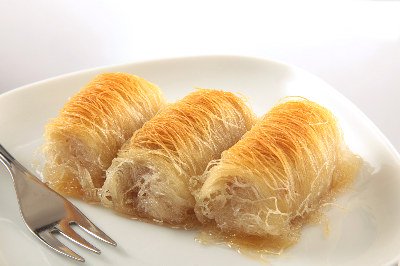 What is it: Kataifi is a simple yet delicious dessert made from various spices, flavorings, and dry fruits. Despite its complicated look and texture, it can be baked and served readily upon ordering in any restaurant. It most commonly has a walnut filling (may have other nuts too), along with ground cinnamon and clove seasoning.
What does it taste like: The crispy golden brown coating, filled with the aroma of cow milk butter as well as all the nuts and spices create the most unique and satisfying taste.
10. Kadayif – Baked Traditional Palestinian Dessert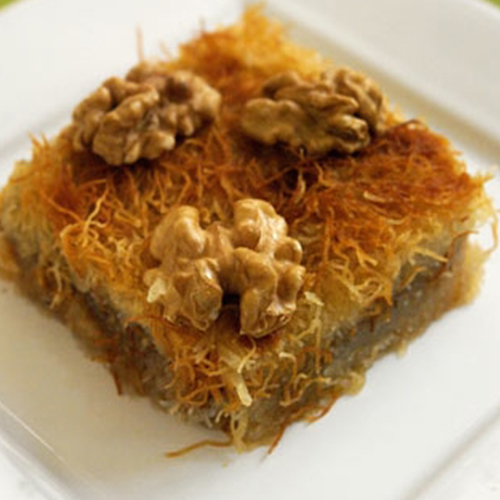 What is it: Kadayif or Kadaif is made from a finely-shredded filo (phyllo) dough and then baked along with walnuts. The crispy dish is very popular throughout the country, especially during the holiday seasons.
What does it taste like: The scent of melted butter with freshly baked Kadayif and the dry fruits is bound to turn you crazy with its appealing smell.
11. Revani – Sweet Pastry Cake Dish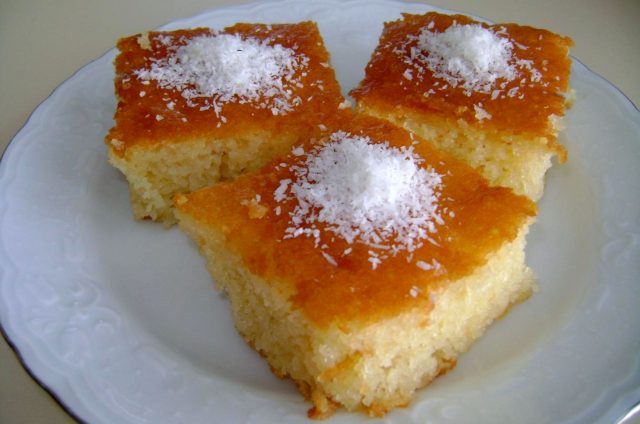 What is it: Also called Basbousa, Revani is a traditional sweet cake from the country that is based on semolina or farina, and is soaked in a simple sugar syrup. Often, shredded coconut is also added to the baked pastry.
What does it taste like: The spongy baked semolina will melt in your mouth, leaving behind trails of the other flavors, including the coconut (if added).
12. Sutlac – Turkish Sweet Rice Pudding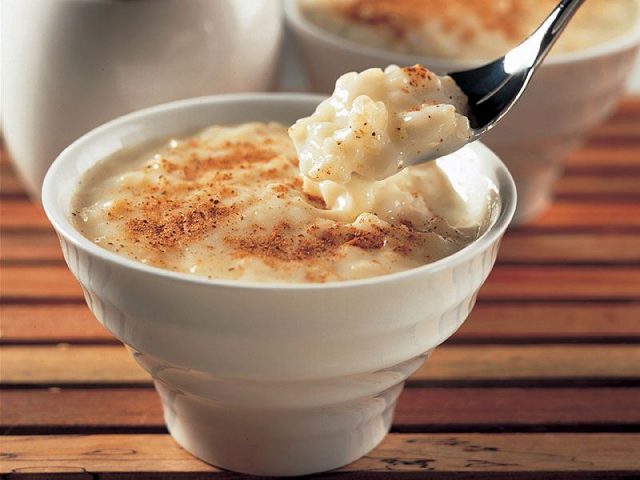 What is it: This rice pudding is a common dish and can be consumed not merely as dessert, but also as a main-course item at dinner. Sütlaç is prepared by mixing rice with milk or water, along with different spices and garnishes including cinnamon, and raisins. Although not necessarily sweet, some sweetener, like sugar, is added when intended to be served as dessert.
What does it taste like: The combination of flavored rice goes very well with the essence of vanilla and, of course, the thickened milk used. When eaten cold, it will surely make you ask for more.
13. Tavuk Gogsu – The Signature Chicken-Dessert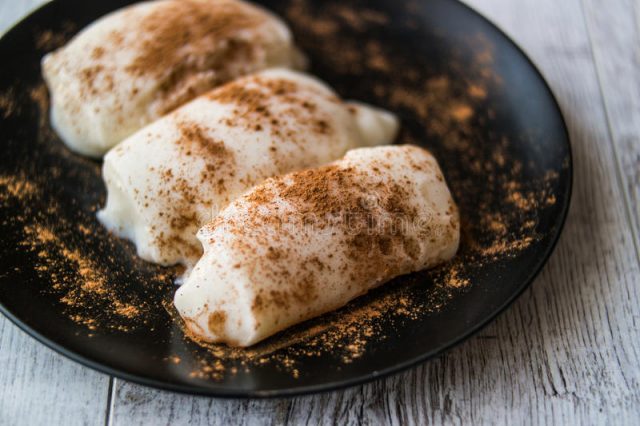 What is it: Tavuk Göğsü (literally translates to 'chicken breast') is a unique dish in the sense that it is a dessert made with chicken! Not just that, this pudding is currently considered as a 'signature' dish of Turkey. Interestingly, during the reign of the Ottoman sultans, this dessert would be served to the royals at the Topkapı Palace.
What does it taste like: The dish is both sweet and salty, with an exclusive flavor. The chicken breast used in this dish, along with all its flavors and scents of spices, gets so tender during the process of cooking that it would melt in your mouth.
14. Ashure – 'The Pudding of Noah'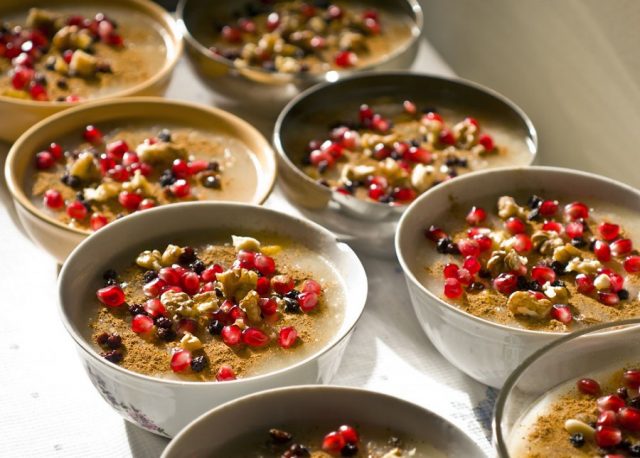 What is it: Ashure (or Asure), also called Noah's Pudding, is a Turkish dessert porridge dish with a Biblical reference in its very name. The dish is so old that it is thought to have been first cooked by Noah, who survived the 'great flood', using a variety of items available during his time.
What does it taste like: This is primarily a mixture of fresh and dried fruits, grains, beans, and lots of nuts. Its varied ingredients make it a storehouse of flavor with a sweet surprise.
15. Kazandibi – Caramelized Dairy Pudding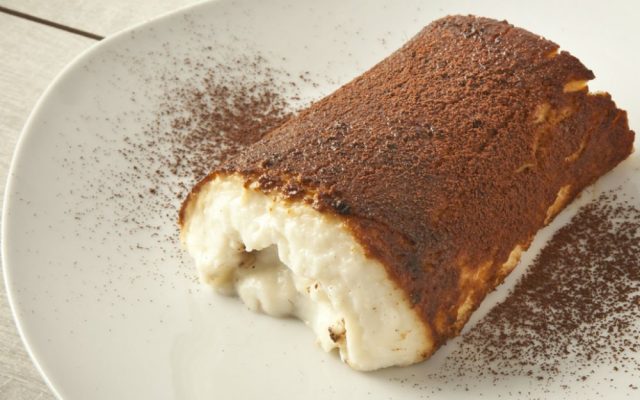 What is it: Kazandibi (literally meaning 'the bottom of the pan'), a counterpart to the Tavuk Gogsu, was a favorite to the sultans of the Ottoman, and was an important item in the royal cuisine. Basically, it is nothing but the 'chicken breast' pudding that has got stuck around the bottom and sides of the cooking pan. The pudding has also been popular beyond mid-east, earning its own English name – 'Clink'.
What does it taste like: As the cooking style suggests, the dish has a smoky flavor (as the outermost layer of the pudding directly touches the surface of the pan), with a lingering aroma of chicken and various spices.
While you went through this long list of sweetmeats, you must have been planning where and how to get a taste of these. The most authentic way to try these desserts would be to take a short vacation and fly to the beautiful nation of Turkey.