"A Treehouse, a free house,
A secret you and me house,
A high up in the leafy branches,
Cozy as can be house….
Well just as the lines of this famous poem by Shel Silverstein, who wouldn't want to laze away from the din and bustle of their monotonous life and spend a whale of a time in cozy, comfy tree houses situated amidst lush green trees as well as a magnificent serene ambiance. Well, if you dwell in Ohio or at close proximity to it, then the state has a host of comfortable hotels or homestays designed in the form of a tree house for you to spend your vacation. Here is the list that follows which would help you in making your choice at the earliest.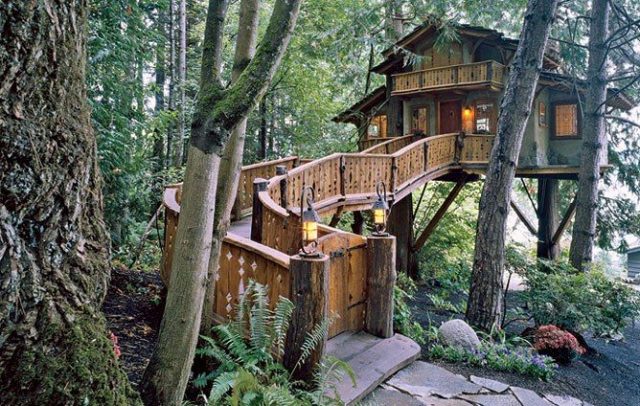 1. Whispering Pine Tree House, Millersburg
One of the beauteous tree houses situated in the Amish Country, the luxury, comfort and pleasant ambiance it has to offer would simply take your breath away. Situated at an elevation of 22 feet, some of the amenities it offers include a stone jacuzzi, a fireplace at one end of the living room, king-sized mattresses, a complete kitchen (for those who desire to quick) with cooking utensils, a host of kitchenware, microwave, freezer, refrigerator, and a coffee pot. The cleanliness of the place, teamed with the picturesque landscape of the white pines that can be viewed as you sit on the deck, makes it one of the choicest places to visit for a quiet yet romantic vacation.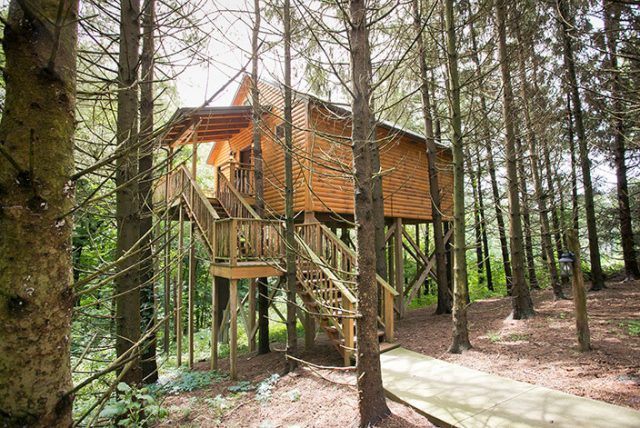 2. Old Pine Treehouse, Mohican Valley, Glenmont
Adjacent to two other tree houses by Pete Nelson, this one was constructed recently in 2015, with an antic feel and a rustic look. Kevin and Laura Mooney is instrumental behind building this luxurious property that sits amidst the gentle hillside, amidst lovely oak and pine trees. The basic amenities include a miniature kitchenette, a comfortable living room, a big bedroom, a small eating space as well as a deluxe bathroom. Wooden stairs, as well as a suspension bridge, gives access to this unique property. Ensure to make your reservations way before your stay as getting a booking in this magnificent work of art could be a little difficult.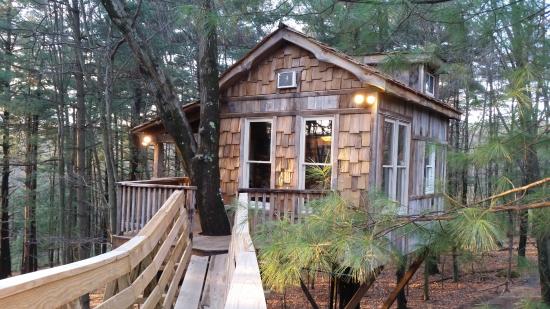 3. The Little Red Tree House, Mohican Valley, Glenmont
This is one of the two tree houses designed by the famous author, television show host and treehouse designer Pete Nelson, particularly for the popular Animal Planet series "Treehouse Masters" that features the latter. In the beginning, the motive behind building this was to convert it into a brewery for Nelson's Treehouse Brewing Company Beer, but after it was aired on television, plans changed and with a further renovation, the structure was transformed into a gorgeous tree house cabin, where overnight lodging was available. The entire tree houses possess red paint on its outside, making it look like the barns of the same color present in the countryside of Ohio in the 1800s. At the entry one would find wooden stairs, leading them to a 30 feet extension bridge. Amenities like an outdoor shower, kitchenette (equipped with a toaster, electric cooktop, microwave, coffee maker and toaster), indoor toilet, electric heating unit/air conditioner (winter/summer), and a queen bed along with a loft are present to make your stay a fulfilling and comfortable one. Accommodation is available for two people and an extra addition would make it a little crowded.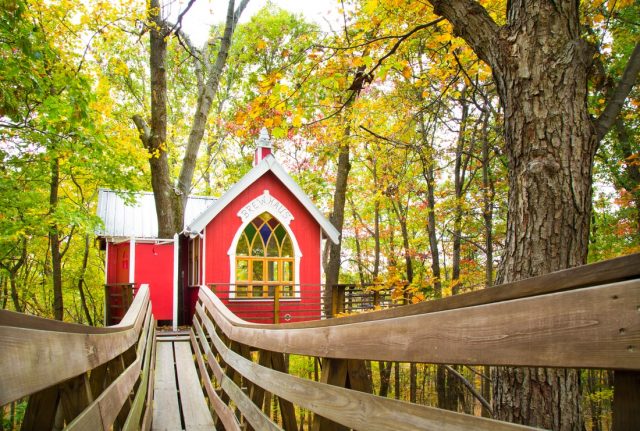 4. Lofty Willows Tree House
Situated at the Pine Clove Lodging, this is a newly built tree house, at an elevation of 22 feet. Rustic wooden furniture, king-sized beds, rocking chairs, a fully equipped kitchenette, and an electric grill, are some of the amenities that this amazing tree house has to offer. This amazing property would be a perfect treat for those who desire to celebrate their honeymoons or anniversaries in serenity amidst greenery and scenic beauty.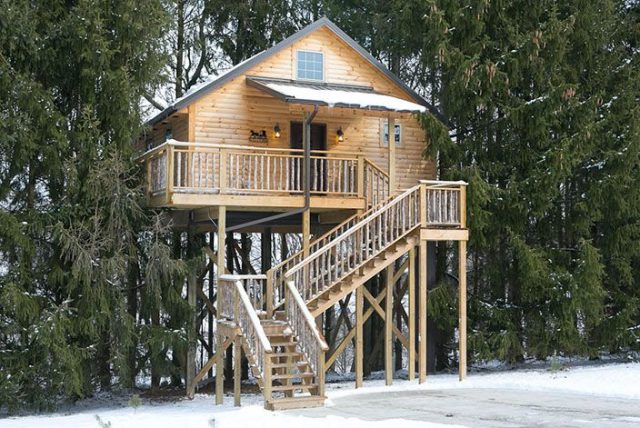 5. The Grand Barn and Treehouses at "The Mohicans", Glenmont
The rustic scenic beauty, wonderful decorations, and hospitality of the staffs make this a sought-after wedding venue. Of the several facilities it has at its disposition, a unique one is the wedding packages for twelve guests in total which involves facilities like night stay for the newlywed, the service of an officiant, arrangements of bouquet and boutonniere, wedding cake, as well as a photographer. Another icing on the cake is their availability of a photo booth with state-of-the-art technologies.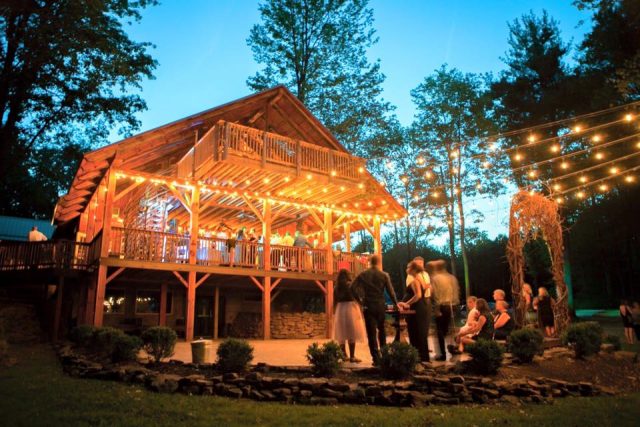 6. The Canopy Treehouse, Hocking Hills
Constructed after being inspired by the famous treehouse builder Pete Nelson's work, this log cabin is 20 feet from the cabin, built for all seasons. Completed in 2017, the tree house can accommodate four guests in one go, alongside facilities like a heater, air conditioner,  kitchen with all the essential commodities, granite counter tops, a gas fireplace, king-sized bed, Wi-Fi services, as well as big doors to accommodate wheelchairs.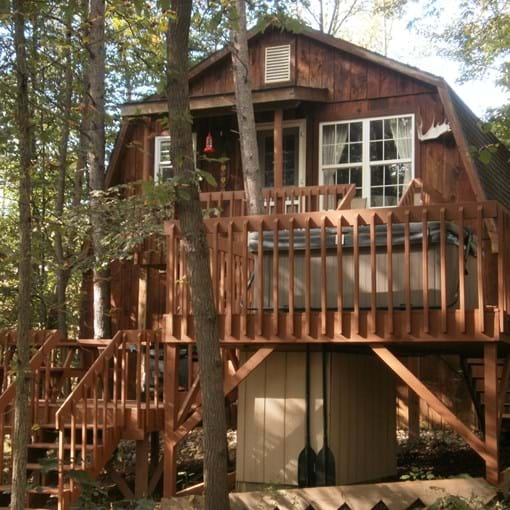 7.  Wild Cherry Tree House, Berlin
Another perfect romantic getaway to cherish amidst the lap of nature, this establishment would woe you to the fullest with its rustic interiors alongside a whole lot of amenities it has to offer like a stone jacuzzi, king-sized bed, a spacious kitchen equipped with all the basic essentialities, as well as elegant furnishings. You would be in complete awe of the place particularly when you visit it in winters when it remains embraced in thick coverings of snow.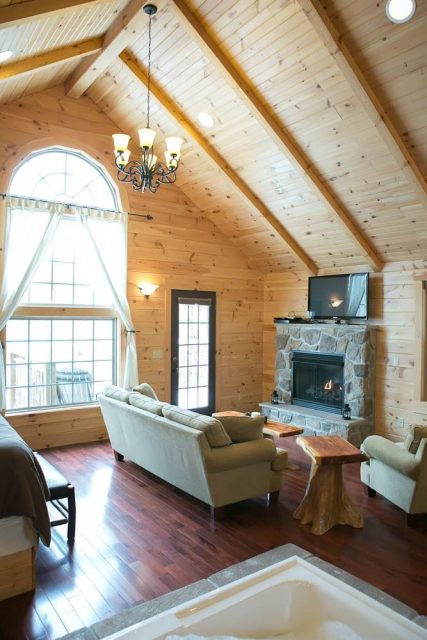 8. Luxury Tree House Paradise near Mohican State Park, Ohio
Made of red barns which give you an antic feeling, taking you to the 1800s, one can access this tree house through a thirty feet suspension bridge as well as a flight of stairs. On the eastern side lies a five feet window made of stained glass, through which the delightful sunlight may enter and enlighten the interiors. The rustic hickory hocker and the reclaimed sofa would help you take pleasure of the scenic beauty and relax to the fullest. Besides a well-equipped kitchen, an indoor toilet, and an outdoor shower (closed in between November and March), you would also find a TV and DVD player (sans DVDs) for your entertainment.
Another spectacular tree house amidst scenic beauty, this place provides accommodation for two four and six people.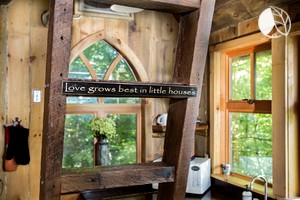 With the idea of these spectacular tree houses, your vacation is bound to be a fulfilling and eventful one. Make sure to book way in advance especially when it is season time (fall and spring or even in winters) else you could run out of a lucrative opportunity.