So I went searching for the strangest, craziest hotels in the world. And I found quite a few…
1. The Mirrorcube in Tree Hotel, Hardas, Sweden
Outside
Inside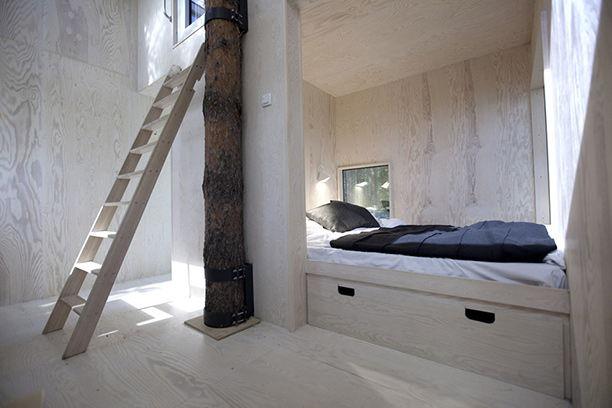 This giant 4x4x4 meter cube covered in mirrors and suspended in the middle of a Swedish forest is one of the strangest hotel rooms in the world. Too bad it costs nearly $670/night.
The actual hotel – Tree Hotel – has plenty of other strange rooms as well, including the 'UFO' room, the 'Bird's Nest Room', and the 'Tree Sauna'.
Website: TreeHotel.se
2. Hotel Casanus, near Antwerp, Belgium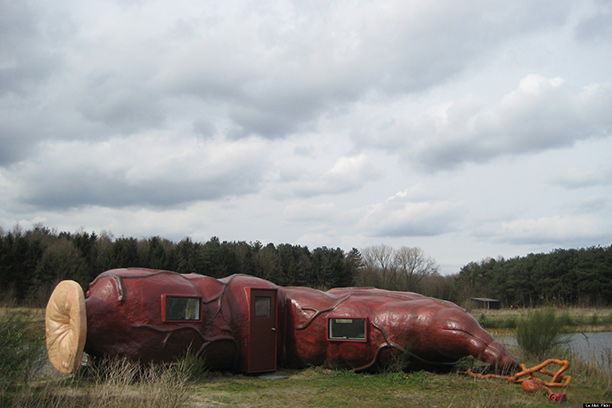 How would you like to sleep inside a giant intestine?
If you have the sense of humor of a 12 year old, you'd love this hotel. Originally meant to be a cheeky bit of art, Hotel Casanus (read that as 'Casa-Anus') is a giant piece of hollowed-out metal shaped like the butt-end of a human intestine – puckered up posterior orifice and all.
Sadly, I can't figure out how to book a room in this hotel, though you can learn more at the hotel's original artist's website.
3. Jules Undersea Lodge, Key Largo, Florida, USA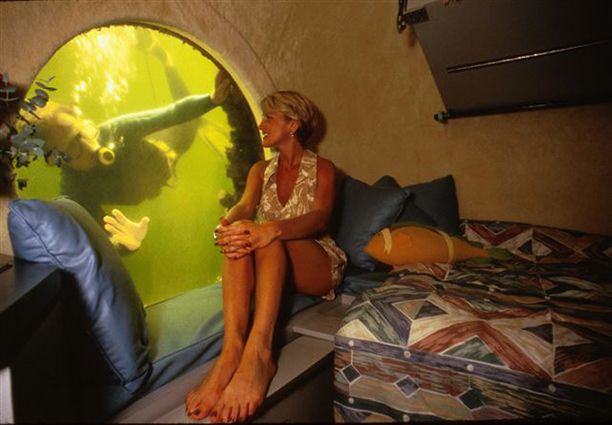 Jules' Undersea Lodge claims to be the world's only undersea hotel. This isn't mere marketing ploy – getting to the hotel entrance itself requires guests to dive 21 feet below water (and you need to be SCUBA certified to do so). The actual hotel is small – around the size of a cottage – and boasts everything from hot showers to a microwave and a fridge. It even has Wi-Fi!
If that wasn't enough, you also get huge windows looking out over the mangrove lined lagoons and the fish swimming through them.
Website: Jul.com
4. Dog Bark Park Inn, Cottonwood, Idaho, USA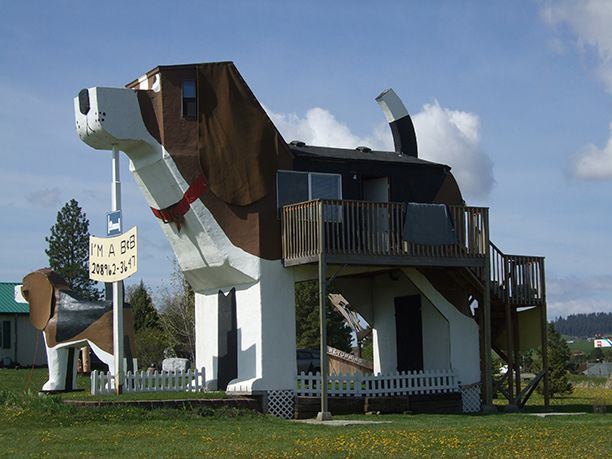 If for some reason, you find yourself in Cottonwood, Idaho (population: 900), skip the chain hotels and stay inside the world's largest beagle instead. Which, in case you were wondering, is a gigantic building shaped like a beagle.
Built by 'chainsaw artists' Frances and Dennis, this dog-shaped self-service bed & breakfast can sleep four and even has a full bath and air-conditioning. You can book the hotel for just $98/night. While you're there, you can also buy some of Frances and Dennis' life-size dog carvings made out of single blocks of wood.
Oh, and you're welcome to bring your pets as well.
Website: DogBarkPark.com
5. Faralda NDSM Crane Hotel, Amsterdam, Netherlands
Outside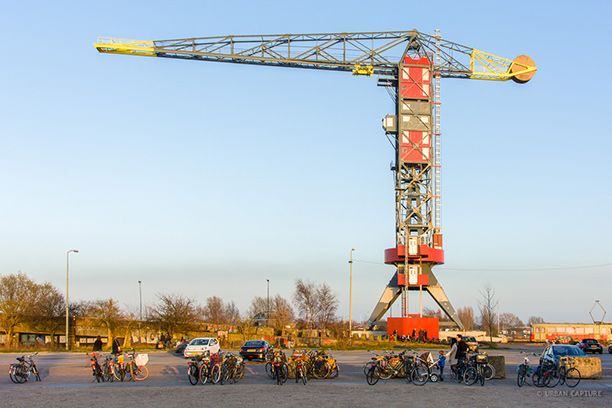 The Mystique Suite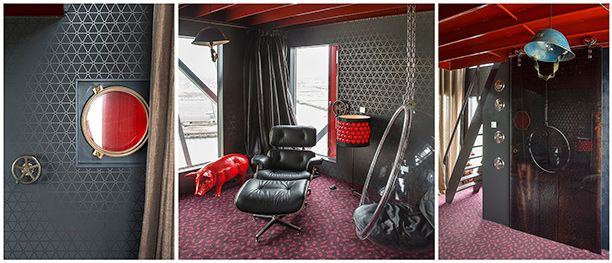 Ever looked at a huge crane dangling 50 meters in the air and thought "I'd like to sleep there"?
The people running Faralda Crane hotel thought the same. Instead of 'rooms', each suite is located inside the crane which offers panoramic views of the surroundings. The suites are also surprisingly well furnished, though they won't be too easy on your wallet.
Vertigo patients, of course, need not apply.
Website: Faralda.com
6. Karostas Cietums Hotel, Liepaja, Latvia
Outside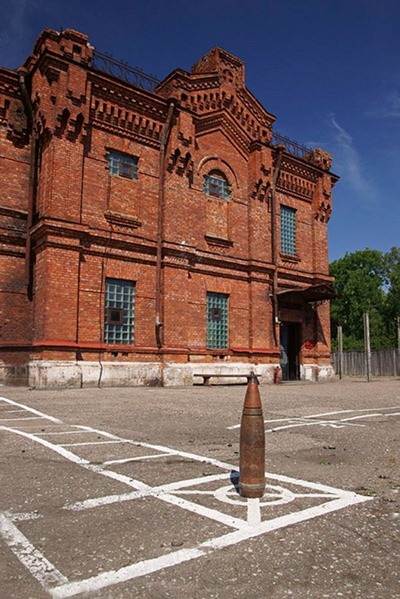 The sleeping quarters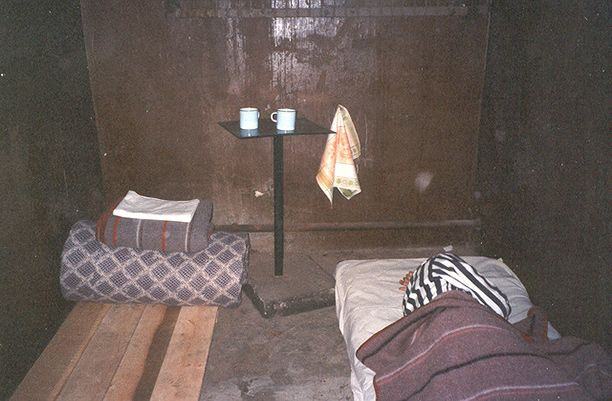 If you like your vacations with some simulated Russian gulag abuse, this is the hotel for you.
Converted from a former Russian prison, the Karoastas Cietums hotel has actual jail cells – complete with iron bars on the doors and hard wood planks for mattresses – instead of rooms. As part of the authentic prison experience, you are also expected to turn in your clothes and eat crappy bread for dinner. If that wasn't enough to classify it as the "world's most masochistic hotel experience", the rooms are also said to be haunted ghosts of former prisoners.
So if living your very own Stanford prison experiment is your idea of a vacation, head over to KarostasCietums.lv and book a room.
7. Montaña Mágica Lodge, Panguipulli, Chile
Outside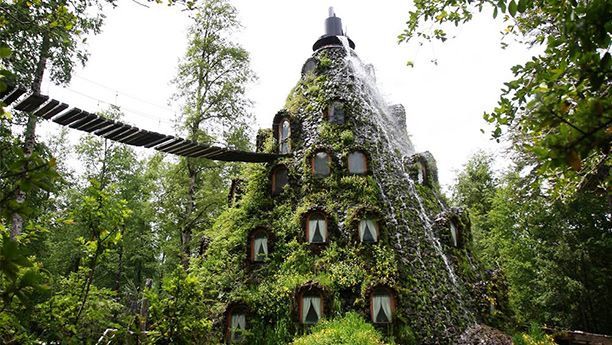 Inside the lobby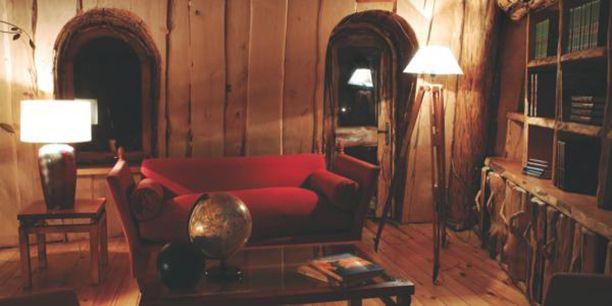 The Montaña Mágica (Magic Mountain) hotel in Chile's Huilo Huilo Biological Reserve is something that would be perfectly at place in a Disney fairy tale. The hotel rises from the jungle floor like a huge stone monolith. Its exterior walls are covered in moss and plant growth and a huge waterfall sprouts from its top. The only way to get inside is through a shaky wooden drawbridge.
Weird, but also very enchanting.
Website: HulioHulio.com
8. Propeller Island City Lodge, Berlin, Germany
The upside-down room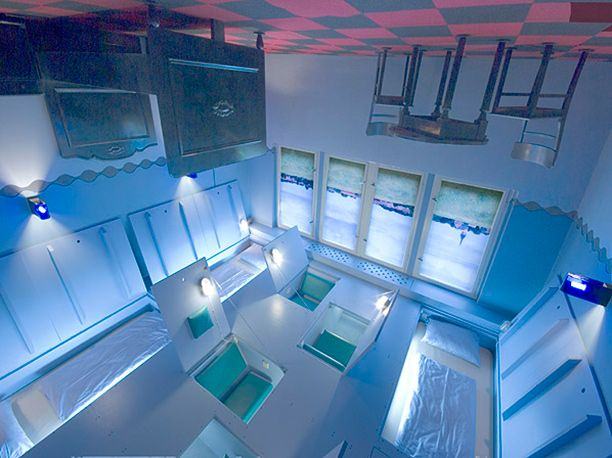 The room with coffin beds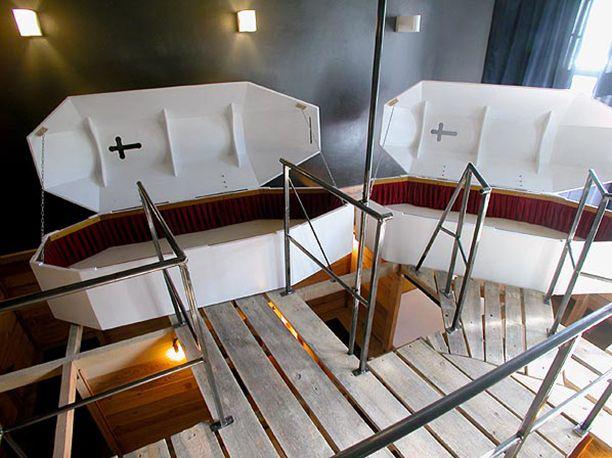 The room with cartoon symbols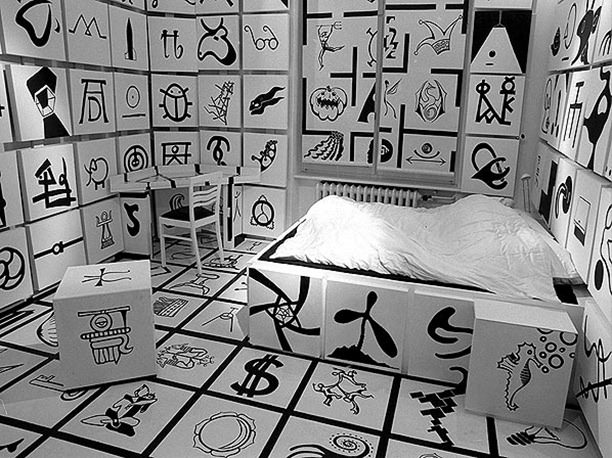 What happens when an avant garde artist designs a hotel as part of an art project?
General weirdness mixed in with a whole lot of awesomeness, of course.
The Propeller Island City Lodge in Berlin is the brainchild of German musician Lars Storschen, who put together the hotel as a form of post-modernist architectural expression. Every room in the hotel is designed to upend architectural conventions and expected design norms, ranging from the room with the slanted floors to the upside down room where you enter from a trap door and proceed to 'sleep' on a bed mounted to the ceiling.
It's weird, but in a very good way.
Website: Propeller-Island.de
9. Ice Hotel, Jukkasjarvi, Sweden
A bedroom in the Ice Hotel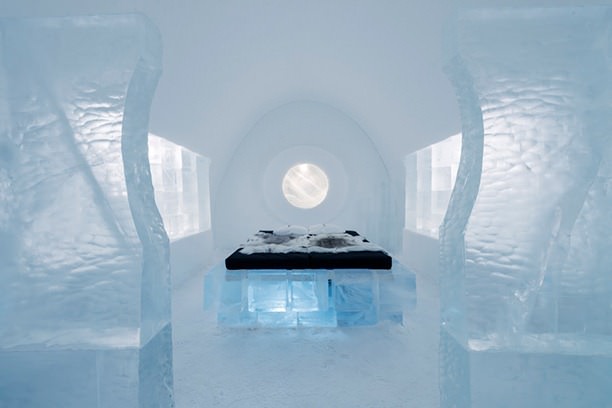 Remember that horrible James Bond movie where Pierce Brosnan has an invisible car and seduced damsels in a hotel made of ice?
You can now do the same in Sweden's Ice Hotel, which books the claim to the world's largest hotel made from snow and ice. The hotel melts down each year and has to be rebuilt from scratch, which also means that the hotel's interiors and architecture keeps on changing.
Just make sure to bring along plenty of winter gear – temperatures can drop to minus 6 degrees inside!
Website: IceHotel.se
10. Utter Inn, Lake Malaren, Sweden
Outside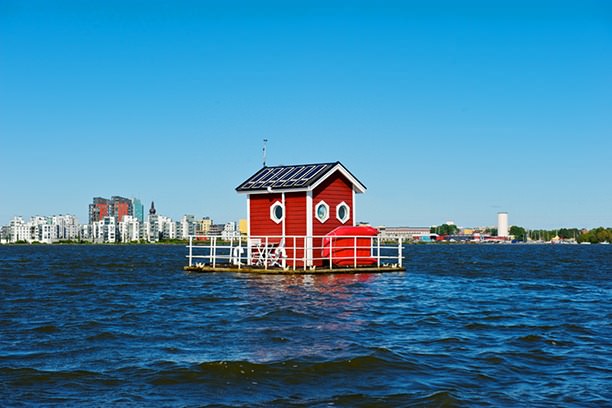 Inside the lower level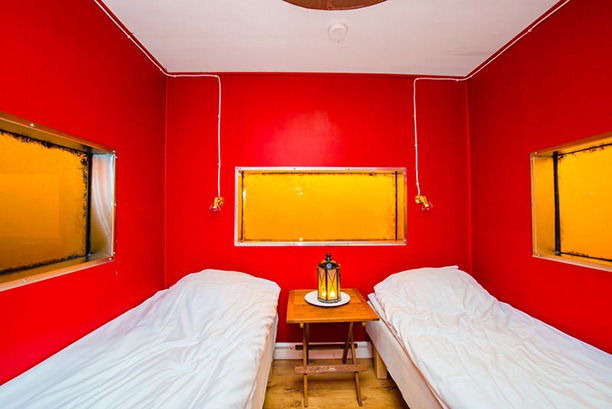 The Utter Inn is little more than a deck and a cabin floating in the middle of Sweden's Lake Malaren. You can stay in the cabin, or you can head below deck to an underwater bedroom. Needless to say, room service is a bit…sluggish.
The only way to get to the hotel is by boat, which also makes it unofficially the "World's Most Zombie-Proof Hotel".
Website: VisitVasteras.se
11. Palacio de Sal, Potosi, Bolivia
Outside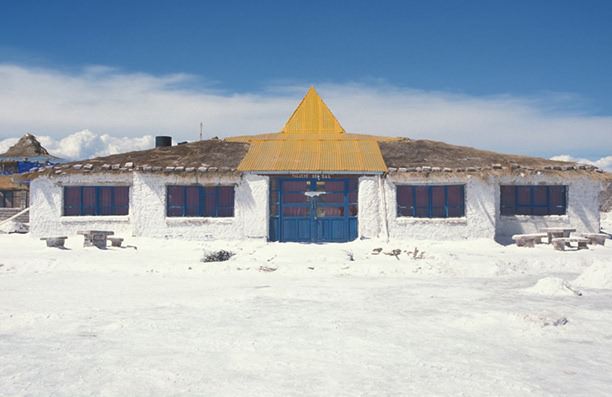 Panoramio.com
Inside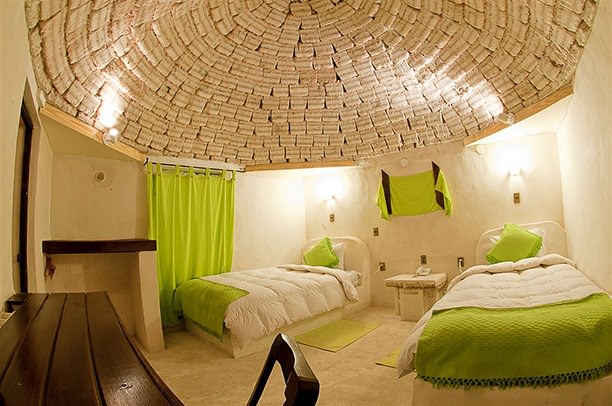 UniqHotels.com
The good thing about staying in the Palacio de Sal hotel near the city of Uyuni in Bolivia is that you'll never need to ask for the salt shaker with your dinner.
You see, the entire hotel is made from salt. The walls, the floors, the ceiling – literally everything is composed of hard, caked salt bricks. Even some of the furniture is made of salt, including tables, beds, and chairs.
If that doesn't come under 'strange', I don't know what else does.
Website: PalacioDeSal.com.bo
12. Hotel Marques de Riscal, Elciego, Spain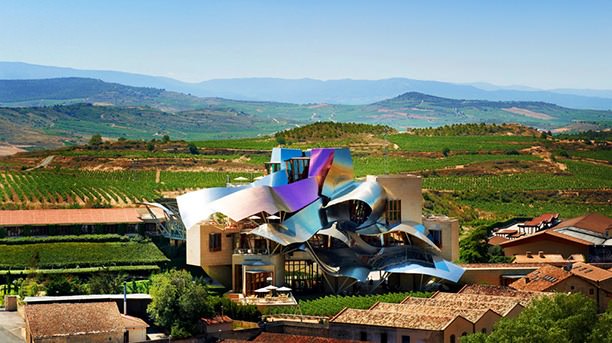 Not as much strange as 'whoa', this absurdly shaped hotel was designed by Pritzker Prize winning architect Frank Gehry – the guy behind the Guggenheim Museum and the Walt Disney Concert Hall. It's a conventional, high-end hotel by any measure, except that it has exceptional modernist interiors, and an exterior that looks like this: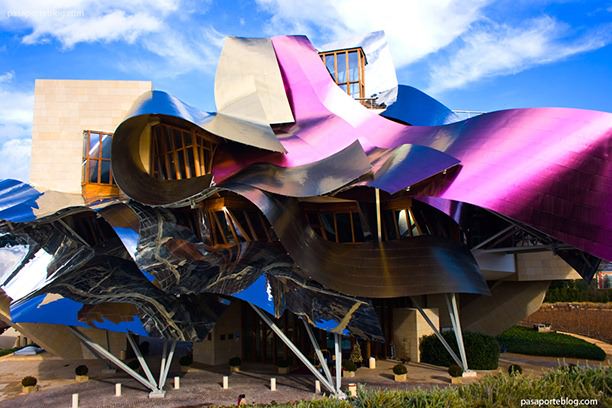 PassporteBlog.com
Website: Hotel-Marriott.com
13. Sandcastle Hotel, Weymouth, UK
Outside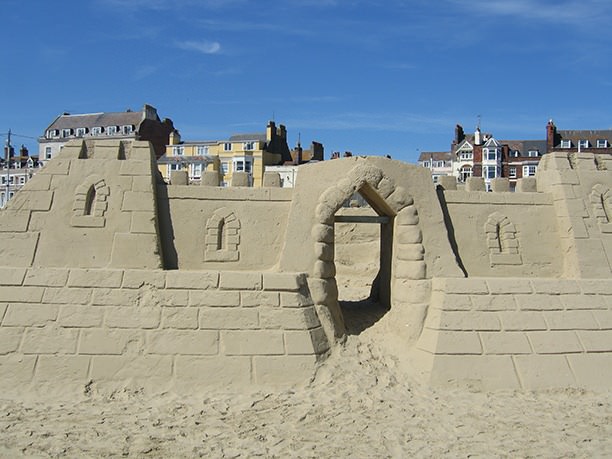 HD.org
A 'room' inside the hotel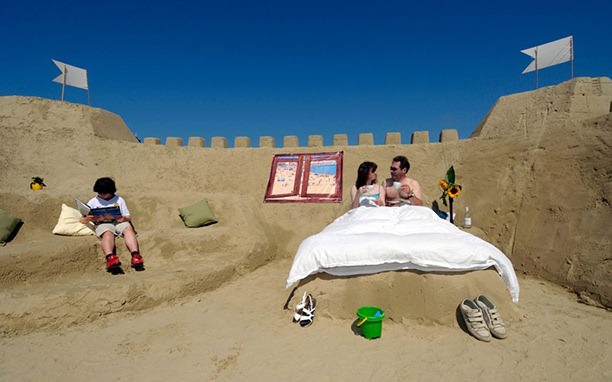 If you can have an ice hotel, it is only appropriate that you have a sand hotel as well.
This is why sand sculptor came up with the sandcastle hotel on Weymouth beach in Dorset, UK. Everything in the "hotel" is made of sand (minus the roof – which doesn't exist), from beds to walls to makeshift "windows". It's about as sturdy as you'd expect a sandcastle to be, and it's probably not the best place to be in a rainstorm, but it costs just $15/night and the beachside itself is pretty enough to warrant a trip.
14. Godiva Chocolate Suite, New York City, New York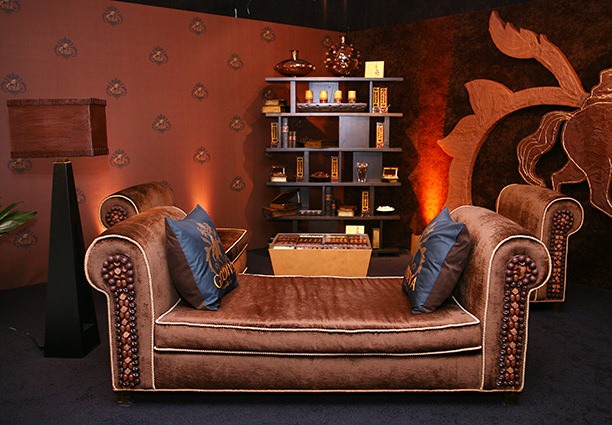 So far, we've had a hotel made of ice, another made of sand, and one made entirely of salt.
It's only natural to now have a hotel made of chocolate.
Godiva, the chocolate maker, created this suite in Bryant Park Hotel in time for Valentine's Day in 2008. Everything in the suite was made from chocolate (and real, edible chocolate at that) or is painted to look like chocolate, from the furniture to the dining plates to the wall paint.
Godiva repeated the exercise in 2009, though there's no word whether we'll see this sweet suite anytime again soon.
15. Giraffe Manor, Nairobi, Kenya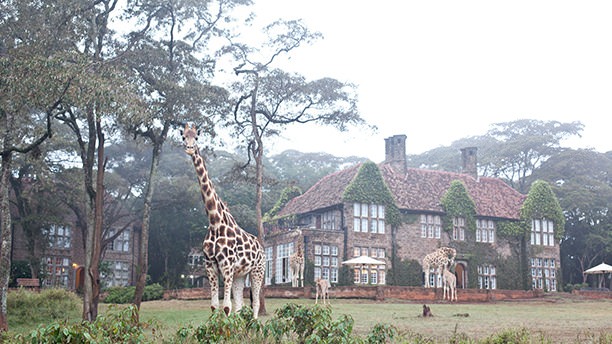 In case the picture and the name didn't give away the secret, let me clue you in: you can actually feed giraffes at your breakfast table inside the manor.
The grounds of this Scottish-style hunting lodge are teeming with giraffes, who are friendly and fearless enough to pull their heads through the windows for a bite of bananas and pancakes in the morning. This results in terrific pictures such as these: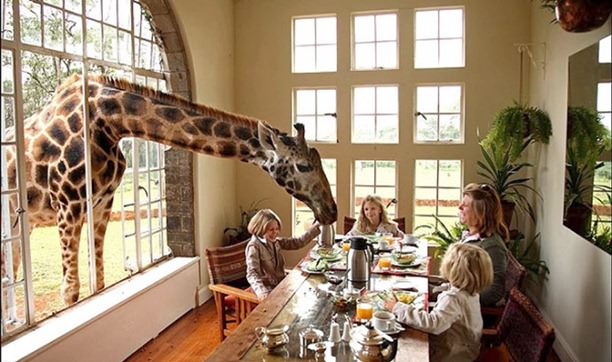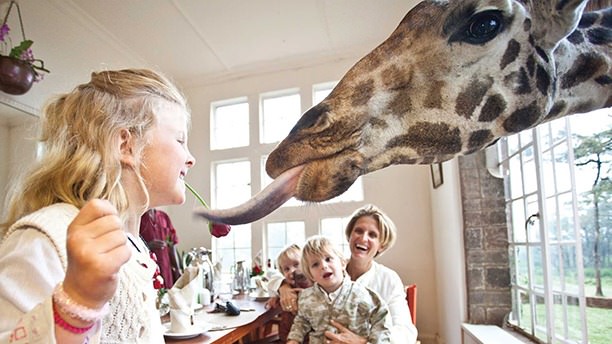 Website: The Safari Collection
16. Hang Nga Guesthouse, Da Lat, Vietnam
Outside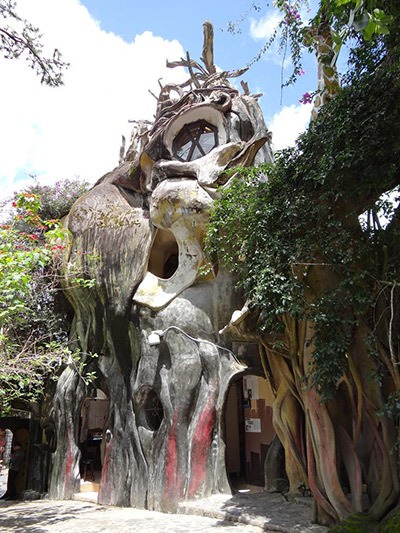 Inside one of the 10 rooms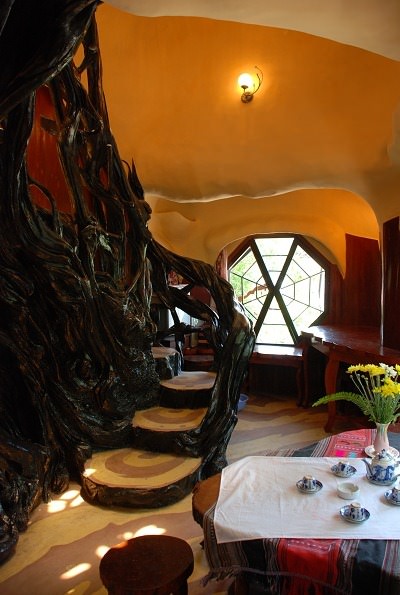 The Hang Nga guesthouse, or "Crazy House", looks like MC Escher and Salvador Dali's would design in their spare time. With its twisting, turning staircases, weirdly shaped buildings, and unconventional design, the Crazy House is easily one of the strangest hotels you'll ever stay in. You can stay in any one of the 10 rooms, which sell for anywhere from $35-90 per night.
Website: CrazyHouse.vn