I can't swim to save my life, but I'd take a leap of faith just to get a chance to swim in these amazing pools:
1. Chongwe River House Pool, Zambia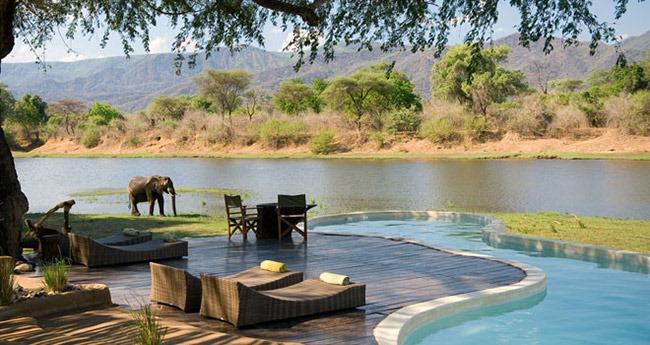 The Chongwe River House – a four bedroom wooden house built right on the edge of the Chongwe river in Zambezi National Park –boasts a particularly unique pool. While neither grand nor particularly gorgeous by itself, the pool directly overlooks the river where wild elephants and antelope get their daily drink.
It isn't uncommon for elephants to wade into the river right in front of you as you enjoy a quiet evening meal.

Source: Chongwe River House
2. The Pool at Huvafen Fushi, Maldives

The pool at Huaven Fushi resort, Maldives, sparkles as brilliantly as the night sky, thanks to the 1,000+ fiber optic lights installed on the pool's surface. The effect, combined with stunning views of the Indian Ocean, is breathtaking.
Source: Huvafen Fushi
3. The Infinity Pool at Hanging Gardens Ubud Hotel, Bali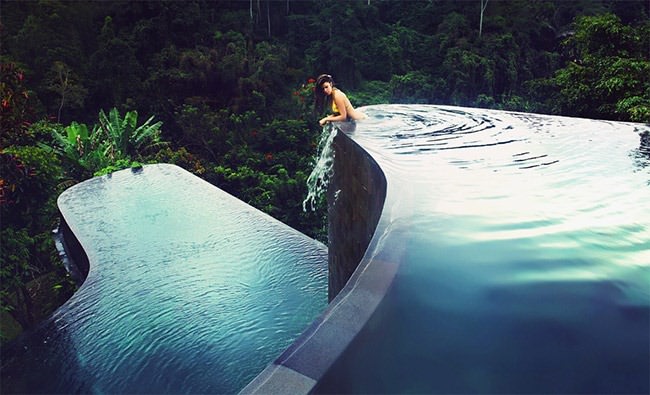 Each individual villa in this gorgeous hotel boasts separate infinity pools with spectacular views of the dense Bali rainforest.
The hotel itself looks like this:

Source: Hanging Gardens Ubud
4. The Pool at Nandana Villa, Grand Bahamas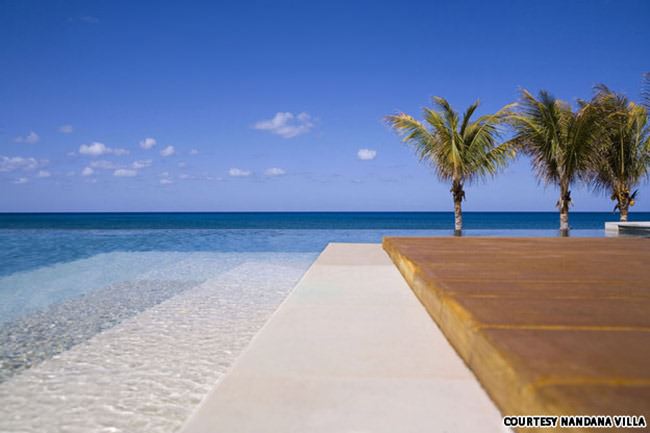 Nandana Villa is a rental villa in the Grand Bahamas that sits on a private beach right along the Atlantic. The villa, inspired by South-East Asian architecture is a sight to behold by itself, but what really makes this a must-visit place is the swimming pool – a gorgeous expanse of water that seems to merge right with the ocean.
Source: Nandana Villa
5. The Pool at Paresa Resorts, Phuket, Thailand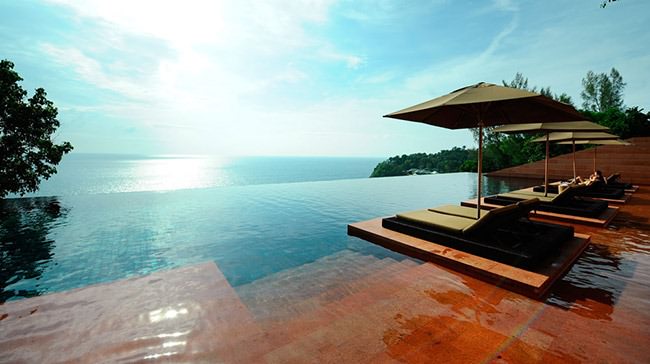 An infinity pool set atop a cliff and overlooking the Andaman Sea. It doesn't really get much better than this.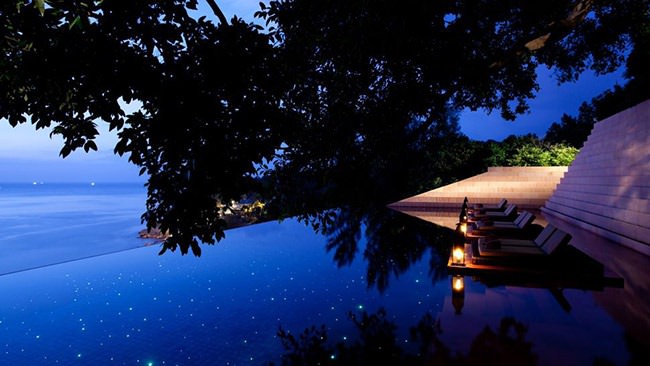 Source: Paresa Resorts
6. Blue Lagoon Geothermal Spa, Grindavik Iceland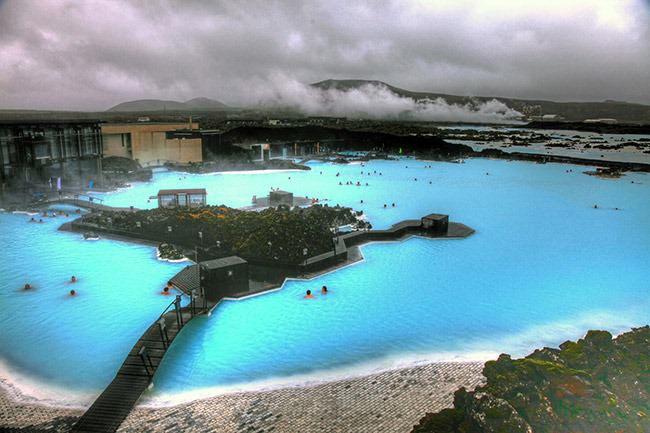 You can't throw a stone in Iceland without hitting some gorgeous geological feature. But even in a country as geologically rich as Iceland, Blue Lagoon stands out for its blue-hued waters.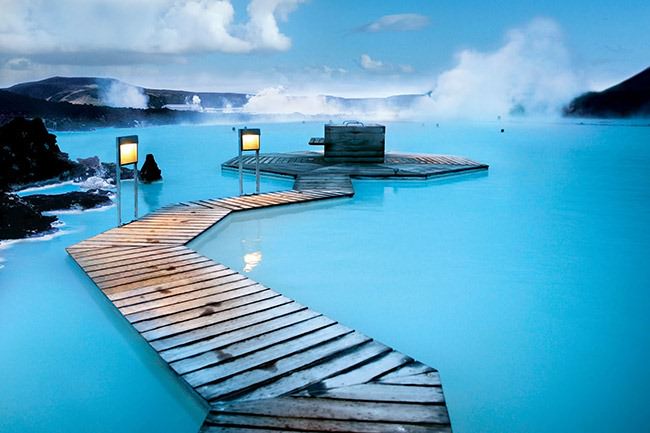 The pool is heated by a natural spring and a swim in its mineral rich waters are said to heal many a diseases.
7. The Pool at Delamore Lodge, Waiheke Island, New Zealand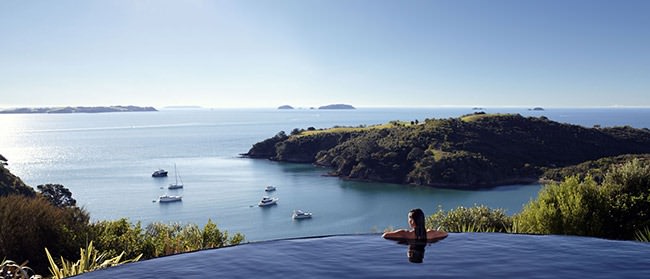 Delamore Lodge is a small resort tucked into a natural cove on Waiheke Island, located around 35 miles east of Auckland. It's standout feature is the infinity pool that overlooks Hauraki Gulf in the Pacific Ocean.
Source: Delamore Lodge
8. The Pools at Katikies Santorini Hotel, Greece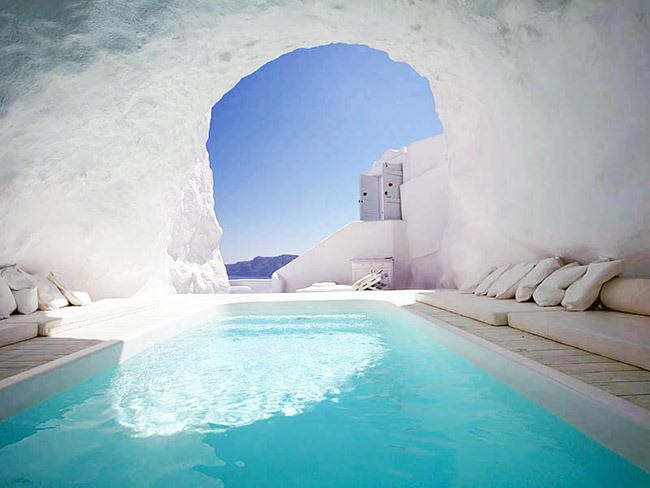 This hotel boasts not one but two gorgeous pools – a small pool set inside a natural limestone cave, and another overlooking the Mediterranean.

Source: Katikies
9. The Pool at San Alfonso del Mar Resort, Algarrobo, Chile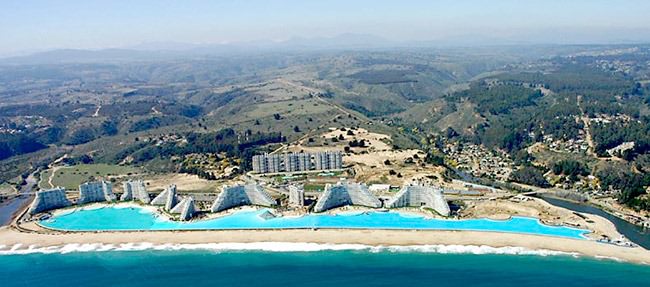 The pool in San Alfonso del Mar resort is big. It stretches over a kilometer in length and is large enough to accommodate a small sailboat.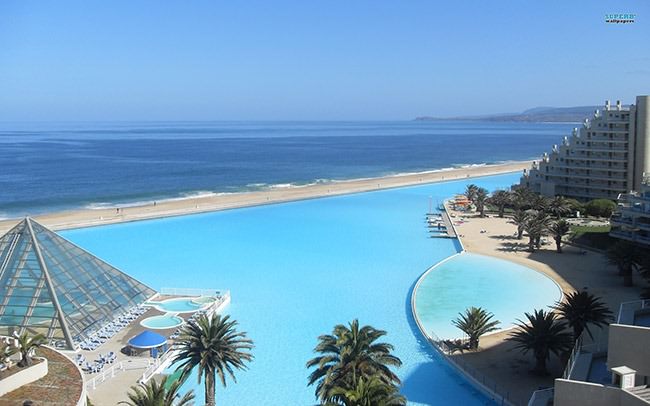 In fact, it currently holds the record as the largest crystalline water swimming pool in the world. This alone warrants a swim in its stunning blue waters. The gorgeous vistas of the Atlantic are just an added bonus.
Source: San Alfonoso del Mar
10. The Pools at The Springs Resort & Spa, Costa Rica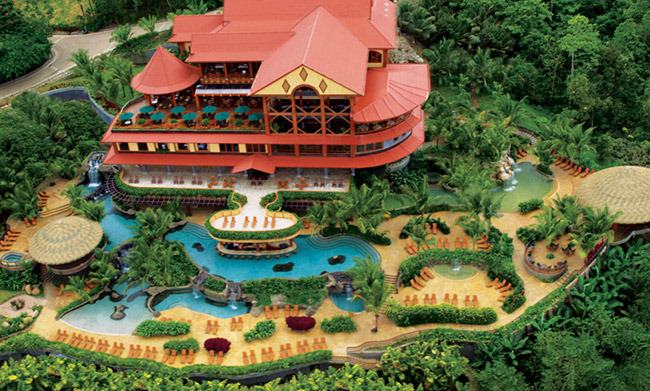 The Springs Resort & Spa, which sits atop a natural hot spring, boasts a total of 12 pools. There are pools with submerged bars…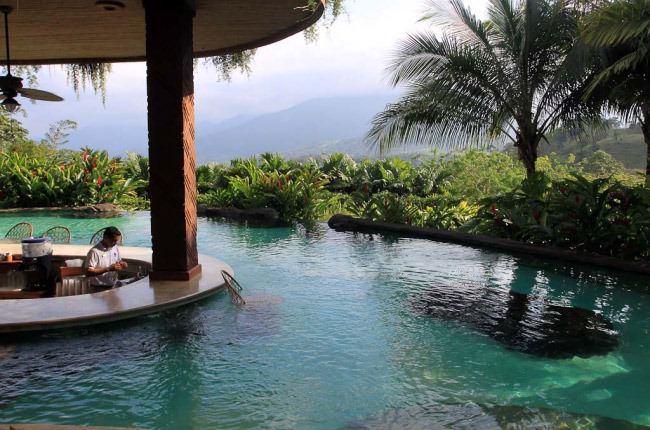 Pools that overlook the jungle and the mountains beyond…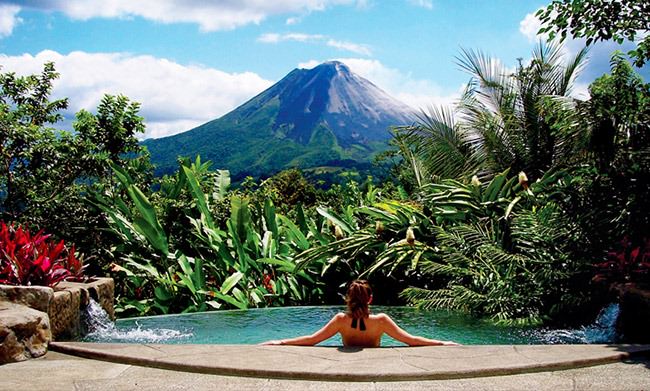 Pools with natural waterfalls…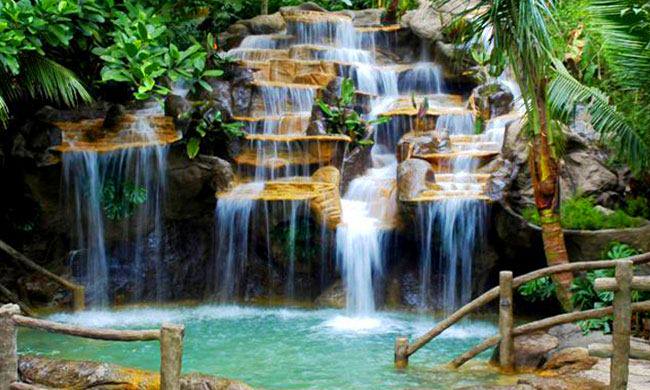 And private in-suite pools with hot spring fed waters.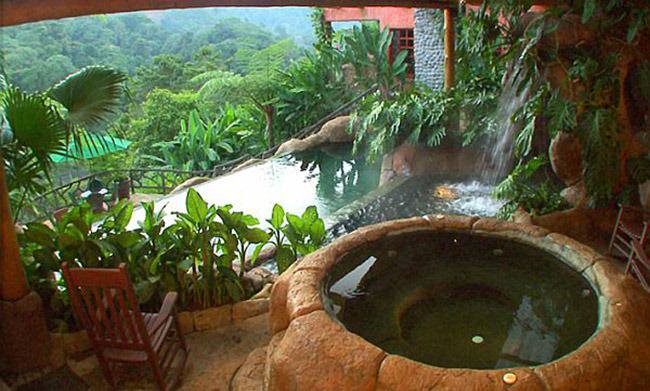 Source: The Springs Resort
11. Havasu Falls, Arizona, USA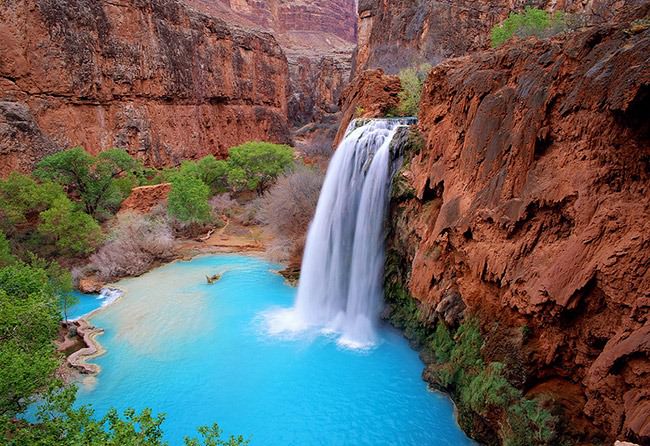 There's remote, and there's Havasu Falls in Supai, Arizona.
Located at the bottom edge of the Grand Canyon, Havasu Falls is so remote that the USPS still uses mules to deliver mail to the local village of Havasupai Indians in Supai.
Because the falls are so remote, they've been hardly influenced by man's touch. No crowds of noisy tourists here. Instead, all you get is breathtaking blue waters set in the middle of the canyon.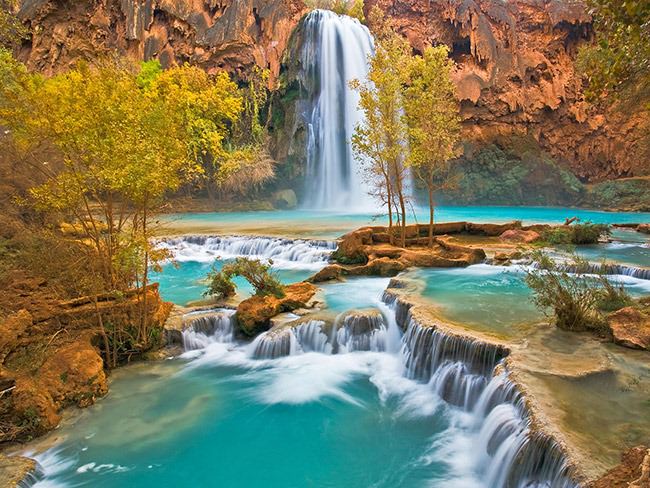 Source: National Geographic
12. The Pool at Villa D'Este, Lake Como, Italy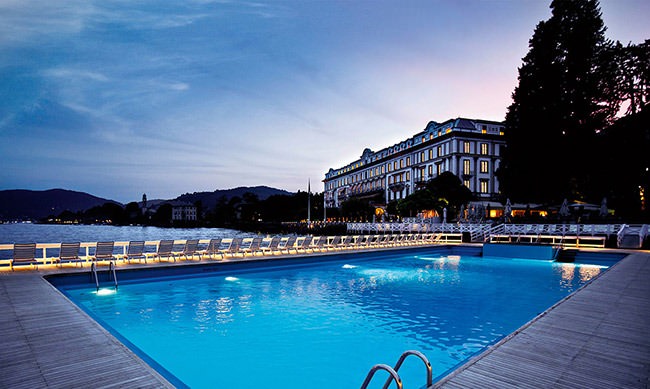 The Villa D'Este hotel pool is beautiful enough by itself with stunning views of Lake Como. But what makes it worth a trip is the hotel itself.
Originally built in 1568 as the summer residence of Cardinal Tolomeo Gallio, the villa has changed little over its 450 year history. Since its transformation into a luxury hotel in 1873, it has hosted kings and queens and has been a favorite among celebrities and the Who's Who of Europe.
This is the kind of old-world charm and history missing from so many other entries on this list.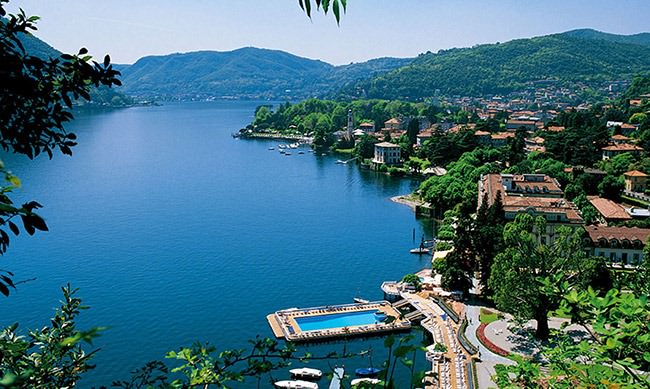 Source: Villa D'Este
13. Johnson's Shut-Ins, Reynolds County, Missouri, USA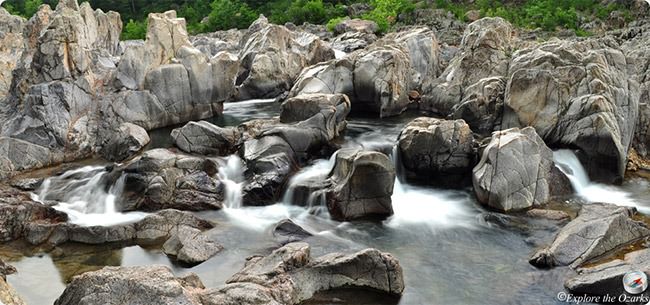 Johnson's Shut-Ins are natural pools formed when the East Fork Black River gets blocked by smooth volcanic rocks. The strong flow of the river underfoot and the calm of the stagnant water makes them a great place to take a dip in.
Source: Explore the Ozarks
14. The Pool at Qasr-Al-Sarab Resort, Abu Dhabi, UAE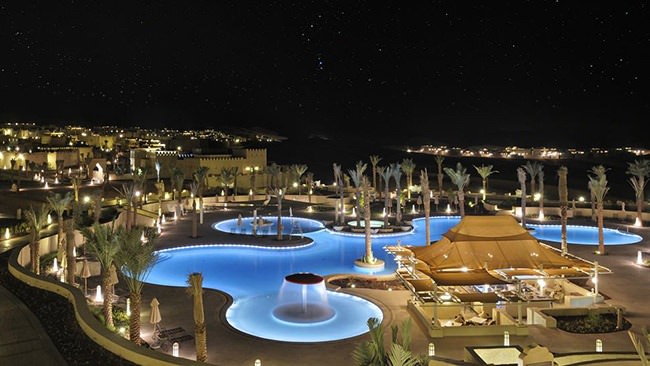 If there's any place in the world where you can find a swimming pool in the heart of a desert, it is UAE. Located in Dubai's cousin, Abu Dhabi, this resort boasts multiple swimming pools with sweeping vistas of the desert – a contradictory confluence that will take your breath away.

Source: Anantara
15. The Pool at Golden Nugget, Las Vegas, Nevada, USA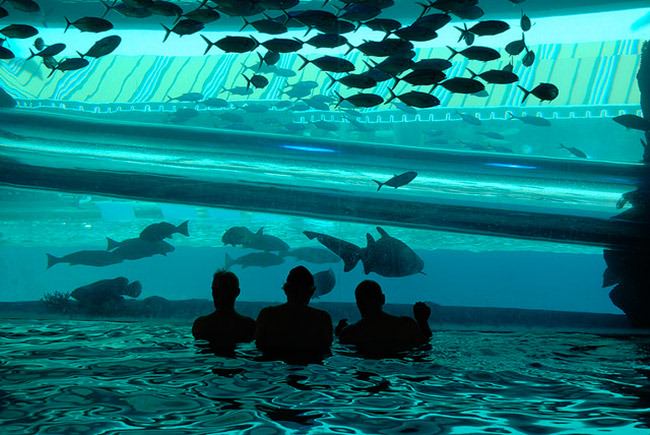 Want to swim beside a shark without actually heading off to South Africa and scuba diving inside a steel cage? Then head over to the pool in Golden Nugget in Las Vegas.
This pool is built around an aquarium that houses a ton of fish, including a bunch of sharks. You can swim right next to the sharks, safe behind a wall of glass.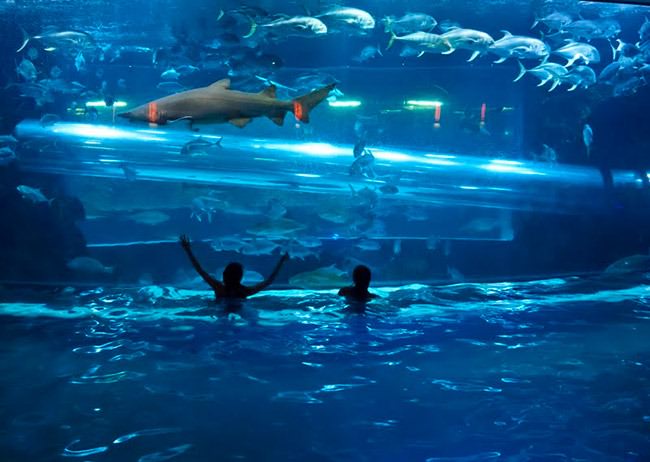 Source: Golden Nugget
16. Sliding Rock, North Carolina, USA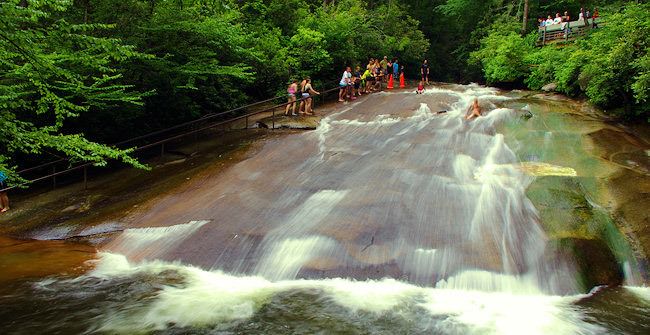 This waterfall runs over an angled rock that has been smoothed down over thousands of years of erosion. The result: nature's very own waterslide!
17. The Pool at Velassaru Resort, Maldives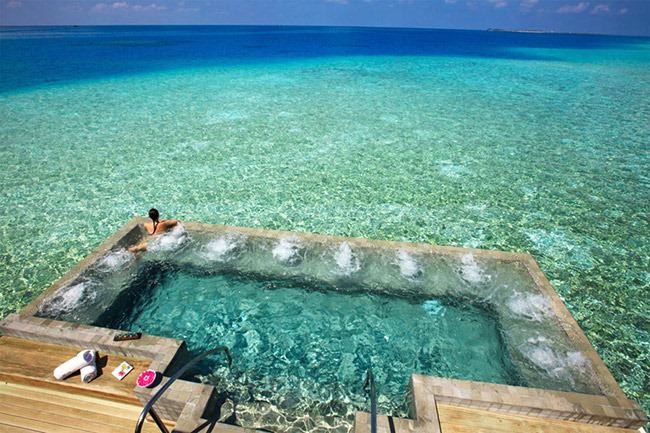 A swimming pool set inside a lagoon in the Indian Ocean – this is the kind of experience the demands superlatives.
Source: Velassaru
18. The Outdoor Pool at Cambrian Adelboden, Switzerland
What the world looks like from the outdoor pool at Cambrian Adelboden, Switzerland in the morning…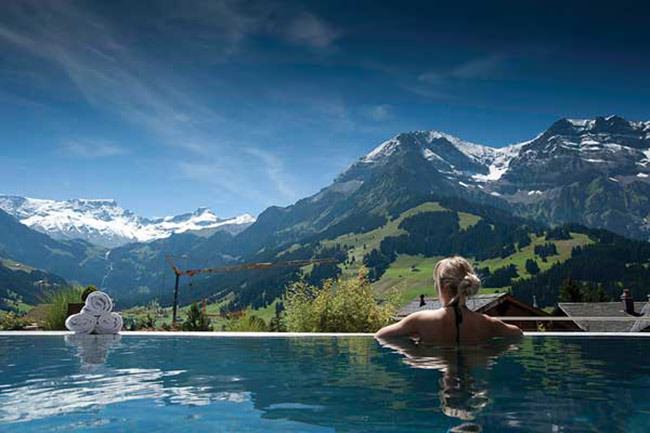 And what it looks like at night…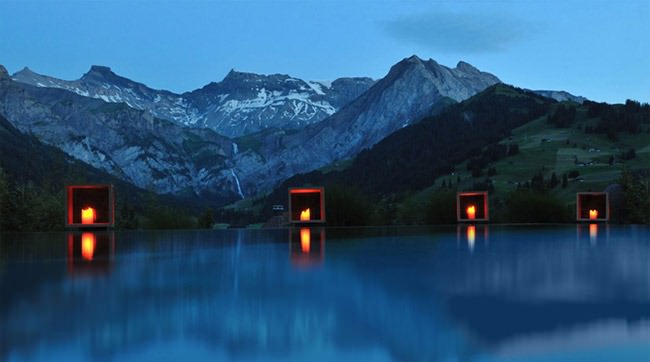 Source: The Cambrian Adelboden
19. Devil's Armchair, Zambia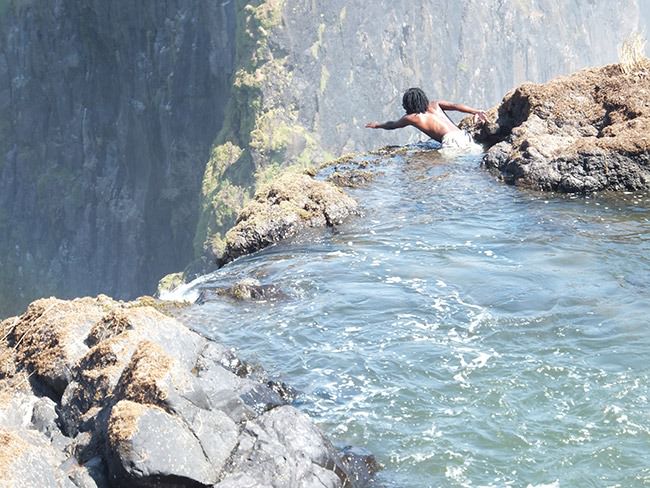 This is probably the most terrifying swim you'll ever have – barring a dip in South Africa's shark infested waters. You see, the Devil's Armchair is actually a pool formed by a rock wall right at the edge of a waterfall. You can actually lean over and see the entire drop safely nestled behind the rock wall.
Except that the waterfall is Victoria Falls – the largest waterfall in the world – and this is what it looks like: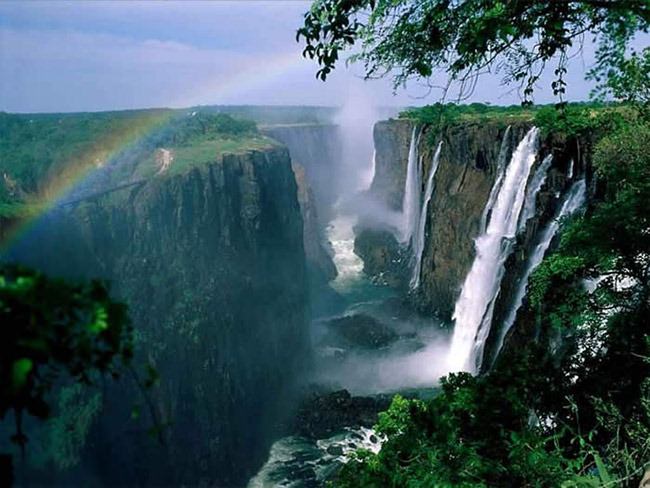 Terrifying!
Source: Wikimedia
20. The Pool at SkyPark at Marina Bay Sands, Singapore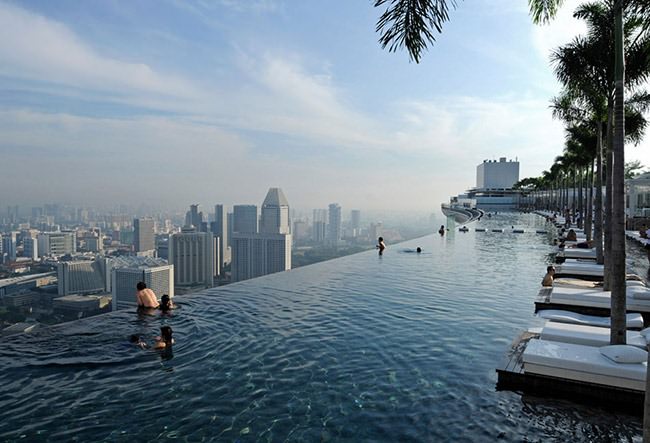 An infinity pool with stunning views of the Singapore skyline. Gorgeous enough by itself.
But then you realize that the hotel itself sits atop three skyscrapers and looks like this: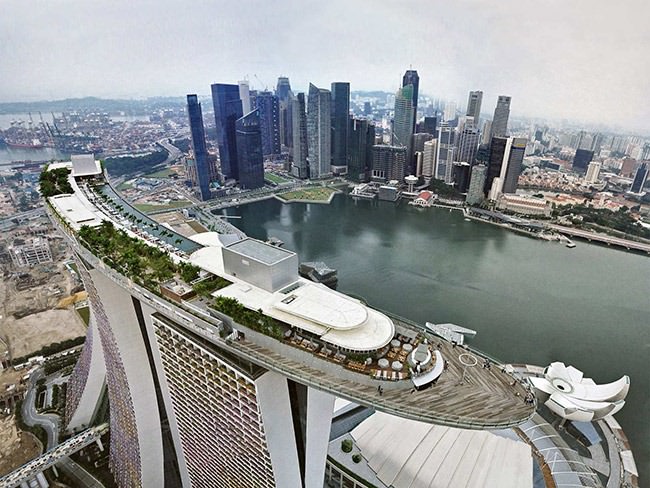 Whoa!
Source: Marina Bay Sands
21. Pamukkale Hot Springs, Turkey
Centuries of wind and water erosion have shaped the white tavertine rocks of the region into steps. The water from the adjacent hot springs collects in these steps and forms pools.
The white of the rock and the blue of the water makes for an incredible combination – and a memorable swim.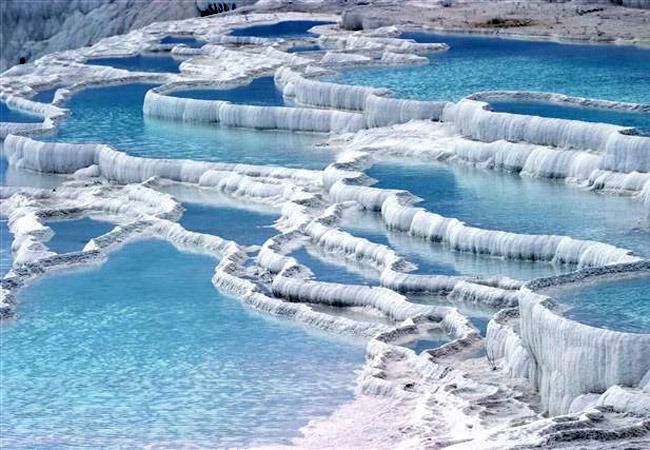 22. Nemo 33, Brussels, Belgium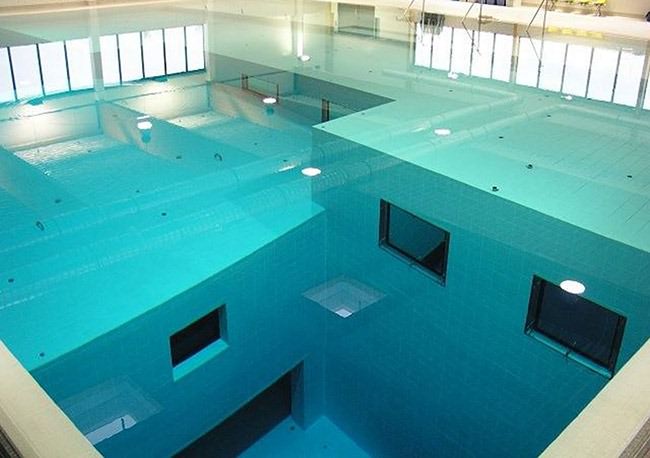 Less of a swimming pool and more of a test site for swimming, this indoor pool – the deepest in the world at 105ft – is used for film production, to simulate deep sea diving, and to practice underwater cave exploration. The water stays a constant 96F and there's a huge system of corridors and caverns to simulate cave exploration.
Source: ISO50.com
23. Seagaia Ocean Dome, Miyazaki, Japan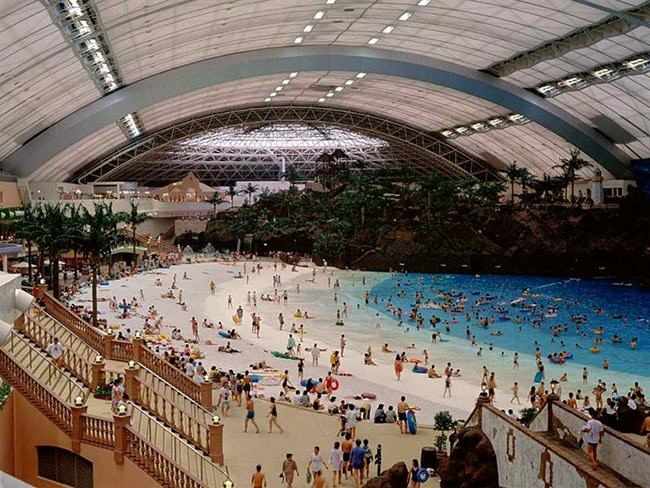 There's only one place in the world where you'd make a huge indoor beach with waves, sand, and retractable roof with simulated sky: Japan.
Source: Wikimedia
24. Ik Kil Cenote, Yucatan Mexico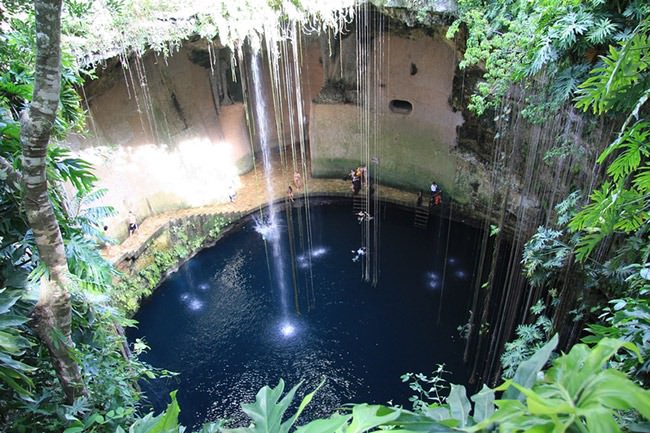 A 'cenote' is a natural pit or sinkhole formed when the limestone bedrock in a region collapses. There are hundreds of these cenotes in the Yucatan region of Mexico, many of which make for incredible swimming pools. The Ik Kil Cenote in the municipality of Tinum, however, is the most beautiful among them.
Source: Wikimedia
25. Jellyfish Lake, Eli Malk Island, Palau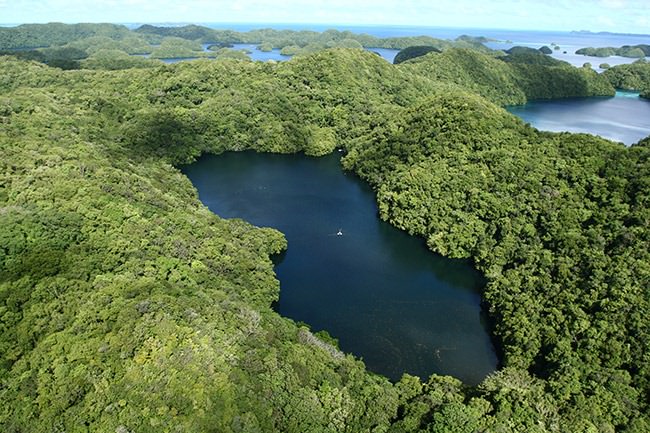 A tiny lake nestled inside an island in the tiny country of Palau (population: 21,000) – sounds like the perfect recipe for a tranquil swim.
Except if you dive into the lake, this is what you'll see: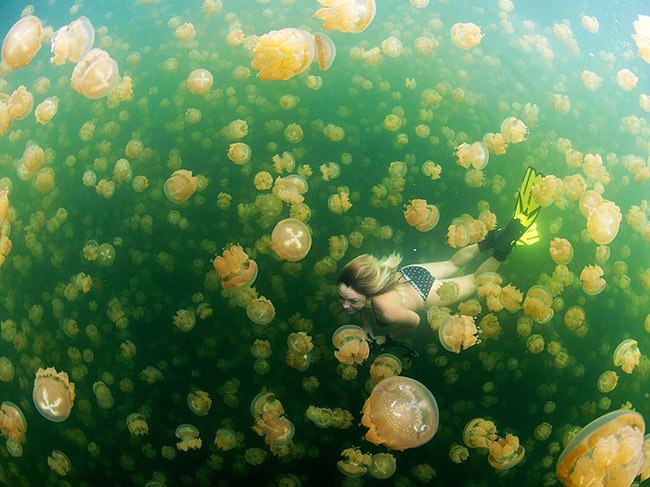 Thousands upon thousands of Golden Jellyfish crowding the waters. But what sounds like Nemo's worst nightmare is actually completely harmless since the Jellyfish stings aren't strong enough to harm humans.
What remains is a spectacular photo-op.
Source: Wikimedia, National Geographic
26. The Pool at Hotel Caruso, Ravello Salerno, Italy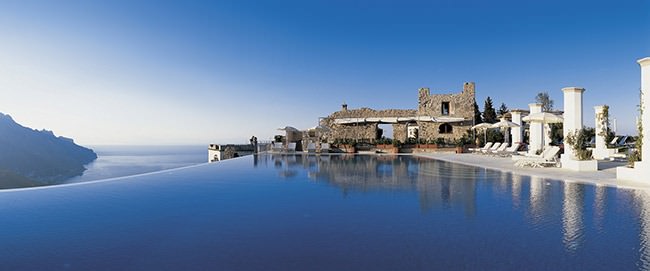 Italy's Amafi Coast is drop-dead beautiful, and the infinity pool at Hotel Caruso – located at the highest point in Ravello – offers commanding views of the coast and the Mediterranean sea beyond.
Source: Hotel Caruso
27. Queen's Bath, Kaua'i, Hawaii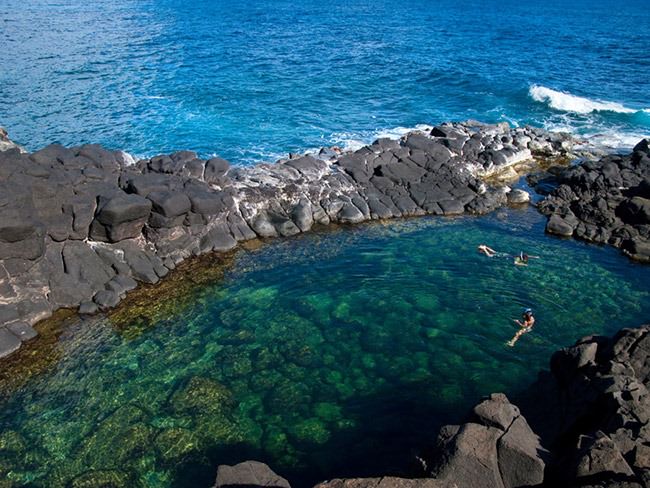 A natural pool formed by a sinkhole next to the ocean in Kauai'i, Hawaii, this pool offers calm waters and stunning views of the Pacific. Don't be surprised if you see small species of fish and turtles wade past you as you take a swim!
Source: OnlyInHawaii.org