Atlanta, the capital of Georgia does not have any beach within its territory, but that doesn't stop its citizens to have fun at the seashore during the summer and getting a good tan. This is possible because within a few hours' drive there are coastal cities and towns, with beautiful carpet-like beach and deep blue sea.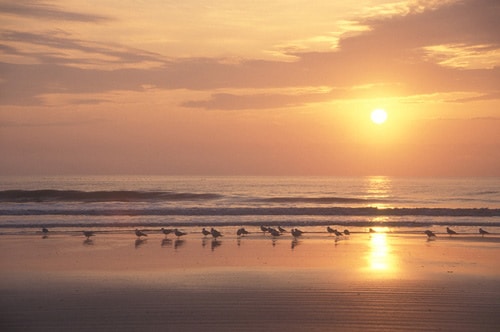 1. Beaches of Tybee Islands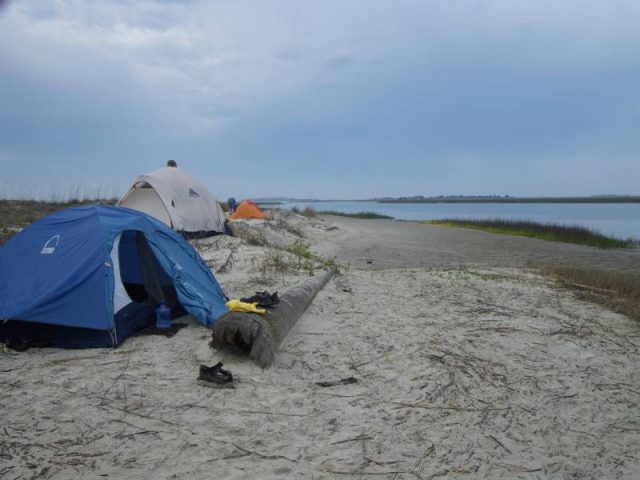 Tybee Island is a sea clad city of Georgia with multiple sea beaches to offer. Close to Savannah, the city has beaches like North Beach, South Beach, Mid Beach, Little Tybee Island, and Back River. Another popular destination Savannah downtown is just a few miles away.
Back River: The secret beach is good for couples who seek privacy. This quiet beach is located in the outskirt, offering various accommodation options that include your pet. Water sports, dolphin spotting adventure, and scopes for fishing, all are offered at the beach. You can witness the sunrise and sunset at the Tybee Creek. Don't forget to try out authentic local food at the dockside restaurant.
Little Tybee Island: You can opt for boat rental to roam around the picturesque place. Since traveling on water is the only way to get here, kayaking, boat, or jet-skiing are your commute options. There are eco-tours that teach a lot about the surrounding including estuaries, dunes, salt marshes, and the trick of fishing. You can opt for camping at the beach or the operational sunset cruise.
Mid Beach: Located right at the heart of the beach line, this is a place to taste some exquisite coastal cuisine. Bread and Breakfast options are also there for smooth accommodation options. From surfing to canoeing, all are done here.
North Beach: Besides, spending some time at the beach, you can shop and take a historical tour at the North Beach. Tybee Island Museum, the Fort Pulaski National Monument, Cockspur Lighthouse, and Tybee Post Theater, are notable sites.
South Beach: The iconic Tybee Island Pier and Pavilion are the landmark of the beach. After enjoying the serenity of the surrounding, you can stop by for coffees, cocktails and alcoholic beverages. If you are too smitten with the beach, stay for a few days at the nearby inns or bread and breakfasts options, situated right at the beach.
Distance from Atlanta: 265.3 miles
2. Driftwood Beach of Jekyll Island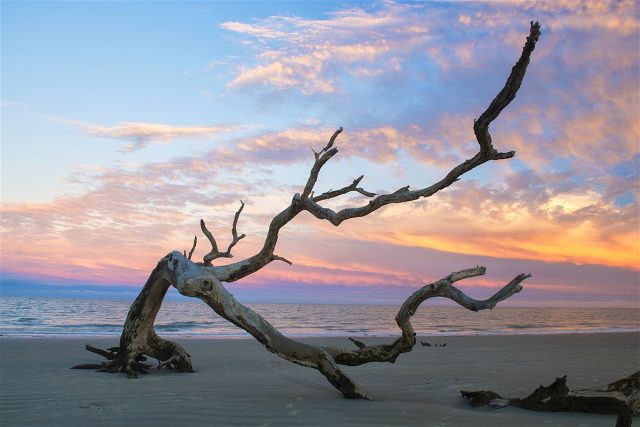 Jekyll Island is a barrier island and the smallest one of its kind in the state with the unique Driftwood Beach. There are some fallen trees on the shore, striking in their position, mainly because the eroding soil is not able to provide a solid base to those trees. The iconic trees serve as a backdrop for many pre-wedding and engagement photoshoots, and even the beach is a popular choice for a destination wedding. There are fees levied for entrance to the beach. There is a turtle rescue center, along with numerous commercially available accommodation options for tourists. The fishing pier on the island, located at the north of the Island, gives a good view of the beach. From the parking area, the actual beach is a walking distance.
Distance from Atlanta: 323.9 miles
3. Beaches of Myrtle Beach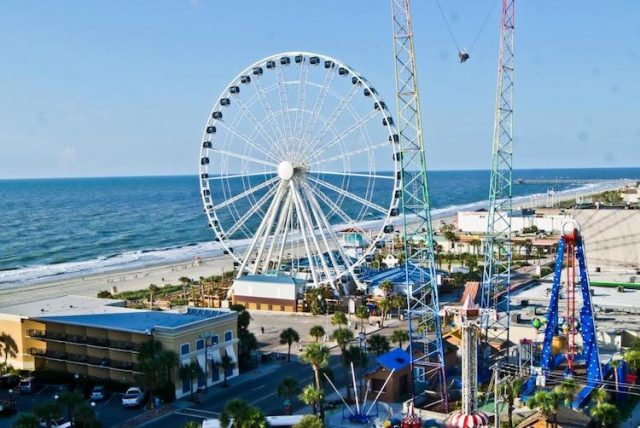 The vacation destination has a 60-mile long shoreline, with many beaches to get lost to. The entire city is known for an ideal vacation spot for all sorts of people around the state. The following destinations are what make the Myrtle Beach so hot favorite for beach lovers.
Oceanfront Boardwalk and Promenade: Featuring the iconic Ferris wheel named SkyWheel that is one of the most enjoyed things on the beach, the site offers everything that a tourist can desire while he/she is on a beach holiday. Mostly crowded because of its immense popularity, there are restaurants offering seafood, shopping centers and many more.
Myrtle Beach State Park: Close to the promenade, this entire area covering around 312-acre nurtures a maritime forest, a long beach line. Pine and oak lands are there for campers, fishing shops selling necessary equipment for your fishing. Anglers can catch fishes like Spanish mackerel, trout. The signature pier on the shore gives you a panoramic view of the sea and adjacent nature.
67th Avenue North:  This destination mainly celebrates water sports like kayaking and surfing, where you can unleash your spirit and merge with the deep blue sea.
Hurl Rock Park: The sandy beach has black rocks here and there with a quaint serenity all around it. There is a wooden deck from where tourists get a nice sea view. This is an ideal place for couples or people who enjoy solitude and get mingled with nature.
Cherry Grove Point: This beach is owned and supervised by Coastal Carolina University for Marine research, this is a sorted place for standing paddle boating and kayaking. During the low tide, the water body can be crossed on foot and many people love to do this.
Distance from Atlanta: 362.1 miles
4. Beaches of Pawleys Island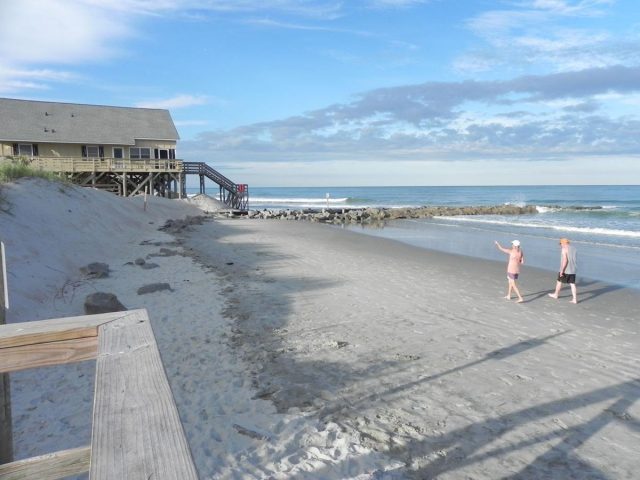 There are 4 beaches but 3 of them are located at the Litchfield beach, while the other one is located on the Island. The nesting hub for sea turtles and a favorite place of pelicans, ospreys, great blue herons, pelicans, and gulls is all about the blue waves merged with the sky. For further enjoyment, after a day tanning at any of the beaches, you can go to the restaurants for their crab delicacies. Huntington Beach State Park offers a close look of alligators and other wildlife at Brookgreen Gardens that also happens to be the world's largest statuary. Fall is the ideal season to enjoy the beauty as the weather remains favorable and you will get to see many exotic migratory birds.
Distance from Atlanta: 361.9 miles
5. Beaches of Hilton Head Island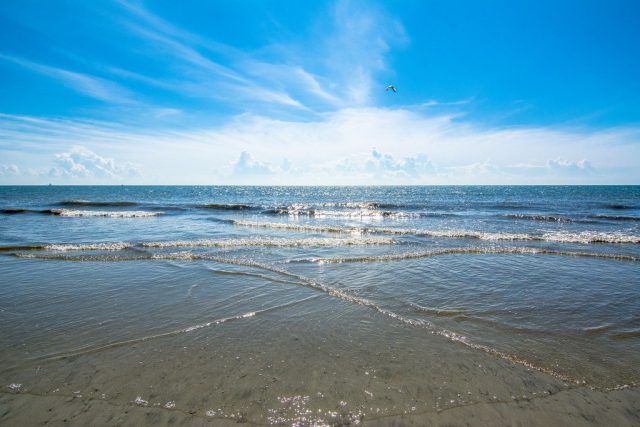 The beaches of Hilton Head Island have different vibrancy than each other. All of them have a specific rule to go about them. There is a biking trail so that you can go there on your bike as well, in case you don't have any car. There are some common restrictions applicable for all following beaches like no littering, no using of firecrackers and all. However, as far as bringing your pet is concerned that is also restricted during some time. Even if you bring them they must be on a leash.
Fish Haul Creek Beach: Making your way through woods, when you reach the soulful beach, you will know what blessing feels like. There is an observation deck and to accompany you, there will be lots of crabs. A pavilion is also there with a binocular for bird watching. You can enjoy your picnic as some picnic tables are set up there for tourists to enjoy their lunch with the close proximity of the sea.
Mitchelville Beach: No man-made establishments have touched the appealing beach. All you will find is some trees and grass near the beach and that is what makes the place so fantastic. The less-traveled beach, situated at the 124 Mitchelville, is definitely a secret heaven.
Burkes Beach: A little further form Burkes Beach Road, rather at the endpoint of it, there is the Burkes Beach, besides Chaplin Community Park. There is a parking lot, keep your car there explore the place on foot.
Islanders Beach: This beach features pavilions for picnic, sand showers, restrooms, and grills so that every tourist who comes here can enjoy the proximity of the sea beach in their own way. Be it a get together with friends or a long drive, this beach serves as the best background.
Distance from Atlanta: 280.4 miles
6. Crescent Beach of Florida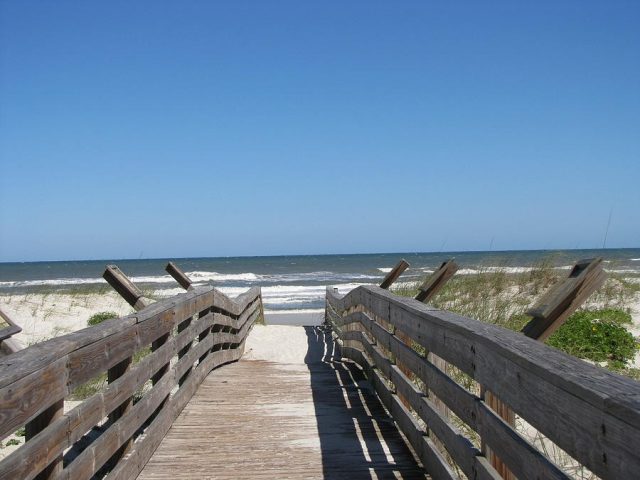 The crescent shape of the beach is responsible for the name of this serene beach. Most people come to relax on the shoreline and play volleyball and Frisbees. There are flyovers and wooden decks making the beach even conducive for all people to access freely and safely. If you want to prolong the holiday mood for a little more, then rent the available cottages and condos. You can go for horseback riding, on beach driving to explore the beach in a new light. There are pavilions, picnic tables, public restrooms so that spending an entire day at the beach doesn't become a hassle.
Distance from Atlanta: 395.8 miles
7. East Beach of St. Simons Island Beach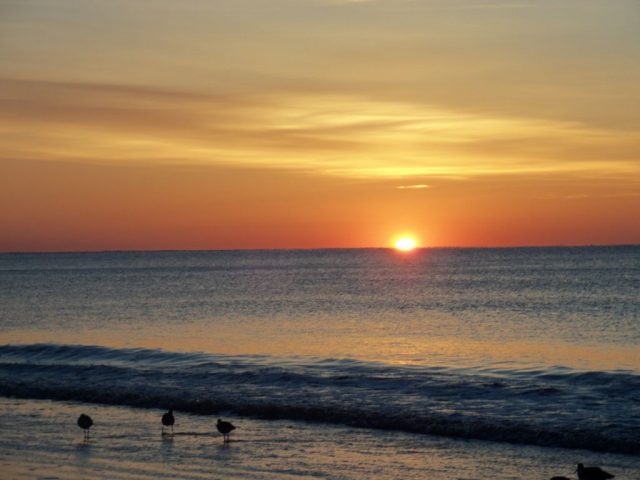 The beach is a stretch of hard-packed sands, mainly because of the tidal waves. The texture of the sand makes it perfect for biking. Kite surfing is also a popular sport as observed frequently at the beach. There are multiple access points so commuting is not a problem. You can go for World War II Home Front Museum, Massengale Park, and fishing at the Pier Village.  This is a pet-friendly beach and you can take your kids as well to enjoy the Neptune Park Fun Zone.
Distance from Atlanta: 313.1 miles
8. Beaches of New Smyrna Beach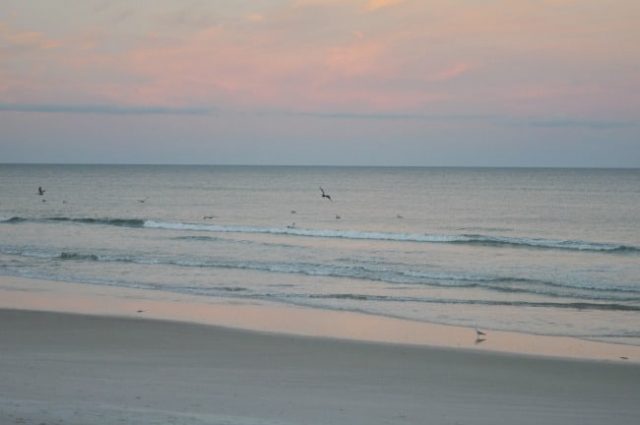 The city of the same name is known for its coastal climate and lots of tourists come here for surfing at the beach. Although, the rate of shark attack is exceptionally high at here, but nothing seems to dishearten the tourists as they come here for surfing, sailing, and kite surfing. Usually, the beach is a crowded place and after your time at the beach, you can go to nearby visiting places like Atlantic Center for the Arts.
Distance from Atlanta: 450.2 miles
If you are from Atlanta then these places might be in your bucket list. Not only beach traveling, rather experiencing new kinds of food and other playful activities are surely on your way. For a weekend gateway or for a week-long holiday, all these places are suitable for everything related to a vacation.