Croatia, a country of Balkan Peninsula has the Adriatic Sea to its front, nourishing numerous beaches along the coastline. From public beaches featured with separate showers, toilets, camping facilities to secluded mud beaches, Croatia has it all. There is the amazing sea organ in Zadar, which plays tunes when sea waves touch the tubes positioned at the marble steps of the beach. So, take a look at the following list to know some of the worth mentioning beaches across the country.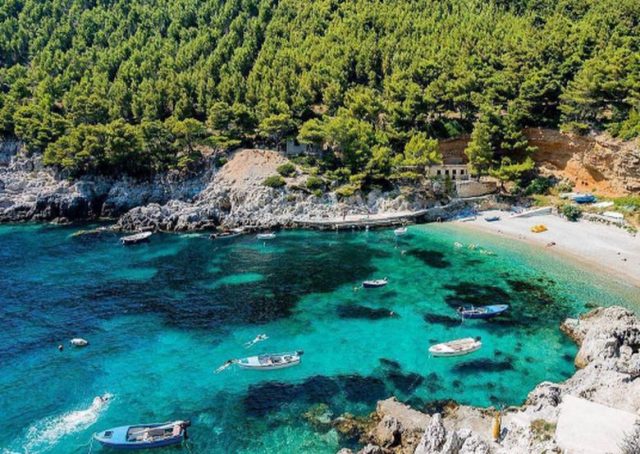 1. Bene Beach, Split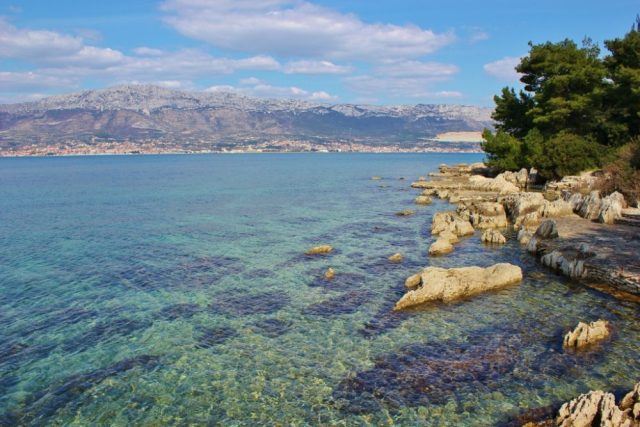 On the western side of Marjan hill, the rocky beach is amidst a forest park. The beach is studded with clear water and a long stretch of pines, both are inviting enough for tourists. It is a nice family beach, where you can enjoy with your kids, as there are water slides, a nearby playground, and a restaurant with modern amenities. The serene and tranquil beach offers kayaking as well. People go there year round, but some find September is the best time as they find the beach remains at its best during the month.
How to Get Here
2. Lapad Bay Beach, Dubrovnik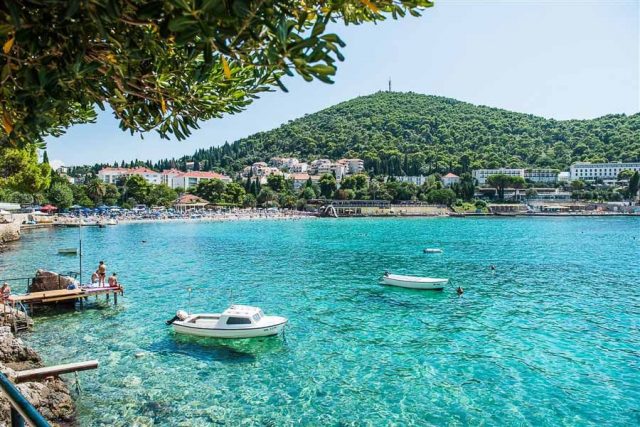 Also known as Uvala Lapad, this picturesque beach is a center of recreation for tourists. There are various accommodation arrangements in the vicinity ranging from cafeteria, tennis courts, and playground for kids. Even if you don't feel like taking a bath then tan your skin on deck chairs and relax under the sun umbrella. For an ideal summer vacation, what can be better than this one?
From Dubrovnik, you can get on buses that will take you to Cavtat, where you will find a number of beaches. Or you may cover this Lapad  Bay beach nearby Cavtat and then enjoy the rest of the beaches.
How to Get Here
3. Histria Beach, Pula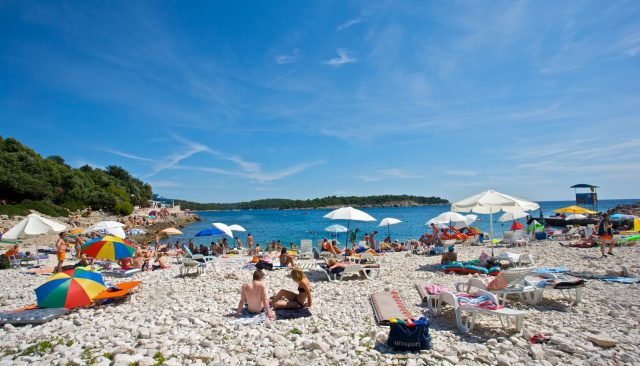 The crystal clear sea has previously been awarded for its cleanliness and maintenance. One side of the beach is concrete made while another side has stones all over. The panoramic view from the beach relieves your soul from the everyday monotony, not only this, the ambiance rejuvenates your holiday mood with people strolling at the nearby oak woods, swimming along with friends and family, indulging in exotic foods in the nearby restaurants. Rent a sunbed along with a parasol and attune to the tropical vibe of the beach for a perfect weekend relaxation.
How to Get Here
4. Beach Zrće, near Novalja, Pag Island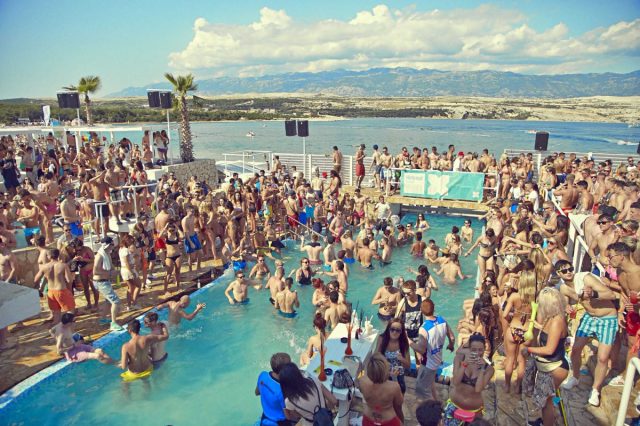 This iconic pebble beach is known for its festive mood and Dj parties organized here. Celebrating the youth, the parties are the signature of this beach, where you can participate with your friends. During the summer season, (July and August) there are discotheques and bars open for party lovers. The beach is accessible from 9:00 am to 6:00 pm and even if you don't like to party, you can always find peace in the serenity of the clear water.
How to Get Here
5. Ninska Laguna Beach, Nin, Zadar County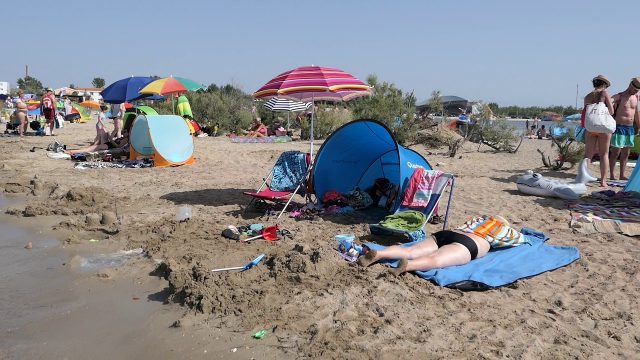 This beach is known for its shallow water and healing mud along sands. Kids enjoy playing at the beach and you might witness kite surfing as well. Although there are no upscale facilities but rented umbrellas and deck chairs are there.
How to Get Here
6. Zlatni Rat or Golden Horn Beach, Bol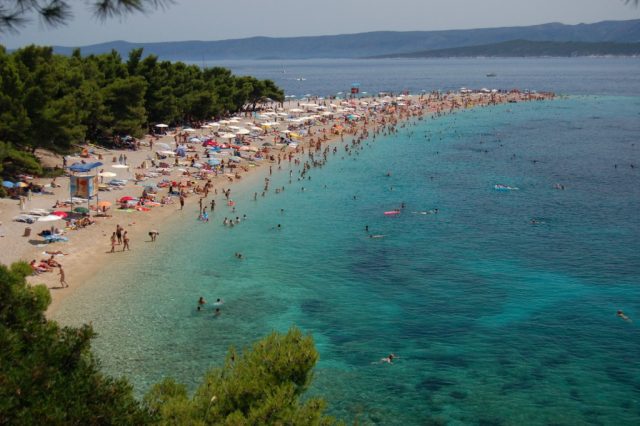 One of the famous beaches in Europe, this one is alternatively called Golden Cape. Parts of the beaches are clothing-optional. The currents of Havr Channel are perilous for swimmers to some extent. The white pebble beach has a unique shape according to the aerial view that could be the reason behind its name. You may go to this beach as your honeymoon destination.
How to Get Here
7. Okrug Gornji Beach or Copacabana, Ciovo Island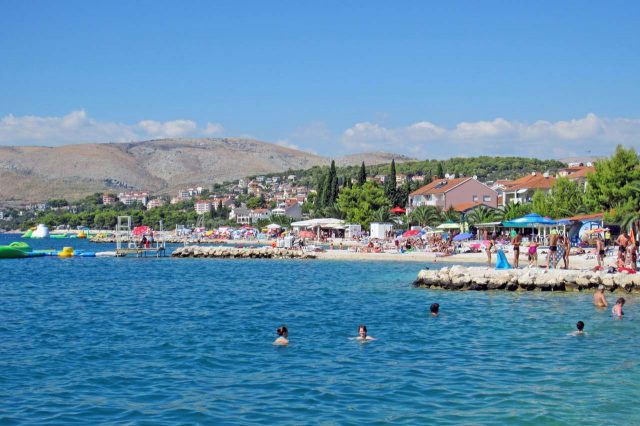 The heavenly beauty of the beach is the reason why nomads come here again and again. A jewel of Trogir Riviera, the beach has lots of sea urchins washed ashore. There are various eateries and bars to spend some quality time. For adventurous activities, rent a water scooter or opt for a boat and enjoy the scenic tour of the sea.
How to Get Here
8. Brulo Beach, Porec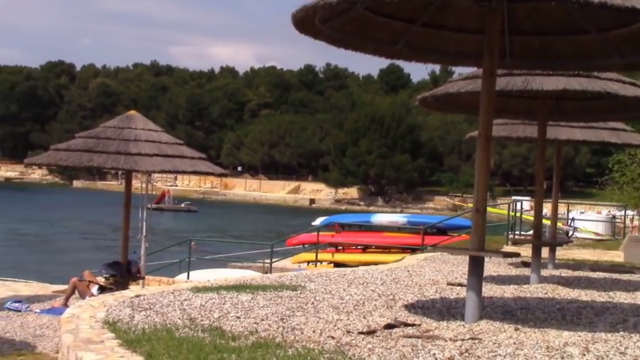 The 500 meters long beach has a pavement like side and part of the beach is rocky. It offers facilities for people with physical disabilities as well so that no one from a family lags behind. There are shaded huts to repose after a long swimming session. There is a floating island made of inflatable materials for kids and grownups. Paddle boating, snorkeling, parasailing, and playing water polo are some of the choices you can opt for at the beach apart from beach volleyball and tennis.
How to Get Here
9. Lone Bay Beach, Rovinj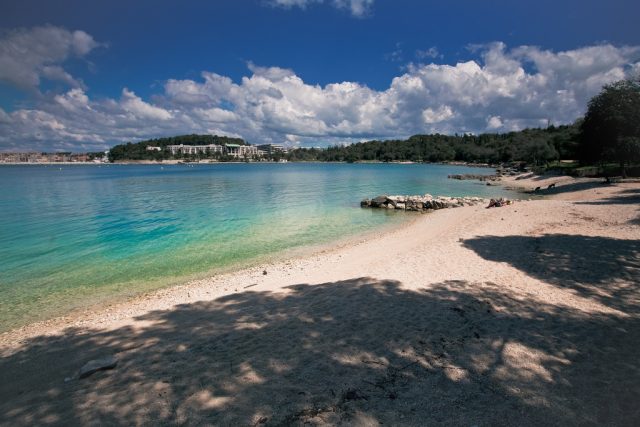 The public beach is also a pet-friendly beach, located with a proximity of other beaches. There are surfboards, beach canoes, and paddle boats available at the beach for fun activities. Mostly, people go there along with their family and take pleasure in the long line of greeneries and the blue water. If you are in Lovran then you can always take a bus and come here.
How to Get Here
10. Medena Beach, Trogir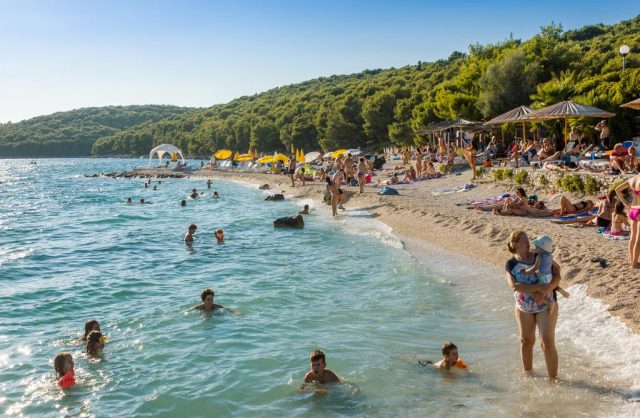 The quaint and peaceful beach alongside pinewoods has a quaint environment. There are football and tennis courts, golf course, and an animation center for kids. People enjoy water skiing, banana rides, water tubes, and jet skiing here. So, be it alone or with friends, you are never outgrown for the temperament of the beach.
How to Get Here
11. Vela Plaža Baška, Baska, Krk Island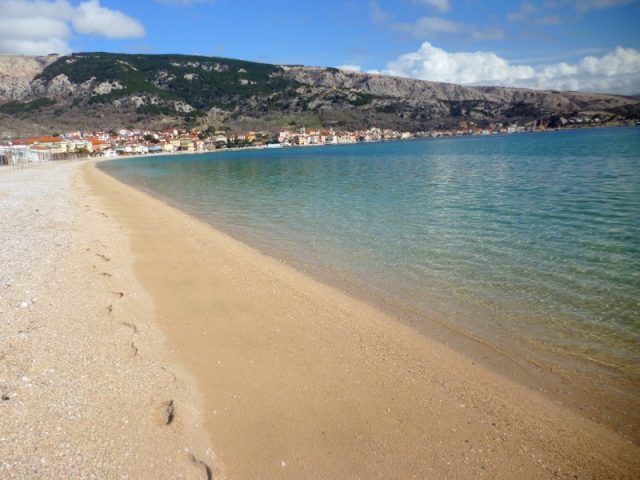 The popular beach is not limited to natural beauty; rather it has interesting water sports to entice any beach lover. From water sliding to parasailing, underwater diving to sailing, just name of any activity you wish and find it here. For buying souvenirs, there are shops nearby the beach, selling beach related stuff.
How to Get Here
As a country, Croatia is beautiful, with a number of beaches on almost every island. From Slavinj Beach of Omis Riviera to Bellevue Beach in Dubrovnik, from Jerolim Island Beach of Hvar to Beach Krilo of Jesenice, there is no end of beaches. Another popular, Crikvenica Riviera is also laden with more than 40 beaches. You may go to Umag, Korcula, and Kastela as well for more beaches.