Nebraska, a part of the Great American Desert, is renowned for its sizeable prairie grasslands, mountains, and strikingly towering dunes. Campgrounds in Nebraska have enchanted enthusiastic explorers and hikers around the world with some unique hidden wonders filled with spectacular waterfalls, caves, and ancient fossil grounds.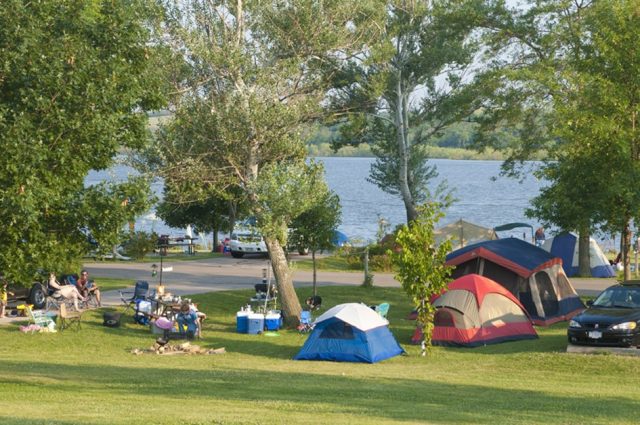 1. Lewis And Clark State Recreation Area, Crofton
It is located on the southern point of Lewis and Clark Lake in Knox County of northeastern Nebraska. The total dimensions of this recreational area are around 864-acre. The park shares the border with South Dakota, and encompasses a lake around 16 miles in length and 3 miles in width, with a maximum depth of 45 feet.
Camping Details:
The park headquarters is at the Weigand Burbach Area. The campground comes with electricity, coin-operated showers, tent camping spots.
Among some other popular places to go for camping are the South Shore Recreation, Bloomfield Recreation, and the Miller Creek Recreation.
An equestrian camping area is also situated in the southern shore point.
Leisure Activity:
Anglers get to catch a variety of species like the largemouth bass, bluegill, crappie, walleye, sauger, and catfish. Ice fishing can also be done in frozen lakes in winter.
Pleasure boats, sailboats, and personal boats are available on the lake.
Again, there is a 4.5-mile long trail where hiking, cross country skiing, biking, and horseback riding can be enjoyed.
2. Camp A Way, Lincoln
This scenic area is one of the best campgrounds in the State, situated at the junction point of Highway 34 and Highway of I-80. The camping site serves campers with various recreational facilities, kid-friendly zones, and separate dog enclosures. The scenic campground looks like a village, with miles and miles of lush greenery.  
Camping Details:
It is one of the best RV camping sites providing full hook-up facilities, with additional features like an indoor spa, and a heated pool.
The zone also offers free tent or primitive camping, lodges, and cottages in the area.
Leisure Activity:
Campers can engage themselves with some unique bubbly water escapades on the ZoomFloom.
There is a Water Wars zone, where visitors can throw water balloons at each other.
The kids can also get some enjoyment at the huge bouncing pad apart from a kid-friendly playground with jump shot basketball and massive board games.
3. Country View Campground, Ogallala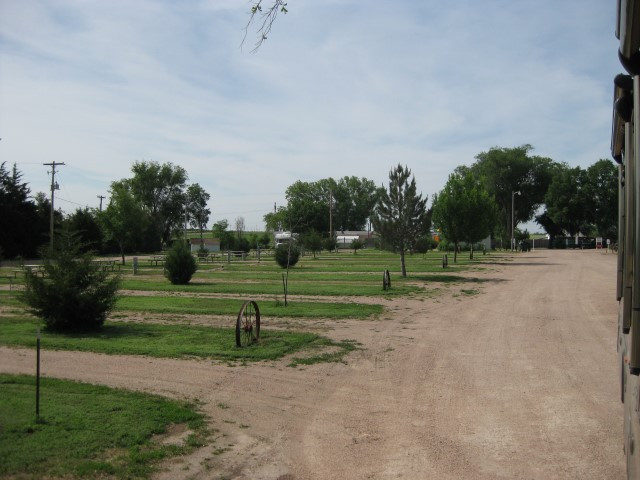 Country View Campground is located in Keith County. All trippers and campers with RVs and those who are interested in tent camping are welcome in this free camping site.
Camping Details:
Campers can get to choose from 48 camping grounds with full-hook-up facilities. Besides, a heated pool is provided for the comfort of the trippers. There are picnic tables and bathrooms as well.
Pets are allowed with leashes.
Leisure Activity:
Explorers can indulge in top recreational options at locations nearby the campsite like boating, fishing, golfing, biking, and mini-golf.
4. Louisville State Recreation Area, Louisville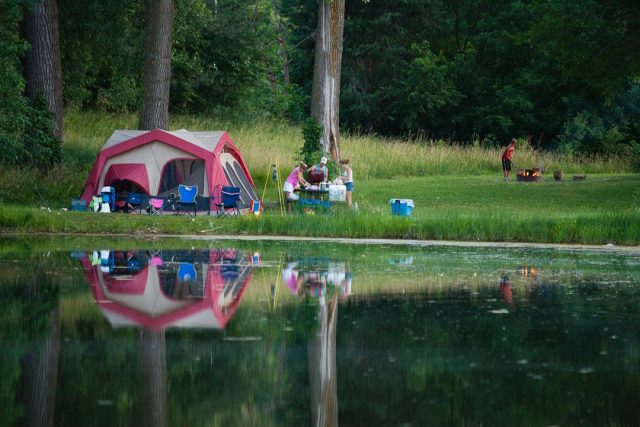 This spectacular recreational zone includes an area of 50 acres of water fed by 5 lakes. It is an ideal spot for manual boating, canoeing, fishing, picnicking, and swimming.
Camping Details:
The campground offers around 223 camping sites with proper electric conections.
It also has 13 camp sites without electricity, and 47 other non-pad sites without electric points.
All camping sites have showers, restrooms, and playing area for the kids.
A discount stand is provided for campers where fishing gears, camping required materials, snacks, and ice-cream are available.
Leisure Activity:
Fishing enthusiasts can visit the sandpit lakes for catching catfish, bluegill, and bass.
A unique floating playing area has been built in the lake, offering 90 minutes of playing sessions daily at 12 pm, 2 pm, and 4 pm.
Electric and manual boats are available on the lake. However, at the 2nd lake, boating is not allowed, as it is meant for swimming.
The travelers can hike and bike along the 2-mile trail winding through the park.
5. Willow Creek State Recreation Area, near Pierce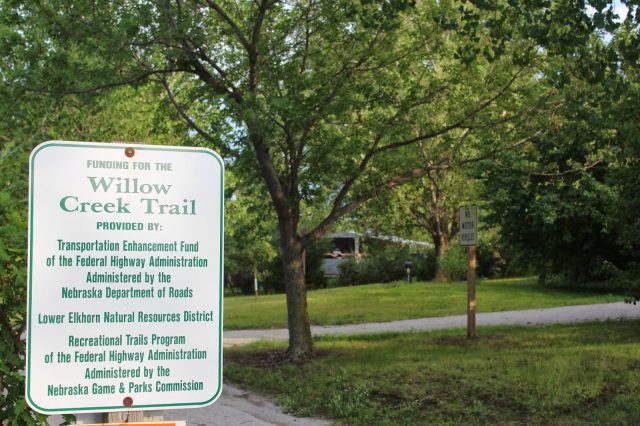 The state recreational area is located in the northwestern Nebraska  covering around 1633 acres. The significant portion of the 700-acre lake can be enjoyed for boating, and water skiing pursuits.
Camping Details:
This recreational area offers around 101 camping sites in the entire campground. Besides, there are 11 designated sites for primitive camping. The site offers modern restrooms, showers, and laundry.
Horse riding campgrounds include 10 camp sites, each of which is near 100 feet in length.
Leisure Activity:
Trekking can be done along the 8-mile long limestone path.
In winter, snow scootering provides lots of excitement to the campers at the frozen lake surface.
Camper also gets a chance to catch fish like northern pike, tiger muskie, walleye, largemouth bass, bluegill, and channel catfish, among others.
Swimming can be done with instructors, and horseback riding trails and archery can be enjoyed in the campground.
6. Willard L. Meyer Recreation Area, Tobias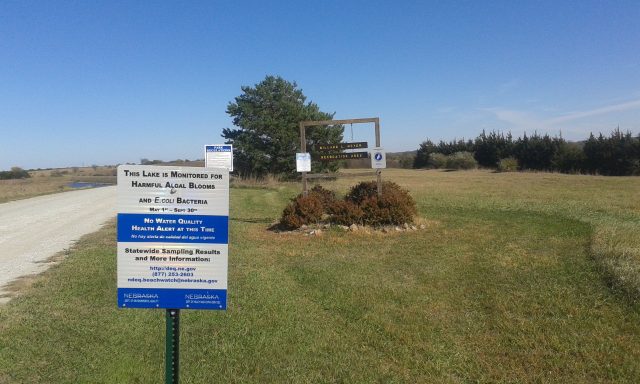 It is situated near Tobias, which is a streamlet of Swan Creek in the 195-acre Willard L. Meyer Recreation zone. It has one of the prominent fishing spots in the 95-acre massive lake area to catch largemouth bass, bluegill, and the channel catfish.
Camping Details:
The campground consists of 23 fully-equipped electrical camp sites.
All basic amenities like drinking water, picnic shelters, restrooms, and also facilities for disabled persons are available inside the campground.
Besides, RV and tent camping options are also there.
Leisure Activity:
Campers can engage themselves in activities like swimming, camping, boating, and hunting.
Trippers can walk along the hiking trails filled with lush greenery.
In winter months, one can even try cross-country skiing.
7. Grand Island Koa, Doniphan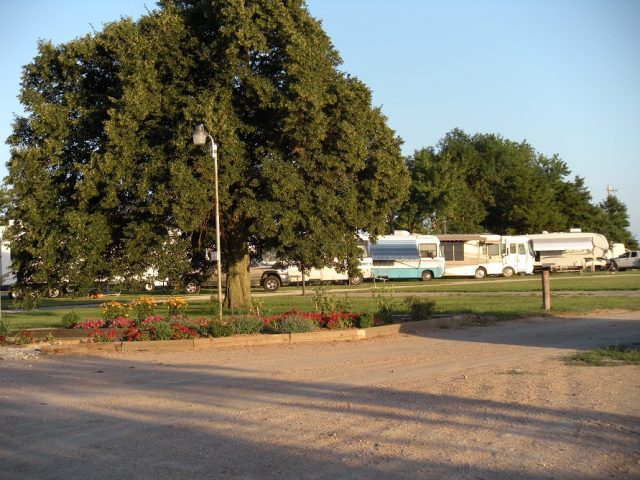 The serene and lush greenery campground is situated close to I-80 Highway, encircled by the Nebraska farm fields. It is among the foremost camping sites, especially for RV campers.
Camping Details:
A total of 100 sites are designated for RV campers with full hook-up facilities.
Apart from this, lodges, two-room cottages, tents, cabins, and deluxe cabins are offered to travelers.
Pets are allowed inside the campground with proper leashes.
Leisure Activity:
Vacationers can enjoy swimming, basketball, pedal biking, and mini-golfing.
Bird-watchers can witness splendid views of migratory Sandhill Cranes along the river in the summer season.
One can also participate at the Nebraska State Fair every August.
8. River Nymph Rendezvous, Schuyler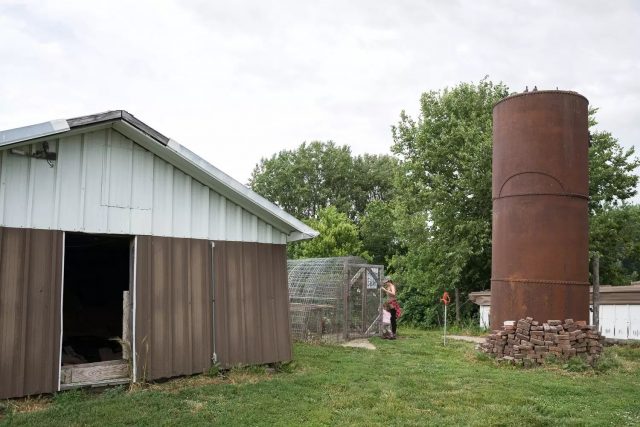 The campground is close to the E.T. Mahoney State Park, where enthusiastic travelers engage themselves in various activities and fest throughout the year. The Labor Day is a spectacular carnival, held annually in the Schuyler town, showcasing colorful parades of unique cultural diversity.
Camping Details:
Campers can bring their tents, trailers, and RV vehicles.
Clean drinking water, showers, picnic table are available in the campground.
Campfires are allowed for tourists, while pets are permitted inside the camping zone only.
Leisure Activity:
Tourers can indulge in pursuits like fishing, hiking, biking, paddle boarding, and observing fabulous wildlife.
9. Sleepy Sunflower RV Park, Ogallala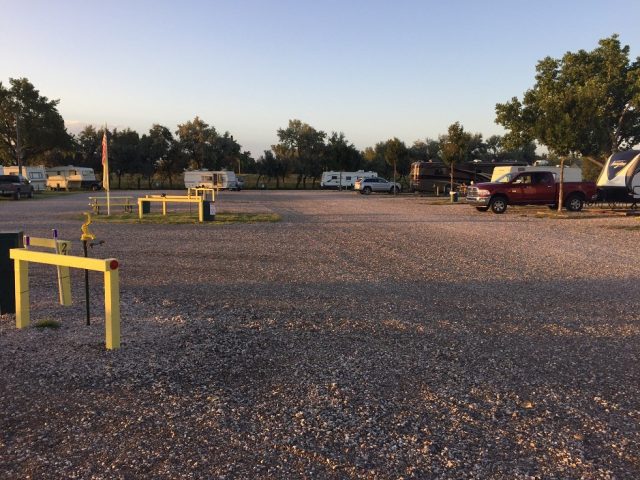 It is among the best family-operated RV campgrounds in the state. The park is upgraded every year, and recently a new pavilion known as Town Square was built in 2015. It is located close to the Interstate-80 Highway. Besides, it is also situated just 8 miles from Lake McConaughy, offering enthralling activities and attractions.
Camping Details:
A total of 37 camping sites is offered to the campers, which includes primitive camp zones. Besides, visitors can also stay in teepee and yurt type of tents.
Among these, 29 sites have full hookup facilities, and 26 falls under the category of pull-through RV areas.
Pets are permitted inside the ground.
Leisure Activity:
Tourists can indulge in golfing, fishing, boating or relax at the nearby sandy beaches.
10. Lake Minatare State Recreation Area, Minatare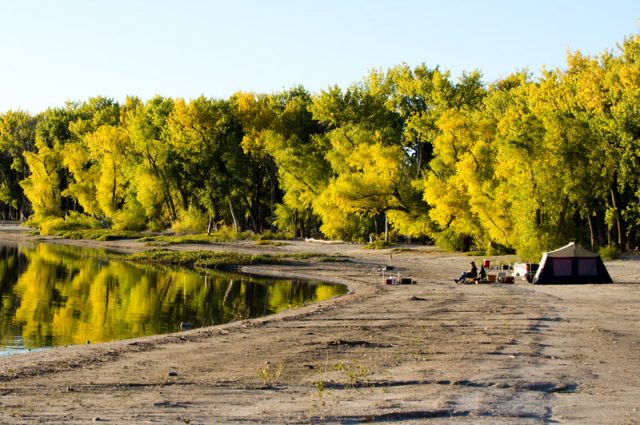 The campground is situated near the intersection of Nebraska Highway 71 and the US Highway 26. The lake area remains closed from October 15 to January 15 each year, due to migratory birds. The total dimensions of the camping sites are around 2,158 acres. It is the only park to house a full-size lighthouse of Nebraska.
Camping Details:
The entire campground encompasses around 52 bitumen-comprised camping sites with full hook up facilities like electricity, showers, and modern restrooms. It can be booked one year in advance.
The area also has 49 sites with supplementary electric supply given on a first-come, first-serve basis.
Unallocated primitive camping sites totaling 150 can be found in the ground, including the popular Butte View, South Gate, West Wind, and Scout's Rest zones.
There are some picnic shelters as well.
Leisure Activity:
Apart from camping, fishing enthusiasts can catch fish like the white bass, yellow perch, northern pike, smallmouth bass, big channel catfish, and walleye, from early spring to late summer. Besides, ice-fishing can be enjoyed in the cold conditions of January.
Three convenient boating ramps provided for power boating, water skiing, and sailing.
You can also go for swimming in some specific places.
11. Scenic Park Campground, South Sioux City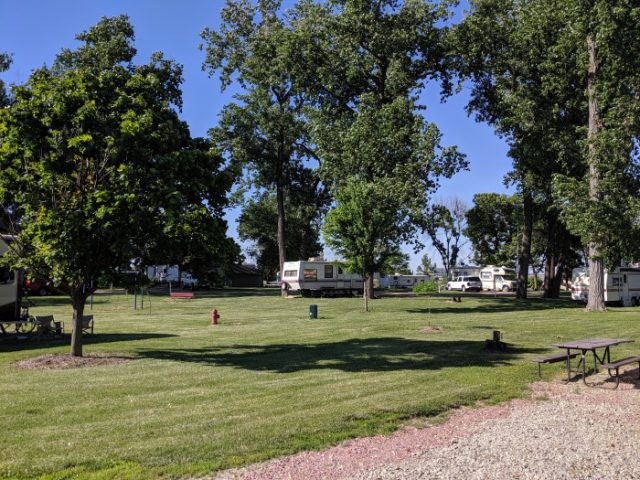 This spectacular camping site offers large RV camp zones, playgrounds, full hookup facilities. Campers can enjoy pursuits like jetty fishing or spend time in mini-golf among others.
Camping Details:
The family campground is available with electric points, picnic tables, three regular showers with one shower for the disabled with a pull-out seating arrangement is provided for the trippers.
70 maximum-sized RVs with 5 pull-throughs are catered for the campers.
A total of 85 camping sites is provided, out of which 20 sites are full-hooked up.
Besides, 15 tent camping sites are also available.
Moreover, 4 cabin rentals are there for excursionists.
Leisure Activity:
Fishing is popular in the lake spread over 2300 acres of the waterbody.
Campers can play tennis, volleyball, and also engage in swimming, and hiking along the scenic trails.
12. Double Nickel Campground, Waco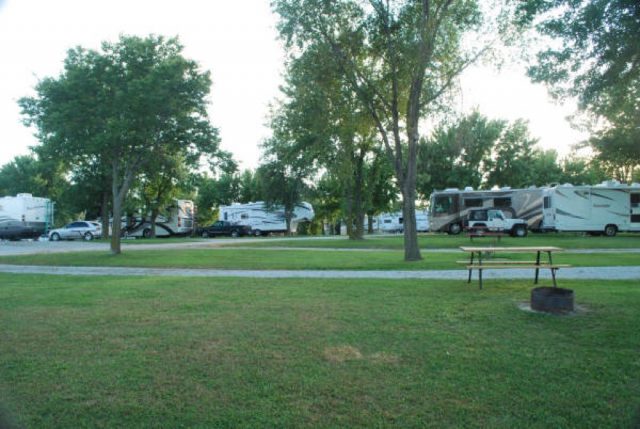 It is a family-operated campground in York, located close to the highway of I-80. There are specially designated dog parks inside the campground where pets are allowed.
Camping Details:
A total of 43 camping sites, including RV zones, are offered with full hookups and partial hookups facilities.
Inside the camping zone, there are also 13 primitive camping sites. Besides, rentals are also given for cottages and cabins.
Leisure Activity:
Swimming, mini-golfing, are available for campers.
13. Smith Falls State Park, near Valentine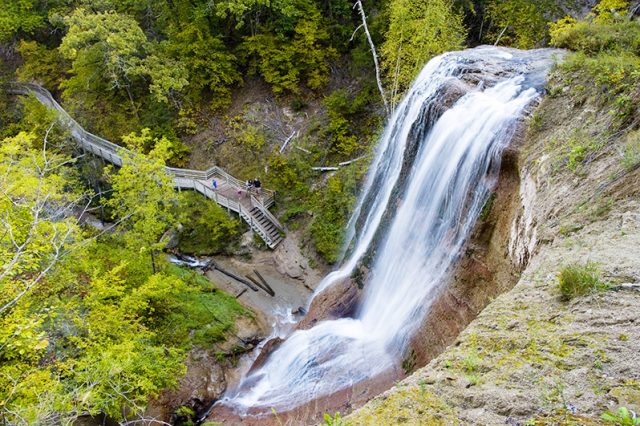 This site is the place to Nebraska's tallest waterfall (70 feet) known as the Smith Falls. It became a state park in 1992. The picturesque 76-mile long Niobrara River flows by the park, which is an excellent place to kayaking, bumper tubing, canoeing, among other water activities. The park is located in the North-Central plains just 18 miles east  of Valentine and has numerous isolated trails for more intrepid explorers. Excursionists can also find various ice age fossils along the trails.
Camping Details:
Primitive camping facilities are offered for campers along the northern part of the river equipped with partial hookup amenities, like electricity and drinking water.
Leisure Activity:
Customized floating trips can be enjoyed by paddle boats in the scenic Niobrara River.
Wildlife excursions can be undertaken at the nearby Fort Niobrara National Wildlife Refuge, a park for observing bison, deer, prairie dogs, elk, among others.
Cowboy Recreation and Nature Trail is great for horseback riding, biking, and hiking.
14. Pawnee State Recreation Area, Lincoln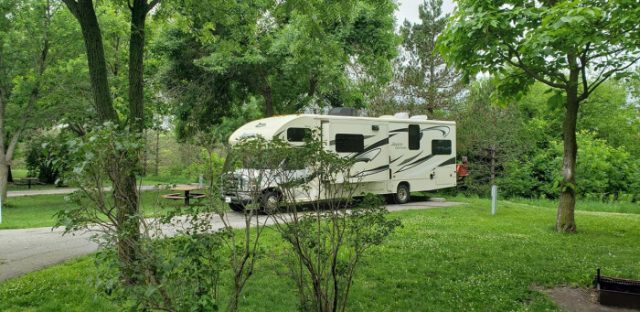 It is situated within 25 miles of the city of Lincoln, in the southeast of Nebraska. The 2,544 acres recreational ground encompasses the 740 acres of Pawnee Lake. This lake is the second largest lake, among 20 other lakes contained within the Salt Valley lake systems.
Camping Details:
A total of 68 camping sites with full-hooked up electricity and modern restrooms are provided.
Apart from this, 34 additional camping sites without electricity but full-equipped, and 97 non-equipped and non-electrical sites are available for the camper groups.
Leisure Activity:
It is an excellent spot for anglers to catch a variety of fishes like the bluegill, largemouth bass, walleye, and white bass.
Campers can also indulge in boating at the allotted three boating ramps. Besides, they can engage in biking, hiking, horseback riding, swimming, and hunting activities.
Among other popular campgrounds, the State Fair Campgrounds at Fonner Park on Grand Island provides impressive camping and hiking zones for trippers. Thus camping in Nebraska provides an enthralling activity for all explorers across the globe.