Argentina is not merely famous for its national football team, but also for the diverse Latino customs and traditions. Everyone loves this South American country, and fly to Argentina on and often to experience the scenic beauty, its heritage sites, and taste the exquisite delicacies. Here are a few of the most famous foods in Argentina. Check them out!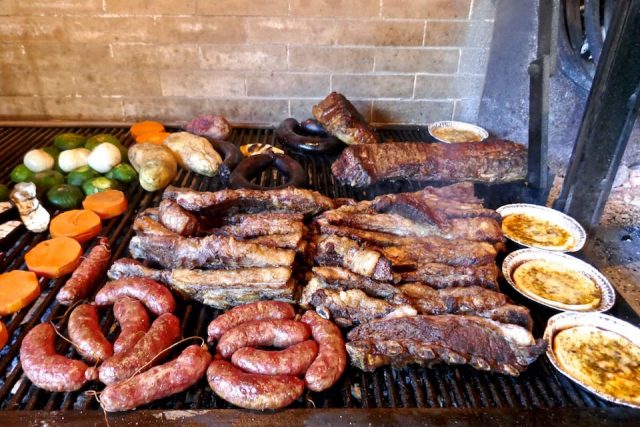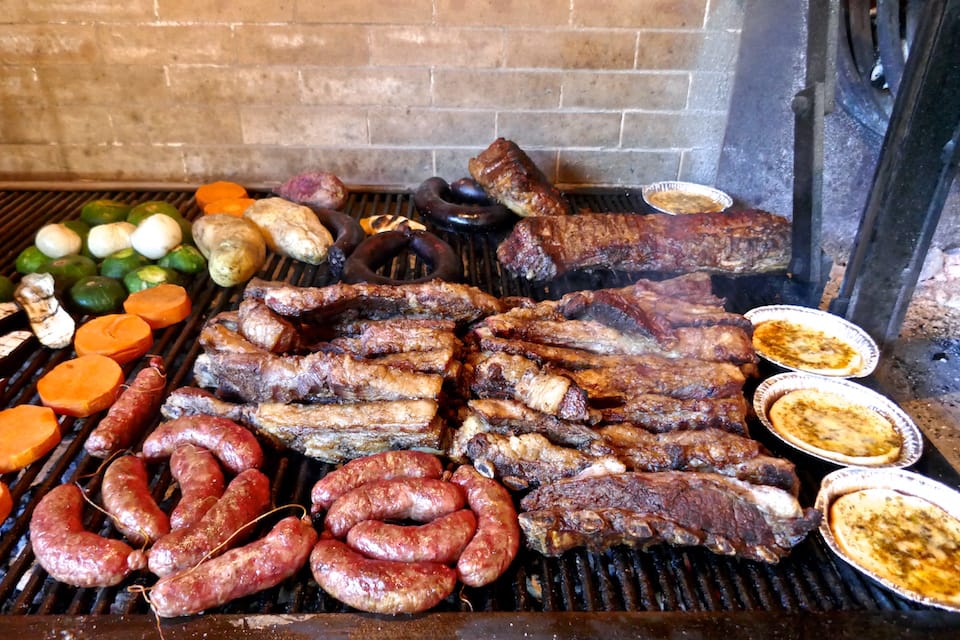 1. Asado Argentino – Traditional Argentine Staple Food
What is it: Asados can be made with a wide variety of meats, but mostly sausages and beef (for which Argentina is famous). This dish is slow cooked over burning coal and is one of the most important culinary traditions in this country. Interestingly, during Christmas, it is prepared with mutton or lamb meat.
What does it taste like: This elaborate meal of grilled meat will surround your senses of flavor with the balanced aroma of herbs and spices.
2. Carbonada Criolla – Stewed Meat for Lunch & Dinner
What is it: A main-course stewed meat dish cooked with assorted vegetables like tomatoes, onions, winter squash and other Argentinian spices.
What does it taste like: Cooked with meat (usually beef chunks) and dry fruits like apricots, raisins, and vegetables like sweet potatoes, this is a mildly sweet-tasting dish.
3. Rosca de Pascua – The Famous Easter Cake
What is it: This is also a common Argentinian traditional food, usually prepared during the Easter's holiday season.
What does it taste like: The addition of different kinds of spices, along with fresh eggs, kosher salt, rum, etc., has given this cake a typical salty-sweet flavor.
4. Pizza a Caballo – Simple Vegetarian Appetizer Pizza
What is it: A very easy pizza, almost an Argentinian staple, made with a generous amount of cheese and Argentinian faína. Though some people call pizza 'junk food', you will have reason to indulge your taste buds with this common street food.
What does it taste like: Needless to say, how the flavor of cottage cheese will fill your mouth with its unique taste, when you take a bite of the hot pizza, just out of the oven!
5. Fugazza – Common Breakfast Dish
What is it: Variation of a pizza, it has a thick, airy crust with sweet onion toppings and mozzarella cheese.
What does it taste like: The aroma of barbecued onions infused with hot mozzarella cheese is sure to make your day!
6. Hawaij Cocoa – Argentine-Jewish Hot Dessert
What is it: A thick cocoa dessert served hot with whipped cream, cinnamon, ginger and other ingredients.
What does it taste like: The unusual combination of different kinds of spices with sugar and salt in cocoa has given this authentic Argentine Jewish dish an unconventional flavor.
7. Chimichurri – Typical Argentinian Sauce for Grilled Meats
What is it: The base of this sauce dish is herbs and spices, and different other seasonings.
What does it taste like: The dish is a bit sour, and has a tangy taste, with the scent of herbs and spices that blends perfectly with the grilled aroma of meat.
8. Pasta Frola de Dulce de Membrillo – A Sweet Dessert Dish
What is it: An amazing dessert that is prepared using a cookie-like shortbread crust. It has a filling of quince paste.
What does it taste like: This flavorful sweet dish is not only tasty but also artistic, and is sure to give a typical Argentinian dinner a very aesthetic ending!
Now, that's our choicest list, and we are sure it is enough to make your mouth water right here! So, you see, it doesn't matter whether you have already been to the country in the past since once is not enough for a nation like Argentina even if you consider it from the standpoint of food!