Ghanaian cuisine showcases a perfect balance between spicy and healthy foods. While they prefer ginger, garlic, and shito or pepper as spices, they rely on maize, rice, yam, and bean-based diets for making comfort foods. The inclusion of starchy and nutrient foods ensures the healthy quotient of the cuisine. While Jollof rice is one of the national dishes in the country, fried foods like kose are equally enjoyed.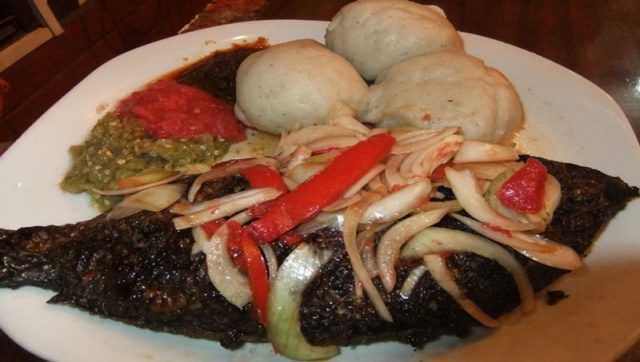 1. Fufu – A Popular Preparation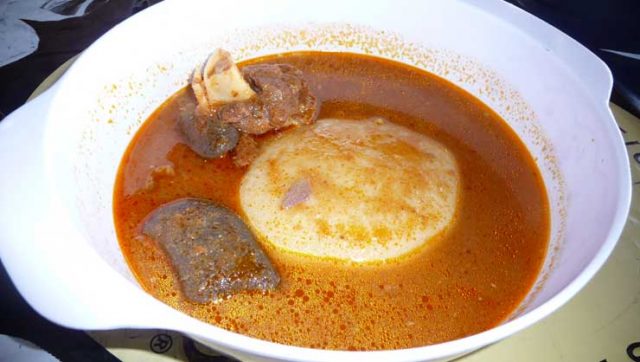 What is this: A dough made of cassava and green plantains mixed together, with the frequent addition of cocoyams. The side dish is traditionally consumed with soups, meat or vegetable stews, and sauces. Depending on the region, it has variant names like fufu, foofoo, or foufou.
What does it taste like: The starchy item doesn't have its own taste.
2. Ampesi – A Complete Meal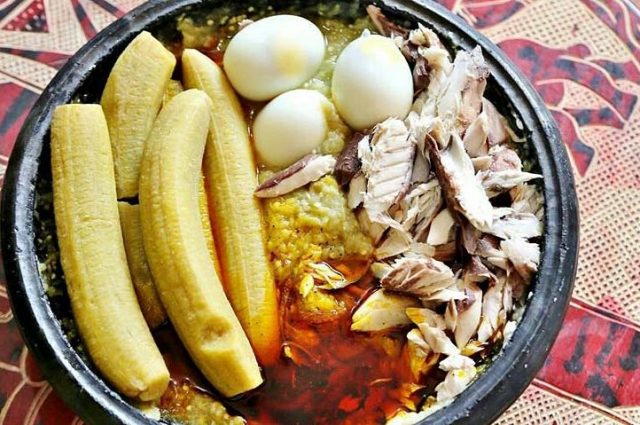 What is this: A platter consisting of cassava, cocoyam, yam, plantain, and potatoes, all boiled, is called ampesi. However, any two or three combinations of such ingredients are also ampesi. For its accompaniments, locals go for either tomatoes and fish stew or kontomire stew.
What does it taste like: The healthy dish, full of nutrients, has multiple tastes of the ingredients, but in a subtle way.
3. Apapransa – A Traditional Item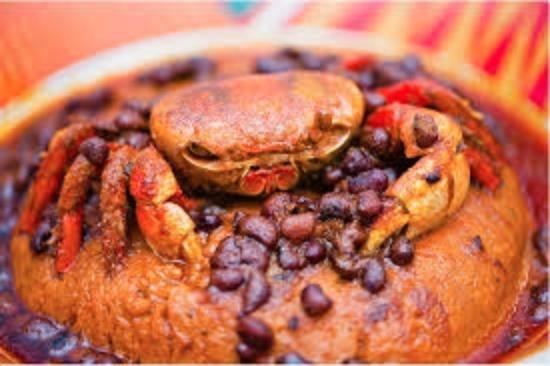 What is this: Palm nut and cornmeal soup cooked together to result in a solid chunk piece. Cooked crabs and kidney beans are used for garnishing. From wedding to funerals, apapransa is a must in the course.
What does it taste like: The solid texture of the preparation has a tendency to be extra thick, depending on the cooking process.
4. Banku – A Staple Food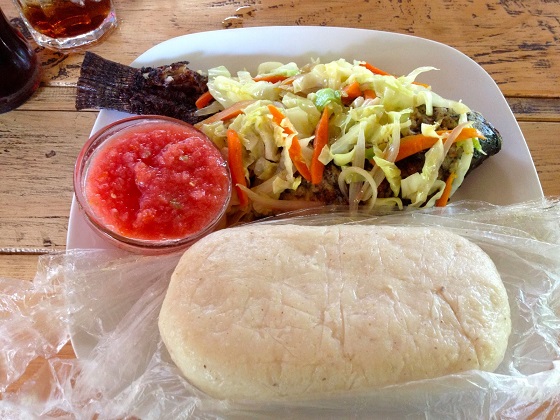 What is this: Cassava dough and fermented corn, amalgamated along with salt and water for having a dough-like consistency. While the Fanti group calls this banku or estew, Ewe people term this as akple.
What does it taste like: Just like fufu, it is neutral in taste and is complemented by grilled tilapias, okra soup, or hot pepper.
5. Bofrot – Ghanaian Favorite Fried Item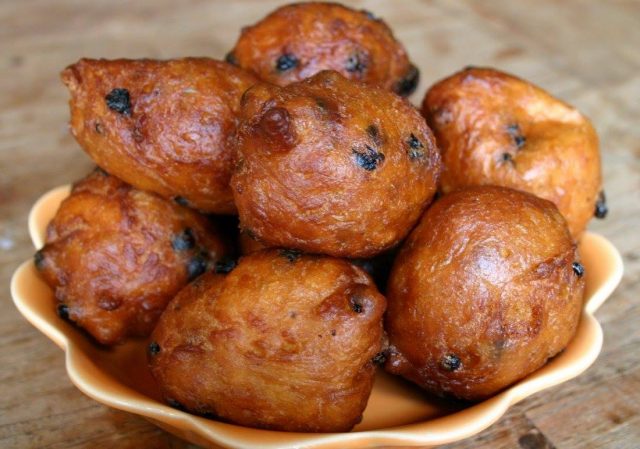 What is this: Fried balls with a golden brown shade. In Nigeria, this is known as puff-puff, while in Congo, its name is mikate, and in Liberia, it is Kala.
What does it taste like: The ingredients being, yeast, flour, water, butter, and eggs make the balls soft. Sometimes they are served with vanilla or cinnamon flavors along with fruit syrups like raspberry or strawberry for a sweetening effect.
6. Chofi –Street Food from Ghana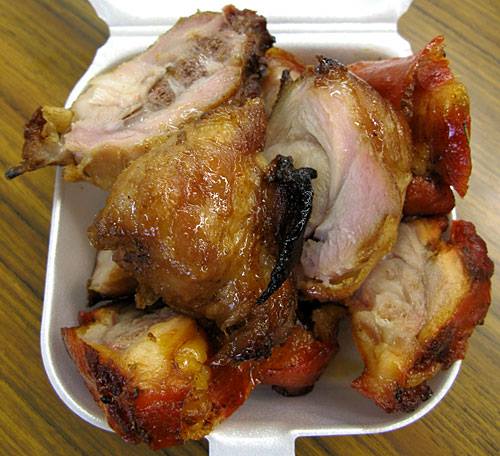 What is this: Deep-fried turkey tails seasoned with onion and garlic. It can be served along with banku or fried yams. Also known as Tsofi, this is a common item at every home of Ghana, especially during Easter.
What does it taste like: Oily and meaty with flavors of the seasoning.
7. Red Red – Famous Vegetarian Delight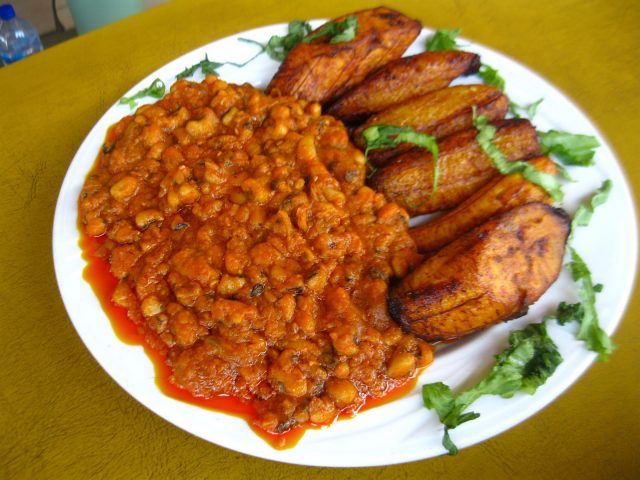 What is this: Black-eyed peas cooked with tomatoes, ginger, and garlic. It earns its name from the red palm oil it is cooked in. Either fried plantains or gari(cassava made items) are consumed along with this. The non-veg variation contains fish like pilchard and mackerel.
What does it taste like: The well-cooked taste of tomatoes and peas are well balanced, and you will enjoy the soupy flavor.
8. Kenkey – The Comfort Food of Locals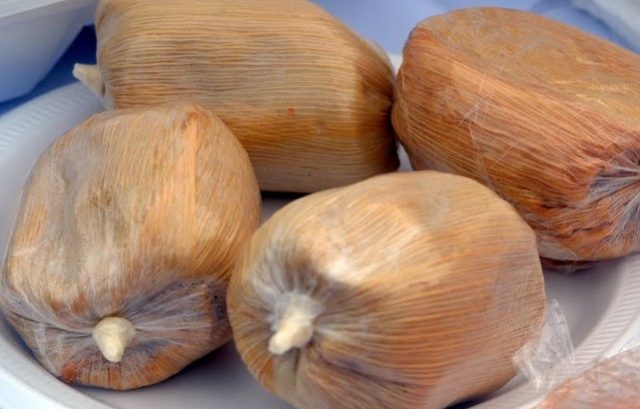 What is this: Fermented maize dough is steamed while wrapped in banana leaves. This is alternatively known as dorkuno, kokoe, or kormi. This comes either with mini tilapias or hot sauce or pepe.
What does it taste like: The dense dumpling-like item has a sour taste.
9. Kontomire Stew – A Common Soup Preparation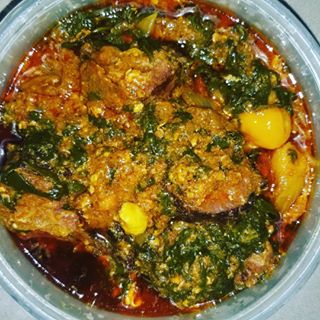 What is this: Spinach or cocoyam soup along with fish or meat and spices. Gari, plantain, or plain rice nicely complement the dish.
What does it taste like: The iron and fiber-rich soup gives you a distinct flavor of every ingredient, mildly.
10. Kelewele – Another Fried Food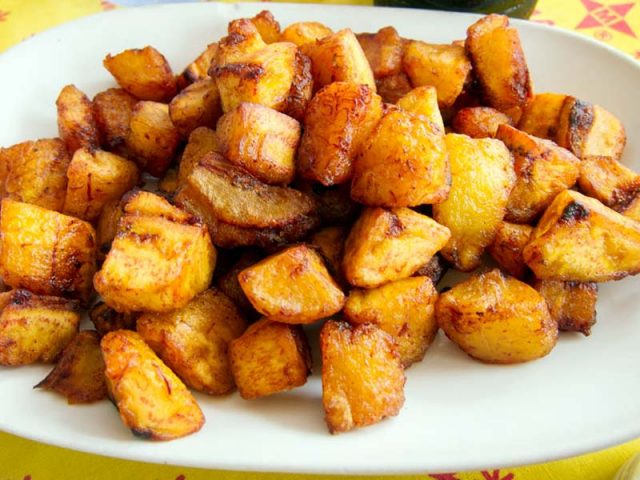 What is this: Fried plantain cubes with a spicy seasoning.
What does it taste like: The crispy fries are sweet and spicy, while the exterior has a crunchy texture, the interior is really soft, blessing you with the pleasure of sweetness. Enjoy with bean stew, plain rice, or just as a dessert.
11. Suya – A Ghanaian Appetizer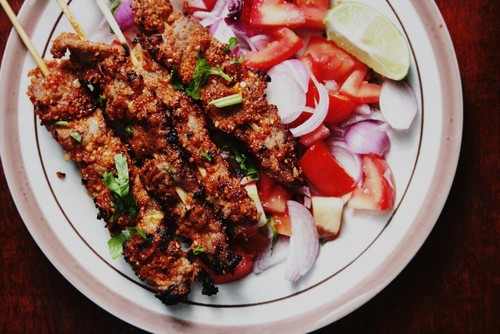 What is this: Barbecued meats after they are marinated with spices.
What does it taste like: The brown kebabs are crispy with a dominant meaty taste coupled with garlic and onion powder.
12. Tuo Zaafi – A Main Course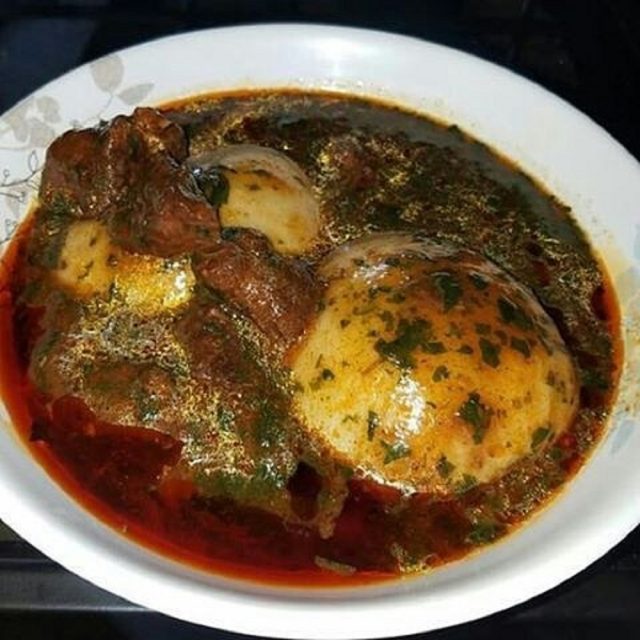 What is this: The maize made dough is a specialty of Northern Ghana.
What does it taste like: The mingling of dried cassava and maize requires some hearty soup alongside to be enjoyed.
These are some typical Ghanaian dishes, but not all as something are best left for your discovery. From street food to ceremonial delicacies, all are sure to catch your attention, or rather captivate your taste buds.