Iranian or Persian cuisine has introduced some marvelous dishes of all time. Besides rice, vegetables, and fruits, spices like saffron, mahleb, cardamom and green herbs play an important role. These foods are majorly spicy and tasty, being rightly influenced by Turkish, Russian, and Central Asian cuisines.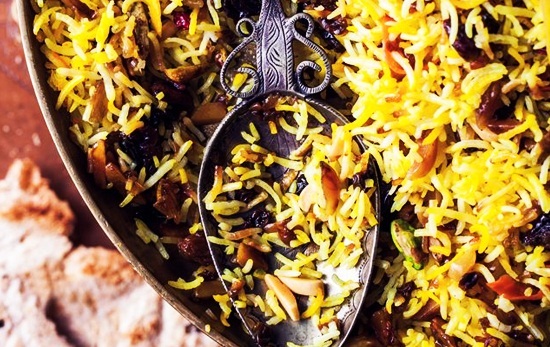 1. Āsh-E Anār – A traditional Persian soup or "ash"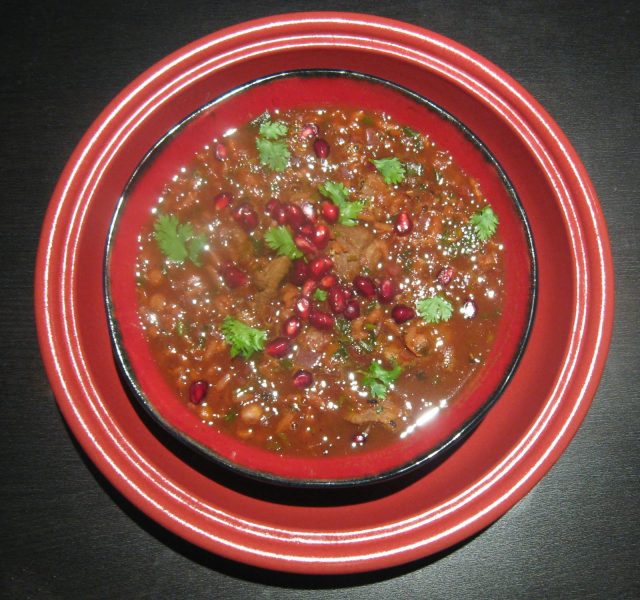 What is it: A pomegranate soup with meatballs. Anar means pomegranate, while ash denotes a kind of thick soup.
What does it taste like: This soup is served hot, making it a delicious winter dish. Vegan people can consume this soup without adding meatballs.
2. Abgoosht – An Iranian dizi preparation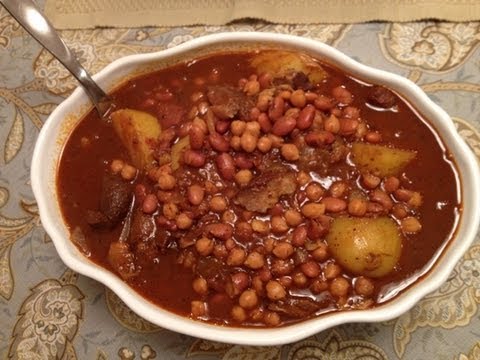 What is it: Also known as abgusht implying meat broth, this is a delicious affair of lamb with spices.
What does it taste like: The strong flavors of chickpeas, lamb, potatoes, white beans, and spices go well with bread. On the one hand, it has a meaty flavor, on the other hand, it contains highly nutritious vegetables ensuring your health quotient.
3. Iranian Potato Salad – A traditional Iranian food
What is it: An assortment of potatoes, eggs, and chicken. This delicious preparation is a must in any traditional Iranian ceremony.
What does it taste like: The fresh taste of mayonnaise, along with soft pieces of chicken and eggs, deserves a special mention.
4. Sabzi Polo Ba Mahi – A Persian festival food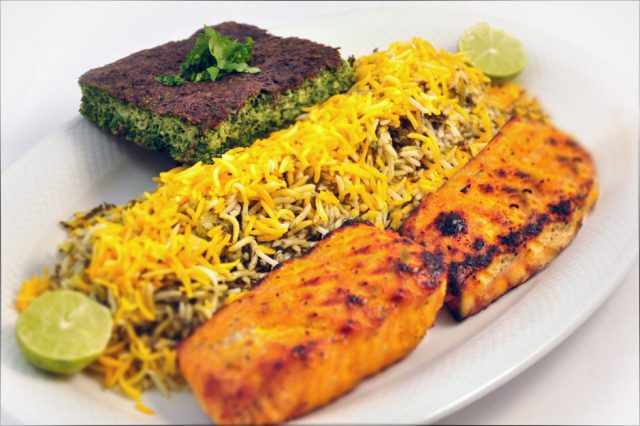 What is it: An herbed rice pilaf complimented with white fishes (either Caspian kutum or halibut). Sabzi means vegetables, polo means steamed rice, and mahi denotes fish. Iranian people serve this dish on their new year's day, Nowruz.
What does it taste like: The delicious green rice will leave you spellbound with a rich taste of herbs. This dish offers a complete package of tastes to make you drool over it.
5.  Fesenjān – A North Iranian delicacy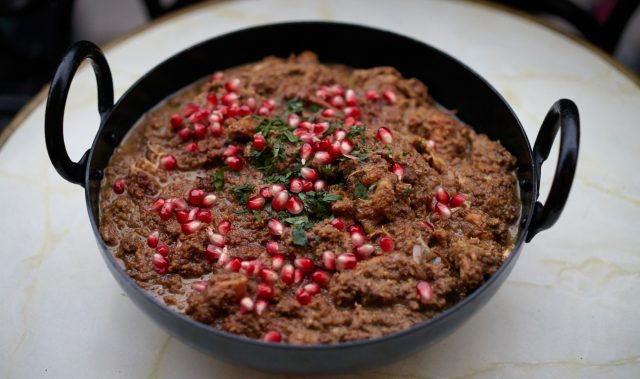 What is it: Popularly known as Khoresh-e fesenjān, this meaty stew with pomegranate syrup reflects the dexterity of Iranian people regarding the culinary skill.

What does it taste like: This is a hearty stew offering the taste of chicken or duck enhanced with crushed walnuts and often served as a complimentary dish of any rice preparation.
6. Gheimeh – A typical stew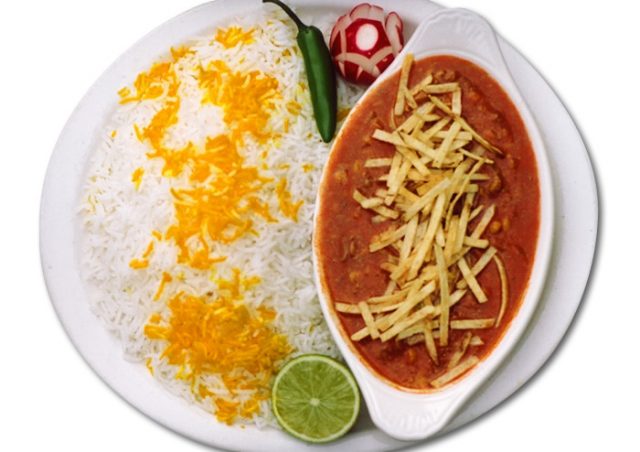 What is it: Popularly known as qeymeh, there are two types of this stew known as gheimeh sibzamini and gheimeh bademjan. This is traditionally garnished with French fries and served with aromatic rice.
What does it taste like: The taste of split peas, tomatoes, dried lime, and onionalong with French fries and eggplants is simply divine.
7. Ghormeh Sabzi – A Persian vegetable soup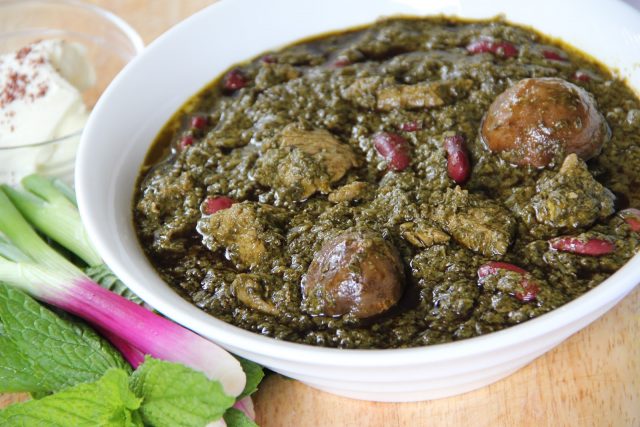 What is it: Also known as qormeh sabzi, this flavorful herbal stew is considered as the national dish. The international ghormeh sabzi day is observed on every last Saturday of November.
What does it taste like: The mixed taste ofcoriander, fenugreek leaves, kidney beans, and black lime will leave you speechless.
8. Khoresh Bademjan – An eggplant stew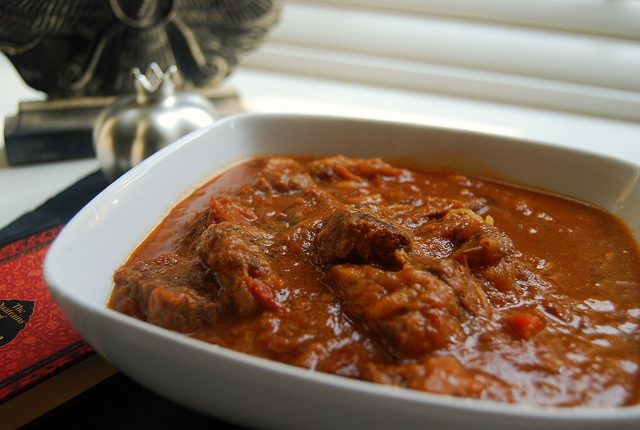 What is it: A tomato-based stew you should be having once you land in Iran.
What does it taste like: You will relish the perfect combination of eggplant and meat complimented with spices.
9. Khoresh Karafs – A popular Iranian food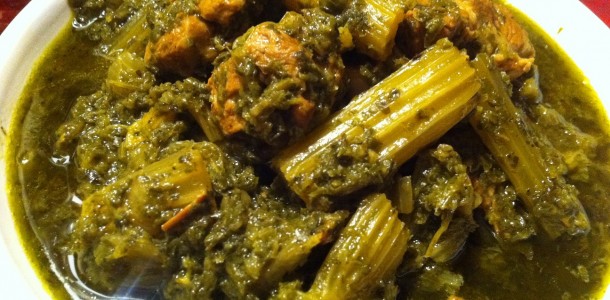 What is it: A stew preparation with celery and meat as the main ingredients.
What does it taste like: The healthy green stew is so mouth-watering that you will crave for more. This finely cooked dish will steal your heart with a fresh taste of meat, celery, parsley along with lime juice.
10. Kookoo or Kuku – An appetizer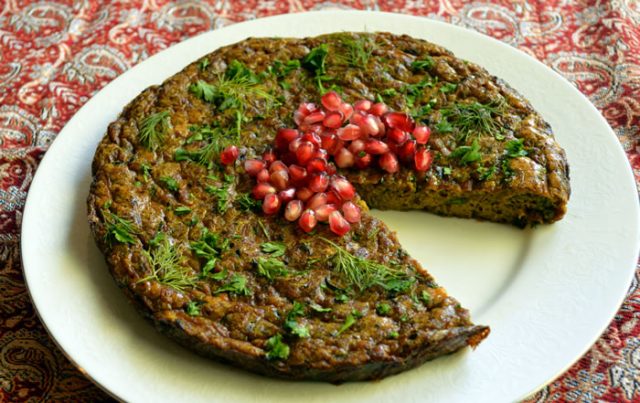 What is it: An herb-based frittata. This cake-like preparation is cut and served into pieces. Based on its ingredients, there are two different types of kuku, namely, kuku sib zamini and kuku sabzi.
What does it taste like: A beautiful amalgamation of spinach, coriander, scallions, and herbs along with eggs makes this preparation a delicious one.
11. Mirza Ghassemi – A famous Iranian dish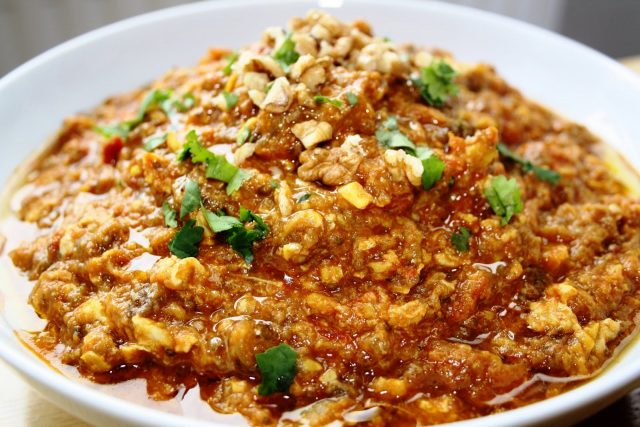 What is it: Grilled eggplants flavored with spices. Sometimes known as mirza qasemi, this tasty appetizer has its roots in the Gilan region of Iran.
What does it taste like: The spices, tomatoes, and eggs are perfectly blended with eggplants, making it a good option to have either with rice or bread.
12. Tahchin – A rice cake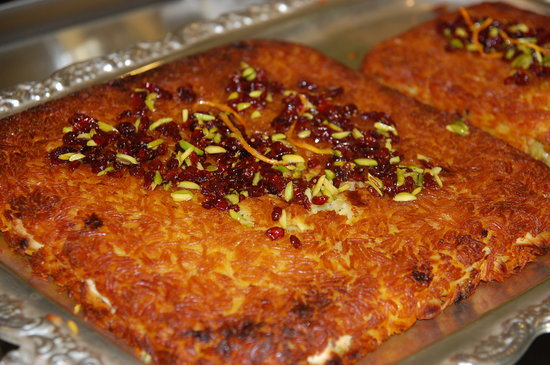 What is it: Chicken, yogurt, and egg-based rice cake.
What does it taste like: This authentic Iranian dish has a strong flavor of saffron. The topping known as tahdig is opulent with chicken, but sometimes fish and other vegetables are used. The lower or base part is purely made of white rice.
13. Zereshk Polo – A hearty meal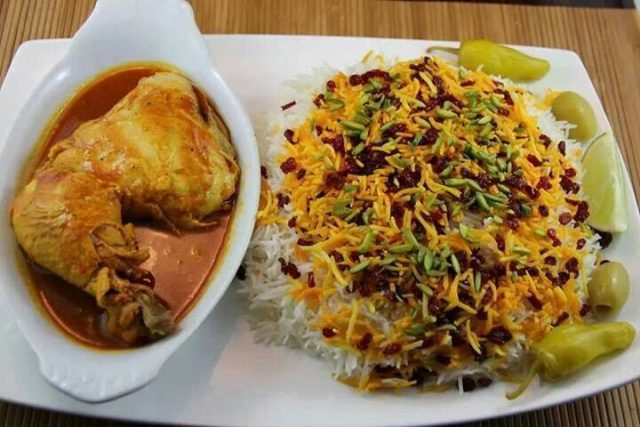 What is it: A rice preparation made with barberries. Traditionally served with chicken pieces, due to its garnishing with barberries, it is known as jeweled rice. If you ever attend an Iranian wedding, you will find this item for sure.
What does it taste like: Almonds and pistachios rightly enhance the subtle taste of rice along with saffron, lemon juice, and other spices.
14. Shole Zard – A rice pudding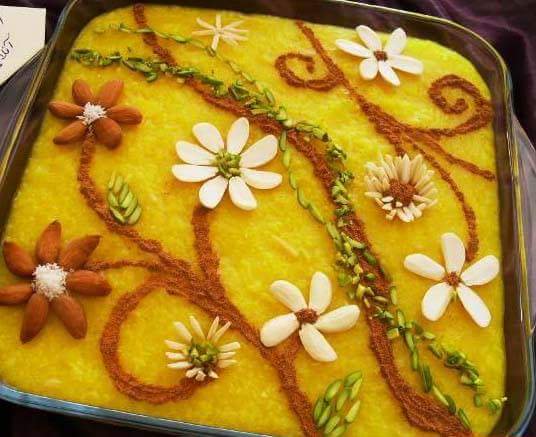 What is it: A soft pudding entirely made of rice, saffron, and white sugar. Local people give significant importance to the garnishing, often ended up making floral designs with pistachios and cinnamon.
What does it taste like: Be it cool or hot, in both ways, you will be stunned to taste the smooth pudding.
15. Iranian Haleem – An authentic item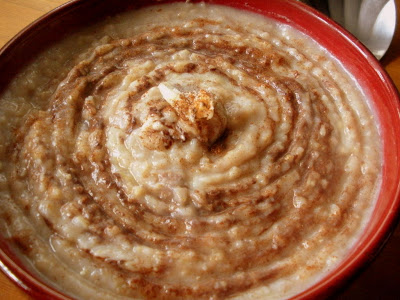 What is it: A slowly cooked meat preparation often featuring turkey or lamb.
What does it taste like: A wholesome breakfast, the meat is finely tuned with milk. While serving it hot, people use melted butter and cinnamon over the haleem.
16. Koofteh Berenji – Wholesome rice balls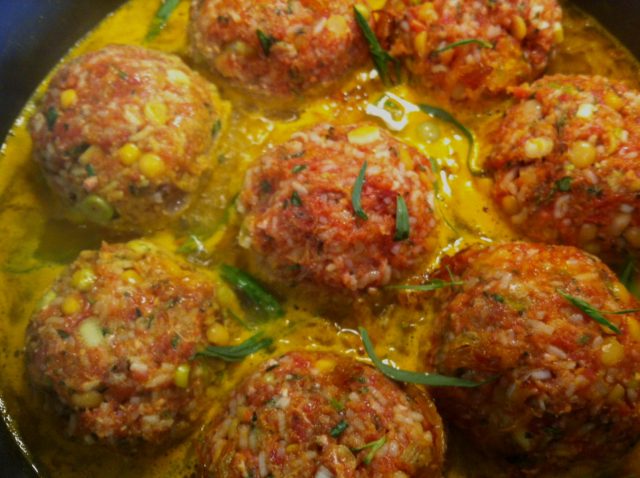 What is it: Meatballs paired with finely cooked rice.
What does it taste like: This is an irresistible combination of rice, meat, scallions, and parsley. These meatballs are crunchy and taste delicious if consumed with pickles.
17. Kotlet – A traditional cutlet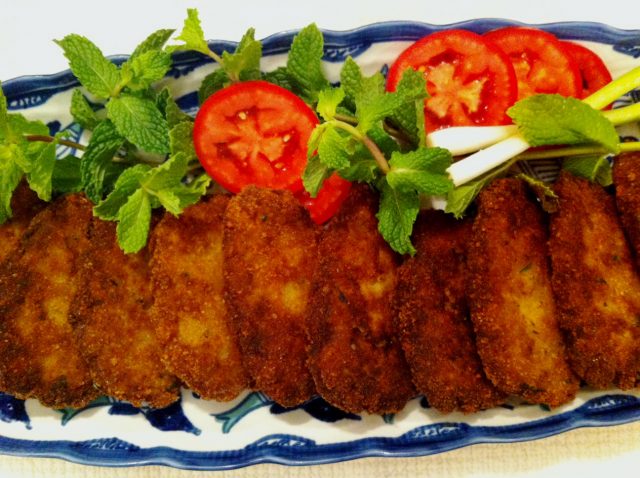 What is it: Fried pieces of beef.
What does it taste like: The crusty kotlets offer amazing mixed flavors of potatoes, onions, eggs, and saffron.
Summing up the deliciousness of Iranian cuisine is not easy, so it is better for you to start exploring other preparations as well. We are sure you will end up loving the cuisine.