Jammu and Kashmir or J&K, like other states of India, showcases myriads of flavorsome dishes that are an indispensable part of the traditional Indian cuisine. While the authentic dishes of Jammu (a part of J&K) have some enticing rice and vegetable based items, Kashmir Valley (also a part of J&K) offers Wazwan, a conventional multicourse, mostly based on meat preparations.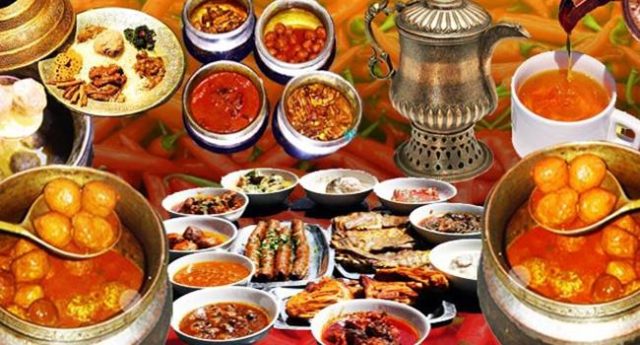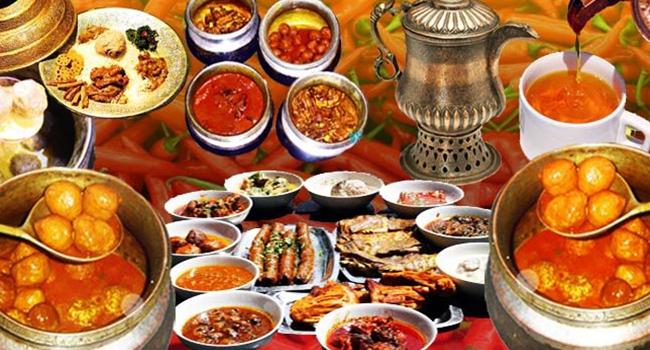 Jammu Foods: Five fantastic delicacies
1. Kachaloo Chaat – A famous street food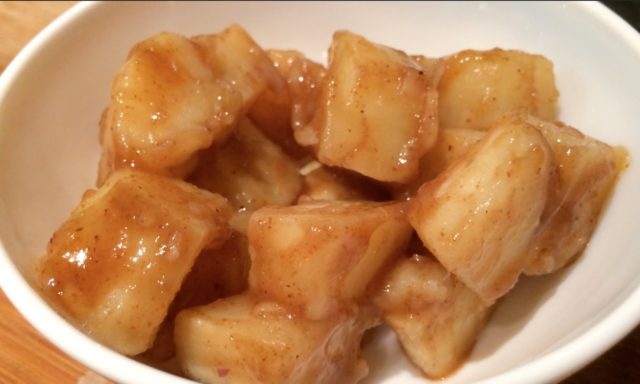 What is it: Spiced up taro roots, when prepared with potatoes or aloo, called aloo kachaloo chaat.
What does it taste like: This sumptuous snack offers a combined taste of lemon, red chili flakes, black-eyed beans, and tamarind in the best way possible. Tangy and spicy to its core, this is a must for you.
2. Kaladi Kulcha – A popular preparation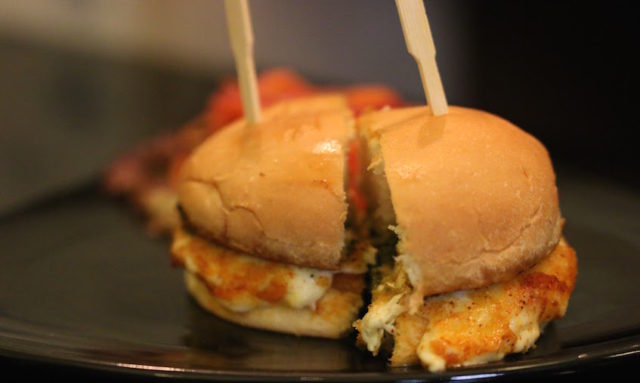 What is it: Mozzarella like cheese made from goat or cow milk and served with kulchas or bread and garnished with cooked vegetables. This dish owes it origin to Udhampur of Jammu.
What does it taste like: The spongy blob creates a heavenly taste when associated with condiments or chutney, like chili or garlic chutney.
3. Rajma Chawal – A common veg staple food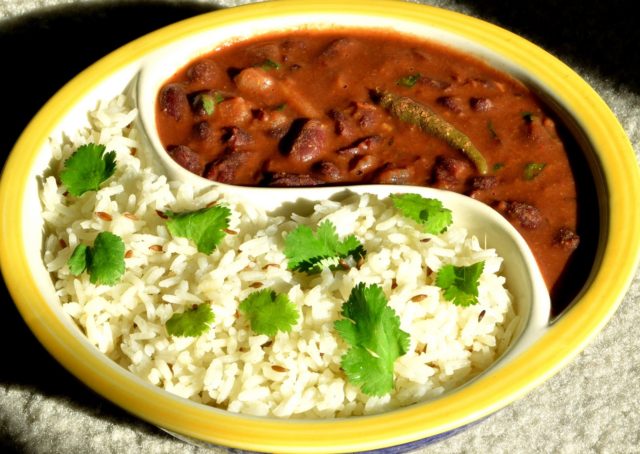 What is it: Red kidney beans or rajma curry served with rice. The sweetness of kidney beans are exclusive to Jammu, hence the dish is quite a popular one.
What does it taste like: Spices like chili and turmeric powder along with onions and tomatoes make this main dish a delectable one. The mild aroma that it imparts is a result of using fresh coriander leaves.
4. Khatta Meat – A Dogri food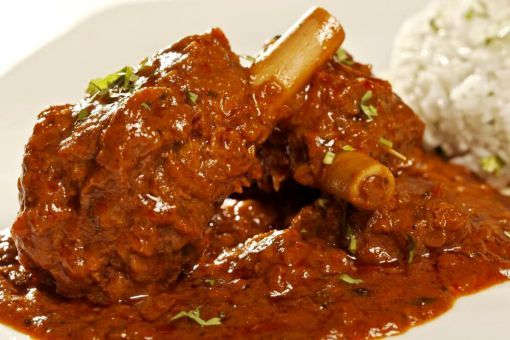 What is it: A mutton preparation defined by its gravy or curry. This preparation is an upshot of the Dogra dynasty that had substantial supremacy over the state.
What does it taste like:  As the name suggests, khatta means sour, and it is sour but in a delicious way. The tangy flavor is achieved either by anardana (pomegranate seeds) or amchur (dry mango) powder.
5. Patisa – A sweet item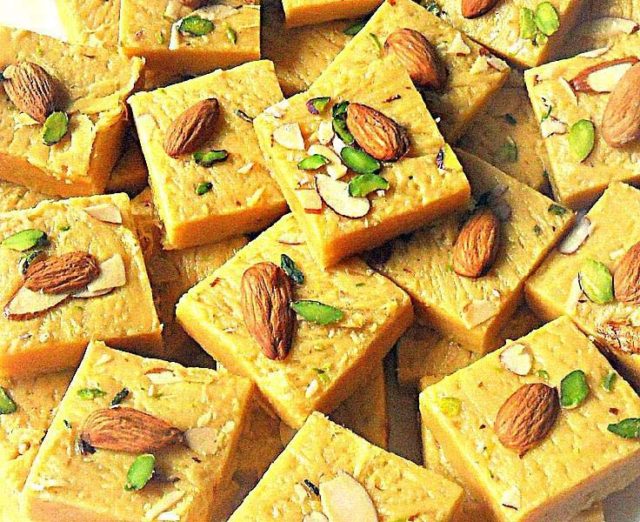 What is it: Alternatively known as "son papri" or "sohan papdi", these little cubes are prepared from a mixture of gram and maida flour together.
What does it taste like: The soft yet smooth texture satisfies your sweet teeth as milk and syrup do their part.
Kashmiri Foods: Five famous dishes
1. Dum Aloo – A typical Kashmiri food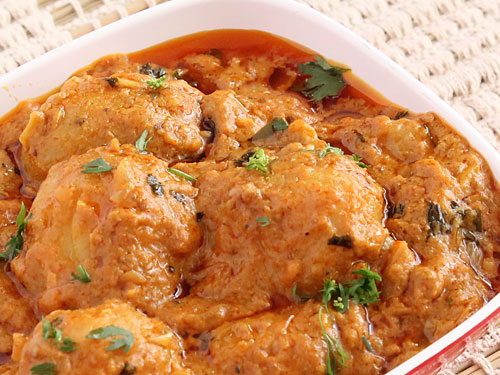 What is it: Aloo or potatoes cooked with spices. Since this dish was originally consumed by Kashmiri Pandits, it was initially prepared without garlic and onions.
What does it taste like: The yogurt based gravy has a rich yet subtle taste of spices like garam masala, cumin, fennel seeds, cardamom and other spices. Hot parathas go well with this preparation.
2. Kashmiri Polao –A rice preparation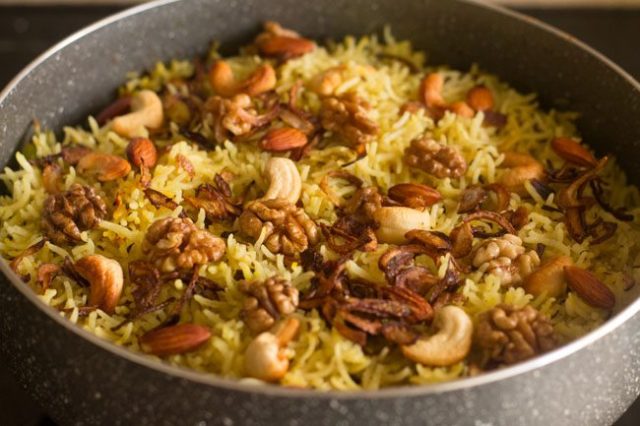 What is it: An amalgamation of rice and fruits along with milk and sugar.
What does it taste like: Aromatic basmati rice perfectly mingled with seasonal fruits, tastes best when teamed up with a meat preparation.
3. Seekh Kebab – A fried appetizer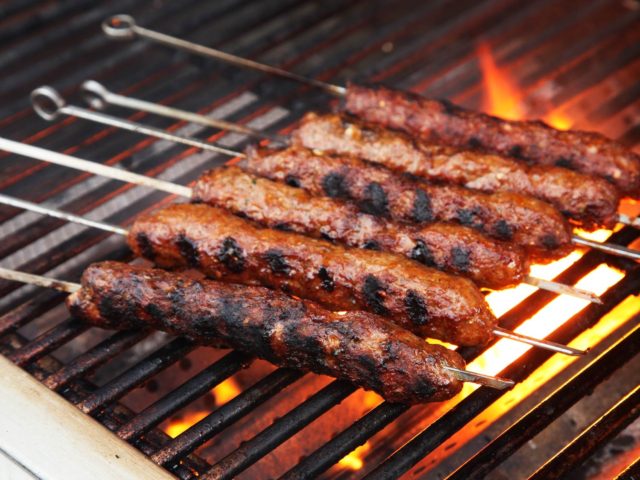 What is it: Well grilled kebabs having lamb meat as the primary ingredient.
What does it taste like: Like any other kebab, these are simply heaven for foodies. Cumin seeds, coriander, and other spices make it a tasty preparation.
4. Rogan Juice – A traditional meat preparation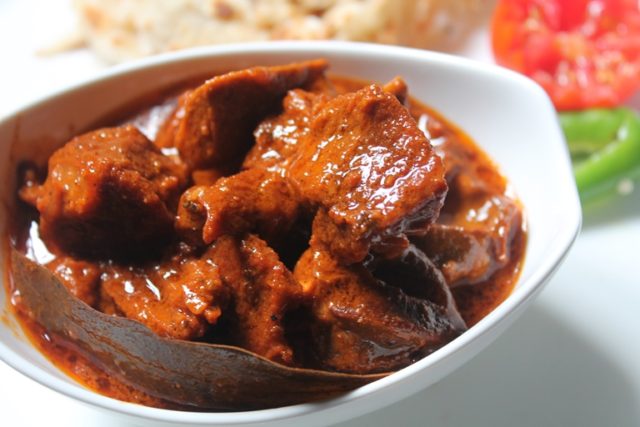 What is it: Slow cooked lamb along with spices. This is one of the most popular dishes of the Wazwan meal.
What does it taste like:  The tender meat with a fine taste can give other preparations a run for their money. Less spicy yet a winner, this item is usually eaten with plain rice.
5. Nadru Yakhni – A Kashmiri pandit food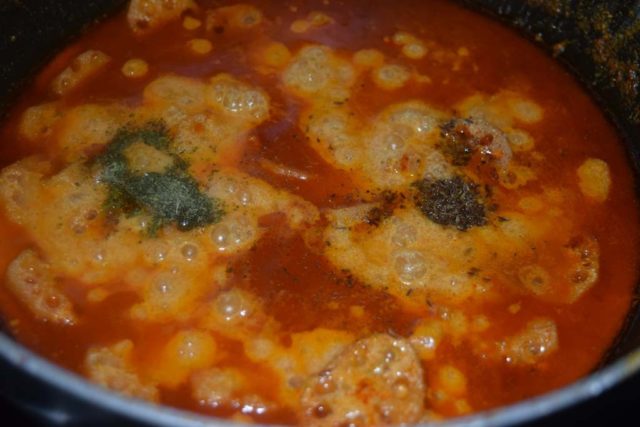 What is it: Lotus roots floating in yogurt sauce.
What does it taste like: The sweetness is well balanced with spices like cumin seeds, black and green cardamoms.
Jammu and Kashmir, has always been known for its quaint and scenic beauty, but it's various types of foods deserve equal attention as well. Hopefully, after reading the article you will gear up to taste them as they perfectly represent the food culture of the state.