The soft and sweet desserts of New Orleans are drool-worthy options to put a delicious end to your meal with. Some are holiday treats backed by their Catholic origins and stories, and some are simply a result of experiments, being year-long affairs. The following list divulges some of the most favorite desserts of the city.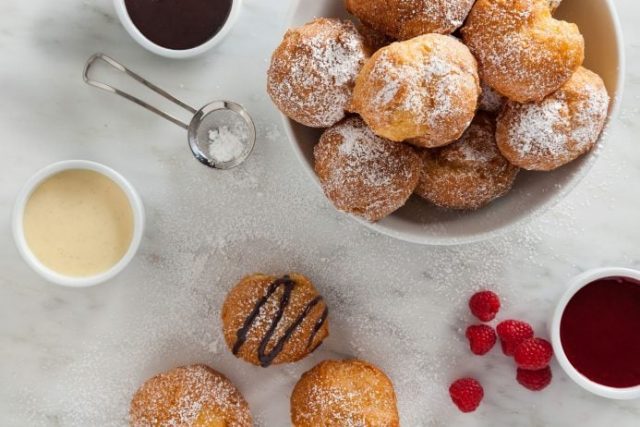 1. Beignets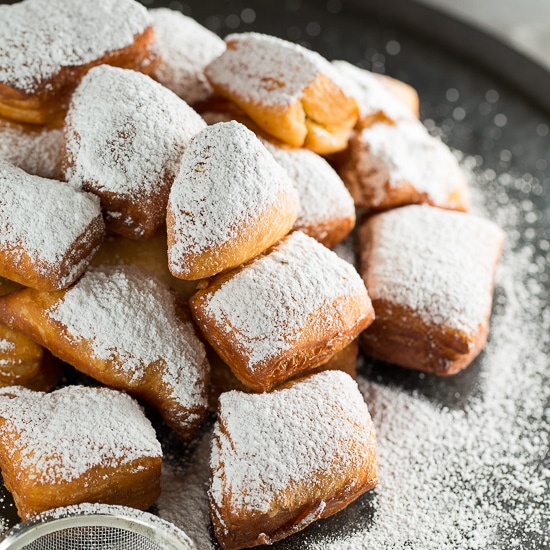 What is it: New Orleans' specialty breakfast dish, beignets are deep-fried pastries, with  golden-brown coloration . Although the preparation is native to Rome, the name beignet is a French one, pronounced as 'Ben-yay.'
Besides its place of origin, its popularity has spread elsewhere, particularly in the United States. The credit for the same mostly goes to the French settlers who brought it to Canada's eastern coast. With its increasing fame, it went on to become Louisiana's state doughnut in 1986.
What does it taste like: Their taste replicates a donut, though its outer crust is sweeter than its inner part. The addition of powdered sugar as a topping, quite typical of the New Orleans people enhances its sweetness.
You can try it from: Aunt Sally's at St Charles Ave, Best Pralines at Decatur St, Café du Monde at Decatur St in the French Quarter.
2. Praline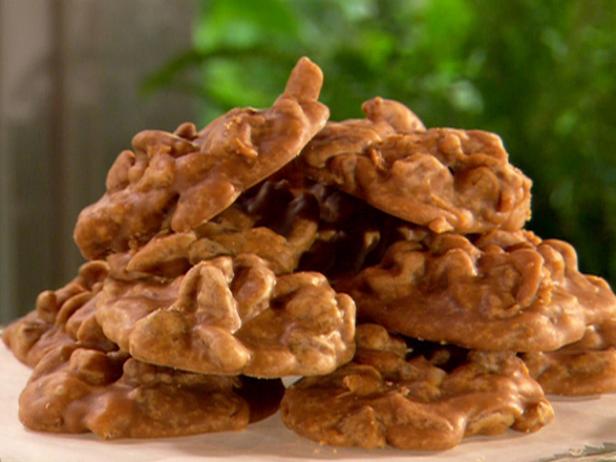 What is it: One of New Orleans' tasty confectionaries, praline, has nuts, cream, and sugar as its main ingredient, with versions varying from one country to another. For instance, Belgian praline has a chocolate shell with a softer liquid inside. The French ones are a blend of caramelized sugar and almonds or pecan, while the American version appears smoother and creamier.
What does it taste like: It has a nutty, crunchy flavor, blending well with milkiness and creaminess.
You can try it from: Leah's Pralines at St Louis St, Southern Candymakers at Decatur St, Aunt Sally's Pralines at Decatur St in the French Quarter.
3. Banana Foster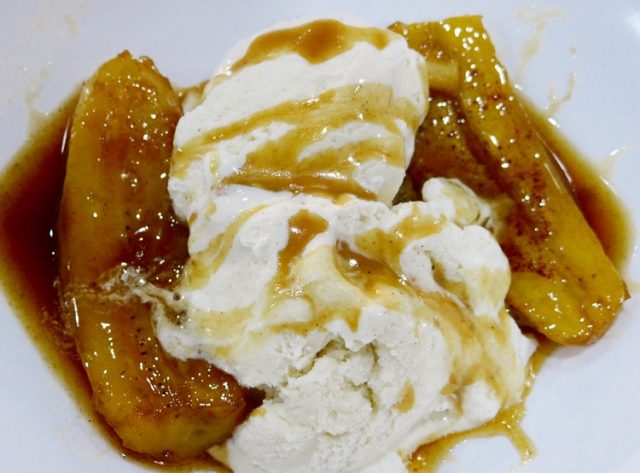 What is it: It is a simple combination of vanilla ice creams, bananas, and a taste-enhancing dessert sauce made using brown sugar, butter, cinnamon, banana liqueur, and dark rum . Toppings added to this flavorful dish include whipped cream, and several variety of nuts. At restaurants, sometimes the item is prepared at the table as a flambé (addition of alcohol to the hot pan for the flames to burst) performance.
Though people think that it originated in New Orleans' Brennan's, in actuality it developed first in the Vieux Carré restaurant, under the initiative of Ella Brennan of the Brennan family, and chef Paul Blangé. Later on, the dish attained its name Foster after Richard Foster, the owner, Owen Brennan's friend and the then chairman of the New Orleans Crime Commission.
What does it taste like: The bananas impart sweetness while the vanilla offers a creamy taste. Along with a buttery flavor, the sauce gives a strong essence of cinnamon. The smoky aftertaste and rum-like flavor also dominates this platter.
You can try it from: Brennan's at Royal St, The Court of Two Sisters at Royal St, NOLA at St Louis St of the French Quarter.
4. Bread Pudding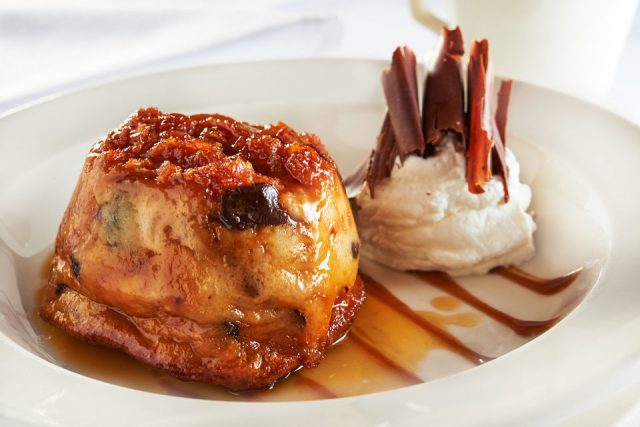 What is it: Pudding made of leftover bread along with basic confectionary ingredients, is what makes up this sweet dish. It is basically an improvisation to utilize stale bread at home. It has been nicknamed Wet Nelly as many believe that it is a version of the famous Nelson Cake.
What does it taste like: The pudding tastes sweet and nutty since it has honey, syrup, sugar, nuts and dry fruits in it. However, there is also a tinge of spiciness enhanced by cinnamon and mace. The texture is softened because of whiskey sauce or rum.
You can try it from: Red Fish Grill at Bourbon St, Bon Ton Café at Magazine St, The Original Pierre Maspero's at Chartres St.
5. King Cake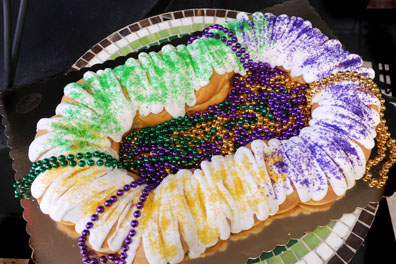 What is it: This one is a colorful cake with biblical interpretations of the three kings who came to bless baby Jesus, on his birthday. Three colors, purple, green, and yellow, marking the shades of Mardi Grass, are used on this cake. It is a must-eat cake on the event of Epiphany. The cake is basically a cinnamon roll, with variable fillings and a small toy of baby Jesus inside.
What does it taste like: The flavor of cinnamon dominates all the way, especially in the cake's outside, but as you bite it you could feel the fruitiness. 
You can try it from: Bywater Bakery at Dauphine St, Willa Jean at O'Keefe Ave, New Orleans Cake Cafe & Bakery at Chartres St.
6. Snowballs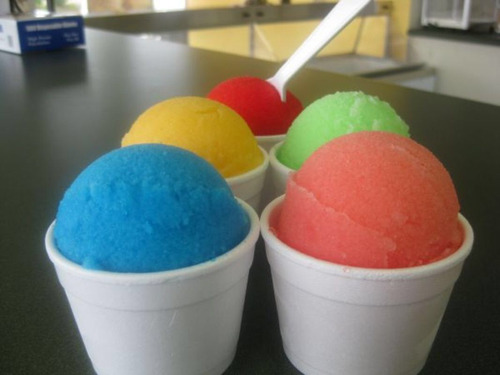 What is it: Chunks of colored ice stuff inside the container it is served in, is what snowball is made of. In addition to the ice cream, there is a syrup involved. Though an immensely sought-after dessert, it is only available between March and October. 
What does it taste like: The moment you bite onto it, you would get to feel the fluffiness. Its taste varies as per the flavor that can vary from orange to lemon, grape to raspberry, tamarind to blueberry and so on. 
You can try it from: Sno-La Snowball Lounge at N Causeway Blvd, Pandora's Snowballs And Soft Serve Ice Cream at N Carrollton Ave City Park.
7. Doberge Cake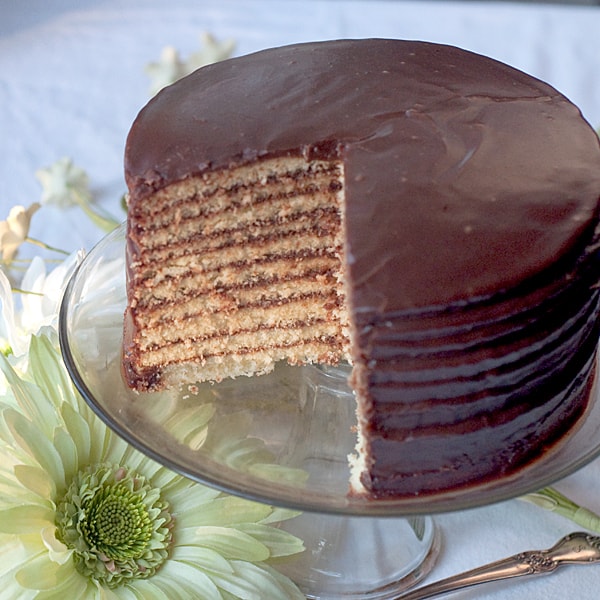 What is it: The cake has originated in this city in the hands of Beulah Ledner, who first tried the cake and then sold this commercially. A 50;50 ratio of chocolate and lemon pudding majorly goes into its preparation. Adding a dash of butter cream, and a glaze on the outer side takes its taste to another level. 
Baker Beulah Ledner, was the first to create this dish as an inspiration from Dobos torte, Hungary's popular sponge cake. 
What does it taste like: The lemon and chocolate flavors are enhanced with caramels. The spongy pudding is soft and is served into pieces. The fondant is solid but melts soon in your mouth.
You can try it from: Bywater Bakery at Dauphine St, Croissant D'Or Patisserie at Ursulines Ave of French Quarter, Mardi Gras Zone at Royal St Bywater.
8. Creole Cream Cheesecake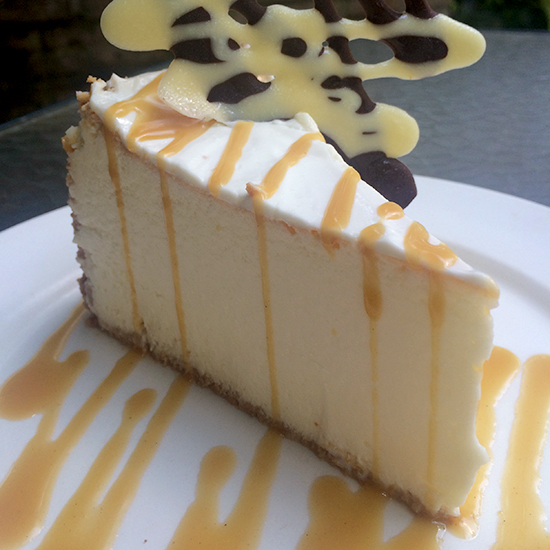 Louisiana.KitchenandCulture.com
What is it: This cheesecake variation is an infusion of cream cheese, creole cream cheese, eggs, and cracker crumbs. The cake has an off-white look, and the toppings depend on the garnishing. This dessert is usually served into not-so-big triangle pieces.
What does it taste like: A cheesy, creamy delight dominates every bite of it, with a tinge of sweetness of  the creole cheese cream intensifying its taste further. 
You can try it from: Palace Café at Canal St, Orleans Grapevine Wine Bar & Bistro at Orleans St, Creole Creamery at Prytania St.
9. Cannoli
What is it: Cylindrical pastry preparation, inspired by the Italian pastry. The finger-sized pastries are 'Cannoli Siciliani' in Italy. The stuffing is prepared from spices and milk, along with some obvious ingredients.
What does it taste like: The pale brown exterior of the shell is a result of a mixture of dry white wine, kosher salt, and flour and has a semi-thick consistency. It is crispy, with a spicy , creamy flavor within. 
You can try it from: Angelo Brocato's at N Carrollton Ave, Red Gravy at Camp St (Canal), Windsor Court Hotel at Gravier St (S Peters St).
10. Pecan Pie – The Ever-so-tasty Food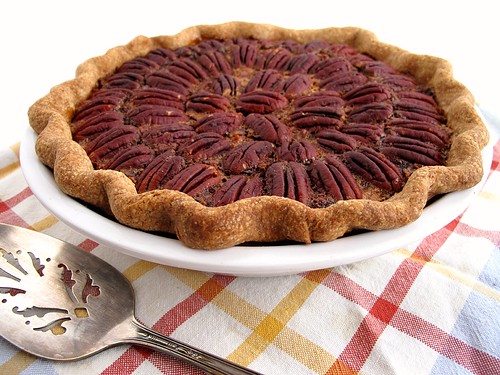 What is it: As the name divulges, it is a pie, with pecan as its main ingredient. Along with it, there are butter, egg, and sugar. This is a round-shaped cake with dark brown patterned topping. Considered a holiday dessert delicacy, this pie has many variations regarding the usage of basic ingredients. Some of the other types of desserts are sawdust pie, whiskey chocolate chip, Alice Colombo's Race Day Chocolate Pecan Pie, and Maple.
Many opine that the pecan pie could be the result of French settlements in the New Orleans.
What does it taste like: Whipped cream, hard sauce, and vanilla ice creams are optional accompaniments of the sweet pie. It also exudes a flavor of honey, maple syrup, and bourbon whiskey.
You can try it from: Brigtsen's Restaurant at Dante St, Fry and Pie at St Claude Ave, Mr. B's Bistro at Royal St.
People of New Orleans have an elaborate culinary history on the dessert section alone. That is the reason the city is studded with confectionary stores and restaurants offering delectable and traditional desserts. It is due to the varied taste of the people that cakes, pies, pastries, and even ice creams are made with so many details and variations.