Though nature has a bountiful of breathtaking places, they are not always found above the earth. Quest seeking travelers finds their excitement underground or underwater inside endless caverns. Some of the impressive natural wonders of Florida entice countless adventurers to unleash the breathtaking caverns throughout the year.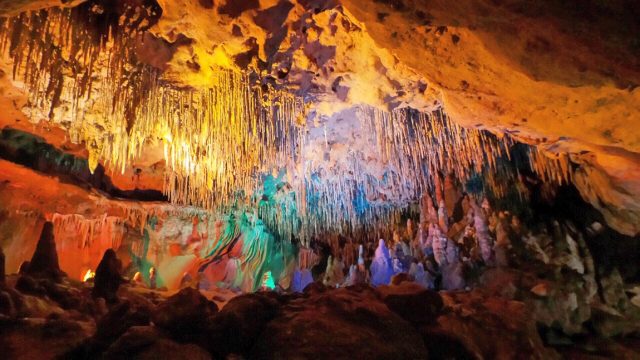 1. Devil's Den, Williston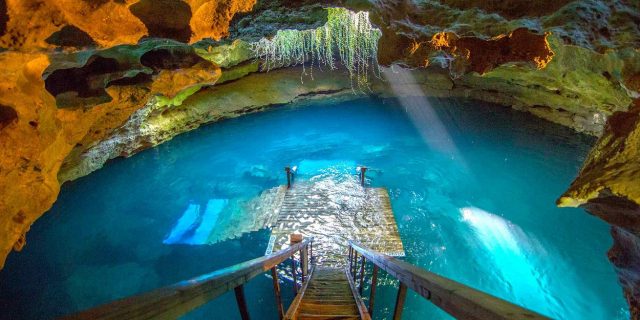 The Devil's Den is a 60-foot deep ancient underwater cave system that came into existence when the ceiling of a subterranean river crumbled to form a large opening. These underwater caves in Florida are filled with prehistoric rocky formations, beds of relics in sparkling clean water. This enthralling and privately maintained underwater chamber is a must-visit for all explorers, as the temperature here remains uniform at 72° F throughout the year. Contrastingly, when the climate is cold outside, vapor from the underwater flows like a chimney. The cave in Florida goes below up to 200 feet inside the water like an inverted mushroom. It is also not open to the public for swimming.
Activities: Snorkeling and scuba diving with some training sessions.
Timings: Monday-Thursday (9 a.m. to 5 p.m.)
Friday & Sunday (8 a.m. to 5 p.m.)
Saturday (8 a.m. to 5 p.m.)
Fees: $15 per person on weekdays, while $20 on weekends. Rent for snorkeling is $10 and $38 for scuba diving.
2. Blue Grotto, Williston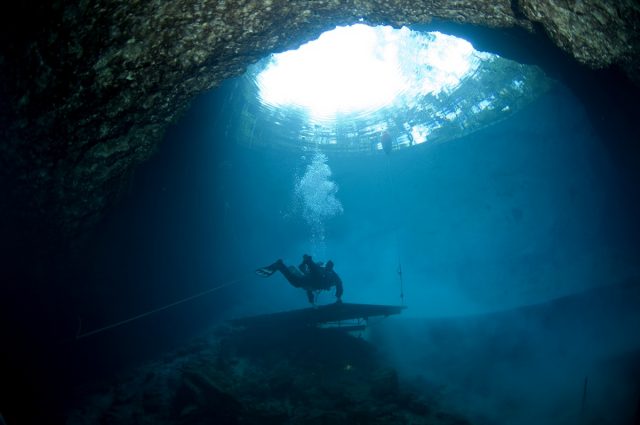 These caves in Florida are the largest of the bow-shaped sinkholes in the city of Williston. The transparent water cavern has one of the highest clusters of freshwater springs in Northern Florida. This most in-depth cave system consists of two areas. One is the deep cavern where adventure seekers can dive down up to 100 feet. While the second one is the cave, and it mainly open to certified scuba divers. An expert scuba instructor accompanies the snorkelers who want to enter the cave for diving. Diving gears are available from dive shops on a rental basis.
Additionally, there is a bathhouse with hot showers. One can also find beautiful marine life accompanied by unique bay fossils. The Blue Grotto Dive Resort is decorated with an underwater light and an immersed air bell.
Activities: Snorkeling, swimming, and scuba diving.
Timings: Monday-Sunday (8 a.m. to 5 p.m.)
Night diving (5 p.m. to 9 p.m. and 10 p.m. in summer season) can be done by prior appointment.
Fees: For entrance it is around $44 per day/diver;  for night dives, it is aaproximately $44, but individual needs to pay around $22 more if day diving is done additionally.
3. Weeki Wachee Springs State Park, Spring Hill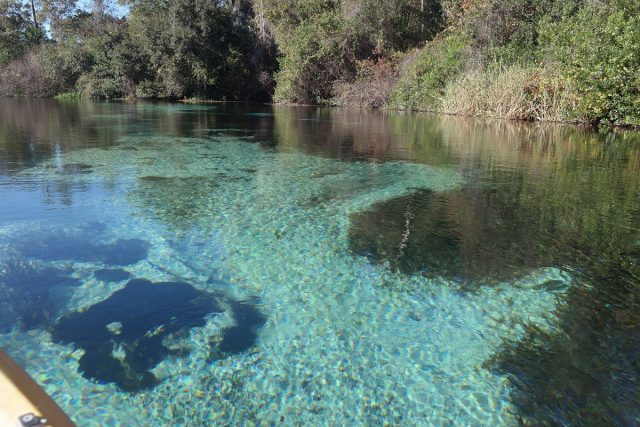 These water caves in Florida are the deepest of the freshwater caves in the entire United States. This underwater cave network is best known for its 400 seated sunken amphitheater. One of the crowd-pullers is the enchanting acts by the female artists wearing fish-like tails showcasing an edition of the 'Little Mermaid.' Another attraction lies in its crystal clear spring-fed water park, including a swimming area, a sandy beach, and waterslides located close to Buccaneer Bay. Moreover, there are other activities like riverboat trips and some wildlife programs.
Activities: Swimming and cave scuba diving.
Timings: Mermaid shows every day at 11 a.m.,1:30 p.m., and 3 p.m., wildlife programs are shown in the underwater arena just before the mermaid events
River Boat ride daily from 10 a.m. to 2 p.m.
Fees: Around $13 for adults and $8 for a child aged 6 to 12. Free for kids below five. The entrance or admission fee consists of the underwater mermaid shows, access to the springs, 20 minutes boat ride, and wildlife shows.
4.Ponce De Leon of Springs State Park, Ponce De Leon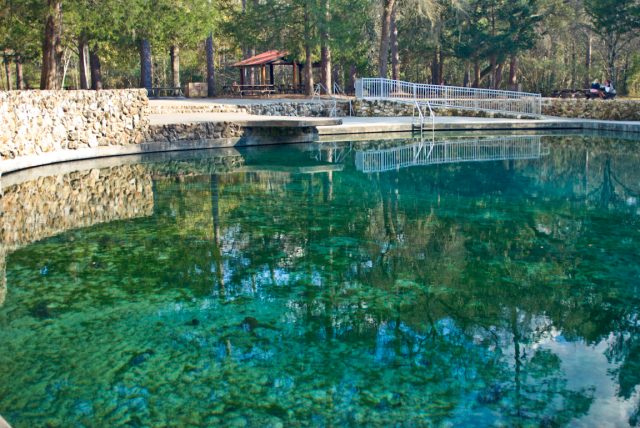 Located in the northwest of Florida, this 161-acre state park has extensive underwater caves in Florida. Popular interests are the 250 feet natural freshwater sandy spring, and three cavities going down as deep as 300 feet. There is also a wheelchair-based boardwalk overseeing the spring for those who do not want to get wet. The three awesome cavities at the bottom of the spring pool open up to an extensive cave system, the deepest of which goes down to a mindblowing 300 feet. One can use a floating deck meant for the scuba divers. The park also includes a down-stream boat ramp for the trippers to access the closeby Choctawhatchee river.
Activities: Swimming, snorkeling, and scuba diving.
Timings: Monday-Sunday (8 a.m.-7 p.m.)
Fees: Not  levied
5. Wes Skiles Peacock Springs State Park, Live Oak
This unique park is a 733-acre state park named after Wes Skiles, a local diver and underwater photographer, featuring one of the largest and longest underground water caves in Florida and also in the world. The cavern encompasses two major springs along with six sinkholes of enormous proportions attracting intrepid cave divers across the globe. Daring divers get an exciting opportunity to explore by snorkeling or diving  into a sizeable underwater cave passage system measuring over 30,000 feet.
Activities: Snorkeling and scuba diving
Timings: Everyday from 8 a.m. till sunset. Diving must end one hour before sunset.
Fees: Admission fee of $4 per vehicle and $2 for pedestrians. $15 charge for a single person to do Scuba diving.
6. Gennie Springs Outdoors, High Springs
Amongst the best underground water caves in Florida, Gennie Springs is a privately owned park that includes the cleanest freshwater cave system in the state. Just like the Devil's Den, the water here remains constant at 72° F. Out of the seven springs in the park, five springs offer fabulous diving options, while the remaining two are for swimming or snorkeling. For adrenaline loving scuba divers, intricate passageways of roughly 30,000 feet lead to the separate trio spring systems of Devil's spring, namely the Devil's Eye, Devil's Ear, and Little Devil. Inexperienced divers are not allowed to enter the Devil's area, as there is no light in the enormous cavern. Other hair raising stretches include the Bone or Big room and the Hill 400 advance diving area. As these intricate fathomless caverns have strikingly perilous pathways, it becomes more challenging even for the advanced full cave divers.
Activities: Swimming, snorkeling, scuba diving, cave diving, and tubing.
Timings: For summer (Monday-Thursday, 8 am to 7 pm; Friday & Saturday, 8 a.m. to 9 p.m., and Sunday, 8 a.m. to 8 p.m.). For winter (Monday-Thursday, 8 a.m. to 4 p.m.; Friday & Saturday, 8 a.m. to 8 p.m. and Sunday, 8 a.m. to 6 p.m.)
Fees: General Admission(Adults – $14.02, 10% discount to aged persons above 62; Children aged 6-12 – $3.73; Kids under 5 years its free).
Scuba divers – (Certified full cave divers – $22 per day; Other divers – $30 per day; Annual dive pass – $330)
7. Warren's Cave, Alachua County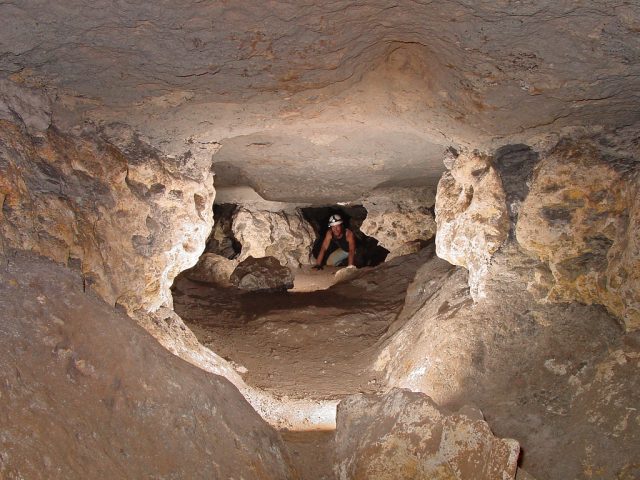 It is the longest air-filled dry underground cave in Florida extending over 4 miles of the explored cave system. The subterranean area is situated close to the San Falasco Hammock Preserve State Park, though the original entrance lies in the Warren Cave Nature Preserve in Alabama. Tempting refinements have been added since its discovery, like the wooden stairs at the entrance in a sinkhole. Some 400 feet of passages have been discovered since 1959.
The cave has some long and narrow passageways, among which features an extended 30-foot hole, including the Red Streak. The subterrane system is not properly developed, as it lacks adequate walking tracks and handrailings for easy exploration. The cave has a total mapped area of 18,212 feet, including various formations like the Flat Room, Virgin Rooms, Monster Room, Dune Room, Third Squeeze, Crystal Crawl, Infernal Triangle, among others. It is the largest of the dry caves in Florida, with many unmapped complex deep network of passages.
Activities: Cave hiking
Timings: Open all year-round.
Fees: There are no entrance fees
8. Florida Caverns State Park, Marianna
It is only state parks in Florida panhandle and the entire Sunshine State with dry air-filled characteristics. This cool cave in Florida has impressive rock patterns, including stalagmites and stalactites made from limestone, carbonate deposits, tubular stalactites, among others. The remarkable stalactites and stalagmites formations mostly lure the explorers. Interestingly, a dynamic rock formation denoting a wedding cake-shaped structure is a favorite spot for weddings. The tourist can take an arduous tour of the Florida subterrane, which completes in about 45 minutes. Besides, tourers can take flashlight cavern tours escorted by cave professionals on a first-come, first-serve basis.
Activities: Camping, cave hiking, and professional cave tours.
Timings: Open every day from 8 am till sunset. Cave tours are not available on Thanksgiving and Christmas Day.
Fees: Cave tour ($10.75 per person above 13 years; $5 per kid aged between 3 to 12; free for child below two years)
Camping ($20 per night, plus tax, and a non-refundable reservation fee of $6.70, which includes water and electricity).
9. Edward Ball Wakulla Springs State Park, Crawfordville
Just around twenty minutes south of Tallahassee lies the most significant and deepest sparkling freshwater spring on Earth. The spring comes under the protected area of Wakulla Springs State Park and is a perfect location for swimming and snorkeling. Travelers exploring to the remotest part of the subterranean hollow as down as 1200 feet will be able to find fossilized remains of extinct animals like mastodons, dating back to the last glacial period. The maximum depth of 4,160 feet from the cave entrance is explored and surveyed by the expedition teams. Thus, voyagers can go on seeking out to find more uncharted territories of the cavern.
Activities: Swimming, snorkeling, scuba diving, and cave hiking.
Timings: Throughout the year  from 8 a.m. until sunset
Fees: $2 per pedestrian, and $4 per person per vehicle.
10. Leon Sinks Geological Area, Tallahassee
The elaborate subterrane cavern network is one of the largest underwater caves in Florida. It forms a part of Tallahassee's Apalachicola National Forest in the northwest Florida Panhandle. For the thrill-seekers, there are endless underwater sinkholes formed by rainwater and limestone erosion inside the cave network, which connects to the Wakulla Springs. Exclusive features of the labyrinth network of the caves are evaporating streams with a rare breed of oysters and lobsters. Trippers can find it amusing to discover numerous sinkholes by scuba diving.
Activities: Scuba diving, cave hiking, and sinkhole trail.
Timings: Monday to Sunday (8 a.m. – 8 p.m.)
Fees: $3 for the entrance fees.
11. Diepolder Cave, Sand Hill Boy Scout
It is an enormous dark subterrane system of caves in Central Florida consisting of Diepolder 2 and 3 with extreme depths around 360 and 300 feet, respectively. There is absolute darkness inside the underwater cave. This mysterious underwater cavern has taken the lives of about 300 people since 1960. The most experienced scuba divers, even with a powerful aquatic flashlight, are unable to locate anything just a few meters away.
The white sands make the water looks severely hazy and pitch dark. Due to extreme depths, the researchers of Florida Speleological Society control this underwater cavity and provide access to only the certified full cave trained divers who are required to give a minimum of 100 dive certificates. Even then, the fully advance divers must take trained guides with them for each diving sessions.
Activities: Scuba diving, and deep cave diving
Timings: Throughout the year
Fees: Entrance fees of $6
12. Manatee Springs State Park, Chiefland
This underwater cave system in Florida showcases the landscape of the Lower Suwannee river. The water in the spring remains constant at 72°F, making it a perfect place for the manatees to swim. The spring meanders through wetlands to reach the Suwannee River. There is a boardwalk that runs through the cypress forest of the park. The tourist can scuba dive to enjoy the deep sinkholes in the cavern. The divers can find green seaweed at the bottom of the river, a favorite dish for the manatees. Swimming is allowed during summer but forbidden during winter months to give the manatees their required space.
Activities: Swimming, snorkeling, scuba diving, camping, and kayaking.
Timings: Every day from 8 a.m. till sunset
Fees: $2 for pedestrians, $6 per vehicle, for camping $20 per night excluding tax and a non-refundable reservation fee of $6.70.
Eventually, we can see that Florida has a vast diversity of caves starting from the dry underground air-filled cavities to the deepest underwater cavern systems and sinkholes in the world. This unique attraction allures the professional cave explorers to exploit their experiences and become one with the deepest unknown unnavigable depths.