Meandering through magnificent rock formations, stunning vortexes, and serene streams, the hiking trails in and around Sedona are an alluring diversion to a nature enthusiast as well as to every person coveting a wish to travel. Skim through the following list to settle upon a favored one amidst the 100 trails in this Red Rock Country.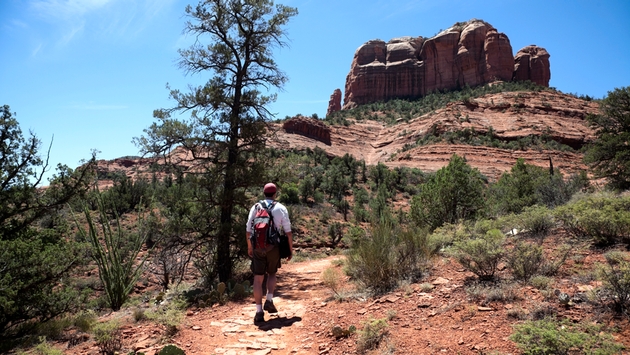 1. Cathedral Rock Trail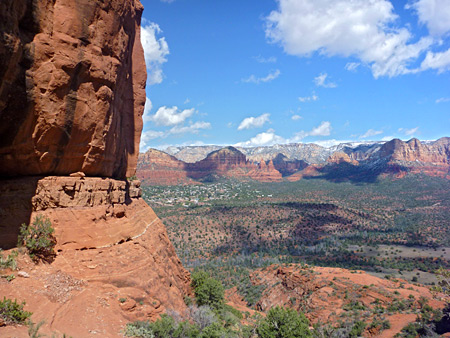 Broken into two parts, the first being a short and easy hike up to the towering Cathedral Rock and the other being a steep climb to the top portion, this back trail constitutes a great hike for all skill levels. Being short, well marked and accessible all year round, the trails are extensively preferred for simple activities as walking, running, etc. as well as difficult ones like rock climbing. Moreover, both are dog-friendly and offer scenic views all along.
Type: Moderate
Distance: 1 mile
2. West Fork Oak Creek Trail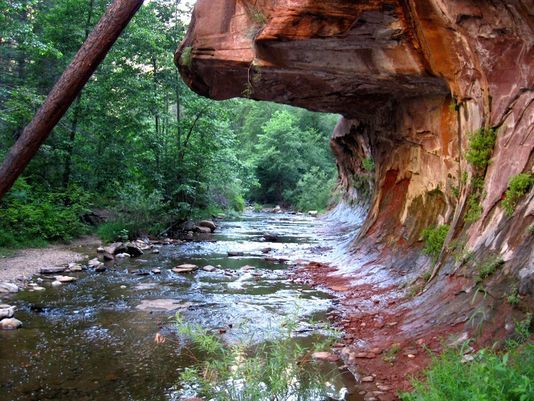 With towering canyon walls semi-shaded by trees, this trail situated in the recreational area called,  Call of the Canyon, (after the famous book of the same name by author, Zane Grey), makes hiking conditions favorable even under the scorching heat of the Sedona sun. After vigorously going over 13 separate river crossings, cool off by wading in a pool of water encountered at the end of the trail.
Type: Easy to Moderate
Distance: 7 miles
3. Bell Rock/Courthouse Butte Loop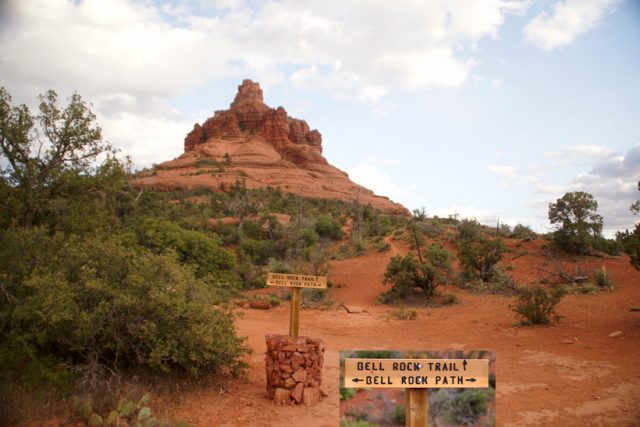 This loop trail is named so on account of resembling a bell and is widely acknowledged as one of the easiest hikes in Sedona. With an extensive pathway leading to an easily approachable trailhead right of Highway 179, it allows you to marvel at some of the most stunning rock formations along with bestowing excellent views of the adjacent Castle Rock, and Courthouse Butte. Confidently take your kids along to experience the sheer joy of rambling among the majestic rocks.
Type: Easy
Distance: 0.75 miles
4. Broken Arrow Trail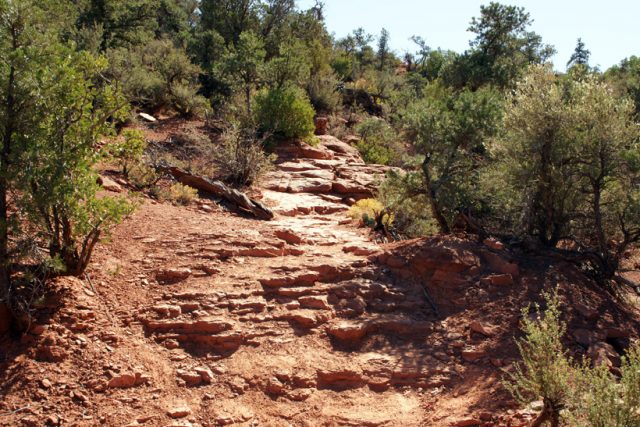 The red cliffs and canyons of this loop trail are awesome to behold but the several large rock ledges strewn all along may pose considerable difficulties before an amateur hiker. Also, many hikers prefer avoiding it chiefly due to massive jeep traffic that is frequent on the road, parallel to the trail. Nonetheless, the trail presents a great diversity and is highly popular with hikers and mountain bikers.
Type: Difficult
Distance: 3.4 miles
5. Devil's Bridge Trail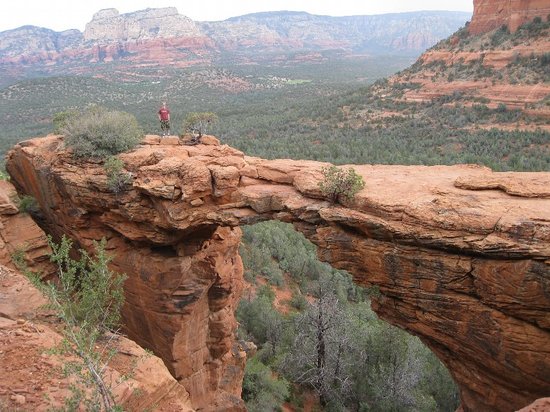 The hike to the largest sandstone bridge in the Sedona area of Coconino National Forest is mostly flat, with only the last 1/4th of a mile being steep. But, once atop the arch, the view of the country is simply sublime, thereby rendering the trail a hit with experienced hikers as well as those with families.
Type: Easy to moderate
Distance: 1.8 miles
6. Vultee Arch Trail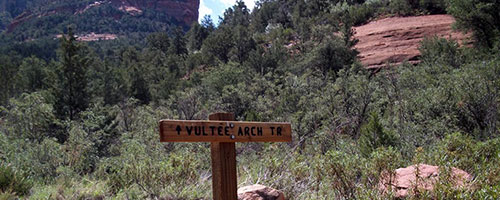 This well-maintained trail along the base of Sterling Canyon starts off with the Wilderness and gradually ascends under the shade of Arizona cypress. After covering stands of ponderosa pine and oak, it reaches a marked fork nearing 1.75 miles, where another trail, the Sterling Pass Trail goes off to the right. On continuing 100 yards to the left, the trail finally ends at a red rock outcrop that provides excellent views of the mountains and canyons.
Type: Moderate
Distance: 3.6 miles
7. Boynton Canyon Trail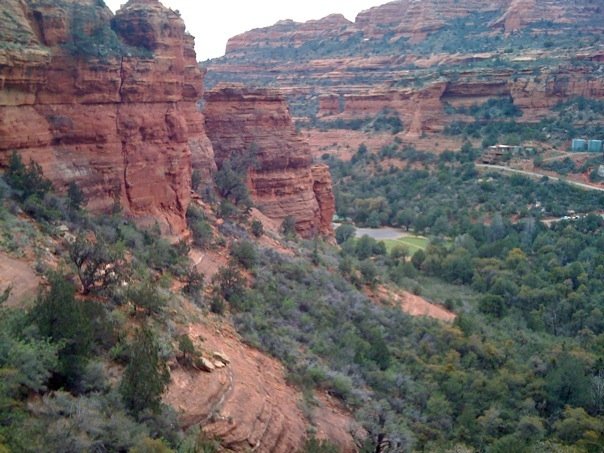 In this lightly trafficked out trail, you get to see a lot of wildlife as you ramble through a breathtaking canyon. On reaching the final 1/3rd mile of the hike, there's a high forest full of pines, oaks, and alligator junipers that is utterly spellbinding.
Type: Easy
Distance: 6.1 miles
8. Bear Mountain Trail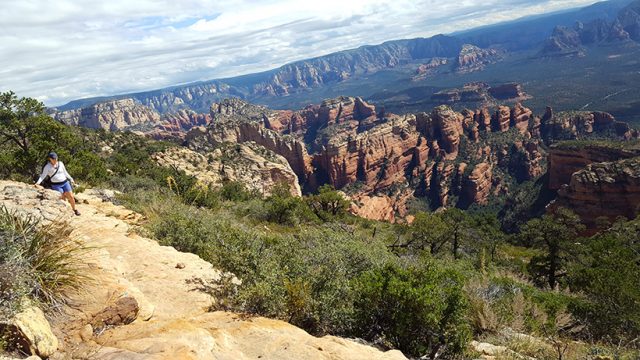 A moderately trafficked out back trail, the Bear Mountain Trail is essentially meant for experienced hikers for being unshaded, steep and challenging at places. Nonetheless, there are spectacular views to cherish all throughout the journey.
Type: Difficult
Distance: 4.6 miles
9. Chapel of the Holy Cross Trail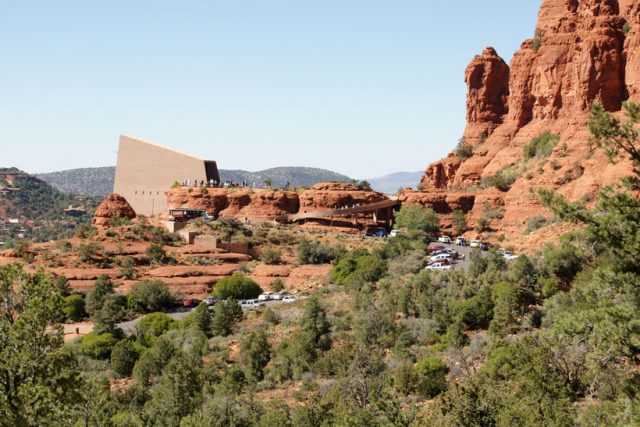 Offering great scenic views, the Chapel Trail is chiefly employed for walking and hiking. The chapel built in 1956, stands over 200 feet from the ground between two towering red rock formations. Feast your eyes on gorgeous red rock buttes and eroded spires from the public observation deck of the chapel. And don't miss out a 90-foot cross, seen from the ground along State Route 179.
Type: Easy
Distance: 1.4 miles
10. Hangover Trail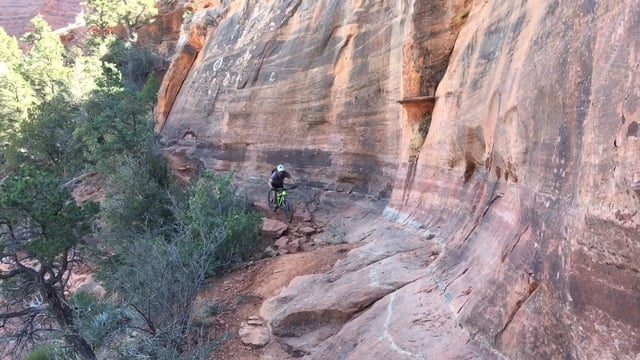 Taking its name from the rocks that hang over the trail at specific zones, this one commencing from Cow Pies Trail and having step-ups, roll-offs, and off camber sections in several points may make your hike seem a bit hard. However, trudge along since the sight all along is pretty spectacular.
Type: Moderate to difficult
Distance: 8.4 miles
11. Hiline Trail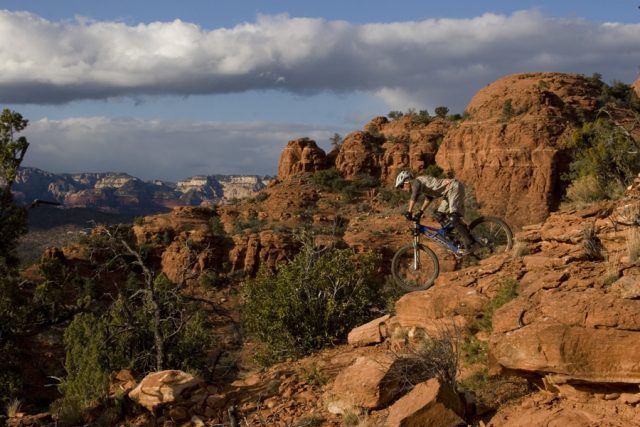 This trail ensues from the Slim Shady Trail near Yavapai Vista trailhead and finishes off at Baldwin Loop Trail. It is frequented mostly by mountain bikers and presents stunning scenery and mind-blowing slick rock riding.
Type: Difficult
Distance: 10.64 miles
12. Huckaby Trail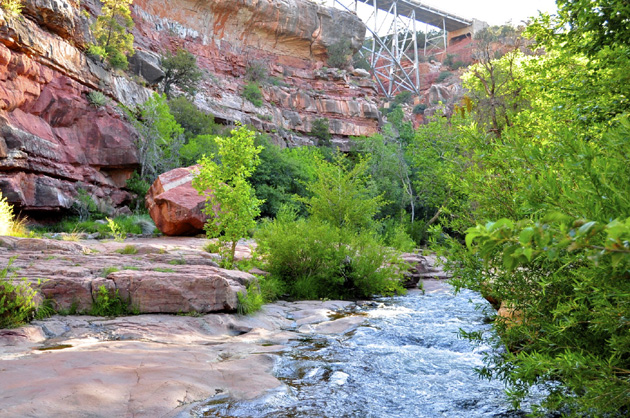 You get to see a variety of views as you proceed for this hike either from the Schnebly Hill trailhead or Midgley Bridge. Featuring a river, it can be conveniently used all year round. You may bring along dogs too but remember to put them on a leash.
Type: Moderate
Distance: 5.6 miles
13. Mescal Mountain Trail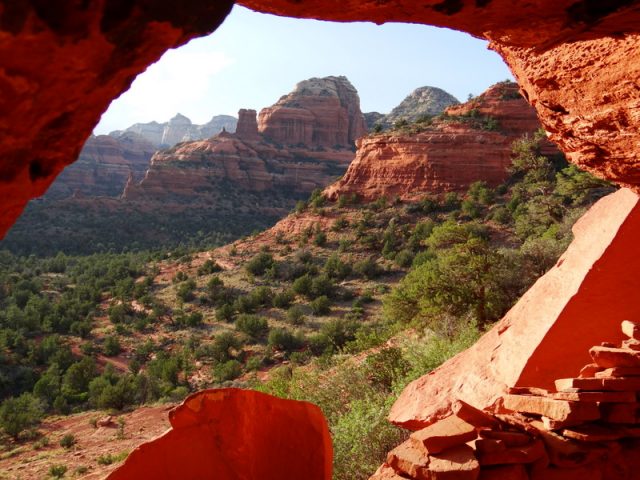 The foremost drawing point of this loop trail circling Mescal Mesa constitutes the massive panoramic views of the Secret Mountain Wilderness one gets after arriving at the striking Red Rock "bowl" lying beneath Mescal Mountain. Mostly used as a bike trail, it finally gets connected to Dead Man's Pass Trail.
Type: Moderate
Distance: 2.5 miles
14. Airport Loop Trail
Providing beautiful views of Cathedral Rock, and Coffee Pot Rock, this loop trail is a moderately trafficked one, suitable for all ski standards. There are a variety of activities one may engage in while going along the trail.
Type: Moderate
Distance: 3.25 miles
Sedona boasts of securing a commendable position amidst 5 of the best hiking places in North America, according to U.S. News. And, 2 of the principal factors behind this are an easy accessibility to the wilderness areas along with the comparatively short length of the trails. Hence, gear up for a pleasant hike, inhale as much as fresh mountain air and come back rejuvenated as never before.