The sprawling state parks in Wyoming, featuring breathtaking landscapes, pleasant reservoirs, and countless hiking trails, can be variously employed in accomplishing a host of activities such as camping, wildlife viewing, hiking, fishing, etc. Strewn all along from Cheyenne to Sheridan, they promise a much-needed escape from the humdrum of routine life. Hence, quickly avail a self-imposed break to revitalize your impoverished spirits amidst the bounties of nature.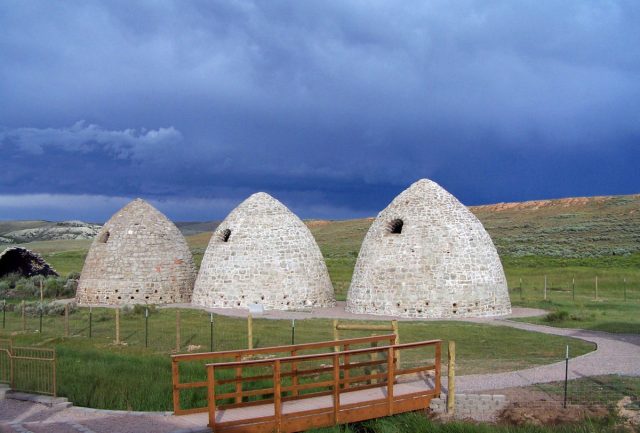 1. Curt Gowdy State Park, Laramie County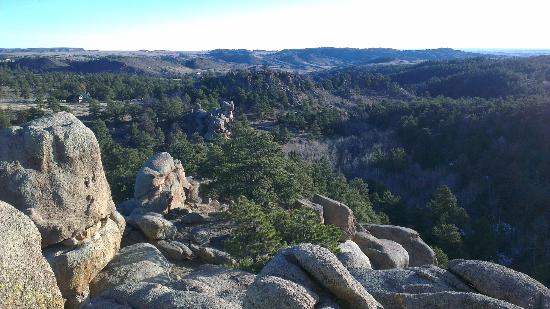 Comprising seven sections of varying landscapes in the form of pleasant meadows, mild rolling hills and steep granite landforms, this park between Cheyenne and Laramie in Albany, is an absolute delight for nature lovers. Track down the three reservoirs, Granite, Crystal and North Crow, if you intend to spend all your time fishing brown trout, rainbow trout, and kokanee salmon.
Things to do: Boating, fishing, hiking, mountain biking
How to Get Here
2. Edness K. Wilkins State Park, Natrona County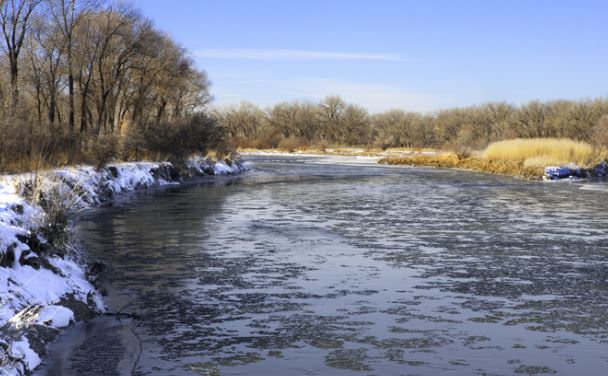 For those on the lookout of a cool hangout with family, this park, situated 6 miles east of the city of Casper in southwest Wyoming, is undoubtedly the best choice. Take a brisk walk under the soothing shade of old cottonwoods or gaze at diverse bird species like yellow warblers, cedar waxwings, and downy woodpeckers as they fly over the placid water of the historic North Platte River.
Things to do: Fishing, canoeing, rafting and wildlife viewing
How to Get Here
3. Bear River State Park, Uinta County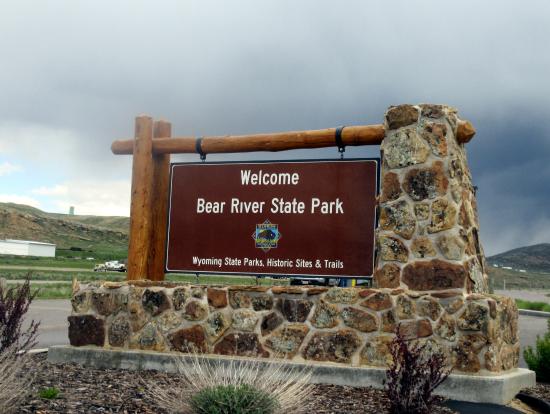 Located outside Evanston, this day‑use‑only park covers an area of 280 acres and is perfect for both solitary pleasures as well as group activities like those making use of remote control cars. Hike along its paved trail of 1.2 miles to reach an arched footbridge, over Bear River or silently marvel seeing the small heads of a bison and elk, preserved chiefly for public viewing.
Things to do: Picknicking, skiing, rollerblading, camping, hiking
How to Get Here
4. Boysen State Park, Fremont County
Tourists may engage in a variety of water sports at this extensive park at the southern part of the Owl Creek Mountains. Surrounded by the Wind River Indian Reservation, it allows you an endless span for idle fishing, provided vigorous water sports do not tempt you. So, pick a convenient spot and look out for fishes like walleye, sauger, perch, crappie, ling, rainbow, cutthroat and brown trout.
Things to do: Camping, picnicking, fishing, sightseeing
How to Get Here
5. Buffalo Bill State Park, Park County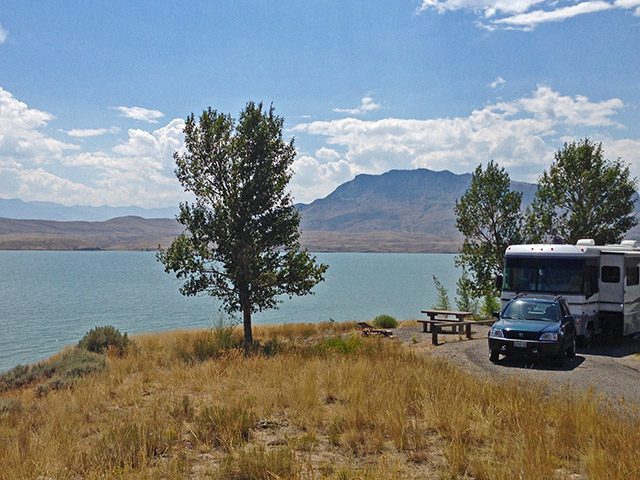 Named after an illustrious Wild West developer, Colonel William F. "Buffalo Bill" Cody, this park's attracting factors constitute the majestic sights of the Absaroka Mountains and two camping grounds namely, North Fork and North Shore. Hikers may also wander along the Eagle Point trail, located in the Eagle Point Day Use Area.
Things to do: Camping, hiking, sightseeing
How to Get Here
6. Glendo State Park, Converse and Platte County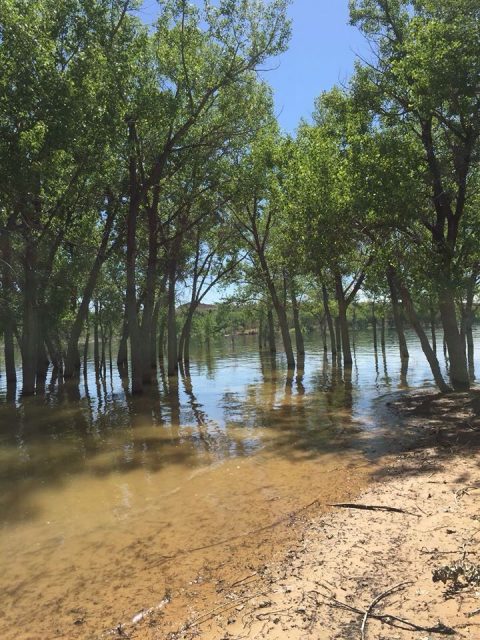 Situated about 20 miles southeast of Douglas, this park in southeast Wyoming boasts of housing one of the state's most historically significant sites – Spanish Diggings, a massive area showcasing activities that speak volumes about the arrival of the ancient tribes of the  Arapaho and Cheyenne Indians, the Oglala and Brule Sioux. You may camp in any of its 7 campgrounds or undertake a memorable mountain bike hike along its trails of 45 miles.
Things to do: Camping, hiking, sightseeing
How to Get Here
7. Guernsey State Park, Platte County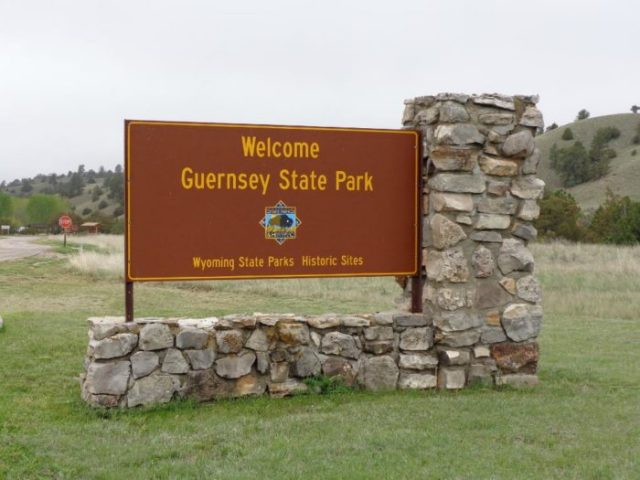 At all 7 campgrounds of this park of 8600 acres, you would be greeted by comfortable facilities such as picnic tables, fire grills, and drinking water. Built by the Civilian Conservation Corps, its appealing factors enlist a museum and a castle, offering stunning views which are hot favorites of travelers.
Things to do: Camping, hiking, sightseeing
How to Get Here
8. Hawk Springs State Park, Goshen County
If spotting birds happen to be your favorite pastime, then this park encircling a reservoir of the same name, ought to be your ideal destination. With a broad range of birds like blue-winged and green-winged teal, gadwall, pintail, and wood duck found abundantly in its 24 camping grounds, it is an enviable target for nature enthusiasts. Opt for ice fishing in winter to collect game fishes like walleye, largemouth bass, and channel catfish.
Things to do: Camping, fishing, hiking
How to Get Here
9. Hot Springs State Park, Thermopolis County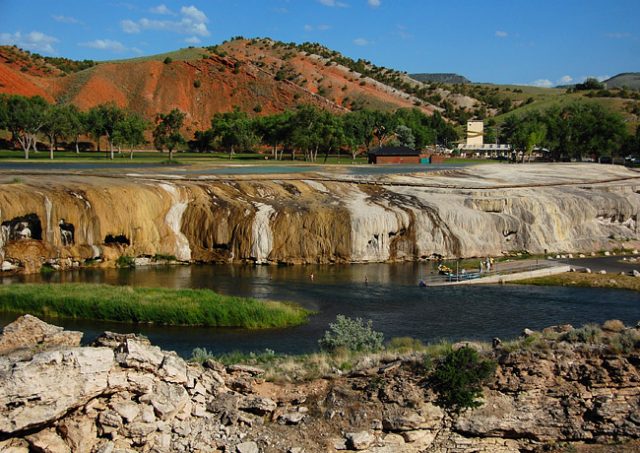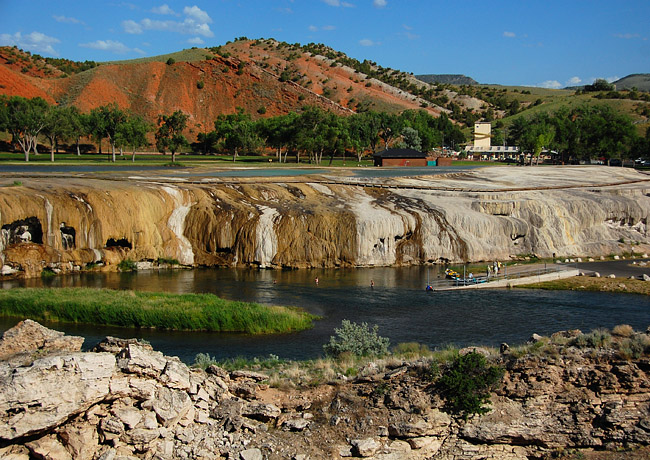 The colorful terraces, running along the Big Horn River at Thermopolis, are washed every 24 hours by nearly 18,000 gallons of water from mineral hot springs. This water is maintained at 135 degrees Fahrenheit by the Bath House of this park so that it can be used for therapeutic bathing. So if you need to revitalize yourself thoroughly, just head to this first state park in Wyoming, and don't entertain doubts of how to carry out the activity. There are attendants too.
Bath House hours: Monday – Saturday, 8 a.m. to 5:30 p.m.; Sundays 12:00 noon to 5:30 p.m. Closed on holidays and during winter, whereas, open on holidays during summer, from 12:00 noon to 5:30 p.m.
Things to do: Hiking, fishing
How to Get Here
10. Keyhole State Park, Crook County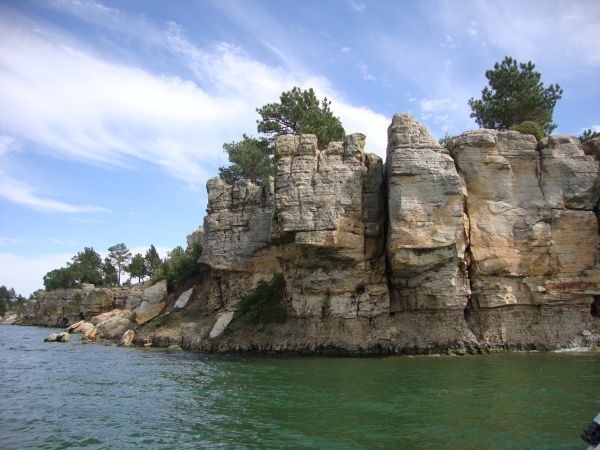 Besides strolling along the ample campgrounds of this 15,674 acres park, stationed near the town, Moorcroft and Gillette, you may amuse yourself by seeing migratory birds as well as animals like mule deer, pronghorn antelope, and wild turkeys. A marina, motel and a public boat ramp are its other zones of interest.
Things to do: Camping, bird watching, sight seeing
How to Get Here
11. Seminoe State Park, Carbon County
This largest park of Wyoming snuggled beneath the Seminoe Mountains and occupying an area of 21,641 acres, presents 84 campsites in 3 campgrounds. Take pleasure of a variety of water sports, engage in an exciting trout and walleye fishing or feast your eyes on animals such as bobcats, mule deer, skunks, raccoons, moose, elk, mountain lions, and bighorn sheep.
Things to do: Fishing, boating, hiking
How to Get Here
12. Sinks Canyon State Park, Fremont County
You are bound to get baffled by the unique geological phenomenon featured by this 600 acres park, located 6 miles south west of Lander. The Popo Agie River, after vanishing into a large underground cavern called "the Sinks", reappears half a mile down the canyon, in a pool called "the Rise". The park may also charm you with its variety of wildlife and birds like porcupines, black bears, red squirrels, bighorn sheep, mule deer, moose or golden eagles or its pool containing a notable bulk of trout that are not permitted to be fished. Stay in yurts for a diversion and if time permits, visit the lake, Alcova Reservoir nearby.
Things to do: Hiking, sightseeing wild life viewing
How to Get Here
13. Letchworth State Park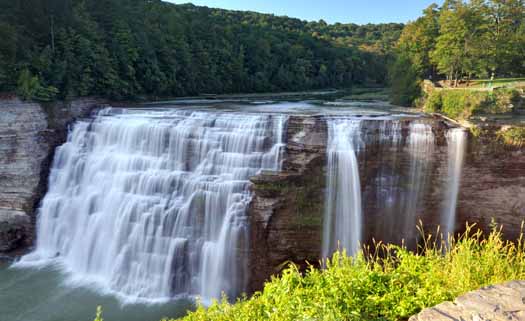 Proudly bearing the Reader's Choice Award for the Best State Park in the United States by the newspaper "USA TODAY" in 2015, this park with the Genesee River flowing through a massive gorge and three large waterfalls against a backdrop of lush forests, indeed presents a spectacular scenery. Tap your vivacious spirits to engage in an adventurous hot air balloon ride to own a priceless experience of beholding Letchworth from amidst the clouds.
Things to do: Summer recreations involve hiking, whitewater rafting, kayaking, hot air ballooning
Winter activities include snow tubing, cross-country skiing, and snowmobiling
How to Get Here
With some extra time, you may check out other interesting places in Wyoming like the rocky outcrops of Vedauwoo or the museum and Fort Bridger State Historic Site. In nearly all the state parks, you are required to pay entrance fees and have permits. It's important to note that your permit does not include camping fees. For disabled veterans, there are certain facilities like free fishing or hunting license.
With more and more materialistic advancements, open cluttered-free spaces are hard to find nowadays. Moreover, man is held captive by numerous responsibilities. Hence, when you do get a chance to stretch your legs, do so but not at the cost of spoiling the treasured natural delights. Reserve campgrounds, book capacious cabins with or without passes, be slothful or hyperactive – but within limits. Follow the rules of the parks, do not litter and remain safe!