This will not be an exaggeration if we say that Florida is a camper's paradise. This statement is also true when the choice becomes more specific, like camping on the beach. Appreciating the trend of people who love to experience the sultry weather near the sea, many campgrounds have commercially opened official campsites. From tent or primitive to modern RV camping, there are plenty of opportunities to repose at the seaside.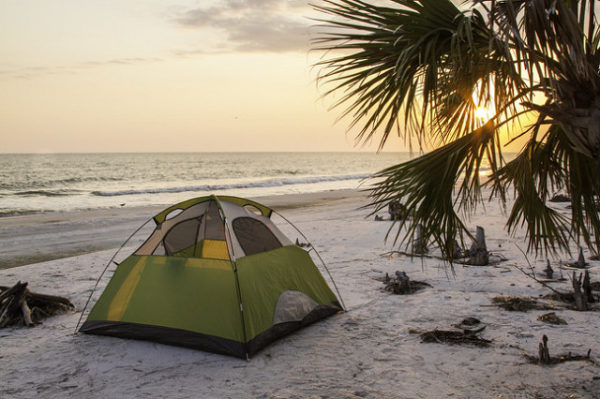 1. Destin Western RV Resort, Emerald Coast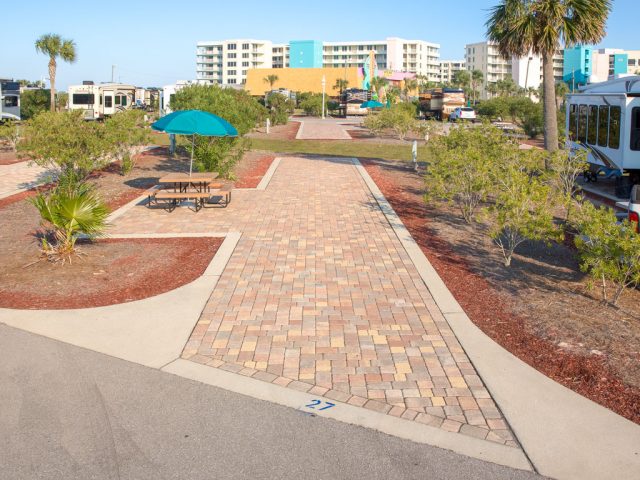 Overlooking the Gulf of Mexico, this is an RV resort featured with all modern amenities like a pool, on-site laundries, bathhouses, eateries, and a library. This is also a pet-friendly destination for RV campers. Even there are several golf courses, spas, and parks like Gulf Islands National Seashore, Fort Walton Beach Landing Park, Clement Taylor Park, and Ross Marler Park and so on. Many sites within the premises of the campground ensure an unhindered look at the sea. It's convenient location on Okaloosa Island keeps Fort Walton, Destin, and Rosemary Beach close to the site.
Contact Here
2. Grayton Beach State Park, Santa Rosa Beach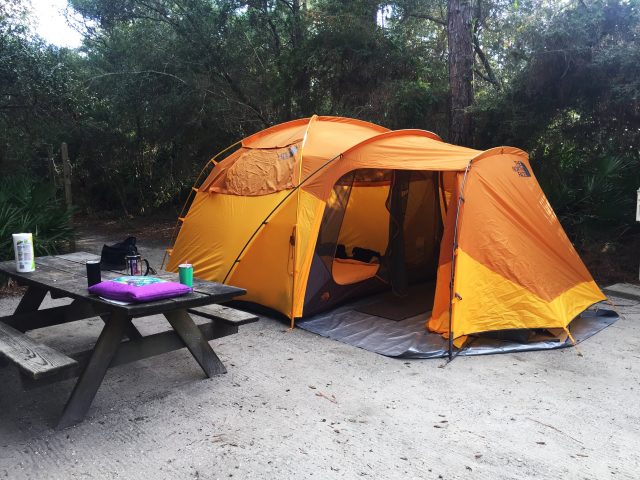 Located in Northwest Florida, this state park accommodates tent and RV campers. Enthusiast people can take their pets as all sites allow them. The position of this site is such that Destin and Panama City Beach situated at an equal distance from the spot. If you are looking for facilities like restrooms, sewer connection, hot showers, electric hook-ups, and dump stations, then all will be available. While prior booking is essential, senior citizens and persons with disabilities have access to discounts. The ocean breeze and the much-needed privacy of the surrounding accompany all campers.
Contact Here
FloridaStateParks.ReserveAmerica.com
3. Coral Sands RV Park, Ormond Beach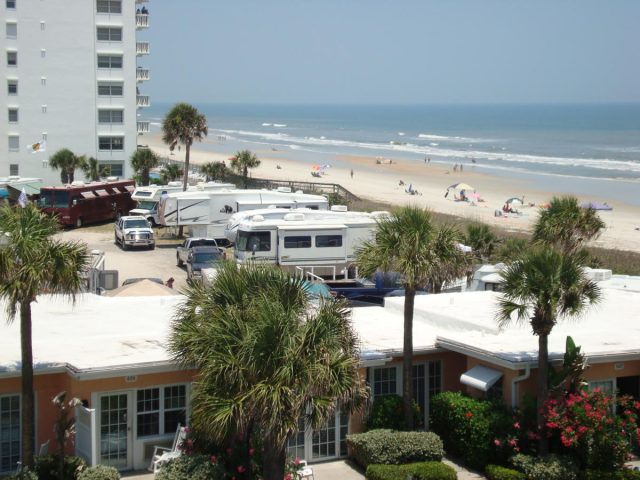 Close to Daytona Beach (8.8 miles), this deluxe campsite with the Atlantic Ocean at the front is one of the best places to camp if you love the beach. The guest-friendly hospitality service is so popular that even such sites are rented for special celebrations or get-togethers like a wedding or any other party. The campsites allow pets, but they have to be on a leash. From Wi-Fi services to laundry, partial to full hook-ups, along with bathhouses, campers are given a wide range of privileges to enjoy their stay.
Contact Here
4. Fort Pickens Campground, Pensacola Beach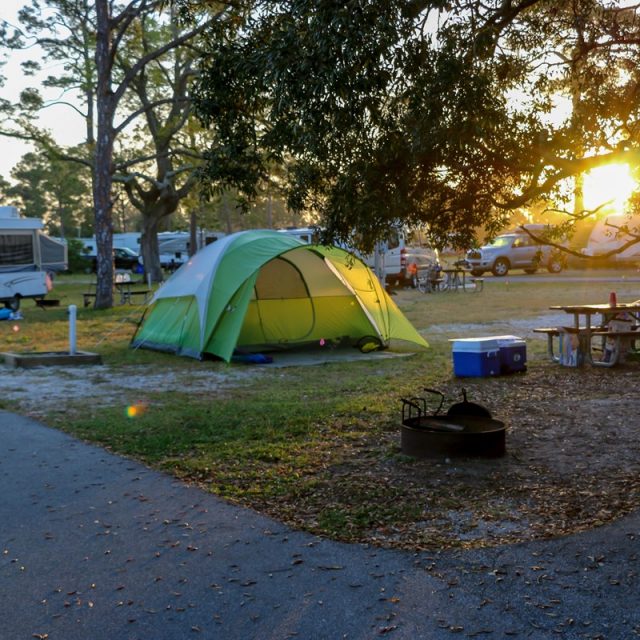 This gem is Florida Panhandle, offers multiple quaint campsites, divided into names Loop A, Loop B, Loop C, and Loop D. There is direct access to the beach from these sites mentioned above. One group campsite also happens to be there without any electricity as the site is for primitive camping only. But there are a few things offers if asked for like picnic tables and grills. Although not wholly primitive, as there are restrooms and outdoor showers, this group camping spot is also a favorite destination for young people with friends.
Contact Here
5. Long Key State Park, Long Key Island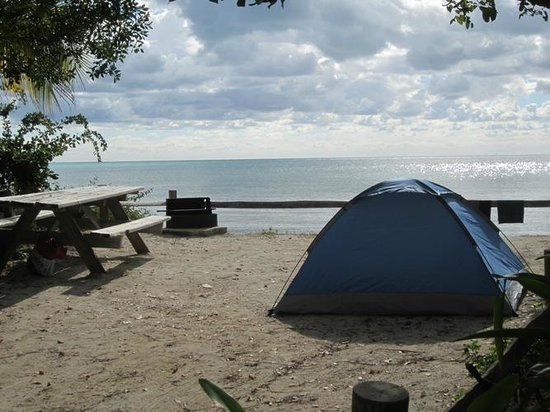 This campsite in south Florida is on a narrow Island with an equally narrow beach, but that doesn't stop campers to enjoy the tranquility of the beach. With around 60 campsites and the nearby Atlantic Ocean, this site in Florid key is an absolute must. While shower station to restrooms, all are there along with occasional campfire facilities. Proper parking slot for your cars is there as well.
Contact Here
6. Red Coconut RV Resort, Fort Myers Beach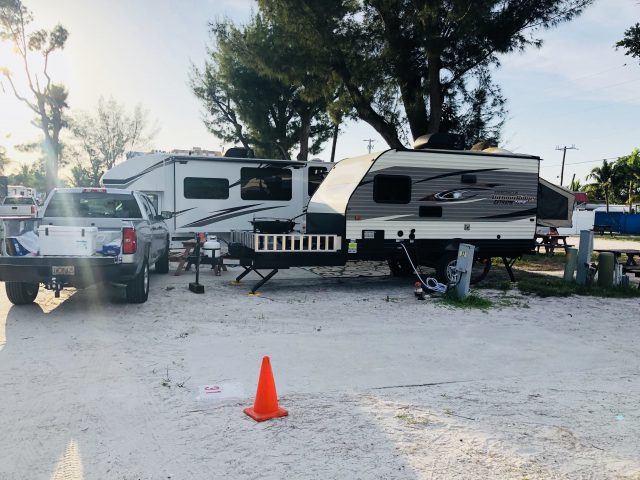 If you wish to enjoy the Gulf Coast of Florida while camping with your loved one, then this place could serve as an ideal one. However, if you do not want to restrict yourself from the amenities and facilities, then you will be served that too. Some campers like to enjoy what they have, mostly the nature of the campsite. Still, some cannot renounce their daily habit of watching television shows, and even for them, the site has a cable connection for TV and standard internet connection. Nearby restaurants and golf courses are alternate options for campers.
Contact Here
7. Anastasia State Park, St. Augustine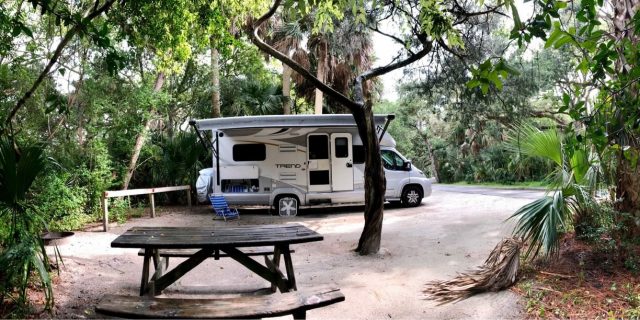 This pet-friendly campground has designated areas for tent and RV camping and sometimes allowing both at the same site. Around 100 sites fall within the area of the camp zone. To enjoy the fresh air of the Atlantic Coast of Florida, this place is an excellent choice, but the point of consideration is that since the site is near the St. Augustine Amphitheatre, it might not be quiet at all. Otherwise, there is no issue regarding restrooms, parking slots, bathrooms, dumping stations, and laundry services as all are there with some entertaining factors like canoe rental, stores for souvenirs, fishing piers, and golf courses.
Contact Here
FloridaStateParks.ReserveAmerica.com
8. Sebastian Inlet State Park, Melbourne Beach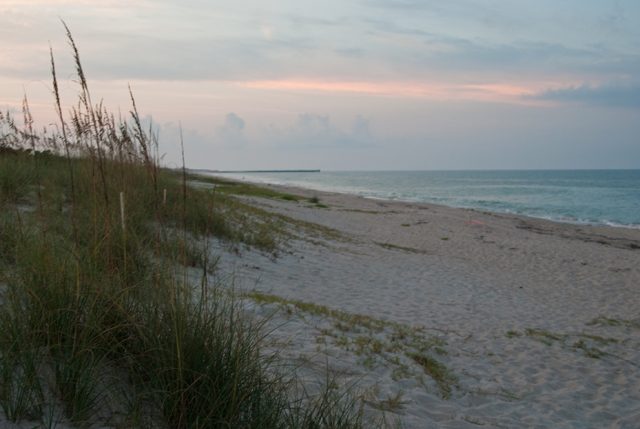 Known for its surfing facility, the state park bordering the Indian River Lagoon, this site is more appropriate for campers who enjoy the idea of camping that might not necessarily be on the beach. The nearby water bodies control the weather, and you will get to see surfing and other water activities at the unlimited blue waters. Some of the campsites are suitable for wheelchair-bound people, and maximum of 8 people can be accommodated. As far as nearby places are concerned, Vero Beach is a popular place that is located just 16.1 miles away.
Contact Here
FloridaStateparks.ReserveAmerica.com
9. Beverly Beach Camptown RV Resort, Flagler Beach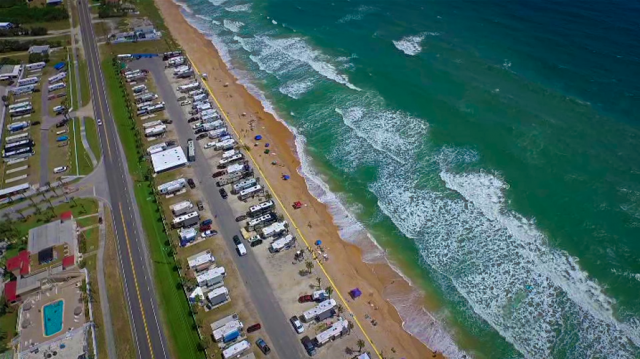 This resort camping site, utilizing the oceanfront view of the Atlantic Coast, is an RV campground with some rental cabins available on the spot. The place has an enthusiastic vibe that every guest finds it stimulating to refresh themselves. From stores to bathrooms, the resort has everything to comfort their campers. The rent is not fixed and hence fluctuates monthly or sometimes annually.
Contact Here
10. Navarre Beach Camping Resort, Navarre Beach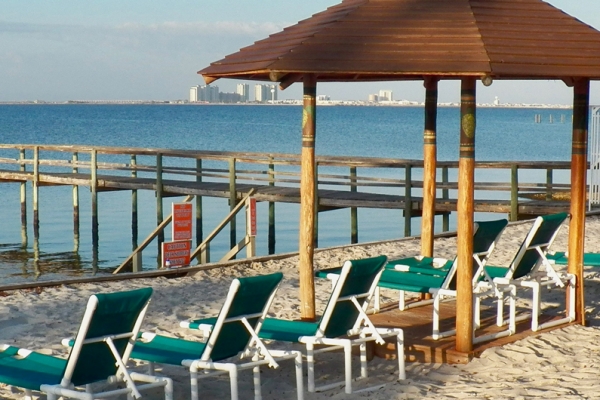 The camping resort is a happening place that gives a wide view of the blue water to campers. People can stay in cabins instead of RVs to feel more comfortable. There are modern facilities like laundries, bathhouses, WI-Fi services, and fitness centers. Activities like fishing, basketball, playing, and enjoying a hot tub facility can be experienced. Since this is a prominent place, people can opt for water facing areas. All cabins are clean and maintain hygiene standards.
Contact Here
11. Turtle Beach Campground, Sarasota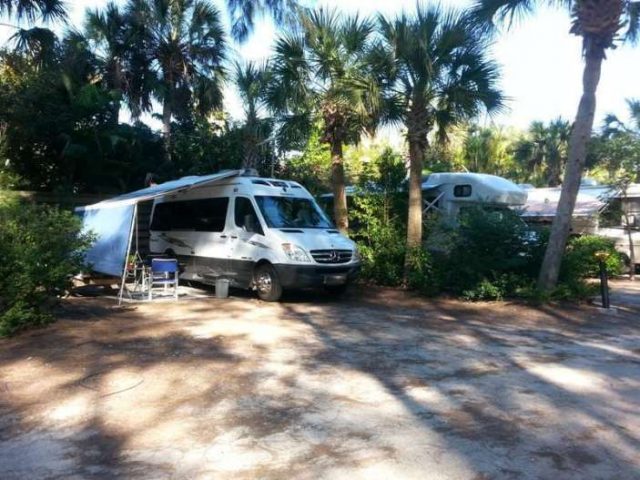 A quiet walk to the ocean, directly from the campground is the best thing about the site. The welcoming ambiance of the Gulf of Mexico blesses the 39 campsites (including RV and tent). Every site has full hook-up facilities, restrooms, hot showers, and laundries. Campers can enjoy watching sea turtles from the beginning of May to October. From fishing golf playing, picnicking to kayak launching, these additional activities can also be done while in this territory of Florida's one of the best camping spots.
Contact Here
Beach camping is indeed a beautiful activity that takes you closer to home as you have only the proximity of the waves and the experience of the stars to fall back on. In Florida, such services allowing people to enjoy this different version of happiness, especially with loved ones, and even pets are truly commendable.