Although Denver does not exhibit any natural hot springs, but the state this city is located in, Colorado, is full of such abundance of nature. Some of them are so close to downtown Denver that you can reach there within a couple of hours or slightly more. Go there throughout the year or especially during the winter. Many of such springs are modernized with some public-friendly features, upholding the destinations as a rejuvenating resort for your tired soul and body.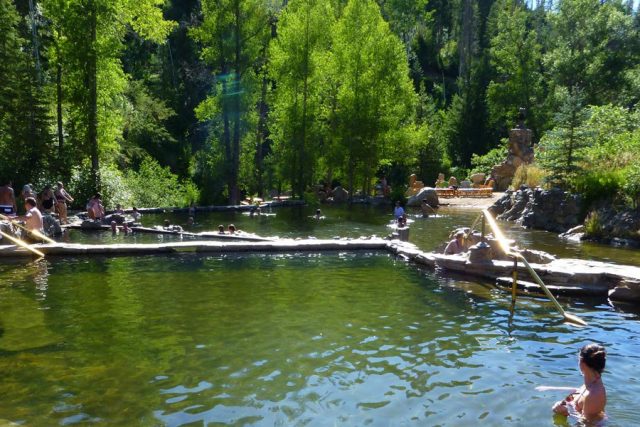 1. Indian Hot Springs, Idaho Springs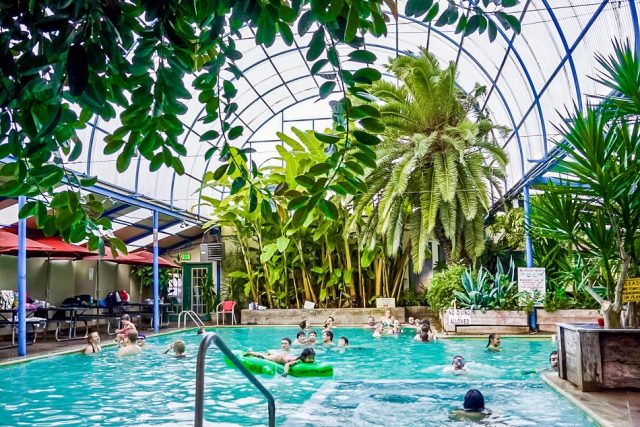 Being the closest hot spring destination to Denver, this resort is studded with all sorts of luxurious options to pamper your skin, mind, and body with services like spa and massage. There are caves, filled with walk-in hot water pools, private bath systems with geothermal water tubs, and a long indoor swimming pool enriched with mineral water. Overnight accommodation or longer stay is possible in the cabins and lodges of this resort. Personalities like American poet Walt Whitman, notorious rogues like William Bonney and Jesse James visited the place. In the recent years, actor Clint Eastwood, singer Bo Diddly, John Denver all have been guests to this outstanding hot springs resort.
Distance from Denver: 32.5 miles
Contact Here
2. Glenwood Hot Springs Resort Pool, Glenwood Hot Springs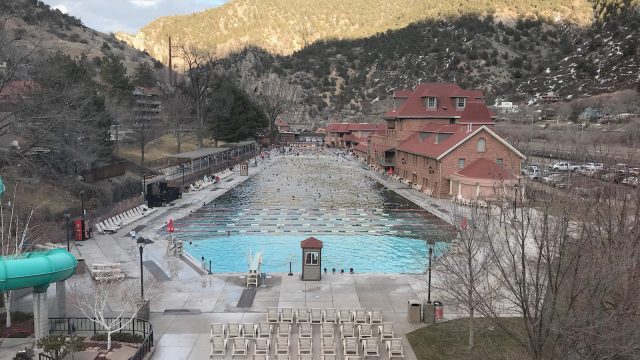 Being the largest hot spring pool, this geothermal spot has been nurturing a lodging or accommodation business since 1888. The longest running pool, magnificently sitting at the foothills of nearby mountains, graces the beauty of the resort, as well as healing both the physical and mental stress of people who soak into the water. There are spa and other salon treatments in the park for adults and kids. You can make a reservation for lodging prior to your check-in as well as buy pool tickets. The timing for using the hot springs starts from 9:00 a.m, and people are allowed up to 10:00 p.m.
Distance from Denver: 167.1 mile
Contact Here
3. Strawberry Park Natural Hot Springs, Steamboat Springs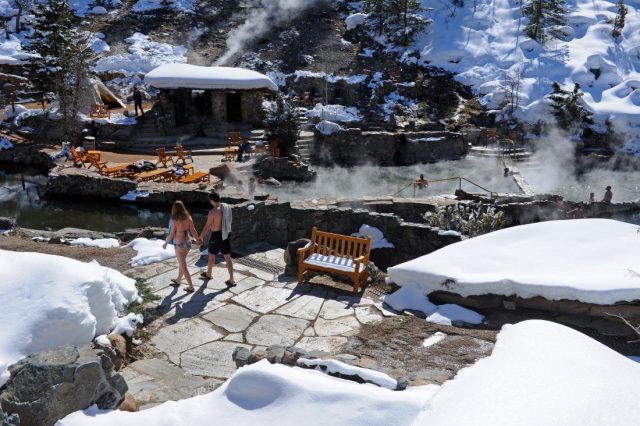 With the warmth of 104°F water, this natural hot spring resort gives you a taste of primitive staying options through its tipi camping. There are some rustic cabins and heated rooms for resting and changing. You can also avail their massage services for further relaxation. The site is not pet-friendly and does not recommend travelers' pets to be kept inside the car for a longer period as well. There is a commute system that is used for transporting visitors from the municipality to this hot spring. This is a clothing-optional hot spring.
Distance from Denver: 162 miles
Contact Here
4. Hot Sulphur Springs Resort & Spa, Hot Sulphur Springs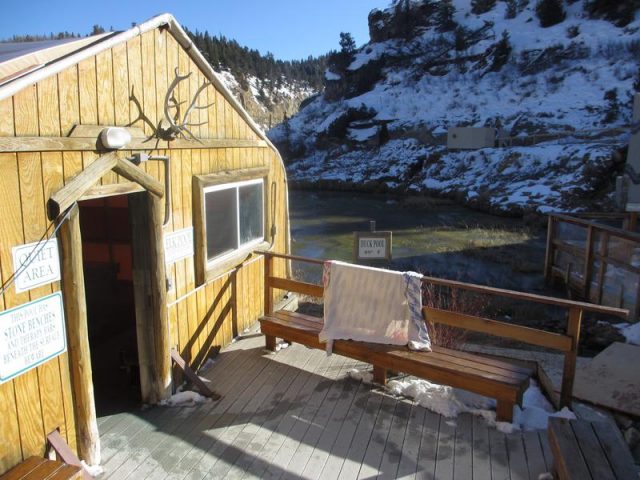 With around 7 natural hot springs having temperatures within 95°F-112°F, the resort could be a romantic weekend trip destination for you. There are two divisions, outdoor pools and private pools, and visitors can choose any one between them. From cabins to apartments, all types of rooms are available for lodging. This site does not allow drinking alcohol and keeping pets.
Distance from Denver: 96.9 miles
Contact Here
5. Rainbow Hot Springs, Pagosa Springs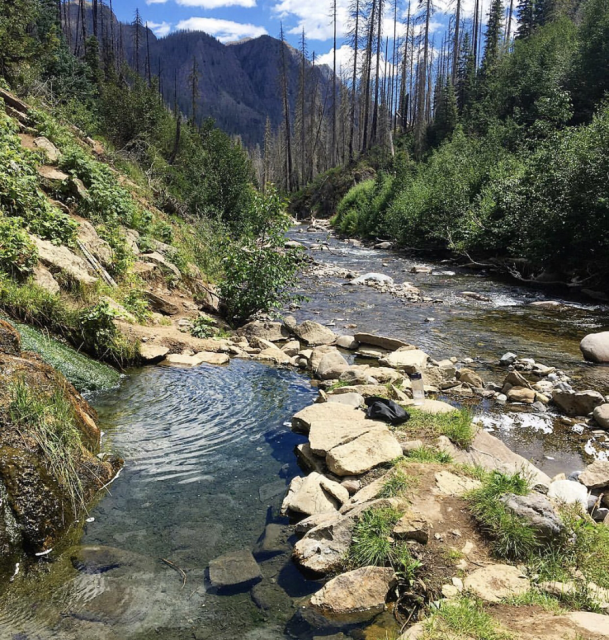 Located in the San Juan National Forest, it is free of cost, and there is just a scenic wild waterfall along with a stream of mineral-enriched water, without any basic amenities nearby. People usually go there through hiking and spend a few hours soaking into the healing water. The outdoor hot spring is a natural wonder and often attracts hikers and trekkers around Denver.
Distance from Denver: 187 miles
6. The Springs Resort & Spa, Pagosa Springs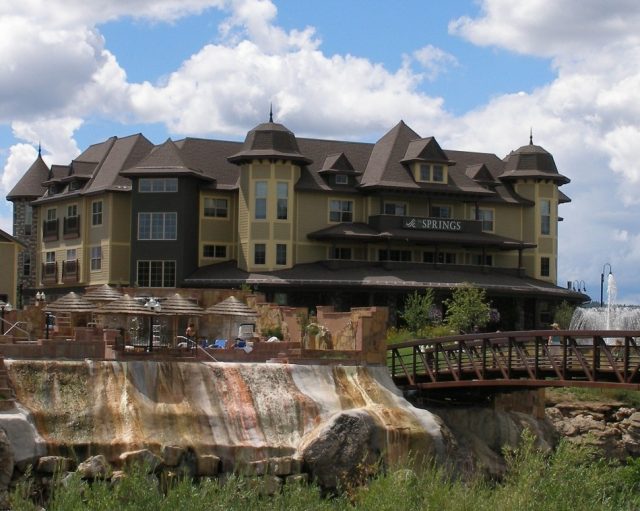 The proximity of the San Juan River and the mountains of the same name, the resort has 24 geothermal pools. To take your relaxation a notch above, the luxurious deluxe rooms, suites, and cabins are available for accommodation. Amongst other attractive activities, skiing, snowmobile tours, fly fishing, hot air balloon ride, river rafting, rock climbing, and playing golf can be done.
Distance from Denver: 276.8 miles
Contact Here
Other Hot springs Around Denver:
Desert Reef Hot Springs of Florence (108.8 miles from Denver)
Merrifield Homestead Cabins and Hot Springs (128.1 miles from Denver)
Joyful Journey Hot Old Town Hot Springs of Steamboat Springs (155.7 miles from Denver)
Iron Mountain Hot Springs in Glenwood Springs, (157.7 miles from Denver)
Springs Spa of San Luis Valley, (169.4 miles from Denver)
Driving from Denver and reaching one of these spots could be real fun as well. After a picturesque drive, relaxing into warm water is what your muscles will crave for, invigorating the energy for the daily life from the next day on.