Costa Rica is ruled by rainforests, volcanoes, and coastal vibes and living closely with such natural brilliance is no less than a blessing. To optimize the opportunity of enjoying nature, there are numerous tree houses in the country, so that nature enthusiasts can take a day or two off and retire to the greenery.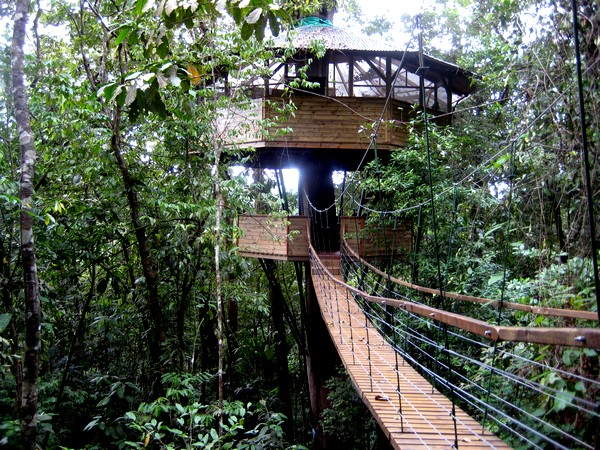 1. Tree House Lodge, Limon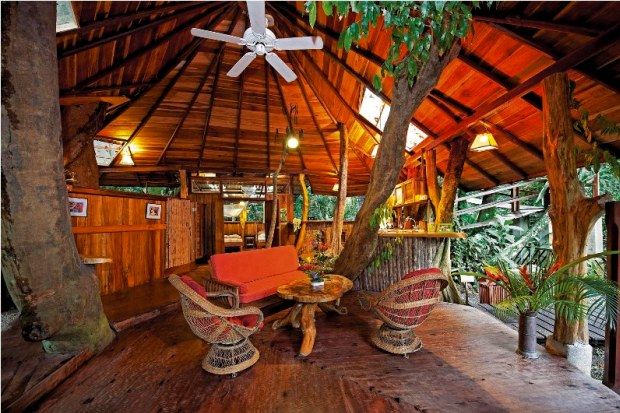 Situated on the Caribbean coast, the bamboo-made lodge is on tree slits. With branches running all over the tree house, it has one bedroom, one living room, one kitchen, and two bathrooms. There is a suspension bridge at the entrance, giving a complete rustic feel. The budget-friendly tree house needs to be booked in advance as the popular destination might not be available otherwise.
2. Hidden Canopy Treehouses Boutique Hotel, Santa Elena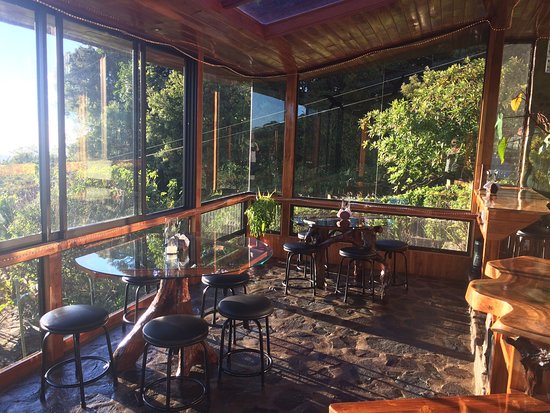 Secured in Monteverde, this hotel is at an elevation of 5,000 ft offering six different tree houses. With all modern amenities like luxurious bedrooms, bathrooms, and some extra pampering options like spa, this is an ideal retreat for nomads. You can indulge in zip-line rides, witnessing the nearby waterfalls, mountainous ranges and the Gulf of Nicoya.
3. Santa Juana Lodge, Provincia de Puntarenas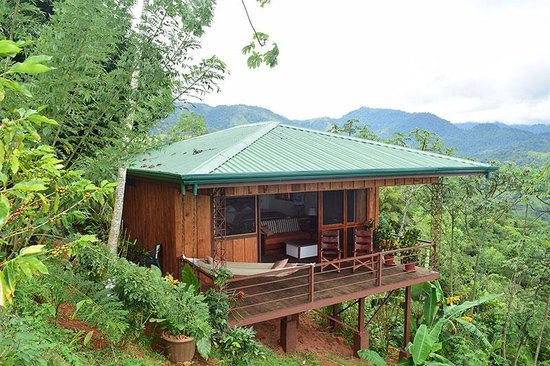 Located within the range of Manual Antonio National Park, the elevated wooden cabins give a feel of a tree house. With a scenic view of the surrounding and cozy luxurious stuff like beds, and a kitchenette are sure to make you feel like you are inside a real tree house, while the modern necessities are provided to make your stay hassle-free. You can enjoy the view of the pacific ocean while dozing off slowly on the hammock on the balcony.
4. Lapa Rios Ecolodge, Puerto Jiménez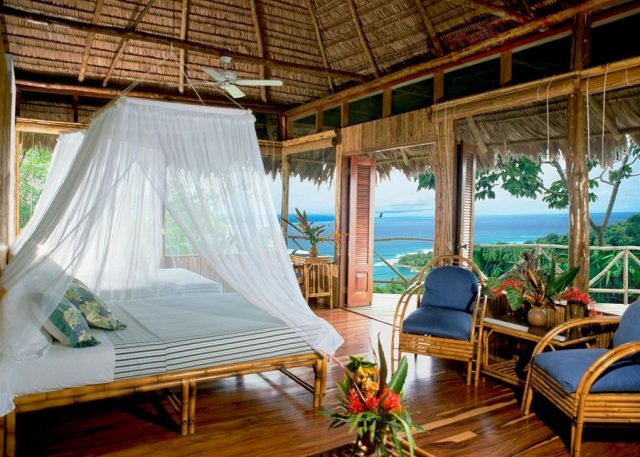 Having Osa Peninsula all around it, the lodge is a part of a rainforest reserve and therefore gives an enigmatic view of both the greenery and ocean. There are multiple bungalows and tree houses at the lodge, and all are airy. The rainforest covers around 1,000 acres and it gives you a unique scope to witness around 300 different bird species along with various types of monkeys that are not common otherwise. If you wish to experience staying in a group then opt for tree houses or bungalows that can accommodate around 5 people at a time. The minimum age of a child to get access to this place is 6 years.
5. Rafiki Safari Lodge, San José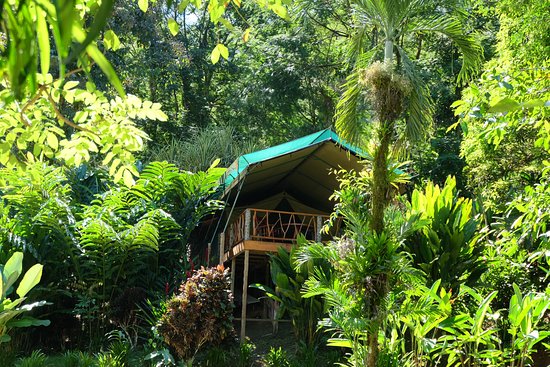 The private lodge, commercially run by Boshoff family was opened with an intention for doing something related to the wildlife refuge. Peacefully snuggled along the Savegre River, the Rafiki Safari Lodge doesn't only let you have an experience of spending nights at the tree top, but rather it gives an array of adventurous stuff like hiking, horse riding, and river rafting.
6. Rancho Pacifico, Uvita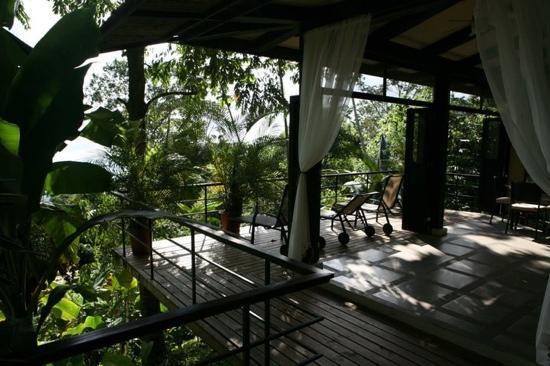 Being a luxury resort, it offers villas, suites, and tree houses. With the greenery all around, the Rancho Pacifico tree houses offer indoor and outdoor bathrooms with sky roof, outdoor jacuzzis,  sitting areas, coffee makers and mini fridges to ensure that there is a perfect blend of nature and modern life. Birthdays, anniversaries, or some memorable occasions, that you want to spend only with your special one, can be celebrated here with perfect seclusion.
7. Pacuare Lodge, Turrialba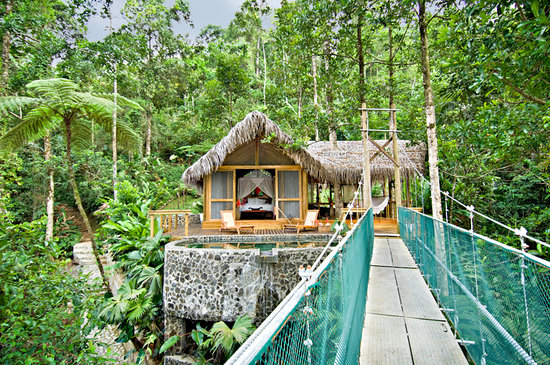 To feel the nature at its best, visit the Pacuare Lodge, a rainforested tree house destination for romantic people. The gateway is wonderfully located amidst lush greenery that compels travelers to fall in love with the eco-friendly ways of the hotel. All modern amenities are provided but the main tone or setting is essentially natural.
8. Tulemar Resort, Manuel Antonio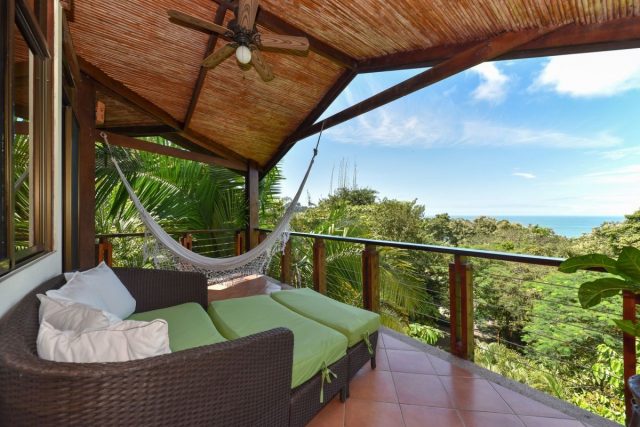 Featured with villas and bungalows, the resort focuses mainly on the comfort that travelers and guests have during their stay in here. With the lush green surrounding and the spacious place, the experience that you gather from staying at the cost-effective resort is sure to accompany you forever. Located on the vast 33-acre of land, the resort gives you a peek-a-boo of the jungle life as you may see sleuths, monkeys, and exotic birds like scarlet macaws from your balcony.
9. Sacred Geome, Puntarenas Province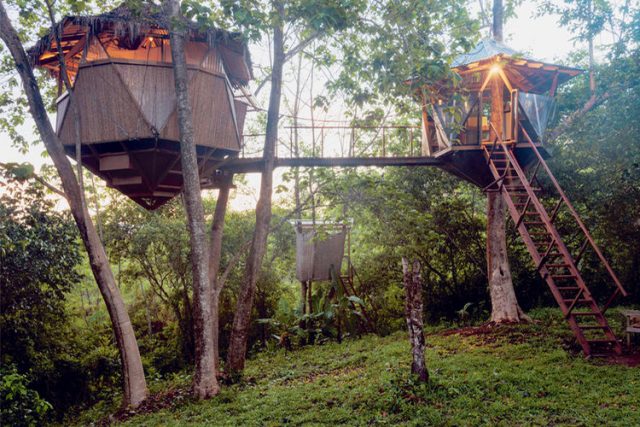 The tree house, studded with one bedroom and one kitchen, hot showers, and many other modern facilities is made on Merlin trees. From electricity to other basic necessities, all are provided in a cost-effective way so that you can have a hassle-free experience of staying in the amazing rainforest surrounding. Once you have known the setting of the tree house, you are sure to have a desire to keep coming back.
10. Samara Tree House Inn, Guanacaste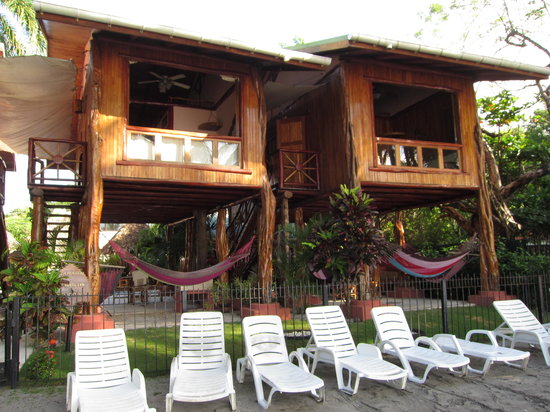 Technically not a tree house, but definitely inspired by one, this resort is a relaxation spot for all nature lovers. With sea beaches at the front, you are given a plethora of choices regarding adventurous activities like ziplining, white water rafting, and so many. The nightlife is famous, so you can come out of the rental villa and explore it too along with some marvelous foods served here.
11. Punta Jaguar Treehouse, Cabo Matapalo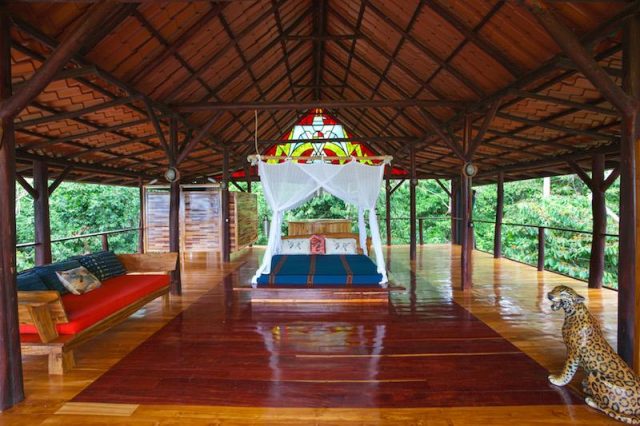 Another tree house destination for you, is a three-story construction that gives you a peep into the jungle-life coupled with a sound of the nearby sea. If you get lucky, then spotting monkeys, macaws, eagles, will be a common affair during your stay. Apart from these, horse riding, fishing, birding, and hiking, as well as training on surfing and yoga can also be availed by you.
12. Topos Tree House, Cahuita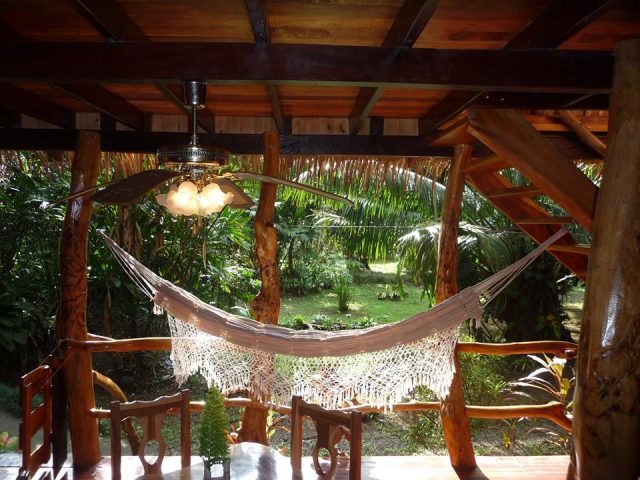 The true wildness runs in the tree house as it is located on a giant tree, with greenery all around. The wooden deck, hammock, and the nearby Caribbean beach, all together create a dreamy vacation spot for globe trotters. Witnessing wildlife from so close might not be in your experience list already, as from dart frogs to monkeys, you are likely to see a few species for sure.
13. Hotel Costa Verde Treehouse, Manuel Antonio
The airplane-shaped tree house is actually a hotel where guests are provided with all possible facilities like a kitchenette, bathroom, and a terrace, overlooking the sea at the front. The cockpit-shaped cottage accommodates two people at a time. The plane that the tree house is modeled after is 1965 Boeing 727.
Staying at a tree house brings back childhood desires for almost all. With a muddy smell mixed with necessary amenities, these destinations are actually a combination of nature and urban lifestyle.