This  post has been updated as of 4/11/2016.
Since so many of my friends live and work in SF, I decided to do a little food tour of the city and find the 37best things to eat in San Francisco – in no particular order.
1. Cellophane Noodles with Crab
at The Slanted Door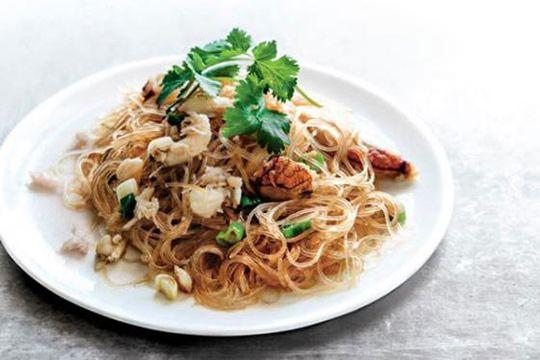 Thin, glossy noodles served with sweet crab. Absolutely delish.
Price: 21$
where to eat?  The Slanted Door, 1 Ferry Bldg, Ste 3, SF – 94111
2. Braised Beef Short Ribs
at Ad Hoc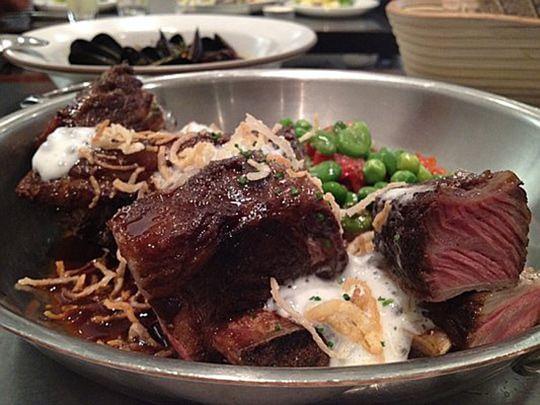 Tender beef short ribs, braised and served with a mushroom risotto, fava beans, and shallots. Not overly complicated, but the flavors come together wonderfully.
where to eat?  Ad Hoc, 6476 Washington St., Yountville, CA 94599
Price : 52$ (4 course dinner)
3. Chicken Milanesa Torta (Milanesa de Pollo)
at Tortos Boos Voni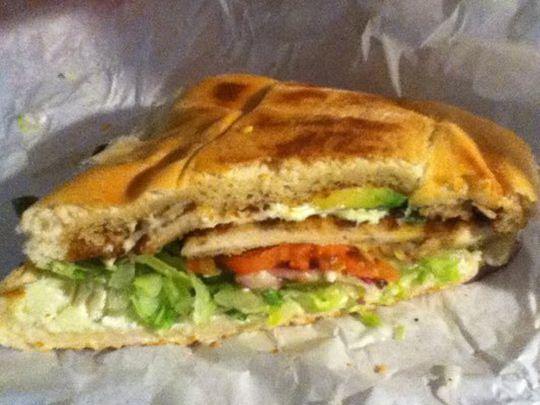 Torta, as keen foodies would know, is a Mexican sandwich. 'Milanesa', on the other hand, is an Italian dish of breaded and shallow fried meat. It is also the generic term for any meat fillet preparation in Latin America.
This sandwich combines Mexican bread and milanesa meat fillet with tomatoes, chopped lettuce, onions and avocado with a hint of sour cream and some salsa.
Price : Under 10$
where to eat?  Tortas Boos Voni, 5170 Mission St., SF – 94112
4. Lamb Shank with Barley, Pumpkin, Pomegranate and Argula
at Aziza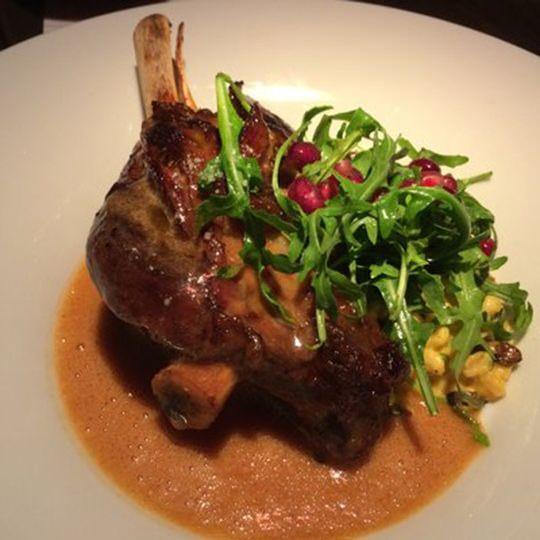 Aziza is, perhaps, the only Michelin star rated Moroccan restaurant in the country. It is easy to see why. The food here is authentic Moroccan, yet innovative, especially the lamb shank which falls right off the bone and is served in a delicious argula, pumpkin and pomegranate sauce over a bed of barley.
where to eat?  Aziza, 5808 Geary Blvd, SF – 94121
5. Tropical Sundae
at Ice Cream Bar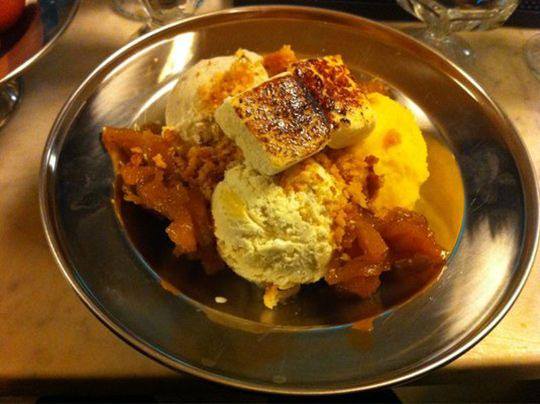 This fruit-filled concoction is made from macadamia nut and banana puddlin' ice-cream topped with roasted pineapple sauce, coconut macaroon crumb, toasted passion fruit marshmallows and peace fruit sorbet, all served in a delightfully classic themed ice cream bar and soda fountain.
where to eat?  Ice Cream Bar, 815 Cole Street, SF – 94117
6. Egg Sandwich with Shallots and Parsley on Sourdough
at Beergarten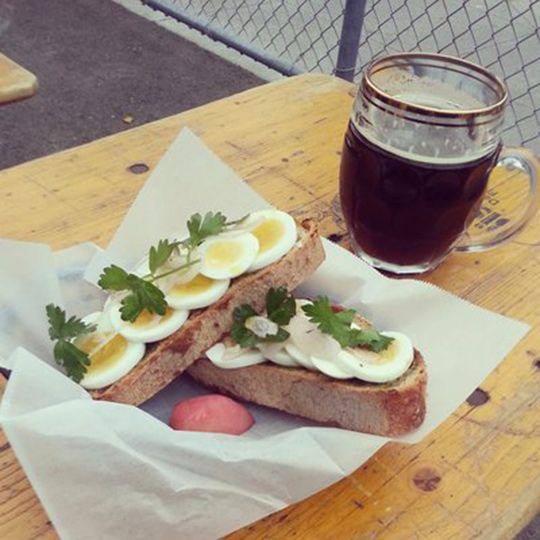 Besides great beer, this German restaurant also serves a delicious egg sandwich with shallots and parsley on sourdough bread loaded with herb butter. A must eat, especially before you begin your beer drinking spree.
where to eat?  Biergarten, 424 Octavia St., SF – 94102
7. Kung Pao Pastrami
at Mission Chinese Food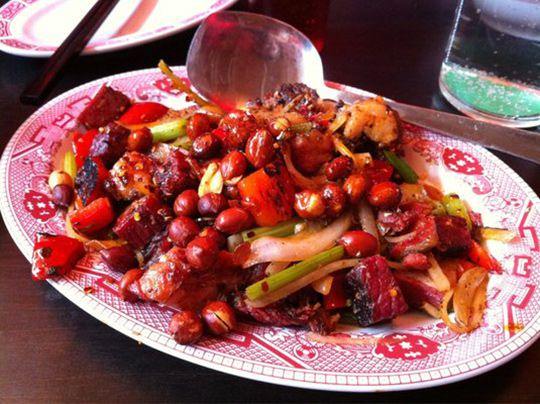 The signature dish at SF's favorite Chinese fusion food spot. Pork belly pastrami served with Kung Pao spices. A delicious blend of East and West. Fair warning though: the food can be incredibly hot, so unless you can handle your spices, steer away.
where to eat?  Mission Chinese Food, 2234 Mission St., SF – 94110
8. Meatloaf Sandwich
at Fatted Calf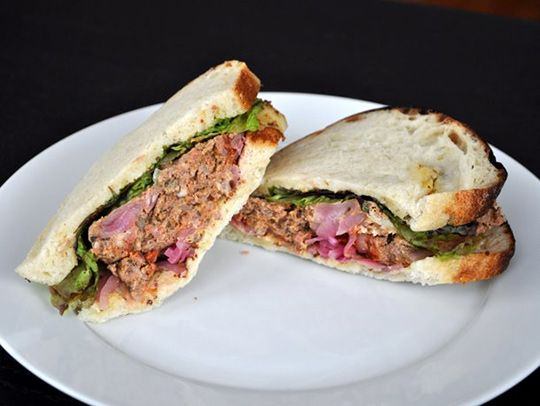 The key to this meatloaf sandwich is the meat itself. Since Fatted Calf is essentially a meat shop, you can be sure you'll get only the best ground beef, pork and bacon in your meatloaf. While you're at it, also try their toasted fiscalini cheddar and bacon jam sandwich.
where to eat?  Fatted Calf, 320 Fell St., SF – 94102
9. Kasu-Zuke Pickles
at Cultured Pickles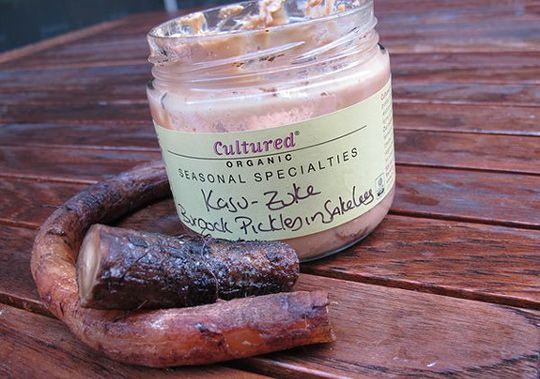 Jane Birdsall | SF Weekly
Cultured Pickles, in Berkeley, does one thing and one thing only: pickles. And boy, do they do it right. If you thought pickles was just cucumber slices in vinegar, you need to get yourself to Cultured.
From Indian mango to tomato and peppercorn, there is a pickle for things you never thought could be pickled at Cultured. The best of the lot is the Kasu-Zuke pickles – burdock roots pickled in sake lees by natural fermentation methods (with no vinegar).
where to eat?  Cultured Pickle Shop, 800 Bancroft Way, Suite 105, Berkeley – 94710
10. Salt Cod Cakes
at Mikkeller Bar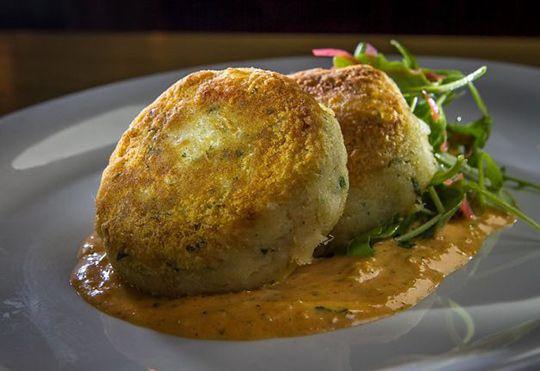 John Storey | SF Gate
These hearty, salted cod fish cakes are the perfect accompaniment to the excellent beer served at Mikkeller Bar – the first American outlet of the famous Copenhagen bars of the same name run by brewer Mikkel Borg Bjergso.
where to eat?  Mikkeller Bar, 34 Mason St., SF – 94102
11. Peach Crostata
at Zunni Cafe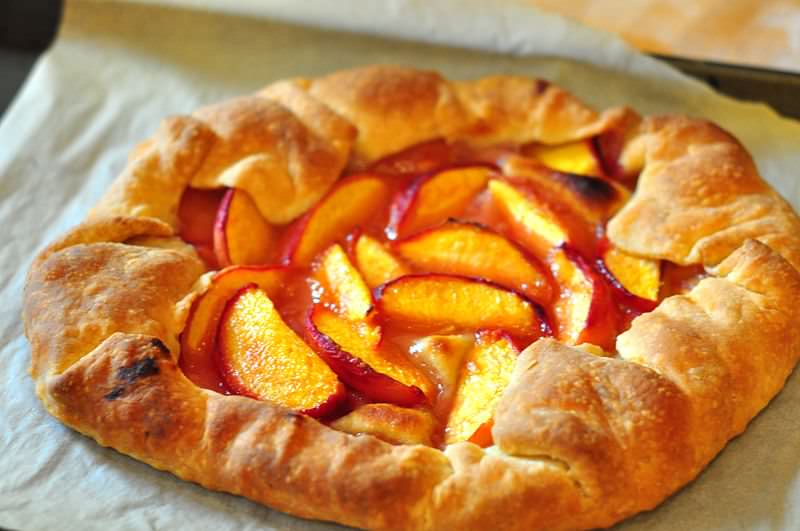 Fresh Peach, melt-in-your-mouth. Crostata is perfectly blend to show off the fruit.  Crust is perfect bake.
where to eat?  Zunni Cafe', 1658 Market St. San Francisco, CA 94102
12. Takoyaki
at Izakaya Sozai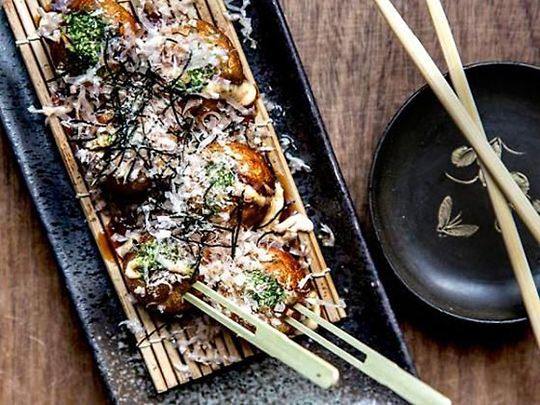 7×7 | Pinterest
Izakaya Sozai is arguably SF's finest Japanese restaurant. You can pick anything off the menu, but I recommend you take a stab at the takoyaki – fried dough balls filled with diced octopus – before trying out the more esoteric and fusion fare.
where to eat?  Izakaya Sozai, 1500 Irving St., SF – 94122
13. Moto Pizza
at Ragazza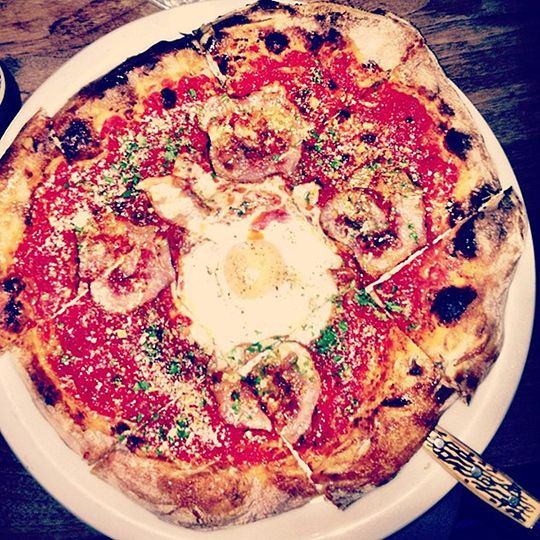 Skip the pastas and the deserts and try out the Moto pizza at this Italian restaurant – tomato, Calabrian chillies, red onion, sausage and mushrooms. The best way to eat it is with an egg on top, a Ragazza signature.
where to eat?  Ragazza, 311 Divisadero St., SF – 94117
14. Coffee Rubbed Pork Shoulder
at Range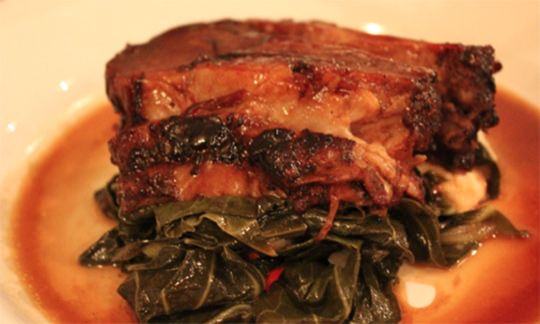 Tender, slow-cooked pork rubbed with ground coffee and served with creamy hominy and collard greens. The coffee flavor is very subtle, but it does something wonderful to the pork. Highly recommended.
where to eat?  Range, 842 Valencia St., SF – 94110
15. Fried Onion Cake
at House of Nanking
A crispy, light patty made with pizza dough and packed with fresh fried green onions and glazed with sweet-salty peanut sauce. A legendary dish at one of SF's favorite Chinese eateries.
where to eat?  House of Nanking, 919 Kearny St., SF – 94133
16. Morning Bun
at Tartine Bakery & Cafe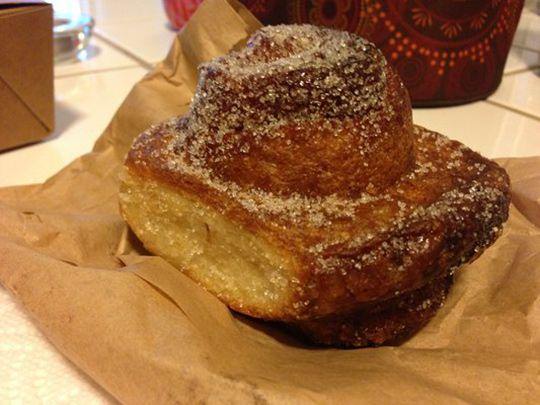 The morning bun at Tartine Bakery has legendary status among SF foodie circles. You'll find big lines snaking outside the bakery on weekdays as people get their fill of this delicious sweet buns made from croissant dough, zest of orange and sprinkled with ground cinnamon.
where to eat?  Tartine Bakery & Cafe, 600 Guerrero St., SF – 94110
17. Nick's Baja-Style Fish Tacos
at The Taco Shop at Underdog's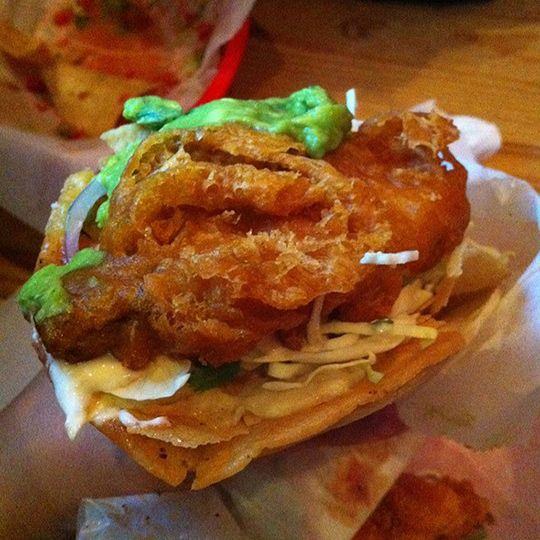 Foodspotting
Crispy fried fish topped with a hearty helping of guacamole, cheese and onions. A big game favorite at this popular fusion sports bar.
where to eat?  Taco Shop at Underdog's, 1824 Irving St., SF – 94122
18. Khoresht Gheymeh
at Maykadeh Persian Cuisine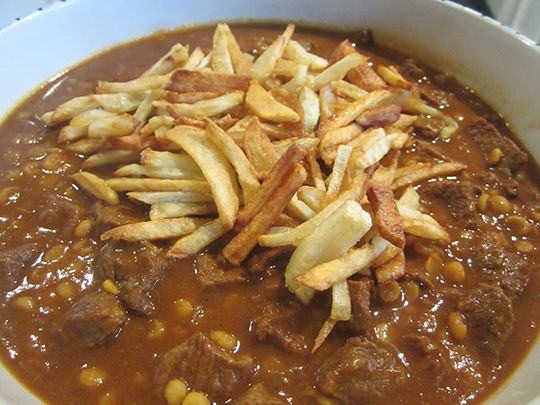 MasteringPersianCooking
Persian cuisine is underrepresented in SF, which is a shame because Persian food has some truly delicious dishes, such as Khoresht Gheymeh – a stew of lamb, split yellow peas, saffron tomato paste, and sun dried lime topped with fries and served on a bed of fragrant basmati rice.
where to eat?  Maykadeh Persian Cuisine, 470 Green St., San Francisco – 94133
19. Katsu Curry
at JapaCurry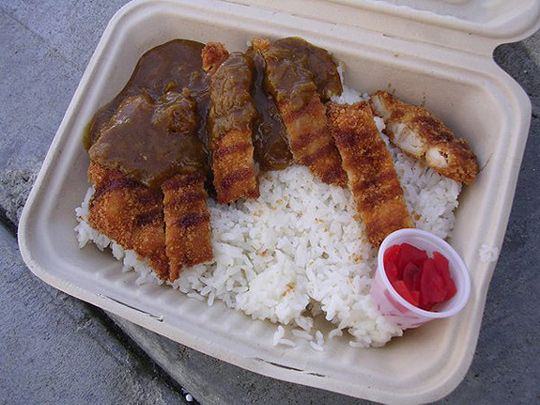 John Bridsall | SF Weekly
Breaded, deep-fried pork or chicken cutlet served with a dark brown tonkatsu curry sauce (curry packed separately) – the dish that's made JapaCurry one of the best food trucks in the city.
where to eat?  JapaCurry, Location Varies (see website or follow on Twitter for details).
20. Oxtail and Chickpea Fritters
at Alta CA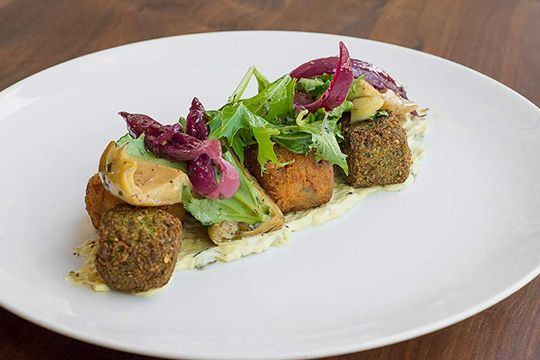 Falafel-like fritters and oxtail meat served with red onions and artichoke. A bit avant-garde, but delicious nonetheless.
where to eat?  Hard Knox Cafe, 2526 3rd St (at 22nd St), San Francisco, CA 94107
21. Brassicas and Grains
at  SPQR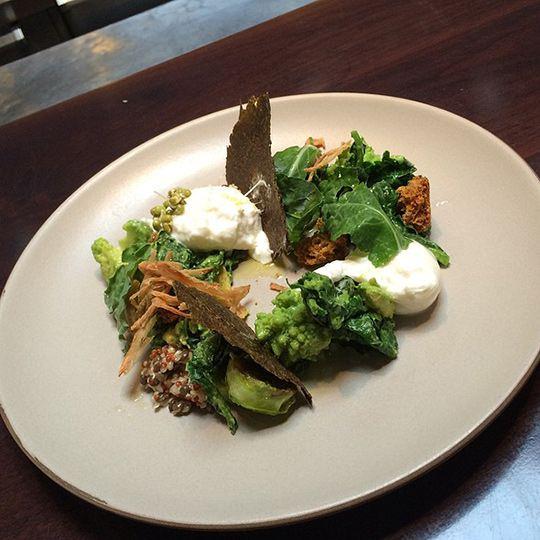 Mee-Sun Yuk | Foodspotting
Italian food with a Californian artisan twist. This popular favorite has burrata, avocado, olio verde, brassica (a plant of the mustard family), green goddess and grains. Light, and delicious.
where to eat?  SPQR, 1911 Fillmore St., SF – 94115
22. Pork Sugo with Pappardelle
at Delfina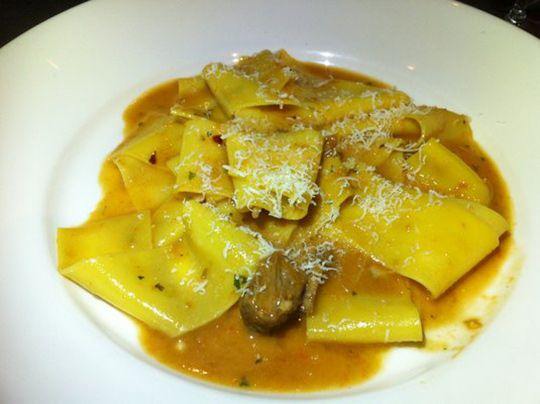 Any dish that requires over 5 hours of cooking spread over two days deserves some respect. This local favorite has everything a foodie could ask for – tender pork butt and spareribs in a deliciously well-spiced sauce of carrots, onions, celery, garlic, rosemary, sage, white wine and tomato, served on fresh pappardelle pasta.
where to eat?  Delfina, 3621 18th St., SF – 94110
23. Roast Chicken with Bread Salad
at Zuni Cafe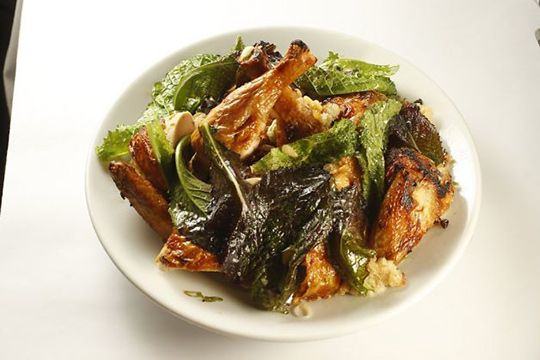 When a dish has been written about in everything from Food and Wine Magazine to Saveur, you know it's going to be worth it. This legendary dish has tender, free-range chicken spiced with thyme, garlic and pepper, served with a bread salad of currants and pine nuts. Absolutely delicious.
where to eat?  Zuni Cafe, 1658 Market St., SF – 94102
24. Orange Cardamom Kouign Amann
at B. Patisserie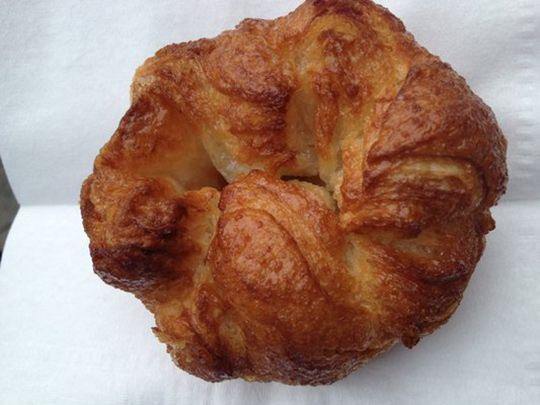 B. Patisserie is arguably the most beloved pastry shop in the bay area, and the kouign amann is its chief star (along with the croissant). Delicate, flaky pastry spiced with orange and cardamom that's often described at "orgasmic", and a "gift from the unseeable world".
where to eat?  B. Patisserie, 2821 California St., SF – 94115
25. Crispy Duck Salad
at Hakkasan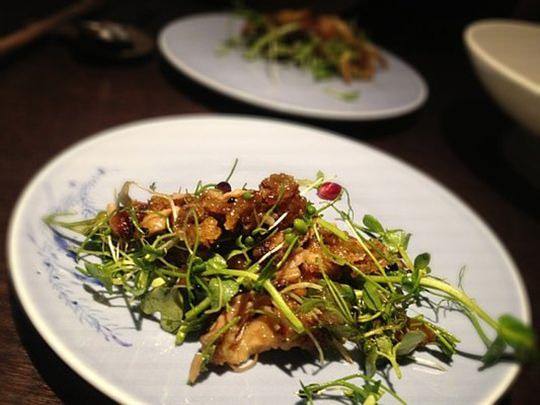 Hakkasan has been a tremendous force in the SF food world, reinventing Chinese food with trendy, experimental delicious dishes. One of the best things on their menu is the crispy duck salad – well-seasoned duck fried to crispy perfection and served with pomegranate, pine nuts, shallots and watercress.
where to eat?  Hakkasan, 1 Keamy St., SF – 94108
26. Brussels Sprout Chips
at Marlowe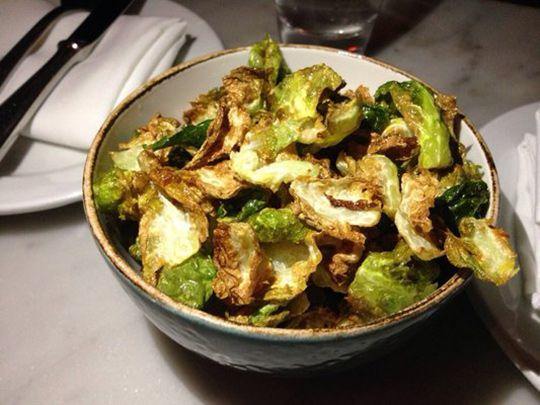 Thought brussels sprouts are boring and chips are only good when potatoes are involved?
Then try the brussels sprout chips at Marlowe. You'll never see chips the same way again.
where to eat?  Marlowe, 330 Townsend St., Ste 101, SF – 94107
27. Spiced Lamb Skewers (Arnisio Souvlaki)
at Kokkari Estiatorio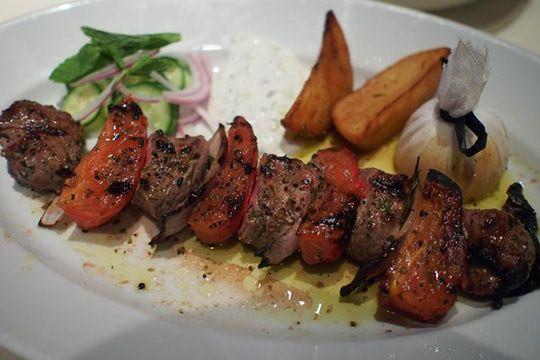 Thick chunks of lamb rubbed with Greek spices and grilled to perfection. Nothing fancy or complicated; just plain good cooking.
where to eat?  Kokkari Estiatorio, 200 Jackson St., SF – 94111
28. Chicharrons
at La Palma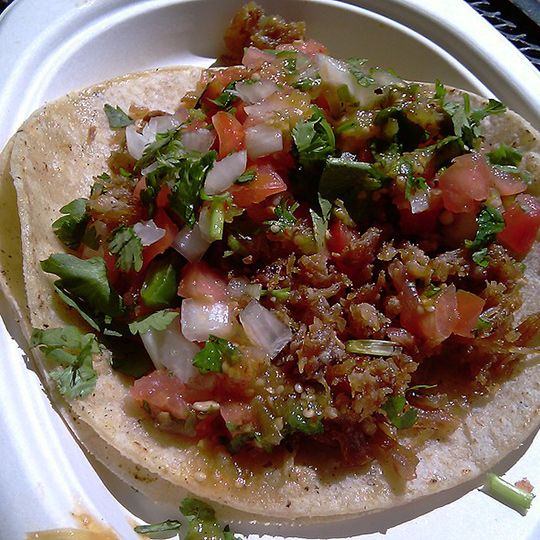 Kevin Fu | Foodspotting
You can close your eyes and place your finger on any item on the menu without being disappointed in this Mexican delicatessen (a Mexicatessen). The best thing to eat, by far, are its chicharrons (fried pork rinds). Amp up the flavor by rolling it up in a handmade tortilla taco topped with fresh guacamole and salsa.
where to eat?  La Palma, 2884 24th St., SF – 94110
29. Barbeque Pork Bun
at Good Mong Kok Bakery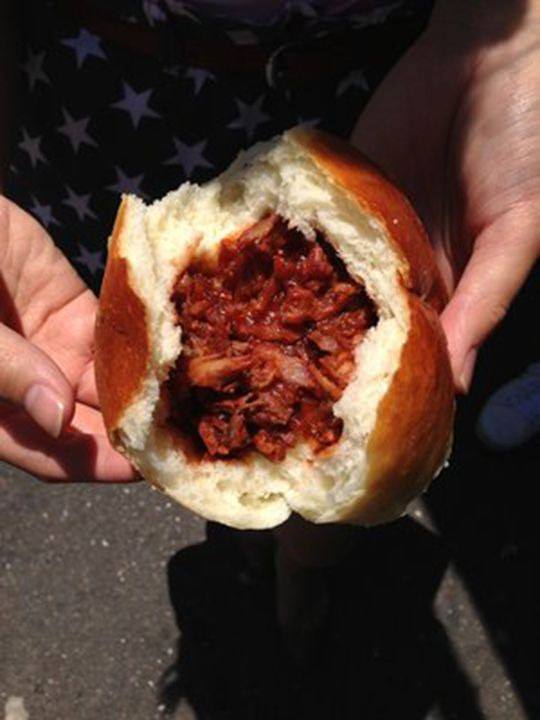 There are few things as universally well-loved as a good BBQ pork bun (well, to those who eat pork anyway). Freshly baked (or steamed) and filled with succulent cha siu pork goodness, these make for a great breakfast, a mid-afternoon snack, or a late night post-drinking meal. Plenty of bakeries serve these buns in SF, but I recommend the ones at Good Mong Kok Bakery. The buns are always fresh and the price always ridiculously low. Try out both the baked and the more authentic steamed buns.
where to eat?  Good Mong Kok Bakery, 1039 Stockton St., SF – 94108
30. Omakase
at Ichi Sushi + NI Bar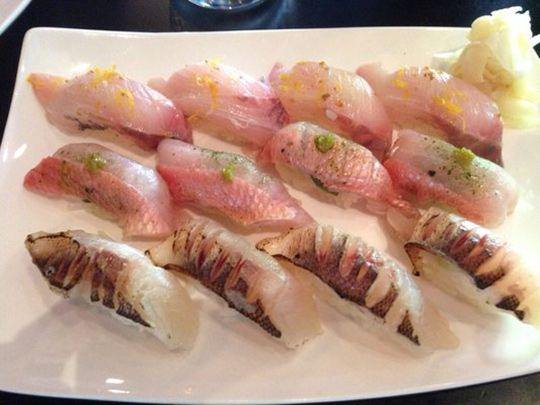 Given San Francisco's love for Japanese food, there is no shortage of places to grab some great sushi in the city. For those feeling a bit more adventurous, I recommend the omakase (which means "I'll leave it to you" in Japanese, i.e. the chef serves whatever he wants) at Ichi Sushi.
where to eat?  Ichi Sushi + NI Bar, 3282 Mission St., SF – 94110
31. Crispy Octopus
at 1760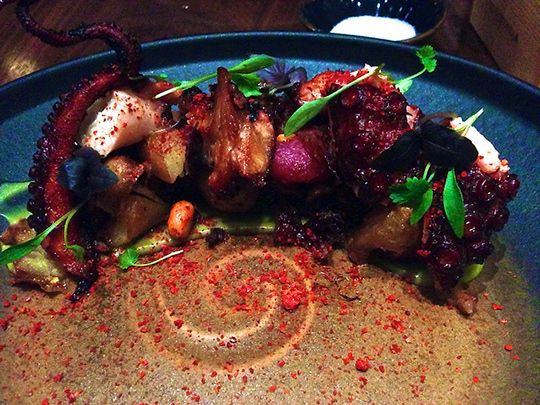 Octopus isn't for the faint-hearted, what with the tentacles and all. But when done right, it is heavenly delicious. If you're new to octopus, try out the crispy octopus at 1760 (which is named after its location, not the year), served with roasted peanuts, fingerling potatoes and avocado. The octopus is charred to perfection and has just the right mix of stringy chewiness and buttery soft meatiness.
where to eat?  1760, 1760 Polk St., SF – 94109
32. Papua New Guinea S'More
at Dandelion Chocolate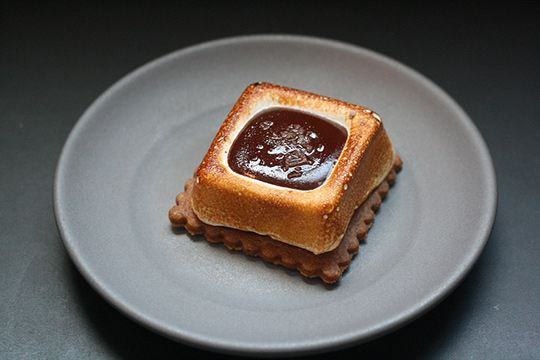 The folks at Dandelion don't kid around with their chocolate. They take incredible pains to source the right stuff straight from the farmers and roast everything slowly to get just the right flavor. All this effort translates into chocolate that makes the store bought stuff taste like a three-day old McNugget.
You'll everything on sale at Dandelion, but I recommend the Papua New Guinea S'More, which uses beans sourced straight from farmers in Papua New Guinea and tastes like a slice of heaven.
where to eat?  Dandelion Chocolate, 740 Valencia St., SF – 94110
33. Chicken Mole
at San Jalisco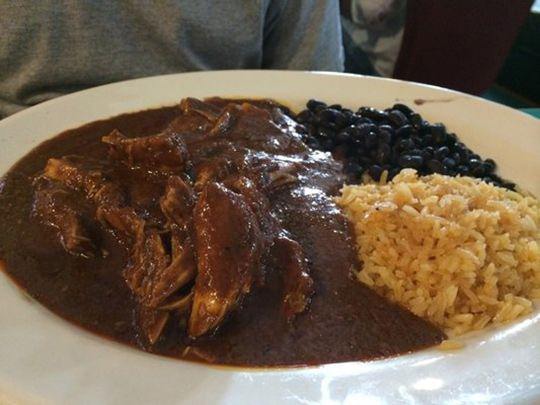 Mole is one of the most complicated sauces in the world with a huge list of ingredients and a cooking process that could make Gordon Ramsay cry. Getting it right is difficult, but San Jalisco comes pretty close with its Pollo en Mole.
where to eat?  San Jalisco, 901 S. Van Ness Ave., SF – 94110
34. Maple Bacon Sausage Breakfast Sandwich
at 4505 Meats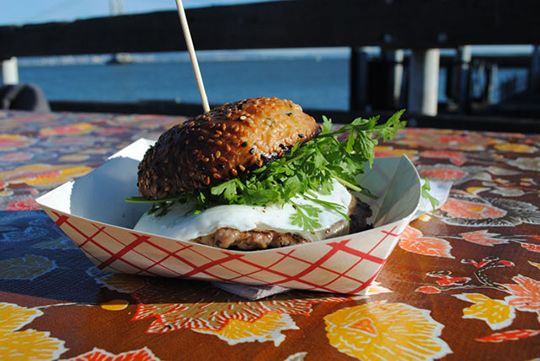 Andrew Dalton | SFist
The philosophy at 4505 Meats is simple: high quality ingredients, simple recipes. For breakfast, try out their maple bacon sausage sandwich – maple bacon sausage patty with a fried egg, and seasonal greens between buttered brioche bun. Simple, but delicious.
where to eat?  4505 Meats Burgers and BBQ, 705 Dvisadero St., SF – 94117
35. Squid Ink Tonnarelli
at A16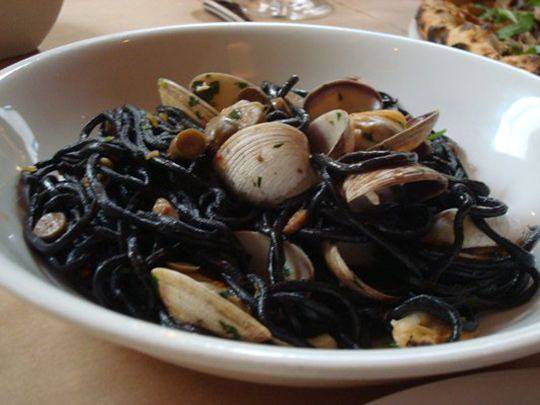 If there was ever an ingredient that didn't sound like something you'd want to put in your mouth, it's squid ink. Yet, this dish has somehow become an Italian classic, even though few chefs know how to do it right. Chef Christopher Thompson is one of these few, putting out spicy tonnarelli pasta with braised squid, garlic, parsley, lemon and senise peppers. It might not look like much, but it tastes out of this world.
where to eat?  A16, 2355 Chestnut St., SF – 94123
36. Chicken and Waffles
at Hard Knox Cafe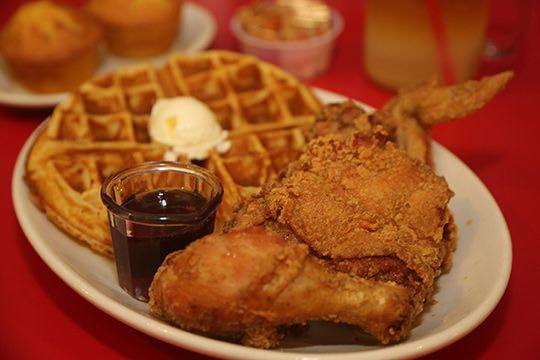 You can find more Korean-Mexican fusion places than a good southern BBQ or soul-food joint in San Francisco. Hard Knox Cafe is one of the few places in the city that does soul-food right, serving all-time classics like cajun meatloaf, beef short ribs, and country fried steak. Best among these is waffles and chicken – well-seasoned chicken fried to perfection and served with thick, delicious pancakes.
where to eat?  Hard Knox Cafe, 2526 3rd Street, SF – 94107
Also at: 2488 Clement St., SF – 94121
37. Salted Caramel Ice Cream
at Bi-Rite Creamery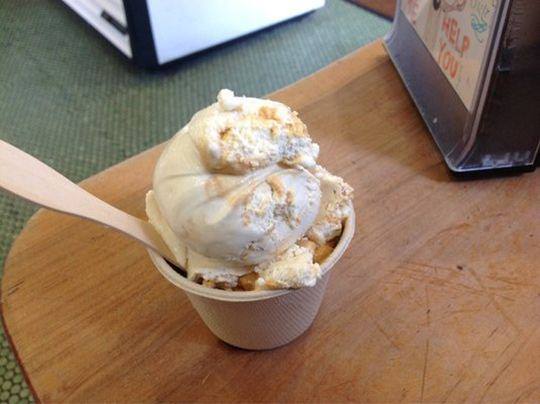 A "best of San Francisco" list without Bi-Rite Creamery's salted caramel ice-cream would cause riots.
Yes, it's that good.
where to eat?  Bi-Rite Creamery, 3692 18th St., SF – 94110
Obviously, this list is by no means conclusive. I can think of a 50 more dishes to eat off the top of my head, but including everything that should be here would just make the list too long and unwieldy.
So which among these is on your all-time favorites list?