The Philippines, a land comprising of more than seven thousand islands, has its cuisine enriched with a profuse usage of vegetables, fruits, pork, beef, and seafood. The cuisine, although a little bit underrated, includes Indian, Spanish, Japanese and Chinese influences with an underlying base of the native Austronesian impact.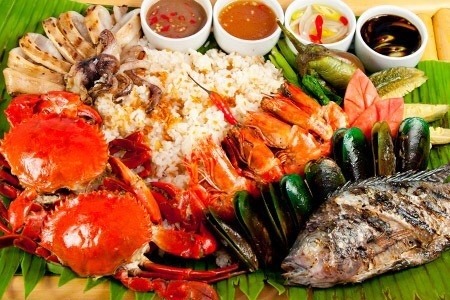 1. Adobo – A traditional Filipino Food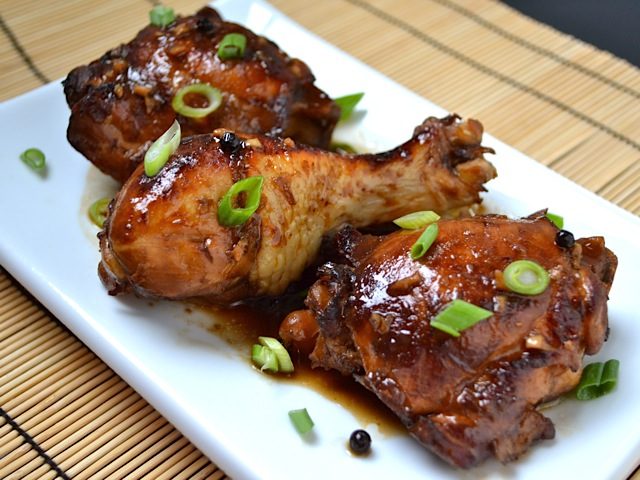 What is it: Braised meat or vegetables using vinegar, soy sauce, garlic, and salt. The choice regarding the meat depends on individuals as chicken, beef, pork and seafood, all can be used. Since these ingredients help preserve the meat or vegetables for a long time without refrigeration, the name of the dish refers to this particular cooking process which has been a tradition of the country starting from the pre-Hispanic era. Because of its popularity, this is the unofficial national dish. Variations regarding the usage of vinegar and slow cooker are prominent throughout the country.
What does it taste like: The delicate taste of the preparation coupled with plain white rice makes a wonderful treat for your taste buds. While adobo sa gatâ, a regional variation, has a strong flavor of coconut milk, veg adobo like adobong kangkong is all about water spinach.
2. Arroz Caldo- A famous food of the country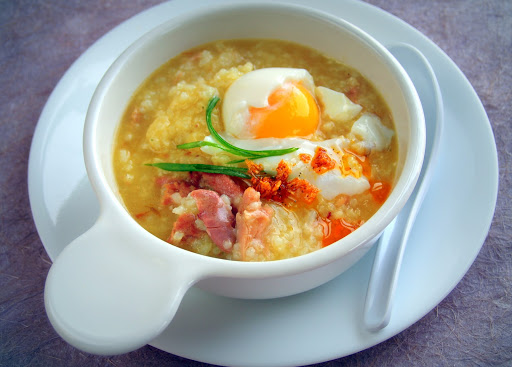 What is it: A rice porridge or congee having chicken and spices as ingredients and a topping of half-boiled eggs. Countries like India, Taiwan, China and Spain have their own variations of this food, and amidst them, the Philippines followed the Chinese style with some improvisations to please the Spanish rulers of the country as they had a liking for this Filipino-Chinese version.
What does it taste like: The amalgamation of saffron, ginger and black sauce complement the tender chicken, making this an excellent comfort food for sick people.
3. Pancit Palabok – A popular marienda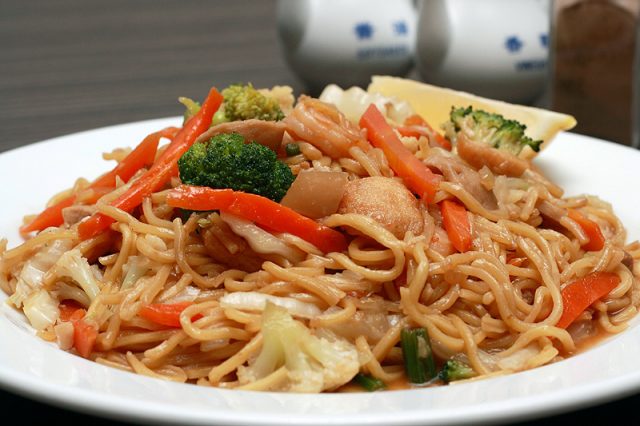 What is it: Cooked noodles garnished with shrimp, fried tofu, and vegetables. The usage of noodles or pancit, being a typical Chinese influence, has imbibed the local culinary traditions, resulting in some amazing noodle preparations.
What does it taste like: The savory noodles have a playful taste because of an infusion of fried garlic, black pepper, tinapa flakes, and scallions.
4. Lumpia Roll – A traditional snack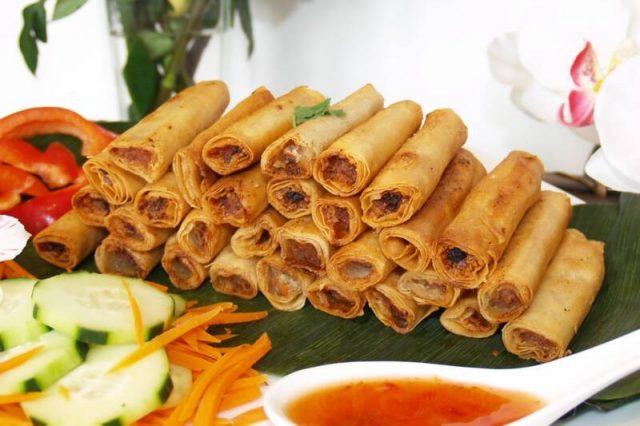 What is it: Golden brown Spring rolls with a filling of either meat or vegetables. Both fried and non-fried versions are equally popular. When fried, lumpias contain saba bananas as their stuffing, known as turin, while lumpias without the outer wrap are known as lumpiang hubad.
What does it taste like: The crunchy exterior, resembling pastries, both in look and taste, is just the beginning of its deliciousness which lasts until the last morsel of the lumpia.
5. Kare Kare – A fiesta food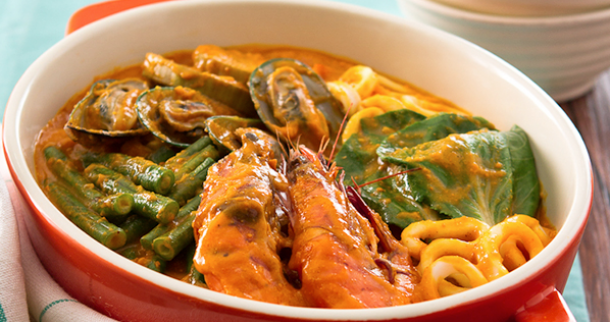 What is it: This traditional stew is the result of a juxtaposition of oxtail, pig or calves feet, pork hocks, and a bunch of green vegetables in equal quantity, if not more.
What does it taste like: Peanut butter with its thick texture leaves an unforgettable effect on your taste buds while you relish the rest!
6. Laing – A classic exotic item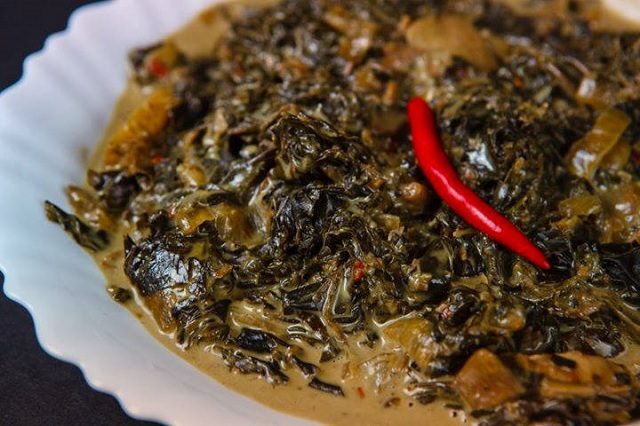 What is it: A coconut milk or gata based preparation having taro leaves and shrimps along with spices.
What does it taste like:  An unfailing freshness and a raw taste of this food make it a common throughout the country, with frequent variations observed throughout.
7. Igado – A Flipino food for party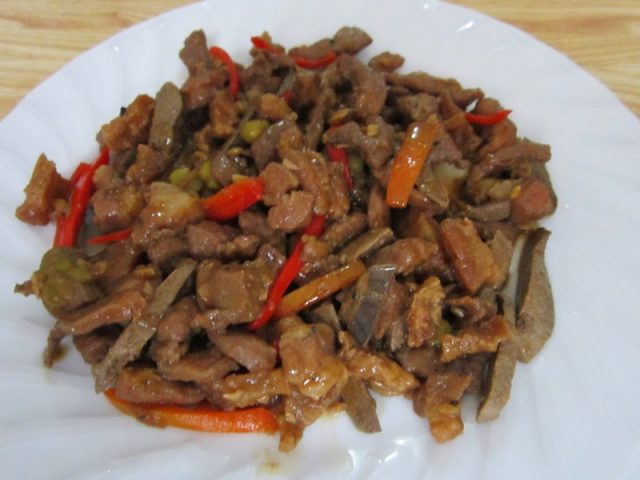 What is it: Pork tenderloin cooked with garlic, onion, bell pepper and green peas. It is an authentic Ilocano preparation which still rules the kitchens of the Philippines.
What does it taste like: The hot and mildly spicy flavor of igado leaves an unforgettable impression. To achieve its optimum taste, have this with plain white rice.
8. Chop Suye – A colorful preparation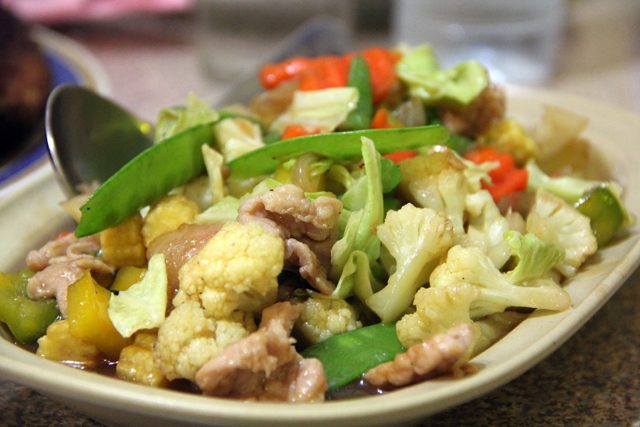 What is it: Assorted vegetables and chicken or seafood cooked together. Although it is one of the most popular Chinese foods, Filipino people, with their own culinary style, have enriched the dish further.
What does it taste like: When the well-cooked cauliflowers, cabbages, and carrots balance the meat, you will be running out of words. The quintessential flavors of bell peppers, soy sauce, and garlic, make it delicious.
9. Sisig – Philippine's favorite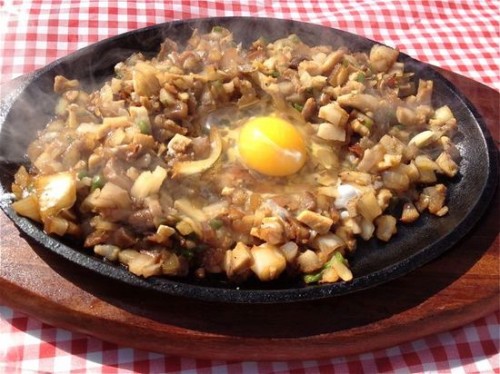 What is it: Cooked Pork's liver or jowls with a seasoning of chili peppers, sautéed onions and calamansi and a topping of a scrambled egg.
What does it taste like: The sizzling pork dish along with mouth-melting mayo is a combination you cannot afford to miss. Be it a bowl of hot rice or a glass of chilled beer, this is a perfect side dish cum snack.
10. Crispy Pata – A common pork item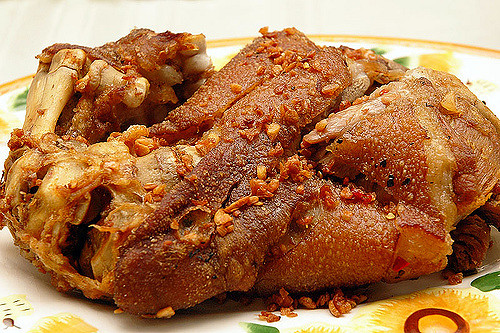 What is it: Deep-fried pettitoes or pig feet, simmered with spices followed by overnight refrigeration, is a popular snack throughout the country.
What does it taste like: As the name suggests, the golden brown crunchy pettitoes is best complemented with lechon sauce or vinegar dip.
11. Dinuguan – A traditional pork stew preparation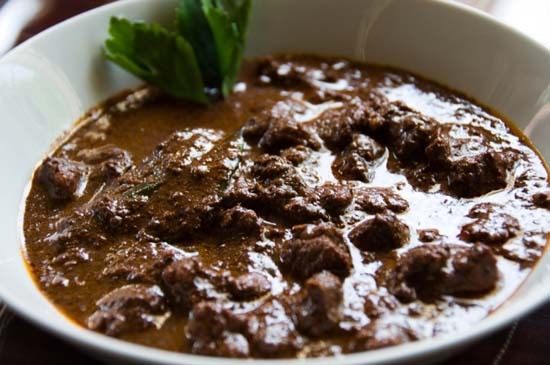 What is it: Pork offal typically simmered in pig blood is locals' preferred stew.
What does it taste like: Garlic, vinegar and chili make the pork blood spicy enough to make you sinfully fall in love with it.
12. Sinigang – A nutritious food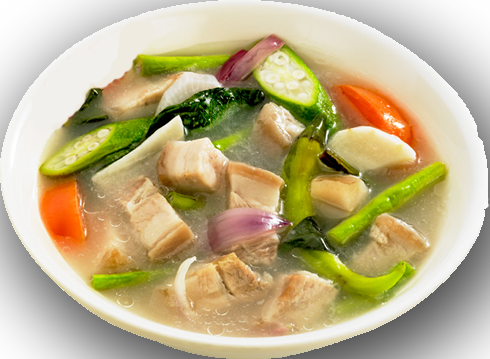 What is it: A meat and vegetable stew with a colorful appearance is a storehouse of nutrition. Regional variations include choices of the meat, as pork, shrimp, chicken, beef and fish all are used.
What does it taste like: The tamarind based stew share its flavor with a seasoning of stock cubes. Moreover, you should not underestimate the taste of eggplants, taro corms, and other veggies.
13. Pork Menudo – Another pork delicacy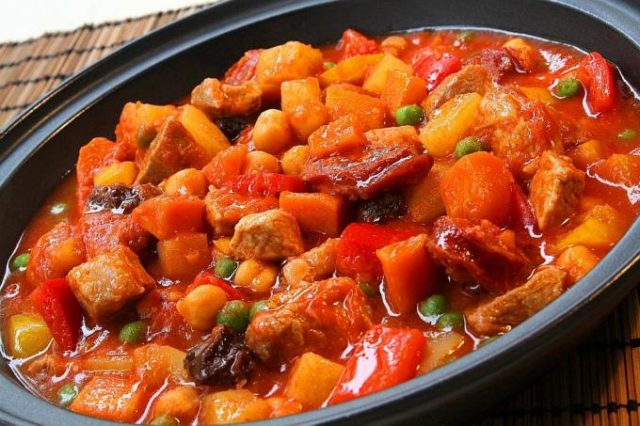 What is it: Pork being marinated with lemon and rice, followed by a sautéing with garlic and onion, is a wholesome option for foodies.
What does it taste like: The zesty pork and the balanced taste of potatoes and carrot make a perfect combination to rule your taste buds. Plain rice or some putos will be good to have it with.
14. Siopao – A Chinese- Filipino food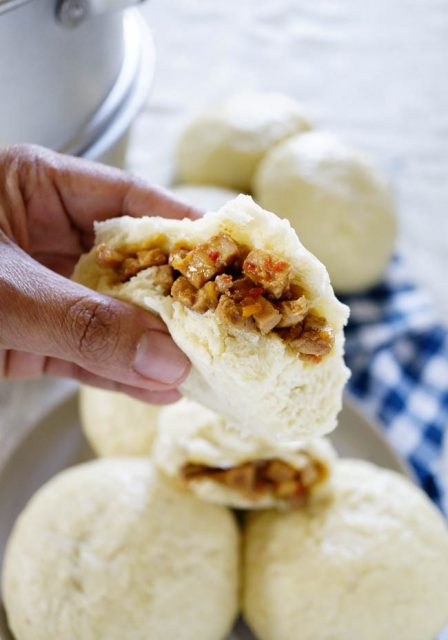 What is it: Steamed buns filled with cooked chicken and vegetables. Their striking resemblance with dumplings is the reason why many people call them Filipino steamed dumpling. In spite of being a snack preparation, they are often served as dessert when the filling is sweet.
What does it taste like: With a dumpling like texture, the filling is what makes your day. Consuming with a dip is highly recommended!
15. Afritada – An authentic chicken eatable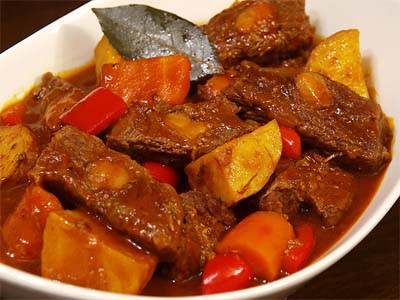 What is it: The best combination of chicken and bell peppers! Yes, you read that right. Spices, moderately used, give it another meaning altogether.
What does it taste like: The presence of bell peppers enhances the taste as onion, potato, garlic, black pepper and tomato sauce aid in the process.
16. Ukoy – A Philippine specialty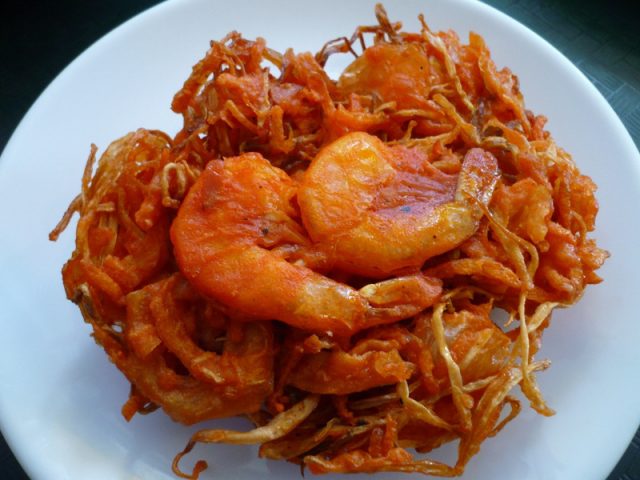 What is it: These golden fritters, prepared mainly from mung bean sprouts, are topped with whole shrimps.
What does it taste like: Enjoy the crunchy fritters with spiced vinegar for an excellent taste! You will never be disappointed.
17. Lechon – A Filipino Christmas food
What is it: A charcoal roasted piglet with some inner filling of vegetables is a must for Nochebueana party. It usually takes several hours, but when it is made, the item is worth the wait.
What does it taste like: Garlic, soy sauce and salt, applied on the skin of the piglet, add flavors and give a deliciously attractive dark golden-brown shade.
18. Beef Caldereta – A palatable beef option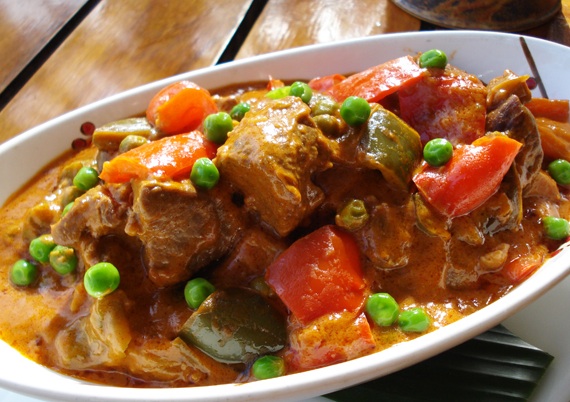 What is it: Cooked beef having its share of nutrition as it is teamed up with fresh vegetables is a popular main dish. Often pronounced as 'kaldereta', this is a holiday essential per say.
What does it taste like: Imagine a bowl of spicy and invigorating beef caldereta being served with grated cheese waiting to be melted on your tongue! Just out of the world, isn't it? Well, try it yourself.
19. Embutido – A Spanish Filipino food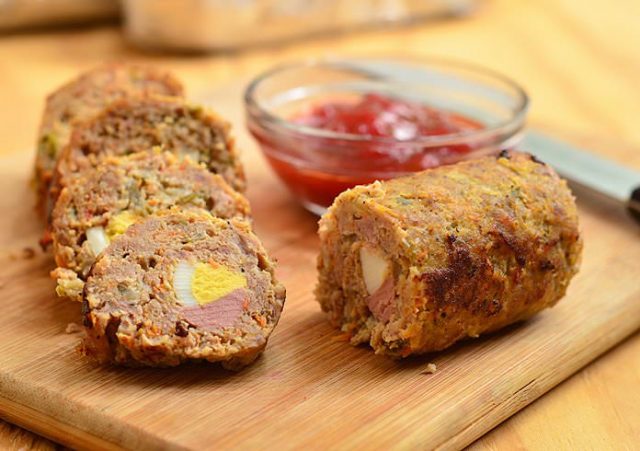 What is it: Cylindrical pork meatloaves prepared from eggs, bell pepper, carrots, and onions. Being one of the most common foods available during holidays, it is usually served sliced along with some sauces or dips. Depending on its variations, it has several names likes embotit and enchido.
What does it taste like: The thick yet soft texture offers nothing but pure joy, as your taste buds gradually relish the mixed taste of the ingredients.
20. Longanisa – A Filipino birthday food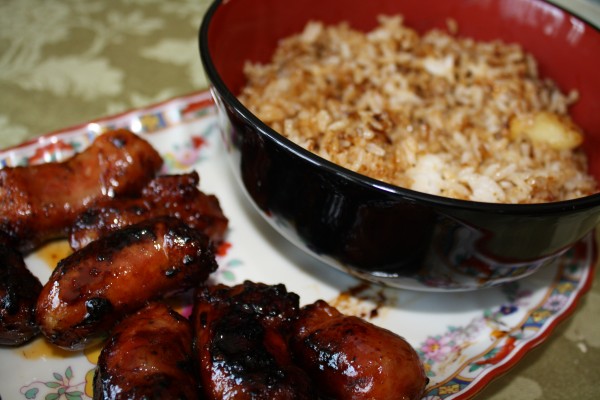 What is it: This is a sweet sausage and a deviation of embutido.
What does it taste like: Brown sugar rules the sausage making it so tempting for people with sweet tooth.
21. Goto – A breakfast essential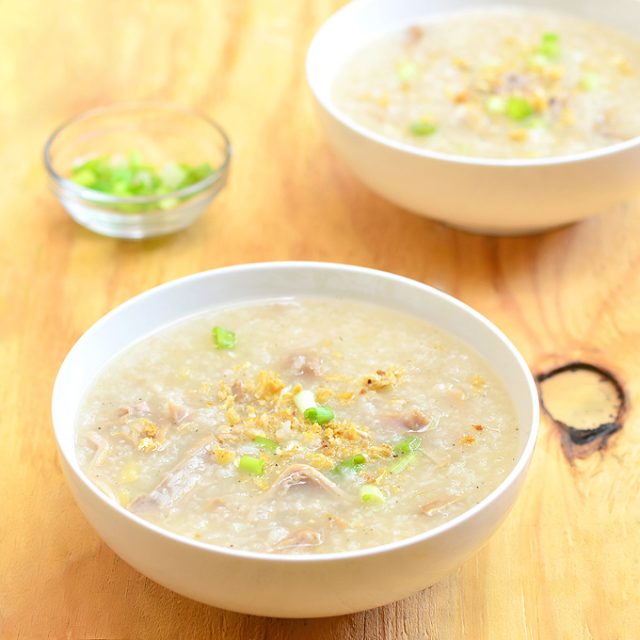 What is it: Rice porridge with ox tripe as the key ingredient.
What does it taste like: The otherwise plain porridge gets a delectable flavor when the aromatic safflower and lemon cast their spell over it!
22. Bopis – A Filipino style main dish or "pulutan"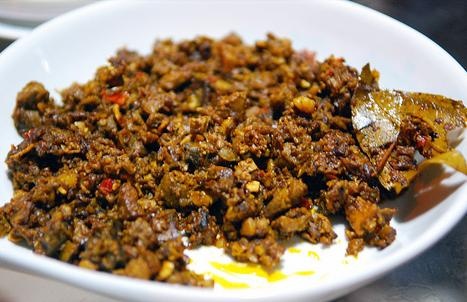 What is it: Pig innards cooked in onions, ginger, garlic and annatto water. This one with its Spanish origin, it is often frequented by locals for lunch or dinner.
What does it taste like: You may consume this extremely piquant preparation either with rice or alcohol.
23. Food for the Gods – A dessert viand for holidays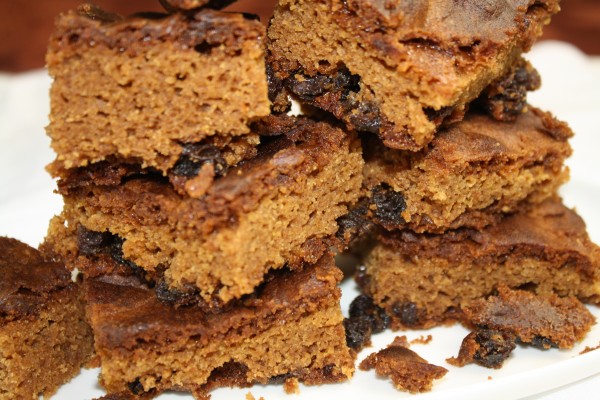 What is it: Baked date bars cut and served in small cubes. Filipino people can't do without this on Christmas and other joyous festive days.
What does it taste like: Sweetness of dates and a buttery effect will make you realize why locals love the dessert so much.
24. Ginataang Langka – A food with a typical Filipino touch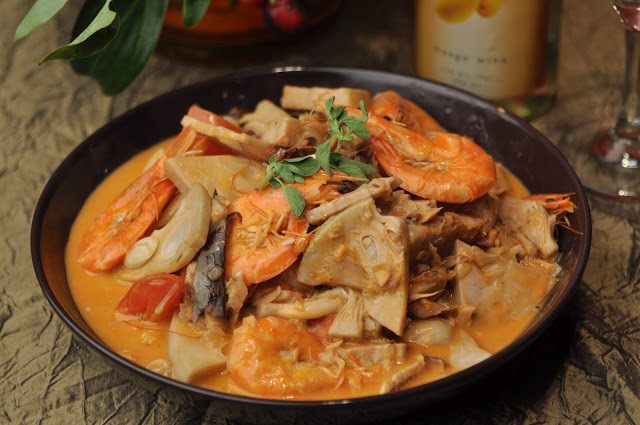 What is it: Jackfruit in coconut milk! That's the most interesting part. Coconut milk shapes the culinary traditions of the country to a great extent as locals find it very convenient for cooking. Technically this could be a vegan item unless shrimps are added.
What does it taste like: The main two ingredients have distinct flavors which you will realize of course, as they do not overrule each other, yet produce a smooth texture.
The exquisiteness of the Philippine cuisine has its key essence hidden amidst the variant cooking styles, usage of ingredients and of course, the climate which makes those fruits and vegetables grow on the islands. On one hand, there are spicy treats like abodo, and mechado, while on the other, there are weird foods like balut, which is basically a boiled duck embryo, served as the best solution for hangovers.
Thus the cuisine, reflecting a conflux of some cooking styles bearing historically enriched lineages, truly deserves global attention. This article is nothing but a little endeavor to make you acquainted with some of their famous dishes or "putahe".